I'm always amazed by the perfect porcelain skin Koreans have. It just gets me every time, wondering whether it's their food, living environment, or efficient skin care…  Perhaps it's due to Korea's No. 1 holistic luxury skin care brand, Sulwhasoo. Having a long-standing tradition of painstakingly selecting medicinal herbs, Sulwhasoo aims to regulate the skin from inside out. Read more about the brand's history and philosophy on a past blogpost *here*.
Believing in giving back to society, Sulwhasoo started the Charity Quilt Project, inspired by the hand-sewn patchwork quilt traditionally pieced together from old clothing and rags as a gesture of blessing and well wishes.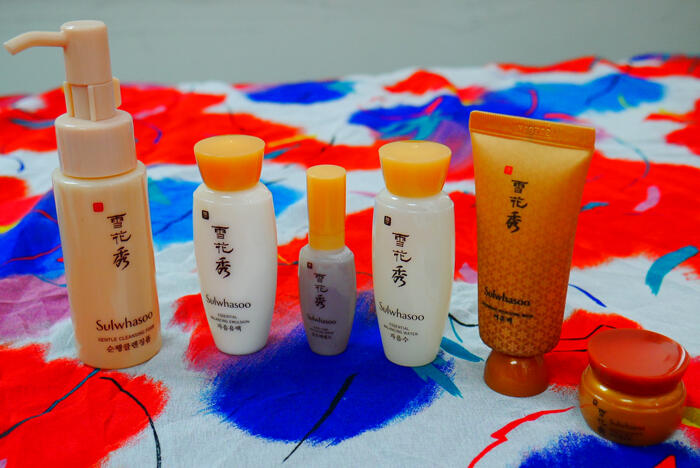 A limited edition skin care kit is introduced by Sulwhasoo to help raise funds for World Vision Malaysia, part of the global Charity Quilt Project. All donations collected will be channeled to the Children Development Fund (children's rights protection, education, mental and emotional development, nutrition and health care; locally and internationally).
There will only be 500 Sulwhasoo Charity Kits available in Malaysia. Priced at RMR129, each kit comes with a complete set including two of the brand's signature products – the Concentrated Ginseng Cream (5ml) and First Care Activating Serum (8ml). Also included are the Essential Balancing Emulsion (30ml), Essential Balancing Water (30ml), Gentle Cleansing Foam (50ml), and Overnight Vitalizing Mask (30ml/tube); all presented in a quilt-inspired pouch.
The Sulwhasoo Charity Kit is available at counters in Parkson Pavillion, Kuala Lumpur and Parkson Gurney Plaza, Penang.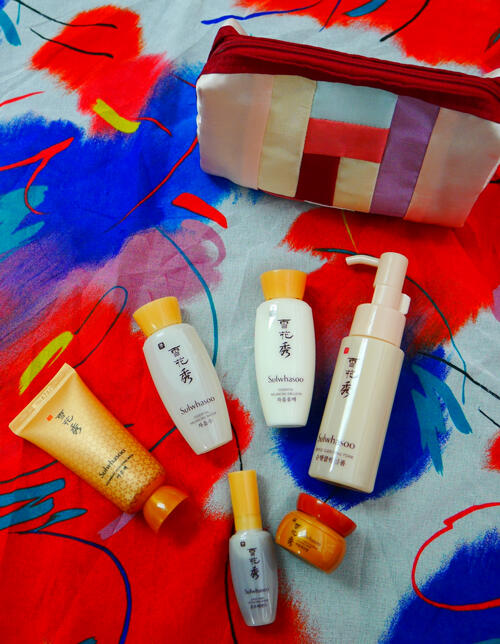 Perfect as a travel kit, or if you wanna try out Sulwhasoo's products!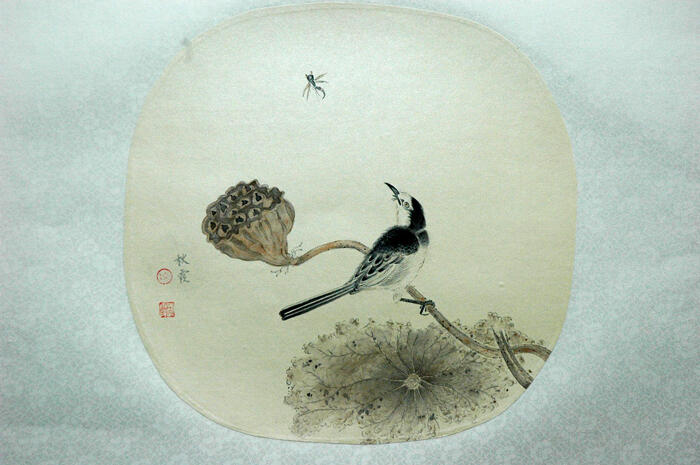 The Charity Quilt Project has been running for four years now and has gained numerous support internationally. This will be the first time Malaysia is participating in the project, with Chairman of Lion-Parkson Foundation Puan Sri Chelsie Cheng representing Malaysia by contributing her own painting themed "Touching Moments of Splendour". The painting will be combined with other contributions from around the world to form a whole piece of the quilt.
Sulwhasoo Malaysia has created an FB app whereby RM1 will be donated to World Vision Malaysia for one click from you!
To start the process, click on the link below or just log onto Sulwhasoo's Malaysia FB account.
Sulwhasoo Malaysia Charity Quilt Campaign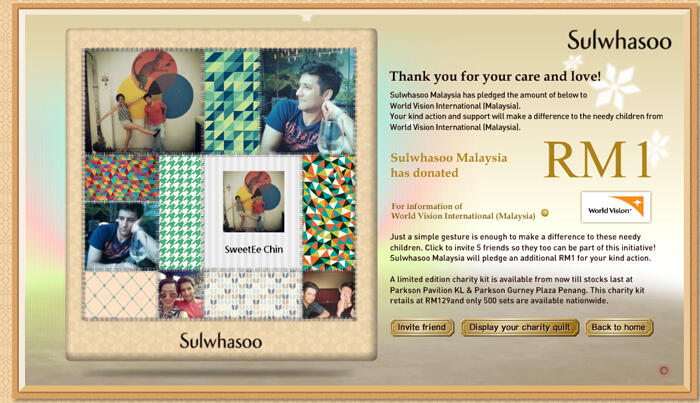 After loading, you will see your Facebook pictures turn into a quilt!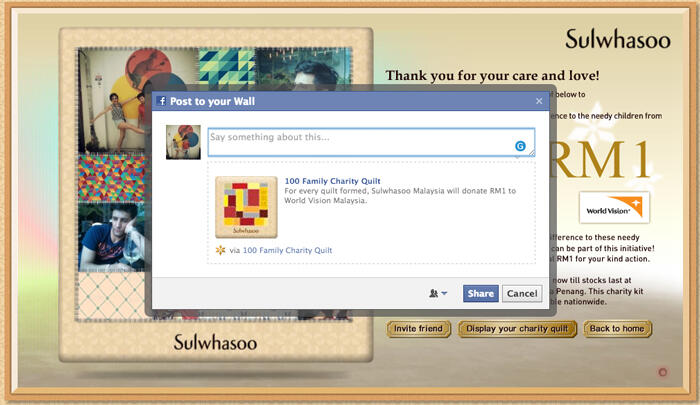 By taking part, RM1 will be donated to World Vision Malaysia.