I was invited for a facial spa session by Sulwhasoo, a brand i've never heard of before but am glad i now know!
Sulwhasoo is Korea's bestselling luxury skincare brand which has just been brought to Malaysia, and combines traditional medicinal herbs (especially Ginseng) with the latest advances in dermatological technology. They've got some beautiful brand philosophies and practices which i'll go into detail further on in this post, and i think the brand will be of much interest to those who seek a holistic approach to skin health and beauty.
They held their sessions at the Spa at the Saujana Club: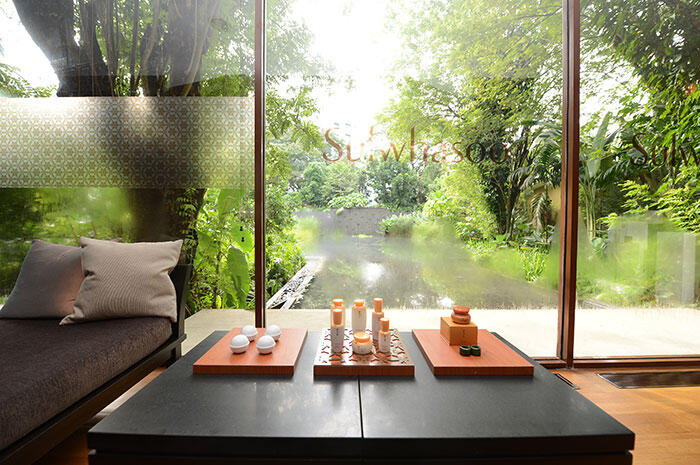 The word "Sulwhasoo" is the Korean word for "snowflower", which is known to bloom even under the most severe weather conditions.
Hailing from Korea, Sulwahsoo was founded 80 years ago by the late Mr. Suh Sung-hwan who was inspired by his mother's handmade beauty concoctions made of ginseng and other quality medicinal herbs.
Mr Suh spent 41 years studying and perfecting the use of medicinal herbs for dermatological and cosmetic use, selecting only the most precious from over 3,000 medicinal herbs. He ended up developing extraction methods for premium Korean Ginseng, patented it, and created the first Korean 'ginseng cream' back in 1966.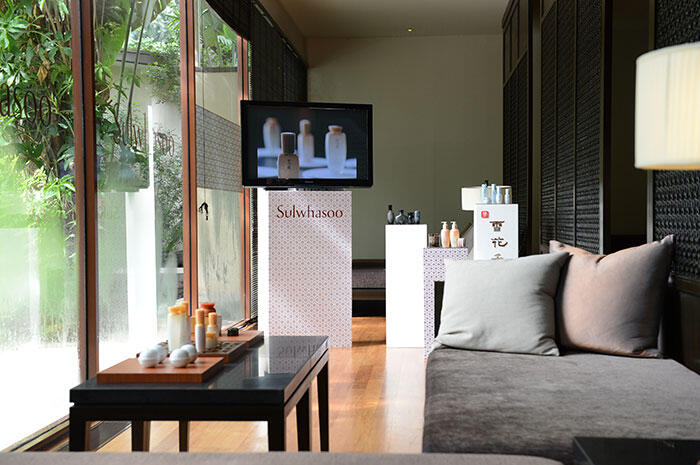 This is my favourite part of the brand – Sulwhasoo is based on the Korean ancient wisdom of Sang-Seng.
The Sang-Seng philosophy believes that all things exist in relation to one another, and that optimal vitality is achieved when these objects exist in harmony and balance.
Hence Sulwhasoo formulas foster harmony between body and mind by promoting
balance through scents, textures and tactile application;
harmony between wisdom and research by combining traditional techniques and breakthrough discoveries;
and finally harmony between human and nature through harvesting beneficial, balancing herbal ingredients from nature.
"According to theories of Korean herbal medicine, when the Yin and Yang (contrary) energies in the body are balanced, true Sang-Seng is achieved and skin glows from deep inside to exude a kind of harmonious beauty. The theories also tell us that the body's energies change at intervals of seven years.
As vital energies diminish, the skin becomes prone to dryness and dehydration and significantly more vulnerable to the aging process. Sulwhasoo draws from the ancient wisdom of Sang-Seng to restore balance and strengthen the energies that are crucial to younger looking skin."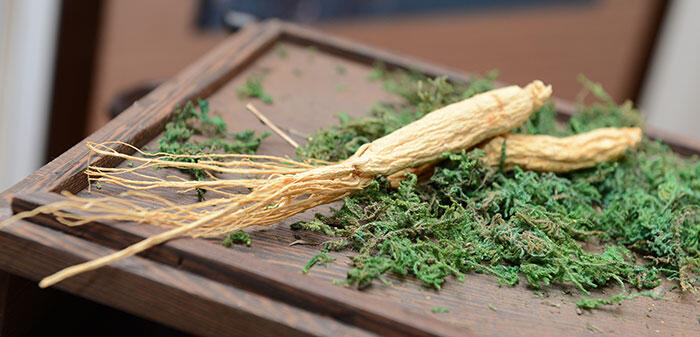 One of the main ingredients in Sulwhasoo's formulas is Korean ginseng, which is not to be mistaken for ginseng grown in the U.S. or China. Korean ginseng is more superior because the country has the best geographical conditions for growing ginseng up to 180 days, whereas it only thrives for 120-130 days elsewhere.
– Ginseng's saponin promotes the growth of new skin cells to improve resilience and exfoliate dead skin cells for smoothness.
– Melasma and wrinkles caused by reduced metabolism of skin will become a fundamental concern as we age. Ginseng's panagin acid hydrates skin to prevent dryness and maintain suppleness.
– Ginseng also promotes blood circulation through the capillary vessels in your face for a healthier and youthful radiance.
"Goryeo Ginseng (Korean Ginseng) is known to enhance health for longevity when ingested for a long time and is acknowledged for its rarity and miraculous efficacies. In Korean traditional medicine, ginseng is classified as a supreme herb that can be ingested for a long time and the core ingredient in all prescriptive formulas.
Since the early days, ginseng has been known to purge toxins in the body and refine skin. Wealthy noble women in the Joseon Dynasty bathed in ginseng bath for fairer and clearer skin before their wedding ceremony. Ginseng leaf tea was drunk to prevent melasma, blemishes, and wrinkles – a holistic approach coupled with ancient wisdom to looking good from the inside out."

Jaeum means supplementing and protecting the Yin energy in skin.
Jaeumdan is a unique and original formula that supplements the energy and keeps skin refined and beautiful.
Sulwhasoo uses Jaeumdan in all its products, and it consists of five Korean medicinal herbal plants (above): Adhesive Rehmannia, Chinese Peony, East Indian Lotus, Solomon's Seal, and White Lily.
"Its numerous benefits include countering the effects of dryness, fine lines and wrinkles, diminished elasticity and dullness, and fostering a nourishedand hydrated complexion.
Jaeumdan's supplementation of Yin is further enhanced by Jaeumboweedan, a complex made of extracts from seven Korean medicinal herbs."
I found the processes of extracting the ingredients from the herbs quite interesting because they sound so traditional and taxing. Called the Poje Method; baking, steaming, fermenting, or pickling is done so that greater efficacy and longer preservation can be achieved in a non-toxic manner while in accordance to the wisdom of Sang-Seng.
I compiled printscreens below cos i know some women would like to know exactly what this entails: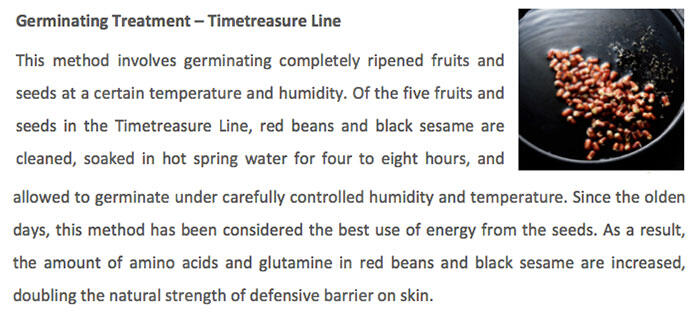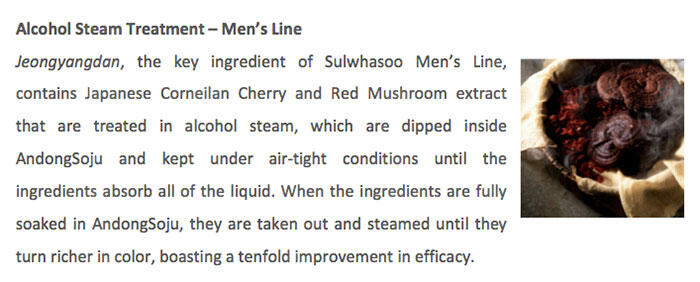 Random pictures from that day: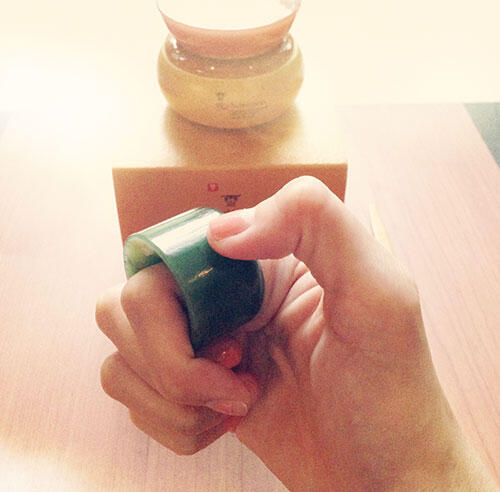 During my facial, i had my face massaged by these jade rings! First time for me, it felt really cooling and soothing.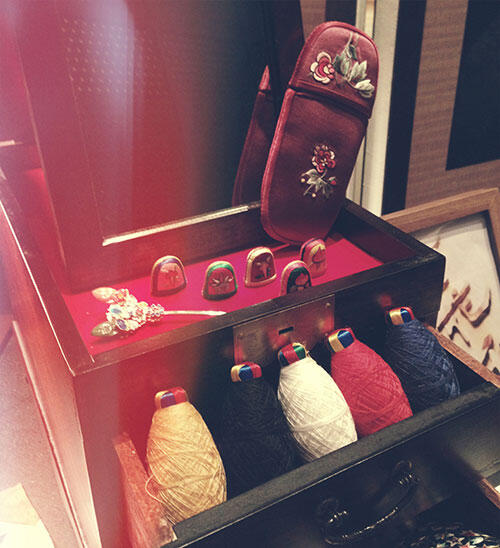 Korean decoration at the event
+ + + + + + + + + + + + +
Products:
Essential Line for natural healthy beautiful skin
The Essential Line supplements dry skin from inside out to restore the natural health of skin. With Jaeumdan formulated to treat dryness, coupled with Jaeumboweedan that enhances its effect, each ingredient is delivered to where they are needed for a more natural, healthy-looking and radiant skin. It also helps to improve skin's firmness and keeps it resilient from aging.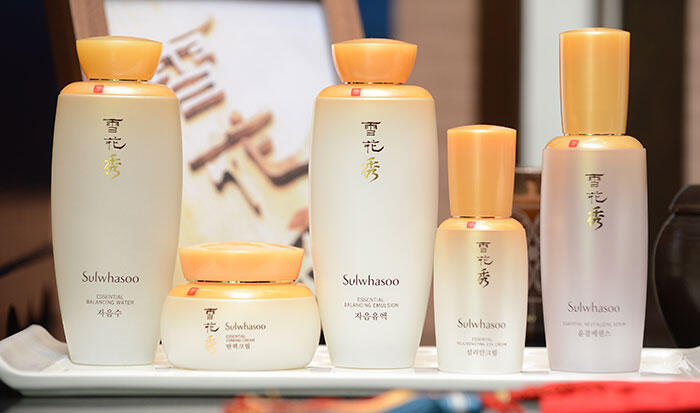 First Care Activating Serum, Essential Balancing Water, Essential Balancing Emulsion, Essential Revitalizing Serum, Essential Eye Serum, Essential Firming Cream
+ + + + + +
Hydro-aid Line for a well-balanced, moisturized and supple skin
This line supplies much needed moisture deep down into skin and fills in between cells for complete moisturization and plumpness inside, and supple-looking skin on the outside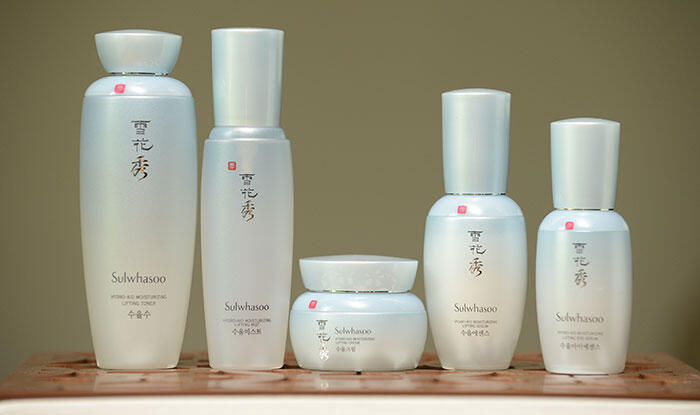 Hydro-aid Moisturizing Lifting Toner, Hydro-aid Moisturizing Lifting Mist, Hydro-aid Moisturizing Lifting Cream, Hydro-aid Moisturizing Lifting Serum, Hydro- aid Moisturizing Lifting Eye Serum
+ + + + + +
Timetreasure for a youthful and radiance skin
Timetreasure Line is Sulwhasoo's premium anti-aging line that combats signs of aging, revived skin by eradicating skin's complicated problems caused by loss of energy, skin liveliness, dull complexion and lack of nutrition. Its formula delivers optimal anti-aging solution by harmonizing the skin.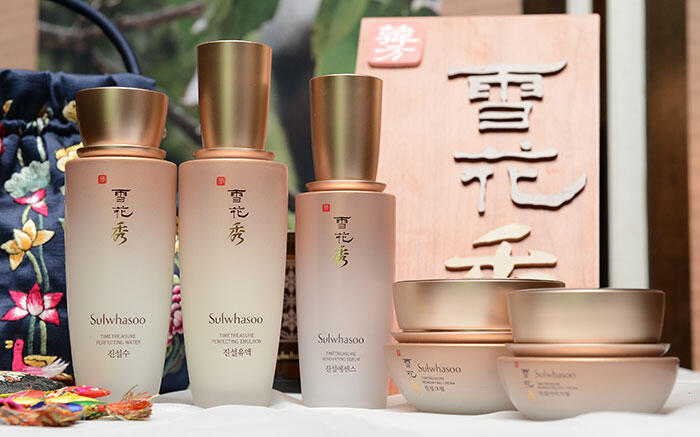 Timetreasure Perfecting Water, Timetreasure Perfecting Emulsion, Timetreasure Renovating Serum, Timetreasure Renovating Cream, Timetreasure Renovating Eye Cream
+ + + + + +
Men's Line for healthy, elastic skin
Specially created for men, ingredients used in this formula are designed to defy root causes of aging, restore skin vitality and energize skin to revive elasticity.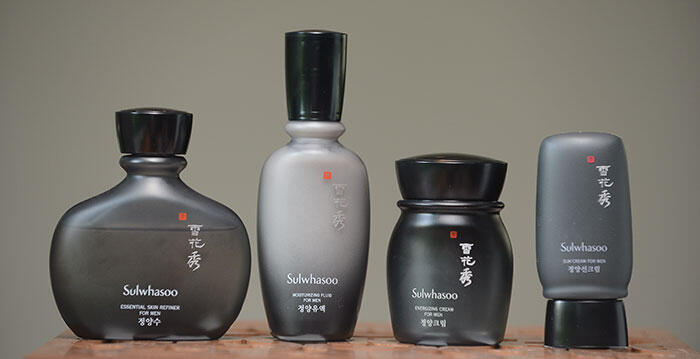 Essential Skin Refiner For Men, Moisturizing Fluid For Men, Energizing Cream For Men, Sun Cream For Men
+ + + + + +
On the left below: First Care Activating Serum, 60 ml (retails at RM250 each)
– an essential boosting serum formulated with traditional Korean herbs to assure optimal skin care results, promote balance and replenish essential moisture and nutrients, regardless of age and skin type.
– one of Sulwhasoo's flagship products since 1997.
– 9 bottles sold every minute in 2011
It is used before any Sulwhasoo collection to optimize effectiveness of following products in the regimen by unlocking the skin's protective barrier for maximum treatment and product penetration.  Upon application, it is absorbed instantly and penetrates deep into skin, leaving skin soft, smooth and supple.  It also prepares the skin to receive treatments and boosts the efficacy of skin care used throughout the regimen.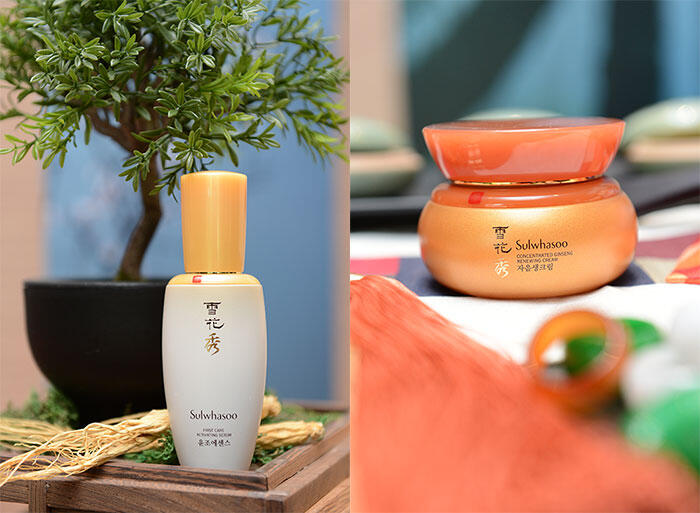 On right above: Concentrated Ginseng Renewing Cream, 60 ml (retails at RM650 each)
– an anti-aging skincare cream formulated to deliver nutrient-rich ginseng to the deepest layers of the skin to restructure and revitalize skin cells from within and eliminate the signs of aging.
– contains extracts from the root and fruit of Korean Ginseng to promote renewal and revitalizing of skin cells with renewing and moisturizing effects that can be realized the next day.
– No. 1 selling item among Sulwhasoo products in terms of sales volume
– one of the long-running (over 10 years) bestsellers of Sulwhasoo
– 3 bottles sold every minute
+ + + + + +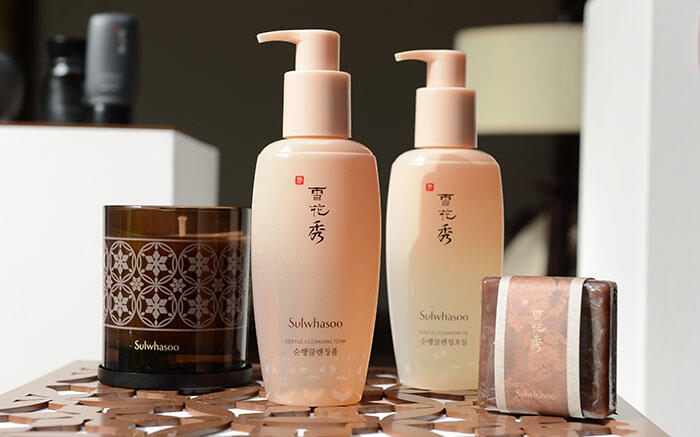 Gentle Cleansing Foam, Gentle Cleansing Oil, Herbal Soap
Sulwhasoo is available in Malaysia at counters in:
– Parkson Pavilion, Kuala Lumpur
– Parkson Gurney Plaza, Penang