I first discovered Lisa's handmade semi-precious jewelry back in August 2011, and hadn't bought anything from her since then… till last week. It all started when i noticed her facebook update on some one-of-a-kind earrings and necklaces made from vintage pieces of jewelry she's sourced.
These moon faceted-glass earring caught my eye and i emailed her immediately!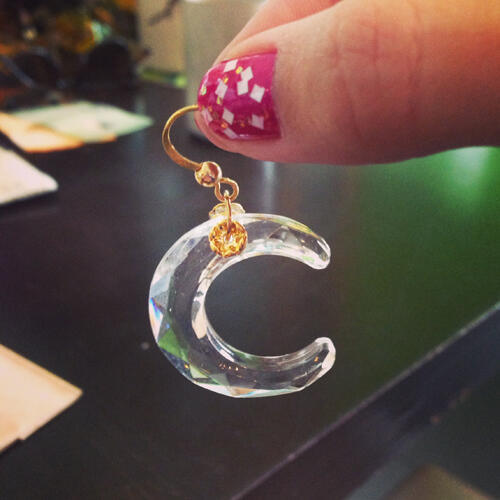 Somewhere along our emails, we said we'd meet up for lunch so i could personally go thru her current collection for sale. I invited Clouds, Sarch and Jia Wei along… thinking they might like to buy some things too. All of them said yes rather too keenly (my kiasu side kicked in).
On the day we were meeting up, Clouds asked whether i've met mint. And i was like, "Who/what?"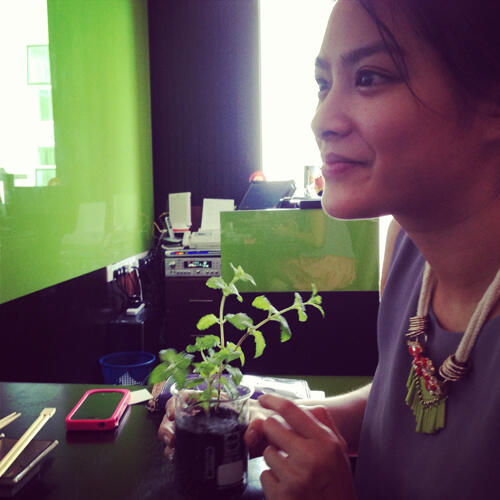 She brought her mint plant to the restaurant -_- The waitress picked it up to study it, looked at Claudia strangely then set it back down.
While waiting for the rest to arrive, Clouds and i asked Lisa what else she does, and she really gave it to us by showing pictures of lamps she's designed out of teapots and cups (really cute! she said they'll be for sale soon), a cool lamp for a children's room made from recycled toys, and even carpets. This girl is memang an artist. Makes me feel so useless -_-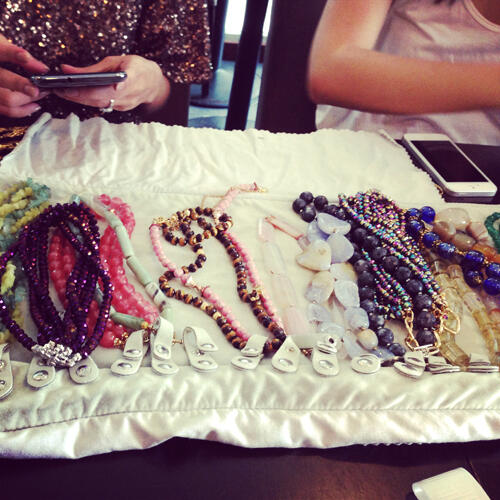 Jewelry-buying lunch taim!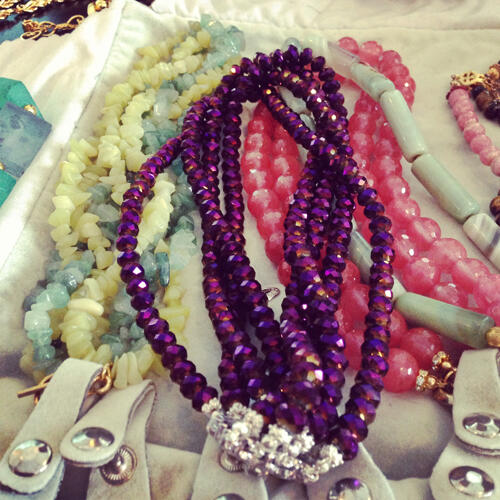 Sparkly sparkly! All of us admired and squealed over everything.
I was thinking what if me and other girls wanted the same piece… would they even let me have it?
No chance.
Sarah and Clouds (the most competitive in the group) were practically fighting with me sitting in between them. I think Jia Wei and i were the most quiet ones picking out our choices calmly.
I remember this particular necklace with a green pendant, which Sarah got in the end. There was a second similar necklace which Clouds could have but she wanted what Sarah had. She tried BOTH on, and i'm with her on this – it was much nicer with both necklaces on together. But Sarah only wanted ONE green necklace. So Clouds was like, "BUY BOTH OR GO HOME."
Meowr! Claws in babe, claws in.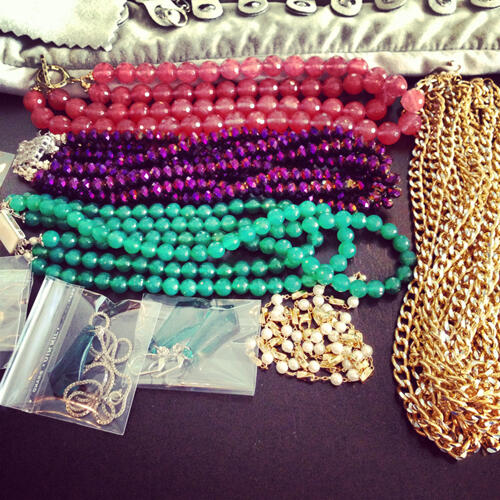 My haul at the end of lunch 😀
I was so enthusiastic about keeping them as best i can that i went  to the stationary shop soon after to get more ziplock bags, which is what i keep all my accessories in so they don't tarnish or spoil.
More pieces: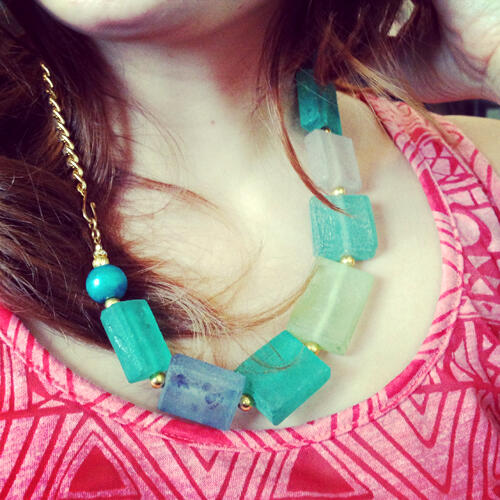 The texture for these beads were really different. A bit rough and matte but oh-so-bright were the colours.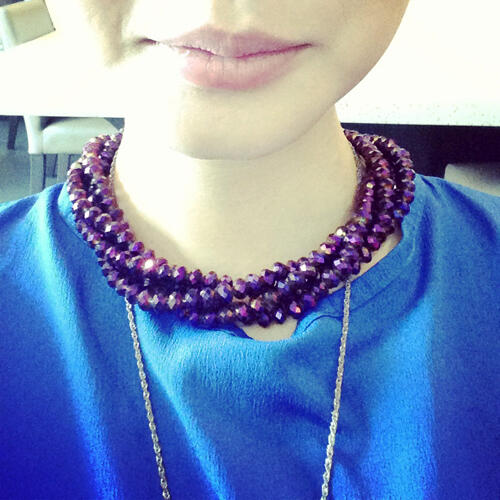 I got this glass purple one which i feel i'm going to be wearing a lot…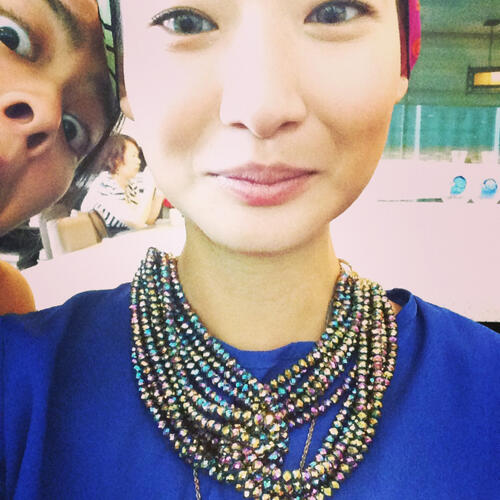 Sarah bought this one. I think it's a great buy, it will forever be a special piece in your wardrobe!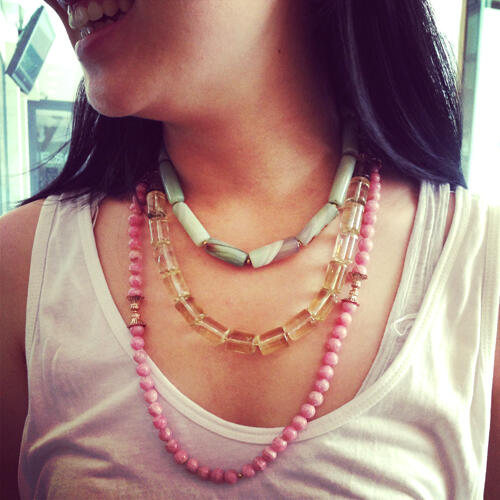 Jia Wei layering on a few pieces for fun.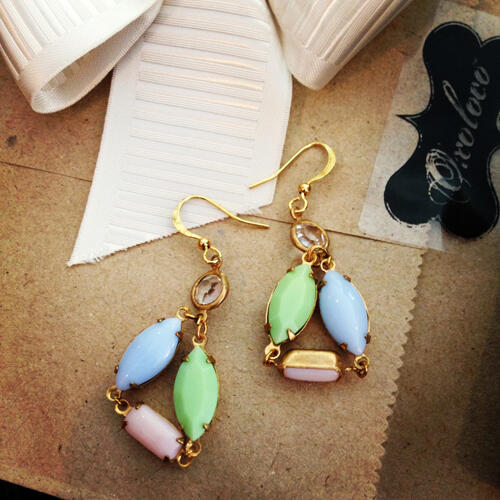 Lisa sells LOTS of earrings too… i forgot to take a picture of the dozens she spread on the table.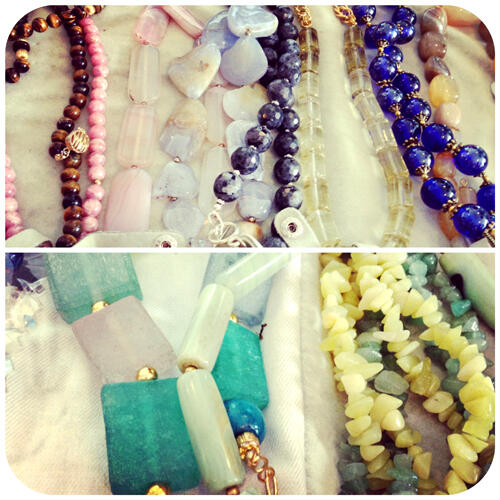 You can see what she currently has for sale here:
oxoloco.blogspot.com/2013/04/whats-left-of-bling.html
Blog: oxoloco.blogspot.com
FB: www.facebook.com/oxoloco
For a previous post i wrote about Oxoloco, read *HERE*