On the 2nd day of Chinese New Year,
a group of us planned to spend the day at Selangor Turf Club
thanks to an invitation from Kenny and his family.
I was quite excited cos it sounded like a fun day of
eating, drinking and betting on horses!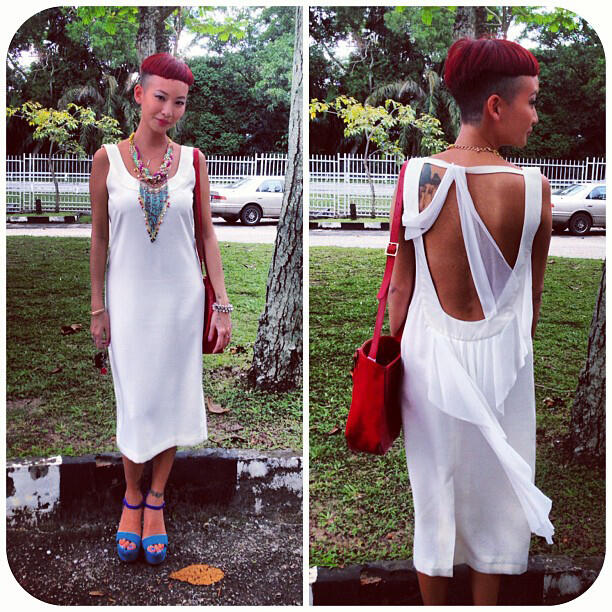 I wore my new backless white dress from Singaporean designer label Stolen.
The material is thick and smooth but not in the least bit hot!
It clung really nicely to my body and even hid my CNY tummy.
Necklace from Echo & Keera, bag from thirtyfour.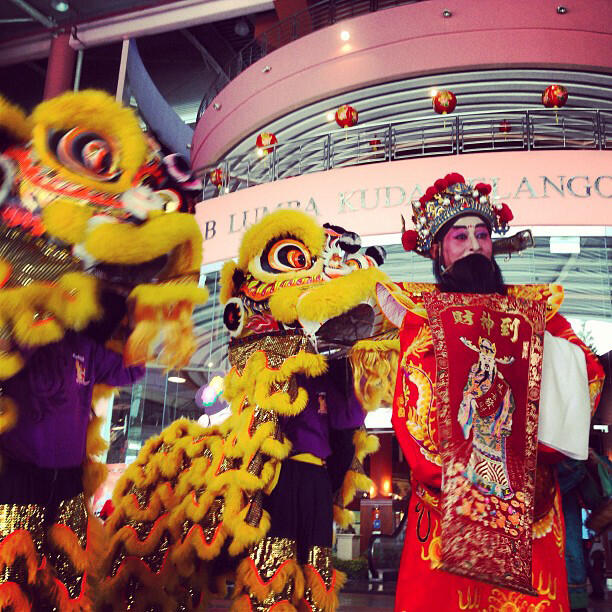 Lots of Chinese New Year characters pretty much POUNCED on us at the entrance
The God of Prosperity, lions and others i don't know what they're called :p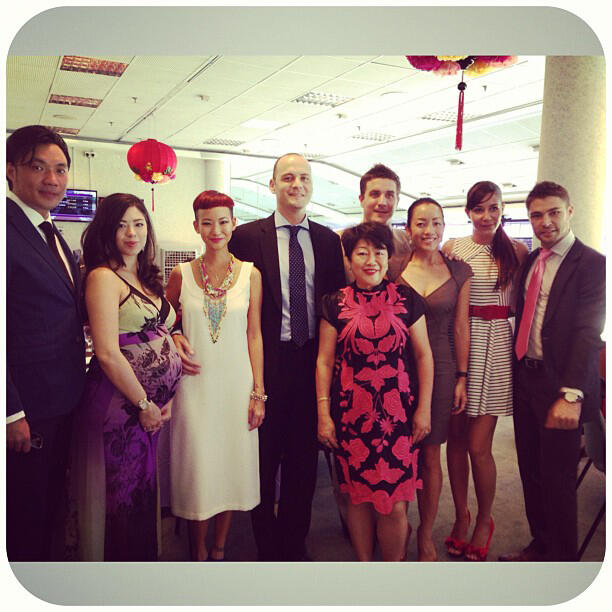 Group pic! Kenny, Cammy, me, Clem, Kenny's mummy, Matt, Serena, Helo, Lucas.
Kenny's dad is missing here oops…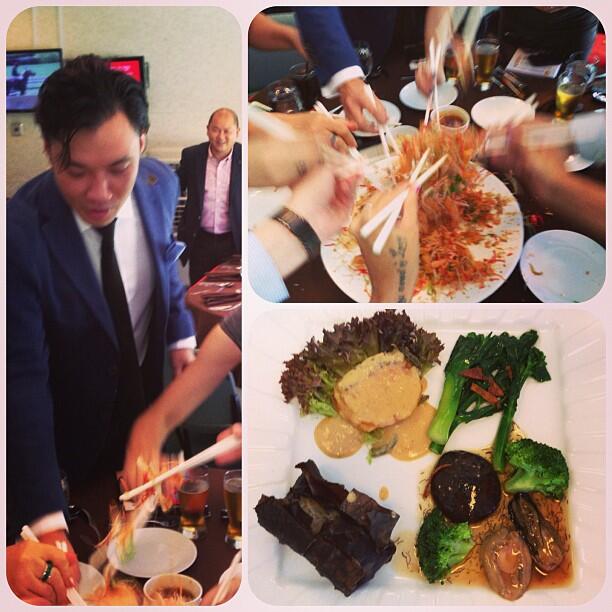 We got to lou yee sang in the committee dining room before starting.
We were in there all day cos it was air conditioned,
we had a good view of the horses,
it was right at the finishing line,
and there was a non stop flow of food and beer…
WHY LEAVE!? Haha.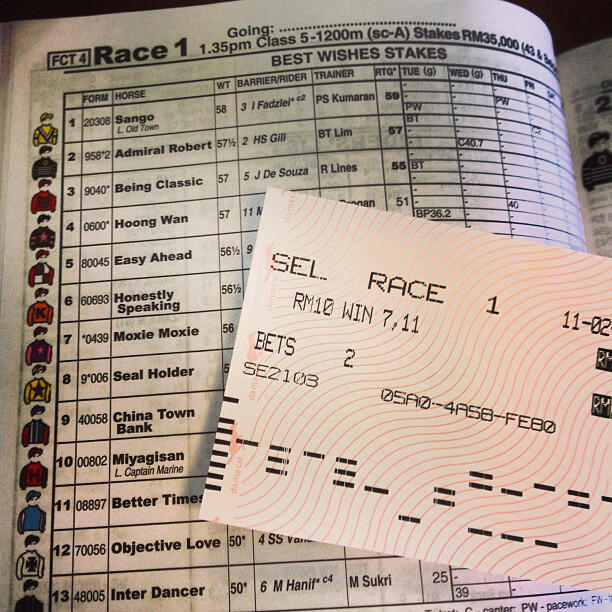 I've never bet on horses before and it was quite exciting!
Kenny and his mum patiently explained the betting rules to us,
and his dad even gave us the numbers of the horses he was betting on that day.
As you can see, i was just betting for fun and put down RM5-RM20 on each race.
There were 9 races that day.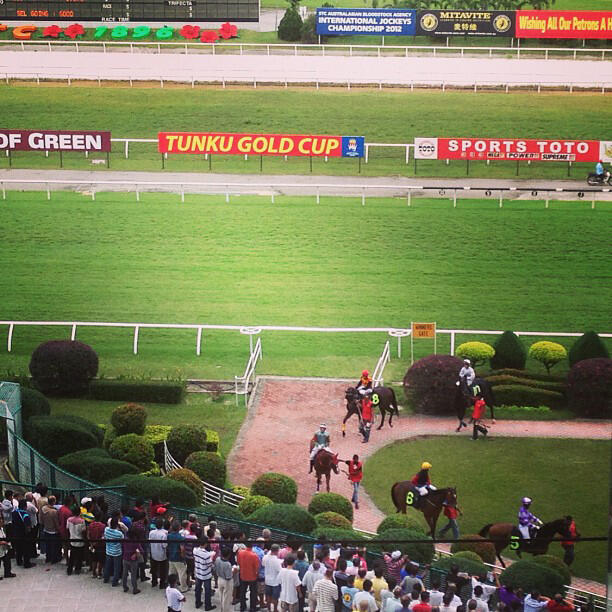 About 12 horses get paraded a few rounds before they run their race.
This is so we can see what they look like,
how big and strong their buttocks are,
and basically just 'feel' which horses we think would win!
I could bet as low as RM5 on a winning horse, and choose even more than one.
If my winning horse had a high chance of winning, i could clearly see on the leaderboard that my winnings (if said horse DID come in first) was a lot lower, then if my horse had a low chance of winning.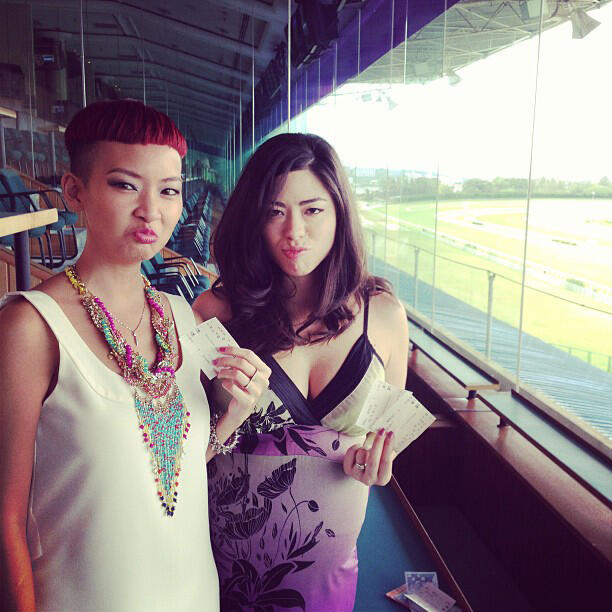 WE LOST our Race 1 bets!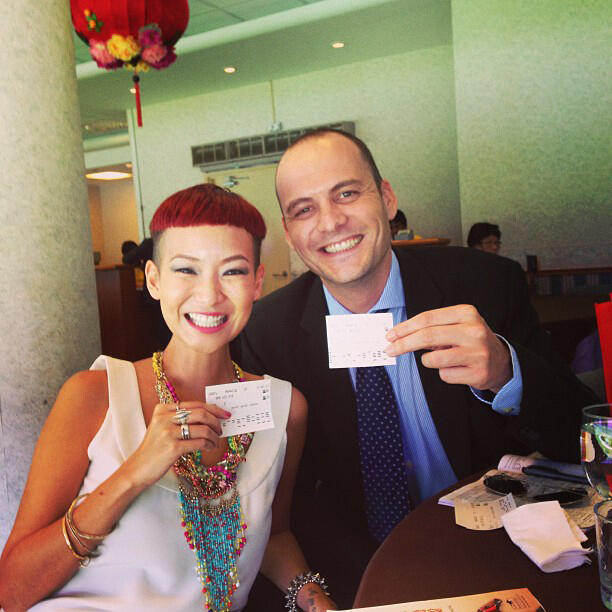 Then i happened to pick a winning horse!
Well. This horse had a high chance of winning,
so for the RM5 i put down, i got RM35 in return.
Still, it's such a GREAT feeling to watch the horse you bet on FINISH FIRST 😀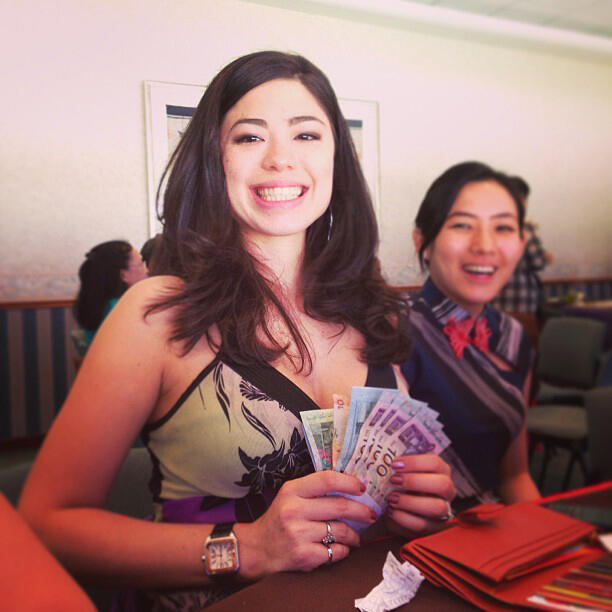 Cammy was the luckiest winner that day (cos of the extra person in her!)
She bet that some underdog (underhorse?) would win and with just RM5, she won RM450!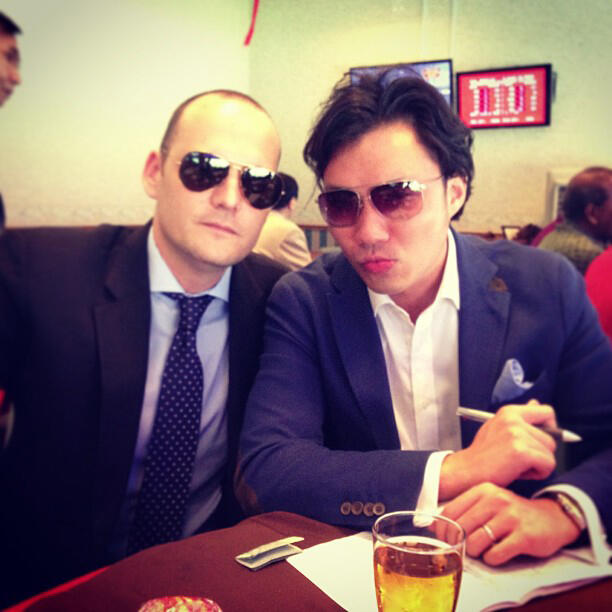 Clem and Kenny.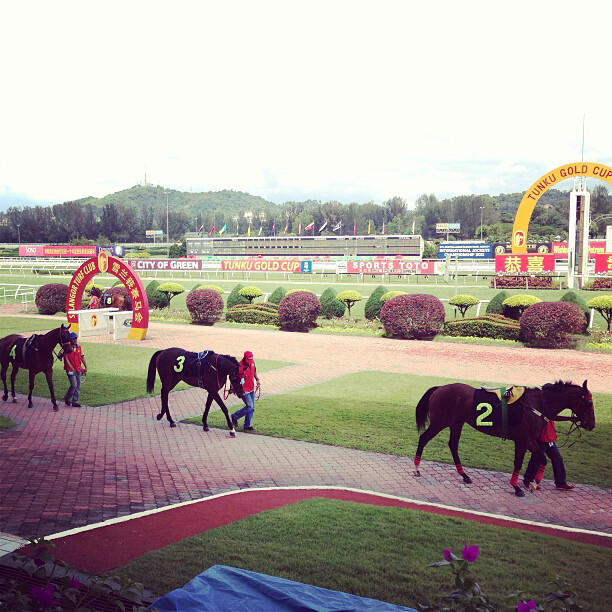 I went downstairs to get a closer look and feel of the racecourse and horses.
People cheered SO LOUDLY when the race was going on!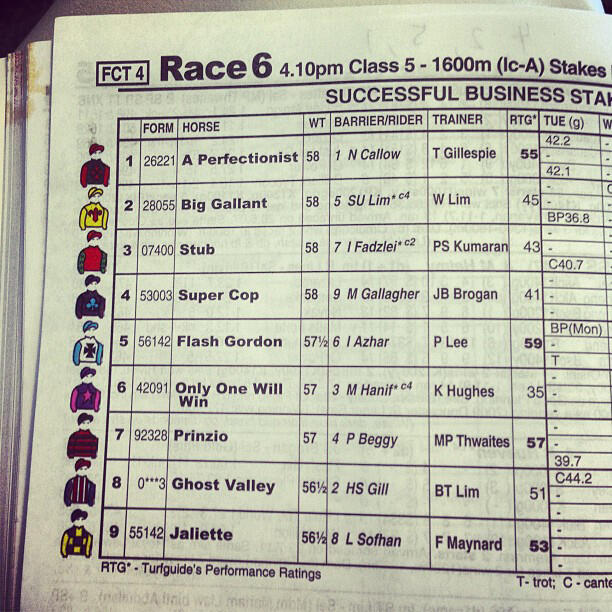 Sometimes i picked horses based on their trainer or jockey…
but what do i know, i barely won after Race 2   -_-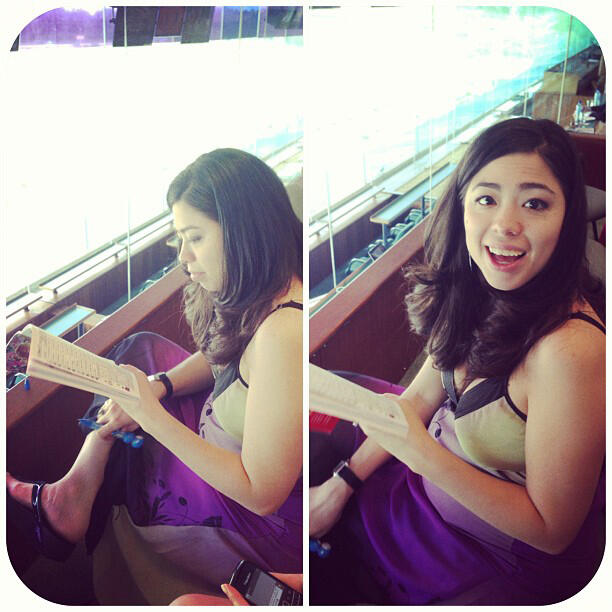 Cammy so serious contemplating her bets.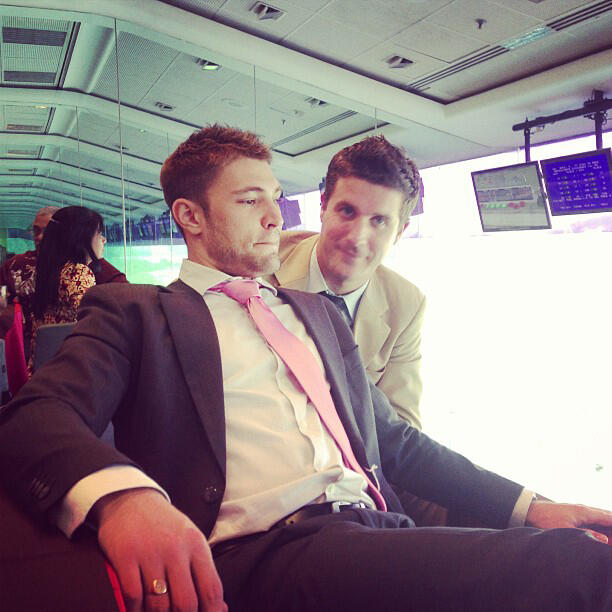 Lucas and Matt = stress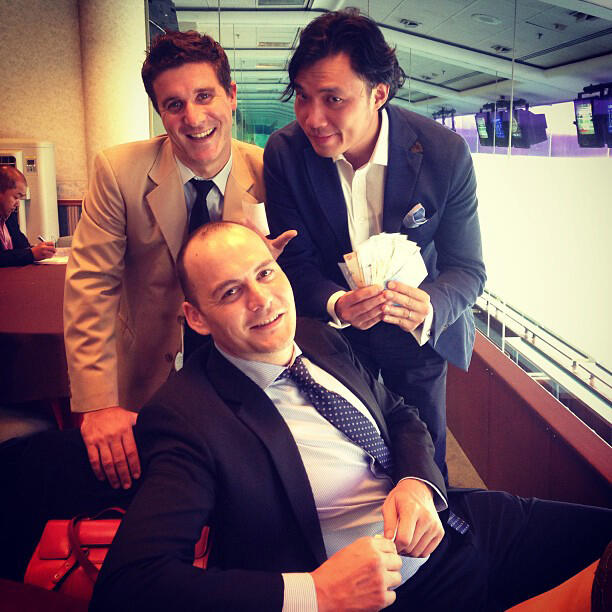 Matt, Kenny, Clem
In the end, Cammy and Helo won enough money to cover their men's losses.
I lost about RM50, which is nothing compared to how much the others lost (but i will not mention :p)
There was ONE race, where i picked three horses for a trifecta bet,
– meaning if i picked three horses which actually came out the top 3 (no order),
i would win a bunch of cash! –
and i managed to pick two out of the three winning horses…
The thing is, if i had got the THIRD horse right, my RM12 would have become… RM16,000!!!
WAHHHHHH
Ok it didn't happen.
I just like going over the 'what ifs' okay :p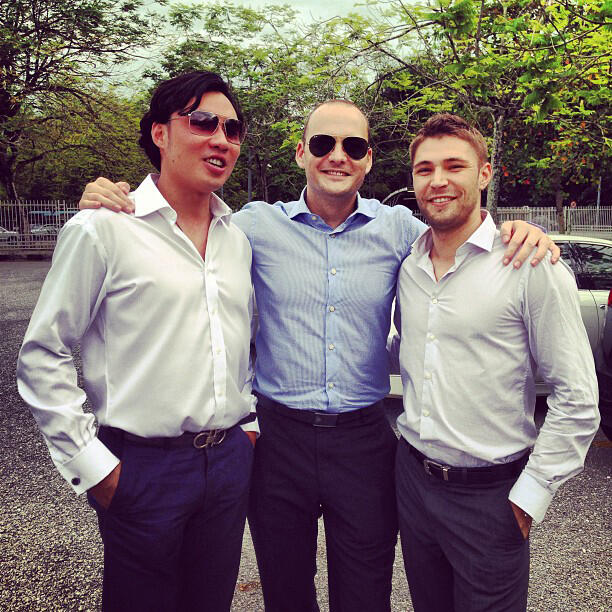 A snake, a rooster and a tiger!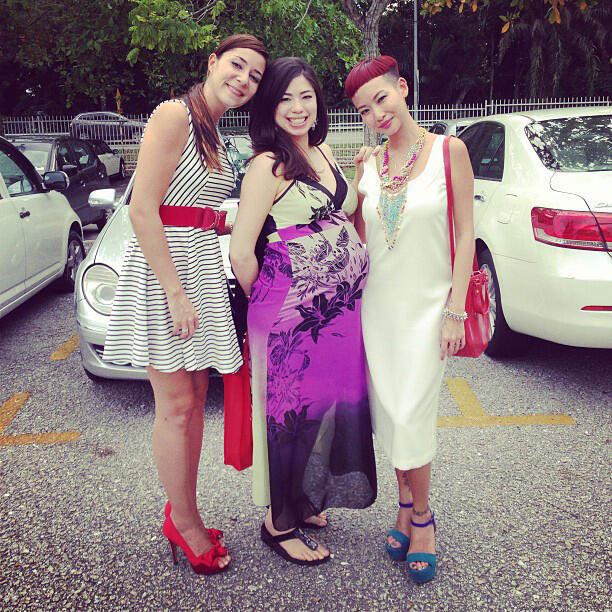 Helo, Cammy, me
After the turf club, we went to Bait @ Bangsar where we had white wine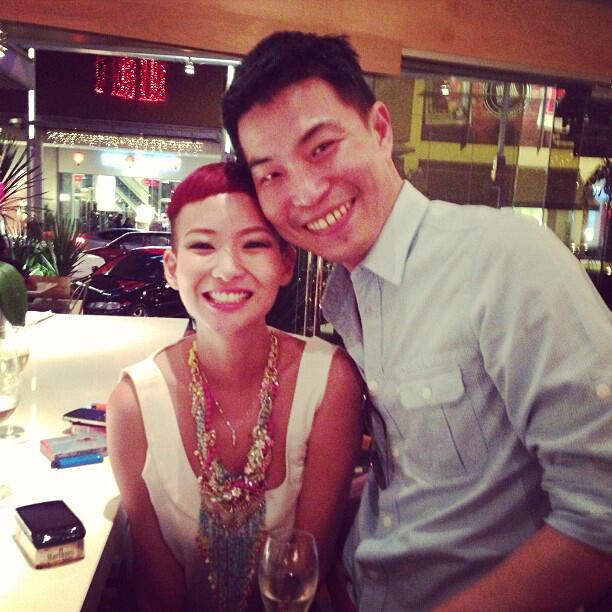 Bumped into James, whose mom and mine are best friends.
I remember he was forced to fetch me to piano class once when i was around twelve.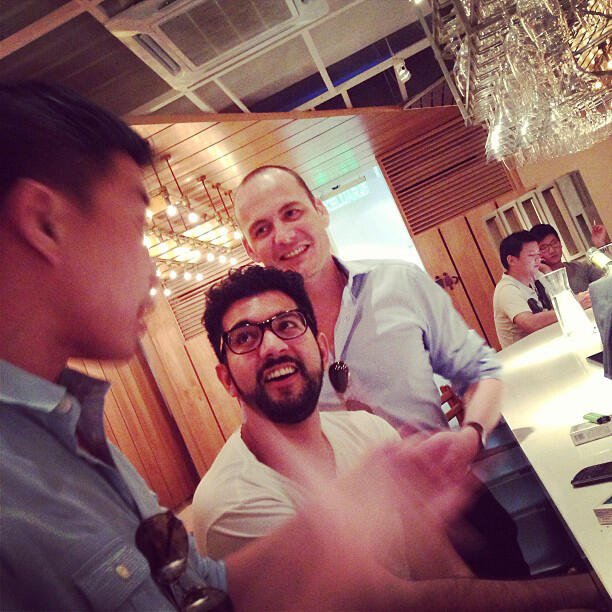 Rahul joined us and i should have known that i should be smarter than to meet him before having to meet family… whatever i had got me talking SO much that Clem had to pull me away from a relative. Oh man. Bad bad…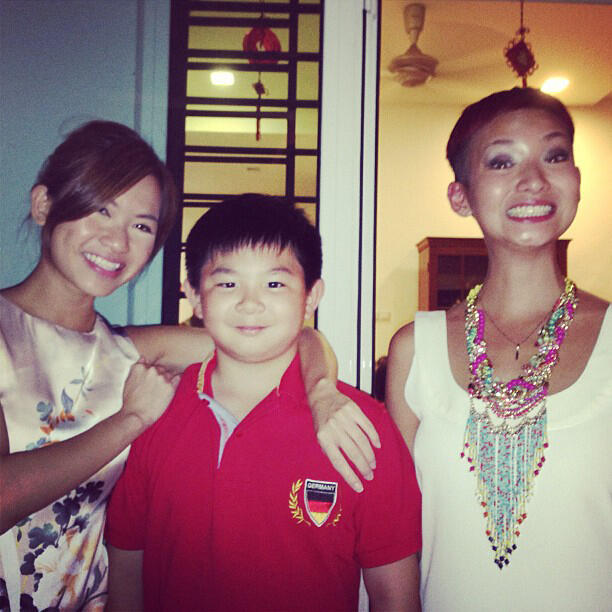 Taking a picture with Chris, cos Smalls and i expect him to be taller than us next year.
I guess you could say i was cheating by stretching my neck out like a giraffe.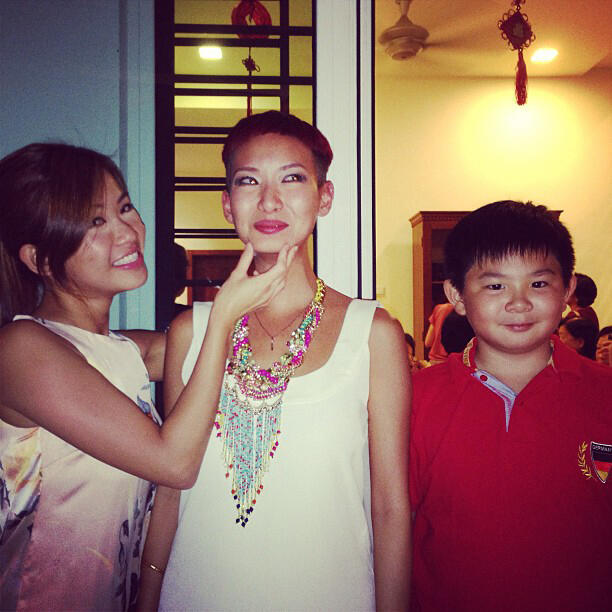 So i got forced to take another picture.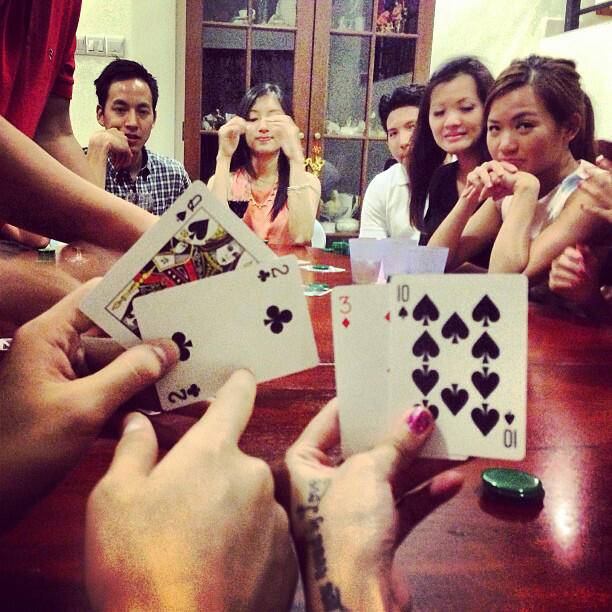 Gambling with my cousin David next to me. These are our crap cards.
Clem and i made our exit after losing our money
(because it was better to keep me away from family before i embarrassed myself further,
because we'd lost enough money gambling that day,
and because we had other friends to check in with before calling it a night)
We went to The Social in Bangsar to meet up with Clouds and Kevin,
and while i was walking around the place looking for them,
Kevin told me that they were in the Publika one -_-
Well, that was just out of area in our game plan,
so Clem and i went to Vin's where Rahul, Rudy, Aps, Kubs and a whole bunch of people were.
Some time later when i couldn't TALK anymore cos my throat was sore from talking and drinking all day, i said, "OK. TIME TO GO HOME." And Clem was like, "Me too. I'm dead."
I think we did pretty good for second day of CNY…
Today (3rd day of CNY), i wore one of the lucky colours for my animal year (pig) – which is yellow
And for the first time all CNY, i was winning $ all afternoon at Andrea's open house!
I think i'm going to stick to my lucky colours from now on.
Only problem is… my lucky colours have to be clothes i have the least pieces of!
Lucky colours for pigs this year are: yellow, brown, grey, golden.
Colours to avoid: red, blue, green. (Great, all the bright colours i love and have so much of -_-)
+ + + + + + + + + + + + + + + + + + + + + + +
NUFFNANGX
Are you guys using NuffnangX yet?
If you don't know what it is, read my past post about it *HERE*
It's an easy way for you to  find new blogs,
converse with readers/bloggers,
and be updated every time my favourite blogs have updates.
Check out www.nuffnangx.com