The prettiest picture of food i have this time around goes to... MOLDY CAKE! YAY!!!!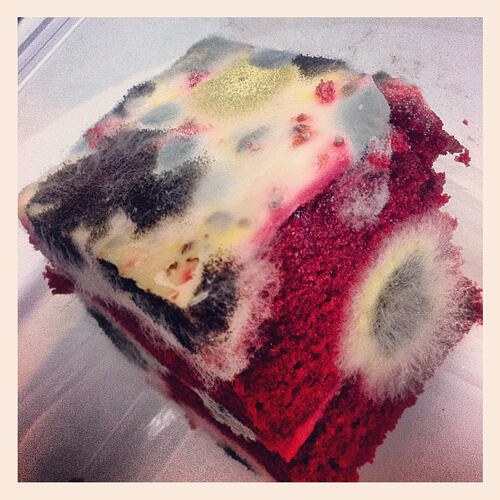 I have this (not-that-bad) habit of keeping cake in my fridge in CASE i feel like having a few bites while watching Community. This one i forgot to keep in the fridge hence... the little planet that grew on it. It's red velvet from Fat Spoon. Someone commented at least we know they don't have preservatives in there haha. But seriously, when i saw it my first thought was 'OH NO MY CAKE!' then 'Oooooooh so pretty....' Mold is nature after all, and nature is ALWAYS PRETTY.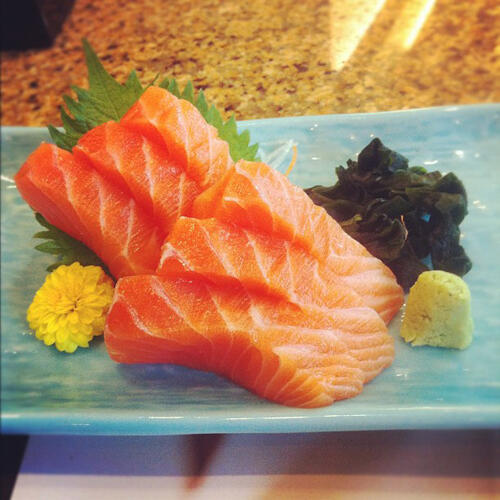 Today i had a marathon of five appointments. In between #3 and #4 i had 20 minutes to scoff down lunch and decided to have a nice break at Kampachi @ Pavilion. I felt a bit guilty about having RM70 salmon sashimi but the guilt lasted 2 seconds. After all... my typical alone meal is chili pan mee and a bit of pampering once in awhile will just give me an extra skip for the rest of the day (which it did, just sayin hee hee). I told Clem about my crazy day but how i had a nice lunch by myself. He answered, "I had an apple. It was a nice apple." LOL kesian.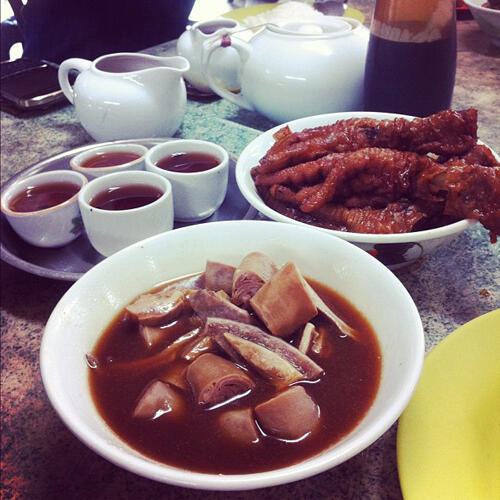 Had good old Klang bak kut teh weeks ago. I need to venture there more for FOOD.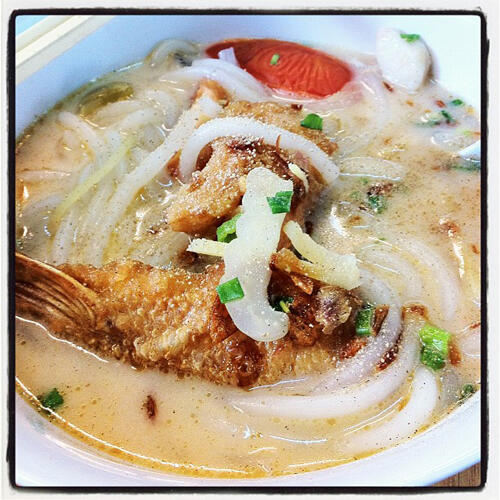 My mom took me for these great fish noodles that's further down the road from D'sara Specialist Centre. It's on the row of shophouses on Jalan SS 20/10. We picked the haruan fish cos it's got minimal bones and tastes wonderful in the milky soup. If you do go, choose a mixture of fried and boiled fish cos they're both equally good!
+ + +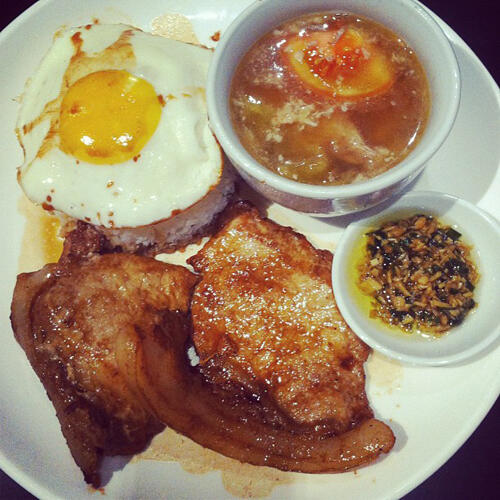 A bunch of us tried S.wine in BIG @ Publika for the first time. I had the Asian pork chops in lemongrass with ginger & garlic sauce, with rice and sour vege soup. Was. Really. Good. I shared mine with the others (and subsequently took bites of theirs), save for Byron who claimed he didn't want any, and just his dish alone. So... i didn't get to try his pasta, which looked really good! Basket. I felt so deprived i went back a few days later to have what he had - the blue cheese + broccoli + chorizo pasta... >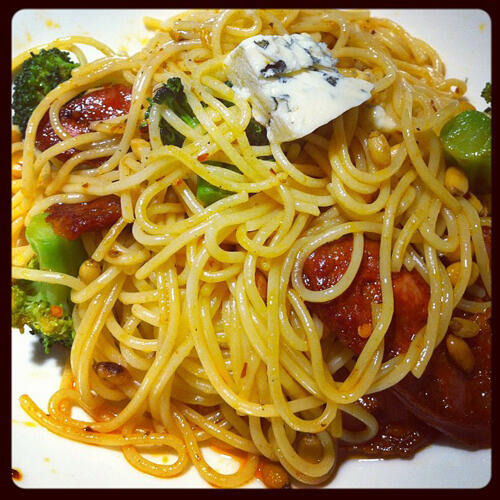 I've been eating lots of pasta at Ben's... i can't imagine how much $ he's making from all our greed.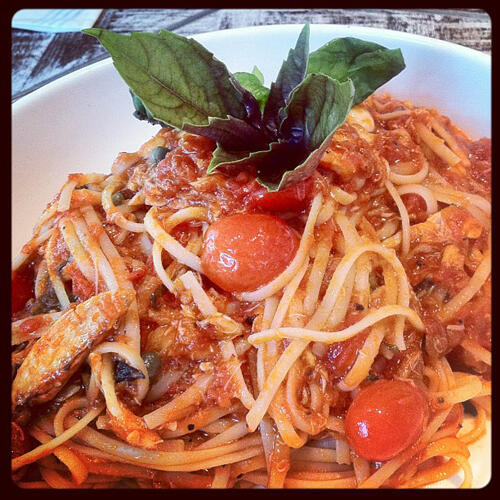 I used to ALWAYS just order the soft shell crab pasta, then i moved on to trying the grilled seafood pasta, and they've all been really good.. so i ordered the crabmeat puttanesca this week. Dammit Ben. Luckily you have restaurants all over the place -_-
+ + +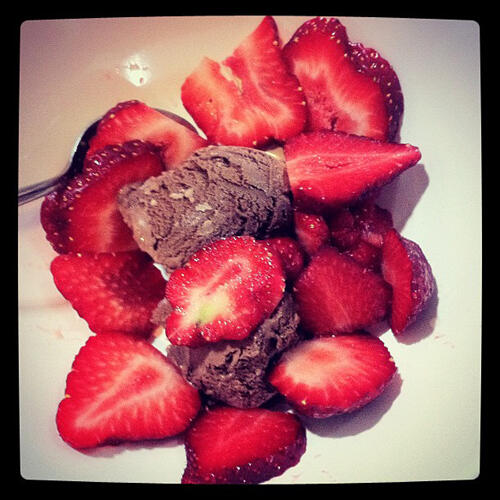 Kenny & Cammy bought us a box of strawberries when we were all at Cameron's together. I was SO thankful they did cos they were intensely sweet and juicy! For a moment i figured the strawberries there might be overrated but they are SO not. (my god i'm structuring my sentences like how Clem talks. Sigh.) Had them with ice cream for dessert, and thrown into my morning cereal.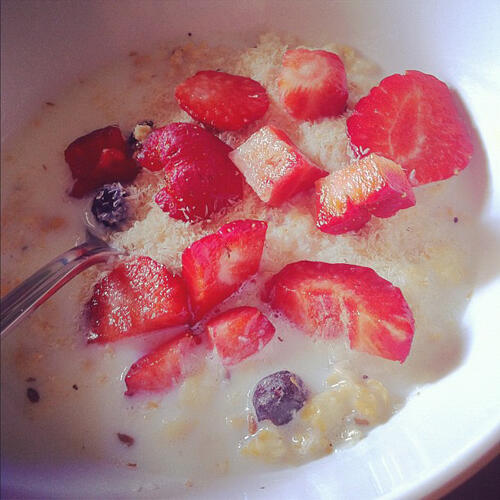 + + +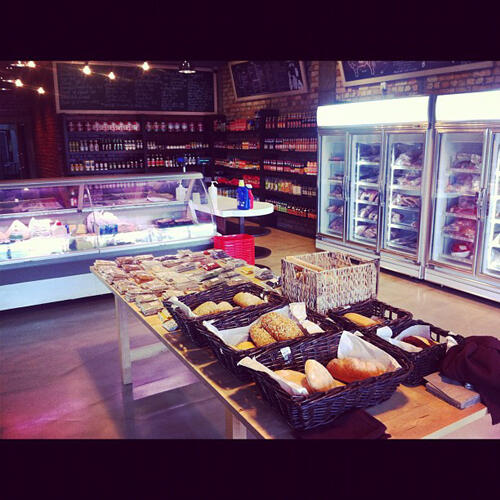 I walked past The Food Company a few weeks ago... and couldn't help just POPPING in to have a look. A waiter from Vin's recognized me there and told me the owner opened the frozen food shop. They've got fresh frozen seafood (cod, salmon, scallops, oysters, prawns, fish), meat (lamb cuts of all kinds), sauces, spices, cheeses, and FRESH BREAD. It's a little heaven for those who cook at home! The prices are cheaper than in Bangsar, and the cuts made me drool.
From just 'popping in' to have a looksee, i ended up with lots of frozen meats and seafood and spices and a can of sauerkraut. -_-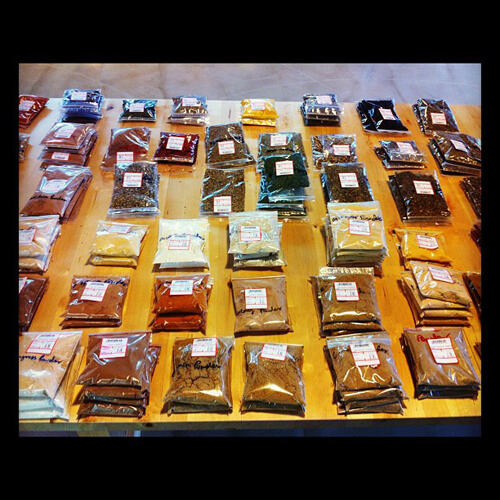 + + +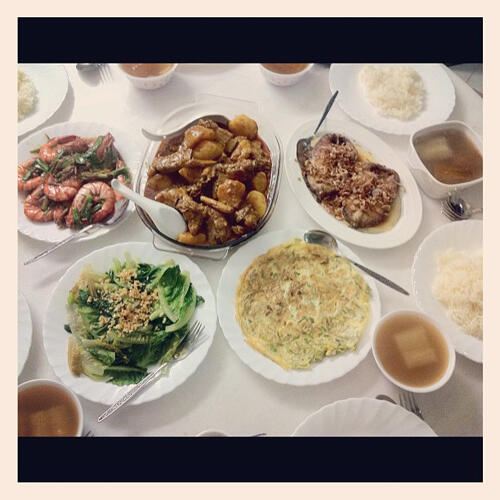 My mom cooks a big dinner for 6 of us when my brother is back from Singapore. There's really nothing like her cooking.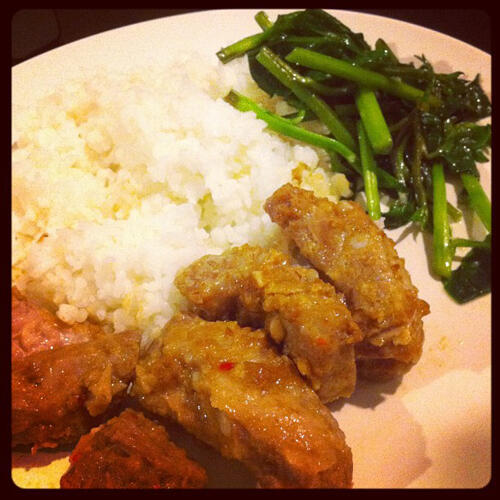 Pork ribs steamed with bean paste + chili
Bad picture sorry. I've been attempting to cook the dishes i grew up with. Previously i've been intimidated to use all these strange Chinese sauces in jars i see in the store, but mummy has been teaching me how to do it her way and it's working so far! At first it was difficult to get the gist of the recipes cos our conversations went like these -
Mum: You marinate the pork with the bean paste (bla bla bla) then you steam
Me: Steam for how long?
Mum: Steam until it's cooked la! *loud why-are-you-so-stupid voice*
Me: -_-
Mum: You drizzle the black sauce over it while it's cooking
Me: How much sauce?
Mum: When you think it's enough
Me: -_-
Asian moms have no regulation for measurement when it comes to cooking... it's all by estimate! I discovered the easiest way to learn was to WATCH. Which i have been doing when i can! I was a bit afraid to cook the bean paste ribs for Clem at first, cos i didn't think he'd like the taste. But he LOVES it, phew! (Cos i bought a big jar of the paste too haha)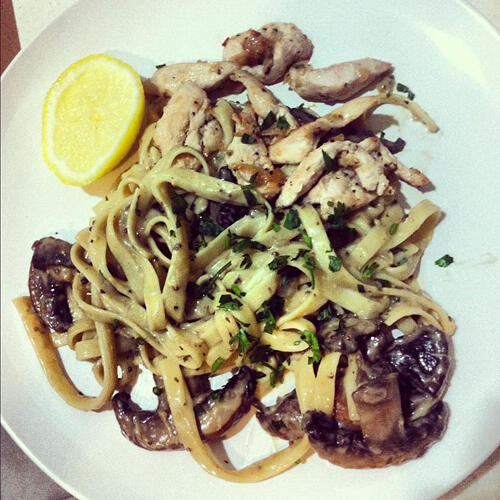 Cooked some portobello mushroom + garlic chicken + cheese pasta with using all the leftovers i could find in the fridge. It turned out well for a mashed up recipe yay me!
+ + +
Clem told me ages ago that he was going to France for work for two weeks.
Me: Really?... Aww....
Clem: Yeah
Me: ... YAY i'll THROW A PARTY!
Clem: -_-
I thought i'd take advantage of having no male around and do a dinner for my girls. From 6 people i ended up inviting 12 then stopped before i couldn't handle the cooking on a week day.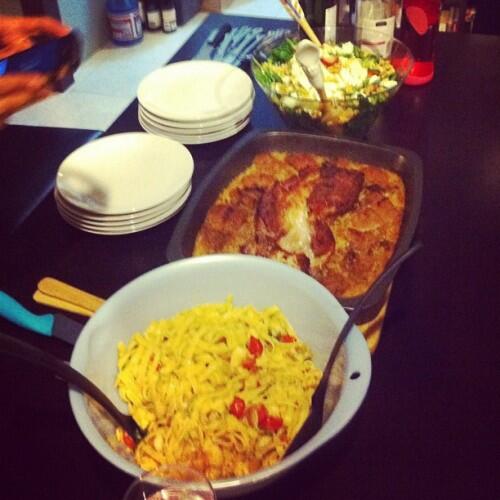 For 12 girls:
butter fish + dory + white wine pasta
pork shoulder slow roasted for 5 hours atop sauerkraut and apples
apple + strawberry + pine nut + feta cheese + hazelnut salad
I was going to get one of them to bring a salad at first, but ended up being a kitchen nazi (christened by Cammy) and told them i wanted to do it myself. So all of them were 'encouraged' to bring wine and dessert.
Every single girl brought at least one bottle of wine and we had a total of five desserts from Alexis, a box of cupcakes, a massive lasagna and s'mores on sticks. Chelle was so serious about her s'mores, she even brought a blowtorch which i tipsily decided it was best for her to handle lest we burn the house down in our state (thanks to the wine).
It was such a great party and i wish my house was bigger so i could have MORE girls over next time... At any rate, whenever Clem goes away for work now - it's GIRLIE PARTY TAIM.
+ + +
Completely different note but it IS connected to food! Do you all take your deworming pills?! I've been taking the same brand since i was a kid... and now that i'm living away from my parents, i still make an effort to take the recommended dosage once a year (or was it 6 months?). Whatever. At least i'm taking it once a year.
I bought two boxes cos i wanted to Clem to swallow them too, naturally. And he bloody refused!
Me: You have to take them!
Clem: Why?! I never took these in my life!
Me: Because of all the hawker food we eat! We're in Asia!
Clem: You mean you're in Asia or because you're Asian.
Me: Idiot!!!
Clem: *looks at box* They look very Asian to me. I think they're Chinese.
I couldn't help laughing cos i never even NOTICED the illustrated picture is a Chinese family!
Clem: I don't know... i don't trust their faces
Me: WHAT?!!?
Clem: They look like they're in the sixties, c'mon.
Seriously man.
Thia commented on instagram that she heard the worms come out when you take a crap. I commented back, "Well, it's better it comes out than STAYS IN your stomach!!"