This is the second post i'm writing on Marina Bay Sands. If you haven't read the first post yet, click *HERE*.
Our second day in Singapore turned out to be a VERY educational and exciting, as we were a select group who were invited to:
–  have breakfast and lunch at Sky on 57 and meet celebrity chef Justin Quek himself
– experience cooking demonstrations in cult restaurants Guy Savoy and Waku Ghin
– have an insider tour of the resort's underground network and how MBS organizes 9,000 staff
(i feel like putting an exclamation mark behind every sentence cos i'm really ecstatic while typing this but i shall refrain)
– meet and chat with Tamir Shanel, the Vice President of F&B
This was an AWESOME day. Just looking back at the pictures reminded me how much i saw, learnt and ATE that day. I happened to glance at a digital scale in my hotel bathroom the night before, and stepped on it to read: 42.00kg. The next evening i stepped on it again and saw: 43.40kg. For someone my height and frame, i think putting on 1.4kg in less than 24 hours is a lot! Not that i'm complaining… i'd eat like this any day someone wants to feed me!
My stomach's journey started with breakfast at Sky on 57, the 12,000 sq. ft. restaurant helmed by Singaporean celebrity chef Jusin Quek. He's famous for presenting Asian dishes fused with premium Western ingredients; such as the Maine lobster hokkien mee, wagyu beef cheek rendang, and foie gras Xiao Long Bao. Doesn't that sound crazy? Being a huge fan of curry and laksa, i couldn't help but have his laksa for breakfast.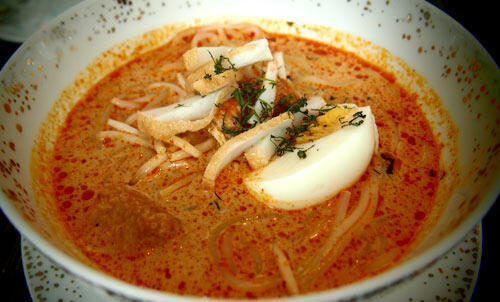 The laksa soup had the right amount of spicy and savoury flavours i love about the dish, and it was thick enough as well. One of the top 5 laksas i've had. I wasn't feeling too hungry (unusual for me, that) in the morning (might be due to all the eating the day before!) but i still managed to lick the bowl clean. -_-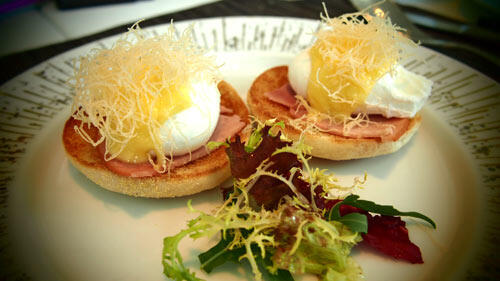 Took pictures of what the others had for breakfast.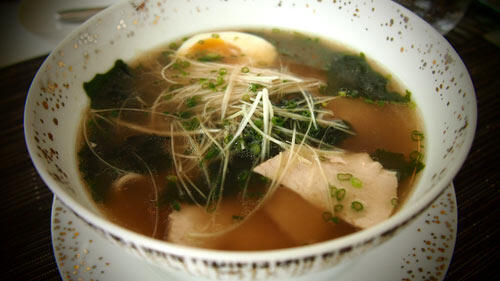 We had breakfast with Tamir Shanel, the Vice President of F&B in Marina Bay Sands. I was a little bit in awe of this man… can you imagine – he oversees the planning, development and operations of ALL THE F&B activities in the entire resort and 2,000 team members, and 60 food concepts! Before coming to Singapore, Mr. Shanel was the Executive Director of F&B at the Venetian and Palazzo in Las Vegas, which is the largest Five-Diamond resort in the world.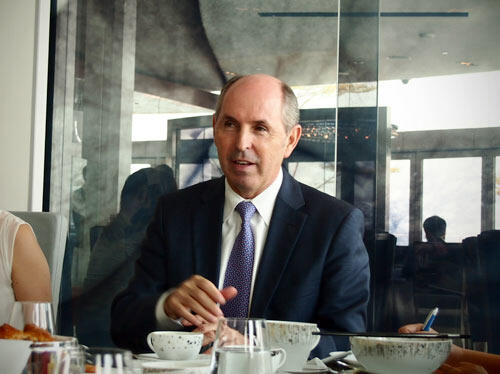 He's a very authoritative yet kind figure, and enthusiastically talked to us about his past and current projects for MBS. One of the interesting stories he told us was how he, the MBS sommelier, and his partner, all sat down to figure out which wine should be bottled exclusively as Marina Bay Sands' house wine. They impulsively mixed two wines they liked very much together… and it worked, so came to be the Pirramimma Cabernet Petit Verdot 2007.
What is amazing was that this unique wine ended up winning the Silver Medal in its category at the International Wine Challenge in London. Also described by wine critic James Halliday as "a very powerful and complex full-bodied wine", he gave the wine a score of 94 out of 100.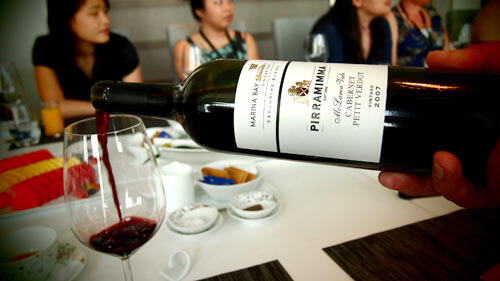 Mr. Shanel got a bottle opened for us to try that morning. 10am seemed a tad early but i wasn't one to say no to their award-winning wine! I also must add that two sommeliers at Marina Bay Sands clinched awards at the Southeast Asia Best Sommelier Competition. Rajeshwaran Gopal (from db Bistro Moderne) was named Best Sommelier in Southeast Asia, while Alan Au (from Osteria Mozza) got the second place of the same title.
After breakfast at Sky on 57, we had what is called the 'Heart Of House' tour, where we got to see the underground level at which 9,000 staff members are organized and how all the food for room service and staff meals are prepared. Exciting! Like a school trip but even bettah!
All staff in MBS enter the resort area via this huge tunnel in the basement. It has an entrance that looks like that at an MRT station cos there must be so many people coming and going at peak hour!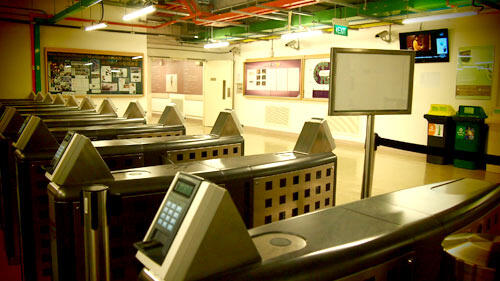 This is where they swipe their ID tags to enter. Once they enter, there are eight different doors on the left. Each staff is assigned a particular door, where by swiping their ID tag, their individual garment bag and uniform comes swiveling right to the door opening. Once they get their uniform, they change in locker rooms, put their personal clothes back into the garment bags, and personal belongings into assigned lockers. Incredibly efficient!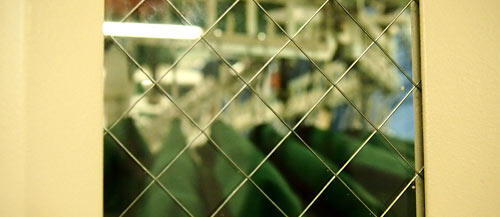 Each of the eight doors comes with a narrow window so you can look into the giant laundry and uniform area. We got brought into the area to have a look tho!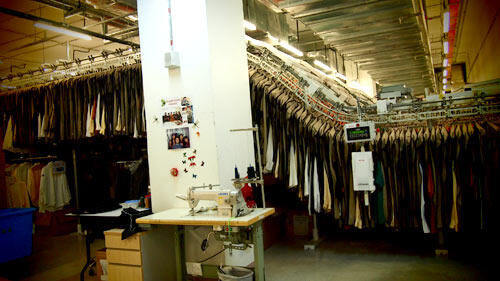 This is just a small portion of all the uniforms we saw hanging everywhere… Each staff have three uniforms provided and laundered for them (chefs have four), so there are 30,000 uniforms altogether?! There's even a team of seamstresses working in a row to mend and alter the clothes. Every uniform also comes with an RFID chip sewn in, so they know at any given time who it belongs to, when it was last washed (and potentially, where you/it is!).
Click 'read this' for the whole post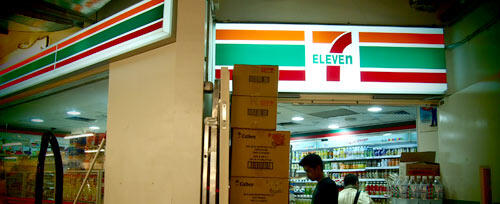 So many staff that they even have their own 7-Eleven in the basement -.-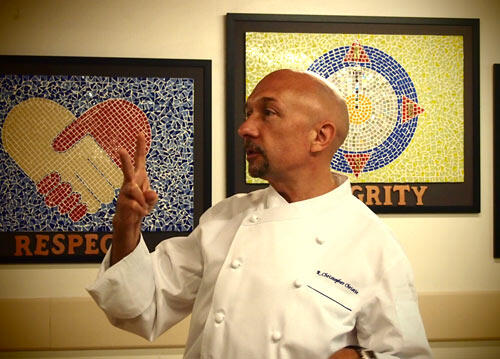 For the rest of the Heart Of House tour, Executive Chef Christopher Christie took over. He manages all the F&B requirements for the staff, in-room dining in the whole resort, banqueting and catering at the Sands Expo and Convention Centre. It's said that on a typical day, Chef Christie and his team prep 20,000 meals a day!! He's someone i liked immediately, he seems to have a sense of humor along with his complete briskness about things.
We weren't allowed to take pictures… but i'll try and describe what i can. We walked up the corridor to what seemed like a maze of rooms. Chef Christie pointed out huge shutter doors on the left where trucks deliver all the food and produce. On the right were different freezer rooms where food was kept. They weren't very full tho, and he explained that because Singapore delivers seven days a week, the resort tries not to store what they don't need, and to order fresh as much as possible.
There were different rooms where the food was prepared by butchers and chefs as well – red meat room, poultry room, seafood room. We went into the red meat room and i was like 'gahhh!' All the various cuts of prime meat around me! And all the butchers busily cutting and wrapping up meat to be sent to the different restaurants in the whole resort! And everything was stainless steel, shining and spotless. Fantastic to see in real life.
We walked quickly past the seafood room to peek at men shucking oysters (gahhh!!!) and through these rooms to another section where all the staff meals and in-room dining is prepared. There's hot kitchens and cold kitchens (for the salads). Chef Christie pointed out how all the food 'flows' in from delivery point to prep to cooking. I was just gaping at all the industrial machinery in there for preparing and storing and cooking food… i felt like i was in a documentary show! SO AWESOME.
We were allowed to take pictures in the bakery… it smelt heavenly in there! MBS has 14 full-time bakers for bread and pastries.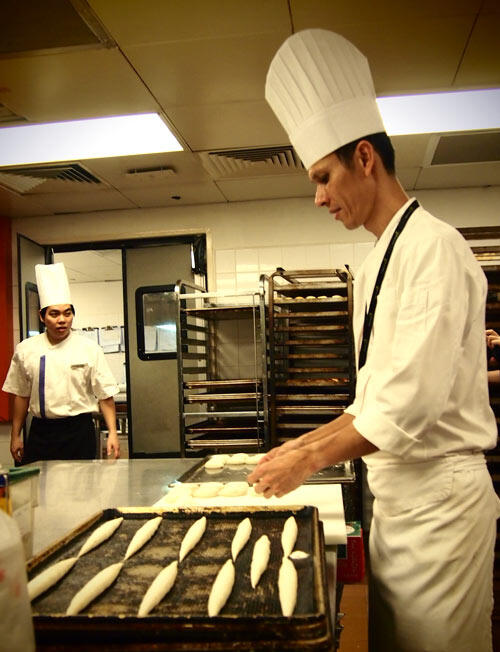 And their CHOCOLATE room. They have a chocolate room guys! We were told that MBS goes through a TONNE of chocolate every month!
Chocolates sold at SweetSpot. We managed to take them to nibble on woohoo!
After seeing SO many kitchens and busy staff working with food, we were shown the staff dining area and jeez… it's REALLY nice. The kitchens provide 9,000 staff meals a day(!!) and they come buffet style and look really yummy and healthy! I took a walk around the buffet tables and thought, "Wow. I really wouldn't mind WORKING HERE!"
Even their dining area looks pretty lux with dim lightning and cushioned chairs. None of that fluorescent and plastic one might expect. All the staff looked so smart in their perfectly pressed and clean uniforms, eating good food… Every day, the kitchens use up 500kg of rice, 1.3 tonnes of meat, and 1.5 tonnes of vegetables – just for staff meals alone! We were even pointed out the 9 rice steamers that work 20 hours a day for the resort and staff.
It was such a fascinating experience and i thank Chef Christie for taking the time for us. FYI he also writes fiction books (seriously, where does he find the time…) and just published a culinary-themed novel called The Broken Path. 
/////////
For lunch, we went back up to Sky on 57 where we met celebrity chef Justin Quek.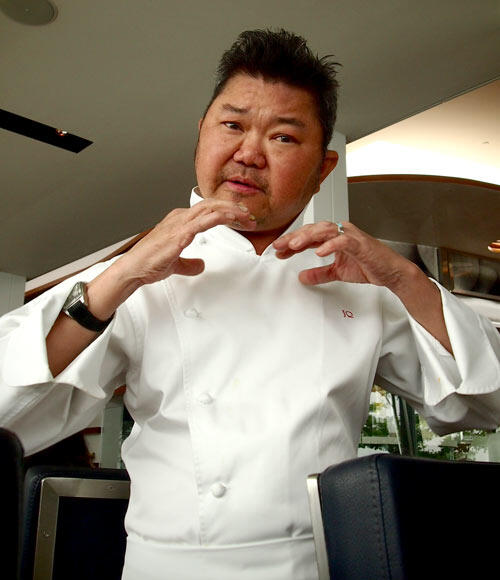 Justin Quek was appointed the personal chef of the French Embassy in 1992, making him the first Singaporean to do so. He has also received the Chef Of The Year award at the World Gourmet Summit Awards of Excellence; and has founded reputable French restaurants in Taipei, Shanghai and of course, Singapore. Despite his impressive resume, Justin was really down-to-earth and talked animatedly to everyone at different tables. He reminds me of a family friend who'd have you over to his house for lots of food and wine. I should start making friends with more chefs…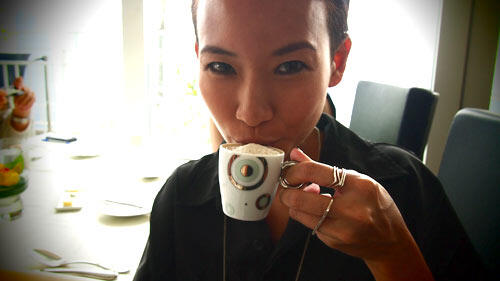 We all got to savour his food for lunch that day woohoo! I LOVE MY LIFE.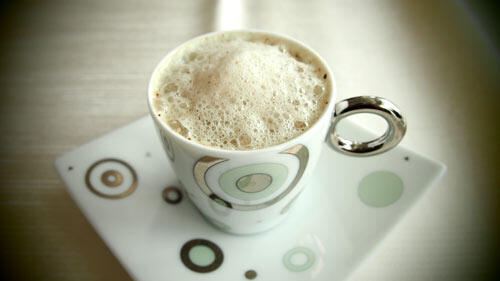 JQ's Signature Demitasse of Fresh Mushroom Cappucinno. (This. Was. The Best. Mushroom. Soup/Cappucinno. I've. EVER. HAD.)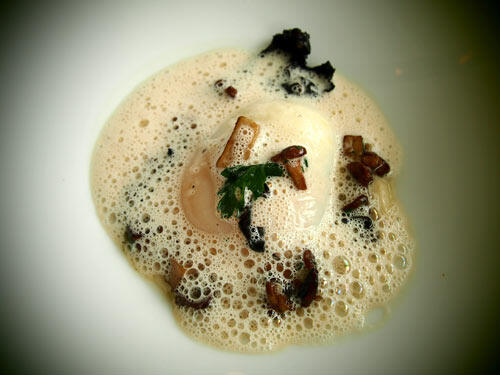 Slow-cooked Organic Egg with Artichoke Puree & Foie Gras Emulsion. Mmm this was something different which i doubt i can make for myself 0_o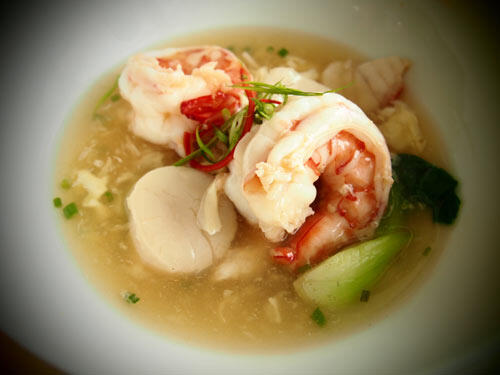 I chose the Oriental Seafood Fried Rice "Mui Fan" for my main. It is Egg Fried Rice, Asparagus, Grouper Fillets, Prawn & Scallop. There's no such thing as stingy at Sky on 57.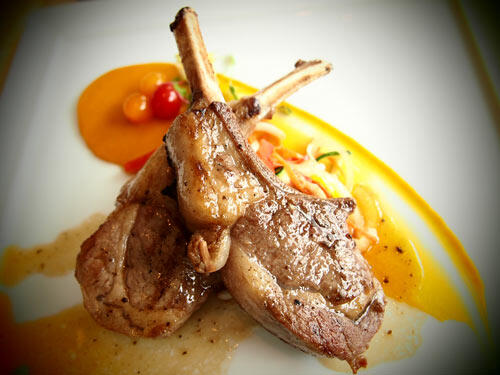 John had the Australian Lamb Cutlet with Wok Fried Julienne of Vegetables & Tapenade Jus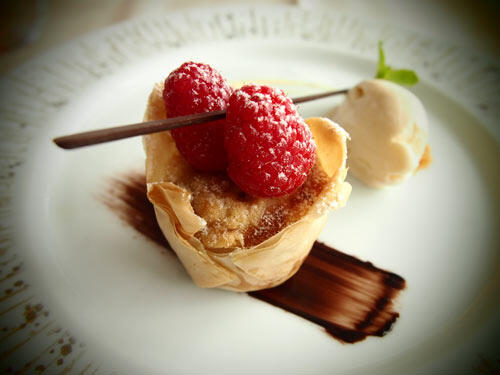 Jackfruit Tart with Crumble accompanied by Creme Anglais & Acacia Honey Ice Cream
I finished off with Vittoria gourmet coffee so i wouldn't pass out from all that goodness.
Sky on 57 is open 7am to midnight daily.
For reservations please email skyon57@marinabaysands.com or call (65) 6688 8857 
////////////////////
After lunch, we dropped by Waku Ghin – the cult restaurant that offers French cuisine with Japanese influences. Helmed by celebrity chef Tetsuya Wakuda, the restaurant has already nabbed a spot on S. Pellegrino "World's 50 Best Restaurants List" just in May this year. A bit of background on Chef Tetsuya – He grew up in Hamamatsu, Japan; and moved to Sydney at age 22. Seven years later, he opened Tetsuya in 1989, which grew to a larger space in year 2000 because it was always fully-booked. Today, Chef Tetsuya is heralded as one of the most original and creative culinary talents in Australia.

Waku Ghin can be accessed through the casino or the mall in Marina Bay Sands. It's a huge restaurant at 8,000 square feet but seats only 25 people at a time! Well, there is a sake bar and caviar lounge, a dining hall, private dining rooms, an extensive wine collection, and a drawing room that serves desserts, coffees, teas and cognacs. When you first enter Waku Ghin, you face a sparkling bar in an intimate lounge where guests can have aperitifs.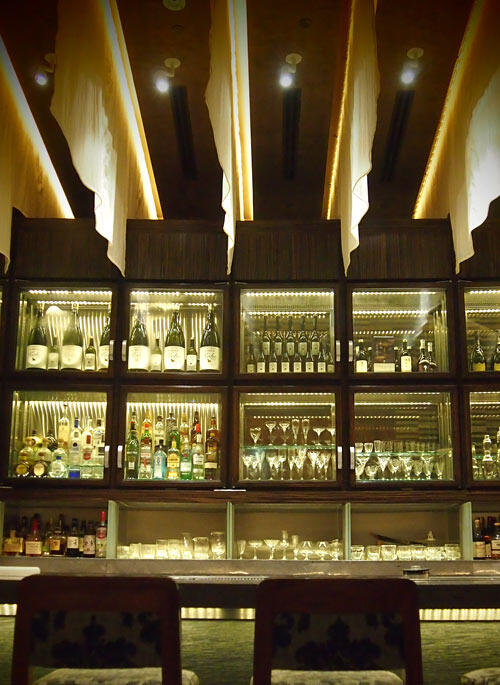 After aperitifs, guests can head to one of many private dining rooms, which each comes with its own chef who prepares the food in front of guests as they watch. (There are 16 chefs including 2x Senior Chef Departee and 3x Sous Chef.)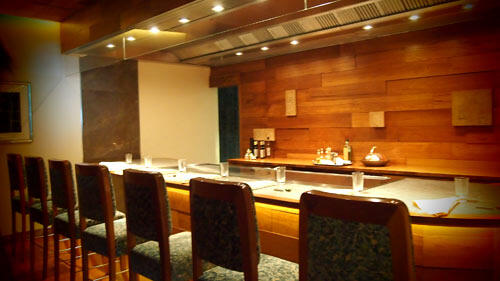 After dinner, guests then move along to the drawing room or main dining room for desserts, coffee and digestifs.
(all of us media wandering around the main dining room)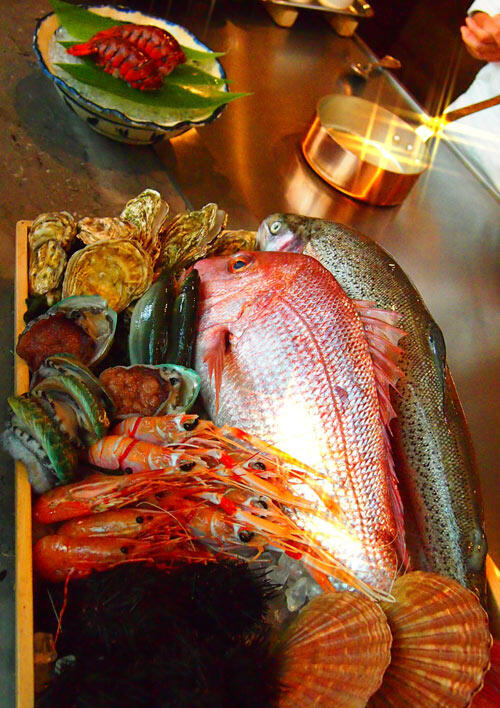 Waku Ghin offers a European/Japanese menu that uses only the freshest ingredients (of course) from around the world. Chef Tetsuya believes in "pure, clean flavours that are decisive, yet completely refined",  with signature dishes that include Marinated Botan Shrimp with Sea Urchin and Caviar and Australian Wagyu with Wasabi and Citrus Soy. I've never even HAD anything like that in my life… i will one day soon *eyes Waku Ghin*.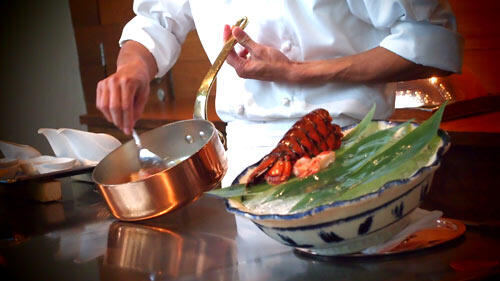 Chef Sia Kok Hong gave us a cooking demonstration on how they prepare slow-braised crab. He chatted to us about the philosophies behind Waku Ghin and we discovered that he's from Malacca, which i thought was quite cool too.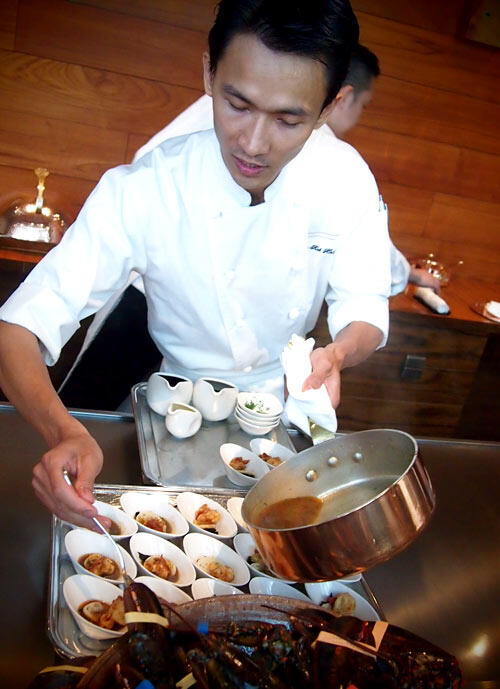 Best part about cooking demonstrations is getting to taste the food at the end!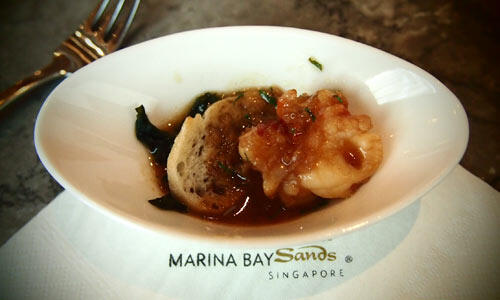 The tastes were very delicate and focused. Wish i could have had more XD
Waku Ghin is open daily for dinner from 6:30pm to 10:30pm (only 4 hours a day!). There are two seatings per night – 6:30pm and 8:30pm. On Fridays there is a 6-course lunch service from 11:30am – 1:30pm. 

For reservations you can email wakughinreservation@marinabaysands.com or call (65) 6688 8507
///////////////////
We also managed to experience a cooking demonstration in Guy Savoy, the restaurant founded by Chef Savoy who is one of France's most celebrated chefs. Chef Savoy was given the Legion d'Honneur award from the French Minister of Agriculture (2000) and the French President (2009). He's also been voted France's Chef of the Year by his peers.
There are two Guy Savoy restaurants in Paris (three Michelin stars) and three more restaurants in the rest of the world. 90% of the Singapore menu is the same as the one in Paris. (The 10% absence is due to the difficulty of getting particular items in Singapore.) Still, the establishment flies in only the best produce i.e. tomatoes and seafood from Brittany, and wagyu from Australia.
Layout-wise, the one in Singapore has a champagne bar where guests can enjoy aperitifs, a main dining area that seats 80 people, and two private dining rooms.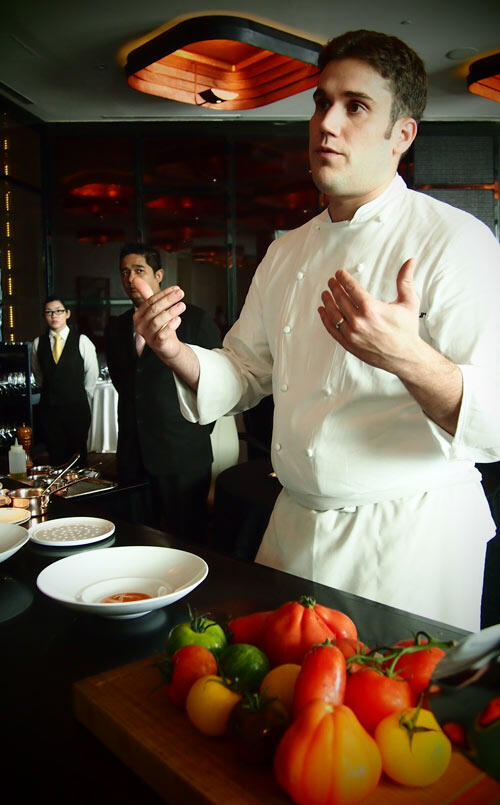 Chef Charles Benoit hails from Lyon and showed us how fine cuisine in Guy Savoy focuses on the flavour of one main ingredient to create a dish – like the tomato. The big fat tomato you see at the back of the chopping board is his personal fave – the ox heart tomato.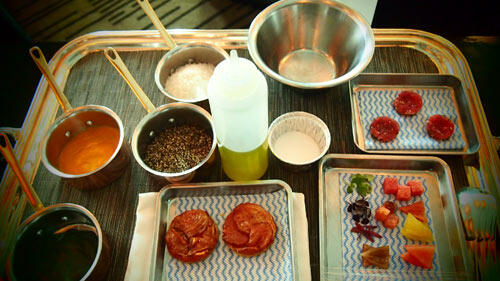 I never knew one could do so much with a tomato… he made tomato gazpacho with sherry vinegar and olive oil, and tomato tartare that uses all the components of the tomato. Even the juice that appears on the top when the tomato is boiled, is used to make jelly.
I tried one of Guy Savoy's signature dishes: Artichoke Truffle Puree with Thick Black Truffle Slices and Parmesan Cheese Shavings paired with Flaky Black Truffle Brioche slathered with Truffle Butter. I will just use one word to describe it: Divine.
Other signature dishes include Seabass with Crisp Scales and Delicate Spices, accompanied by Swiss Chard, Black Trumpet Mushrooms and a Vanilla and Spice Jus.
Guy Savoy is open for lunch on Fridays & Saturdays form 12pm to 2:30pm.
Tuesdays to Saturdays, bar dining (3-6pm) and dinner (6pm – 10:30pm) is available.
Bar dining is when one can sample the best wines and Champagnes from France alongside tasting portions of signature dishes.
For reservations, email guy.savoy@marinabaysands.com or call (65) 6688 8513
//////////////////
On a separate occasion, we had Executive Pastry Chef Ryan Witcher from SweetSpot give us a demo too. SweetSpot is an expresso, bakery and dessert store that prides itself on creating all its breads, pralines and desserts by hand. In total, there are over 80 types of desserts and pastries, pralines and breads available daily.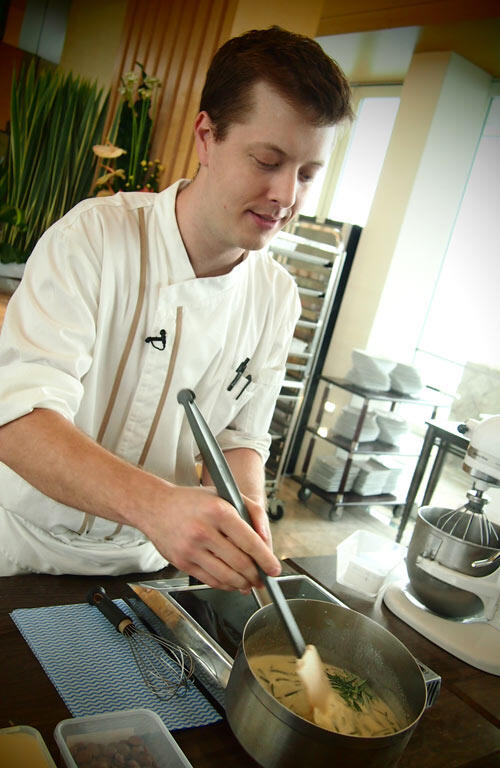 Chef Ryan comes from Michigan and is known for his sweet and savory combinations. Before working at MBS, Chef Ryan served at The Four Seasons (Seattle and NYC), and the Ritz-Carlton (Washington DC and Shanghai).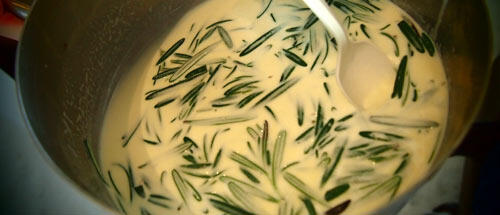 He showed us how to infuse rosemary with milk chocolate to create coconut agar.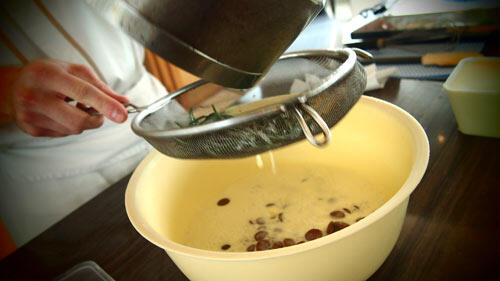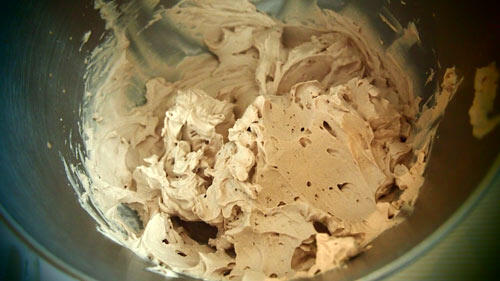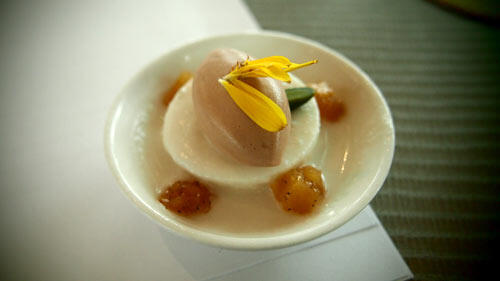 A little piece of art that takes hours to create!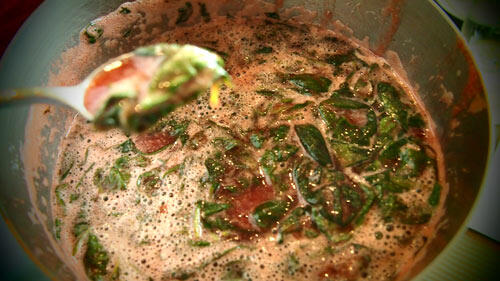 We also watched him make Strawberry Basil Sorbet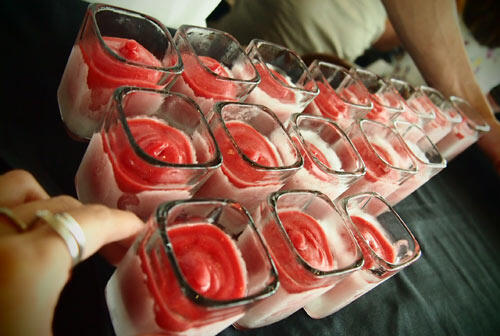 Next time you're in Singapore, drop by Marina Bay Sands' Lobby at Hotel Tower 3 to step into SweetSpot and sample some of their exquisite creations!
+ + + + +
OK i'm so tired editing the pix and writing everything for this post! It took me three afternoons and lots of snacking in between to survive.
Related Posts