In case you missed it, i already wrote a quick summary about Myanmar *HERE*. Now i'm going to attempt to blog all the pictures from my trip… hundreds and thousands of them -_- Gawd wish me luck.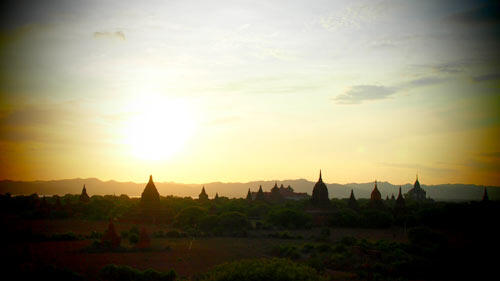 Bagan is famous for its thousands of temples (4000 Buddhist temples were commissioned from 11th to 13th Century) and Marco Polo described it as "one of the finest looking sights in the world". [source: Lonely Planet] We used the LP guide throughout our trip there. As did every other tourist we bumped into our entire stay in the country! Bagan is rated as one of the top places in Myanmar to visit, and i could see why… the panoramic view of hundreds of stupas, payas, and temples is astounding.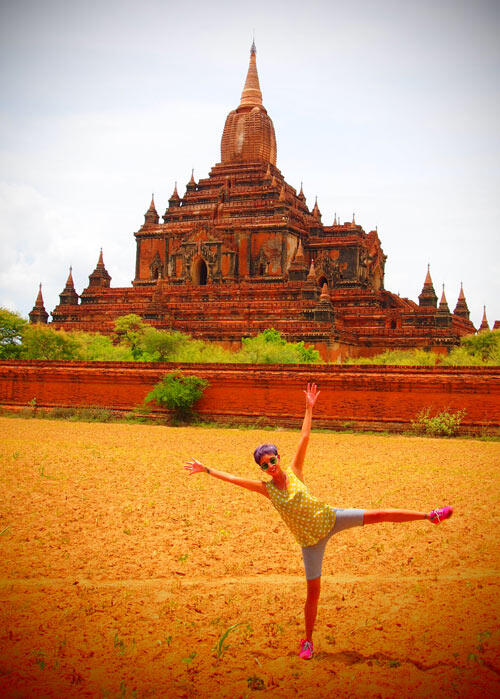 There's also a village we visited, where we saw this old grannie rocking the biggest cigarette i've ever seen in my life.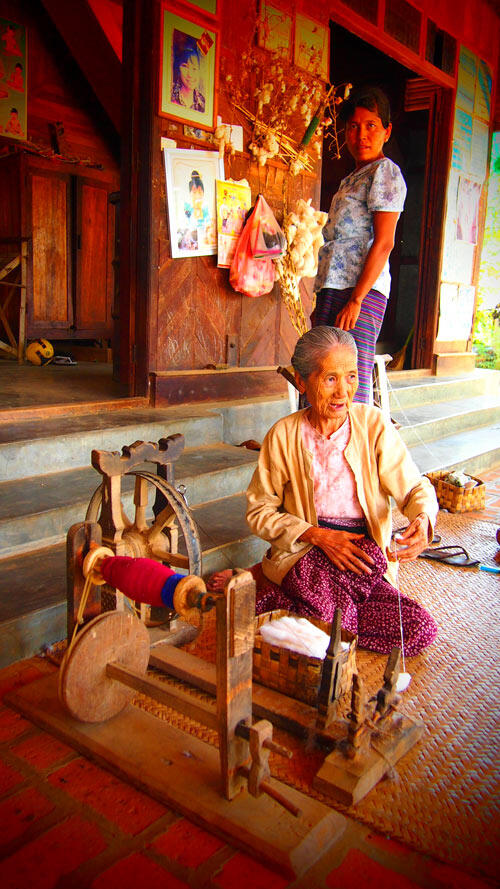 This be the grannie. But there are too many pictures so you gotta click to read more for the rest!
To get to Bagan, we first had to take a flight from KL-Yangon, then a flight from Yangon-Bagan. (Sure, you can take another mode of transport from Yangon-Bagan… if you don't mind sitting in a bus for 15 hours!) When we landed in Yangon on Friday night, we just needed a place to stay for 8 hours seeing we had to leave for the airport at 4am (!!!)
We checked into our hotel for USD25/night, which was pretty decent as it had air con, hot water, and was very clean. It was raining steadily when we arrived, as it's smack in the middle of monsoon season. I jumped over large puddles that formed on the uneven concrete pavement as we looked for a place for dinner.
We ventured into a simple restaurant seemingly run by a family or two of women and children. Little boys aged around 8-10 acted as eager and swift waiters, though the women took our orders.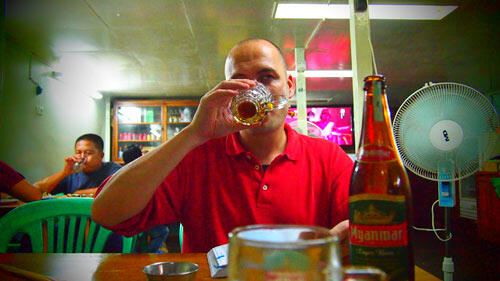 When Clem and i *looked* like we might have wanted to sit outside, six little hands picked up our beer mugs, bottle and nuts before we could say anything and rearranged the stools and tables outside, wiping raindrops off them. It cracked my heart to see young children working at 9pm, when they should be studying/playing/in bed.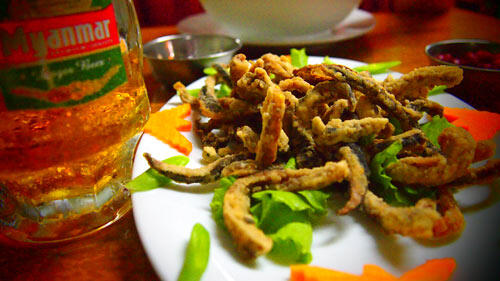 We had simple noodle soup, Myanmar beer, and deep fried squid, which we both agreed was really good.
Next morning we got into our booked taxi to take us to the airport.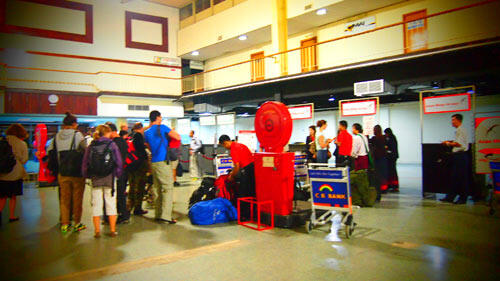 Their city airport is very basic… scales are used to weigh your bag if need be, seat numbers are penned onto cardboard boarding passes, and different stickers are stuck on passengers to differentiate which flight they're on.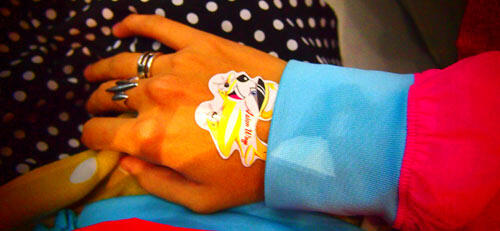 At least i've got a smiley plane sticker! 😀 Clem was relieved the plane was the same that FireFly uses. He's quite paranoid about flying, which is ironic cos he's in the aviation industry. His reply was: "It's because i'm in the industry!"
I guess ignorance really is bliss.
Passed out in the plane, was about two hours plus, i didn't bother much. My plan was to just get on the plane and get off when it arrives. But you know something weird about the flights there? It's like taking a bus! You gotta make sure you get off at the right landing strip else if you're overconfident (and silly) you'd end up in another city far away -_-
Ooh, a good thing about our flight was that they served a decent breakfast of croissant, danish bun, fruit and coffee/tea. Well, considering we paid USD100/person one-way…
Arriving in Bagan, we checked in to a hotel where i took a short nap (much to Clem's chagrin) which i insisted upon else i wouldn't be able to function the rest of the long day!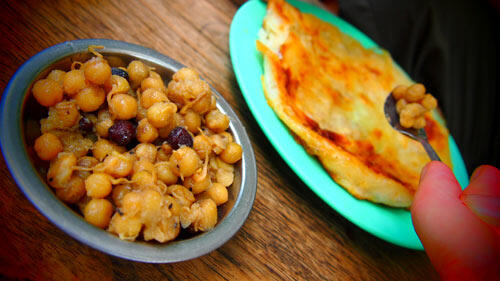 Had a quick breakfast of local Indian roti with chick peas, and chicken noodle soup.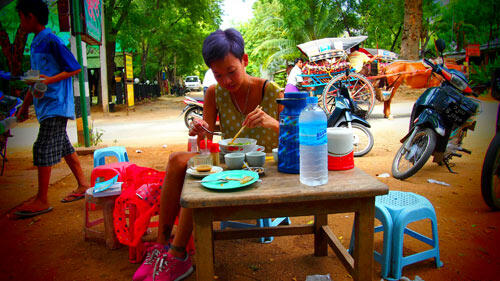 We hired a jostling horse cart and driver for 20,000 kat/day (RM70). Had the fleeting thought of cycling around but LUCKILY we didn't! The place seemed a LOT bigger than on the freaking map. Plus it was a reallllllly hot day, and i got so dirty from all the sweat and dust that i showered THRICE consecutively that evening! We did try to bargain the horse cart price down like the cheap backpackers we were trying to be, but it's hard cos all the drivers there charge the same (which they should be doing i guess!)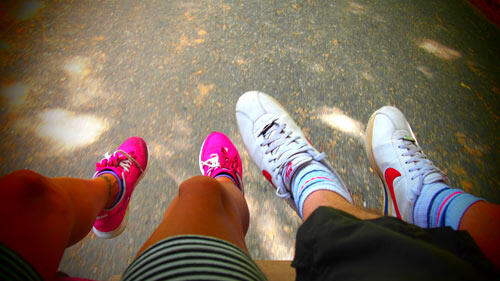 Thanks to Puma for my super light pink sneaks that have taken me walking and hiking across many countries! It's currently my favourite pair for traveling right now. Which reminds me… i really should go wash them…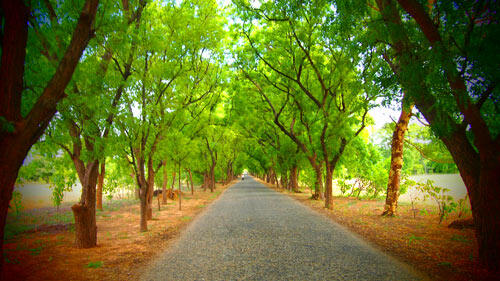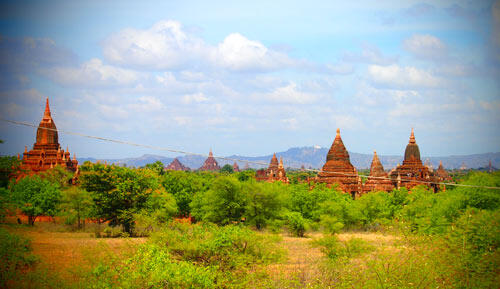 Thousands of temples are in a 5km radius in Bagan, making it impossible NOT to see a handful wherever you are. Even tho we studied the Lonely Planet a few times to see which temples to stop at, in the end we just left it to our horse cart driver, Minai. He seemed to be taking us to all the major ones we pointed out we wanted to visit, and in the end, they all looked the same (i'm SORRY BUT THEY DO) that i got confused which was which and have forgotten/given up on their individual names.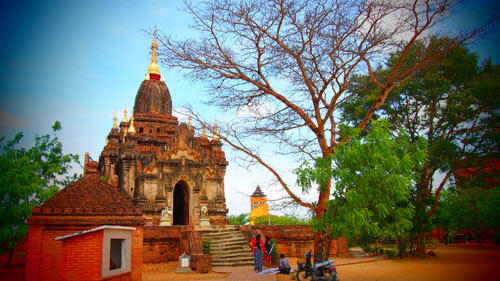 I want to jot down this excerpt from the Lonely Planet cos it made me laugh at the end:
"Bagan's two and a half centuries of temple building (11th-13th Century) coincided with the region's transition from Hindu and Mahayana Buddhist beliefs to Theravada Buddhist beliefs that have since characterized Myanmar.
Legend has it that monk Shin Arahan was sent by Manuha, the Mon king of Thaton, to convert Bamar King Anawrahta. To call the monk's quest a success is an understatement. Inspired by his new faith, Anawrahta ordered Manuha to give him a number of sacred Buddhist texts and relics. When Manuha naturally refused, Anawrahta marched his army south and took everything worth carrying back to Bagan, including 23 sets of the Tripitaka (classic Buddhist scriptures), the city's monks and scholars, and, for good measure, King Manuha himself."
Poor King Manuha!
With everything he needed, Anawrahta made his architects and people build and build, creating what Myanmar people refer to as the 'First Burmese Empire' and became a pilgrimage point for Buddhists across SEA.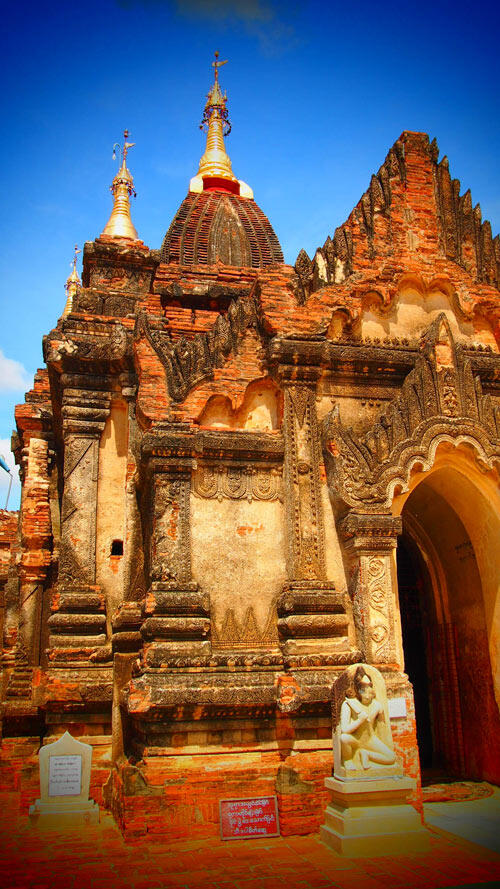 After hundreds of years building all these temples/payas, Kublai Khan's army supposedly took over Bagan, looted the temples, and destroyed many of them in the 13th Century. The big earthquake in 1975 placed the temples into further ruin, and it was only recently in the 1990s when local donation programs and the government focused on rebuilding them. Some experts argue that restoration is not done properly and a UNESCO official was cited as saying it is 'a Disney-style fantasy version of one of the world's greatest religious and historical sites.'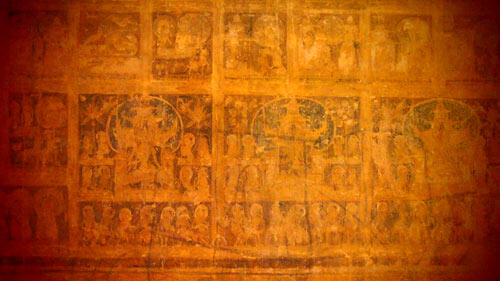 Many of the paintings in the temple have faded terrible, and some have been redrawn in an almost cartoon manner making it lose its lustre. Still, it's amazing to stand there and imagine how people devoted their capabilities and energy to these monuments almost a millennium ago.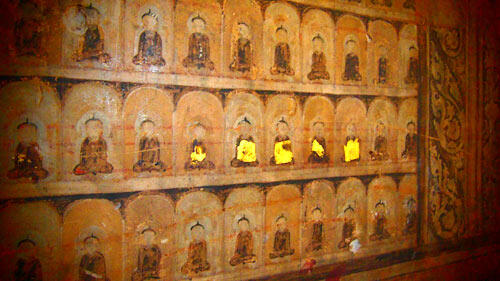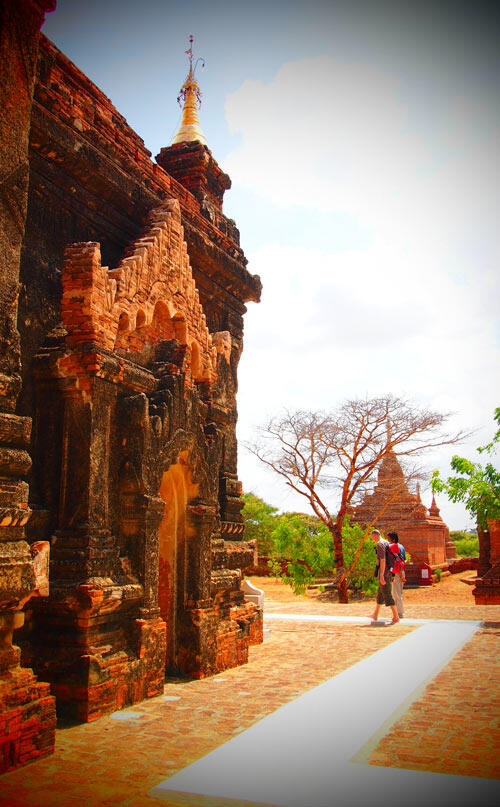 Clem is walking with a young artist in the picture. Lots of them make friends with tourists and give little tours in exchange for us to look at their work and try very hard to sell them to us… We didn't buy any tho. I really wouldn't know what to do with it as i already have at least four large paintings/images i haven't yet framed at home. Felt a bit bad but hey… we can't help everyone in the world, especially if they're charging RM120 per sand art. 0_o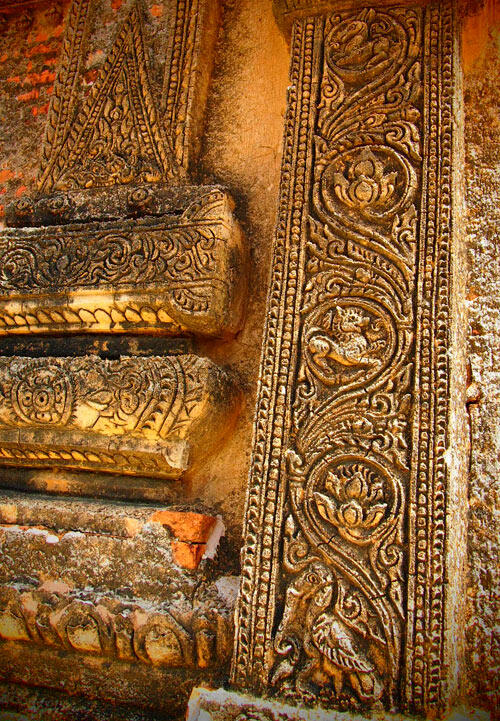 Spot the pony!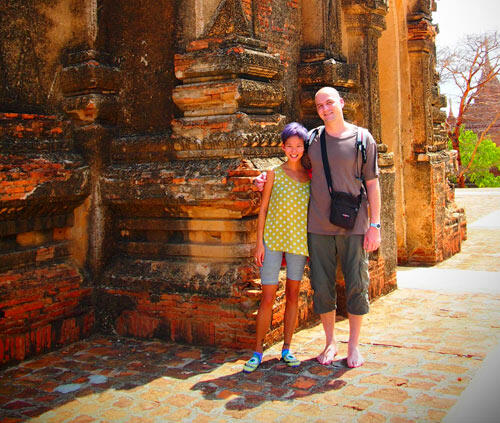 OK. I can see why Clem gets concerned about how young i look sometimes. Especially when we're traveling… once, he made me keep Maurice (my mouse) that i was playing with while waiting for dinner to be served. I was like, "Why! Are you embarrassed of my mouse!?" And he was like, "… People are going to think how old you are… and why i'm with you!"
HAHAHAHAHAHA
I'm sorry Asian genes make us look younger than we are. (No i'm not.)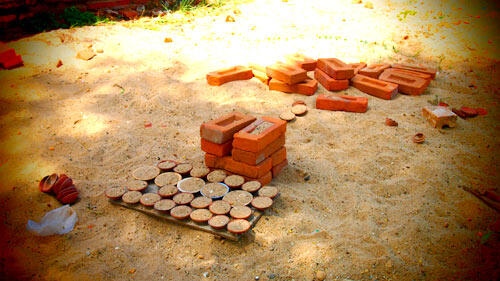 The young artist/guide said the sand in cups above was from kids playing. I was like 'awwwwww poor kids playing with sand…' Hmm, well, i used to play with a lot of sand and dirt when i was a kid too, but at least i had some toys! So, i left a surprise on the sand thingies for them to find…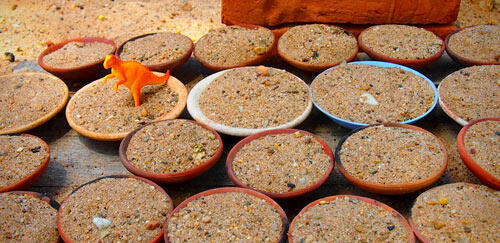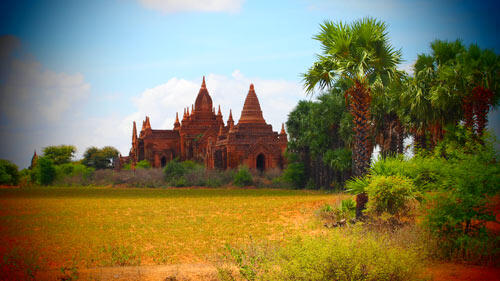 More temples. But so pretty still.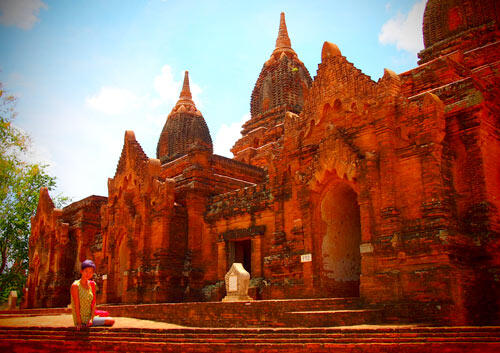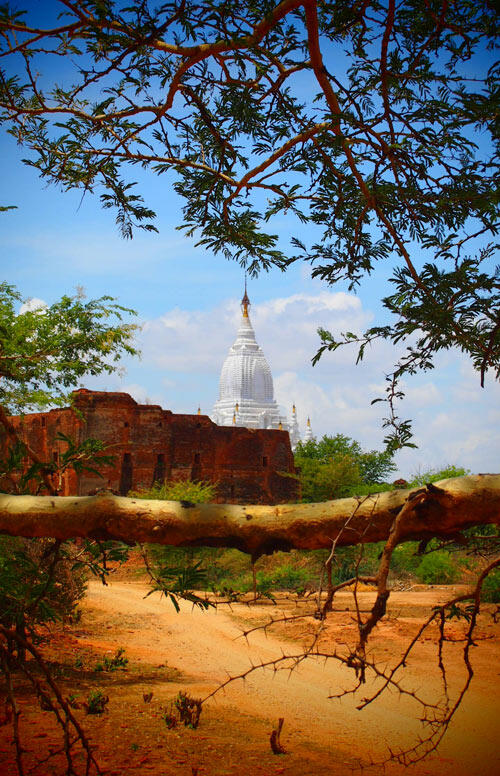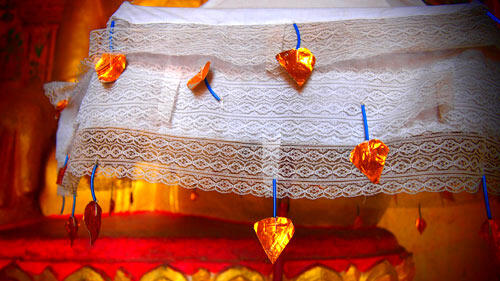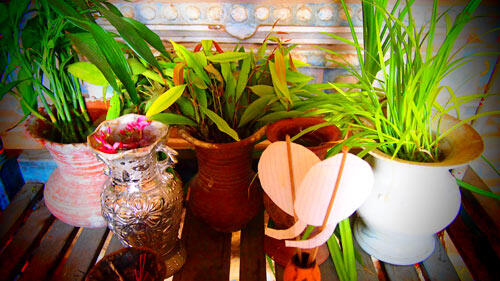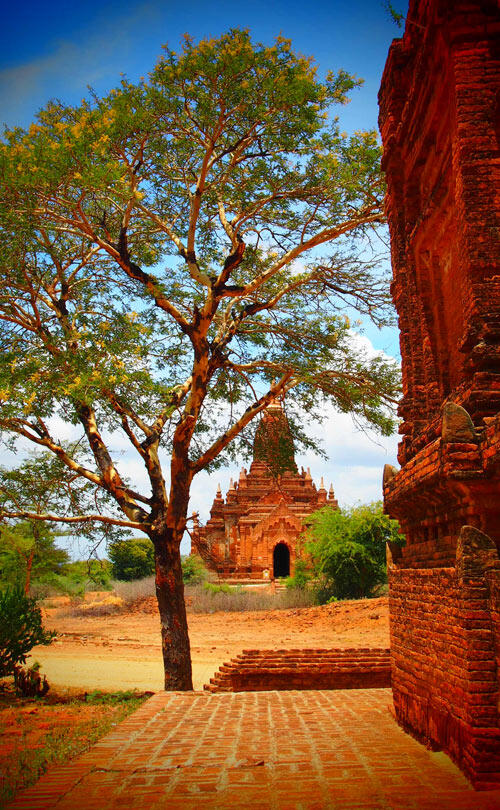 I just had to say, that Clem took the picture above. He's very proud of it (especially cos i'm always giving him an earful about the crap pictures he always takes of me.)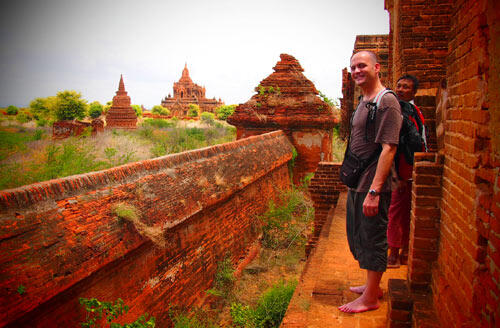 We crept behind a temple to see MORE temples behind it. Beautiful sight.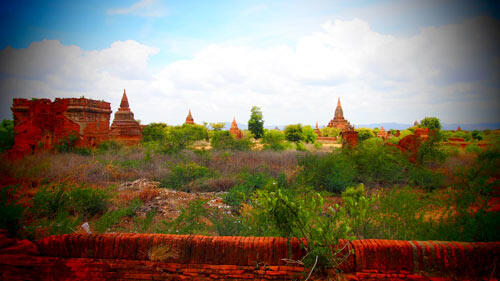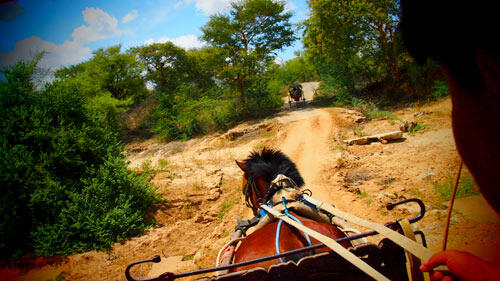 Horse running down a slope = very bumpity indeed! We stopped by a local cafe for a drink. The day was SO HOT.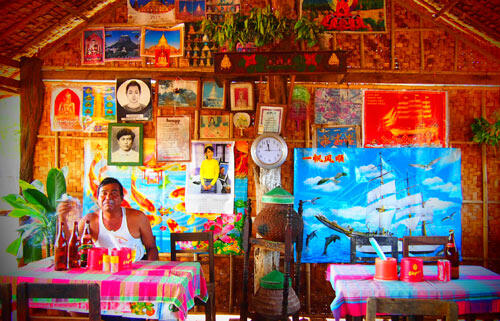 I love this picture, something i might frame up at home. Once we get a bigger home, that is.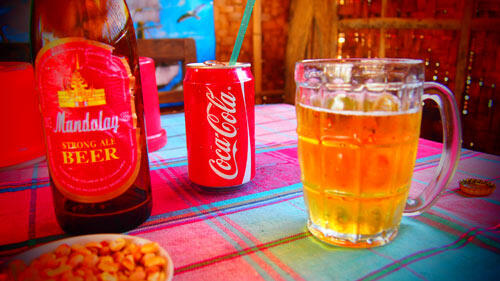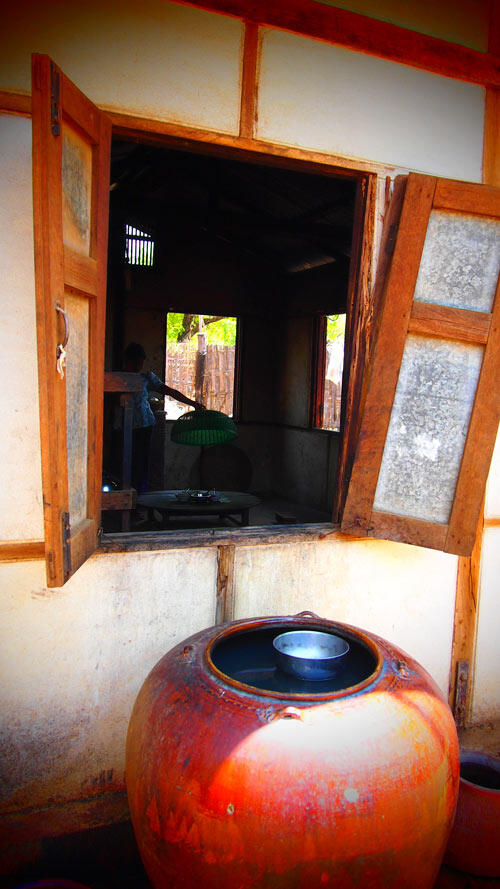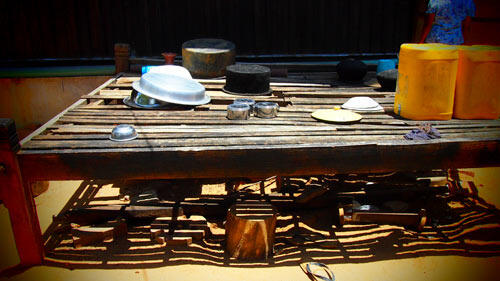 Then we went to visit a village.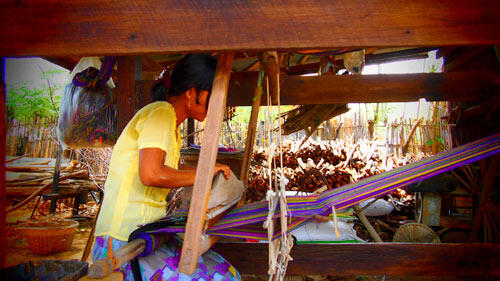 The village survives by itself thru farming, weaving bags and cloths, and rearing animals.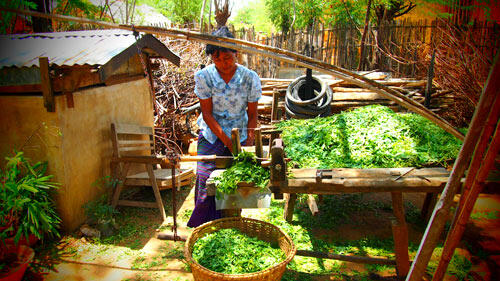 This is a simple contraption used to chop up plants for fodder.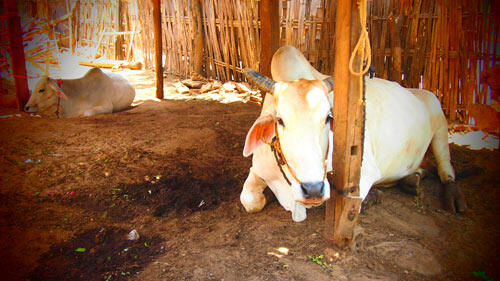 I was very sibuk to see what they were eating for lunch… as is typical of a Myanmar meal, it's small dishes (usually vegetarian), soup and chili to eat with rice.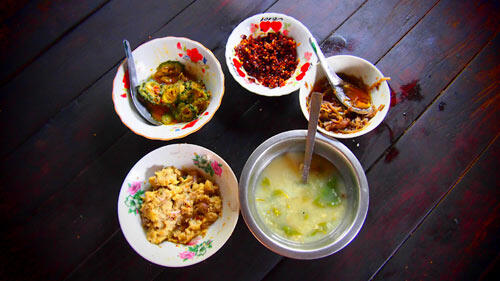 One of the village women offered to put thanaka on my face. Since all the women i saw in Myanmar have it on (and sometimes in different patterns), i thought 'when in Rome…'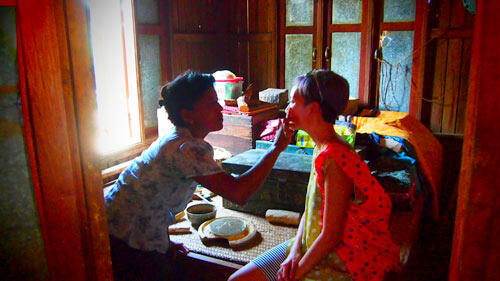 We're sitting on a raised wooden platform bed which reminded me of my kung-kung's (grandfather's) bed in Alor Setar when i was a kid. I used to jump up and down that platform thinking it was the coolest stage ever. When you think of it, it kinda makes architectural sense… you make an entire new floor space for you to live on, so you can store things at the bottom! Hmm, something to think about.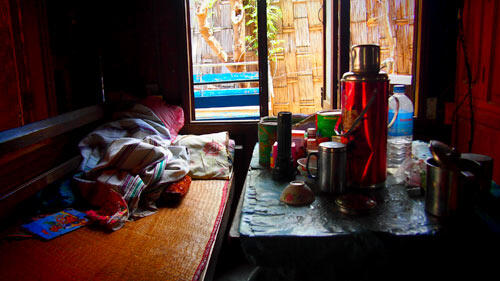 I love old school messes.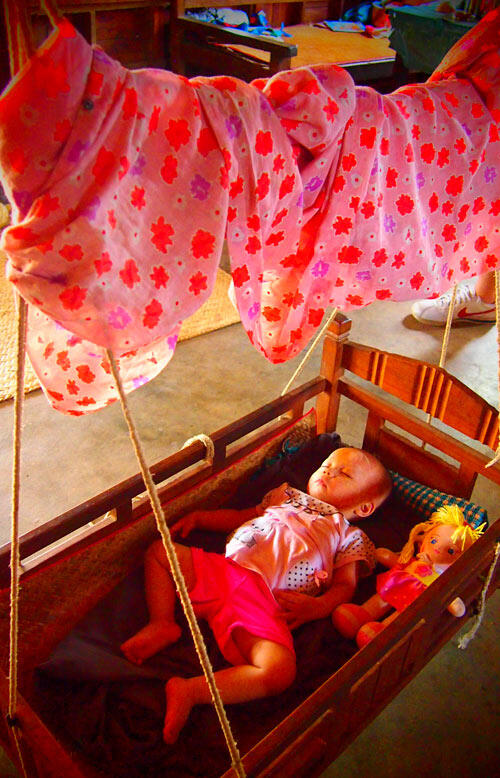 Baby girl has ropes on her cradle which her grannie pulls from time to time to rock it.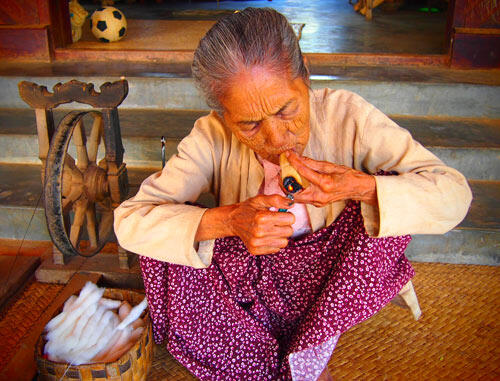 This is her grannie. Our temporary guide told us she's 85 and smokes a big cigarette every day. Gangsta grannie!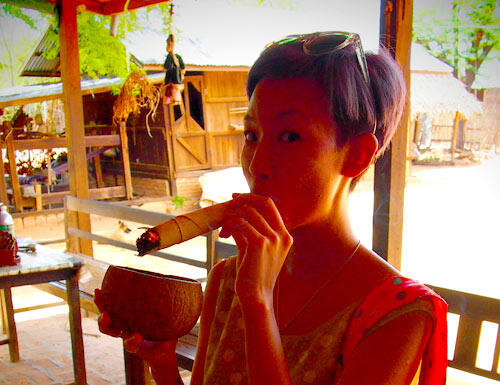 I tried a little bit too! It was very light and tasted quite nice. We bought one to bring back for friends to try and another tourist quipped, "You better make sure it's just tobacco in there!" We made sure.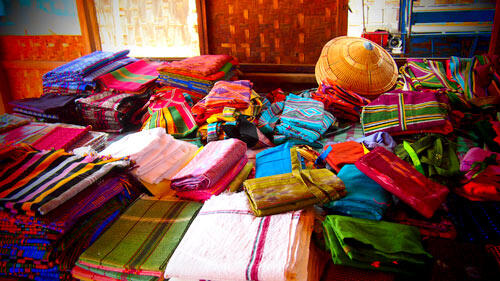 The village weaves longyi, bags and hats to sell to tourists. I got a bag for Stephy cos she's such a hippie.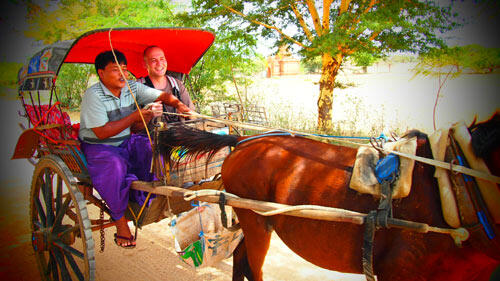 Clem wanted to pose with the reins, and ended up kicking the horse into a trot. Pose, not actually do it! Hello!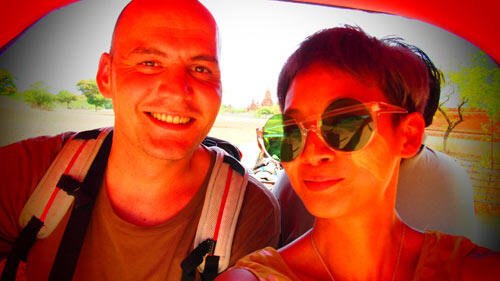 The funny shadows on my cheeks is the thanaka.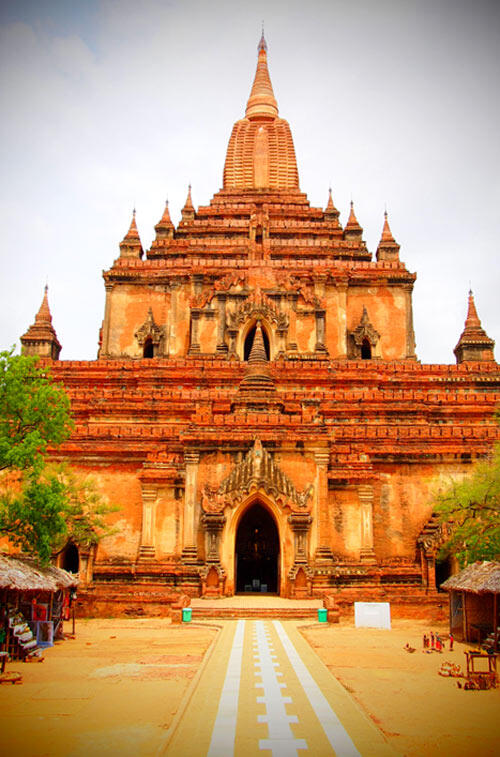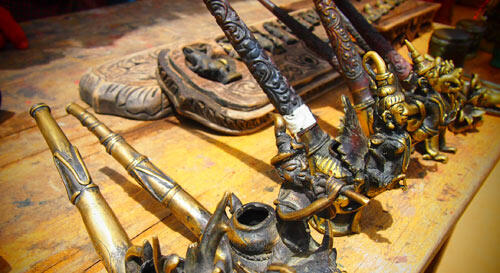 Myanmar produces a lot of bronze items, which we're not allowed to bring out of the country. Regardless, locals try to sell us ALL sorts of bronze stuff… I was drawn to this particular tree from which hung tens of bronze gongs in different sizes. The hawker would hit them with a tiny rubber gong and the whole tree was just gonging away. IT WAS SO COOL.
I was standing there like a child going, 'Wahhhhh' and Clem had his 'oh no' face on. I've started this obsession with collecting bells of all sorts (restaurant bells, bicycle bells, small bells) and even bought some through my travels in Europe. He can't stand it cos i sometimes get in a mood and try to play all my bells simultaneously (usually when he's in the toilet taking a crap).
Anyway, this gong was even better than a bell! It had a… long drumming subtle ring to it, and different notes! I bargained the gong down to a third of its price and happily bought it 😀 😀 😀 Clem was distraught of course: "It's so heavy to carry!" Me: "I'll carry it okay!!!"
My new gong is awesome. It's next to the TV so sometimes i pick it up as i walk past it and play it for fun. I could start like, a bell&gong-playing band!
Okay. I totally digressed. Gong got me all excited. Back to Bagan and temples…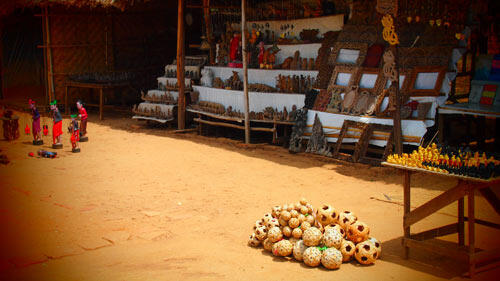 A popular sport in Myanmar is playing with a rattan ball, similar to our sepak takraw.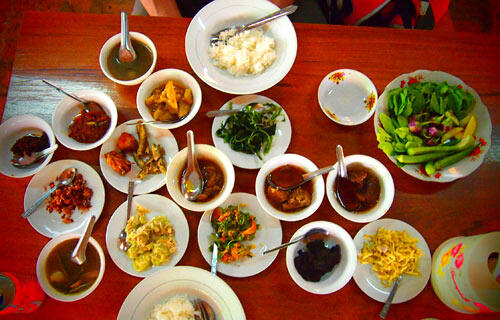 Oh my god. Finally. Lunch time. My favourite time of the day. I was so tired and thirsty and hot and ready to try some authentic Myanmar food. Burmese food consists of dishes that are also influenced by the Mons, Chinese and Indians. Yet they're distinctly different as i've never tasted ANY of the dishes i tried that trip before. The meal includes a lot of small dishes to pick and taste with your rice, while focusing on the primary flavours of bitter, spicy, sour and salty – a concept similar in the rest of the IndoChine region.
I must say that the spicy chili dishes were REALLY spicy (yum!) and the sour ones like a soup were a strange sourness that Clem liked a lot.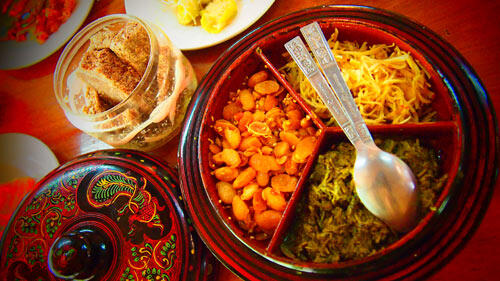 Dessert consists of palm sugar lumps you suck, and fermented tea leaves – which i just. cannot. take. I tasted a small bit and almost choked, it was like eating rotten drain weed! Sorry! I sweetly passed a bit to Clem to get him to try it too, wanting him to be in the same boat as me. 😀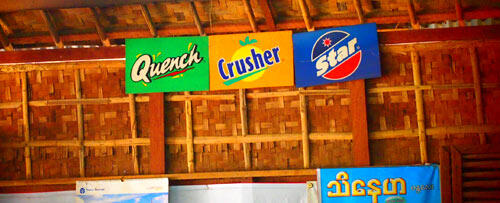 Their version of Sprite, Fanta and Pepsi. They don't need a version of Coke cos it's sold everywhere in the country -_-
I sat there for so long after lunch that Clem had to finally say, "SHALL WE?" It was soooo hottttttt. Here's a vid i took. Apologies for the panting. It was really hot!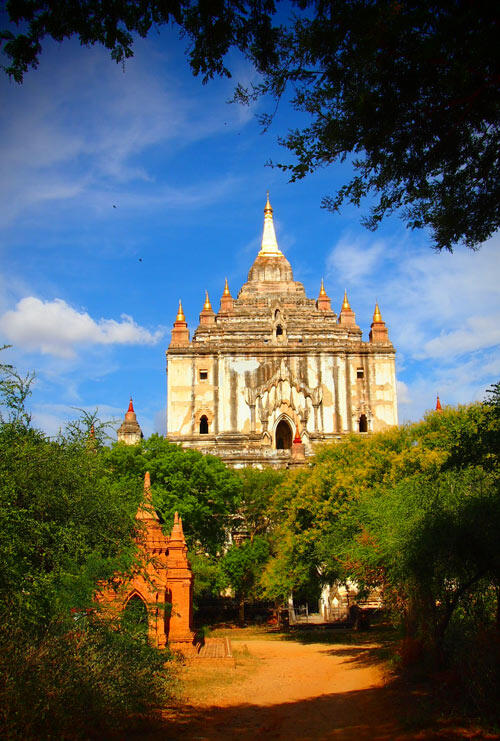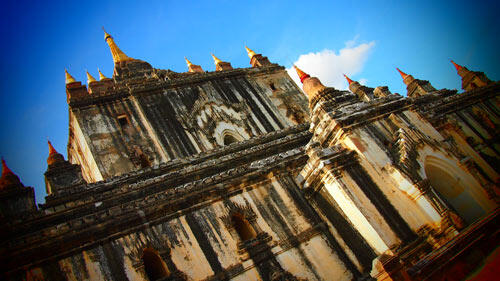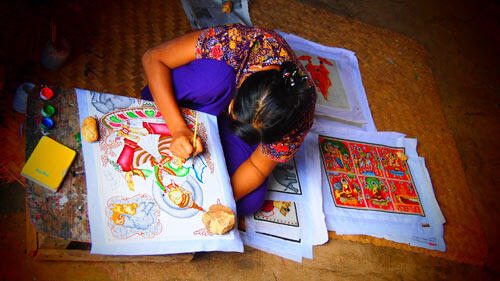 Throughout the day, lots of locals tried to sell us souvenirs at every stop we made. Things like sand art, bronze items, sculptures, lacquerware, traditional clothes, postcards, drinks, puppets, etc. Initially Clem and i entertained the first two politely, but after that, there's no way to be polite about it cos they're so insistent and follow you everywhere. At one point i kinda lost it when i was mobbed by a few hawkers and went, "No no no no no no no!" and ran away.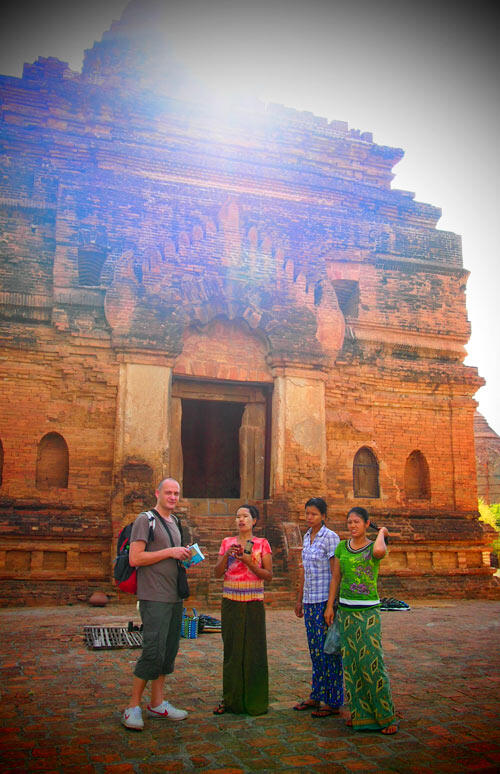 Here's Clem trying to read the guidebook while they stood around him begging him to buy something. One of the girls here followed us all the way to the road, before slitting her eyes in annoyance and giving up. I feel bad for them cos they're just making money any way they can, but i really didn't want any of the things they were selling…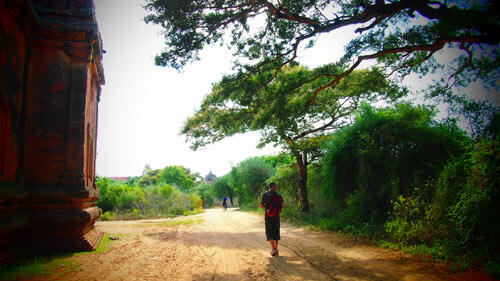 Clem tried to find this particular temple. I was patient at first but after we got lost and started going round in circles wondering where west and east was, i was like, "Come on. I think we've seen enough temples for today…"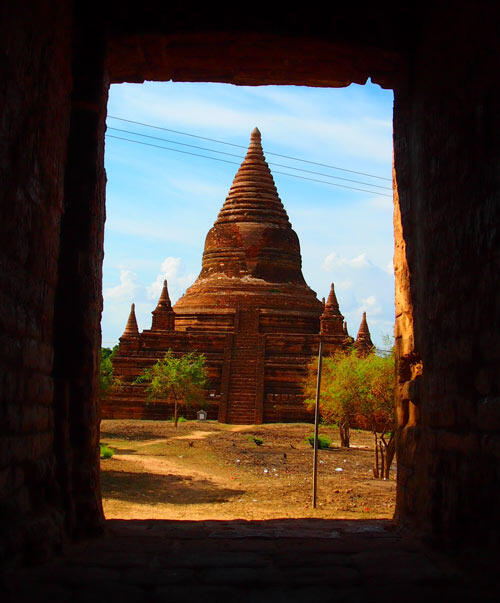 For the LAST temple of the day, we went to this special one we could climb and watch the sun set.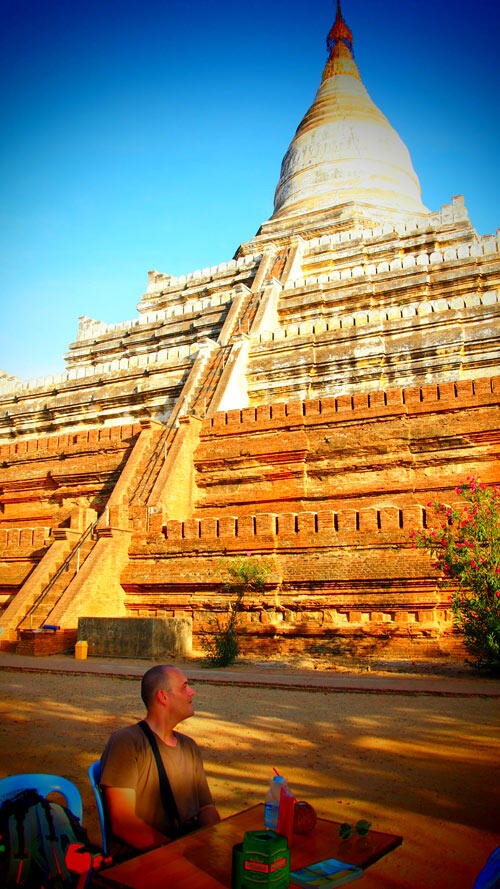 We were a bit early, so we hung out and had some drinks.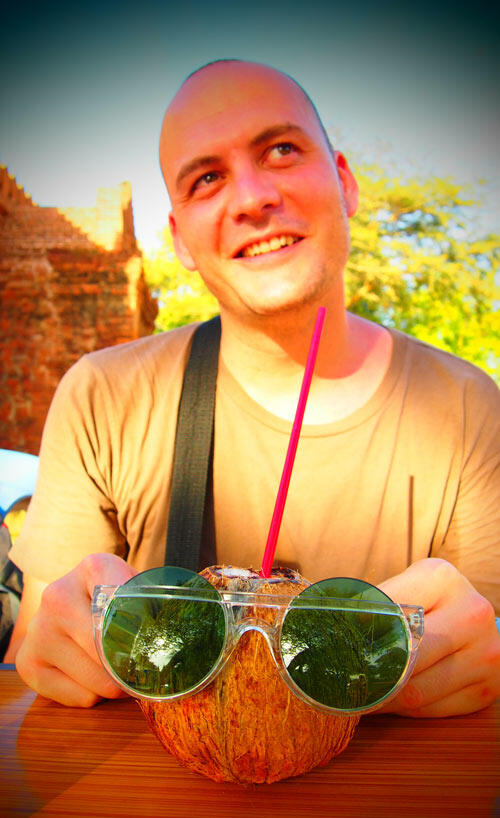 This 22-year-old called Robbie tried selling us his sand art. He was a really nice boy and showed us the sleeping Buddha (one of only two in Myanmar) that a lot of tourists might have missed there. But we really didn't want to buy his art for 30,000 kat/RM130 and we apologized. As we walked away to leave, he shook his head jokingly at Clem and made a circle with one hand to signify zero sales for the day. Clem mumbled, "Breaks my heart…" as we walked away.
Outside on the road were more hawkers, young children this time, trying to sell their childish drawings to whoever they could talk to. It was amazing how they spurted whatever language they thought you spoke – Italian, French, English, Japanese, etc!
Poor kids. This is all really because of the tyranny the military government imposes on Myanmar. For a country rich in natural resources, there has been little financial improvement amongst its people, who are the poorest in Asia. The government spends almost a quarter of their budget on military arms, and a pathetic 1.3% on healthcare. Arghhhhhh. If you read more about the country's politics, economics, even their environmental issues, it'll make you wonder how can such a country be ALLOWED to run this way in the world. It's like they completely ignore the first-world countries and nobody can do anything (plus there's the rumors Myanmar is hand-in-hand with Korea on nuclear weaponry). Also read up about Aung San Suu Kyi, the country's leading lady for democracy. I'm in awe of the person she is, and how she's sacrificed a large portion of her life to her country.
Man, i seem to have ended this blogpost on a sad and bitter note, but it just happened. Regardless of what's going on in the country, Myanmar itself is absolutely beautiful and i'd plan to return in the future to explore the northern parts of it we didn't visit…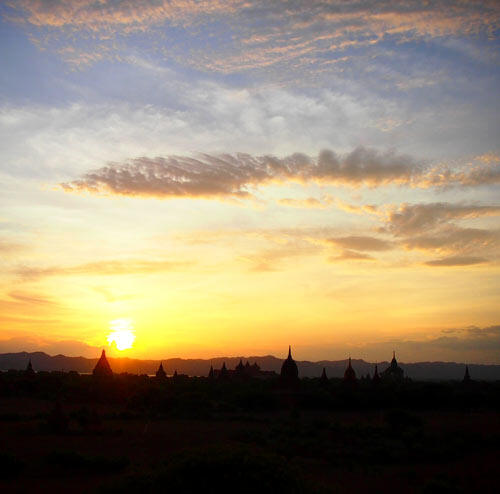 More blogposts on Myanmar to come!
xxx