I have so many travel posts to write (Sweden, London, France) that i'm not sure whether to go backward or forward…! Gonna post about Myanmar first since it was the most recent trip.
Clem has been dying to go there for years, since european friends and family of his have told him how beautiful it is, along with Sri Lanka (which we visited last year). So when the public holidays for 2012 were announced in Jan, i crossed out all the weeks we could take off for long trips and planned for us to go during Raya break cos Clem would only need to take a few days' leave for us to get a 9-day stretch. If you wonder how you ensure a holiday happens – PLAN AHEAD! If you apply for leave months ahead, noone can say anything when it's time for you to hop on your flight. Unless you have terrible holiday luck/boss.
Myanmar sounds all exotic and unknown to many of us… i know of only TWO friends in KL who've been there. The first thing we had to sort out for our trip was the visa. It's easy to apply for, but just a major hassle cos you need to give all these documents which i only found out about by calling the Myanmar Embassy. Getting them to pick up alone is a major feat. Secondly, there are specific timeframes to pick up your visa and they HAD to make it 4-5pm i.e. the WORST time to be on Jalan Ampang. When i was queueing up (really slow queue too! even tho it's just to drop off docs or pick up visa) i overhead a guy saying he's doing the visas for people for RM30/person and i mentally whacked myself for not hiring someone to do it for us.
Anyway. Besides the visa, cash was the next big priority. We can only change pristine USD to Myanmar kyat (pronounce 'chat'), and it's unadvisable to withdraw money there (basically, you can't). I visited my neighborhood money changer to change USD2000 for the both of us and he guessed where i'm going when i said i need perfect bills, "You must be going to Myanmar, Indonesia or Vietnam."
"Myanmar," i said.
His response… "WHY?!"
"Urm, we heard it's really beautiful?"
"Okay. Have a good holiday."
Er…
Back to the cash. We ended up spending RM2500/person for 8 days of travel in Myanmar, which isn't cheap! Accommodation is alright, but food and transport added up to a lot. We had enough time to visit Bagan, Mandalay and Inle Lake if we took flights and boat, which amounted up to USD310/person. That's for three internal flights and one boat trip. Our internal traveling cost three times our ticket from KL to Yangon!
Some pictures from my instagram (follow me on joycethefairy) before i post up in detail on each location with pictures from my EPL-3.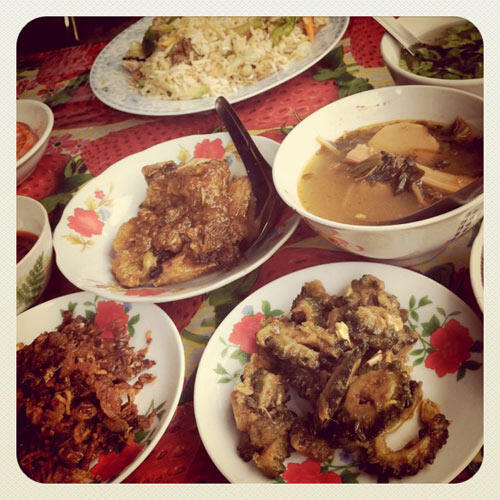 Food in Myanmar was really interesting. I love the local dishes they have served with rice. As is common in the IndoChine area, their dishes focus on salty, sweet, bitter and sour elements. There's Western food available every where we went, but it's another thing whether you hit jackpot and order something nice or not.
These pancakes were jackpot. Mango + choc + banana ones. Legend.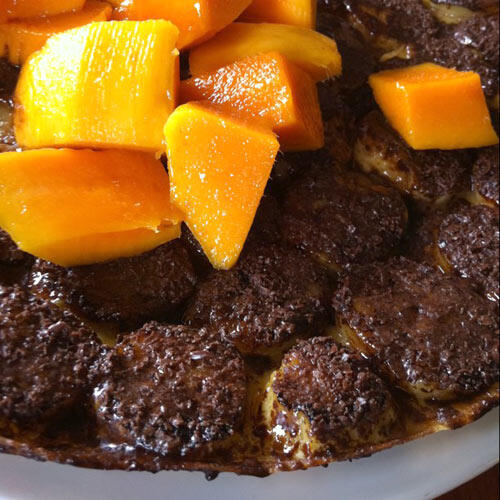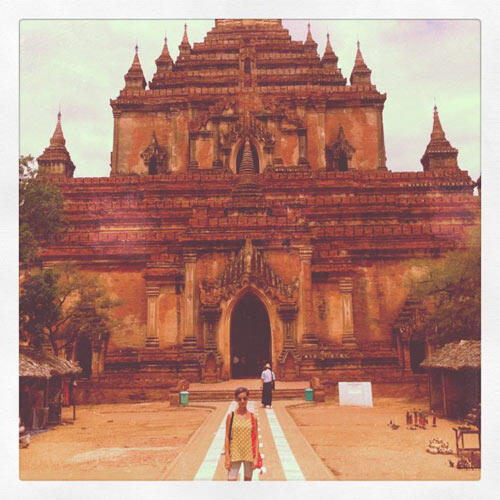 These were taken in Bagan, whose terrain is covered with THOUSANDS of payas and temples as far as the eye can see, mostly built from the 11th-13th Century. It's a marvelous sight. Nothing i've even seen in my life.
The only downside i had was how some of the temples were really dirty inside (especially the ones on hills and mountains)… Everyone is required to take off their shoes and socks when entering any holy area, and some of the places had different types of animal shit on the ground. Bat shit, dog shit, cat shit, monkey shit – i must have stepped on particles of them all at some point. The OCD in me was screaming bloody murder, 'E coli! E coli!' was replaying in my head, and Clem was calling me a diva. But i was stoutly indignant (and a bit grouchy too). Seriously, can you tell me you LIKE stepping in shit in your bare feet? As you can see, this is the kind of place you go to backpack, and not for a glamourous holiday. I told Clem i'm a backpacker with special needs (i.e. air con, hot water, wet wipes). I desperately wished for my hand sanitizer then and condoned myself for not bringing it.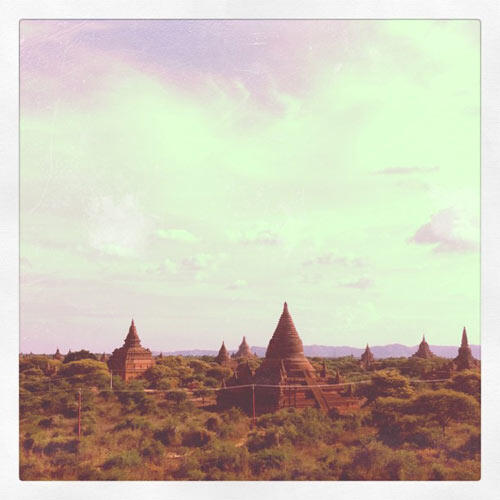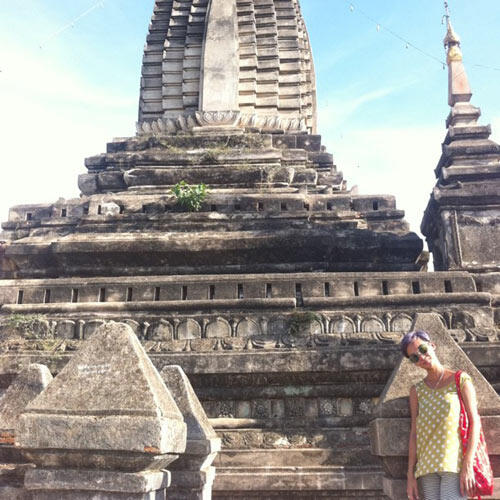 I had to insert my hair colour as 'purple' when applying for my visa. Hair courtesy of Alex at The Met.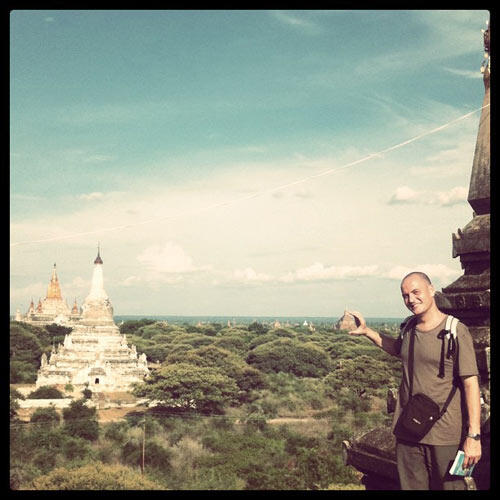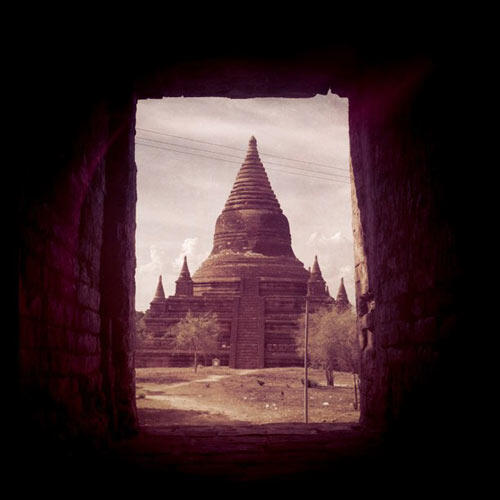 Taken from inside a temple. How intensely beautiful is that!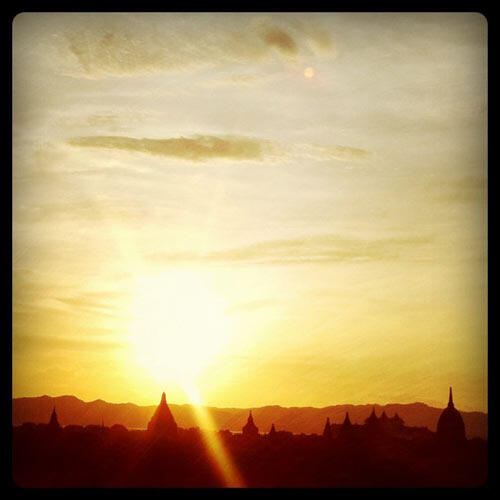 We climbed up one of the taller temples to watch the sun set. While waiting, i tried counting as many payas i could easily see, and reached 100 before my eyes started squinting too much.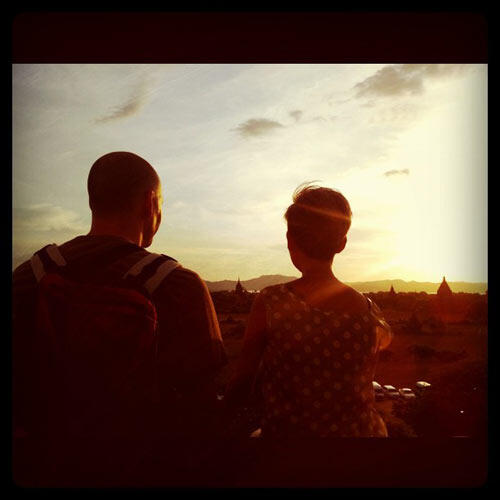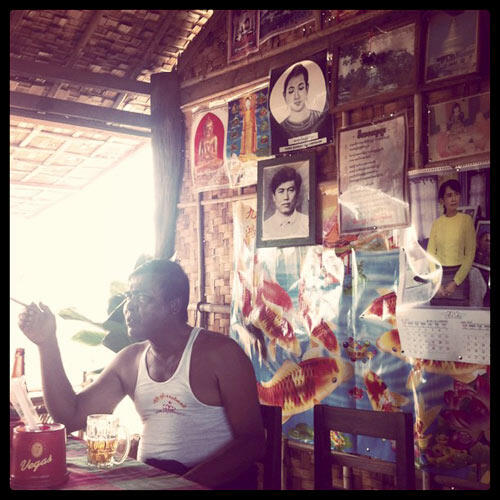 I learnt how to say hello, which is 'ming-guh-la-ba'! And thank you is 'jay-zu-ding-ba-de' (quite long right!). I just connected it with rapper Jay-Z for that one.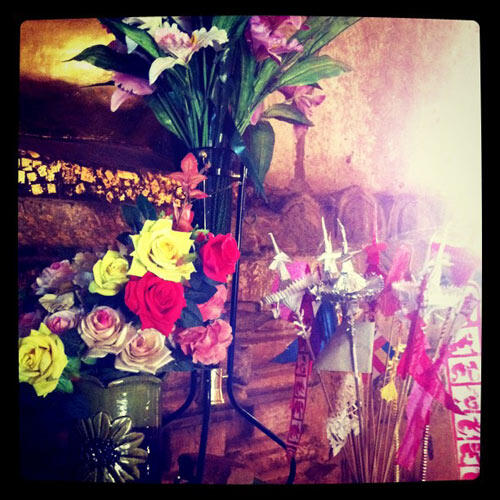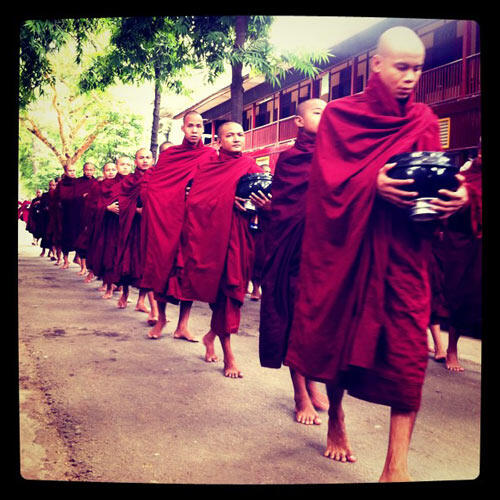 Monks' time to makan. We were at a monastery where 1,200 monks live.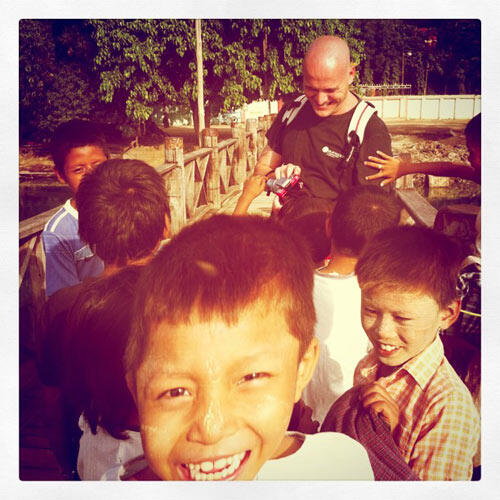 The children in Myanmar can be one subject alone. The unjust military dictatorship in the country makes it one of the most corrupt in the world, with high numbers of impoverished people despite Myanmar's fortune in natural resources. It's terrible to see how poor people all over the country are… there are not many tourists that flock to Myanmar – an estimated 300,000 per annum compared to the millions to neighboring Thailand. And whatever few tourists the locals can earn money from – they try.
Little children run up to us to sell anything from jade to their hand drawings (this one really killed me). I mostly gave them mini Mars bars i bought from the airport for this purpose, as i can't possibly buy something from every kid that approaches me… But it's really heartbreaking. The worst scene i had was a little boy covered in mud and dirt, digging in the filthy drain for anything he could scavage. Just thinking about it again makes me cry.
These kids are doing it every day. They go to school, and then they gather to sell things. Some of them learn how to speak English, Italian and French, or all the aforementioned! Well. I'll be posting more pictures of the children and stories about them in my posts to come.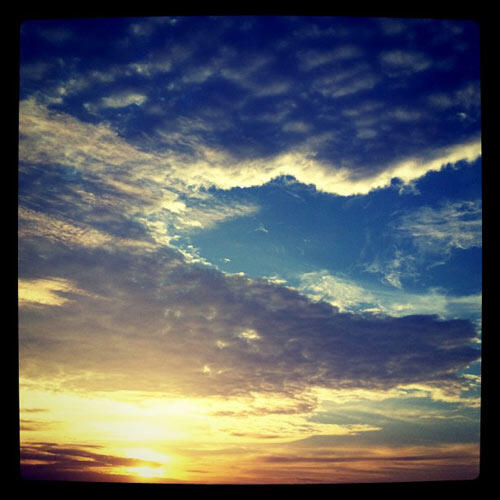 Gorgeous sunset at Mandalay.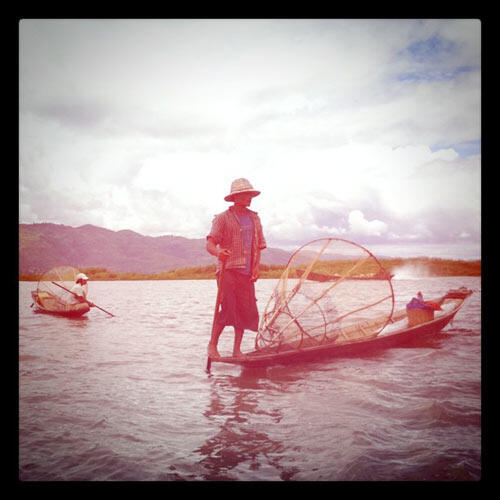 Fishermen paddling with one foot on Inle Lake.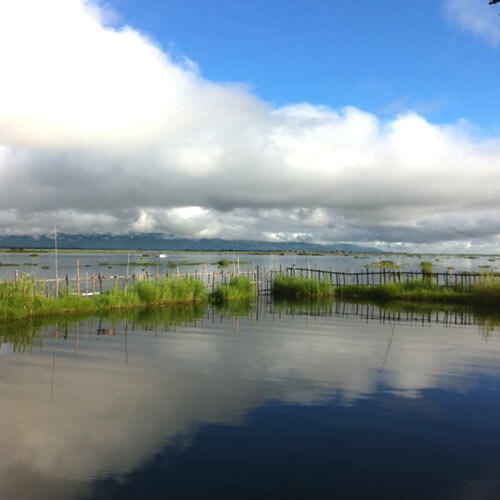 Inle Lake was breathtaking. This picture was taken without editing. It was just ABSOLUTELY BEAUTIFUL. I would return there anytime. (Tho, inconveniently, it does take numerous flights, boat and taxi rides to get there!)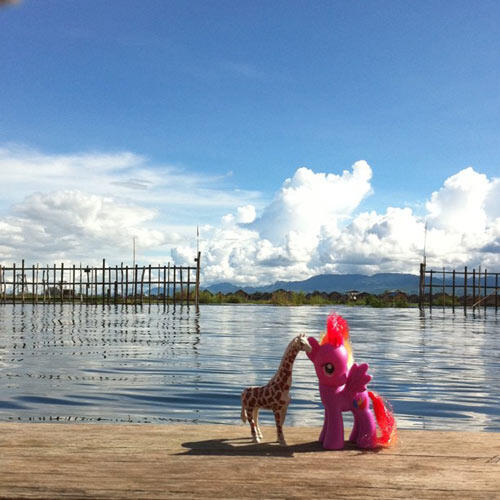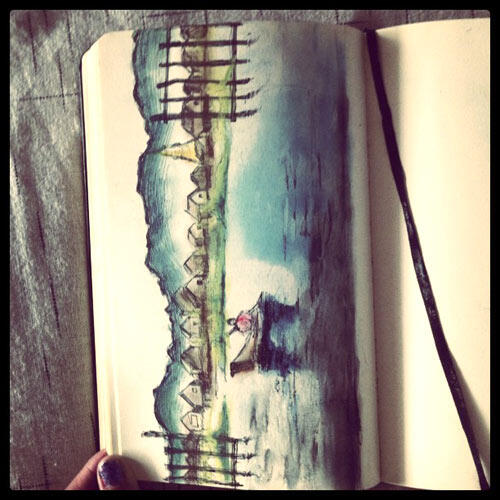 Inspired to sketch at Inle. Jason asked me on Instagram whether i used my make up. What! I didn't even bring make up on this trip. Pointless, cos the more money you look like you have – the harder it will be to bargain everything you pay for.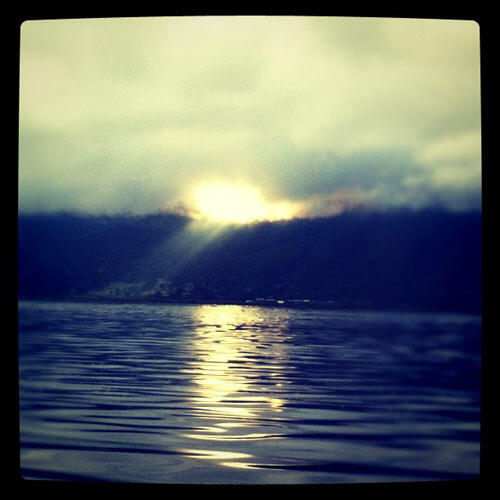 Early morning burst of rays!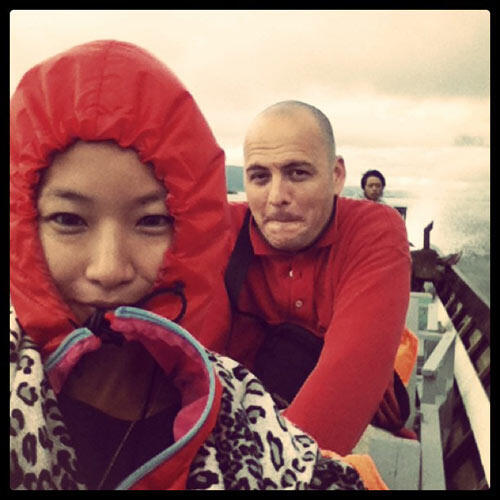 Awfully cold boat ride.