I been so involved with traveling that i never really played with the Prada by LG 3.0 phone i have with me... till this week as i'm traveling alone. Hence, lots of time to muck around with all my tech toys, sketch & write, edit photos, read, and talk to myself!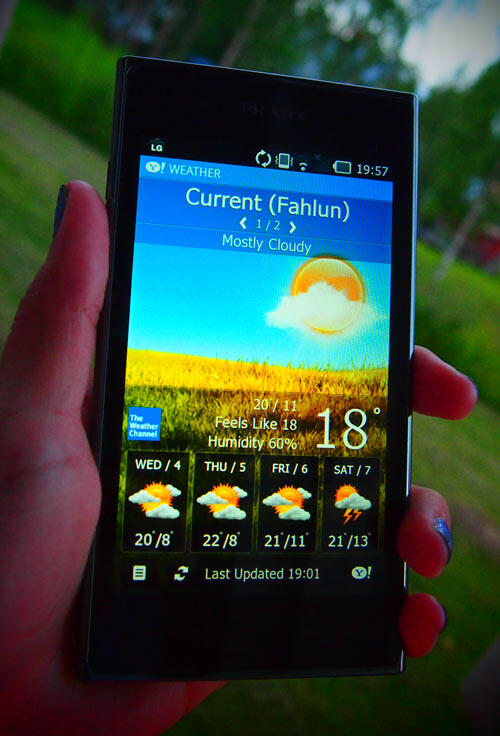 I like viewing pictures on it, as the screen of the phone is fairly large and bright. Also, i've spent way too much time playing around with the Image Editor, a pre-installed app on the phone.
This here is a flower pic i took in Sweden, no editing >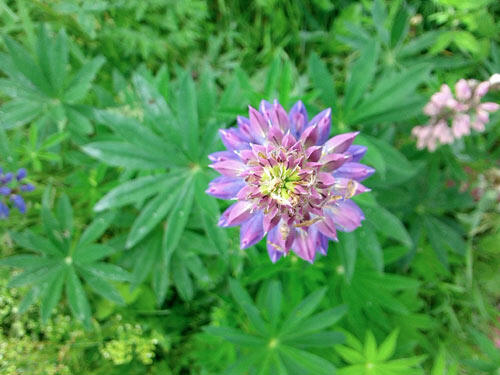 Then with the Image Editor, there are 19 filters to choose from that could challenge those in Instagram; like negative, mosaic, moonlight, water colour, LOTS! I don't usually go to the app to do it, i just select my photo via my gallery and choose the 'edit' button from there.
This was with 'emboss' >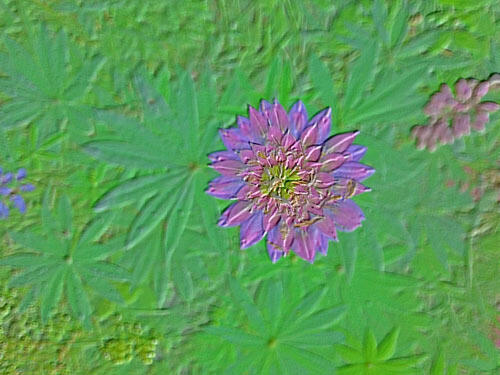 Cute huh! I wouldn't mind printing THIS out to hang on mah wall!
Besides all these filters, i can also
- make adjustments to the photo's contrast, hue, saturation, brightness and RGB balance
- crop and rotate
- apply different borders
- and even 'combine' pictures, which is basically copying and pasting pictures atop each other
It's like photoshop on a phone.
Below is with the 'cartoon' filter and 'white edge' border >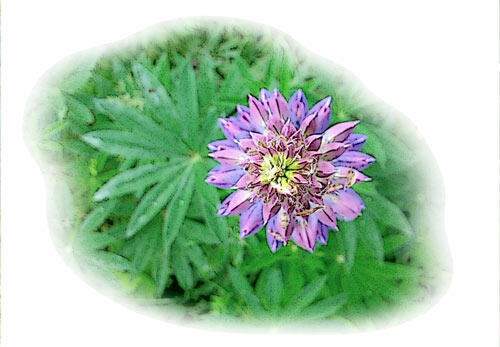 One of my favourite filters, 'antique' >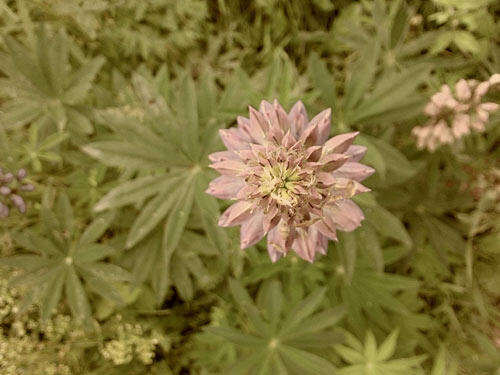 I was resizing these pictures on my laptop when i realized how detailed the picture is. No surprise since the camera can shoot up to 8 megapixels. (Not like this matters to me! I always tell people not to put their image res so high cos it just takes up unnecessary space in your memory, unless you like blowing pix up to print in large format.)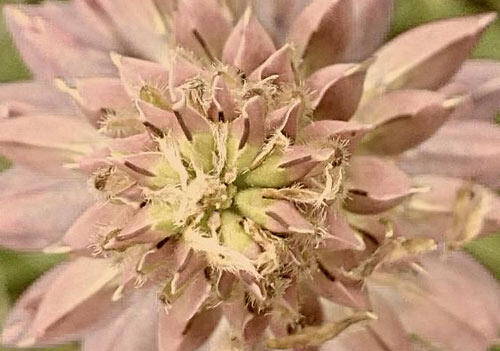 Pretty cool, i'm seeing things on this flower i didn't see in person!
Aside from the fancy editing apps it comes with; the LG Prada camera has an LED flash and the essential settings to fiddle with according to your artistic preference - such as white balance, timer, tag location, ISO, scene modes, face-tracking, and most importantly, exposure settings!
The Prada phone also comes with a forward-facing camera (useful for solitary travelers like myself right now!) and shoots video in 1080p resolution.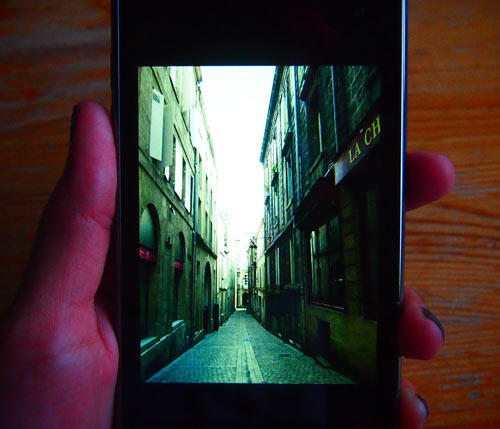 This is a picture i shot in Bordeaux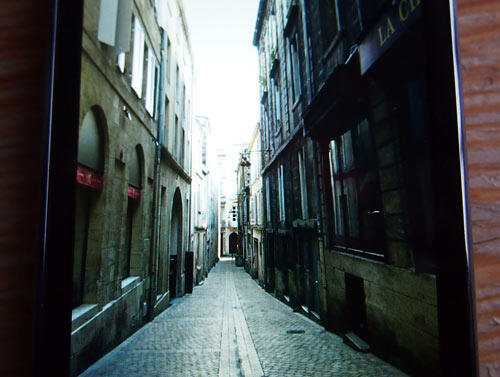 I'm able to zoom up a lot, tho the details might not be clear then, depending on my picture-taking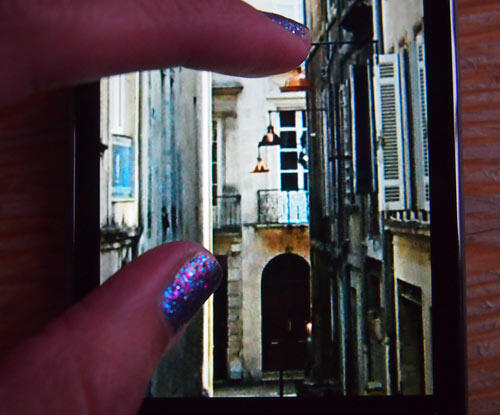 It's incredibly easy to shift photos and all my other files. I can either use SmartShare (included in the phone) where i can play or share media contents with other wireless devices, or ALL these app options come up when i select the picture to share from my gallery. Makes it too easy.
This is the picture itself after being shifted to my laptop, no editing >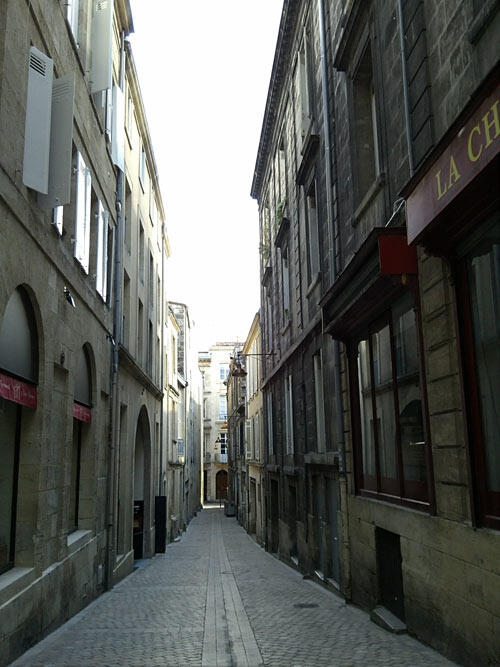 Here's another picture taken with the Prada phone in Bordeaux too >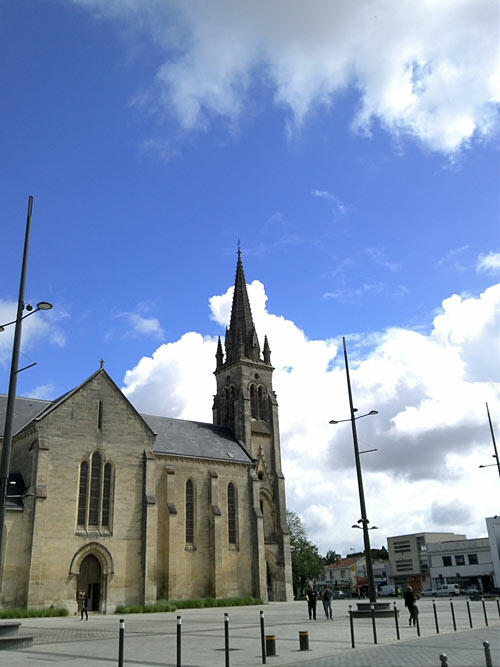 Aside from playing with the camera, i DO use the phone for USEFUL matters 😀 Like checking the weather forecasts for every city i'm in and going to. This is imperative to plan my packing and dressing, especially since i didn't bring too many clothes (saving space for all my shopping!)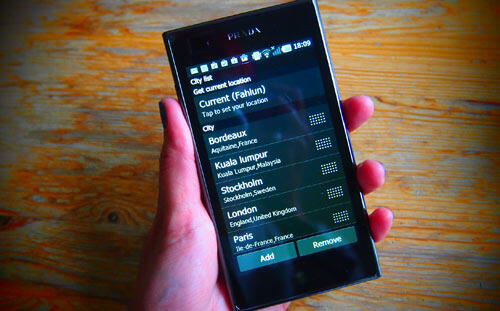 And of course... Instagram... i share a lot of pictures there that i don't tweet/FB/blog sometimes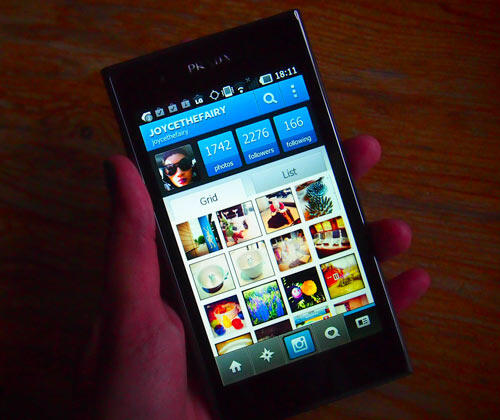 The Prada phone's screen is incredibly vivid. This is probably attributed to the LG "Nova" display, that makes it a lot brighter and claims to show whiter whites and darker blacks. Also, the entire front of the phone is multi-touch, not a single button spoils the smoothness of its surface.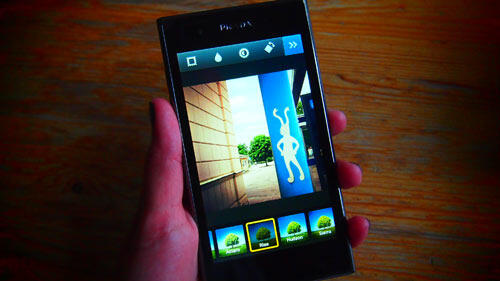 I also started using TripIt, after my disastrous ferry-missing incident.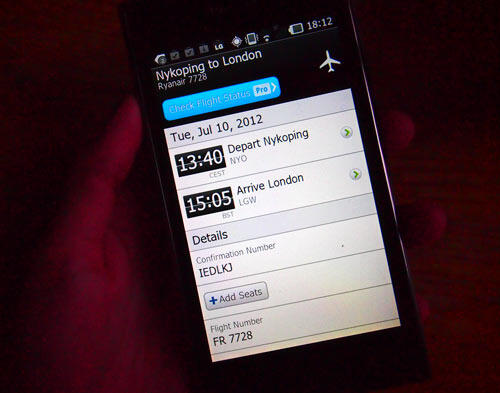 The LG Prada has a 4.3-inch display screen, which means it's awesome to watch videos or urm shop online with * la la la * Also GREAT for the Style.Com app cos the runway shots appear big and sharp. Below is a picture i took of it playing a european ad (i was on YouTube) >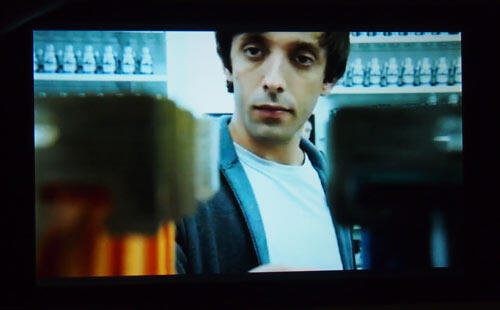 The pixel resolution is 800 x 480, which is deemed standard but i'd say is enough cos it honestly looks pretty sharp to me IRL.
As for a close up on how the phone looks, i must say it's VERY SEXY. Even Clem admitted to how nice it looks after having a closer look at it.
On the top of the phone are a few neat chrome stud buttons that look more like tiny rivets.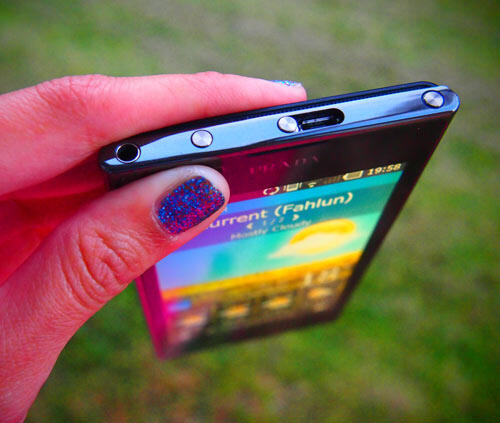 From L-R: headphone jack, shortcut key, micro USB port, and power button. The micro USB port has a slick slide to close it and i use that to charge the phone as well.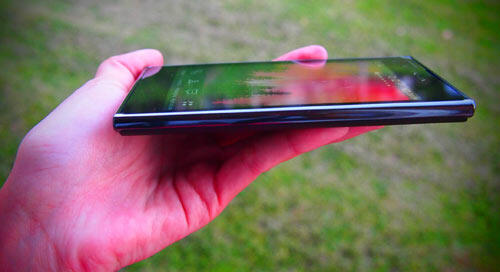 The LG Prada is a lightweight at 138 g, making me feel more at ease when i carry it everywhere with me. You'd be surprised how i ponder on whether to bring a phone out sometimes because of its weight and how i have to walk around all day.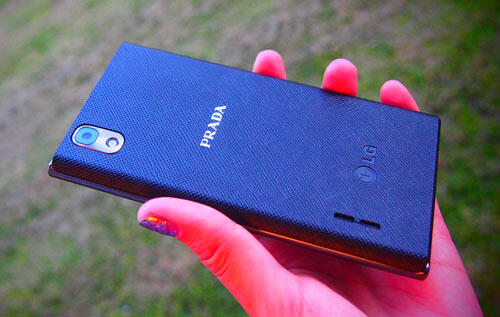 The back of the phone has a textured plastic cover, which some have mentioned they'd prefer to be smoother. For myself, because i'm quite clumsy... i prefer this material cos it gives me a better grip with the phone. When i look closer at it it's got an organic pattern (aka the Saffiano pattern) on what feels like something between rubber and plastic. I like how it doesn't feel like it's gonna fly out of my hand, especially after a few drinks.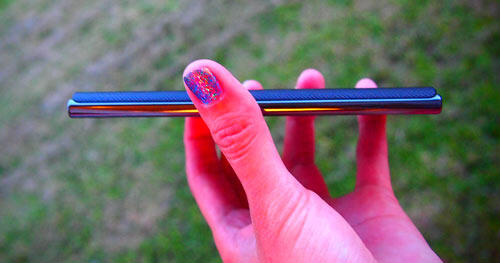 As Prada would have it - thin is in. The phone shows off its skinny side of a mere 8.5mm.
Underneath all the pretty playing, the LG Prada 3.0 pulls its weight in the mobile world with a 1GHz dual-core chip aided by 1GB dual-channel RAM, and 8GB internal storage which you can increase with the microSD card slot. There's no lagging even when i have tens of things open, which i always do cos i'm fluttery, distracted and have short attention span like that.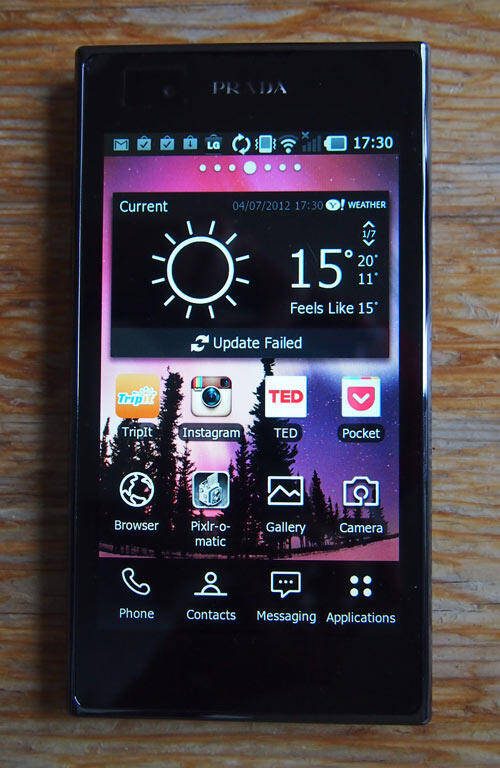 The phone runs on the Android operating system called Ice Cream Sandwich.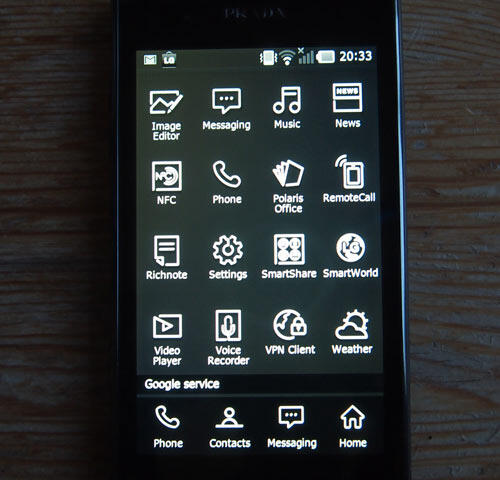 One last interesting feature i have to add is the phone's icons which are unique to the Prada LG.
This isn't a cheap phone, and obviously you're also paying for the fact it's a proper collab between the high end designer brand with a leading technology company. I'd say that you pay for what you get tho - something that looks extremely nice and quite different from other androids out there. Another android phone i fancy can't match up to the Prada phone in terms of looks. Prada wins hands down at that, as it should.
As for performance, i don't have a problem with it and i'm a pretty social user. If you read other reviews of it online, people say it has good battery life despite chatting, vid-watching, surfing, etc. I saw on the backend that most of my battery use it thanks to Instagram -_- I like its usability when it comes to the touchscreen - it's swift and quite a pleasure to watch swoosh from function to function.
I'd say this phone is really for someone who's more concerned with wanting their phone to look smart and sexy, while needing it to perform properly at the same time. You can't expect it to be the best of the best for tech geeks, but then again, i really don't think this is the kind of phone you'd see them using anyway.
This is for someone who has a desire for aesthetic AND function.
+ + +
Credit: Thanks to LG for giving me the phone to review. It's so sick, i'm keeping it.