We stupidly missed the ferry this morning cos I thought it would leave at 9:30am and Y said yeah so I thought she was sure too. I can't believe NEITHER of us physically checked our tickets. We discovered at 8:23am that the ferry was at 9:05am and I thought we should rush… but Y casually said we had time and that we can just take a taxi at 8:45 (which is true, cos the port is very near by motor) but… we just couldn't get a taxi! We saw so many during our entire stay here, and when we really wanted one, none would come to us despite calling so many numbers that are hanging in the guesthouse kitchen. So we missed the ferry. Bye bye 60 euros.
I felt so depressed for missing the ferry and wasting money that I had a 2 euro croissant and 3 euro beer for lunch. Y had a gelato. I accidentally bit off part of my napkin while eating my croissant and thought, "Why not, I'll probably be more full with this napkin anyway," and continued chewing it before laughing at myself. We got some fruits and yoghurt from a supermarket, and lazed around the guesthouse all day before catching another ferry tonight. Had to buy new tickets for 43 euros each.
You should have heard us convincing ourselves it was a good thing we missed the morning ferry.
Y: I bet we were just not supposed to be Rome today, like, something really bad could have happened if we're in Rome.
Me: Something worst could have happened instead of us missing the ferry. Like you could have fallen off the volcano (cos she was precariously close to the edge so many times to the point the guide and i told her off)
Y: It's a bad day to be in Rome anyway, it's the hottest day this week today – 33 degrees!
Me: Jeez that's like KL. We'd DIE walking around.
Y: Yeah, and it's not like we PLANNED anything big in Rome, so it's okay!
Me: It could have cost more if we missed a flight instead. So this is okay.
Y: Yeah. Things like this happen to people all the time… They happen to the BEST of people.
Anyway we've both agreed that we're going to be at the train station or airport or port or whatever important mode of transport we're taking, AMPLE time before the journey AND we'll BOTH CHECK the times we leave instead of ASSUMING the other is so sure.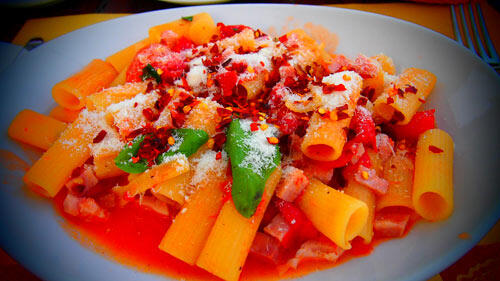 We had dinner just across the dock so we can WATCH the ferry arrive and get on it.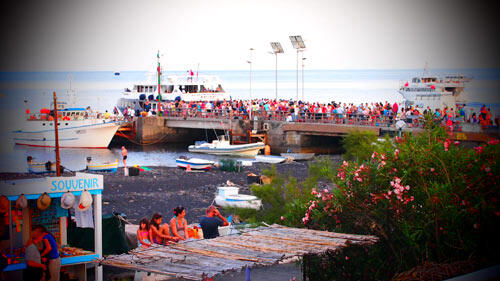 Hundreds of people stopped by Stromboli that afternoon cos a cruise ship was nearby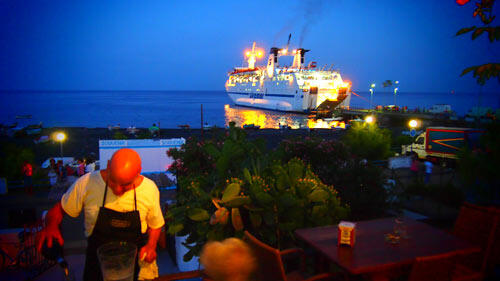 Our ferry docking
+ + + + +
((edit)) Am writing this on the ferry. We upgraded ourselves to a cabin when we saw the pathetic plastic seats we had to sit on. There's a deliciously air conditioned section with cushion seats like the one we arrived on, but they locked it up! So weird… and kinda selfish, seeing how uncomfortable everyone seems on the ferry.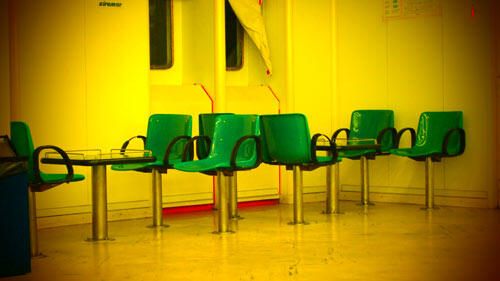 I parked myself on a long bench at the ground floor area thinking it's the best thing I would be able to sleep on, at least I can lie down… and Y noticed a sign on the bench reading: "Reserved for people with limited mobility."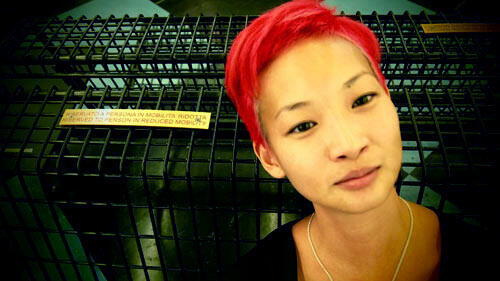 Well. I couldn't carry my big bag up the stairs and the lifts are locked so I was definitely someone with limited mobility! I wasn't going to take my chances of leaving my luggage unattended… I wouldn't be able to forgive myself for my carelessness if I lost it! The only problem with the area there was it was really HOT. I started to sweat slightly by doing nothing i.e. sitting down -_-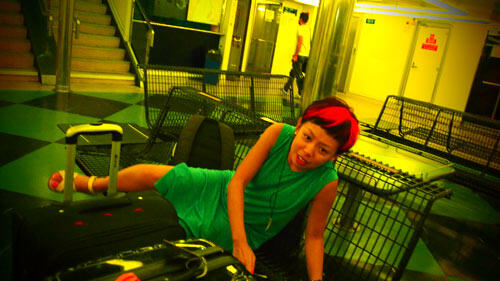 We found out that it'd cost us 21 euros each to upgrade ourselves to a private cabin so we did. It's so worth it, seeing we'll be stuck on this ferry for 11 hours and at least we won't look like crap when we get off.
We opened the air shaft (which lets in the tiniest whiff of fresh air) and left our luggage to explore upstairs. It's nice and windy on the deck, though it wouldn't be appropriate for us to spend the night up there (anyway, I don't know how I'd get my luggage up four floors -_-). After we got enough wind in our hair and laughed over cruise stories, we came back to our cabin to wash up for bed.
I took the upper bunk, and we left the door open to let more cool air from the corridor in. I told Y, "We better set our alarms to make sure we get ready and OFF the boat in the morning. I really wouldn't know what to tell people if we accidentally stayed on and ended up god knows where!!!"