After the wedding party, we still had a day and a half left to slowly get over our hangovers and enjoy KK at leisure. Pix from my phone cos i was feeling lazy to carry a camera.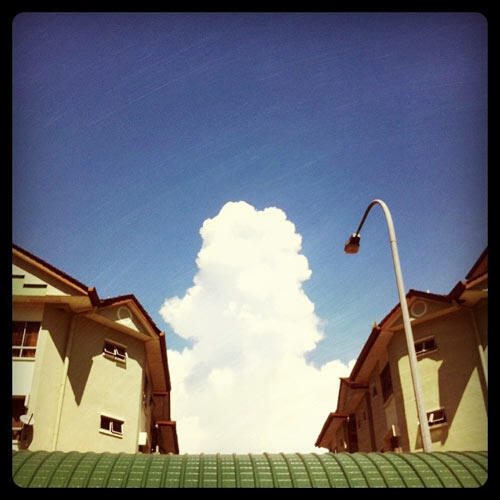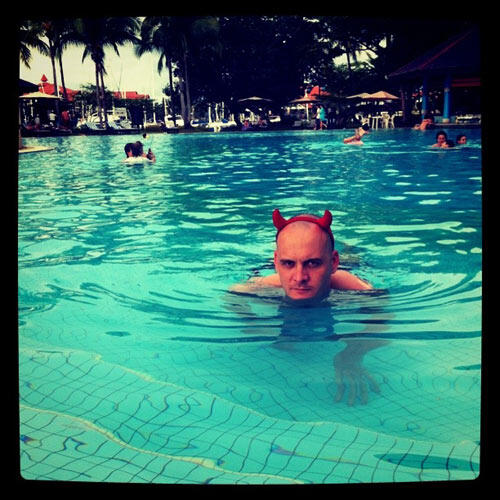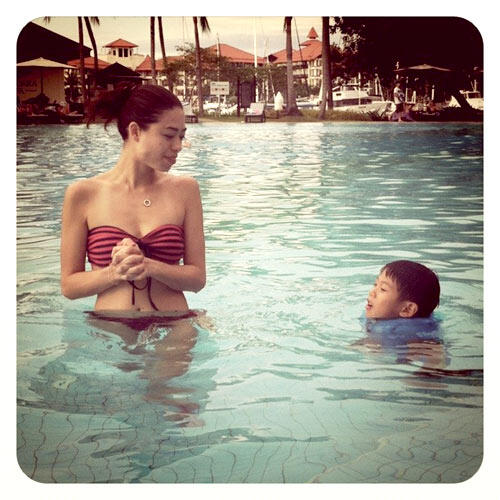 "Aunty Cammy! There's a poo poo on your back!"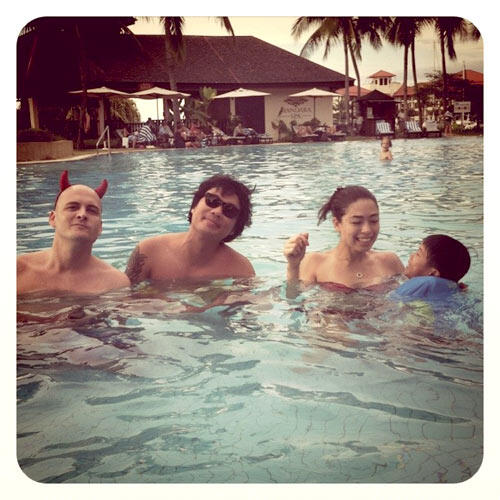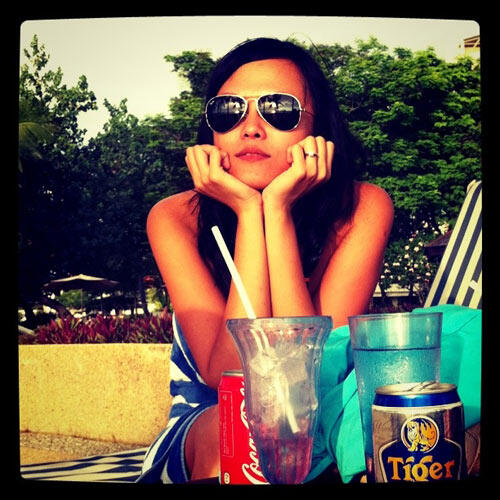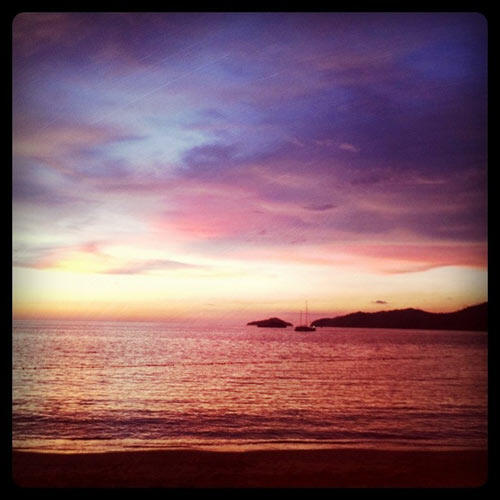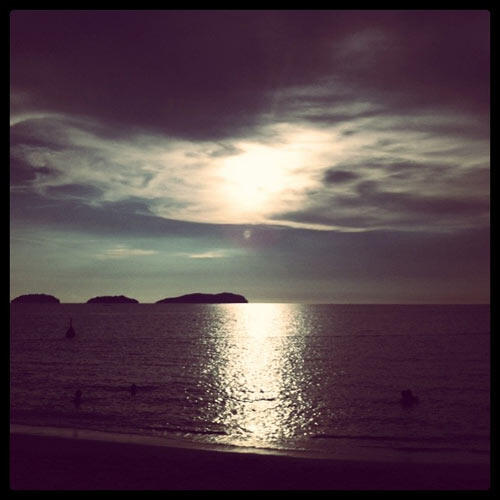 As if wedding dinner wasn't enough, Mattrena treated us all to a glorious seafood dinner KK-style.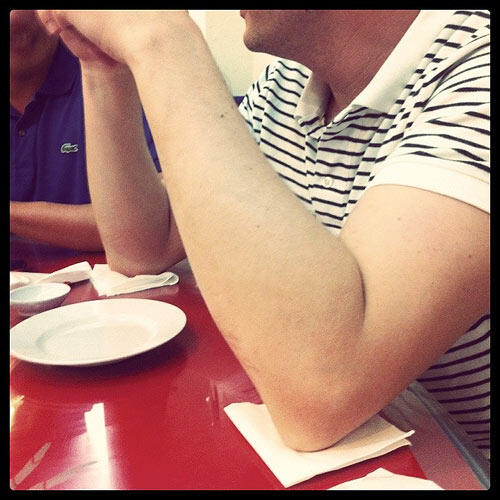 Clem is such an auntie sometimes.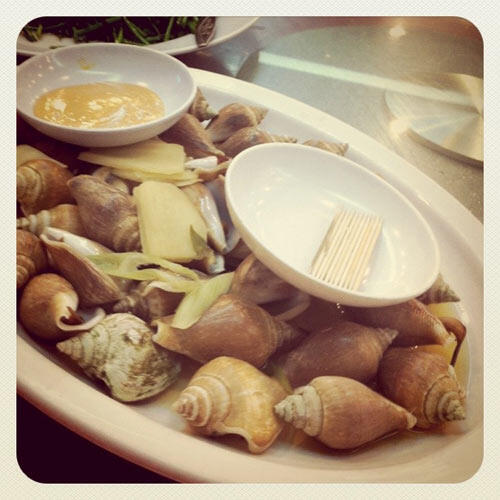 Ohhh i loved pulling out the grilled siput (sea snails) with a toothpick and eating them. Such simple grilled seafood that tastes great.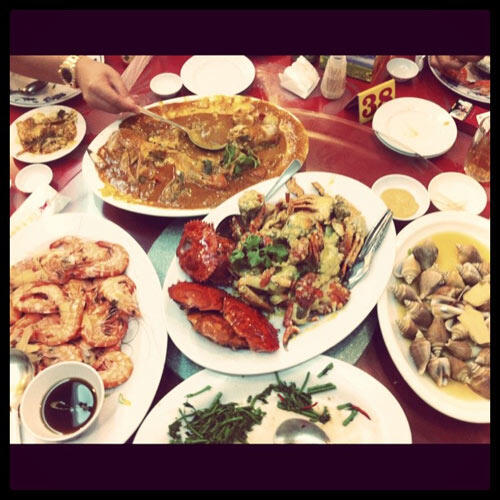 Our hosts did all the ordering and it was brilliant. We had egg yolk crabs, mantis prawns, snails, prawns, vege, fish head curry and coconut pudding. My favourite dish that night were the mantis prawns – its flesh is easier to get to than crab, but i believe it's more springy and tasty. I'm making myself salivate as i type that. Another new thing we tried was this coconut pudding. It was so fresh and yummy, some of us did extra takeaways…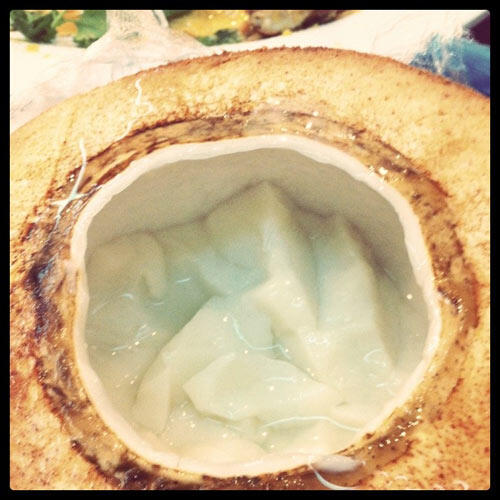 We went to: Welcome Seafood Restaurant
Address: Lot G15-18, Ground Floor, Kompleks Asia City, Phase 2A, Jalan Asia City, 88300 Kota Kinabalu.
Click for rest of post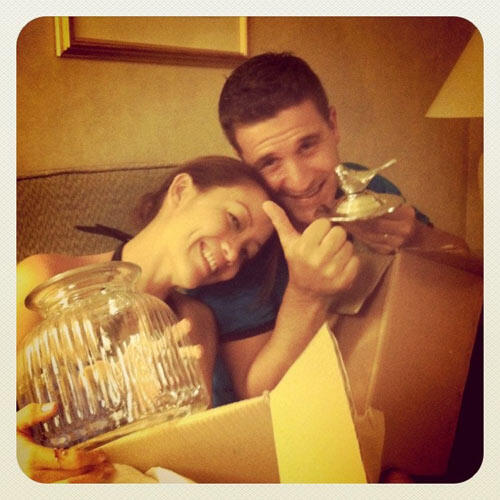 Mattrena opening wedding gifts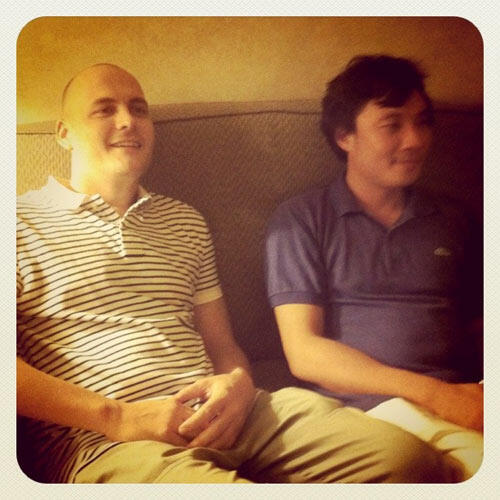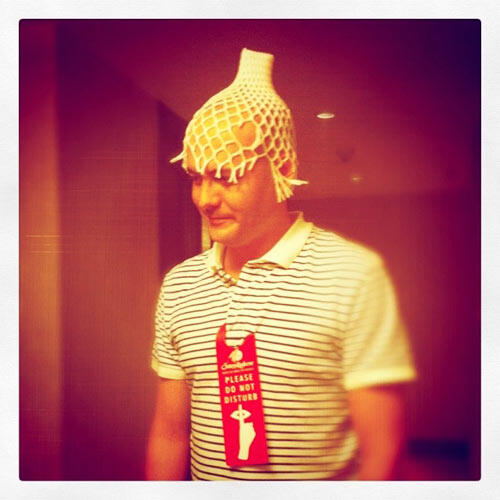 And YOU call *me* crazy?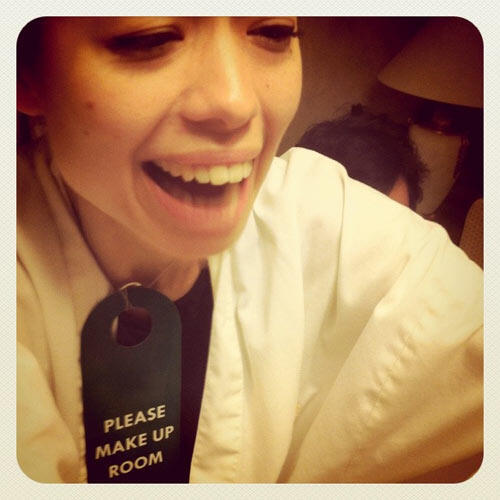 For breakfast on our last day before our flight home, we went for this famous KK beef ball and spare part noodles i was dying to try. I'm a HUGE FAN of animal spare parts. In fact, i just had some girl friends scold me for wondering out loud how particular creatures taste like. Of course, the only way we knew about this place was thru Serena and her family: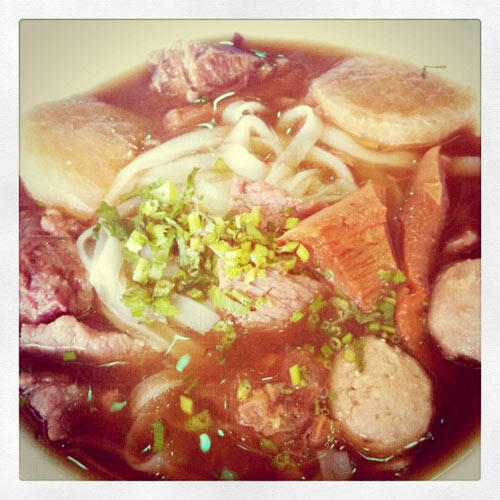 Ahmygad it's so good. I wish i had a shop selling this just where i live. I'll be happy forever.
Kah Hiong Ngiu Chap
> 2-0-10 Kolam Centre Ph2, Ground Floor, Jalan Lintas Kolam Centre, Luyang, Kota Kinabalu.
> Blok B Lot 14, Tkt Bawah Kedai Plaza Grand Millennium, Jalan Pintas, Donggongon, Penampang, KK.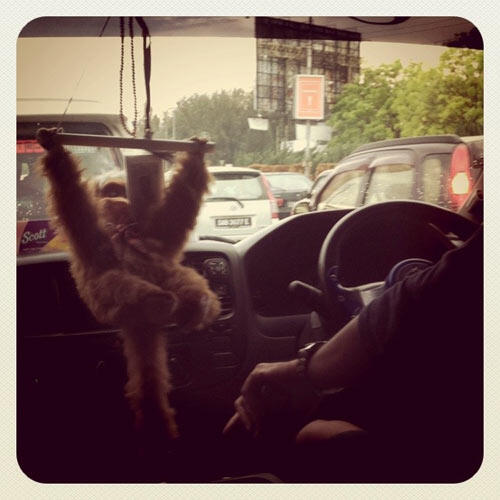 Our driver had the BIGGEST toy decoration hanging next to him. I'm plotting how i can put something like this in Clem's car and get away with it. A lost bet from his side i suppose.
At the KK airport, there's one frozen seafood shop selling fresh fish, prawns, scallops and dried anchovies and prawns. They even have a special machine to properly wrap your purchases to hand carry on the flight home.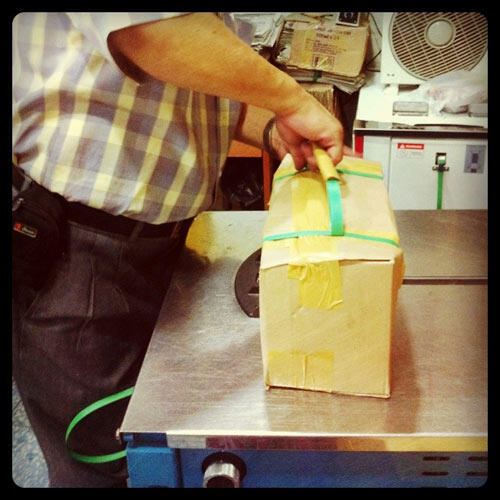 A few in my group were swearing how this is the best thing to buy back, how cheap it is, and how great it tastes. So i buckled to peer pressure and bought a large fish.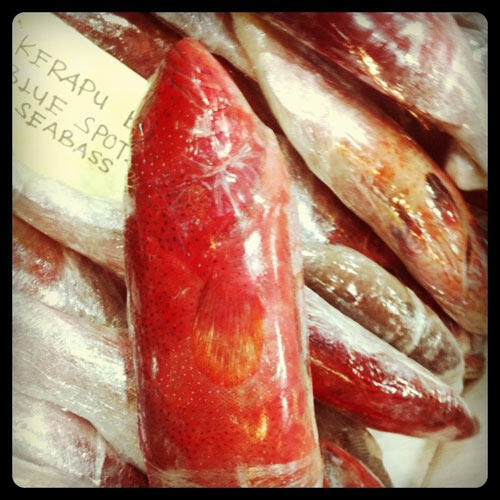 I didn't even know what fish i was buying nor how to cook it. Just thought i'd get one for my mom and she can cook it hee hee. I didn't which one to choose… so i just chose the most expensive one  -_-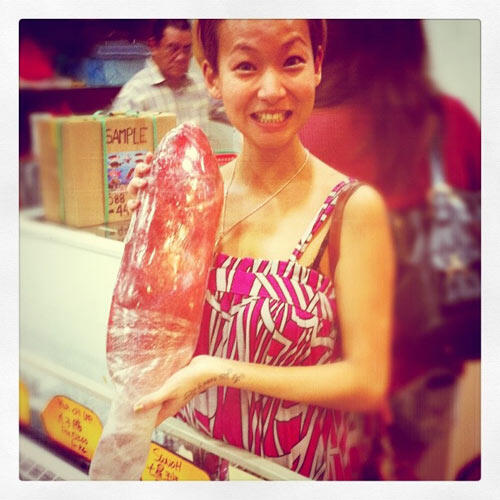 Turns out i got a red garoupa for RM56 (it was rather large, i don't remember the weight cos i fail). My mum said it's expensive fish and seemed quite pleased when i gave her it.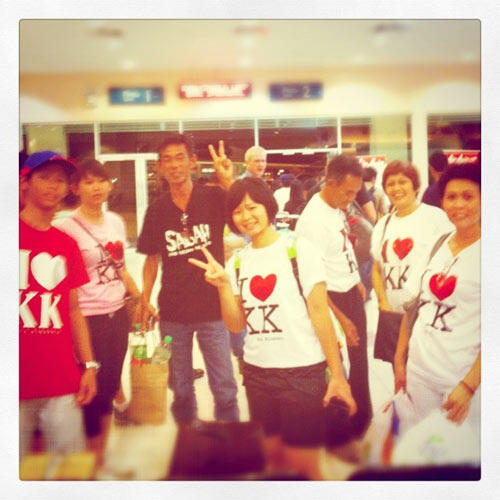 Semangat KK-loving family at airport!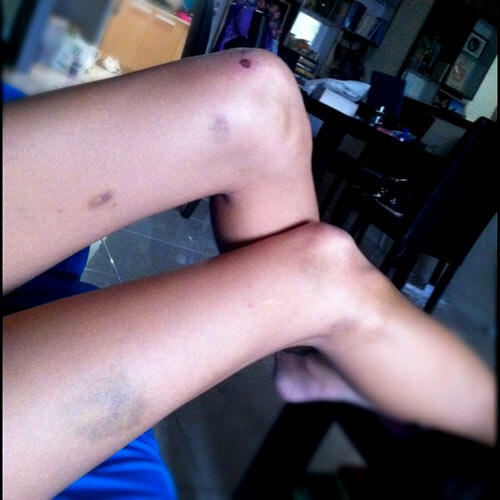 The most visually constant reminder of Mattrena's crazy wedding weekend.
Clem was horrified. I said, "You know… it's your fault."
Clem: "It's MY fault?!"
Me: "Yeah… you should have taken better care of me. *GRIN*"
Clem: WHAT
It's always your fault, never mine, and i am always right. 😀