Three couples living in one apartment getting ready for a wedding in one hour is… impossible. People fighting for the shower. Queueing to use the iron. Guys whining how they have to iron. Kenny whining for Cammy to iron for him (which she did). Clem whining WHY he has to iron his shirt till i got a second opinion (Cammy) and she interjected that he really shoulD iron it. Marcel not bringing the right clothes for the wedding theme, not being able to find clothes his size in KK, and stressing what he brought that would match the best. Girls fighting for mirror space and me barking at Cammy for blocking my 'light'. Helo came in to borrow the hairdryer. My ironed dress ended up creased so i had to re-iron it before we ran out the door. Clem shaking his head at how Helo's and my dress seemed a little bit transparent in the bright daylight. I comforted him that it'd be dark soon and besides, where was i going to find a replacement outfit then!?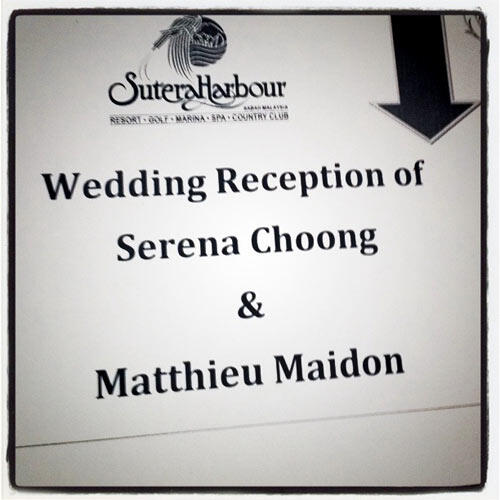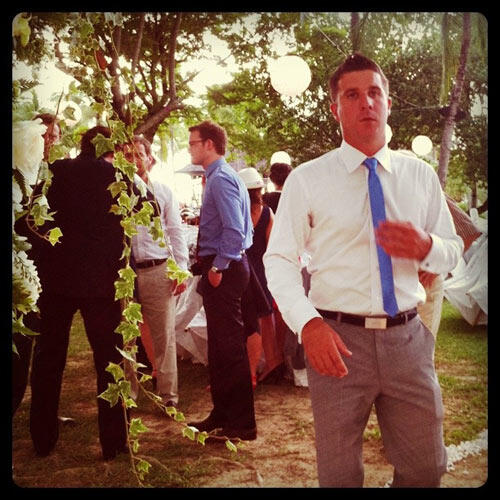 Matt looked nervous. "You look like you're gonna throw up," I said helpfully.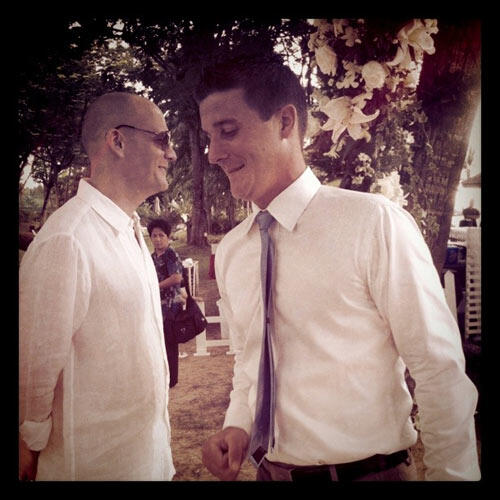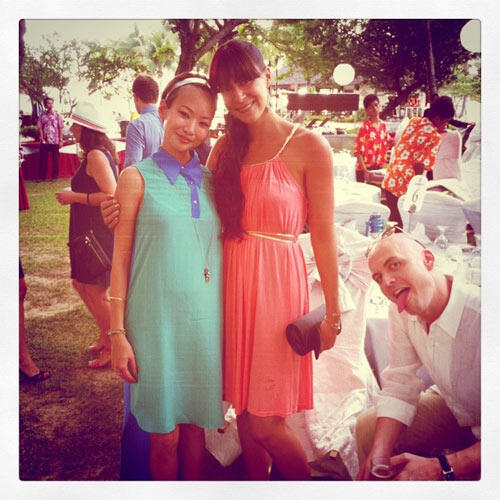 me, Helo and Clem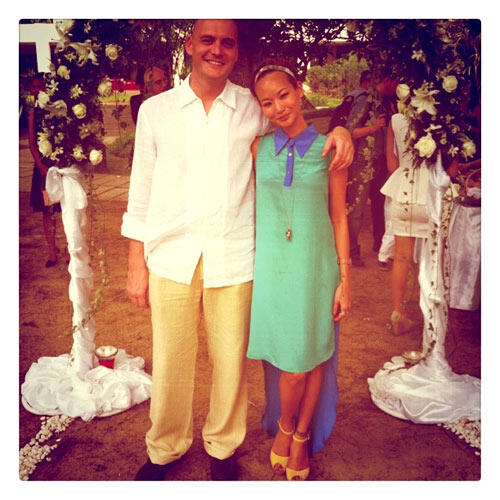 Clem thought it was unnecessary i asked for a picture together when we first arrived. My answer: "You know what's gonna happen later? We're gonna get DRUNK and not end up with a picture together…" I was right. Neither of us took a picture together after this one.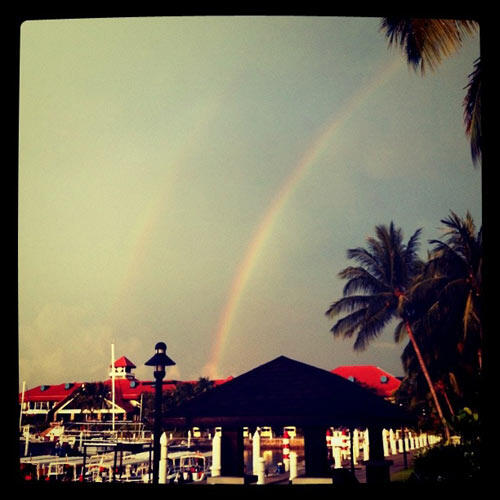 Double rainbow = extra lucky!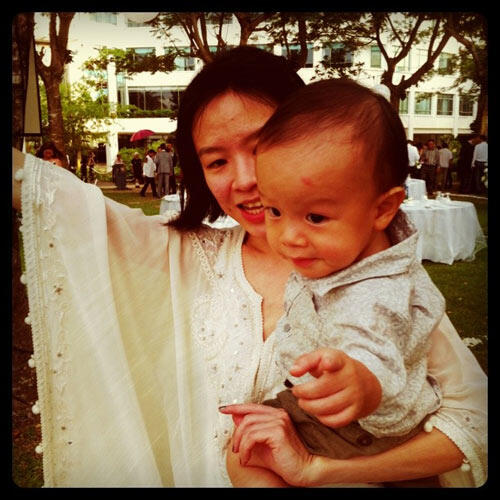 Mummy Eve and Dylan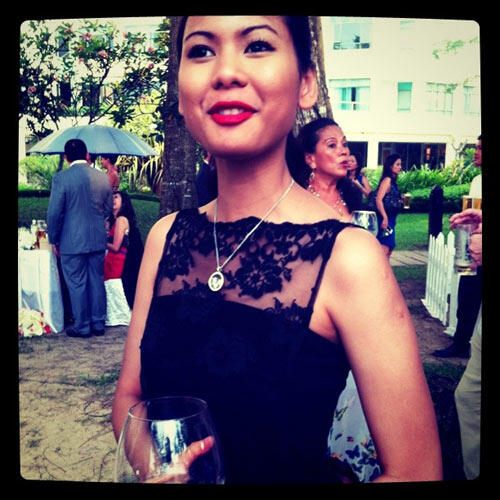 Najwa has the most exquisite features.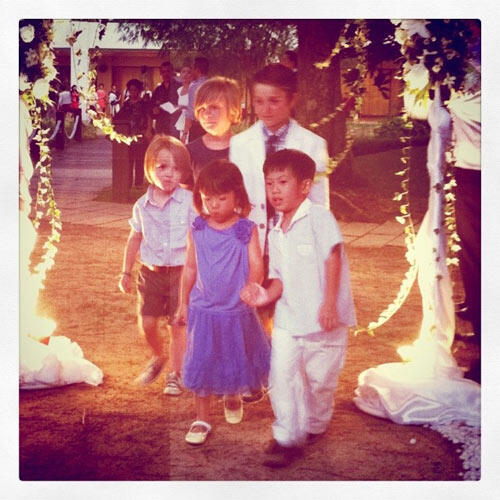 Little Frenchie and Chinky children! AWWW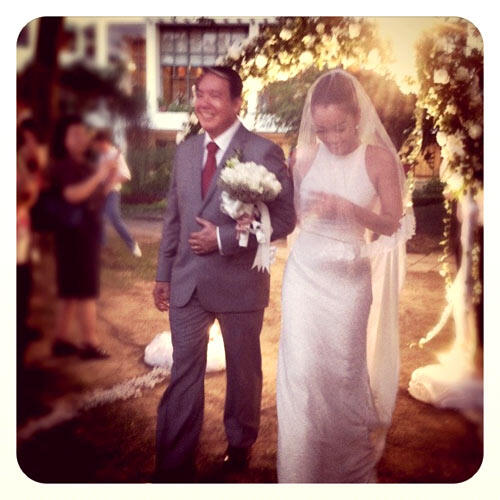 Father of the bride, and beautiful bride!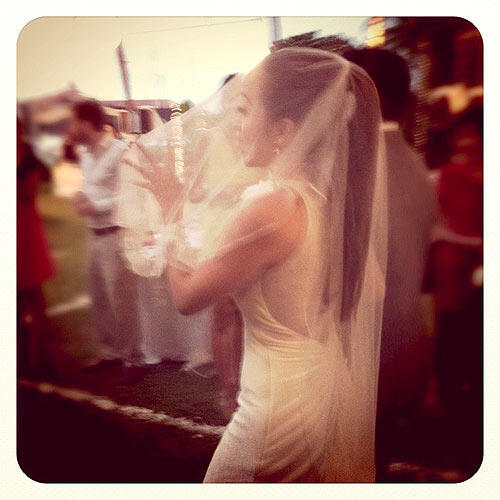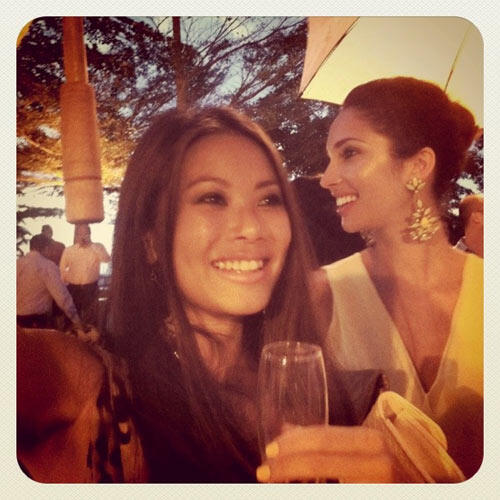 Yiu Lin & Deb. I stole some shade under their brollies cos it was drizzling lightly and i was protecting my dress and bubbly.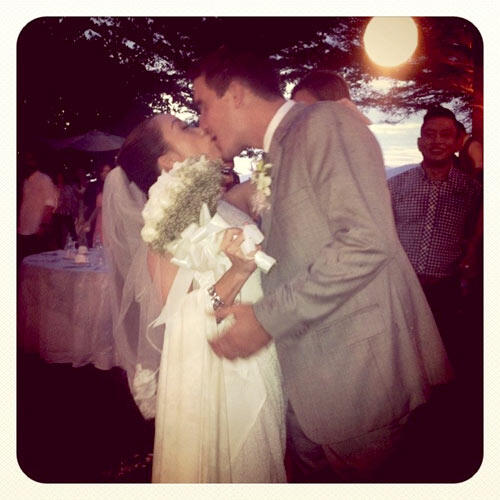 <3
I remember the first few times i met Matt was when Serena and i were hanging out at events and he'd join us cos he wanted to see her. And i was thinking, "Oh, another guy going after Serena la la la." And then it got serious 😉 After some time, i accidentally met Clem through another friend. We got together. And i found out that Matt actually helped Clem get his job in KL cos they were both in the same uni in France. What a really small world.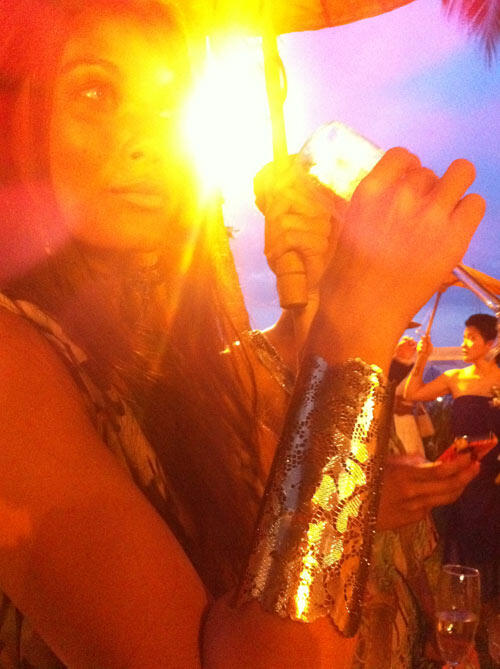 My fave pic of Yiu Lin while the sun was setting behind her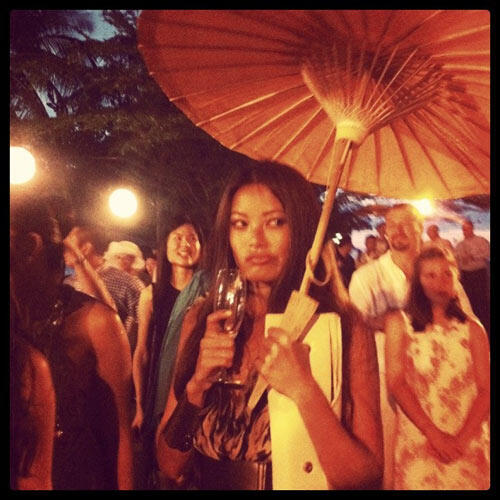 When Serena was getting ready to throw the bouquet, this cat above made a face and shielded herself with the brollie. Oh i couldn't stop laughing.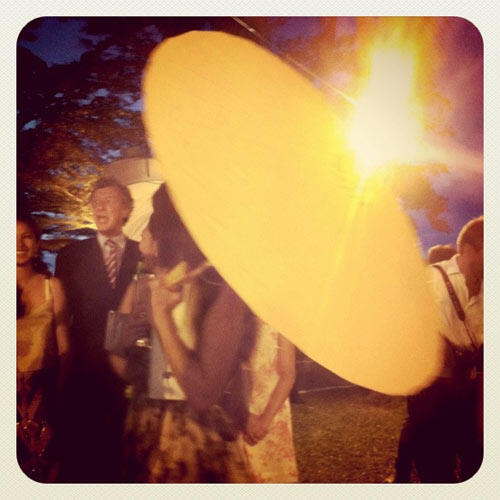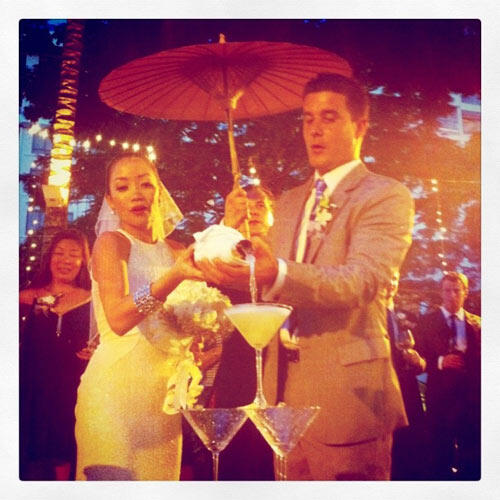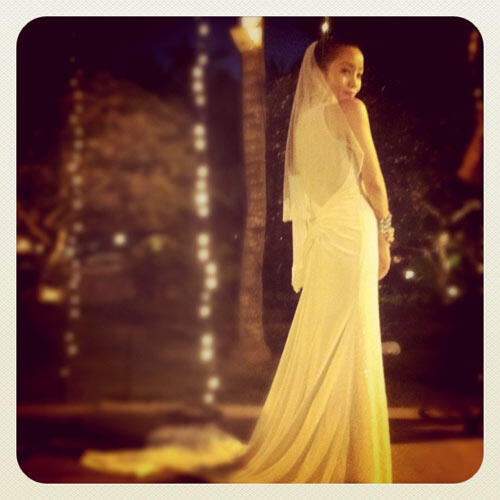 Serena's dress and shoes were made specially for her by Sonny San of Eclipse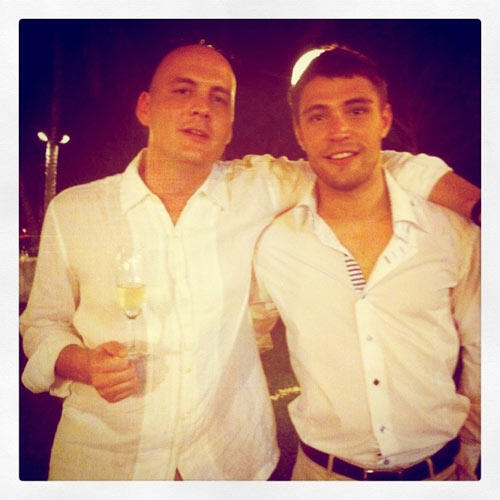 Clem & Lucas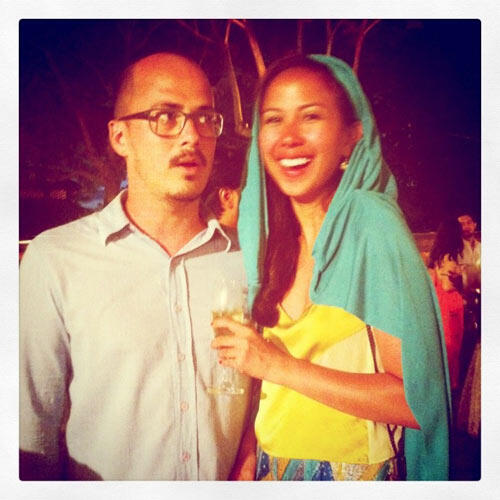 Tubby and Noreen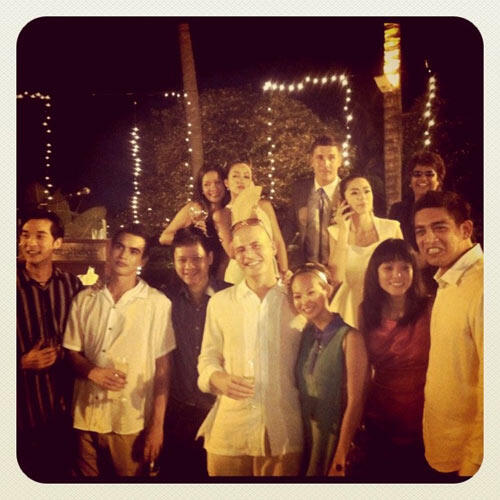 Cammy's on the phone cos Kenny is missing in the picture!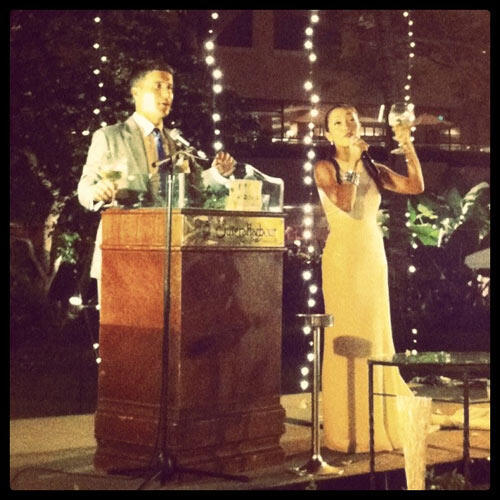 I loved all the speeches. Short and funny. Especially the speech by Matt's mom, who's English. "Until he was 22, he was embarrassed to speak English to me! And now, he's getting married to someone he has to speak English to."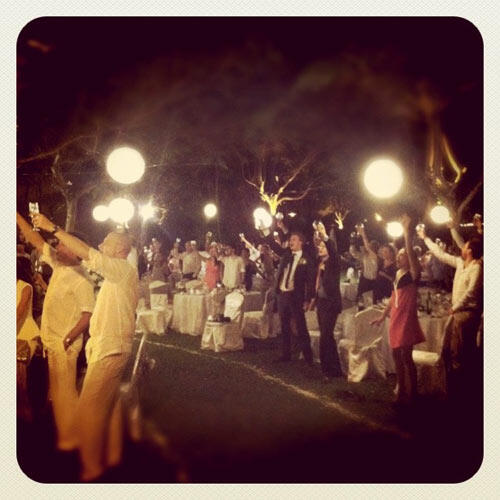 YAMMMMMMMMMMMMMMMMM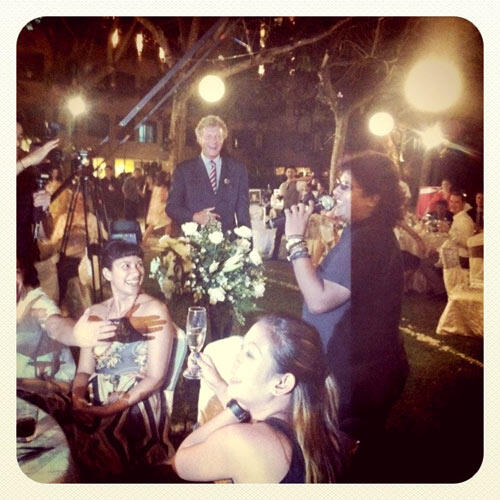 Priscilla Patrick was coerced into saying a few words. After trying to avoid it, she graciously said in that nation-famous voice, "It's smooth all the way."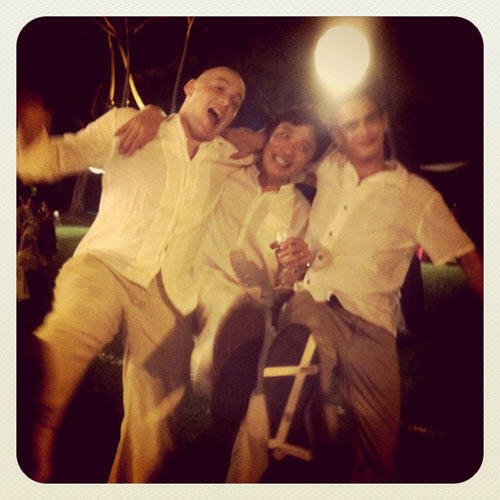 Clem, Kenny and Carl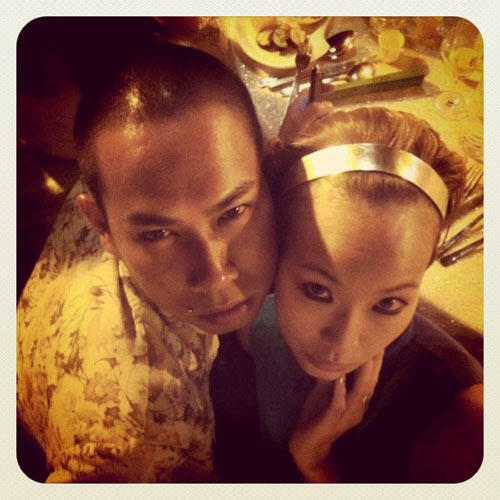 Ming did Serena's hair extensions and make up for her wedding. He's gonna fly off to be boy london soon.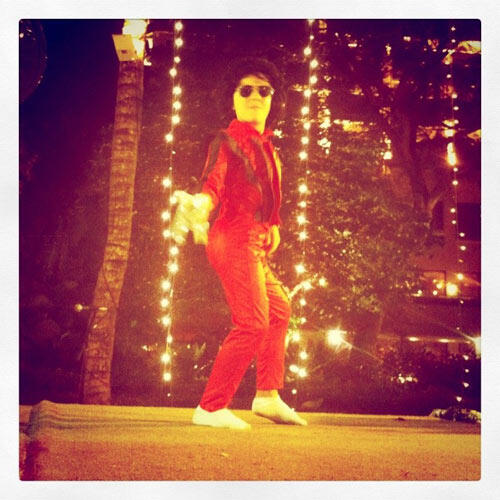 One of the little French boys did a Michael Jackson dance for us. Ming and i were ooh-ing saying he's bound to be a superstar. Takes a lot for a kid to dance like that on stage!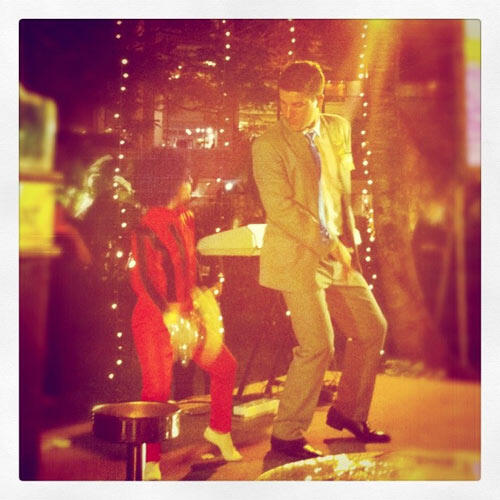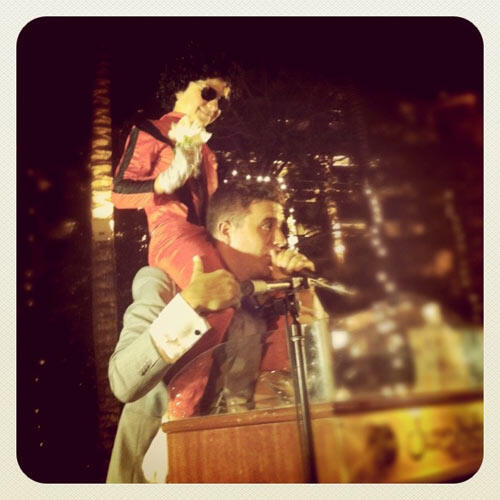 OK i remember the speeches… and forcing myself to eat a plate of food but it was just TOO MUCH FUN to drink and party instead of EAT.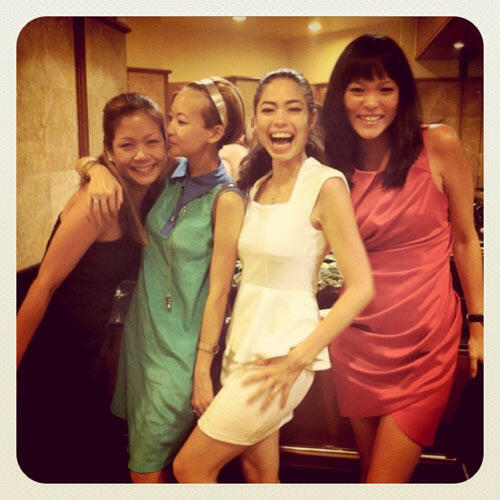 Random impulsive picture of Tina, me, Cammy and Elicia in the bathroom. We had a moment in there. That was quite early in the night… i dunno, maybe 10pm? I have NO IDEA. We all partied and played till i FORGOT TO TAKE A SINGLE PICTURE. It's like BOOM. No picture from 10pm till 4am. Just woozy memory. Erm. Very bad memory. I ended up losing a number of items at this wedding… my Toywatch (bye favourite watch), my thirtyfour headband (bye favourite headband) and an article of clothing (bye thing that shall not be named).
Oh and i fell down a lot. According to Cammy, we were holding hands and running (?!) towards Kenny when she felt her arm being pulled back. Looked back and saw me kissing the ground WHILE still holding her hand so i ended up pulling her down with me. She fell on top of me. I got up. And blamed her for making me fall down. Sounds a lot like college Joyce.
Hmm what else do i remember. We were dancing on the beach. Some of us threw up on the beach. The music went out (it must have been late) and i pulled out my iPod and X-mini speakers (which i'm SO GLAD I DECIDED TO BRING) and played music while dancing around and drinking from a bottle of Moet. I remember this middle-aged French couple dancing rock and roll on stage while some of us took a rest… and they both suddenly fell OFF the back of the stage. The strings of lights were shaking while we were like 'oh no!!!' Then they got back on the stage and CONTINUED dancing. Bravo! We cheered them on like crazy.
We thought we'd take the party to the hotel bar but there were a bunch of English guys in there watching football. So the French were annoyed and Clem did his explanation using his hands to tell the manager that "this is football" places horizontal hand at stomach level, and "THIS is wedding" puts other hand above his head. In the end the hotel gave us the ballroom to continue partying in which was a lot better. I vaguely remember harassing Ming and dancing with Deb. And urm what else. Serena said she saw Clem pulling me out of a bush cos i walked into it.
Ok then my memory came back when we were chilling in their room. And my camera came out again.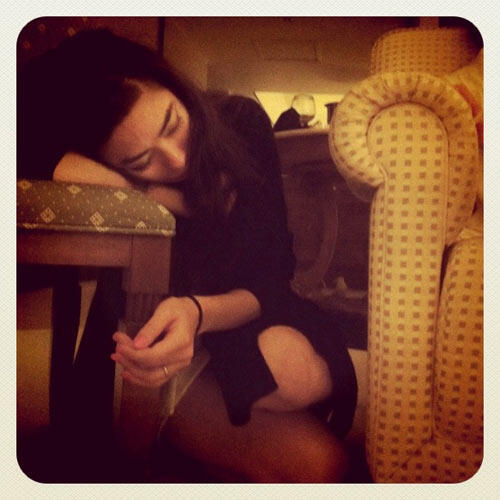 Bride passing out. What i learnt from Cammy and Serena is that brides don't get to eat ALL day during their wedding day.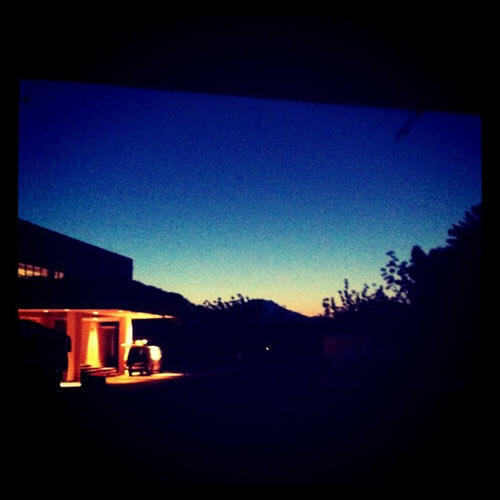 And then we went home as the sun was rising.
WHAT A WEDDING.