Clem and i stayed at this spectacular villa in Phuket last month… I would have blogged about it earlier if there weren't SO MANY CRAZY BEAUTIFUL pictures i took! Finally edited them, which will all be up in the next few days.

To get to Sri Panwa, we took a flight to Phuket. Seeing we arrived really late the first night, we stayed in the town before checking in to the resort the next day. It took us about an hour by car to reach Cape Panwa, which is on the South-Eastern tip of Phuket.
We couldn't see much when we arrived at Sri Panwa. The car drove us in to the check-in lobby, which is really one building by itself. I should know next time that when you don't see much, it's because the estate is so huge that the buildings and villas are hidden from view by trees everywhere!
In total, Sri Panwa has 52 villas on their lush estate of 40 acres. The villas range from 1-bedroom to 5-bedroom ones, all strategically built over 40 metres above sea level. We received a little guide when we checked in – showing us a map of the whole place. I was hoping we wouldn't have to walk everywhere! Luckily we didn't… we had shiny red tuk tuks to fetch us at any time from our villa to the restaurants 😉
Besides the little guide, Kun briefed me about a schedule the resort had prepared for Clem and i lest we get bored! We had options to take cooking classes, sightsee around the island, get massages at the spa, etc. Very exciting! Suddenly 3 nights didn't seem enough!
A few minutes later we were zooming down a lane hugged by greenery to enter our home for the next few days. As Kun showed us around our 1-bedroom villa, i looked at Clem, looked at her, then said, "Tell Kun Clare (whom had arranged our schedule) to cancel everything. We're not leaving this place." She laughed. We laughed. However… I was not completely joking!
When i entered the main door of the villa, to the right was the living room, kitchen, verandah, shower and bathroom: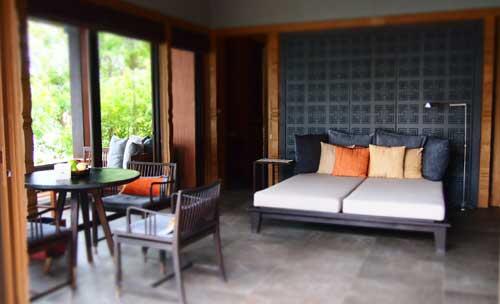 Living Room #1 (there's another in our bedroom)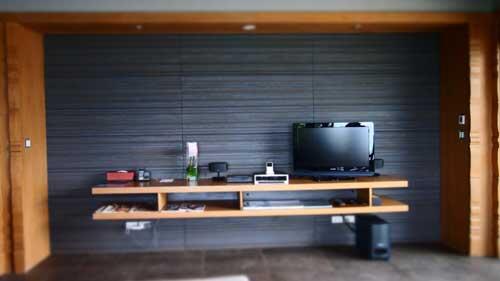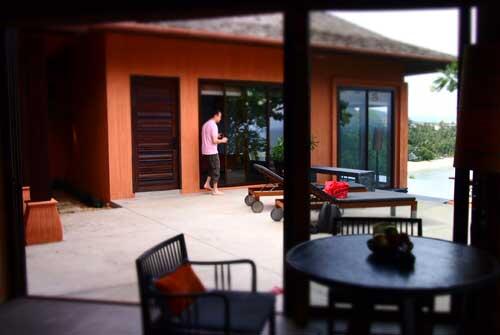 View from the Living Room #1, looking at our bedroom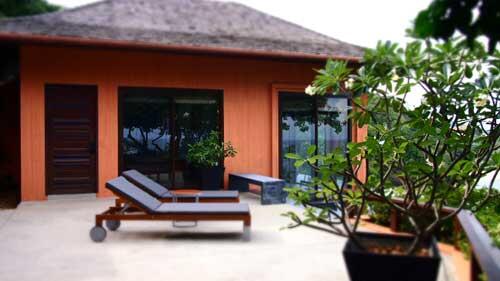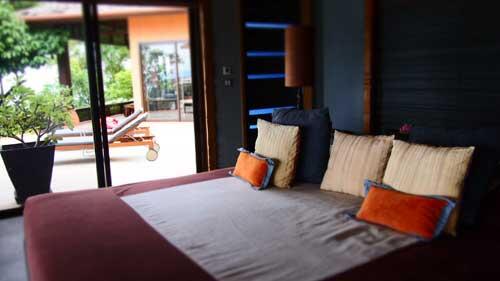 This was our bedroom, and you can see Living Room #1 across the little courtyard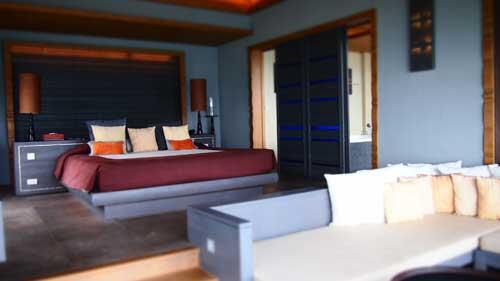 Living Room #2 is in front of the bedroom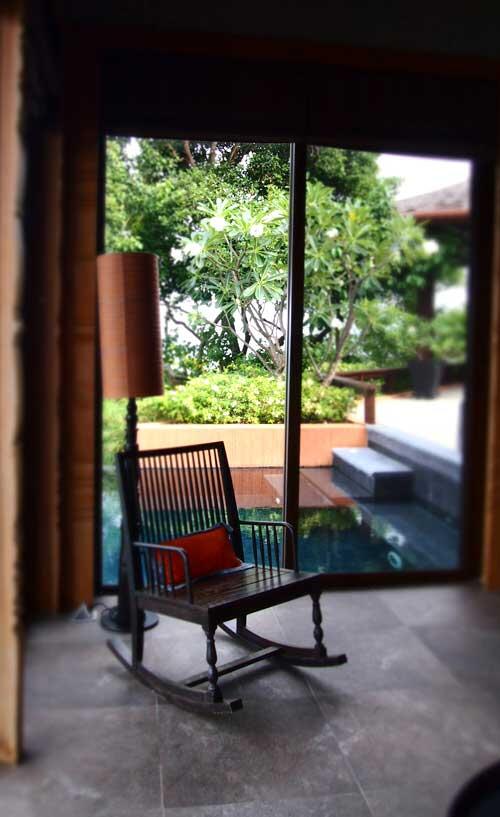 In between both little buildings in our villa, are the stairs to the infinity pool which encircles our entire bedroom villa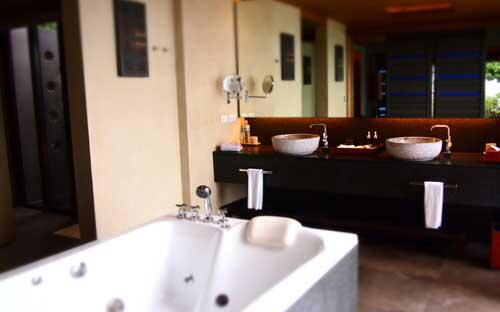 Main bathroom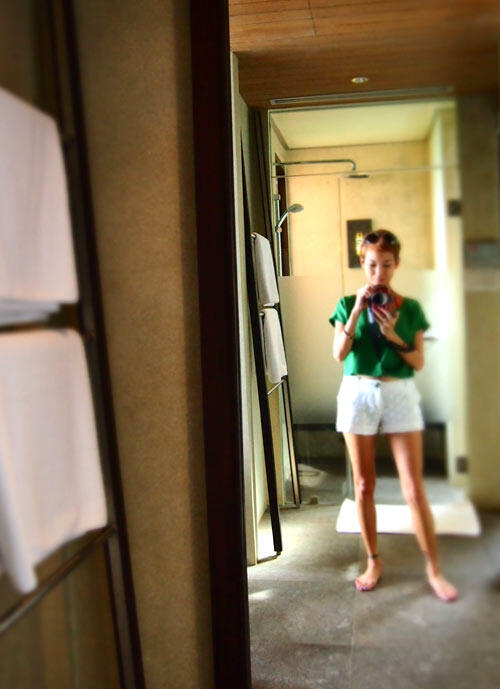 Steam room and shower #2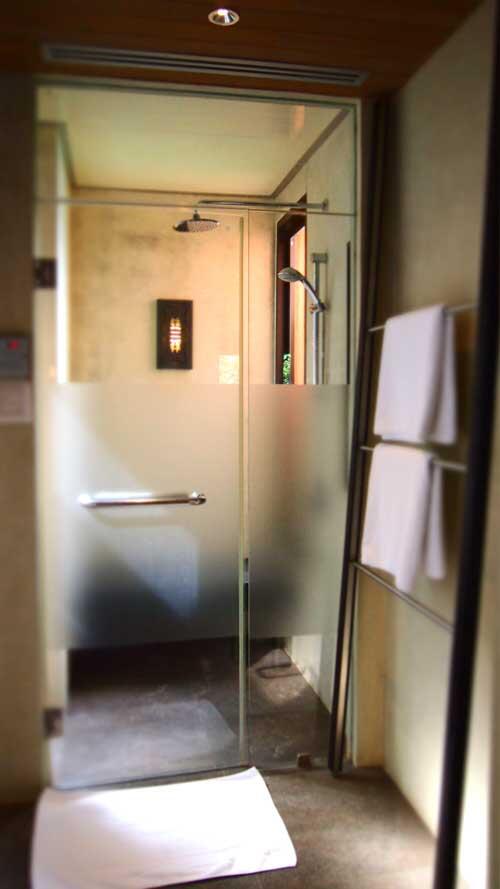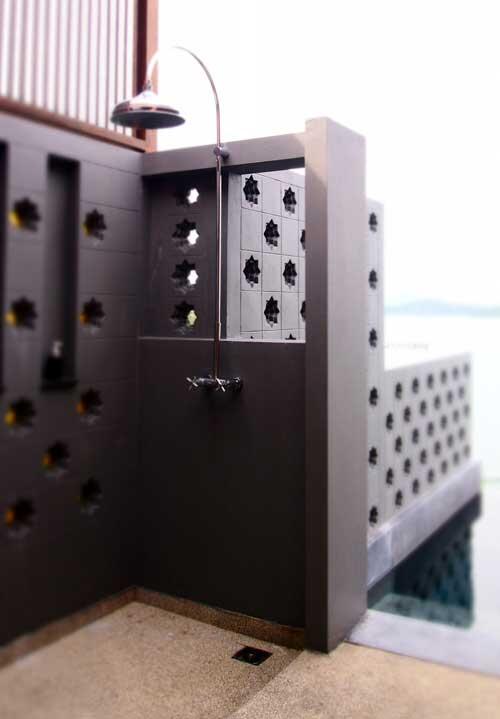 Shower #3 is outside. I love showering outside! Feels so NATURAL. Except it got a bit cold when it was windy!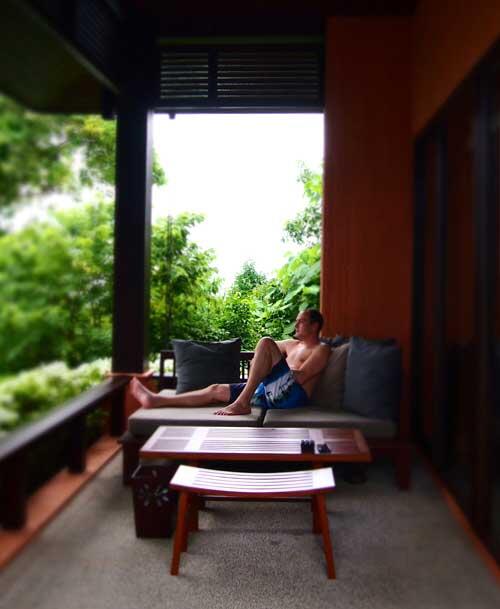 We chilled in the villa on our first evening, and Clem found his 'spot' on the verandah. He loves balconies. Every time we're in an unfamiliar apartment, the first thing he'd do is check out the balcony.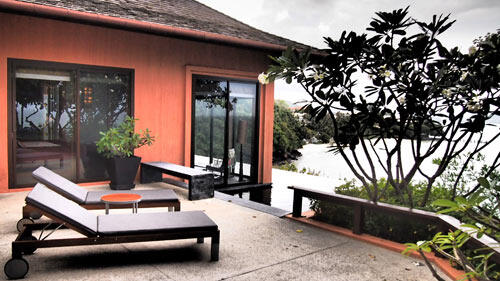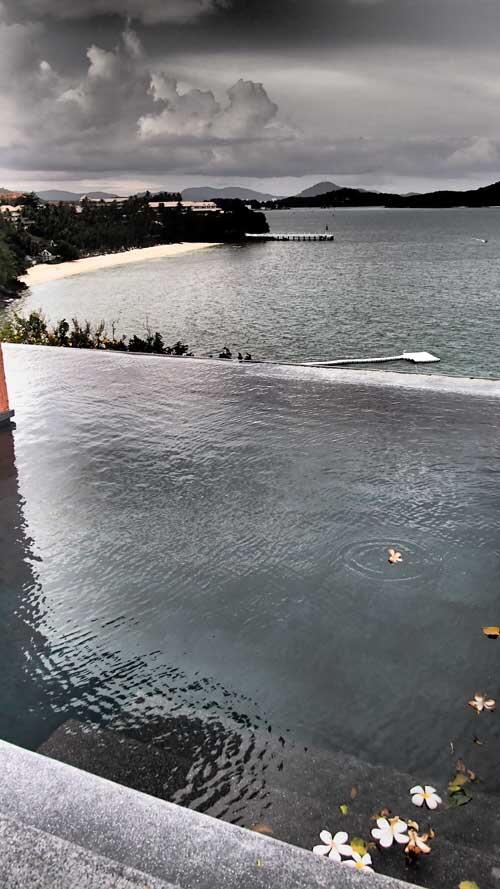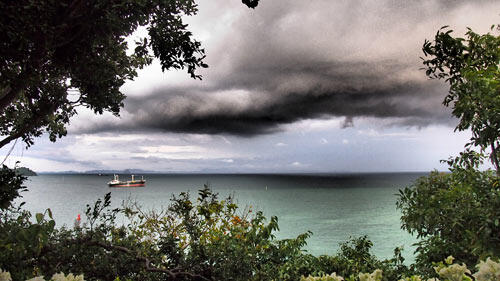 It was going to storm that evening, and simply marvelous to just sit there. Watch the clouds roll by. Smell the storm coming. Stare at the blues and purples changing.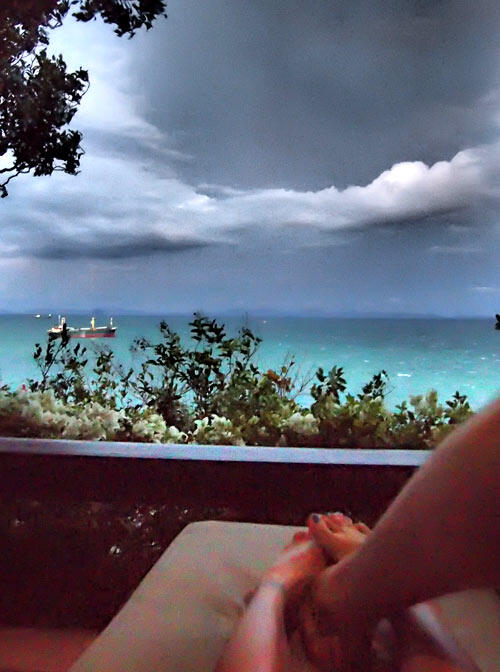 Clem had a drink while he watched me sketch the rolling sky and sea with pastels i'd brought.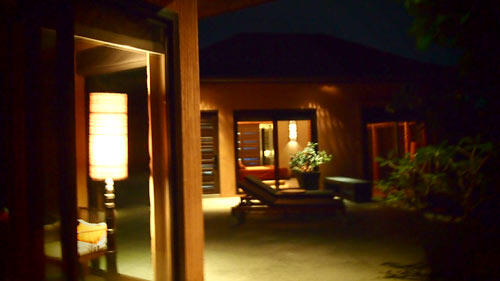 Later that night, we went to Small Bar, which deserves a post of its own because it is that awesome.
I assumed that the blogpost featuring pictures from our villa would be the best one out of all. But wait till you see the pictures of the resort that will go up later this week!
/////
This trip was made possible by Luxe Nomad, a soon-to-be-launched website dedicated to traveling the world in luxury and style. Sign up for member-only rates at TheLuxeNomad.Com. Membership is free.