After spending 2 nights in Iboih, we called for a taxi and traveled roughly 45 minutes to another area in Pulau Weh. Pantai Sumur Tiga is supposedly the longest beach in Pulau Weh and got its name from three wells that lay along its stretch (sources say there are actually five wells). It's also reputedly the best beach in Pulau Weh, with guesthouses and hotels that range from affordable to high end.
We stayed at Casa Nemo – a pretty nice guesthouse with 8 bungalows/rooms perched on the hill overlooking the beach and ocean. The beach was practically a 4-minute walk from our doorstep. A slow walk. I'm not one of those cheaters who tell you it takes 5 minutes when it actually takes 15 cos they're running a marathon or something.
Our spacious room had no air con (but we didn't need it cos it's cold at night) just fan, but had hot water shower, fridge, nice porch with hammock, taps to wash the sand off our legs before we got in the main door (so important for crazy OCD people like me who love the beach but HATE sand in the room!). The bed was okay, think they need new pillows and beds and there's no mosquito net; but i love the ambiance of the place and the BEACH just made up for everything. Room cost 250,000 rupiah/RM87 per night.
In fact, reason i'm writing a fair bit about Casa Nemo is cos i would totally recommend you to stay there (Disclaimer: if you're half the backpacker type) but i forgot to take pictures of the place. I don't even have a SINGLE picture of Casa Nemo cos i was too enraptured with the beach that was just outside our doorstep.
LOOK.
JUST LOOK AT THAT BEACH.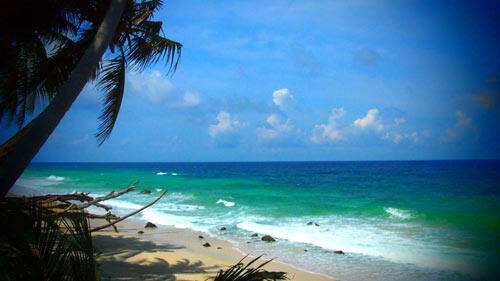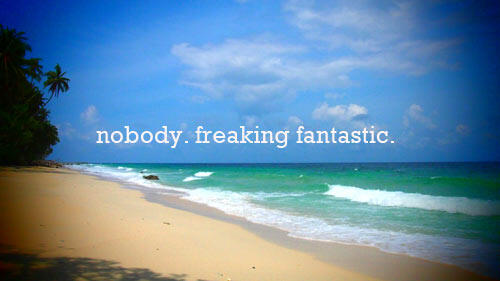 Incredible! And to think it only cost us RM87 a night to stay there… SO WORTH IT OKAY. To see pictures of Casa Nemo's bungalows *click here*
We spent the late morning hanging out on the beach (OF COURSE). Clem immediately jumped into the ocean to play with the waves. I thought i'd try it later on. Big waves scare me. Tell you why later.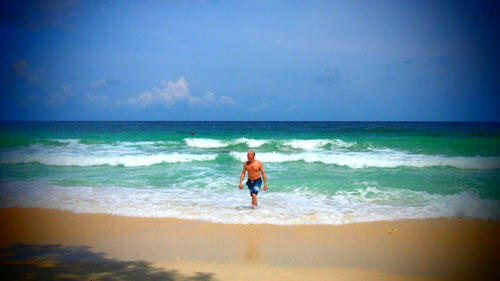 I was so intent on getting as MUCH SUNSHINE as possible that i lay on the beach reading Norwegian Wood while we waited for the food to come. Casa Nemo only served breakfast and beer when we were there so we walked next door to Freddie's, another guesthouse + restaurant: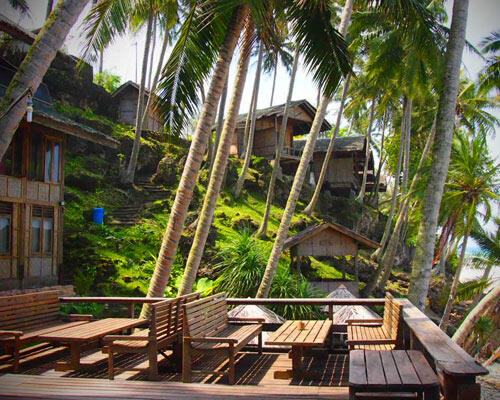 Like i mentioned in a previous post, we went to Pulau Weh just as the rainy season was over, so there weren't many tourists then. Fab, really.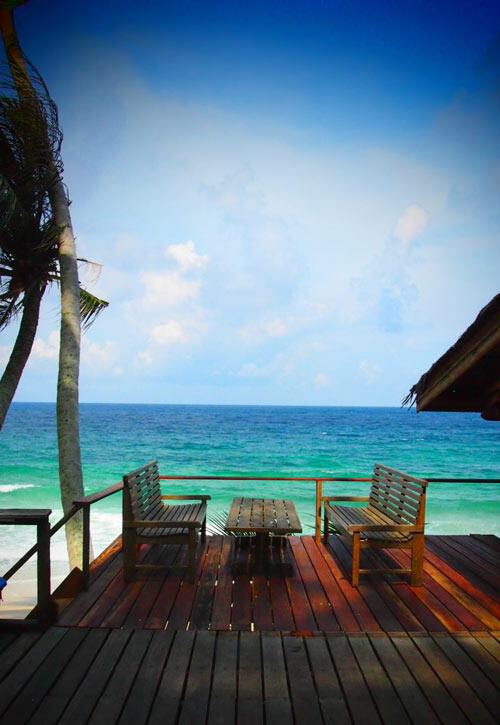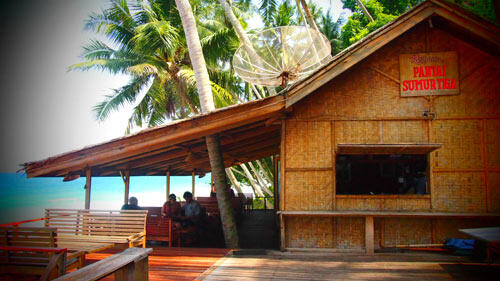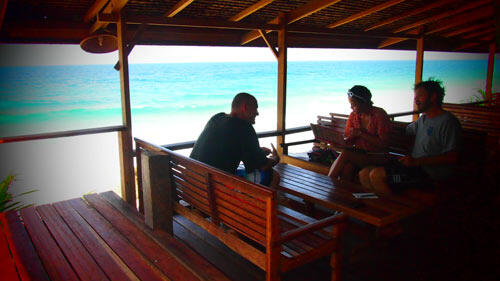 You can't ask for a better lunch view.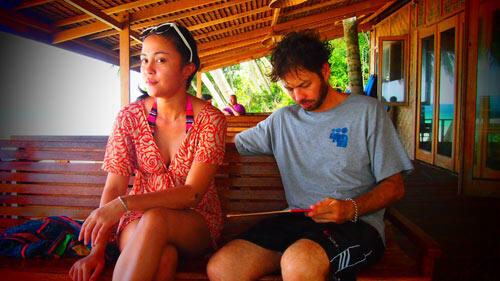 Steph & Nick
Thanks to Steph for taking pix with my camera that holiday, i always whine that there are never any natural shots of me but this time there are!
Here's a very natural shot of us. One moment we're all lovey.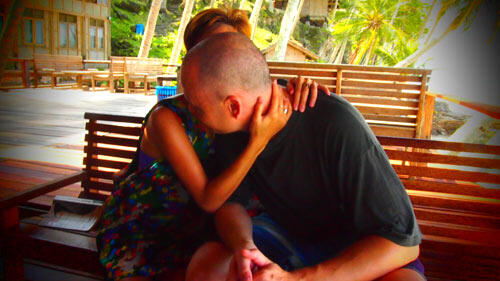 Next moment we're fighting, pushing each other, wrestling, etc.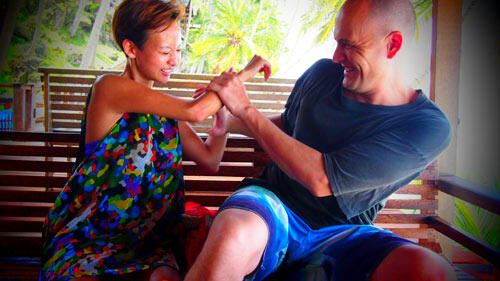 It usually ends with Clem saying, "STOP before someone (you) cries." Or him handling me too roughly and i start screaming like he just did a Tyson on me.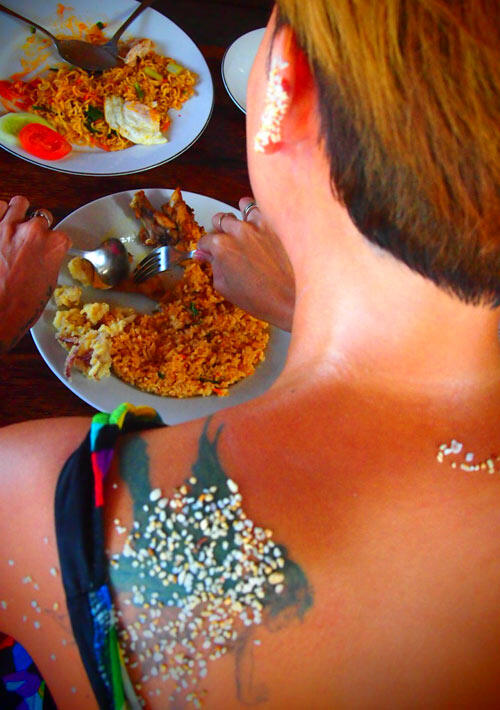 Clem thought i was so disheveled to eat with sand all over me but i love it. It's the big grainy kinda sand that dusts off easily, not the fine one that sticks with your sweat and makes you blah.
After lunch we went straight back to the beach!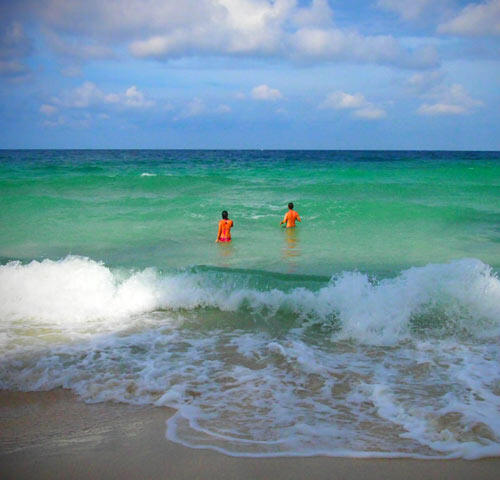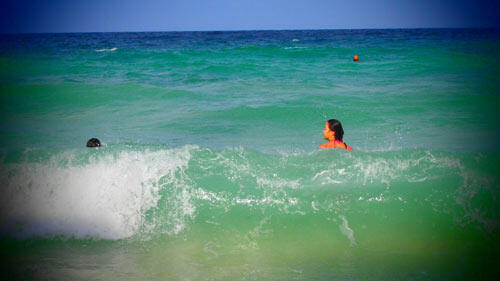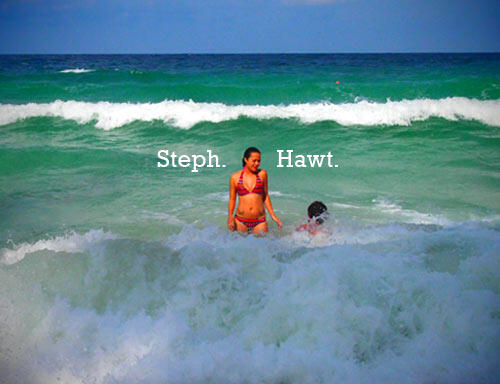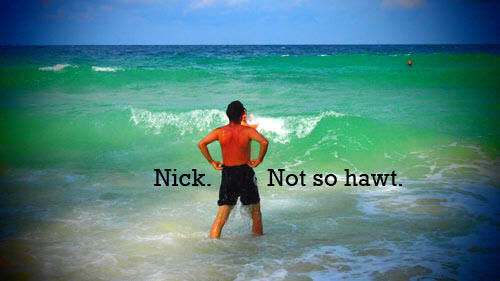 The waves are so forceful that it can easily wipe the pants off Nick. Or me off my feet. I almost got a picture of his bum but wasn't quick enough. Steph thought i was being a pussy for being scared of the waves but when they knocked her over too… I SAY HA! I tried going in earlier and a huge wave knocked me a-tumbling, big stones and coral the seasonal tide hadn't brought out to sea yet crashing on my feet and legs, and sand getting into my swimsuit… which was just magically trying to come off. And all while i was trying to pee. Dammit.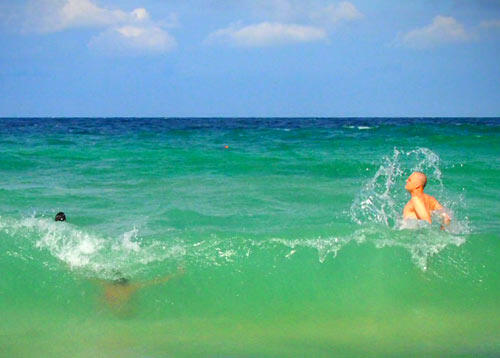 You can see Nick underwater! It's that clear! And Clem fighting a wave! In the end i HAD to go in the sea (with Clem making sure i didn't get knocked over too much) cos i really had to pee again. This time Clem held me while i peed. Haha. This is why you need a big strong man – to help you pee in the sea.
I managed to get over my wave phobia the next day and was a big girl and went all by myself! Or maybe at that time the waves were a bit tamer…
ANYWAYS.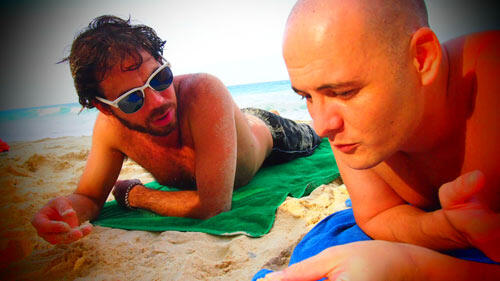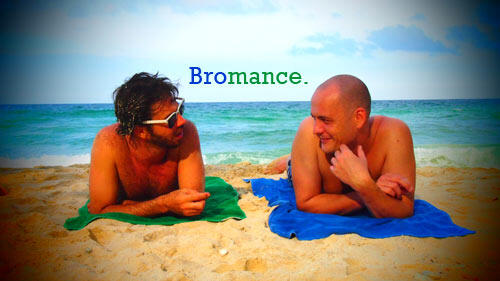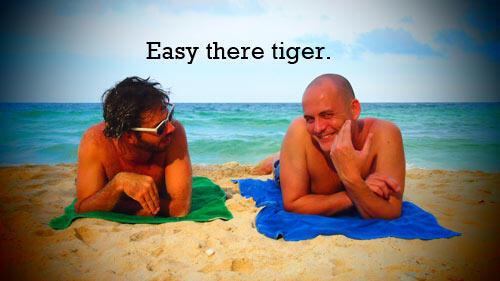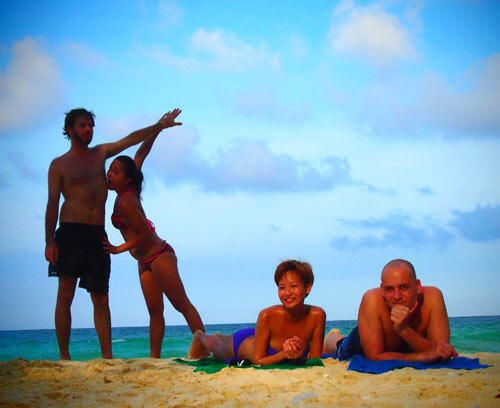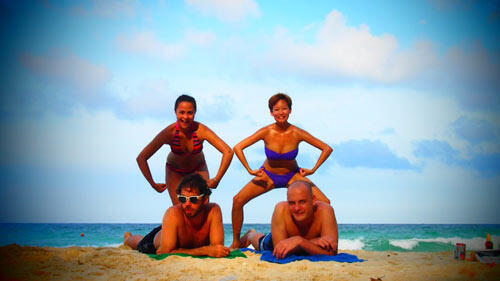 OK my chest just looks like that because of this great bikini Serena gave me for Christmas. It miraculously LIFTS in all the right places. LOVE IT.
There are heaps of other pictures we took with my phone (which i'll post separately just cos the look and feel is so different! OCD…) We drank tequila, played on the beach, bla bla bla then fast forward to dinnertime!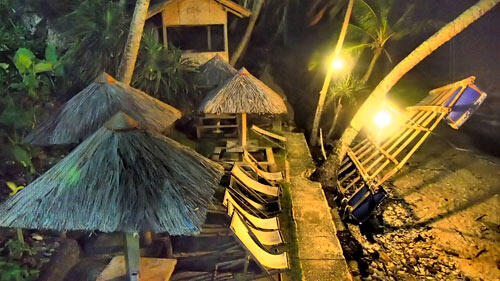 We went back to Freddie's for dinner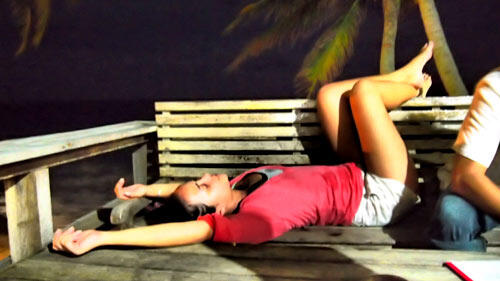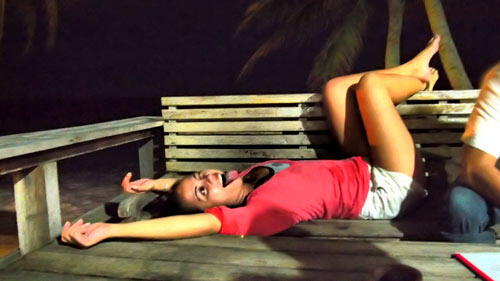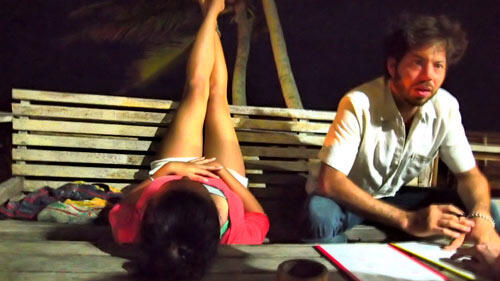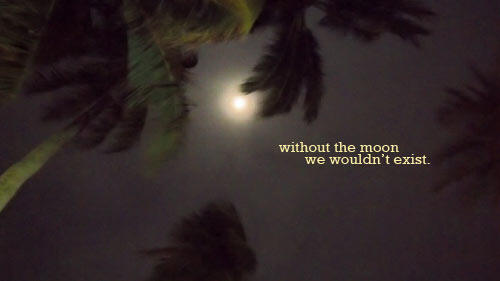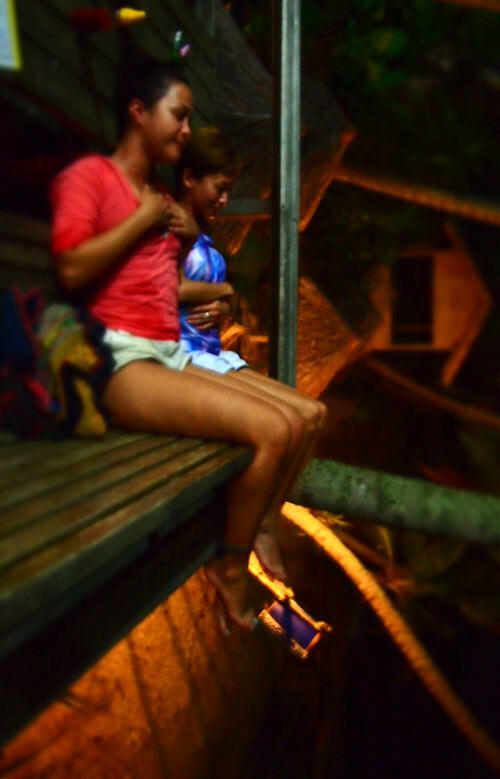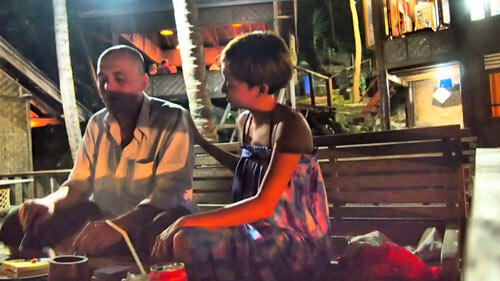 I just HAD to post this picture to show Clem that SEE? I'm not always hitting you! Sometimes i place my hand lovingly on you too!!!
Do you like my dress?! I saw the fabric in Kamdar, loved the 'melting' print, and made myself a long beach dress 😀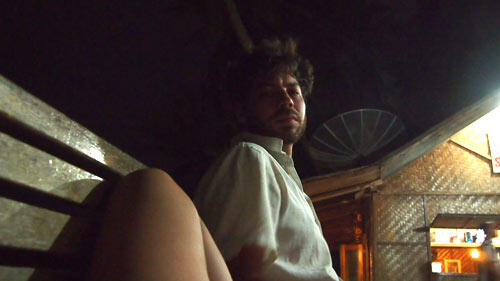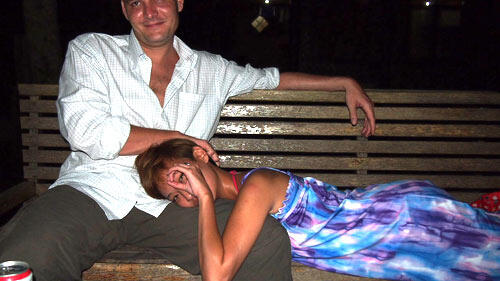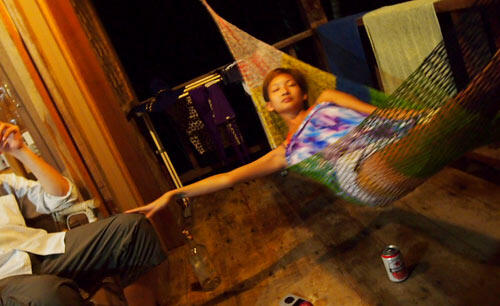 This is me too tired to hold Clem's hand but i still want to touch him so i was touching his knee  -_- Hahaaa thanks Steph for taking these pictures!!!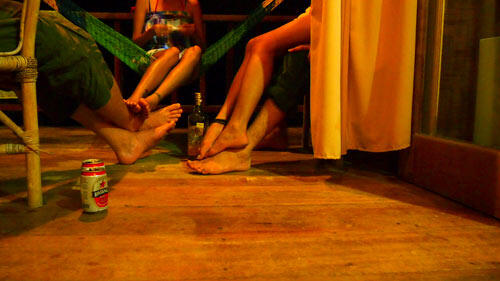 Freddie's Santai Sumur Tiga
Address: Pantai Sumur Tiga, Iemeulee.
Ph: 0813 602 55001,
Email: santaisumurtiga@yahoo.com.au
www.santai-sabang.com 
Casa Nemo
Address: Pantai Sumur Tiga, Iemeulee.
Ph: 0813 6299 9942.
Email: casanemo@yahoo.com
www.casanemo.com