I don't hide how much i love Topshop.
In fact, i can safely say Topshop gives me no $ to say anything.
After naming me one of their Top Favourite Bloggers in Malaysia,
i felt like they're returning my love for them
and we're in a sinful relationship.
I DID feel guilty when i dumped Clem for Topshop one weekend!
We went to Pavilion to buy him shoes,
and because we're ALREADY there (and Topshop is so near right)
i thought i'd *drop* by to very quickly see what's new.
Very quickly became half an hour.
The whole time i was in the store,
i kept on telling myself that Clem was waiting BUT i couldn't stop…
In the end he abandoned me to Topshop,
and went off to check out oven pans in Parkson or something.
:p
Just last week, i was showing Clem yet another Topshop piece i bought,
and he said:
"You have so many Topshop clothes
you can just open your own Topshop."
Men.
Don't understand.
Anyway Topshop will be launching their Autumn Winter 2011 collection soon,
and is giving away a RM1000 Topshop cash voucher!!!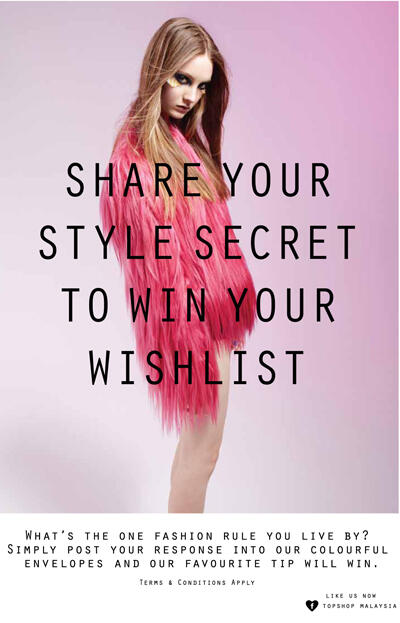 So you gotta share your favourite fashion rule at any Topshop store.
The competition will start tomorrow, 23 Sept till 23 Oct 2011 at all stores.
Here's my one fashion rule i live by:
"NEVER BE AFRAID."