Play the song below while you read the post,
so you're really getting my vibe here!
+ + +
I took a cheap EasyJet flight (USD150) from London to Copenhagen yesterday evening
CasparBFG picked me up at the airport at 9pm and we took the train back to his place which is very near city centre
"Okay, we're going to stop by Mono bar first, see how's that, and then Zoo bar where lots of advertising/music people hang out, and then etc etc"
"Caspar… urm *stomach growling* can i grab something quick to eat first? *meekly* i haven't eaten since lunch…"
He was so excited about the drinks part that he forgot about the food part haha!
Which reminds me, CasparBFG and ChrisMinus have this perception that Asian people talk about food all the time… which is true. :p
One major factor here: I feel like a midget. A fairy midget.
Everyone is so tall!
"You think i'm tall, you haven't seen the rest yet. Danes are huge people," said Caspar
"0_o… oh no…. i'm going to get trampled on!"
"Trampled? The big guys are going to use you as a toothpick!"
And he's right.
90% of the people around me last night were MASSIVE.
CasparBFG is already a whole head taller than me,
and there were some guys who are a whole head taller than him!
Even the girls are tall!
I had to look up to talk to them, or they had to bend down, which made me feel bad!
The only other person who isn't so tall is ChrisMinus.
Cos he's half-Malaysian HAHA.
"You must be the smallest person here," he said.
"And you," i shot back, "Must be the second smallest person here."
"Bitch."
"You know it."
So happy to see him and Caspar again after i hung out with them incessantly during the time they were in South East Asia!
Also been hearing lots of good things bout my host here 

This girl called Sandra said she couldn't think of a nicer and better person to take me out and hook me up with parties for free

I met about 50 people last night alone,
and apparently some important peeps in the dance music and club scene here.
But you know me… me memory damn cannot make it.
Even later in the night, i said hi to another guy and he went, "I met you earlier…"
Shit.
Only a few hours and i'm doing what i'm so typical of in KL -_- *shy*
After the bars, we got some beers at 7-Eleven and walked to a house party.
Memory a bit hazy from there :p
Recall dancing with a girl while other ppl lounged about on sofas in dim lighting.
But the atmosphere was chill and nice… and people here are really friendly and smiley!
Quite a change from the ones in London.
Didn't take any pictures last night,
save for one i managed to snap on our way home at 4am (i think)
But i woke up this morning thinking…
i know i had a good night when i didn't even think of taking pictures!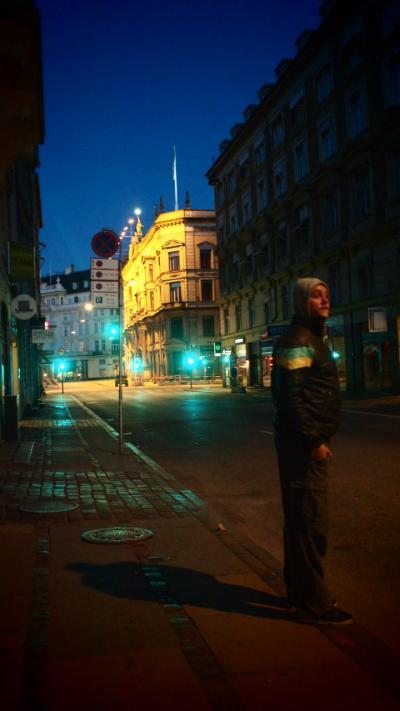 Waiting in the street for a taxi
CasparBFG made us some sandwiches before we slept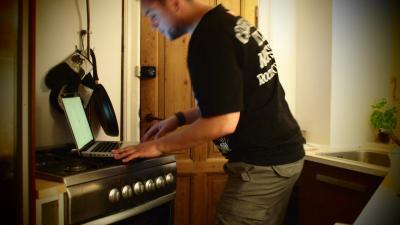 Playing music from the stove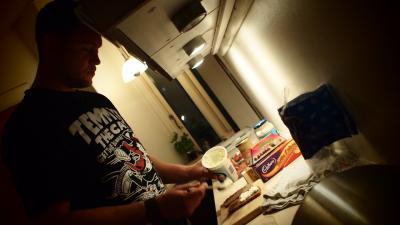 + + +
Today is a gorgeous day!
Some said i brought the good weather with me cos it's been raining the past 1 and a half weeks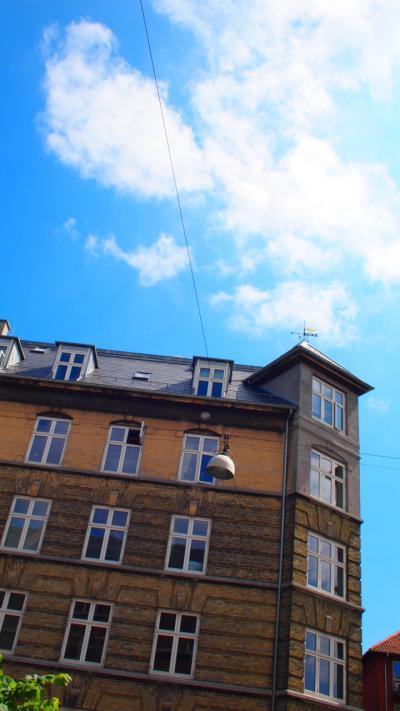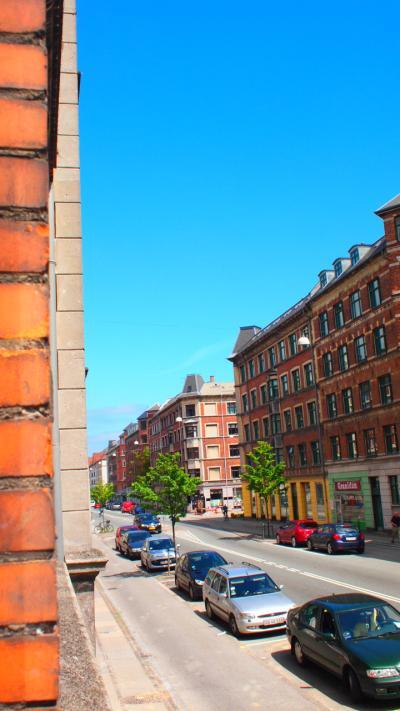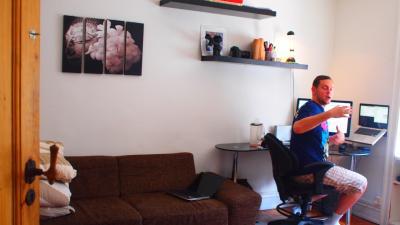 CasparBFG working on his freelance design now while i blog
The couch next to him is my bed.
Which i passed out on without even covering myself with the duvet last night cos i was so gone.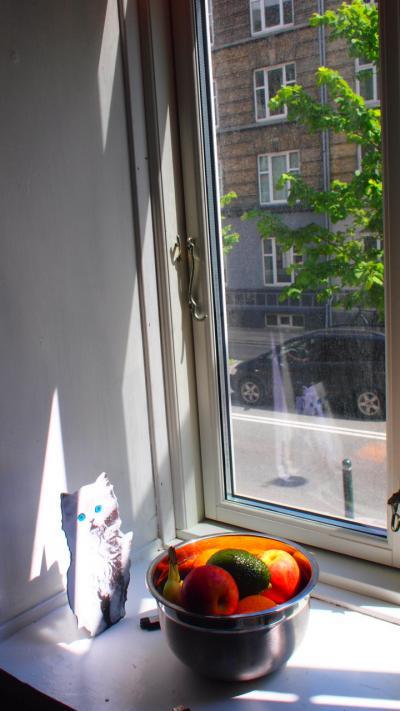 I brought Cassie my flat pet along with me.
Think she's the best ever cos she doesn't poo nor get fleas.
I want to get her a toy tho.
CasparBFG called me crazy. But he knows that already.
Anyway he's pretty whack himself.
Birds of a feather…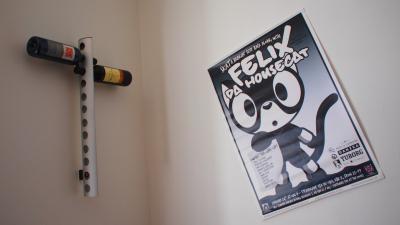 Wine bottle holder, + poster CasparBFG designed.
Not too worried that we're only going out around 2pm,
cos it gets dark at 11pm, and light again at 3am.
Love it!
Partayyyyyyy