I woke up at 7am on Tuesday
so that i could leave home at 7:45am
and reach the US Embassy by 8:50am to apply for my visa
Noticed the gorgeous sunrise for the first time from the apartment balcony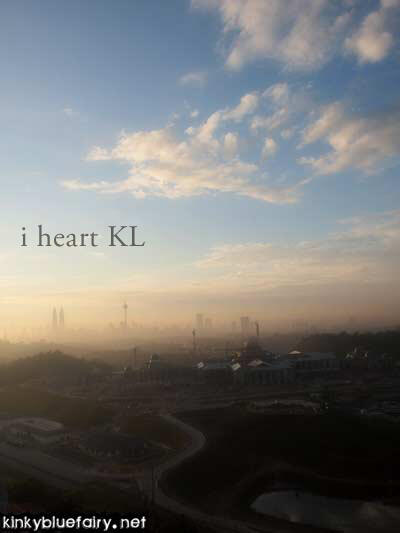 Despite the many complaints and flaws we bring up about KL,
i'm sure many of us heart KL heaps anyway.
(Think i'm being emo bout KL cos i'll be away for 6 weeks muahahaha)
Anyway, wanted to say that i've NEVER experienced morning traffic in KL city before.
"Never?" asked Terry (when we met up reg. a comedy he's doing in KLPAC in August)
"No. Never. My previous job in the city required me to be in by 10:30am, so i always managed to skip the jam!"
All i can say is: the traffic was HORRENDOUS!
A few people told me i can get from Hartamas to city centre in less than an hour for sure.
No man.
At 8:35am, i was freaking PRAYING IN THE CAR OKAY.
Thinking FUCK MY LIFE UPSIDE DOWN i'm going to miss my interview slot and not be able to go to New York because of the jam, this is crazy! this is unfair! i left so freaking early somemore! i wonder if i can park my car here and RUN there? NO! it doesn't make sense! i'm already on jalan ampang! i'm so close! OH MYGOD!
Super stress sendiri in the car.
I didn't even tweet cos i was THAT upset and stressed out!
In the end, there's actually a line outside the US Embassy where ppl register to go in,
so i was slightly late,
but there were others in the same time slot as me (which i didn't know about)
so PHEW!
Gave thanks to the Universe after that for hearing my insane spew of begging.
I don't know how people manage to combat traffic like that day after day.
It would depress me terribly to have to sit in an almost-stationary car
and stare at row after row of other almost-stationary cars.
+ + +
Went to have lunch with AshleyTheMonkey and her friend Jean
at Citrus in BVII after being at the embassy for 3 hours -_-
And back to her shop to hang out for a while.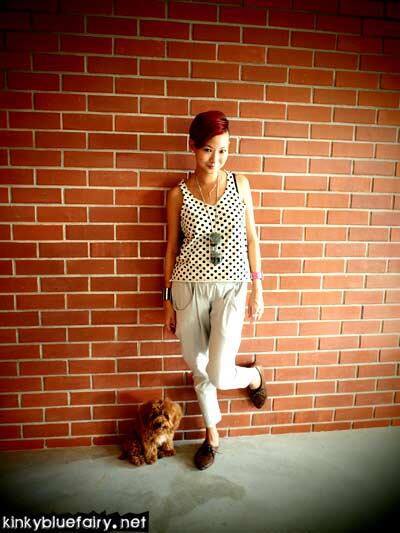 polka dot singlet; baci
cotton harem pants; baci
shoes; calvin cheong
poodle: kobi
location: ashes boutique
I remember the first time i wore harem pants,
they tore when i was getting out of the car -_-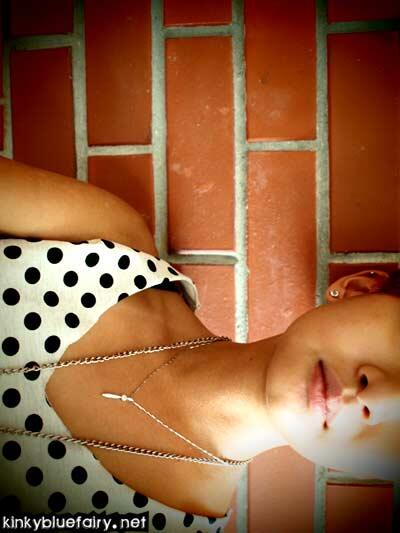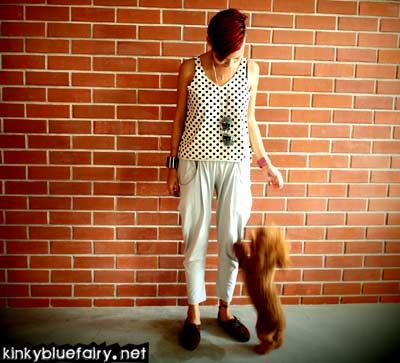 + + +
KinkyBlueFatty part 2
me: "I know why i've been eating so much! Cos my period was coming!"
Clem: "... you've been eating like that for two weeks."
me: -_-
+ + +
KinkyBlueHistory:
1 year ago, ClaudiaOnCrack and i had our first MFEO experience
2 years ago, i blogged about PR fail.
3 years ago, i had a party night out with my Lovelies. Now we prefer just dinner and drinks :p
4 years ago, i finally took my driver's exam. And passed. Without bribing okay!
5 years ago, i was a goner for an Anna Sui ad
6 years ago,RudyLaFaber gave me a fairy candlestick holder