Choosing a place for late breakfast is always an exciting prospect for me on the weekends.
You can wake up as late as you want.
You don't have to rush.
And you can relish every bite you take in,
while slowly curing the half-hangover from the night before.
I always feel like different things when i wake up
(it's actually the one thing that makes me get out of bed EVERY day)
I call them my Morning Cravings.
They're always the same stuff tho –
yong tau foo / curry laksa / hash browns
bacon / pork noodles at Lucky Gardens
something soupy like koay teow noodle soup (for SuperHangover days :p)
We had Western brekkies yesterday and today
because Clem says a proper breakfast is eggs + sausages + toast
And not something heavy like curry and rice.
*sad face*
Anyway, i layan la.
Took him to The Pink Sage at Solaris Dutamas yesterday.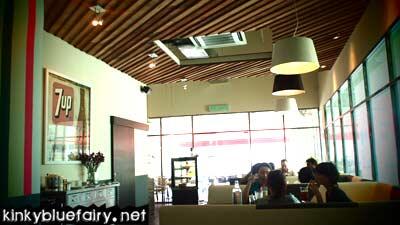 It's much bigger than their previous outlet at Capsquare,
and their food is SO good and worth every penny!
I had a Greasy Breakfast of
streaky beef brisket + corned beef (LOVE) + grilled tomatoes + hash browns
for around RM15
Plus my vanilla milkshake made of Haagen Daz ice cream was RM13 (So. Damn. Good.)
Clem went for the Big Breakfast of
eggs + toast + mushrooms + cheese + sausages + streaky beef brisket + pancakes + syrup + fruits
for around RM35
Fresh orange juice + 2 extra Add Ons of cheese (RM3 each)
Damn a lot of food man.
I said i was full,
but every time he dangled a piece of pancake + syrup on a fork in front of my mouth,
i'd automatically lean forward and gulp it
even tho my stomach was going "nooooooooooo"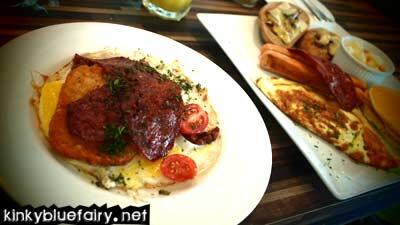 My Greasy Breakfast + Clem's Big Breakfast
Today i took him to Delicious at BVII for breakfast.
I always order the same thing when i go there –
hash browns + avocado + smoked salmon + sauteed mushrooms
for around RM27 (yeah, a bit ex depending on what you want)
Lemongrass + lychee drink (RM10)
Clem went for a big plate of stuff i can't remember.
We just remember how the toast alone cost RM7
and he couldn't fathom how two pieces of bread with butter could cost RM7.
(Neither can i, really.)
As always, he ordered 2 extra side orders of cheese.
(i'm starting to memorize how much extra cheese costs in F&B places across KL now :p)
and the dish came with… 2 slices of supermarket cheese.
You know what i mean by supermarket cheese right,
the type which comes wrapped individually in plastic,
and you can't call it real cheese.
Anyway, i was quite curious as to how much they'd charge for that.
And when i saw the bill, i was like, "I can't believe they charge RM10 for 2 pieces of kraft cheese!"
"It's okay."
"No… sheesh!"
Actually i complained a lot more than that but am censoring it out >.<
A bit disappointed la.
Tak sangka Delicious will serve that kinda cheese 
Anyway we've decided we'll patronize Pink Sage cos it's so much closer to home,
everything on their menu looks yum,
it's cheaper than a lot of other places,
and i'm craving for another vanilla milkshake.