Just got back from Ipoh and had the best time!
LaughingLoga hooked TripodDanny (sorry Danny, the nickname is just sticking since Shireen put it on the guestlist!) and i up to carpool there together,
and we just clicked talking about all sorts of rubbish.
We even found friends we have in common by talking about Guinness :p
Both of us said how much we love Guinness,
then it went on to whom in KL we know who are crazy Guinness fans,
and from there we dug up some Guinness kakis haha!
It's just like the Blackberry cult!
From the beginning to the end of the trip,
there were so many things we laughed over and some crazy coincidences i HAVE to write about now before i lose the plot.
#1
We went to some random coffee shop called Fai Kee to grab a late lunch when we reached Ipoh.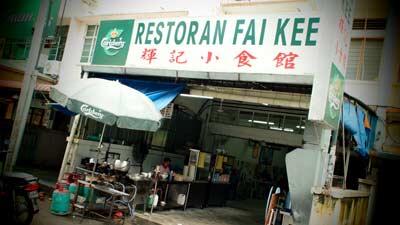 As we're chomping on our assam noodles,
we stare at the TV which is tuned in to NTV7.
All of a sudden we realise we're watching a food documentary,
featuring the very restaurant we're sitting in.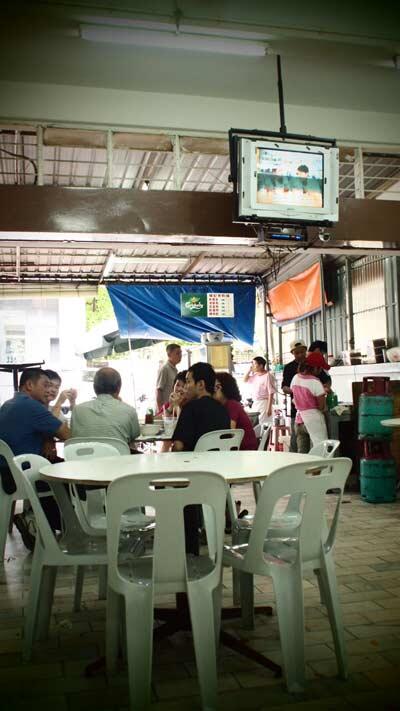 For a while, we're not sure, so we keep comparing what the cooks are wearing,
the furniture, and things hanging on the walls.
They're all the same!
We stare at the TV, stare at each other, and burst out laughing.
#2
We've just reached back in KL, and as Danny is driving through my neighbourhood,
i tell him the story about my bunny rabbit which died,
and he laughs at how i thought of burying it in the park.
As he pulls up outside my house, i busy myself collecting my things from the car.
"Hey look, there's a bunny outside your house," he said.
"Haha, right," I turn around… and see a white rabbit sitting outside my gate.

0_o
We both sit in the car and stare at the white rabbit in dumbfoundment,
before starting to laugh and laugh and laugh.
"I have never seen a white rabbit outside my house in all my years staying here!" i cry with laughter.
"Your other rabbit may have died, but now you have a new one!"
So weird!
It must've escaped from a neighbour's house.
As i open my gate, the rabbit runs into my garden.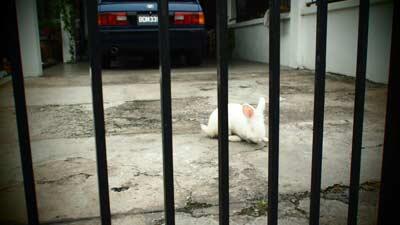 -_-
I turn around and i can see Danny still collapsing with laughter in the car.
You might also like:
Meant To Be
Affinity
Friends
A year ago: I got my afro cut off
2 years ago: I gave an ex a nickname. Don't really talk to him anymore. I fell in love, he broke up with me, & i took over a year to recover. Such is life -_-
3 years ago: I planned the only Single's Party i ever threw, and dreamt Kenny Sia threw a party with only one drink to a person (haha!)
4 years ago: I <3 the word 'phlegm'. I think i still do…
5 years ago: I discovered Fairy Cave in Kuching is more like Toyol Cave.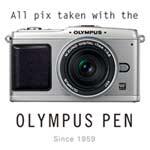 + + +
Another fab event brought to you by Junk x Yahoo! is Youreka this Wednesday!
Acts include Lapsap, Inspirational Joni (ID), Urbandub (PH), Inquisitive (SG) and Bunkface.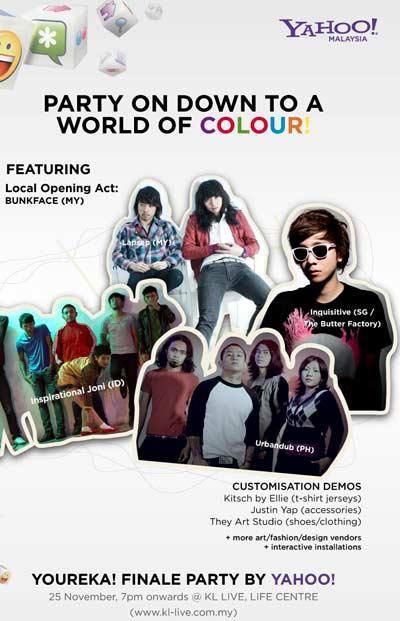 YOUREKA! Finale Party by Yahoo!
Date: Wednesday, 25 November 2009
Time: 7pm onwards
Venue: KL Live (ex-Ruums), Jalan Sultan Ismail, KL, Malaysia
Tickets: ENTRY IS FREE!
*Get your invite from the Junk November 2009 issue or look for the green tag at YAHOO.COM.MY!
* Click link below to read more about the event *
"It's a clash of sounds, creativity and expression. The all-encompassing YOUREKA! Finale Party by Yahoo!, in collaboration with Junk, comes at you this month, fusing together music, art, fashion and straight-up fun in one singular ball of greatness.
So much is going down, it's overwhelming. So let's start from the very beginning: first off, some stunning regional musical talent will be playing, like the amazingly successful emo rockers from the Philippines and our very own Junksounds Awards 2008 winners Urbandub (who seem to have their names carved on awards before they came out of the forge). And once you've come out of the emotional wringer, then get ready to get your dance on with Inspirational Joni, the dance rockers from Indonesia; Malaysian pop punkers Bunkface (new addition); Singapore's DJ of the stars, Inquisitive; and the enigmatic electro duo who have made the KL party scene what it is, LapSap.
You also get to show your creative side in the cool interactive art installation–where you use the YOUREKA! stencil (find it in the November issue of Junk!) and spray paint the YOUREKA! Wall in any manner you see fit. Multiply that by the 2,000 guests at the YOUREKA! Finale Party, and what you end up with is a living, evolving piece of communal art. There will also be the cool YOUREKA! Motion Wall by Efozy installation, which responds to motion, for you to check out!
But that's not all. There are also some cool engagement activities where you can learn how to customise jerseys with Kitsch by Ellie, accessories with Justin Yap, and shoes/clothing with They Art Studio, plus an assortment of other demos and art/fashion/design vendors. So you could (in theory at least) deck yourself out like a pirate and search for hidden booty in the amazing treasure hunt."
[Source:
Junk
]
For more info, visit youreka.com.my