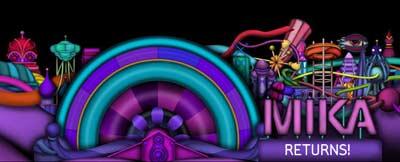 Everyone knows how much i ADORE Mika.
From the point i got his whole album on my iPod in '07,
to buying the album because that's how much i loved it.
RowdyRudy and i love Mika so much,
we played the Life In Cartoon Motion album on rotate in Bali.
We love Mika so much,
we spelt his name out with stones as well 

The people who came in to clean the villa must have thought we were mad (which we probably are)
We love Mika so much, the album inspired us to start Cat Got Your Tongue.
"This is where we start our cult.
Our crazy cartoon-loving, toy-sharing, kiddy colourful world of insanity.
We're talking Mika-loving in Bali.
We're talking RudyFairyFest thrown down in Impiana."
I even posted Mika's Happy Ending when i first blogged about CGYT.
So yes, you can see how much i heart Mika.
When Ally from Universal Music asked me whether i'd like to provide my readers with a free dl of one of Mika's new songs,
i immediately said YES 
Obviously, i'm already an official Mika fan :p and receive updates on his upcoming album 'We Are Golden'
which is to be released September 21st (I CAN'T WAIT OKAY, BEEN WAITING FOR SO LONG!)
Prior to the album launch, the single 'We Are Golden' is available for dl August 17th onwards
With the backing of the Andrae Crouch Gospel Choir (famed for being on Madonna's Like A Prayer),
the single has also been remixed byParisian producer and songwriter Mirwais, Don Diablo, and Calvin Harris
(gosh, seriously, Rudy + i played Calvin Harris' entire album during our bday party till everyone memorized the songs :p).
To download 'We Are Golden' remixed by Mirwais,
just click *here*,
fill in your name and email,
and you'll get an email with the song!
I'm SO gonna bring this new song to Bali next week!
The We Are Golden album is written by Mika,
was co-produced by himself and Greg Wells,
and was recorded in London and L.A. over the past 2 years.
Guests include The Seawind Horns, Imogen Heap,
Owen Pallet from Final Fantasy/Arcade Fire, and Stuart Price.