Love Your Body KL @ KL Gateway Mall
There are always ways to live healthier, as well as live happier. And how to do that, we can learn, by learning more about ourselves. Our bodies aren't as easy to read as our elementary school English textbooks. And the bodies of women, are even more complicated to deal with (from what I hear of course). And what better way to learn, than meeting experts about your body, whilst being pampered with healthy food, massages and many other activities.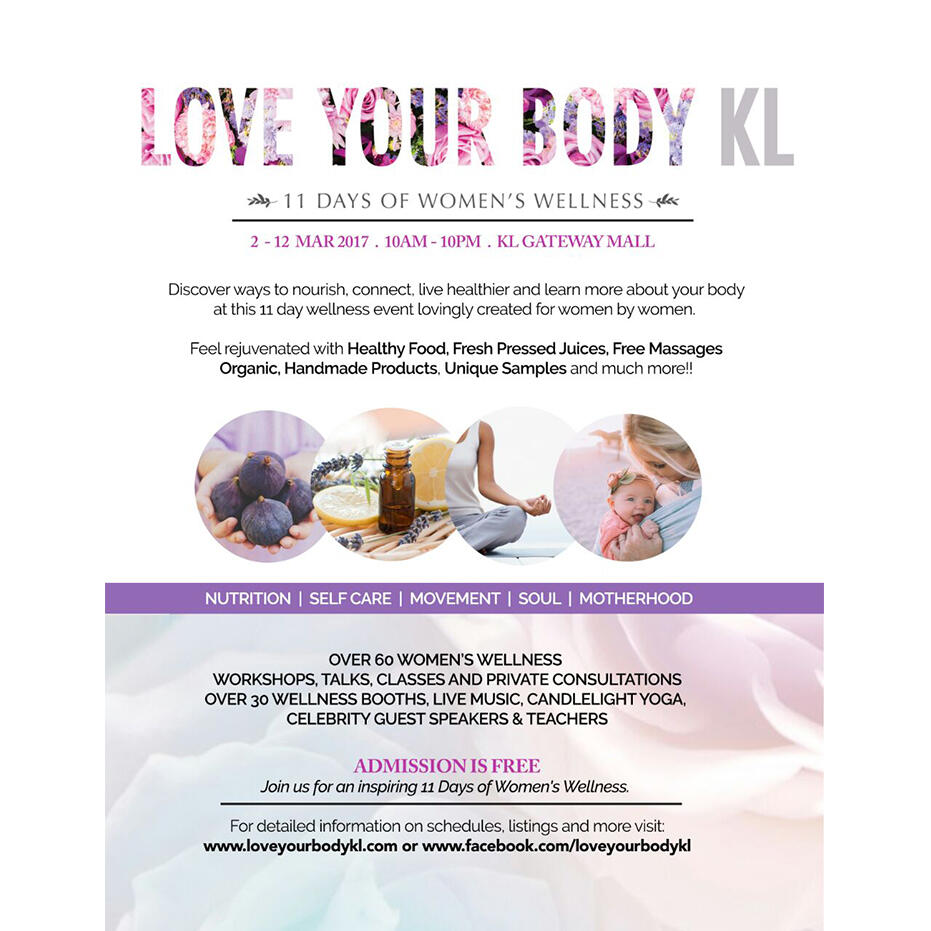 Starting on the 2nd of March, the Love Your Body KL campaign, which includes everything from celebrity guest speakers to specially curated classes will be happening at KL Gateway Mall. Visitors (admission is free, by the way) will not only be able to attend wellness workshops, talks and classes, but also have the chance to try out many types of healthy food and snacks, alongside going home with a few unique samples.
To get more detailed information about the campaign and the scheduled events, feel free to visit Love Your Body KL's Facebook page and their website.
Love Your Body KL
Venue : KL Gateway Mall
Date : 2nd March – 12th March 2017
Time : 10am – 10pm
+ + + + +
Shinkansen Exhibition @ Isetan the Japan Store, Kuala Lumpur.
With the recent launching of several new lines for Malaysia's new LRT (Light Rail Transit) system, there has been an abundance of both compliments, as well a grievances. And who better do we look to improve, than Japan, a country with one of the most efficient public transport systems in the world.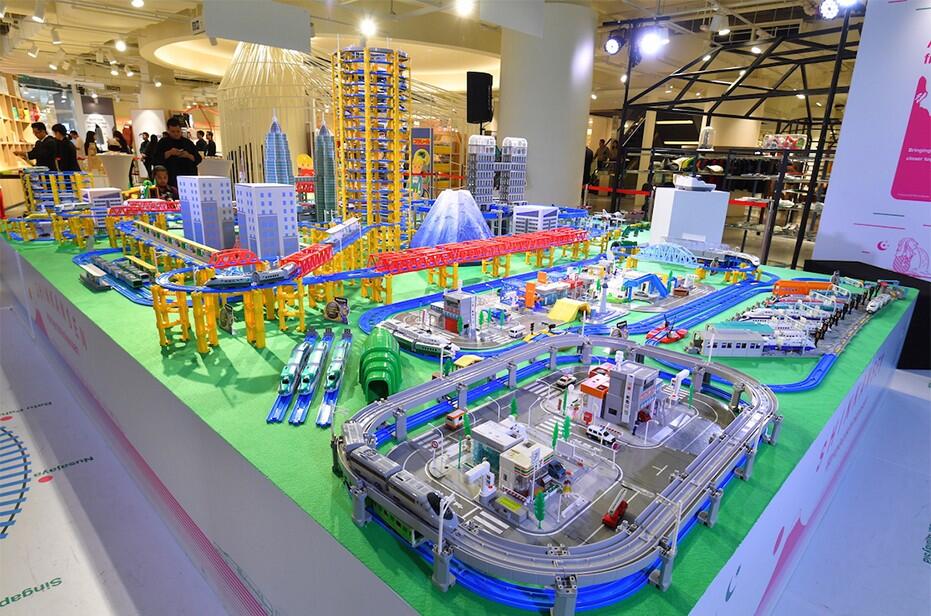 The Land, Infrastructure, Transport and Tourism Ministry of Japan, in collaboration with Isetan The Japan Store, has launched an exhibition about the Shinkansen high-speed rail train system in Japan. The exhibition, which will be held at Lot 10 shopping centre until 9th March, features one of the largest train dioramas in Asia, alongside many other exhibits that will enlighten visitors about the latest in Japanese public transport technology. Special door gifts, including Shinkansen lunch boxes and special edition tote bags will be given away while stocks last.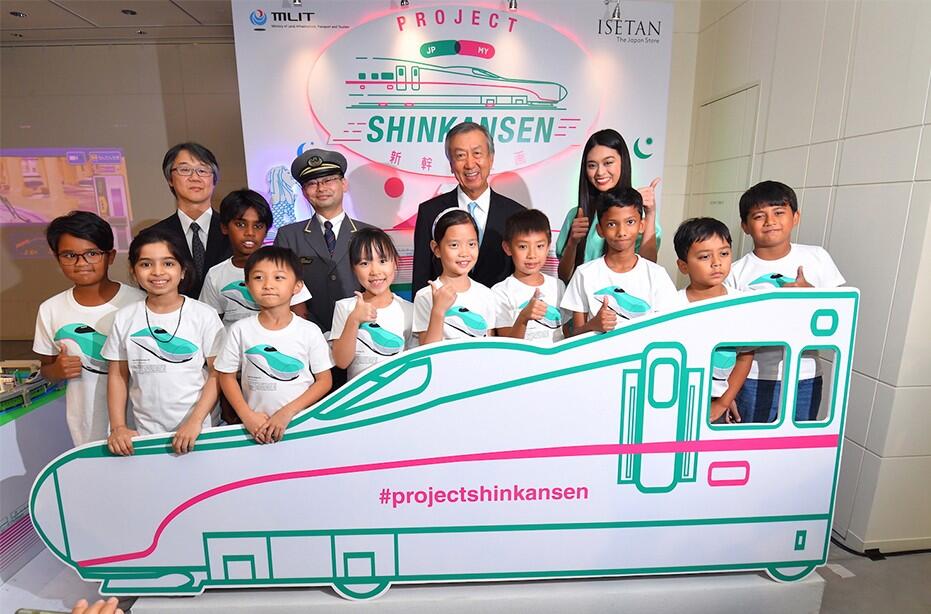 Visit the Project Shinkansen exhibition soon, it will only be there till 9th March. Believe me, I didn't think trains could be this much fun.
Venue: ISETAN The Japan Store (1F THE STUDIO / Studio.I)
LOT 10 SHOPPING CENTER 50 JALAN SULTAN ISMAIL 50250
KUALA LUMPUR, MALAYSIA
Entry is open to all.
+ + + + + + + + + +
"GuC 古市" Vintage Flea Market
iHVNOSTYLe, a multi-label clothing brand that emphasizes on making your look as personal and unique as possible, will be hosting a two-day flea market at the brand new Sunway Velocity Mall. Focusing mainly on all manner of vintage products, whether it be clothes, accessories, or even vintage alarm clocks. If you intend to spice up your closet or living space, this event is the place to be.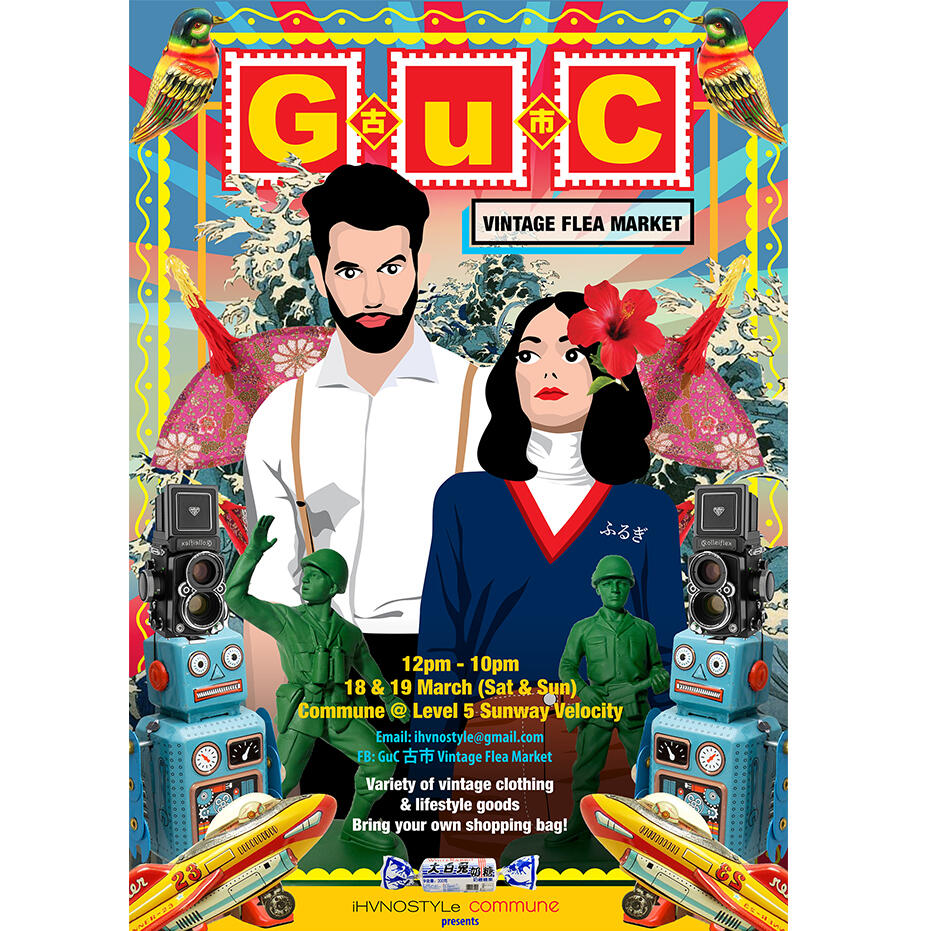 Happening on the weekend of 18th and 19th March, anyone interested in being a vendor can give it a shot as applications are still open.
Venue : Commune @ Sunway Velocity Mall, Level 5
Date : Saturday & Sunday, 18th & 19th March
Time : 12pm – 10pm
Contact iHVNOSTYLe via email (ihvnostyle@gmail.com),
or visit their Facebook page for more information.
+ + + + + + + + + +
The Electric Run 2017 @ Kuala Lumpur
Run in a safe, controlled environment at night, covered with neon paint with glowsticks in hand, as you make your way to a finish-line party featuring some of the best current music alongside spectacular lighting technology. Plus, listen to the best music from different genres based on which section of the track you run on.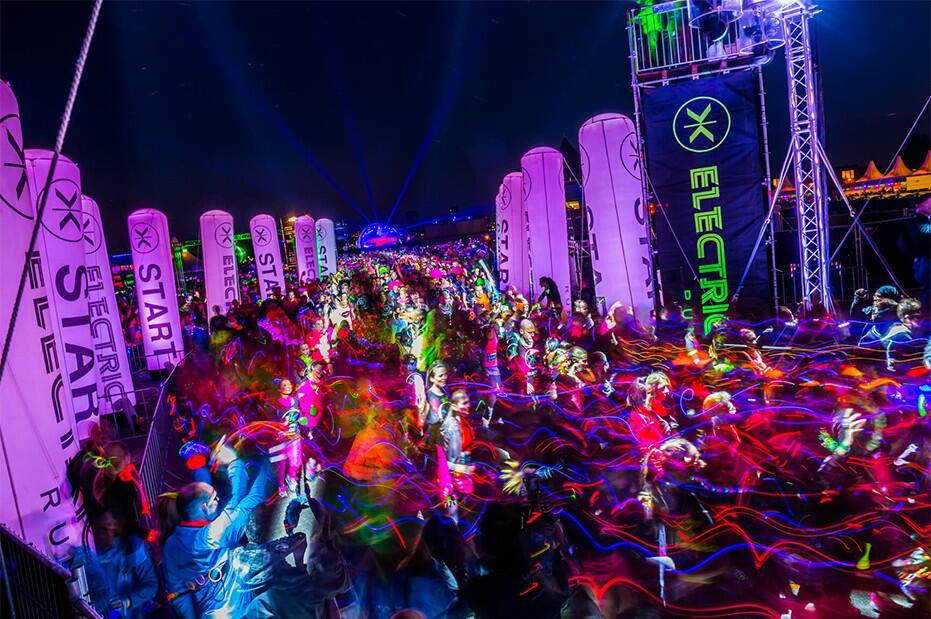 Some people love the feeling of running, as it allows them to feel free from their problems and worries. Some would say the same about music. And then, there are those who consider both. Happening on 29th July in Putrajaya, this year's Electric Run promises an experience to remember, with beautiful decorations as well as an even better after-race party than ever seen before in an Electric Run event.
Sign up, while tickets are still available, to make sure you don't miss what promises to be one of the most unique race events of the year.
The Electric Run ReCharged
Venue: Anjung Flora, Precint 4, Putrajaya
Flag-off time: 8pm, Saturday, 29th July 2017
Tickets are available now (Early bird pricing) @ RM88.26,
RM98++ after early bird tickets are sold out.
You can purchase tickets online via Galactix.
For more information about the event, visit the Electric Run official website.
+ + + + +
Cutting Works by Yutaka Takahashi @ Koncent Malaysia
Whenever I'm given a task requiring both a pair of scissors and a piece of paper, disaster ensues. Instead of leaving a few pieces of precisely-cut paper, my time with a pair of scissors and paper usually ends in a scene not unlike a massacre on a cartoon show.
Yataka Takahashi, a fine artist from Japan however, definitely doesn't share my problem. Well known for his art pieces that involve him precisely cutting paper to form masterpieces, his art is truly a spectacle to behold.

Yutaka Takahashi currently has a solo exhibition of his work at Koncent Malaysia, located in Sunwaymas Commercial Centre, Petaling Jaya. The exhibition displays the artist's attention to detail, as well as his ability to create extremely intricate art pieces with only a piece of paper and a pair of scissors. The exhibition is open to the public, and admission is free.

Open now until the beginning of April 2017, do drop by to be amazed at just how detailed and beautiful Yutaka Takahashi's art can be.
28 February – 2 April, 2017
Solo Exhibition @ KONCENT Malaysia (Open To Public)
Tuesdays to Fridays -11am – 9pm
Saturdays & Sundays – 11am – 7pm
4 & 5 March, 2017 (Sat & Sun)
12.00pm – 1.00pm: Meet & Greet and Portrait Cutting Session 1*
1.00pm – 2.30pm: Cat Mobile Making Workshop Session 1**
2.30pm – 3.30pm: Meet & Greet and Portrait Cutting Session 2*
3.30pm – 5.00pm: Cat Mobile Making Workshop Session 2**
*Portrait cutting sessions are limited to 15mins per portrait @ RM60 each.
**Cat Hanging Mobile Workshop is limited to 10pax per session at RM60 each.
Note: To register for the workshop, kindly send an email to info@koncent.com.my stating your preferred day and time slot. Subject to first come first serve basis to those who have confirmed payment.

Koncent Malaysia
30-1, Jalan PJU 1/3D
Sunwaymas Commercial Centre
47301 Petaling Jaya
Selangor, Malaysia
Tel: +603-7886 9340
Visit KONCENT Malaysia's Facebook & Instagram for the latest updates regarding the exhibition, as well as their latest products.
+ + + + +