I'm sure we've all experienced it- there comes a time when someone we know, be it a friend or family member, decides to pack his bags and pursue further education overseas. Heck, some of us might have or are planning to make the same decision ourselves. And why shouldn't we, it's certainly an exciting opportunity. The adventure of exploring a whole new country, meeting an abundance of people with completely different upbringings, all while being able to acquire the skills and theories necessary to further our careers.
Not many of us know what it's really like until we walk a mile in the shoes of those who have made this big step in their lives. Is it really all fun and adventure the way our minds let us imagine? I, for one, never having the privilege of continuing my education overseas, often look on with envy as my friends begin their adventures and expressing the experience as perfect through the social media.
And then it hit me, instead of wondering whether this experience was everything that social media has led me to believe, I decided to ask a few friends what their experiences were like. I asked them about the good, I asked them about the bad, and occasionally, I got a lot more information than I thought I was asking for. But anyway, let me share the gist of what I learned from them, with you. Without further babbling, meet the lucky subjects of my little interview >
Nicholas Wong, 21, Economics & Management @ Kings College London, UK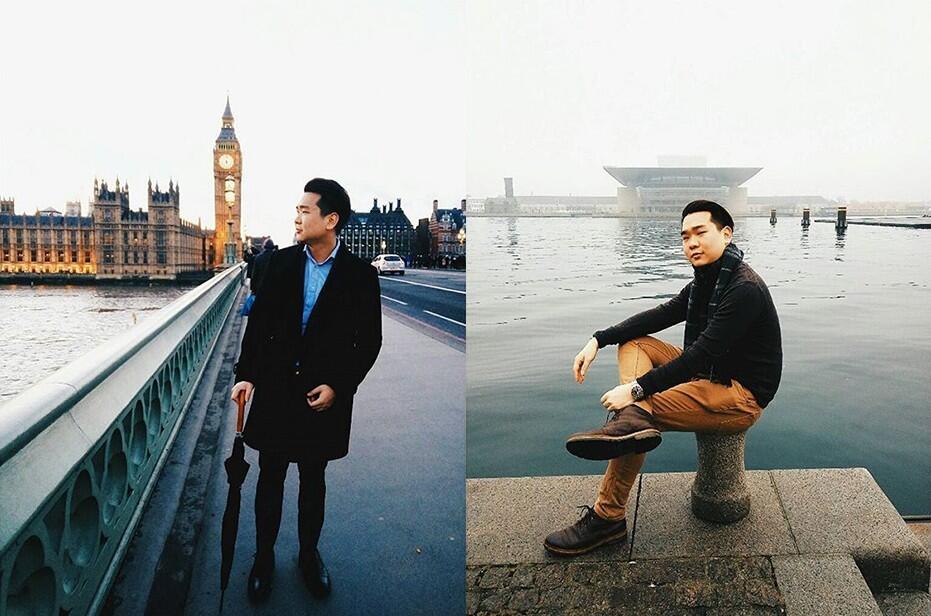 "Carpe diem moments like going up to Duck & Waffle after clubbing at 4am, or just paying £10 for Nasi Lemak because its oh-so-worth-it"
Achieving straight-As in his A-levels examinations back in 2014, Nicholas earned himself a place within London's King's College faculty of academics. Opting for a degree in Economics and Management, you would expect Nicholas to be a perfectionist when it comes to his work, as well as being extremely driven, and you wouldn't be wrong. That doesn't mean however, that his life lacks the excitement and thrill of those who spend a little less time with their books.
A self-described 'altruistic hedonist', Nicholas is no stranger to the phrase 'work hard, play harder'. Whether it be travelling, partying or just casual nights out with his closest friends, Nicholas has probably been there, and has managed to balance his academic duties alongside them successfully. 
It wasn't all fun and games for Nicholas though. Although he decided to think of his time over at the UK as his next big adventure, he mentions it definitely wasn't easy leaving behind the place he calls home, his family and his friends for such an extended period of time. Having traveled quite a bit before he moved to the UK to pursue his University Degree, it wasn't the same as this was the first time he was travelling abroad knowing he'd be away from his family and his friends, and knowing that so much could change by the time he returned.
But as with every dark cloud, there is a  silver lining. Nicholas talks about how he has experienced so many things in the UK that he probably wouldn't have been able to should he have had decided to stay in Malaysia. He talks about how travelling to Europe for the weekend was possible, being just a train ride away. Spain and Paris are just a couple of the stamps added to his passport during his semester breaks.
When asked about what advise he has for anyone who is planning to undertake a path similar to his, Nicholas says;
"Do ample research about the university, the course structure as well as the city you will be in. It never hurts to know the facts before making your decision. Also, do make contact with the University's Malaysian Society, as they are always more than willing to help you adjust to the lifestyle over there, regardless of where you're going."
He then adds;
"On a less serious, but no less urgent note, Ipoh White Coffee, Indomie and sambal paste are part of the key necessities to survive when away from Malaysia."
+ + + + +
April Tho, 20, Fashion Buying & Merchandising @ London College of Fashion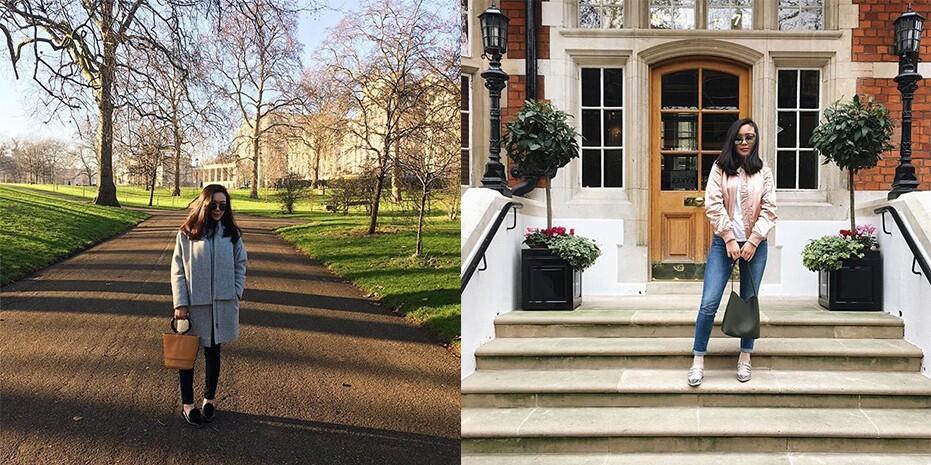 "If you're thinking of bringing more things over in hopes of shopping less and saving more money, you know, embracing the ultimate student life… not gonna work out, honey."
Readers who have read KinkyBlueFairy for a while now would definitely remember April, one of the Fairy Interns at one point of time, as well as a contributing writer to the blog. Initially thinking she would go for an Anthropology major over in the States or Canada, an acceptance letter from London College of Fashion made her realise that fashion was what she really wanted to do, ever since she was a child. Taking a leap of faith, with much support from her parents, April made the decision to pursue Fashion Buying and Merchandising.
Leaving home wasn't such a big deal for April, who views it as a huge blessing. She mentions like all things new and undiscovered, it was a little scary. But her fears were definitely outweighed by the excitement of discovering new surroundings, meeting new people and getting used to a whole new way of life.
"The hardest part for me was deciding how many shoes to bring with me." 
However, she says it isn't always easy being in a new place. Sometimes, being too different from everyone else around her leads you to feeling like an 'outsider'. Feeling like you are unable to fit into social norms and being unsure of what the things you should (or shouldn't) do is relatively common in these situations. But with time, April learned just where she fit in, and has learned to embrace life in the UK. Whether it be meeting new people everyday, or travelling across Europe during her semester breaks, April is definitely making the most of her time there.
"Yes, grocery shopping. I absolutely love the grocery stores here."
April also mentions learning how to cook your favorite dishes from home really fends of the feeling of being homesick. She talks about how she sometimes craves a hot bowl of curry mee that isn't instant, and learning how to make it herself certainly helps with satisfying that craving. April also talks about how bringing her own pair of sheets and random little trinkets from home over with her makes her feel more at home, wherever she is. And when all else fails, nothing beats talking to your family, or best friend, whether it be on the phone or through Skype every week or so.
"My weekly phone call with Faridah helps rid me of my homesickness too, we laugh constantly for at least a half hour every single time."
[Joyce: Somehow this portion is failing to include some insider info i have on April – how she smuggles packets of chilli pan mee chilli (or gets friends to) every trip!]
+ + + + +
Arveen, 22, Accounting @ Victoria University, Melbourne, Australia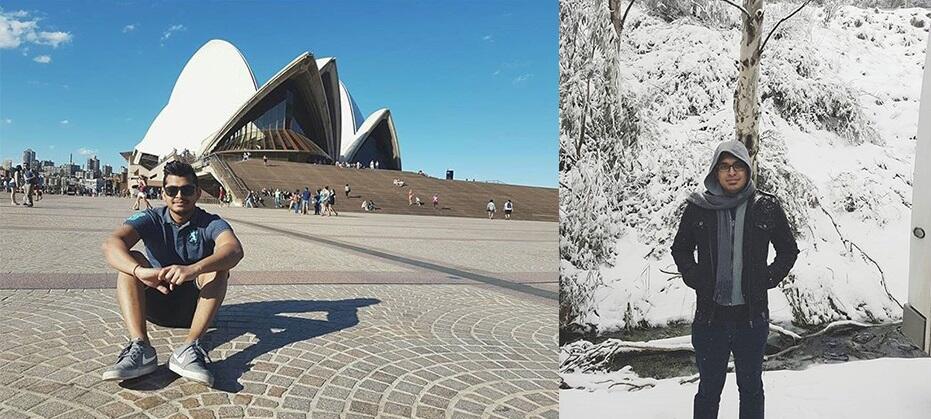 "Everything was provided for me in Malaysia, so it wasn't easy for me to let it go and leave at first. I knew, Australia was going to be a whole new ball game, and that challenge, I accepted."
After completing his foundation studies, Arveen decided to do a twinning program with Victoria University, completing the first two years of his three-year degree in Malaysia, before packing his bags for Melbourne to complete his final year. He talks about how he was always happy with the way things were in Malaysia, and so, getting ready to leave for a year wasn't really easy for him. But at the same time, Arveen decided that he was going to make the most of this opportunity and build up as much experience as he can, academic and otherwise.
"However, I also thought of it as a blessing for me, as not everyone is given the same opportunity that I have been given."
Arveen mentions that as opposed to what he has experienced in Malaysia, party-goers in Melbourne (at least the ones that he has met) are a bit more wild than he is used to. People who've had a drink too many are a little more prone to impulsive (and occasionally stupid) decisions, more of which so fit in that category over in Melbourne than Malaysia. As a result- noisy, rowdy individuals walking the streets at night is a rather common sight.
On the other end of the spectrum, Arveen talks about how the people he has met in Melbourne (alcoholic-beverages yet to be consumed) are extremely nice people. He loves how the community in Australia is very open minded as compared to how things are in Malaysia, which is something Arveen feels a lot of Malaysians can learn from.
"Everyone here is a lot more open minded that the people back home in Malaysia. They're willing to hear you out, and they definitely don't discount you due to your faith or your appearance."
With his time in Melbourne slowly coming to an end, Arveen affirms that anyone who receives an opportunity like this should definitely take it. You might end up finding somewhere else to call home, and maybe you won't, but it will definitely be an experience to remember. When asked about how he copes with homesickness, Arveen says that he doesn't feel bringing food from home is the right way to go about it, for him at least. Bringing food, and objects from home only makes you want to be home even more. He says it won't be an easy thing to get past, but with time, it isn't something that is impossible to do.
"Be strong of mind, and always look ahead. Learn what you can, meet new people and always try new things. On top of it all, remember you're only here because your family and friends have supported you, whether financially or emotionally. Give them a reason to be proud of you."
+ + + + +
Rachel Yow, Masters in Fashion Marketing @ Nottingham Trent University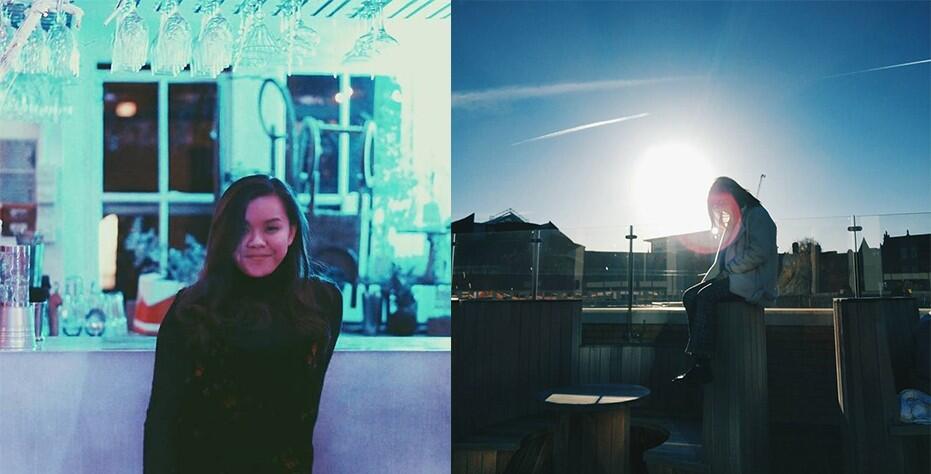 "However, packing up my suitcase was challenging. I had to make a life-changing decision between my Nike Air Force 1's or my Huarache's, I chose the latter."
[Joyce: LOL you guys… no wonder you and April are friends -_-]
Another familiar face for long-time readers of KinkyBlueFairy, Rachel, has also given me the privilege of talking to her about her experience so far over in the UK.
Choosing to send out applications for her postgraduate studies to Universities in the UK because she graduated with a UK-based degree here in Malaysia, Rachel was ecstatic when she received her acceptance letter from Nottingham Trent University to pursue a Masters in Fashion Marketing. She saw it as an opportunity to finally experience pursuing her studies in a foreign environment, as her degree didn't have a twinning or transfer option.
Being able to communicate effectively in English, Malay, Mandarin and Cantonese; it wasn't hard for Rachel to fit in within a variety of social groups, even in the UK. However, that did not mean that Rachel's experiences in the UK were all fun and games. At one point of her stay, she had to deal with a friend of one of her roommates, who decided to crash at their place for several odd weekends. Long story short, Rachel and her roommate had a shared washroom, and this visitor wasn't exactly the most hygienic of human beings.
"She left her unclean laundry in the shower for a few days. I mean, I wouldn't be complaining if it smelled of lavender or lemongrass but they smelled like… feet. Eww???"
However, life in the UK so far didn't come without lessons of its own. Rachel has learned how to get to her destination in one piece, even when she's on her own. Being without a car or any form of transport of her own besides her own two feet, learning how best to get herself to where she needed to be (occasionally without the help of Uber) is a lesson that has been branded permanently within her.
Rachel's best advice for those planning to embark on their own journey overseas to continue their education is similar to how millennials find out about the person they fancy. Research (or in certain extreme cases, maybe the right word is 'stalking'), is the best way to ensure you're as prepared as you can be when you arrive at your destination. Ask the people who have been to the same place you're planning to go for advice, or do the simple Google search to find out more about the institution and location.
Six months away from home thus far and Rachel has yet to feel homesick. As far as food is concerned, she mentions that you can almost always get anything including packs of Milo, to premixed packets of Bak Kut Teh and even our unhealthy good-for-every-occasion maggi mee at any Asian supermarket, which are wonderful places which cater perfectly to our needs.
"To be fair, I don't eat rice or anything spicy so being in a Western country works pretty well for my lifestyle."
+ + + + +
Ng Chun Yeaw, 21, Law @ Oxford Brookes University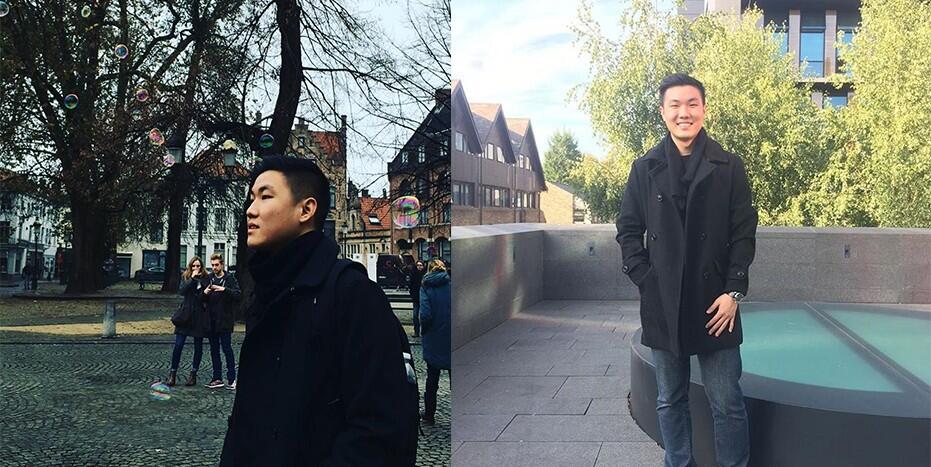 "Well, this was what I had in mind the entire time. I'd finish my A-levels and the first two years of my degree at Brickfields Asia College, and then complete my final year in the UK, as long as my results allowed me to anyways. They did."
Although it was part of Chun Yeaw's plan all along to head over to the UK to complete the final year of his law degree, it didn't prepare him entirely for the journey he was about to undertake. Feeling nothing but excitement whilst preparing for it after receiving his acceptance letter from Oxford Brookes University, Chun Yeaw only felt the weight of the decision he made as he settled down in his student hostel room. He realized he would be leaving behind his family, most of his friends, and a lifestyle he was accustomed to, for at least a year.
But he decided, like many others, to not let this opportunity go to waste. He understood that while he's seen his own friends leave and return from the same journey he was now on, he has also seen people who chose not to take on this challenge, and also those who weren't given the opportunity to begin with.
For Chun Yeaw, the biggest challenge over in the UK is the food and lifestyle. For one thing, food in the UK doesn't appeal to anyone who enjoys spicy food. [Joyce: I beg to digress, i'd have the most fantastic Szhechuan food in London EVER.] Chun Yeaw, being a Malaysian who can't live without spicy food, enjoys the variety of food available there, but is never as satisfied as he is after a wholesome plate of Nasi Kandar in Malaysia. Besides that, everything from malls to shops to cafes usually close by 7pm (with the exception of clubs, bars and restaurants). For someone who is accustomed to spending his time with his mates at mamak joints until the wee hours of the night, a life as such wasn't something that was easy to get used to.
But on the brighter side of things, life in the UK also showed Chun Yeaw a newfound freedom he wasn't accustomed to in Malaysia. He was able to make his own decisions and do things at his own pace. Through this, he learned many things, including how to be independent, and open up and build friendships with new people regardless of how different they are from himself.
"Go for it if you have the chance, don't let an opportunity like this slip by. Some people have had good experiences, some people have had less than favorable experiences, but the point is that, it will be an experience. And experiences are what make us who we are."
Also, when asked about whether homesickness has been something hard for him, he says the most important thing is to keep yourself busy, especially if you can do things that make you feel like you haven't left all that much at home. For example, Chun Yeaw has been a basketball player for at least half his life, and shooting hoops while he's there certainly helps. Adding on to that, making friends that you're comfortable with spending most of your days with also helps in making wherever you are feel like a home away from home.
"And when all else fails, nothing beats talking to your family and friends on Facetime or Skype every once in a while. There may be laughs, there may be tears, but there is certainly nothing wrong with seeing a familiar face every once in a while.
+ + + + +
Eu Jin, 22 and Suet Yen, 23, Financial Risk Management, Banking & Finance @ Victoria University, Australia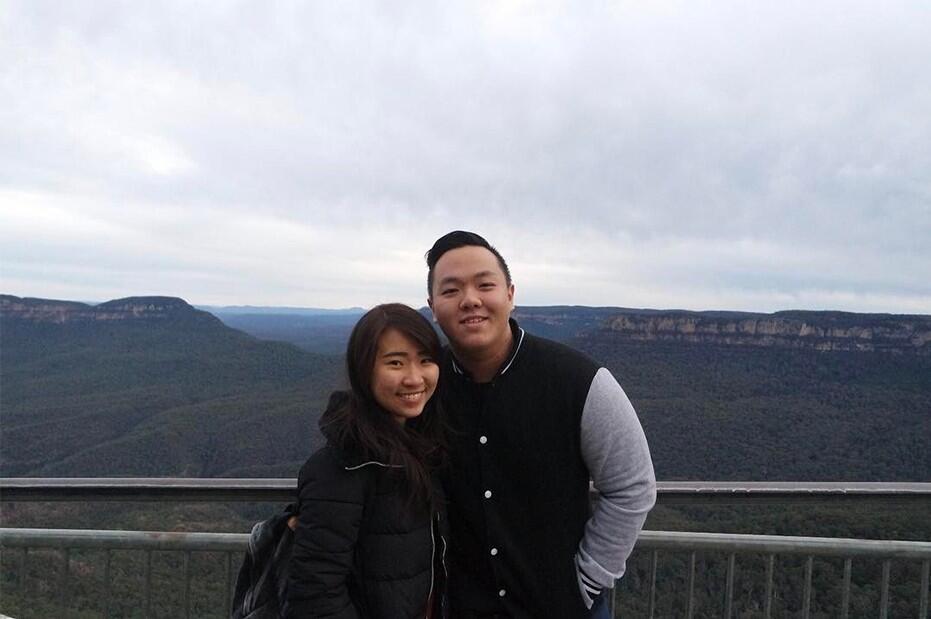 Having been friends since the first year of their degree, Eu Jin and Suet Yen left Malaysia for the final year of their degree year at Victoria University, Melbourne as best friends, and returned at the end of 2016 as a couple.
Both of them have similar opinions on how being able to spend their final year in Melbourne was a blessing, allowing them to experience a host of new things and meet a lot of new people. But besides that, they also saw it as a way to gain a little bit of exposure for themselves. Being students in the same business degree course, they knew the importance of networking and creating a bond with others, and being in Australia only makes it easier to expand their network outside of Malaysia.
Stress did get to them however, with a lot of pressure to perform well in their studies. And for them, stress triggered the feeling of homesickness. Eu Jin for one missed the carefree times where he could spend all night with his friends at a Mamak store talking about anything from Cars (another one of his passions), to reminiscing about all the good times he had during high school. Suet Yen, on the other hand, who is very family-oriented, occasionally feels alone in Melbourne as she is forced to be without her family for a whole year.
Eu Jin talks about how he has learned to be independent, and most importantly, the importance of time management, as he had to balance his time for studies, friends and the gym (also one of his favorite places). Suet Yen on the other hand, mentions independence, as well how useful a skill of being able to cook is when you're away from home, while developing it further.
Aside from learning new things, Eu Jin and Suet Yen also realized that the time they spent together there, helped them realize that they were both in love with each other. From cooking together, to doing assignments, to discovering Melbourne, they realized that each day they were only falling more and more in love with each other.
"Unexpected is all I can say, we didn't have many friends there so we naturally spent a lot of time together." -Eu Jin
"And that, is how I fell in love with my best friend." – Suet Yen
As for the advice they have for anyone who is planning to continue their studies overseas: keep an open mind and don't be afraid to try new things, learn new things and meet new people. Eu Jin adds on that you should take the opportunity to try all the food whichever foreign land your studies take you, even though you will most likely come to the same conclusion both of them did, that Malaysian food is still the best.
"Video calls, that is the answer to stopping homesickness as soon as it comes, be it your friends, or your family." – Eu Jin
"Keep up to date with everything that's going on back home, whether it be through Whatsapp, or whatever medium you choose, you won't feel so homesick if you're still in the loop with everything that's going on back home." – Suet Yen
+ + + + +
With that, we come to the end of this post I hope you have enjoyed reading, and that those of you who are planning to continue your studies overseas have found this little piece helpful. 🙂
+ + + + + +
** Joyce incoming! **
I decided to add on a little bit to Cavin's post, since i don't know how to shut up and love having my say.
After my SPM in 1999 (yeah i'm a little older than you all, suck it and listen), i had all these grand plans with my high school bf on all these FUN things and excursions we were gonna go on after our final exams. Then suddenly, a week post-SPM, i was sat down by my father and told that my aunt was offering to take me on for 6 months in London, where i'd intern in her ad advertising agency and go for art courses, both of which i was extremely interested in pursuing.
I thought about it for 5 seconds and said yes. Something in me just CLICKED and i knew that if i didn't go, i'd regret it forever.
The bf was sorely disappointed but i was adamant.
In those six months, i experienced working alongside a bunch of graduate students from Colombia, Germany, France and Spain (sometimes up till 2am! That's advertising for you); worked in a French restaurant, went for art classes at St Martin's, discovered that art is truly subjective and that i had some talent (being overseas builds your confidence in new ways home cannot), ate copious amounts of dishes, learnt how to drink equally copious types of wine (there's where my training came from), visited Portugal and Belgium, discovered Human Traffic in Edinburgh, and came home 10kg fatter, but a lot more inspired and excited about LIFE.
My high school sweetheart said i had 'changed' and i didn't disagree. I had definitely changed! My worldview was suddenly open and expanse (and oh how that will open for you further as you grow older… it won't stop) and we eventually broke up.
As people, we grow into our little comfort zones and bubbles that have been encapsulating us since our birth. Going to a new location throws you out of that bubble that our parents have so safely provided… and allows you to discover and learn about who you are. Who are you without these old stigmas from high school and college reminding you where you grew up and how you speak and how you act? These are all habits we take on from our surroundings. In NEW surroundings, we are allowed to recreate ourselves.
So when and if you do go somewhere far, for sometime long, don't be afraid to be all these things and let experiences build the new you. The ACTUAL you. Your present you.
xxx KBF