I'm having the most insane two weeks coming up. Baby was shaking her head while copying my schedule down, "Crazy wei." I'm trying not to freak out at all the things i'm scheduled to do... and force personal time for myself at night. Like now. I really want to blog about my birthday week before i never!
OH by the way i'm going on air on BFM 89.9 tomorrow night (Wed) at 8pm to talk about KinkyBlueFairy.
Ok announcement over. Back to my birthday week!
I had such a great week thanks to everyone who crossed my path to have all these meals with me and connect.
The day after my birthday (last Wednesday) i had a lunch meeting with Christine from Bodytone (who bought me birthday lunch thank you!), office, then went to Steph and Louis' apartment for dinner.
Steph was to pass me a whole bunch of her organic handmade Slim Sabun soaps for an event (that Baby has been working on) and we decided to have dinner. Steph suggested a potluck and i planned to cheat and bring something over that i'd buy (cos i'm too busy with work on a weekday to cook!), and she ended up single-handedly making a 5-course dinner of apple and cheese salad, seared scallops with italian sausage, wagyu beef cooked tatsuya style, potatoes and dressing, chocolate pudding, AND a surprise ice cream cake that we had with cognac.
Louis helped by putting on the timer on his phone for the seared scallops.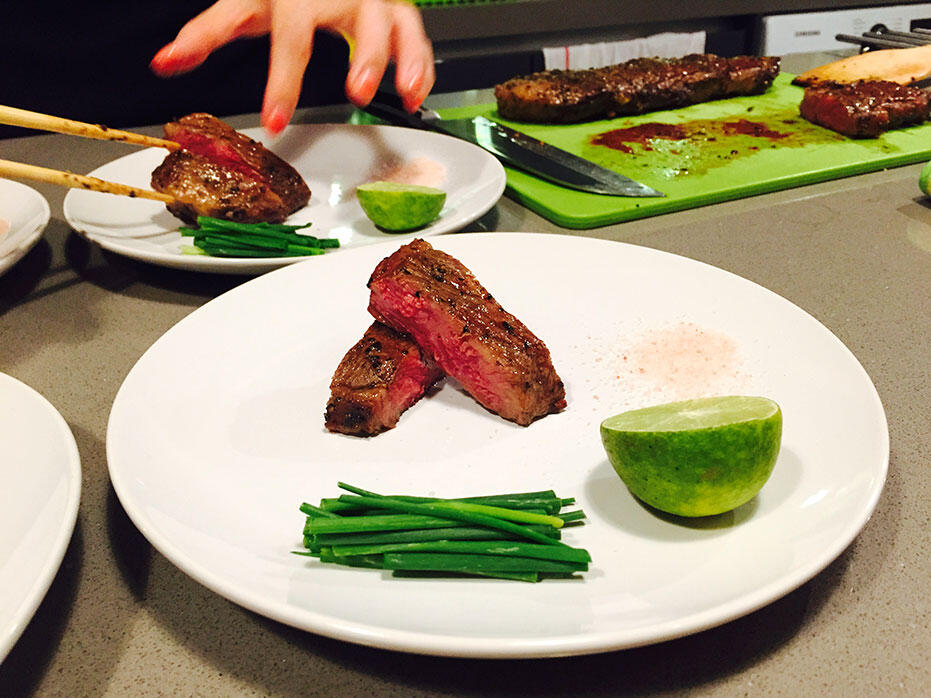 I rarely eat steak nowadays, but when i do, it has to be this. Steph was telling me where they buy their meat (from some butcher that supplies to all the hotels in KL), and Louis was like, "Shhh don't tell her!" -_-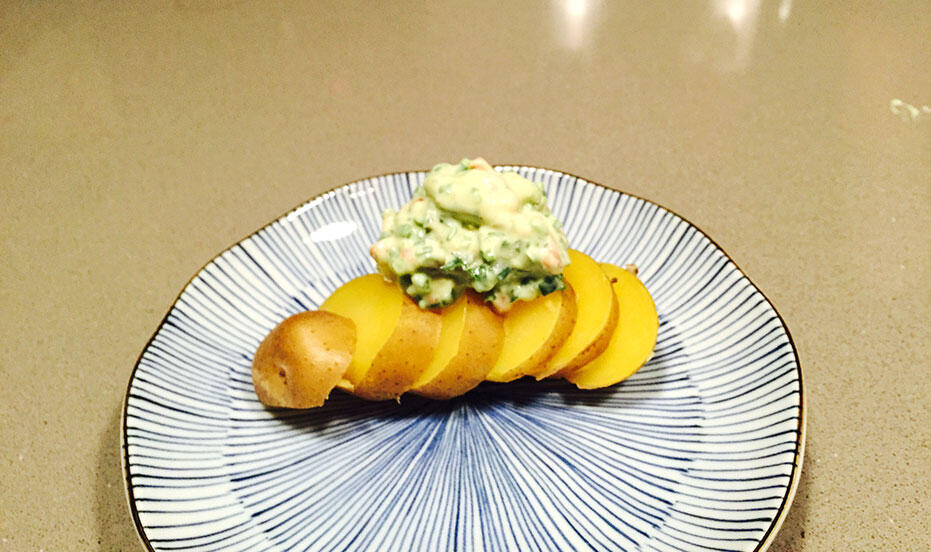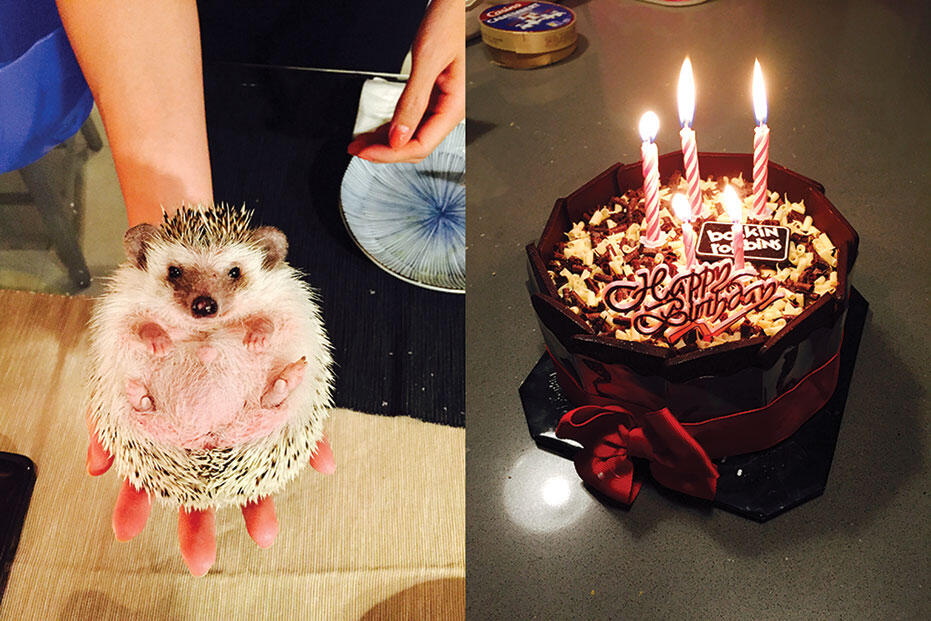 One of their hedgehogs that i didn't hold cos i'm not keen on prickliness, and my surprise birthday ice cream cake! I was like "AWWW YOU GUYSSSS" and Steph made me take the rest of it home (half of it). I was scrambling through the freezer over the weekend looking for something sweet, spotted it and thought, "Oh my god! I forgot about this! YES! Score! Steph you're the best! Oh man i love my birthday!"
Yeah i've been craving for sweets and coffee ever since i stopped drinking so much -_-
Pic from Louis' camera using his selfie stick. No comment on the selfie stick.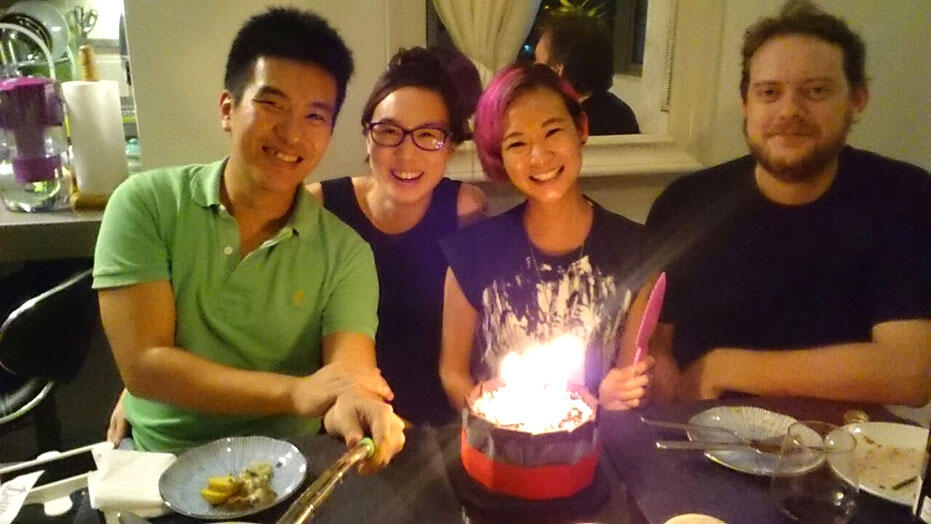 Louis, Steph, me, and Louis' business partner Matt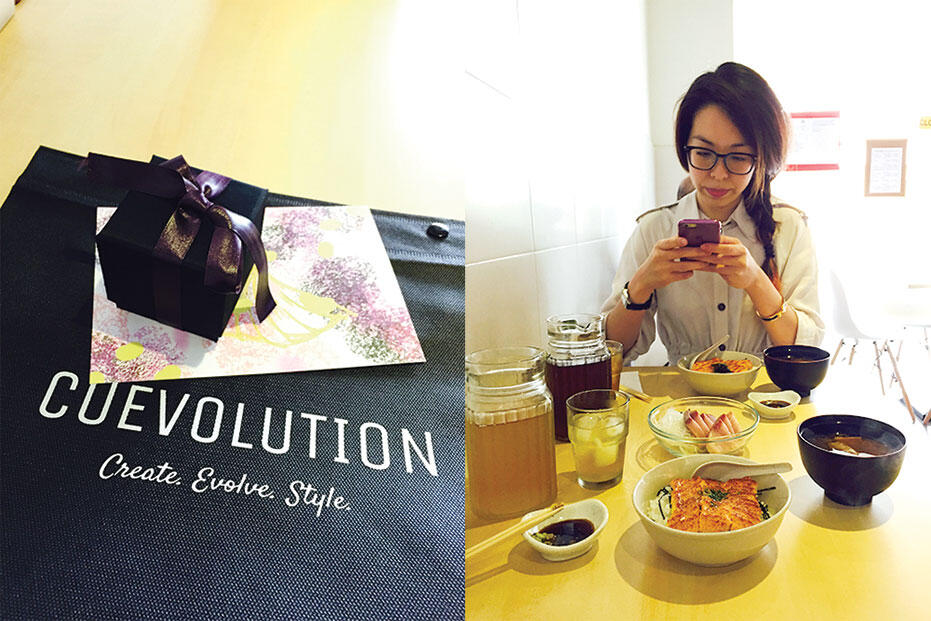 On Thursday i had lunch with Ai Chiin and she gave me a pair of Valerie Yap fan stud earrings from Cuevolution!
We had mentaiko rice, sashimi, bowls of freshly-made miso soup, and green tea.
After that back to work. Work work work till kinda late that night and i didn't attend the Magnum and Farah Khan event. Went home and got so happy looking at my birthday balloon!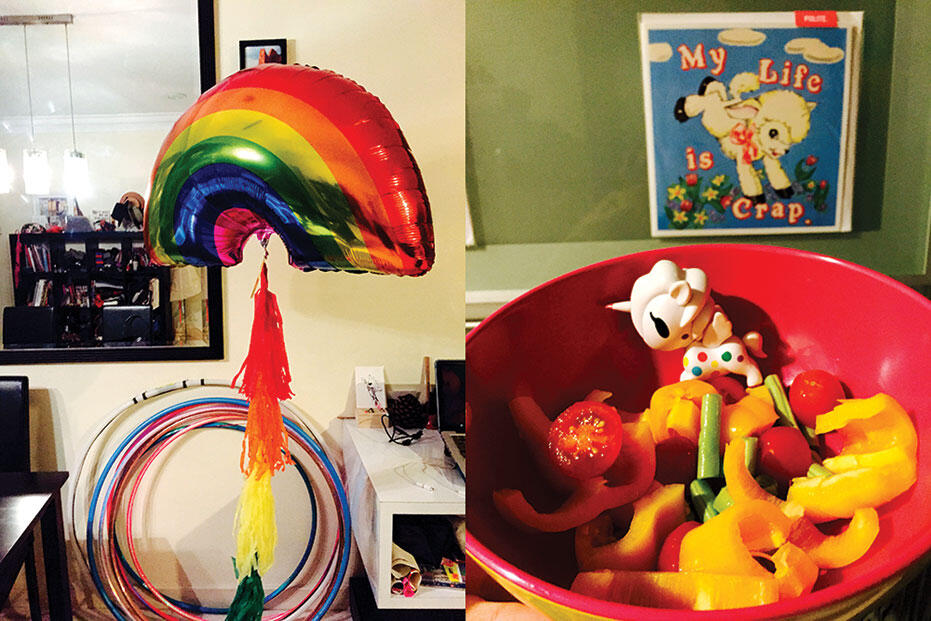 Isn't that the best corner ever! Don't mind the mess.
And pic of my healthy dinner. I eat really simple raw veggies when i'm home alone, and then layan diri by taking pictures of it.
I didn't eat the unicorn.
Friday morning, i went to Space @ Intermark for the diptyque event, then Bangsar for meetings with some agency people, my property agent, and worked from Feast in between. Well, i went to Feast to grab a quick lunch alone, and then got everyone to meet me there for their slot. Haha. It's not a bad way to do meetings!
At night i met up with the Formerfree girls for dinner! I haven't seen them for AGESSSS cos i've been so busy and was so happy to see whoever could make it, missed the rest. We went to Southern Rock Seafood.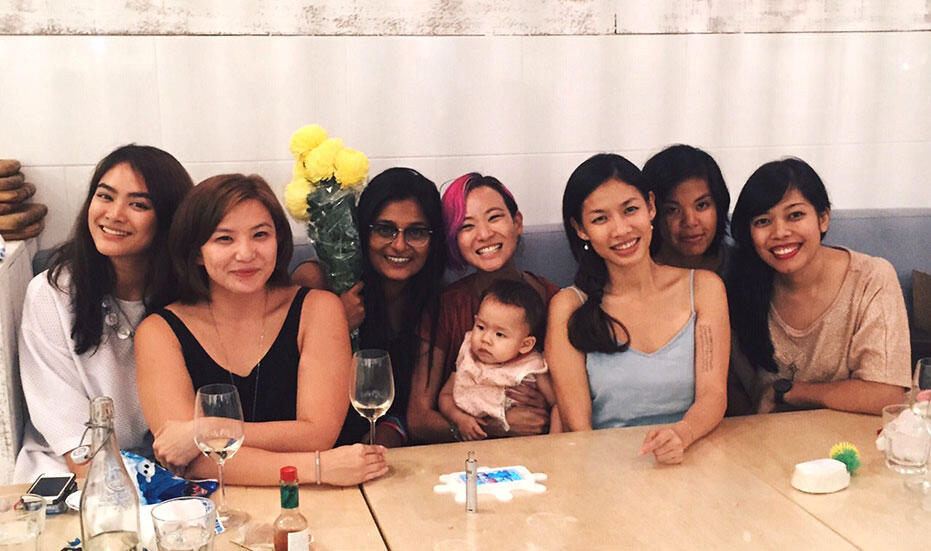 Clouds, Sarch, Meesh, me and Lily, Sueann, Didi, Myra! I'm so proud of all of them!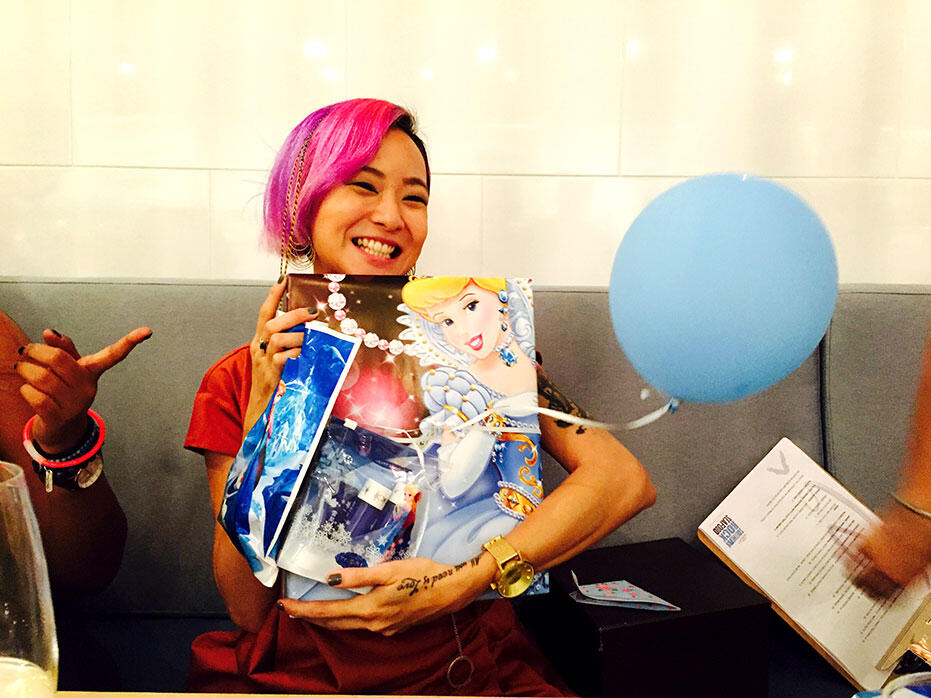 Didi, Meesh, Joleyn, Jiawei and Sarch gave me a handmade rug from Yuna's shop for my new home, and Claudia gave me a present whose Cinderella wrapping i love so much i still haven't opened it. Just wanna look at it... a little bit more.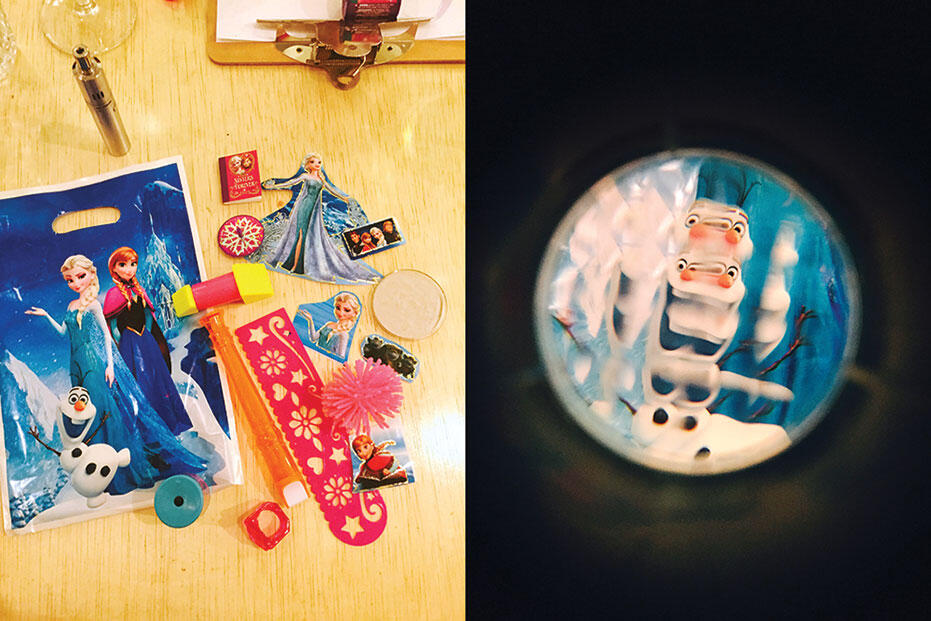 And there were Frozen party packs!!!!!!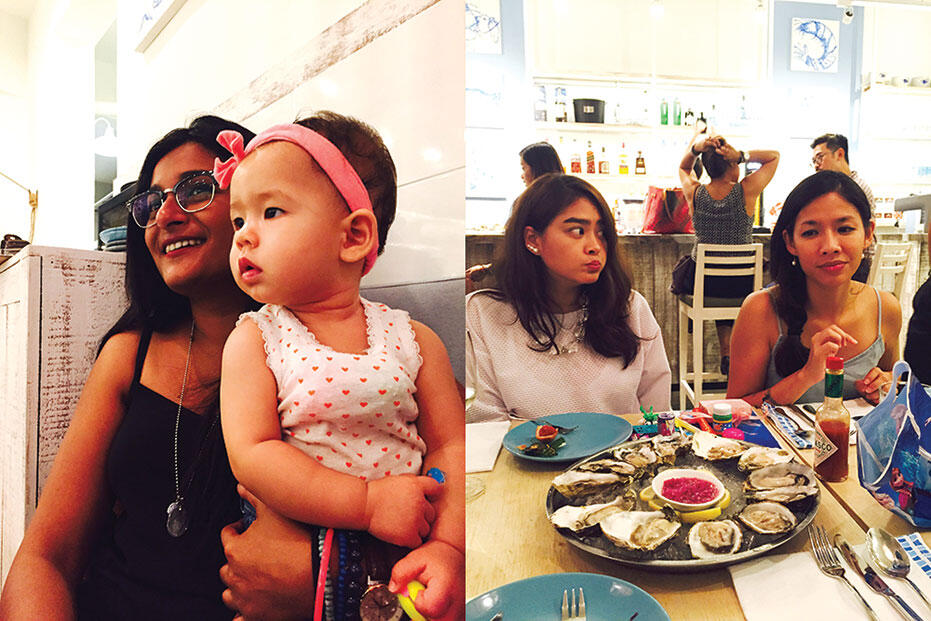 We gave Lily fake boobs and took pictures. Yeah. We're those kinda aunties.
The kind who will blackmail you with really stupid pictures of yourself when you're young XD
Better start collecting now before you get too old and can run away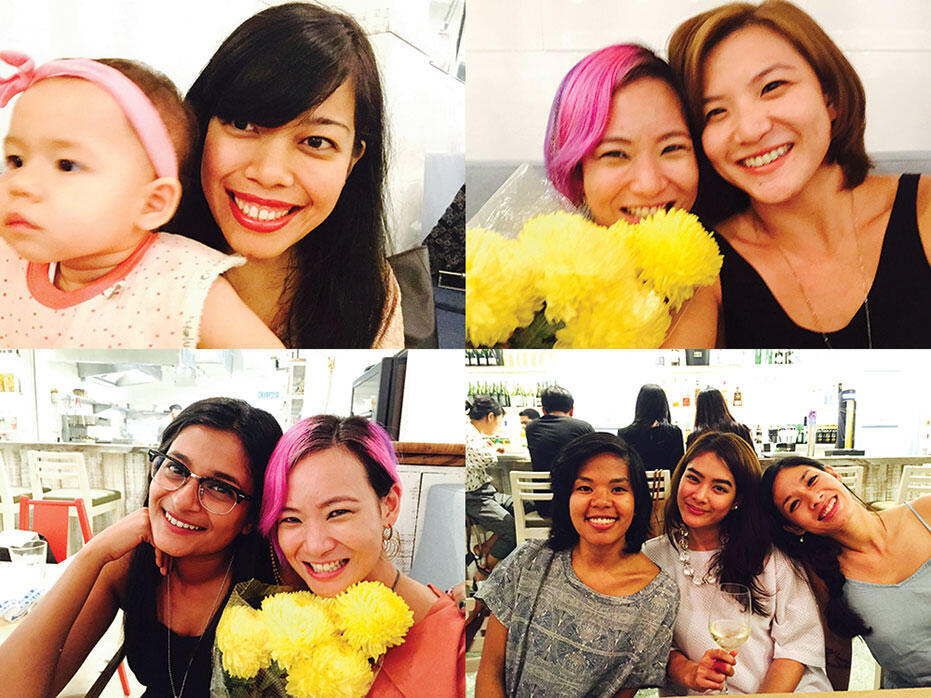 I've been really absent from the group chat cos i've been so busy, and asked Meesh, "Hey, why are you back?"
"WAR broke out Joyce!"
"Ohhhh...." *feels damn clueless*
Didi almost teared with joy (actually i think she did) when i told her i found CoYo (this delicious vegan and dairy-free coconut milk yoghurt) in Village Grocer in Sunway Giza.
I was touched they didn't allow me to pay for my bill. <3
Thanks guys...!!! <3 <3 <3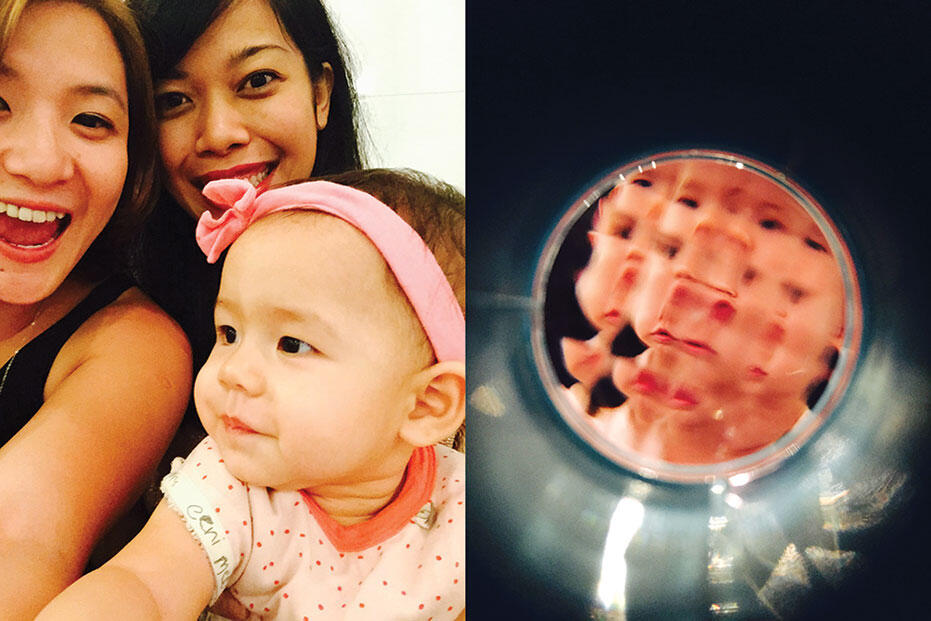 On Saturday i woke up, packed some accessories, made up and went to style and emcee an event for Pauls Boutique London. I was done at 4pm and went for sar hor fun at Wondermama with Aaron.
Aaron: "Eh, tonight we're gonna go play"
I was like,  "Play what?"
And he burst out laughing and managed to squeeze in the words, "Play... the Roof!"
Me: Ohhhh i know The Roof and Play... *feels sheepish*
But no. No play for me, i really cannot club anymore.
After dinner, i temaned my dad to fetch my mum from church, then went home to feed Caeser.
They showed me this organic coconut oil and essential oils they bought to use on him and my jaw dropped.
"You treat him better than you treat yourself!"
I am not jealous of the dog, i am not jealous of the dog.
We went for dinner at this Hakka restaurant called Michele's Kitchen in DJ. Mummy's into photography right now (mostly birds and nature and her travels) and daddy's slowing down on his work (i hope, hint hint).

After dinner with them i went for a catch up with Big Ben.
Me: Bennn why must we go out? We can just chill at mine, i've got everything
Ben: Nooo let's go out
Me: Okayyyy
We went to Scott's something and he ordered a bottle of whiskey for my birthday.
(Disclaimer: We didn't finish it okay!)
Ben was trying to convince me to buy a Cartier and i was like, "Are you crazy??"
I put both my hands at different levels and waved the higher one, "House renovation."
Waved my lower flat palm, "Cartier."
You think i'm a shopaholic, i think Ben's a worse shopaholic.
On Sunday i woke up early to watch the cleaner, blogged, went for a chilli pan mee lunch, a 90-minute massage at Energy Spa (they give all their members a free 30-minute massage for their birthdays), and carpooled with Clem to Maddison's full moon party.
It was like a big gathering to see EVERYONE'S babies in one sitting 😀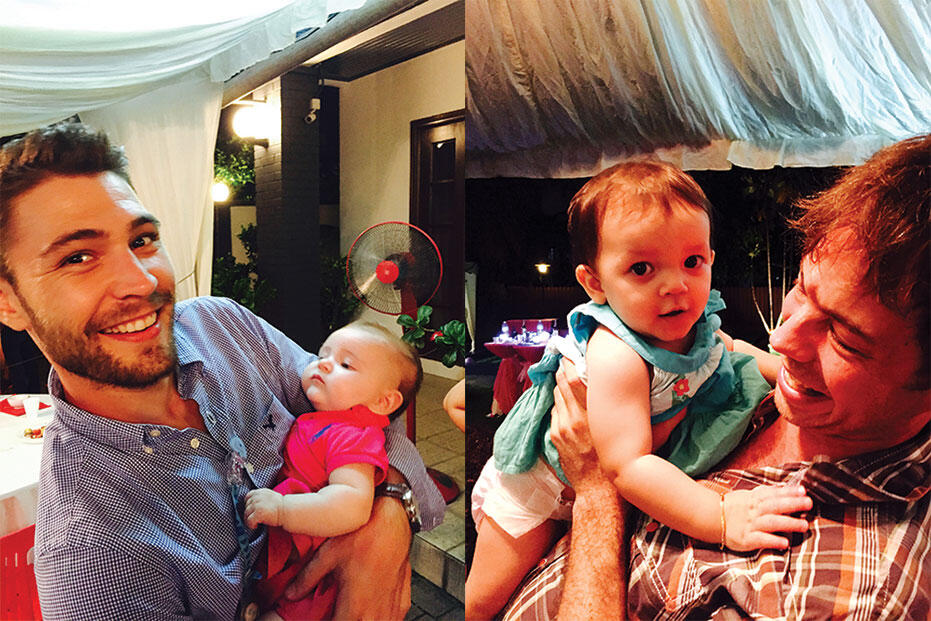 Lucas with Lilou, and Nick with Chloe (not his child, Serena and Matt's)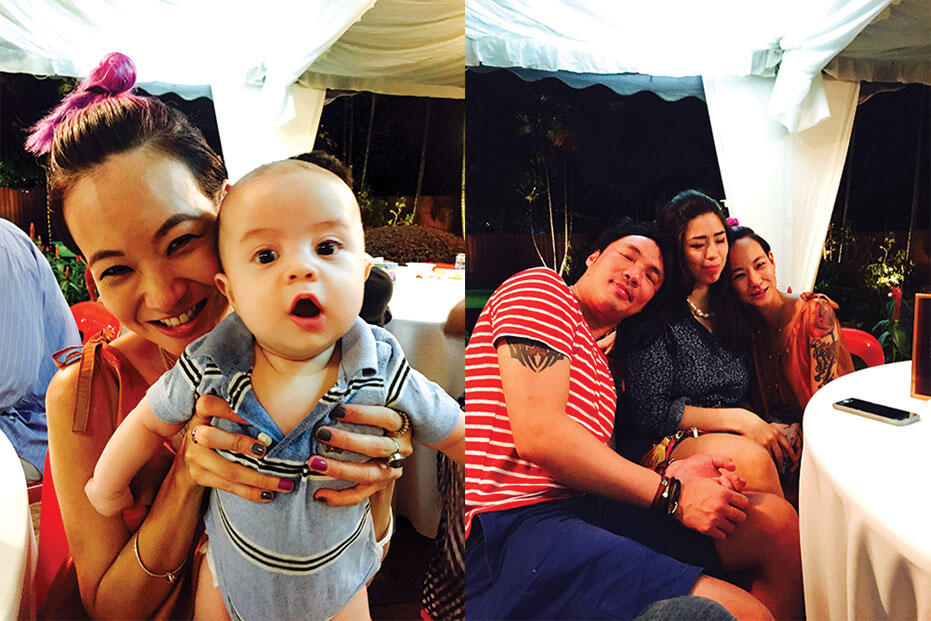 This is William - Nick and Steph's baby! He's got the cutest googley eyes, just like Steph!!
On right are tired parents Kenny and Cammy haha. Or rather, Kenny is drunk.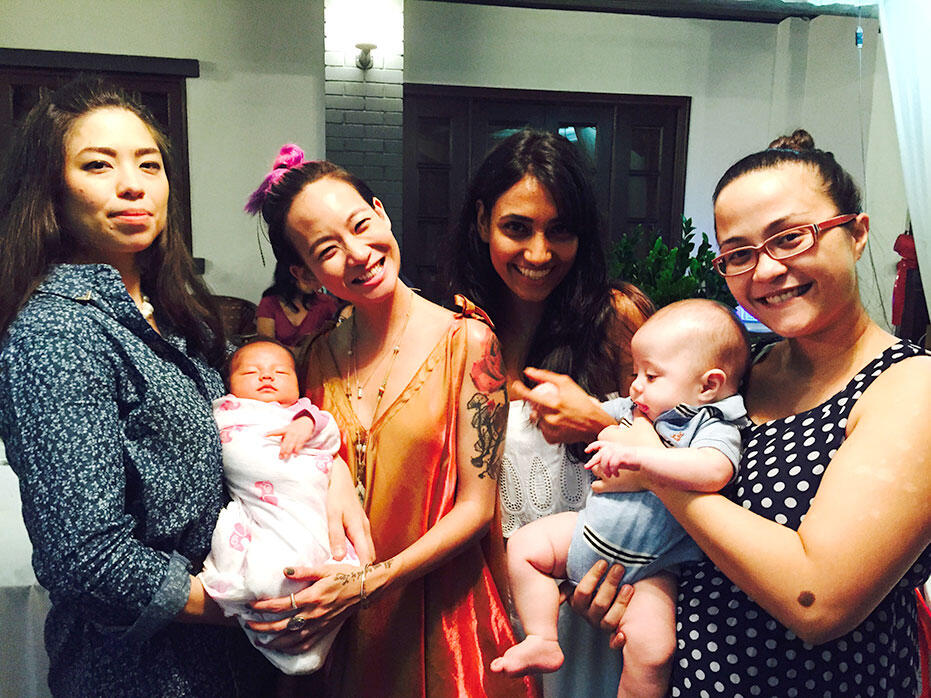 Cammy, Maddison, me, Dhanya, William and Steph!
Aps is missing cos she's on holiday with her man.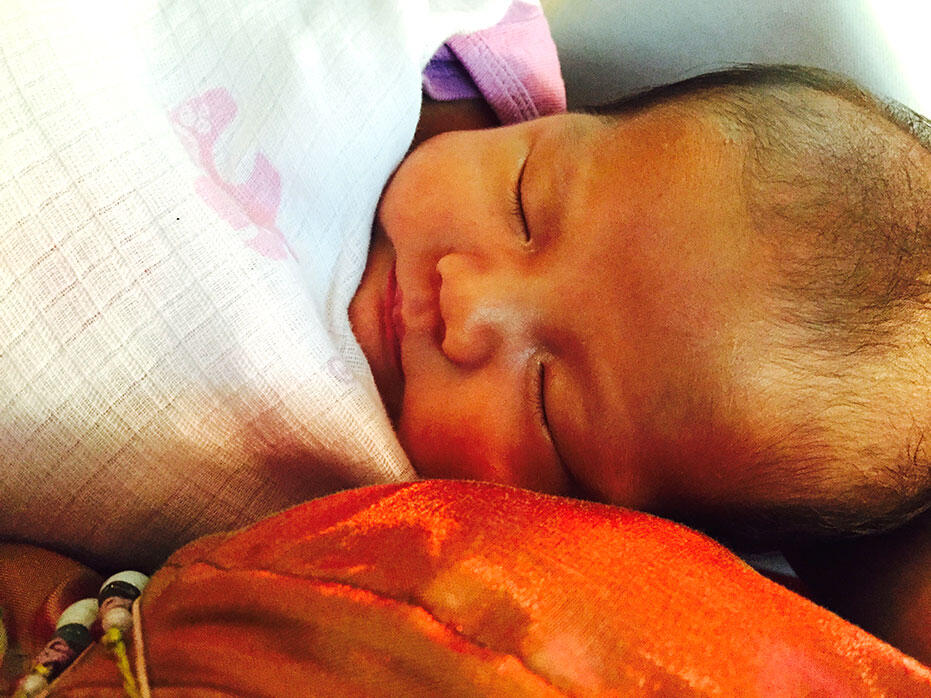 The star of the night - Maddison! I can't wait to bring you shopping!!!
This week, i went to work out at Bodytone on Monday morn. Am in so much pain today -_-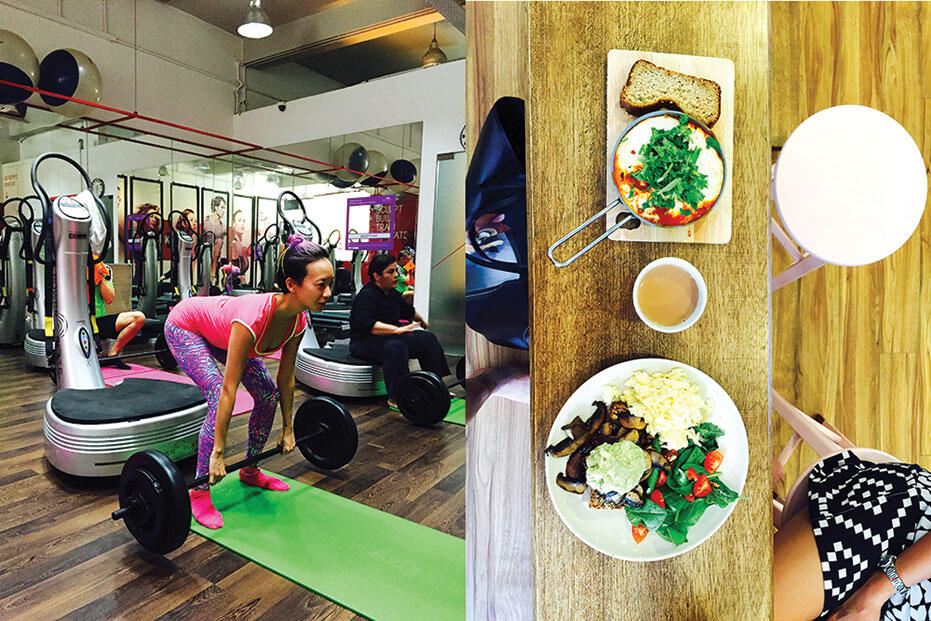 On right - lunch at Organica Lifestyle in Bangsar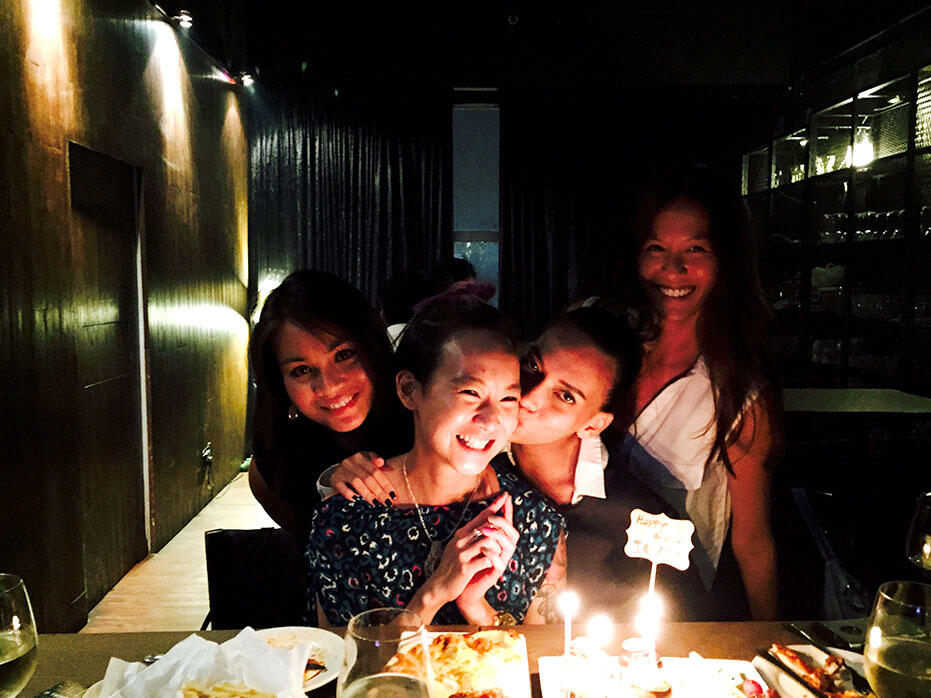 Monday night i had a birthday dinner at Mezza9 with my Boracray girls - Sai, Lex, and Haj.
They surprised me with birthday cupcakes and more candles to blow out!
I am so not over blowing out candles for my birthday! It's so awesome!
The more candles, the more wishes i get to make!
Keith ordered us a round of coffee patron shots for my birthday, and the girls made me put my money away when the bill for our food and wine buffet came.
I feel so fortunate to have so many girl friends! There are so many more i haven't even met up with yet..! *i should be so lucky, lucky lucky luckyyy*
Today i had lunch meeting with Lena from Club Med, and was so inspired by her dedication to set aside time for her creative pursuits, like painting. I need to put aside more time like that!
Spent almost 2 hours making some decisions over the house reno that's going on.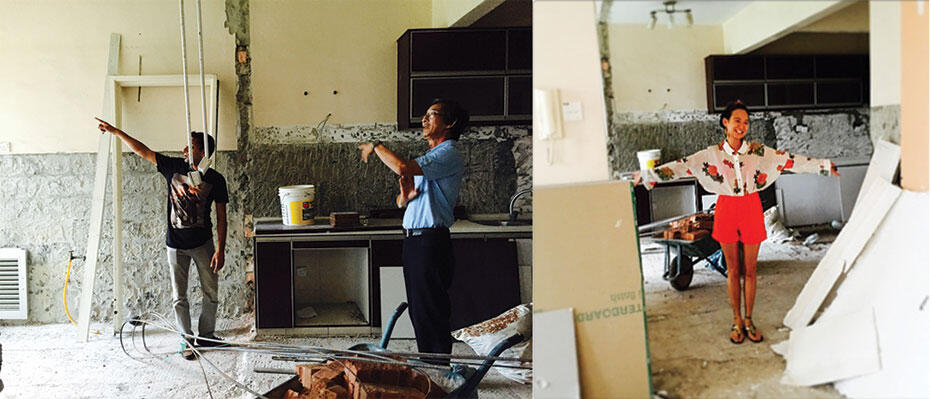 Architect and contractor = Danny and my uncle 😀
Me in my new kitchen-to-be.
I don't think i'm gonna leave home once it's ready.
I'll just throw dinner parties to make everyone come to me.
And anyway i'll be so broke i won't have money to go out XD