My blog turns 11 years old! Crazy right… if you told me when i first started i'd be blogging for more than 10 years, i'd be like, "Hmm yeah sureee." Maybe the best things happen when you don't force a plan into action, and instead let the Universe take control and allow yourself into the flow.
To honour all you readers that made blogging a possible dream for me, we'll be giving away fun and functional birthday presents to YOU for the next 11 days! Just follow instagram.com/kinkybluefairy and regram the pictures we're releasing daily! You can upload as many pictures as you want on IG/FB till 15th March 2015!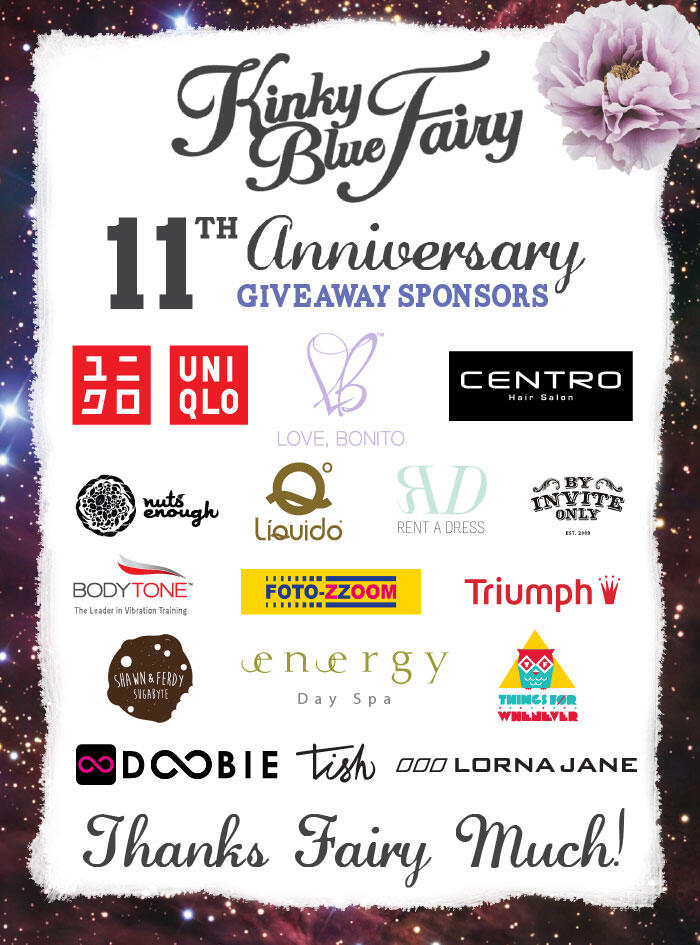 Instagram Giveaway:
1) By Invite Only: www.byinviteonly.info
2 x RM250 online vouchers
2) Love, Bonito: www.lovebonito.com
8 x RM100 cash vouchers
3) Centro Hair Salon  : www.centrohairsalon.my
2 x Haircut & Colour Makeovers worth RM1000 each
4) Liquido: www.liquido.com.my
Orange Mermaid Bikini, Size M (US6 -8) worth RM219;
2-Toned Bandeau, Size M (US6 – 8) worth RM250
5) Lorna Jane from Believe Active:
5 x Workout Headbands worth RM30 each
6) Doobie: www.getdoobie.com
10 x Doobie x KinkyBlueFairy Custom T-shirts
7) Uniqlo: www.uniqlo.com/my
7 x RM50 Cash Vouchers
8) Nuts Enough:
5 x Artisanal Nut Spreads
9) Things for Whenever: www.thingsforwhenever.com
5 x Yummy Pockets
10) Tish: www.tish.my
5 x Organic Scented Candles
11) Energy Spa: www.energymindbodyspirit.com
3 x Signature Relaxation Massage – 60 mins each
+ + + + + + + + +
We're also throwing a party in 11 days' time where we'll be doing MORE giveaways:
2 boxes of Mist Shisha from Things for Whenever
5 x KinkyBlueFairy x Doobie Custom T Shirts
5 x Workout Headbands from Lorna Jane
5 x Artisanal Nut Spreads from Nuts Enough
5 x  Tish Organic Scented Candles
2 x leggings and 1 x long dress from Liquido
4 x RM 100 vouchers from Love, Bonito
400 vouchers from Energy Spa
1 x Swissline Triple Action Exfoliation Facial from Energy Spa

Performing will be Reza Salleh, Chelsia Ng, Esmond Sees, DJs Patricia K, Irama, Indiego & Co., and Twinkies!
Thanks to Pioneer for lending us a CDJ 😉 <3
Win invites to KinkyBlueFairy's 11th Anniversary Party by *reposting this pic*!