I daresay that ever since all women were little girls, they've been waiting for magic to come into their lives, though some forget as they get older.
In can be magic in its many forms. And probably, the most powerful of them all, is love.
Everyone knows that i believe in magic (heck, my nickname is fairy) and i definitely believe in the power of love (it's even tattooed on my hand to remind me of what's most important in life). The sentence "I believe in magic and love" has also been on my IG profile for some time!
My more pessimistic girlfriends may declare, "Romance is dead!" and I used to play the empathetic friend and agree, but not anymore. I believe that the more you focus on something good, the more good will come of it. I personally know of so many romantic stories and Cinderella moments, like Lucas' proposal to Helo that i blogged about. That was romance that brought our guy friends to tears (we have photo evidence guys, you can't say you didn't cry).
Then what about Ben's proposal to Elizabeth? You can read the full story yourself in the Sept 2014 issue of Tatler.
Ok ok i'm just gonna tell you it here in case you missed it, it's one of my favourite stories: Ben flies Liz to Istanbul over Christmas holidays cos he loves the place so, and plans to take her out on a date there. He presents her with a beautiful gown in their hotel room which he wants her to wear that night but she doesn't want to cos she wants to save it for a special occasion, they get into a little tiff over it and she wears it in the end. They have a romantic dinner for two on the balcony of the Palace wing of the Kempinski (i love that hotel!) complete with a cellist entertaining them.
After dinner, they take a walk on the hotel grounds where they stumble upon… a gumball machine. Liz LOVES gumball machines and asks Ben for some coins, with which she pops in. Out rolls a gumball which she opens to find… a Harry Winston ring. And then Ben's on his knees proposing and saying all these things like how much he loves her and wants to grow old with her. Liz is shocked… and says yes.
And then… (because like that's all not enough right) fireworks explode in the sky across the river from them. And a photographer hidden somewhere in the bushes captures their picture.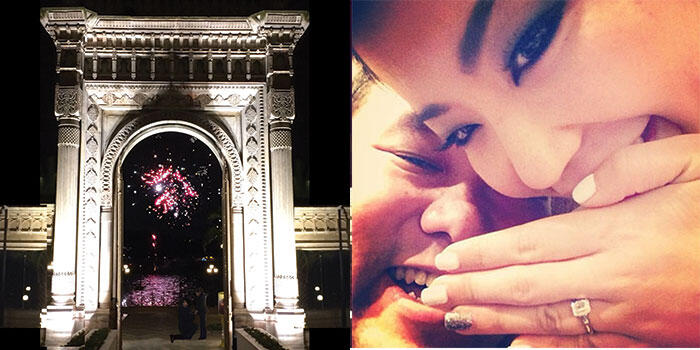 I remember telling some guy friends this story and they were roaring with laughter.
"What!? That's too much! This guy is spoiling the market!"
No guys, YOU are spoiling the market!
I love sharing and listening to stories like this cos it makes me feel fuzzy and gleeful inside knowing it's HAPPENING out there. I remembered some girl friends storytelling to me in the past about their romantic moments, and went to hound them again for the full stories so i could share them HERE with you so just you know… it's out there 😉
These interviews were done casually via whatsapp / phone call / email / voice note.
Women, enjoy.
Men, listen and learn. Or read and learn. You know what i mean.
+ + + + + + + + + + + + + + + + + + + + + + + + + + + + + + + +
Yishyene – Traveler, Adventurer, Reluctant Scientist, Founder of www.SmallCrazy.com
I was spending the summer in Porto and I met Ricardo through Tinder about halfway through. He was smitten with me from the start, I think. He would drop by my building, where Emma and I had our penthouse apartment, with cute little things for me – like a cartoon pin. Unfortunately I didn't quite feel the same, but we continued to hang out occasionally.
On my last day in Porto before moving to Lisbon, he brought me lunch. Not just any lunch, but one of my favourites – octopus salad from down the road. We ate it on my balcony. It was sunny and hot and therefore on a whim, he decides to take me to the beach. We packed up the car and he drove us to the other side of the river (where the beaches are better). We climbed rocks and played frisbee. He carried me when my bare feet hurt from stepping on pebbles. Then the sun started to set and we laid down on the towel, really close to each other. I couldn't help but kiss him and so there we were, making out on the sand under the glow of a magnificent sunset and… on the other side, the moon was already visible.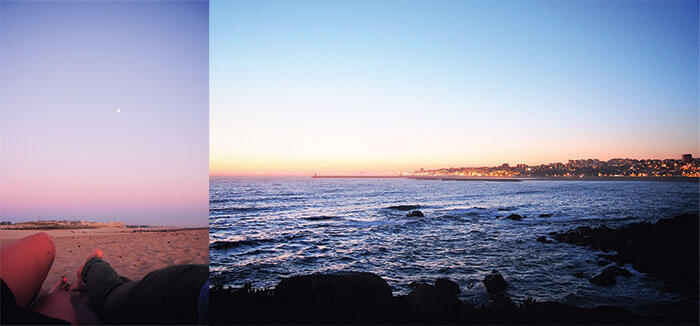 When it got too cold, he took me to one of those 'scenic viewpoints' where I could enjoy a view of Porto in the last remaining light of the day whilst listening to the crashing waves. At one point it felt so cheesy that I had to laugh at myself. But whatever; it was truly a beautiful evening – I was in a place so close to my heart, at sunset, on the beach, with a lovely guy who was really fond of me. It was a gift!
We ended the night by sharing an ice cream when we got back to the city.
Aaaandddd thennnnnn as you know… time passed and we went our separate ways, during which he dated other people… and by some chance events led to me staying at his place when I was next in Porto six months later, and then again after I cracked my stupid ribs, we have ended up falling in love with each other  O_O
[Oh, how i BURST out laughing at the end of that one! When Yishyene told me she was going skiing on advanced slopes, i worriedly said, "Please don't kill yourself," and 
she ended up fracturing two ribs
. I'm glad you're alive you idiot.]
+ + + + + + + + + + + + + + + + + + + + + + + + + + + + + + + +
Faridah aka Baby – Manager at KinkyBlueFairy
If I may blow your mind for a second, this is the story of my birthday week one year. I thought it only happened in movies. Well, no. Because it happened to me.
I was told that it was not going to be anything special and was instructed to have lunch at home before getting ready by 1.45pm.
At 1.45pm sharp, I got a text from him: "Outside."
I walked out to the car that was waiting for me not recognizing the vehicle. I didn't even know the driver. So I looked at him and asked, "Ye, cari siapa?"
He smiled and asked me to get in. I climbed into the back seat and asked, "Where are we going?" The driver laughed.
I texted the guy:
"Wadeheyyylll?????!!!!! Apa niiiiiiiiii????!!!!"
"This is… Your birthday celebration?"
"This is gilaaaa!!"
The text went on and on in the same context till I got tired of asking.
"Just play along and enjoy it." So i did.
There I was, in the backseat of the car, in my shorts, T-shirt and beat-up sandals, looking like a runaway, being chauffeured to a destination unknown.
After half an hour, the car pulled up at Impiana Hotel and Spa KLCC. I felt so lost, I had to sit down for a while when I got into the hotel lobby. Then I was instructed to go to the reception and tell them my name. I signed my name and got my key cards to a room which was on the 10th floor. I was in daze. Before I left the reception to walk to the lift, the staff at the counter wished me, "Happy birthday!"
I just smiled. Really, I had no words.
When I got into my room, there was a bouquet of a dozen roses on the bed. And when I was just about to collapse from all this madness, the phone rang, "Hello Ms. Faridah. I just want to inform you that there is a spa session for you…"
"Wait. What…??!!"
"Spa session. It's already been planned. So, at 3 o'clock please come down to Swasana Spa at Level 4"
"Ok."
Then there was a knock on the door and when I opened it, it was room service singing Happy Birthday to me whilst bearing a bottle of bubbly. I just sat there stoned, trying to take everything in and asked myself what did I possibly do to deserve all this?
"#LIKEABOSS"
"Gila! #QUEENOFTHEWORLD ok!"
"Is everything ok?"
"Everything's perfect."
"The spa, don't rush. They'll wait for you. The queen is entitled to be late."
At 3.10pm I went down to Swasana Spa and gave them my name.
"Hello Ms. Faridah. Happy birthday to you."
I was directed to the lounge where I was served cold traditional Balinese juice before being shown different massage oils and scrubs. I chose the one that smelt the sweetest.

I was shown to my private room, where my therapist introduced herself and she scrubbed me for I-don't-know-how-long. Then I had to shower. Then I was told to get into the Jacuzzi. Then, I had to ask for a cold shower because I can't stand being in hot water for that long. Then, it was this out-of-the-world 90-min massage followed by a facial. At the end of the session, she showed me to the relaxation area where they served me ginger tea.
I sat there, feeling all awesome and thankful. I even got a birthday card from the spa.
Guess what time I walked out of the spa? 7pm. It was a 4-hour spa session.
When I got back into my room, A pink birthday cake was waiting for me on the table.
I was asked to get ready for dinner, which was at Las Vacas, which i'd been craving for a week and finally, got to satisfy my craving.
I don't how many times I'd thanked him for the experience and his reply was: "I think you deserve it."
+ + + + + + + + + + + + + + + + + + + + + + + + + + + + + + + +
Yiu Lin – Founder of Shoes Shoes Shoes, What Women Want, and KLUTCHED
We basically bought a house together, and this was on inspection day when we were handed the key (i was on full-on inspection mode with my notepad and everything). We walked into our new home and were slowly examining it from the lift lobby right until the first bathroom… and i didn't now why he was harassing me to rush into the living room.
I was like, "Seriously baby… we need to do this properly because we're inspecting the apartment and we need to pick up on all the defects" and what not, and then i smelled this stench and went, "You know, i think we need to get the cleaners in to clean this apartment."
Finally when i walked into the living room, i looked up and i saw that the whole place had been covered with vases and vases of white roses andddd obviously that was where the smell was coming from, and obviously… i'm not a fan of flowers, am i?!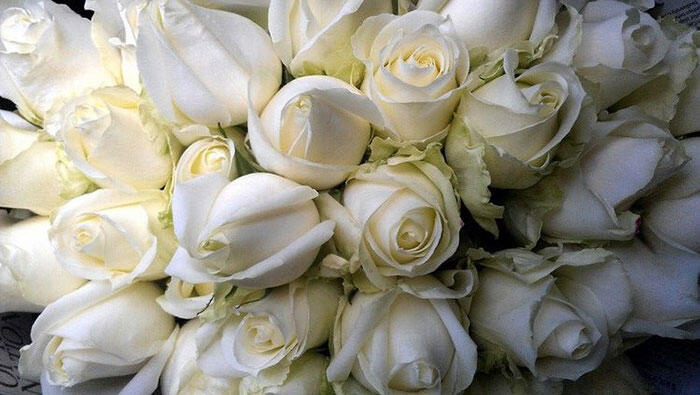 I was a bit stunned, 'cos i did not expect it. (He had everyone in the whole building from the security guards, to the person that escorted us into the lift in on it. Everyone knew about his proposal so it was kinda embarrassing when i left the condo.)
I turned around and he was on bended knee, telling me that all the white roses symbolizes every day that we've been together, so it's equivalent to nearly four years of roses..? And that he wanted my hand in marriage bla bla bla [LOL Yiu Lin!] I was more in shock but obviously said YES and proceeded to call our parents.
So that was the proposal, that was romantic by his standards, but i was more impressed that he managed to keep this under wraps so well. The ring that he got for the engagement was designed almost eight months prior by himself with the whole jewellery team, so that was quite impressive i have to say – that he managed to sneak it all under my nose and got a lot of our friends involved in the planning without my knowing!
+ + + + + + + + + + + + + + + + + + + + + + + + + + + + + + + +
Thanuja – Host, Model, Emcee, Animal Activist & Advocate, Miss World Malaysia 2010
It was the time Julia Morley was in town for the Miss World Malaysia gala dinner pageant and we were celebrating her coming down. I was in my gown and going home late at night but dashed to the airport to say bye to him. We usually fetch each other to the airport when we're going somewhere, but this time i had to work and be at the event so i couldn't… but i still wanted to say bye.
I didn't have enough rest and got into a big bad car accident on the way home. My car hit the divider and i was in shock. Just complete shock, it was a really bad accident… and the first person i called was him. I was still near KLIA then, and he was already on the tarmac on the way to the plane when it happened.
He threw his bags and passport down, missed his flight and ran to me.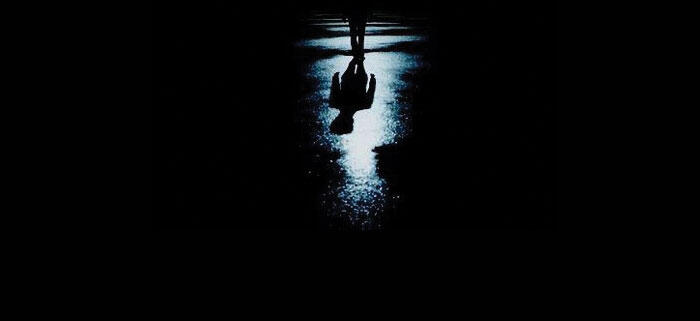 He literally ran and walked, ran and walked, cos there were no cabs, it was 2 in the morning! It was about 10 kilometres… I was terrified cos it was pitch dark and I was alone, and when i saw this tall figure coming towards me, i got scared it was some robber! When he reached the car, he puked from all that running!
When the tow truck came, it towed both of us in the car back to the airport so he could get his passport and stuff, and i felt so bad cos he had to run back into the airport cos the two truck couldn't go up.
Oh i have another story, about watching a movie but i'm not sure if you'd find it romantic.
The boyfriend and i wanted to go watch a movie and it was something we both really wanted to see, so we went despite my not feeling too well. My fever went up really high while in the cinema and my eyes became bloodshot. I got some hot milo but my fever didn't go down, and i was shivering and didn't stop.
My boyfriend was like, "Okayyy you need panadol." So he left me in the cinema to find me aspirin, there was no pharmacy in the shopping complex, he took the car out and went away to 7-Eleven, and came back with it; which i thought was really sweet and romantic.
The little things mean a lot to me, i thought it was really sweet of him! I think i was 22 then, and i'm still with the same boyfriend!
+ + + + + + + + + + + + + + + + + + + + + + + + + + + + + + + +
Ok it's back to me now… Joyce. It's Joyce here.
Just making sure cos that was a lot of stories!
It doesn't matter whether it's taking someone out on a date, treating them elaborately for a day, saving a woman in distress, or planning a proposal. What matters to a woman, is the effort!
The running theme in all these stories is not how romantic the man makes it out to be (cos the woman i.e. in Yiu Lin's case might not see it as romantic) BUT what a woman finds romantic, is the great lengths a man goes to take.
It is not something you can hide nor fake, as true love and magic shines brightly in its own form and a girl will always know in her heart whether it's the right feeling for her.
To further spread magic and love, here's a little gift that will go out to some of you this beautiful week: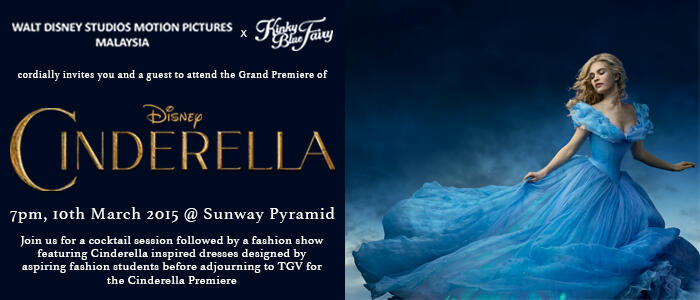 I've been waiting for this for MONTHS.
A live-action feature inspired by the classic fairy tale, "Cinderella" brings to life the timeless images from Disney's 1950 animated masterpiece as fully-realized characters in a visually-dazzling spectacle for a whole new generation.
Directed by Academy Award® nominee Kenneth Branagh (Thor, Hamlet) and starring two-time Academy Award winner Cate Blanchett (Blue Jasmine, Elizabeth), Lily James (Downton Abbey), Richard Madden (Game of Thrones) and Academy Award nominee Helena Bonham Carter (The King's Speech, Alice in Wonderland), Cinderella is produced by Simon Kinberg (X-Men: Days of Future Past, Elysium), Allison Shearmur (The Hunger Games: Mockingjay, Part 1) and David Barron (Harry Potter and the Deathly Hallows: Part 1) with Tim Lewis (Edge of Tomorrow) serving as executive producer. The screenplay is by Chris Weitz (About a Boy, The Golden Compass).
They all sound like components for a magical movie already!
WIN: 10 Pairs of Invites to the Grand Premiere of Disney's Cinderella!

To Enter:
For guys,
If you'd like to score brownie points and surprise her with a dressy movie date night, THIS IS YOUR CHANCE.
Just write in to me and tell me the most romantic thing you've done, or PLAN to do for her (please add in a note which it is so i know not to blog about it and spoil your future surprise!). It can be a sentence, or a paragraph, up to you.
For ladies,
I'd like you to tell me your most romantic Cinderella moment that has happened, or you wish/envision to happen to you. I thrive on these stories, and would love to read your thoughts!
If you'd rather your man do the work, why don't you send him the link to this blogpost and ask him to enter the contest on your behalf? Let him do the romancing 😉
Send all entries to joyce@kinkybluefairy.com entitled "My Cinderella Moment"
Please include your phone number
Contest ends 12am Monday 9th March 2015
Winners will be contacted via phone and email on Monday morning
May the best magic win <3