Now that things seem to be easing up, i'm going to be blogging a lot more about the many trips i took in the past few months! I'd been saying for years that i needed to take my parents to one of my favourite places in the world, and we've finally struck that off the list – Bali!
I planned a trip for us to stay in three main areas across the island – Ubud, Lovina, and Seminyak. Our first stop was Ubud, famed for its gleaming green rice terraces, traditional arts, colourful markets, babi guling, and many-a yoga/meditative practices and raw food movements.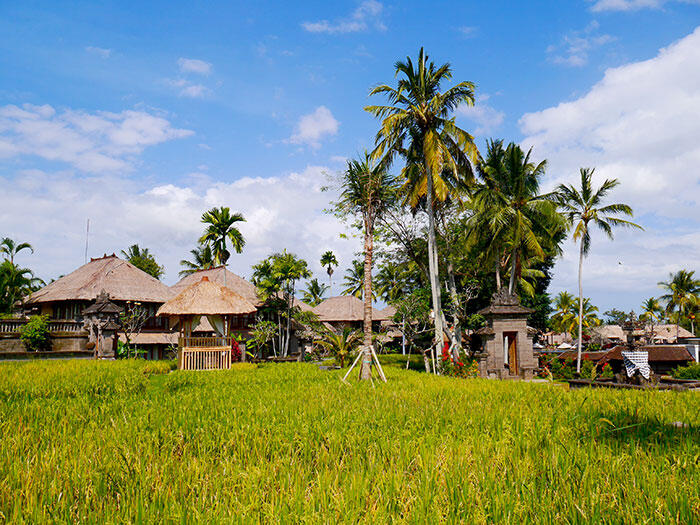 Via Agoda, we stayed at Kamandalu, one of Bali's pioneering 5-star luxury resorts that stretches across 3.5 hectares of private land. The beautiful property is inspired by Panglipuran village (one of the oldest and most traditional settlements in Bali) and is surrounded by lush rice paddies.
In Sanskrit, 'Kamandalu' refers to 'the vessel that contains the water of life', and the resort prides itself on carrying out its philosophy by providing life-enhancing rejuvenation. Just looking back at the photographs and rekindling how i felt when i was there is rejuvenating enough for me. It was such a beautiful relaxing place to just immerse myself into for days – one of those premises where you really don't have to leave at all (nor want to).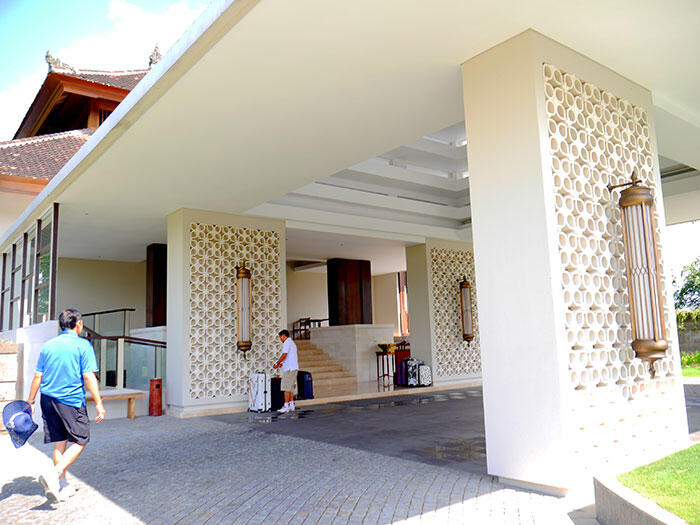 Having been around for many years, the already beautiful resort recently saw a huge makeover to cater to the demands of today's discerning traveller while preserving its heritage and timeless serenity. Kamandalu's main facilities have just been redesigned by Grahacipta Hadiprana, a renowned architect and design firm in Indonesia.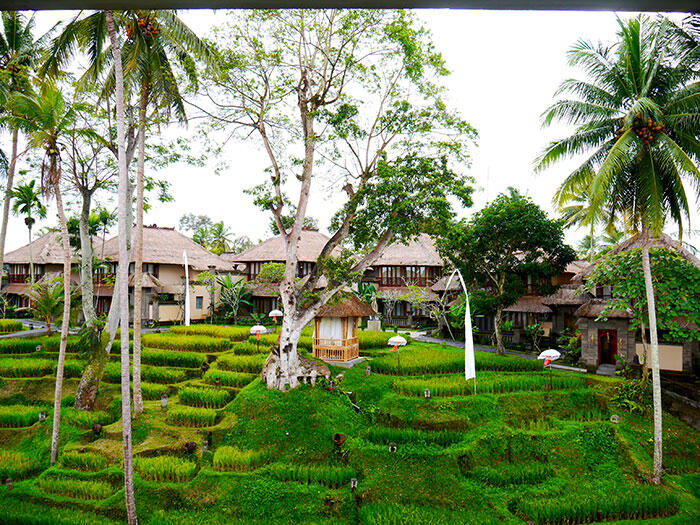 The resort is built on curving ridges above the Petanu River and is a mere 10-minute drive from the centre of Ubud.
Each chalet or villa in Kamandalu comes with a view of either terraced rice paddies or plunging valleys. There are 1 to 3 bedroom villas, some with private landscaped gardens, private pools, or large living rooms, depending on each guest's desires.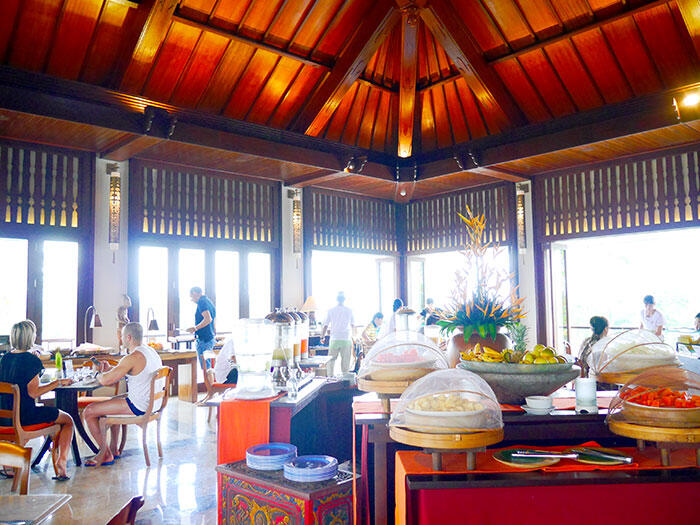 We could choose to dine between the award-winning Petulu Restaurant or Aira Cafe. Petulu, a spacious restaurant overlooking the glorious rice terraces, serves authentic Indonesian cuisine from a menu designed by leading culinary expert William Wongso. Aira Cafe is an open air affair by the swimming pool.
One could also opt to have a special Kamandalu Afternoon Tea, simply dine in the privacy of one's villa, or have a picnic lunch prepared to enjoy with the view of Ubud's tropical forest.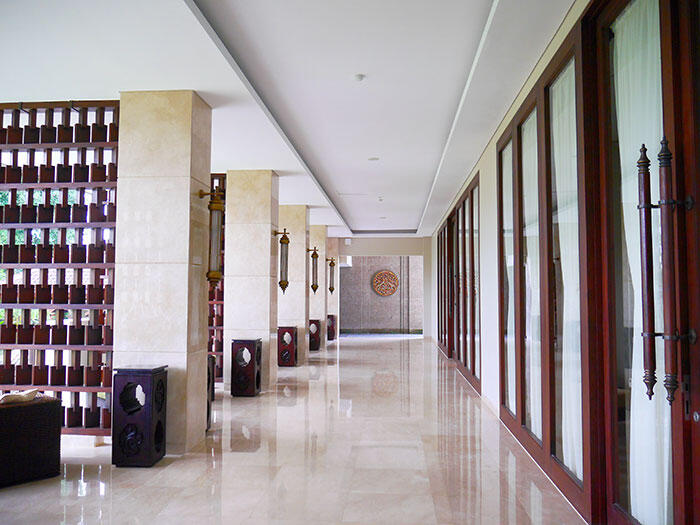 They have all sorts of activities and excursions organised, i wish i could have stayed longer to try them all!
There are guided walks/bicycle tours through the rice paddies, bird watching in the evenings, morning strolls through Tampak Siring village and Gunung Kawi Temple, Balinese cooking classes, village trekking, visits to the Peliatan Palace and Elephant Cave Temple… They can even help arrange white-water rafting, golfing, canoeing, surfing, diving, etc.
If you have children (so many of my friends have children so i need to write this down!), you'd be relieved to know there are baby cots and babysitter services, and lots of activities for the kiddies like Bali Junior Chef classes (for ages 4-5, and 5-10), Balinese egg decorating/painting, ceramic molding lessons, gebogan (learn the Balinese way of life by making offerings), canang (weaving with coconut leaves), and gamelan (Balinese dance). A lot right! Tire them out proper so they'll pass out by bedtime, i say!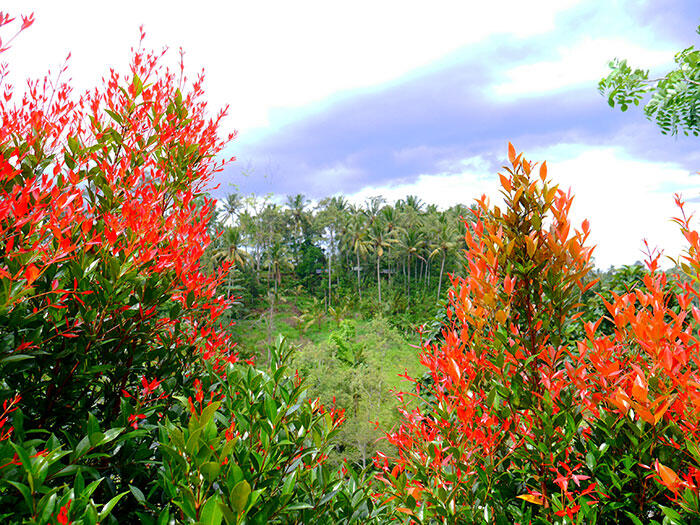 Despite all the many activities provided for the restless and adventurous, Kamandalu is ultimately a getaway that effortlessly excels in providing the atmosphere for relaxation. You can't avoid feeling that; what with all the lush nature, singing birds and gentle breeze tickling you constantly.
One of my favourite features in the resort and something that makes me want to return… is their magnificent yoga and meditation teak pavilion set amidst the treetops of Ubud.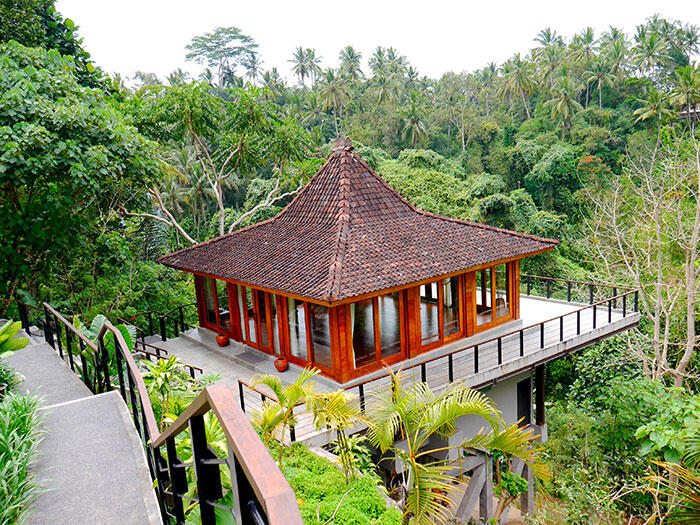 It was here that i had a kismet one-on-one meditation session with their resident yogi Arif (story to come n a separate post). He holds complimentary yoga sessions daily too.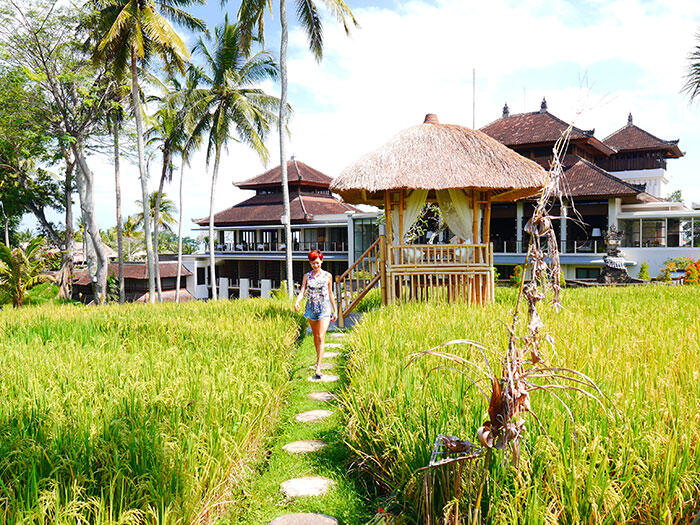 More pix after the jump from my entire stay there!
My parents and i took an evening flight into Bali so it was already nightfall when we arrived at Kamandalu.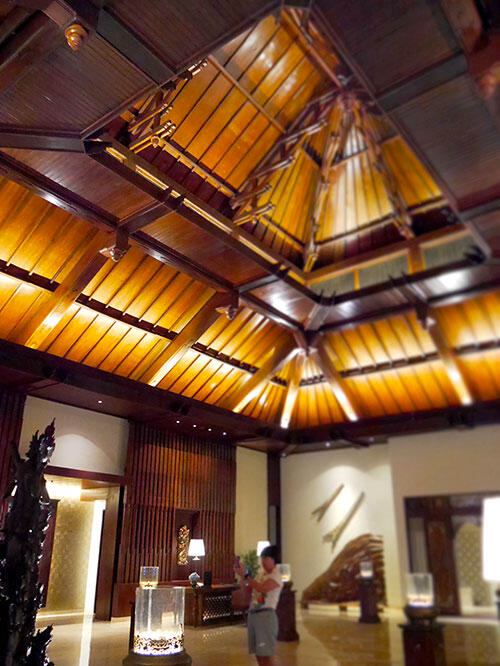 Their new lobby is one that was re-envisioned by architect Hadiprana.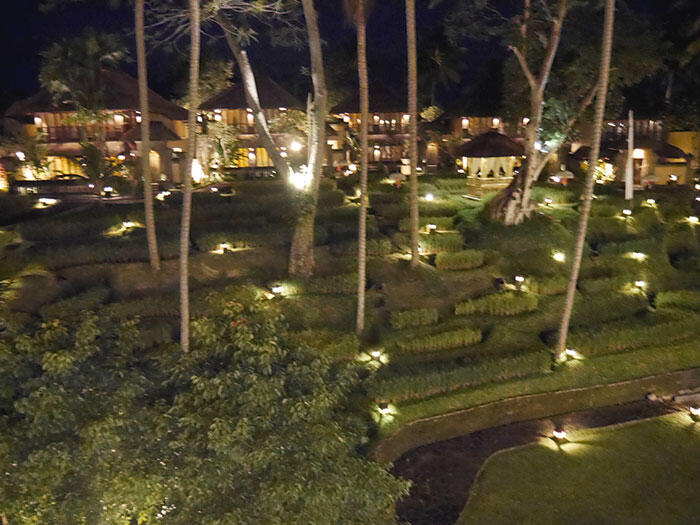 Even in the dark, the resort grounds looked gorgeous already and got us all excited.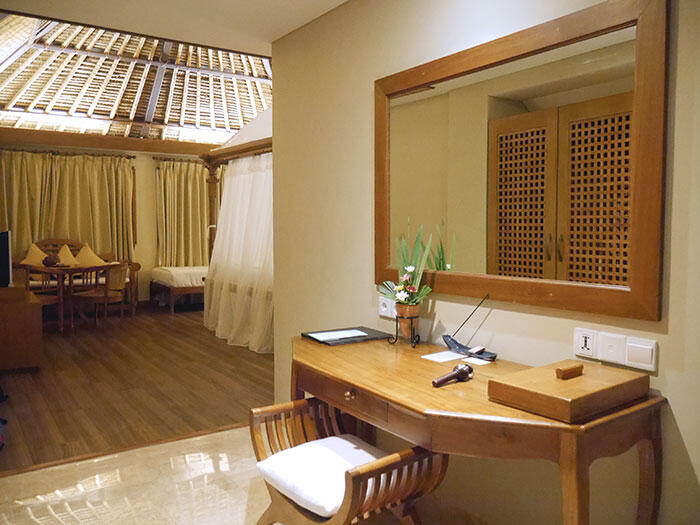 Our Garden Villa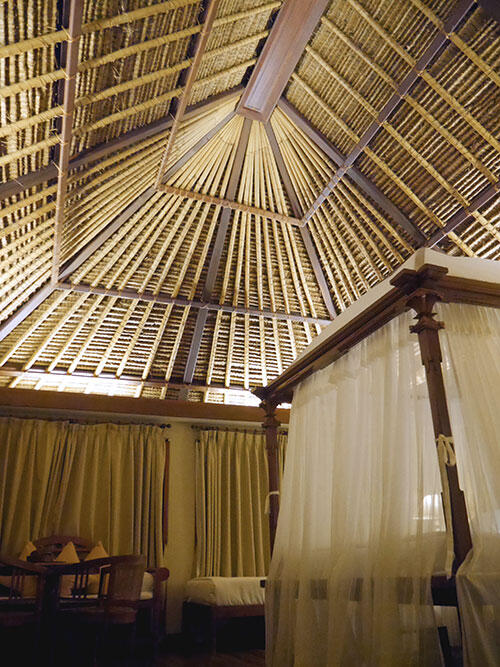 Their ceiling looks so pretty i'm just gonna post two pictures that look almost the same
I'm standing above one of the sunken baths. All the villas come with its own indoor sunken bath and outdoor shower. I love showering outdoors at night while looking up at the clouds and stars!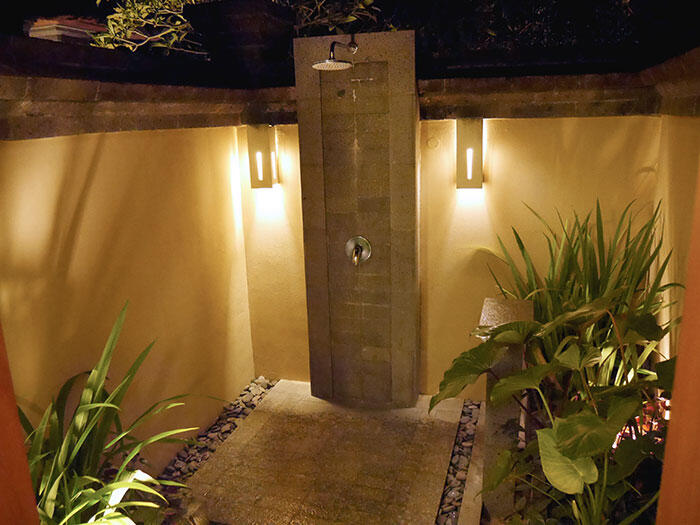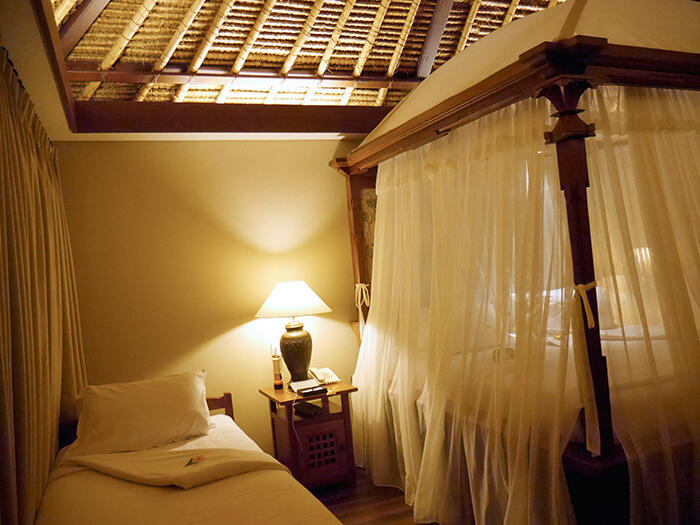 Where i slept, on a little bed next to my parents. Felt like a kid again!
The view next to my bed when i woke up the next morning.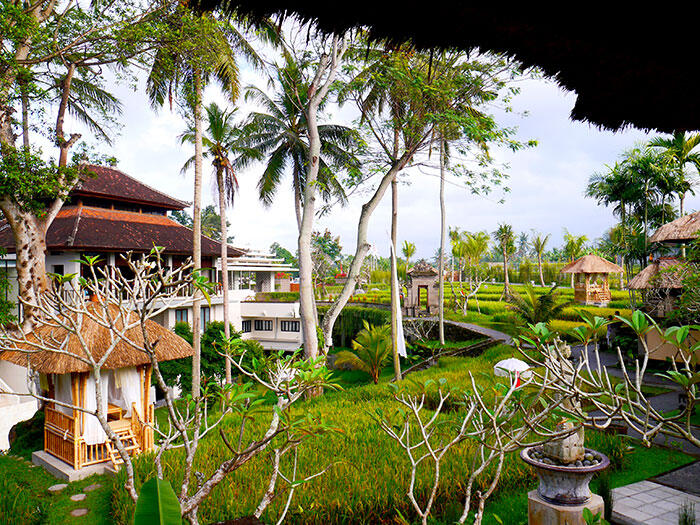 Imagine waking up to this every day… Unreal.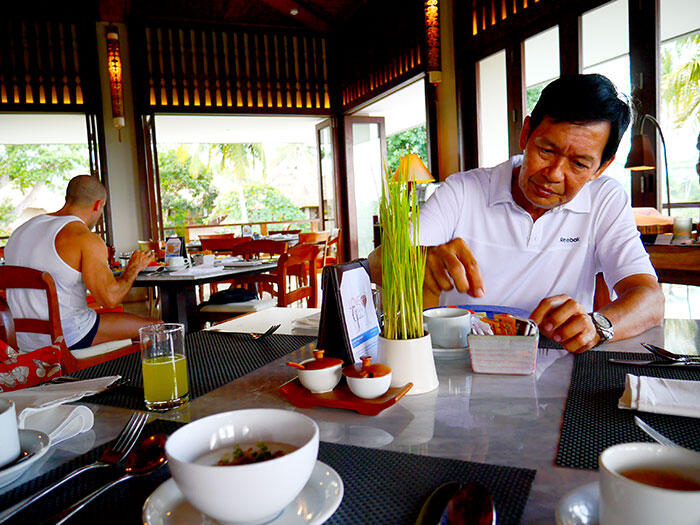 Daddy!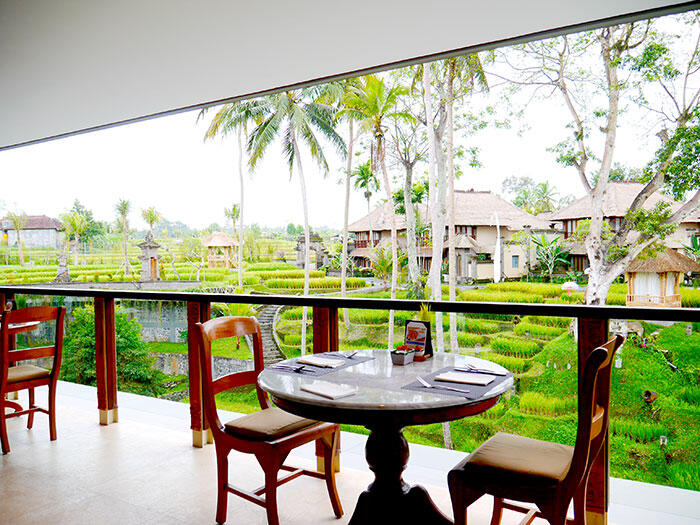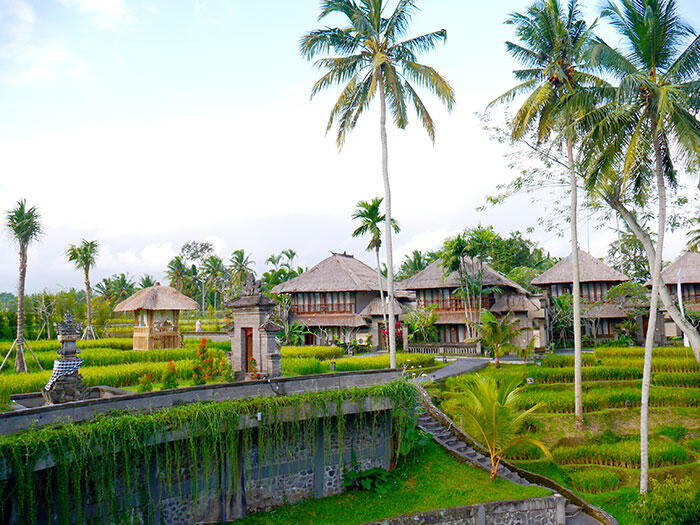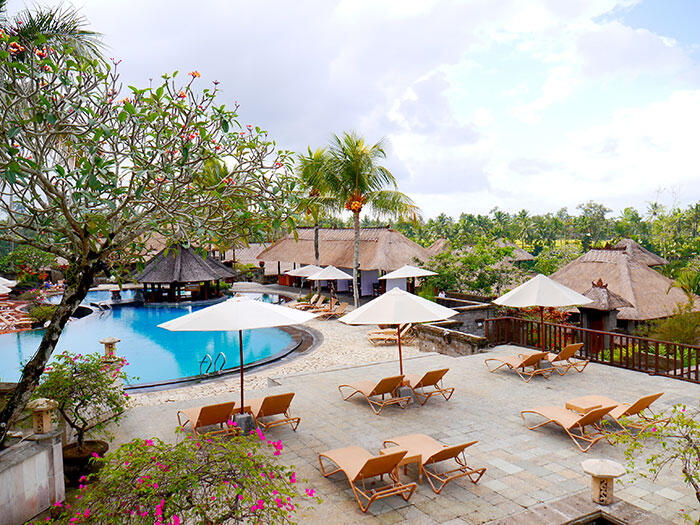 There are a few swimming pools spread throughout the resort grounds including a children's pool and an infinity one.
Cocktails and snacks at the Swim-up Bar in one of the pools.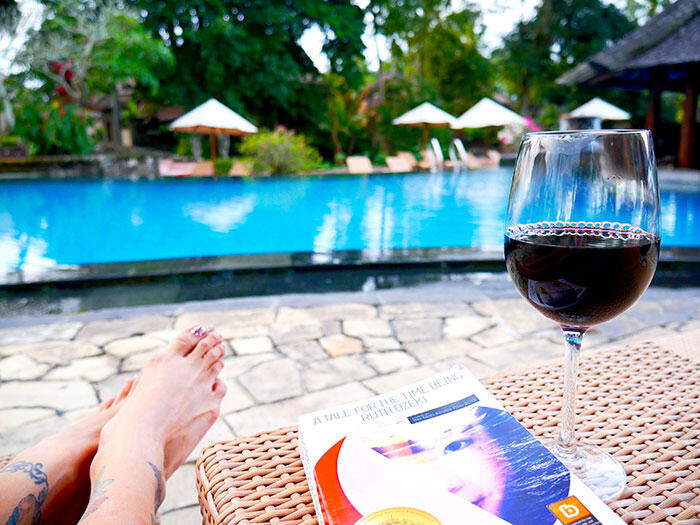 Felt a bit peckish after an afternoon of walking around Ubud town with my parents, so i settled down with a light snack and wine.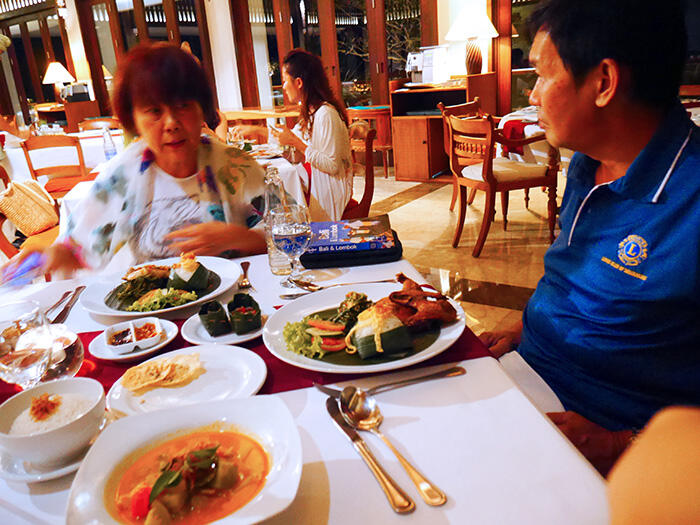 Petulu Restaurant presents an array of Indonesian Archipelago cuisine with an emphasis on traditional Balinese dishes which they presented beautifully!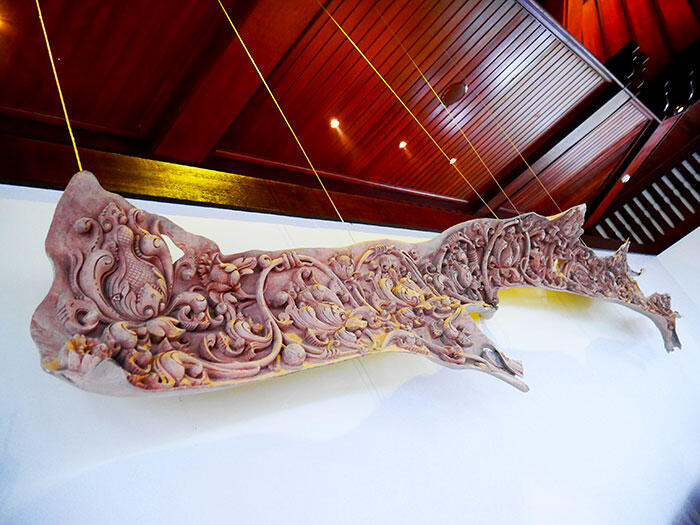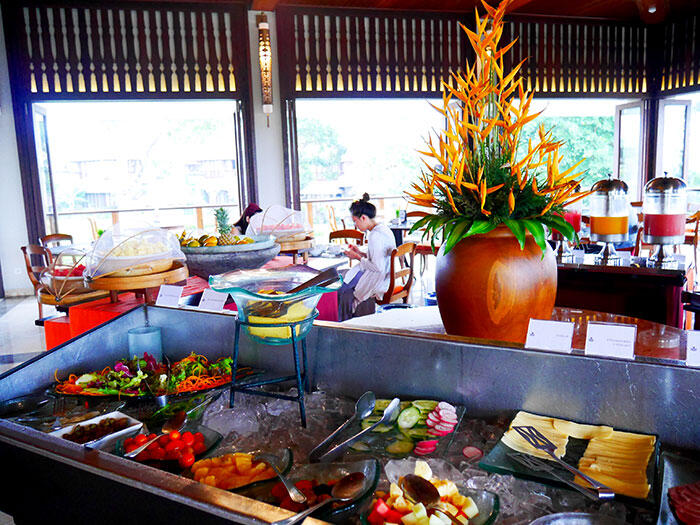 Breakfast in the morning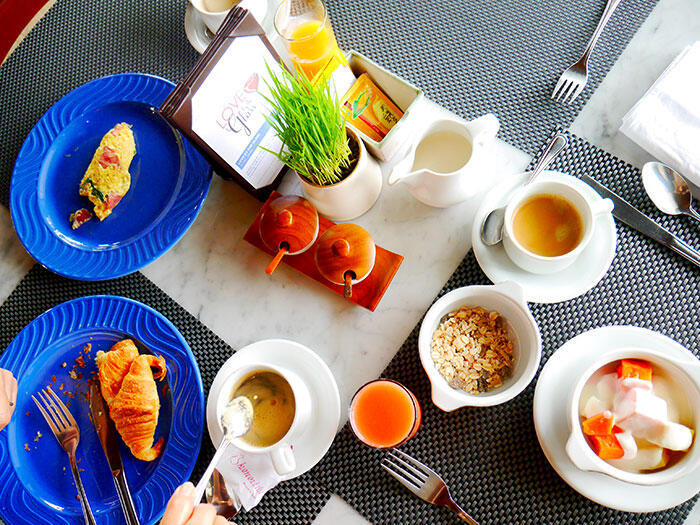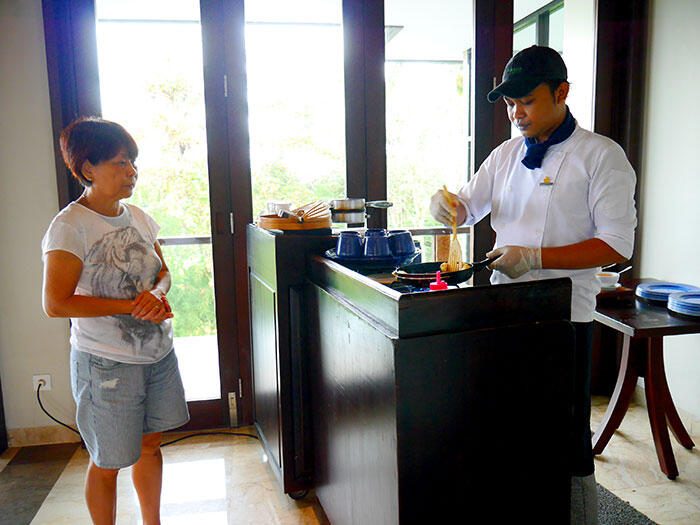 Mummy waiting for her omelette.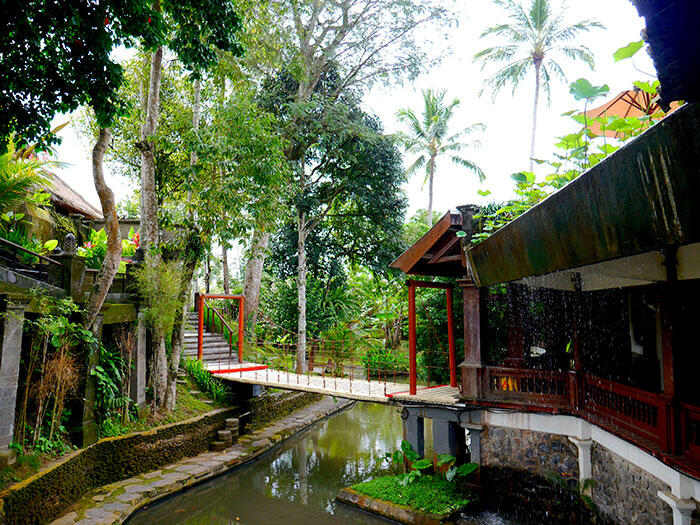 The bridge we'd cross daily to get to our Garden Villa.
A walk to Chaya Spa during our last day there.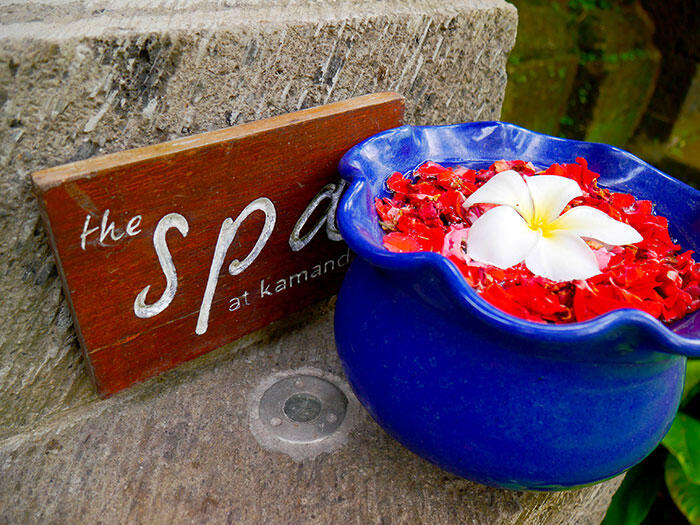 Chaya Spa only uses their own recipes and creates concoctions made from the finest local ingredients, all ensured to have the highest quality of pure essential oils. They even invite guests to observe their spa recipes in the making as the therapists freshly prepare it using traditional methods.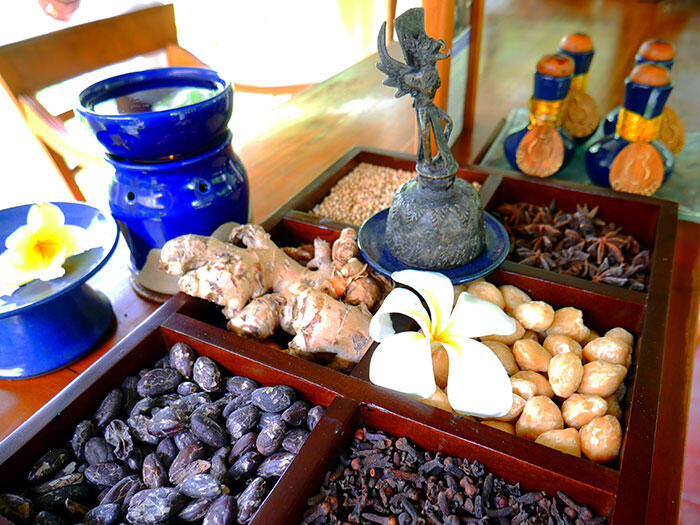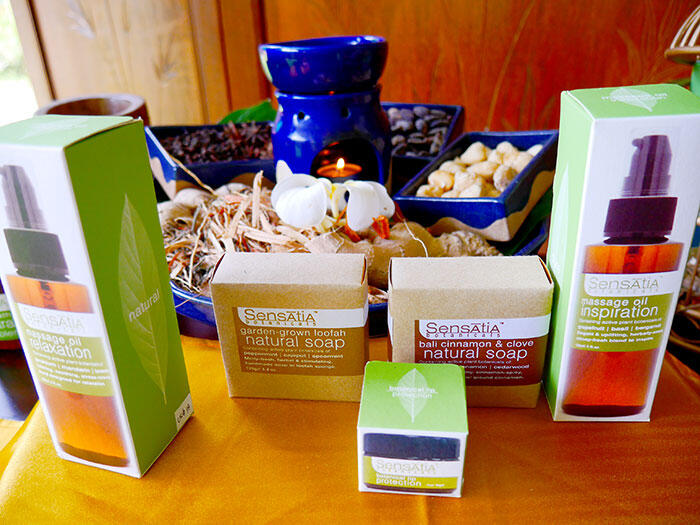 My massage session was slightly later than my parents', so Arif took me for a walk to see the teak pavilion (which i hadn't yet discovered at this point).
It was so beautiful… i couldn't believe how i didn't wake up early enough for the yoga session! *kicks self*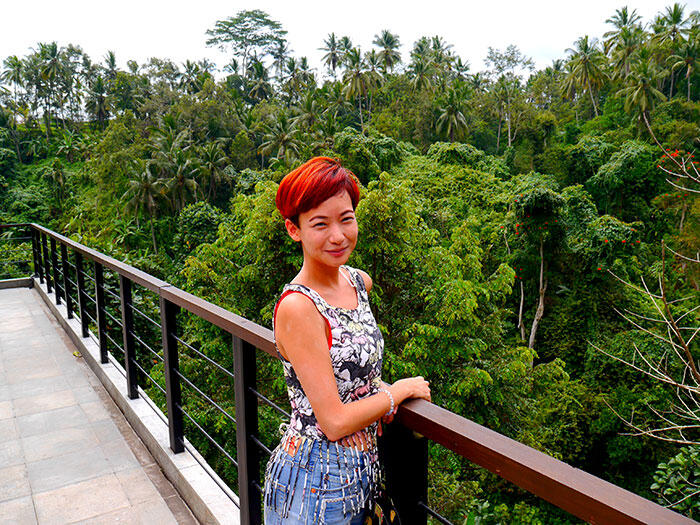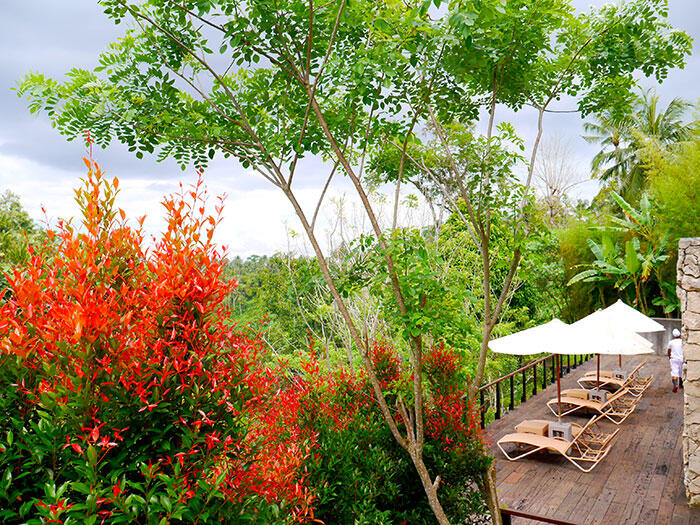 After that i headed back to Chaya Spa for my massage, which was absolutely satisfactory. The therapist knew one's pressure points very well and practiced a relaxing technique which i liked a lot.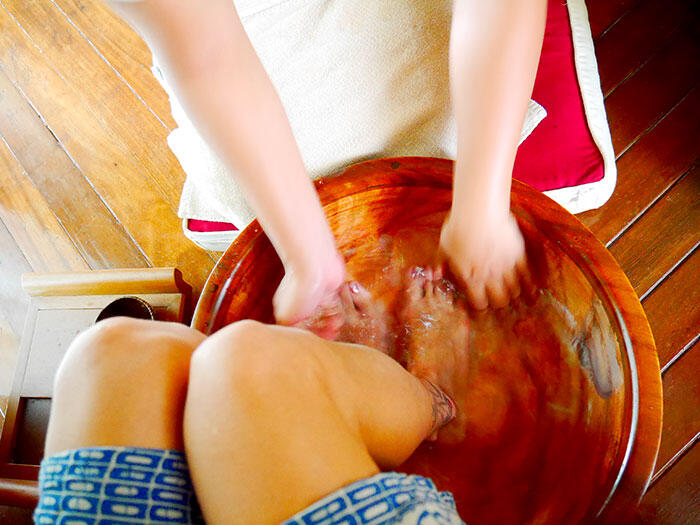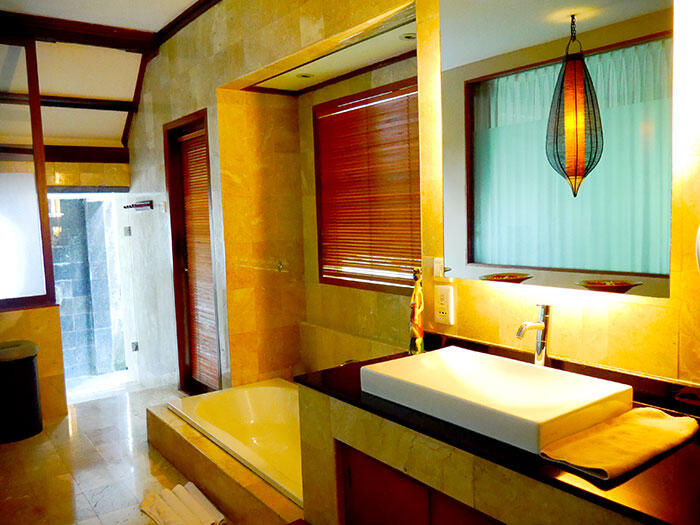 Chaya Spa provides all types of massages here – from treatments designed to draw out impurities and toxins from the body (using Bali sea salt, seaweed and clay), royal Javanese ritual massage for Princesses in prep for their wedding day, Scandinavian massage, four-handed massage, and many couples packages with some even going up to one-day programs (6 hours of massage, body scrub, bath, facial, lunch, pedi and mani, reflexology. Super santai after that man).
We had to leave the resort after that to head up North to Lovina. Boo hoo! Wish we could have stayed longer!
Not the most glamorous picture but anyways…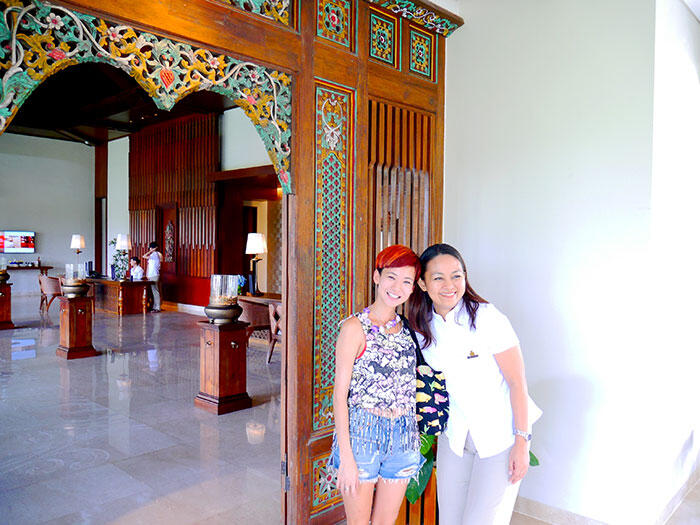 With Resident Manager Deasy! Terima kasih for such a memorable stay. I'll be back..!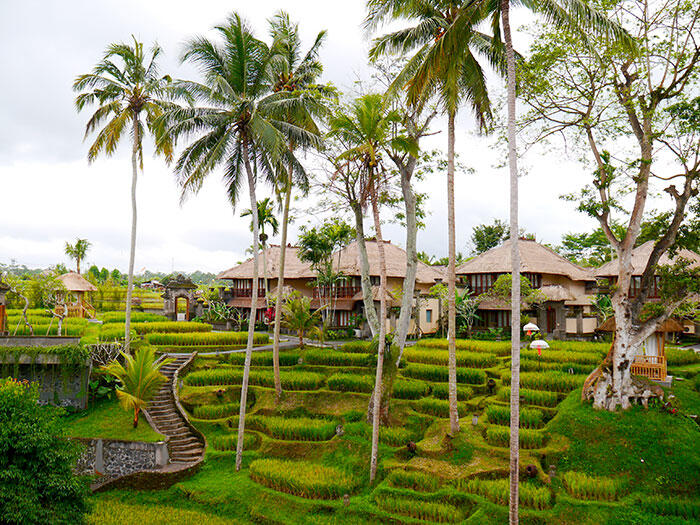 Kamandalu is an hour's drive from Ngurah Rai International airport, with airport pick-ups and limousine service available for arrangement. The resort also has meeting/event rooms, wedding packages, an exclusive Village Club lounge, full butler services, and free shuttle services to Ubud central.
For more info, check out their website: www.kamandaluresort.com
For amazing discounts, check out prices on www.agoda.com/ms-my/kamandalu-ubud-resort/hotel/bali-id.html