January just FLEW BY. I honestly thought Jan would be a slow month for me, but work and proposals to prepare have been overwhelming. I seem to have returned to working every day, keeping up social activities in between, and barely getting enough sleep.
If only i didn't have to sleep… then i could do MORE things.
Or if only i could stretch time then i'd have more hours in a day.
Some random pictures from stuff i was doing in Jan:
Went to Hajar & Aishah's Coachella-themed birthday party. It was totally my kinda theme!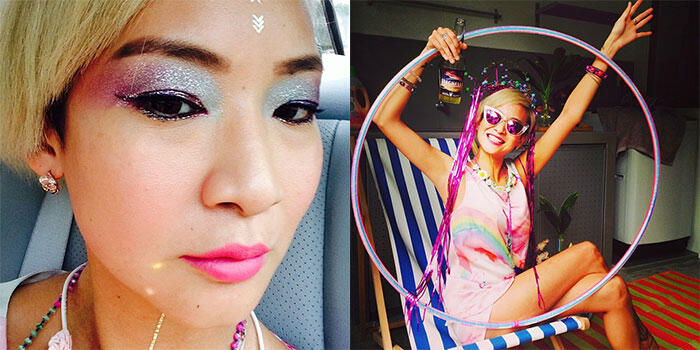 Channeling my inner little poniness and piling on the sparkle! Tried new waterproof pink and purple metallic eyeliners from Shu Uemura, and eyeshadows from MAC and Stila.
When i was dressing up for the party, i had the ingenious idea to DIY metallic fringe to hang from a pom pom headband i have from the KinkyBlueFairy store. (We're gonna be selling the metallic fringe very soon!) I was so proud of myself, i felt like they were super long sparkly pony hairs fluttering in the breeze.
I managed to play with my hoop for ages and ages at their party… at times i'd just run off and be by myself and play till i got thirsty or wanted to talk to someone. Made lots of new friends that day!
+ + + + + + + + +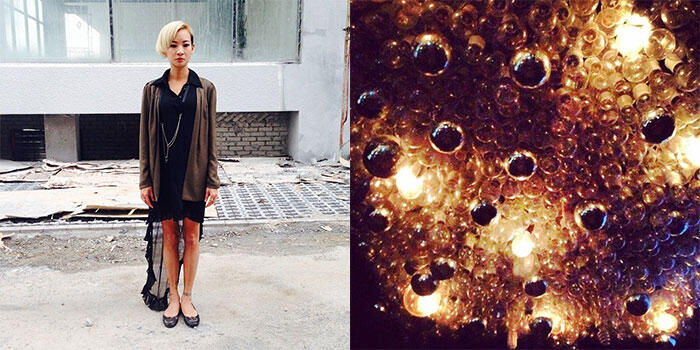 Since my hair is so striking these days, i wear black once a week (just cos i feel like it).
Here's i'm wearing a silk black dress from Gallo by Thian, and a thin jacket from FV Basics / Fashion Valet.
On right are lights at Hyde at 53M. Been so busy that i barely go there anymore…
+ + + + + + + + +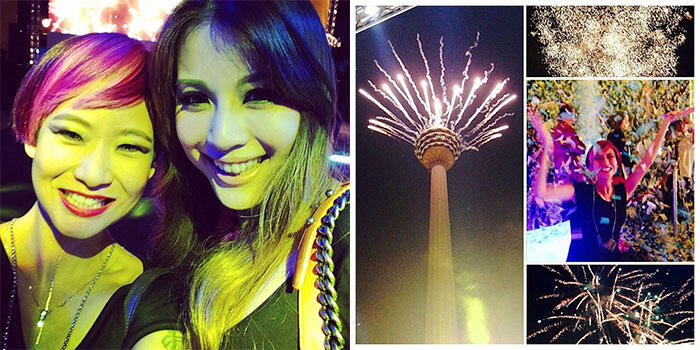 Hannah and i on the left. One weekday night, Digi got me to attend their launch at KL Tower and i went not knowing what to expect…
I ended up instagramming:
"Oh WOW that was the BEST TEN MINUTES of my day! First some dude BASE-jumped off the top of KL tower and landed right in front of me with lights strapped all over him, the side of KL Tower lit up with the words Lets Inspire, and then and then FIREWORKS went off (and I didn't take too many pix cos I just wanted to ENJOY it with my eyes) and was sooo happy just gazing up at it and absorbing it for ages… And then when I thought it was over, confetti RAINED DOWN ON me for AGES. Ages and ages till I took so many photos just laughing in it. Oh god can't take it."
There were MOUNDS of confetti lying everywhere on the ground. So much so that i almost threw myself in it to play some more and stared wistfully at it saying aloud, "I wish i could take it all home!" And you know what Mark did? He got someone to get me a massive plastic bag (so massive i could crawl into it) and they stuffed it with confetti for me to take home. I was so happy i hugged it all the way out with the registration girls commenting, "Wow, I've never seen anyone tapau confetti before."
That's me. WHY LET THE CONFETTI GO TO WASTE?!
The whole event was to launch Digi's new branding with their tagline – Let's Inspire. Well. I felt damn inspired that night… while making my way to the carpark in the shuttle van, i happened to meet a reader called Zahira, who introduced me to her friend Haziq, who happened to be the BASE jumper that night! I was so excited i took his number cos i used to be obsessed with BASE jumping when i was a teenager when it was a new thing that started then… and am thinking MAYBE THIS IS A SIGN i should finally try it cos WHY ELSE would the Universe align for us to meet!?
Excitement inspires me… people inspire me; and people who do exciting things – double whammy!
Right after the Digi event, i headed to Play @ The Roof for
Moet & Chandon
's Moët Rosé Unfurl the Tie party.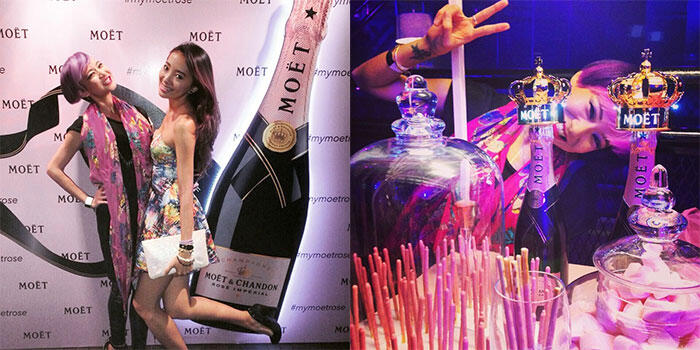 Chelsia & i on the left. On right are two pink things i heart – strawberry Pocky and pink Moet!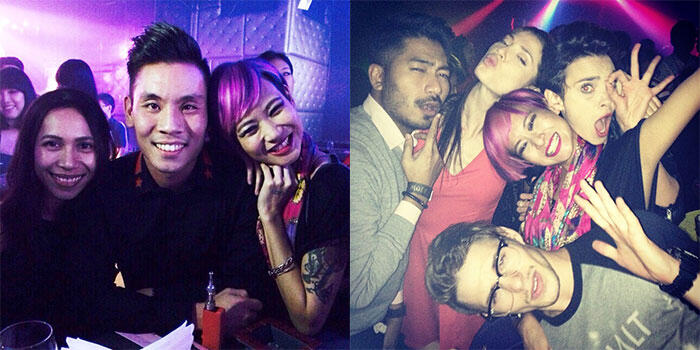 On left: Baby, Shannon and i.
On right: Alexia and Lais, new model friends based in Bangkok! Forgot the guys' names oops.
+ + + + + + + + +
Since my hair has been purple/pink, i can't stop being attracted to all these pink/purple things around me…
I took a pic with the Me Clinic logo cos we're the same colour! I've been going to ME Clinic for laser treatments for my pigmentation caused by hormonal imbalance and overexposure to the sun. They're having a Buy-1-get-1-free Promo for laser treatment (RM800 per session) till 16th Feb, just mention JOYCE.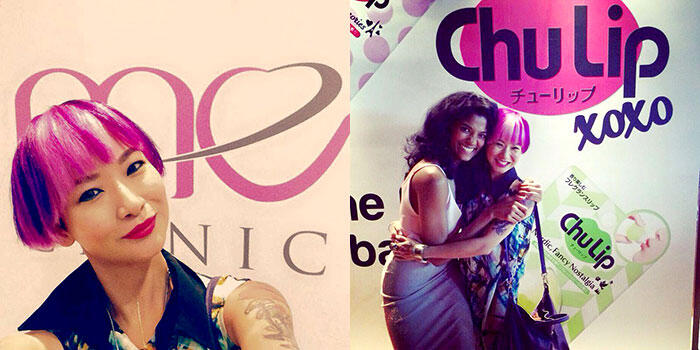 On right is me with Anu at the ChuLip launch – a Japanese lip balm that looks like a cute lil egg. I carry a purple one around wiht me now… in my purple bag, that also happens to hold a purple external charger, with a purple keychain, all to match… my purple hair  🙄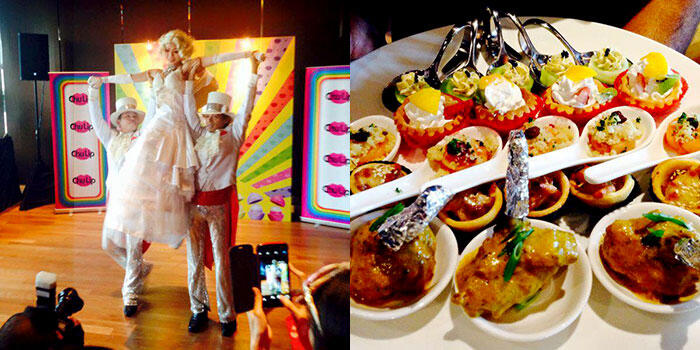 ChuLip launch was at The Oak Room @ Nexus, Bangsar South (which is huge now btw… i got so lost) and they had a proper carnival theme going on with games
+ + + + + + + + +
Sat through an hour of traffic in the rain to get to the Heineken Star Serve 2015 Finals.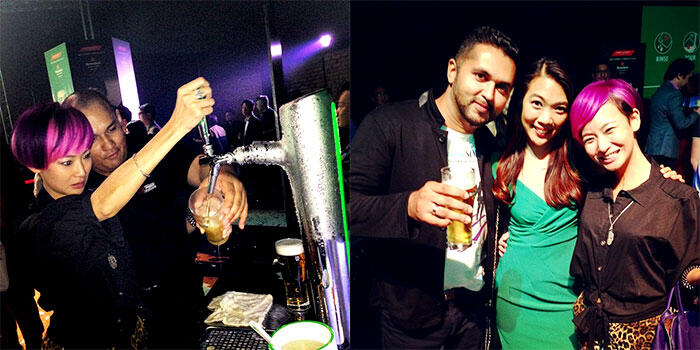 Tried my hand at pouring a draft and succeeded the second time.
Right: Deep, Jessie and i
Deep won a trip to Amsterdam that night!
I was so happy i started shouting and jumping up and down like as if *i* won it XD
+ + + + + + + + +
Went for the launch of Cleo x Tiamo's capsule collection, designed by none other than Claudia!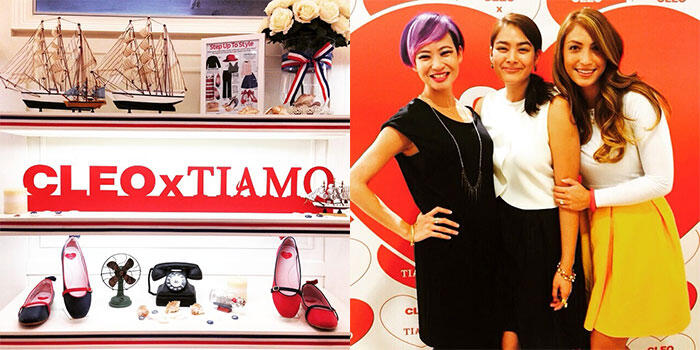 The capsule collection is sailor-themed and all their shoes come with soft insoles ensuring maximum comfort even while wearing heels. On right is me, Claudia and Patty!
+ + + + + + + + +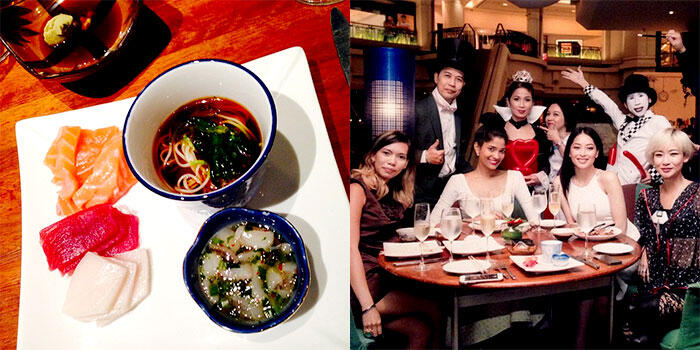 One Sunday (i was sick that morning but it was too late to cancel…) i put on my face and met Lexie for a champagne brunch at Shook! @ Starhill. Oh my, their buffet spread is divine – i listed down everything i ate *here*.
L-R: Lexie, Anuja, Sarah, and i
+ + + + + + + + +
One fine Saturday, Aunty Cecilia cooked two pots of curry laksa for the #formerfrees. It was amazing. I had two huge bowls and felt like a total pig after.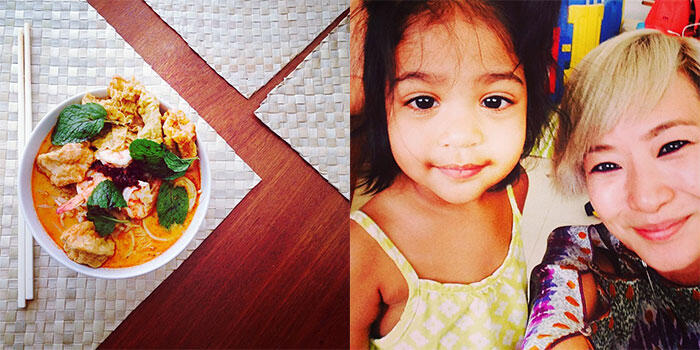 Jade is looking prettier and prettier as she grows bigger!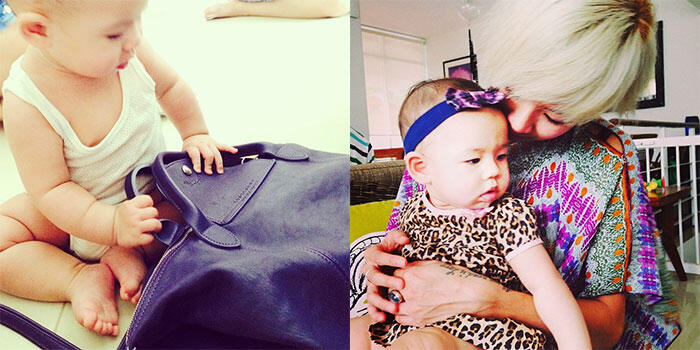 Baby Chongy going for my Longchamp. Good choice little one, good choice…
Omg it's 3am already. Time for bed. More blogging tomorrow!!!!