I recently got my hair did at Centro W Salon @ Gardens.
Knowing i was going to be there for a good half day, i brought my laptop along to work (even tho i would very much rather be watching the personal TV they provide, or catching up with the fash mags). I was provided green tea, orange juice, coffee and plentiful of food. I even had to stop them from feeding me at cos i had enough to eat and felt bad for such luxurious treatment. Maybe i should just get used to it...
Celine Yap is my new Artistic Director and she's got my hairstyles planned for the next few months.... i'm LOVING what she's created for me the first time round and can't wait to see the awesomeness that is to come.
I didn't even know what colour it was going to be till i looked up from my laptop and saw BRIGHT purple.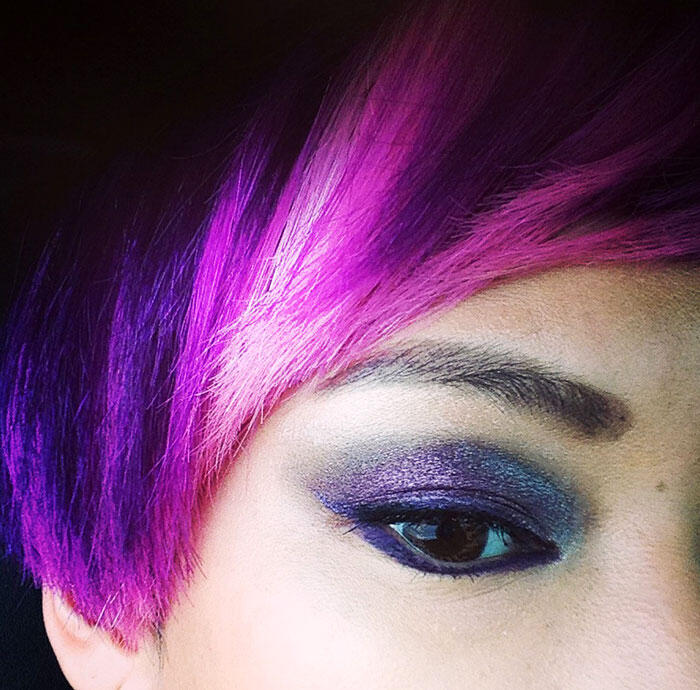 [No photoshop done, except raising contrast slightly. Eyeshadows from Urban Decay Vice palette; and waterproof metallic eyeliner & eyebrow pencil from Shu Uemura. The trick to great eyeshadow application is in the brushes. For me anyway.]
Three varying shades of pink and purple to be precise 😀
I lahv it!!!! <3
I am getting closer to achieving my goal in being a my little pony. Forever.
Celine managed to dye it in such a way that i can show more pink or more purple depending on where i part my hair.
Amazing. I've never got so many compliments on my hair in a constant stream before. Everyone's saying how much it suits me and the line i've heard the most is: "I love your hair!"
To which i'd respond, "Me too!!"  😆
I daresay... this might well be one of the best hair colour works i've had done on me, to the point i don't want to change it anytime soon!
It's misleading how much time people think i spend on my hair daily - cos i only JUST started owning a comb (since my hair is at its longest in 8 years right now) and i like my hair being low maintenance in the sense that i literally take 5 seconds to run serum through it before i'm out the door. (i still don't use the comb all the time... only after washing my hair :p)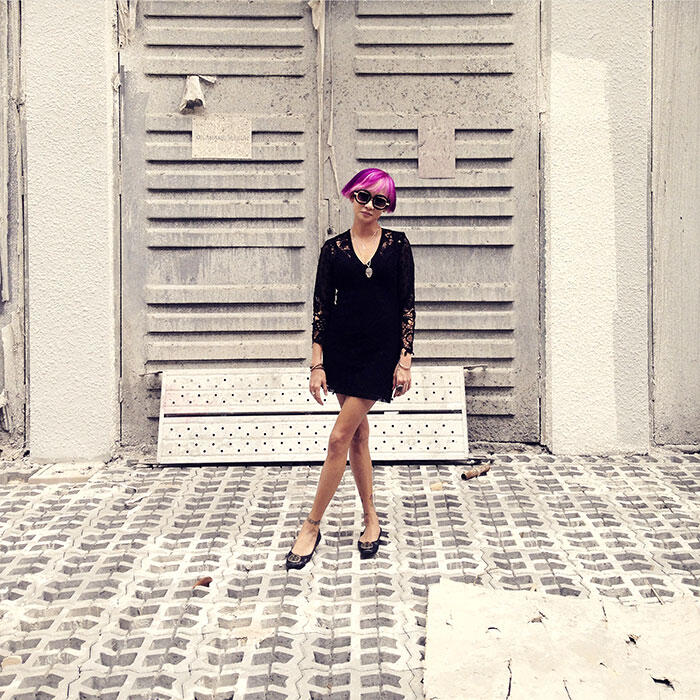 This is how my hair looks like in its natural state.
Kinda Twiggy-turns-rockpop.
Centro's new salon is one that i've been itching to try since it reopened in the past year. Every time i describe it to friends, the word "lush" comes out of my mouth. I just can't help it. That place is just lush to the max.
There's a huge metal 'W' at its entrance so you can't possibly miss it, and it leads you onto a unique golden carpet into a luxurious corridor filled with glimmering metal partitions and dim lights.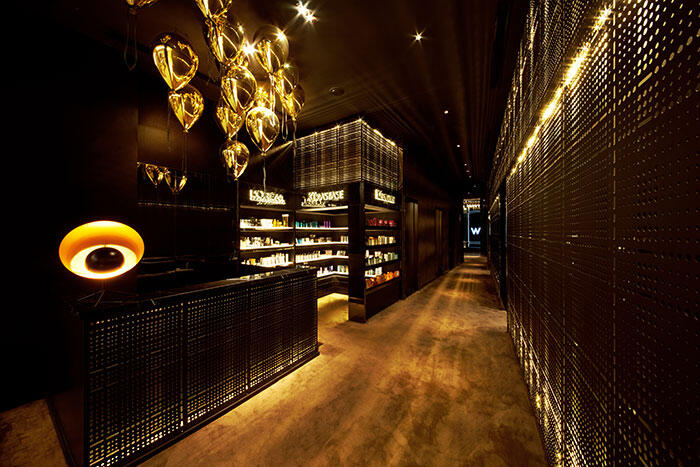 The first time i walked in there last year, i felt like the only thing missing was a glass of champagne in my hand. It felt like a private lounge i wanted to hang around some more at!
One of my favourite design features at Centro W are the gold metal helium balloon structures above the front desk. I asked Jessica where she got them from, and she said they're custom-made... Figures. -_-
Judging from how it looks and the service i get there... this may well be the best hair salon in KL right now.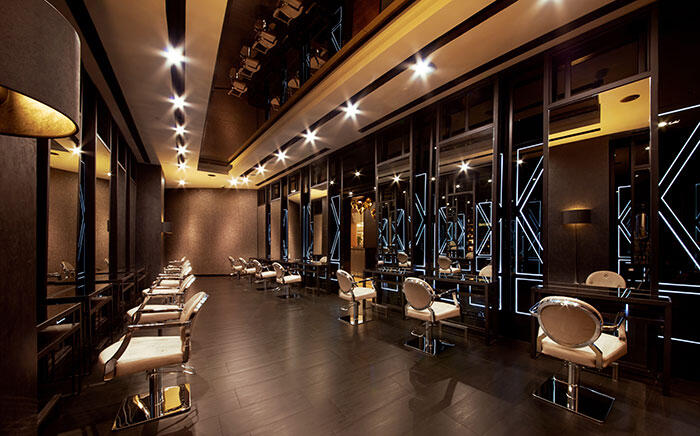 The salon is spread across a sprawling 2,600 sqf which covers a 14-seater salon with mirrored ceilings, a separate salon for Creative Director Kevin Woo, two VIP rooms, quick cut area, powder room, manicure+pedicure room and cloakroom.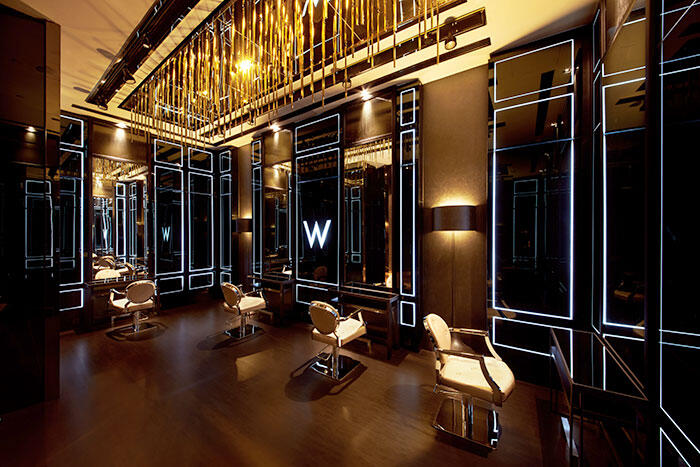 Above is picture of the dedicated area for customers of Creative Director Kevin Woo. Notice the golden rods suspended from the ceiling, and don't forget to bask extra in the glow of the Flos floor lamps when you're there.
I think this must be the idyllic room for hair stylists to achieve calling their own. It's what happens to you when you're the winner of the L'Oreal Colour Trophy Award (2006) and have other accolades like Best Hair Makeover 2013 (Malaysian Women's Weekly) and Best Hair Stylist (Judge's Pick, Harper's Bazaar Hair Award 2014) under your belt.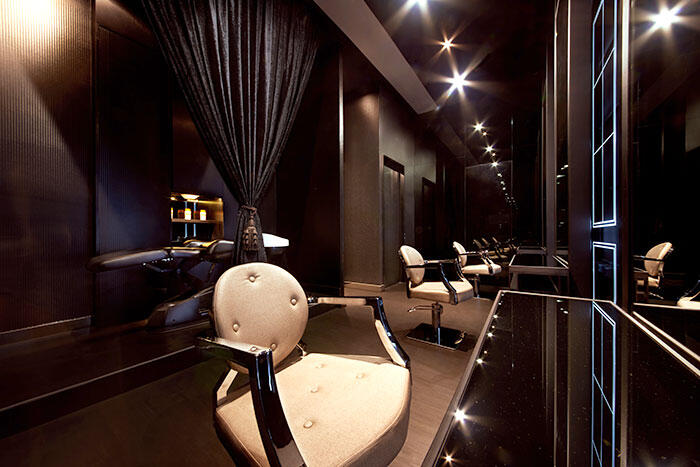 One of the two VIP rooms; with light-infused French door moldings, black tinted mirrors, and Takara Belmont's signature Yume chair equipped with swivel massages and a full 180 degree recline.
NOW will you say LUSH with me?
+ + + + + + +
www.centrohairsalon.com
facebook.com/centrohairsalon.my
instagram.com/centrohairsalon
CENTRO W SALON
F235B 1st Floor The Gardens Mall
Mid Valley City Lingkaran Syed Putra
58200 Kuala Lumpur
(T) +6 03 2287 7330
CENTRO HAIR SALON
Lot 401M Fourth Floor Suria KLCC
Kuala Lumpur City Center
50088 Kuala Lumpur
(T) +6 03 2161 6330