Ever since Baby joined as manager early this month, we've joked that we're the parents (cos we're around the same age) and the rest (at ages 20-25) are our 'kids'.
It started when i asked her to join me alone for lunch one day, and just before she whatsapped, "The kids want to join."
I said okay la, come.
The reason i hired her is cos i can't always be in the office to supervise their process and performance, and i needed some extra help. She tells me daily how it's going in the office, who's been bad, who's been good, who's been great, and who's been silly. And then we talk about their current states and how we can help them become better.
Some people have said that i shouldn't get so emotionally involved with the people i hire and work with. I tried it for one week and it didn't work out for me. I just CAN'T. I have to be financially AND emotionally invested in them. I think i'm adult enough to know when the line has been crossed.
We're all very close and i feel we share a lot with each other. I know a lot about their personal lives. And they mine. I think it's important to understand each other better… cos when we know what's going on; there is less miscommunication about why someone is acting a certain way a particular day, or how to evolve a problem into a solution.
I like how because we're so open with each other, we can say the stupidest things.
Example: Sweet Ee's sticker obsession.
Sweet Ee has been obsessed with stickers for weeks. A month ago or something, she announced how she'd spent RM250 on stickers and stationary, and i was like, "Are you serious?" And then today at a lunch meeting, she slides out a small stack of stickers to proudly show me her recent purchases – MORE stickers, amounting up to RM80.
I tell you, her spending habits send me on a reel. I don't feel like i need to have a child now cos Sweet Ee is my teenage daughter. I even told my own parents all the stories and declared, "Wow. Now i know how it feels like to be you." Stress okay.
But anyway, embrace everyone as they are right, so i layaned her stickers and slowly sifted through the stack studying every design. There were some really nice ones! Like illustrated animals, French cartoons, and alcohol bottles.
Me: Oh! These are so cute! *holds up one tiny sheet*
Sweet: Yeahhhh
Me: How much were they?
Sweet: I think RM20…
Me: What! (*thinking: I'm not gonna pay RM20 for that…*) Oh Sweet Ee… i don't know what to do with you… *hands her stickers back*
I put another bite of sashimi and rice into my mouth, my thoughts drowning in all the things i wanted to nag her about.
Me: I'm just gonna… stop.
Baby: Yeah, just stop. *gives me a forget it look*
Sweet: Awww…. *puts her head down and stickers back into her journal*
I run through my head on any positive things about her spending so much money on stickers. A few hundred RM is a bit much on stickers, but you could buy worse things than that, like, like… drugs!
Me: … better than drugs! Oh my god Sweet Ee! BUY ALL THE STICKERS YOU WANT!!!
Baby: *through her laughter* Buy all the stickers you want!!!
Just don't tell us how much it cost ok.
Yeah so that's today sticker drama… what else. Oh i was a bit naughty, and hid a rubber lizard in her closed organiser when she went to get coffee, and when she came back and opened it, she screamed SO LOUDLY she gave US a shock.
I still couldn't help laughing into her shoulder tho, and said, "Sorry!!!"
Manatau she's so scared of lizards…
Hours later, Baby and i were talking –
Me: Man, i can't believe we didn't record her.
Baby: Yeah… so stupid.
Me: We have to have a proper strategy next time… *plots*
Okay besides the stupid things we do, i learn a lot from them by being so close to them. I see them more than my family and friends combined! Last year, i must have seen Sweet Ee's face more than ANY one else all year.
They've taught me how to be patient, and less stressed. They've had a lot to do with the less stress part by helping me a lot with all the things going on. The blog, PR, events, online store, photoshoots, orders from suppliers, operations, everything. They've even been very nice to sometimes run my errands when my schedule is packed ever so tightly.
Ohai #kinkybluefairyteam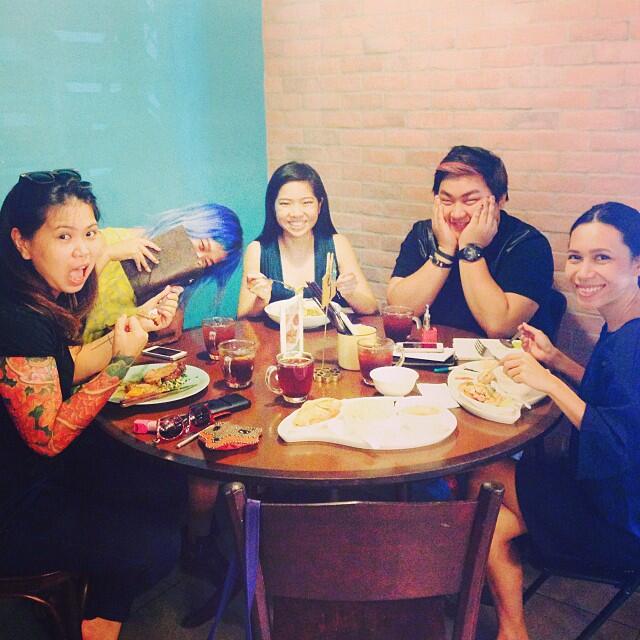 Jane (freelances for us), Sweet Ee (our prodigal daughter), Weng Yee (our little star), Adrian (our new star), and Baby (little dragon). This was taken at a lunch meeting with Jane last week to discuss a photoshoot.
Below was taken on another night, when they all went out for dinner (without me boohoo! cos i had an event to attend).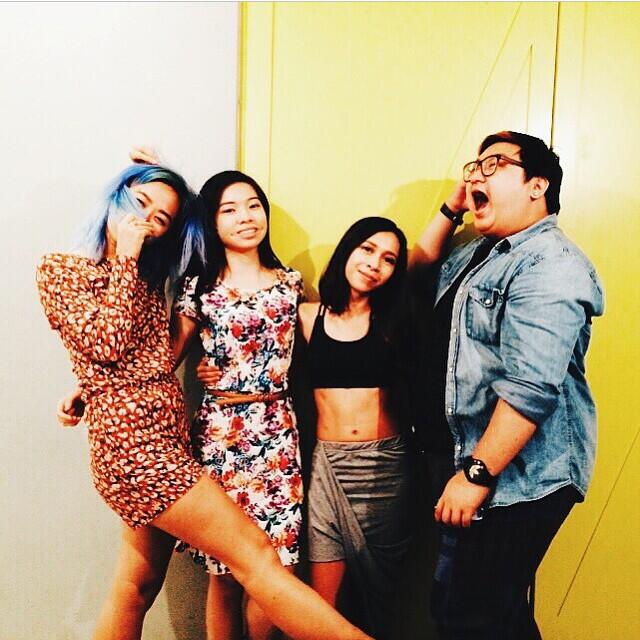 Don't i have the cutest team?! Don't i don't?!
When i saw it on Instagram tho, i was like, "Baby, where are your clothes??"
Baby: That's how i dress when i go out la.
Me: Oh… *thinking it is officially after working hours… and she looks hot!* Well, if i had abs like that i would too.
Baby is being my cheerleader getting me back into my regular workouts. I haven't exercised for MONTHS. 3 months to be exact. I'm going for a hoop class tomorrow, and then getting back into Powerplate next week. I even got Sonia to email me that Kayla Itsines work out.
Since she's joined, our little name card family is looking cuter!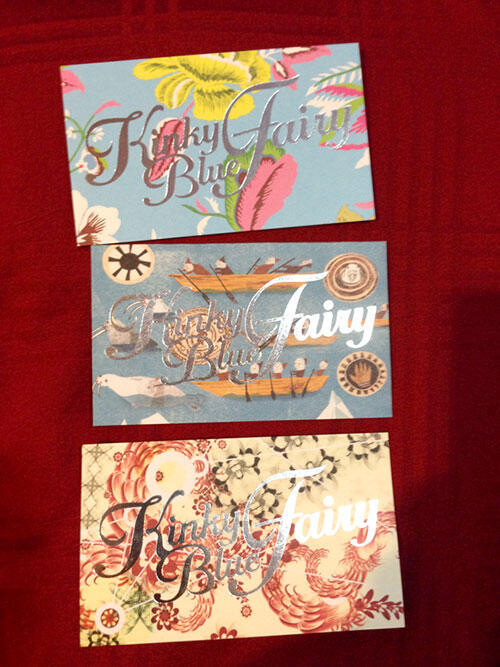 Everyone gets to pick a wallpaper for their own name card that they really like cos i think it'd best depict their character. From top to bottom is mine, Sweet Ee's, then Baby's.
And thennnn as our job titles…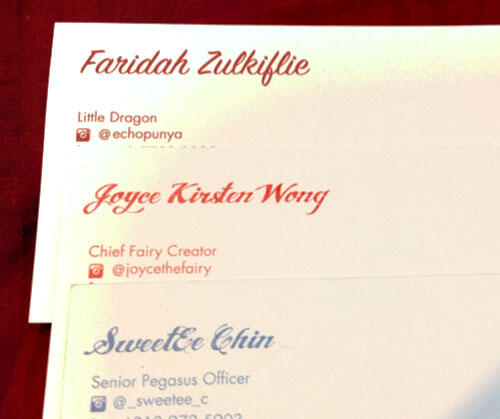 I know i know, some people are like, "What kind of designation is that?"
At the end of the day, these are all just LABELS. How can a person be defined by what they do in one or two words? Every one does all sorts of things according to their fortes… so we might as well just make them up… and… who's gonna stop us? Hahahaha!!
Sweet Ee does the accounts, store orders, invoicing, organises the photoshoots, and general operations of the store.
If i need writing or editing done, i turn to Baby and Joe. Joe also does graphic design for us, but we recently added another freelancer to our list – Kuman! He's working on a new big project that's exciting…
Weng Yee and Adrian (our stars!) help out with everything – photo-editing, prepping excel and ppt docs, get the smaller projects going.
Baby mothers everyone and laughs at their jokes. She also prepares decks, manages all our communications in English and Malay (Sweet Ee handles the Chinese communications cos she's so excellent at it), everyone's timelines, and makes sure no one fucks up (or if they do, not to do it again). And if they do… the little dragon is released (and it's damn scary).
Haha so that's my little team. Okay i'm gonna stop now cos it's late and i just got back from work, and then i BLOG about work? Like not enough issit Joyce…
By the way, we are looking for new interns to join us.
Our little star Weng Yee is leaving us soon for London, and every day Baby and i are like #boohoo #sad #idontwanthertogo #itsherlastdaysoon #ohno #gonnamissher #iwishshewasntgoing
See this is what happens when you get attached. When they leave the nest there's so much drama.
So yes, we're looking for new little stars.
We pay a token fee of RM400 a month and claims.
You will help out with… everything. Well, we'll find out what you like to do, what you're good at, and put you to work!
We are looking for people who are into any of the following:
social media, writing, photography, video, advertising, PR,
marketing, operations, accounts, graphic design, events, e-commerce.
I would like beings who are responsible, creative, eager to learn, and NICE.
If you wanna sit with us, email me at joyce@kinkybluefairy.com.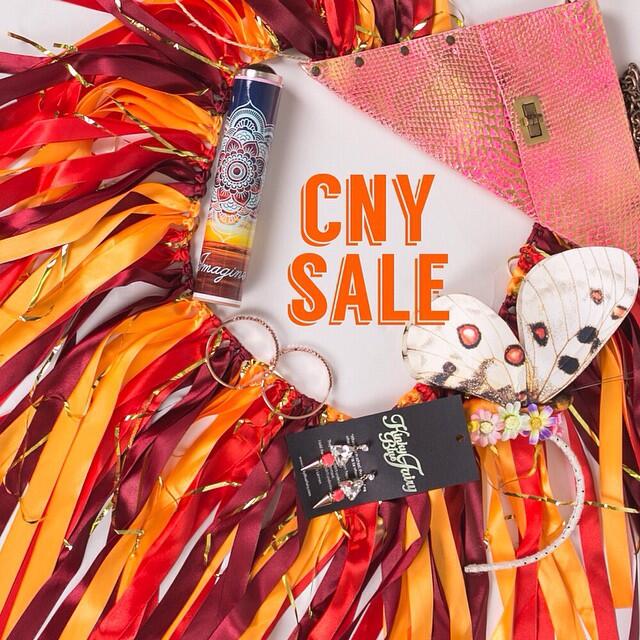 On a separate note, our store is having a CNY Sale!
(if i don't post this Sweet Ee is gonna give me sad eyes tomorrow)
Look, i posted it, and even made the font bigger and bolded it in red okay? XD
To view items on sale, please visit www.kinkybluefairy.com/sale