Leading up to Christmas, the KBF team were just drowning in all sorts of work (which i was expecting cos December is always like that!).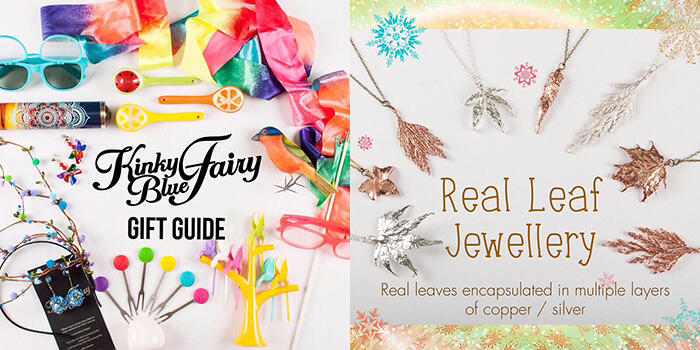 We've put up more things on our store www.kinkybluefairy.com
It's basically a selfish business cos i'm just buying all the things i want for myself :p
One random weekday before Xmas, i took a Singaporean friend Edward to Awanmulan so he could get a taste of Malaysian nature!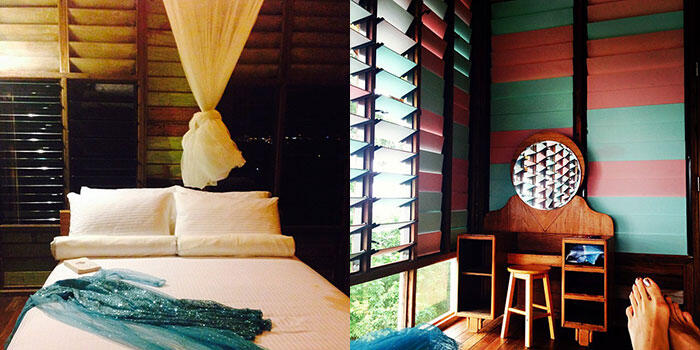 I stayed in Durian Runtuh, the newest addition to Awanmulan. Separate post coming later!
The Sunday right before Christmas, i had lunch with Tai Yong at Ippudo. We had a total pig out sesh. Tai Yong la… order so much. We had a big bowl of ramen each, meat buns, gyoza lasagna, and nutella gyoza.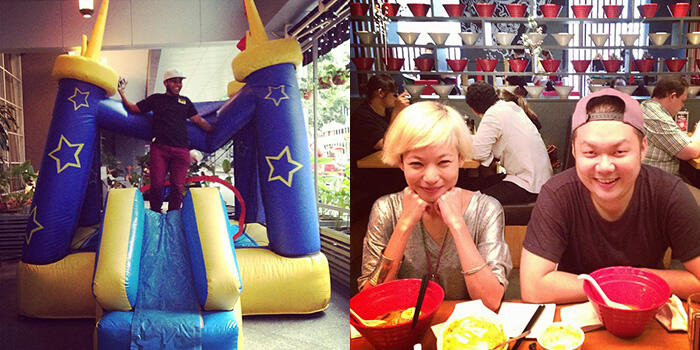 On the left is the bouncy castle at Lust i really wanted to jump on but was wearing a dress.
Right: Tai Yong and i looking like happy kids after a 4-course meal.
After lunch we walked around Pavilion getting this and that. Super last minute Christmas shopping. I ended up buying stuff for myself at Henckels -_-
Tai Yong gave me a Henckels knife years ago, and this Christmas he gave me a Henckels knife sharpener! <3
Rahul came to join me when TY had to go to work, and it was really scary when we went into Parkson.
In the span of 20 minutes; i wanted new towels and bedsheets, a cool fuchsia floor lamp, a water pitcher, a porcelain deer head, a fancy pen, a mirrored vintage jewellery case, and all the lime green and pink Christmas decorations.
That place is evil.
I practically ran to find Rahul in the store,
and said, "Ok i'm done looking. I'm ready when you are. I can't take it anymore!!"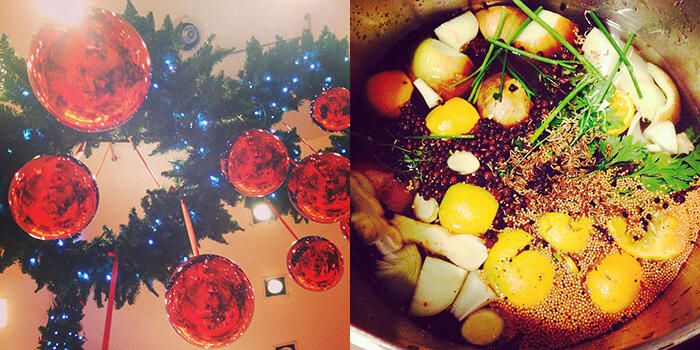 On Tuesday i set about brining the turkey for Christmas Day.
I LOVE brining turkey.
It's so much fun to chuck in dozens of herbs, spices, root and fruit into a gigantic pot.
The smell of orange and cloves and cinnamon and everything just smells so CHRISTMASY.
I couldn't help ducking my entire head into it just to sniff it all in.
If someone bottled that scent i would wear it.
Christmas Brine.
So i left the turkey in the fridge for 2 days.
Also made the all spice sauce on Tues by simmering the turkey innards for 2 hours and whatnot.
Wed i prepped the chestnut stuffing and marinated the lamb legs.
Also went to the supermarket a few times, and ordered heavier stuff like potatoes and olive oil from Tesco cos they deliver right to my door.
On Christmas Day i woke up at 8am to groggily dry the turkey so it could go into the oven at 9am; after which were the chestnut stuffing, lamb, potatoes, etc. I even made out a timetable on what went in and out on dual levels. Okkk i didn't plan to go so crazy and cook such a big meal… i didn't even plan to cook till about a week before Christmas! My family and some friends didn't seem to be doing ANYTHING, so i figured i might as well cook lunch for the family, then have friends (mostly single / no place to go on Christmas) over. As is typical of me, the invite list got a bit larger than planned then i went all out lest people didn't have enough to eat!
Family came over at 1pm, and we started with organic hibiscus in champagne (thanks Shaun for the hibiscus!). It was so pretty cos the hibiscus opens slightly when you pour the bubbly in, it flavours the champagne, then you can eat the flower after! (i spotted it selling in Opika if you're interested)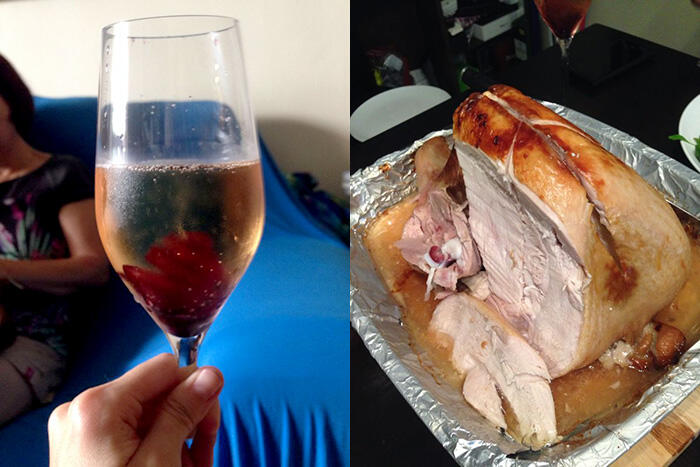 We forgot to take a picture of the turkey till Nick had cut both drumsticks off.
Mummy said to put it back and take a pic but i wasn't bothered!
It came out nice and moist on the breast, but i think i didn't dry the turkey properly so it didn't roast a golden brown like before. Now i know…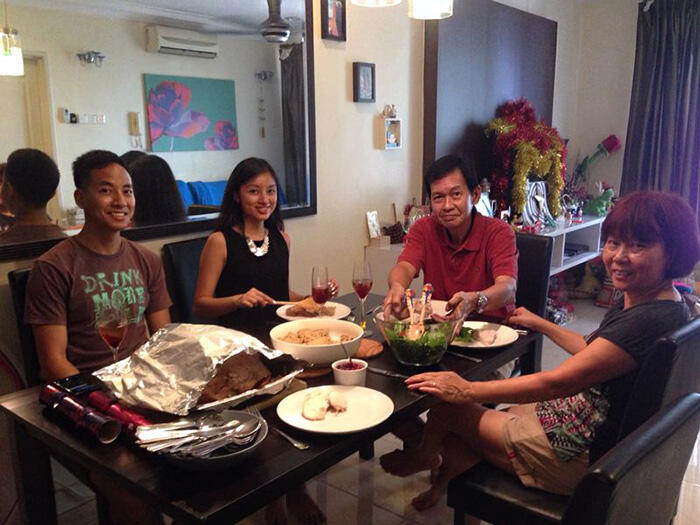 Nick, Sonia, Daddy and Mummy
We had a really nice lunch, and friends started arriving at 3+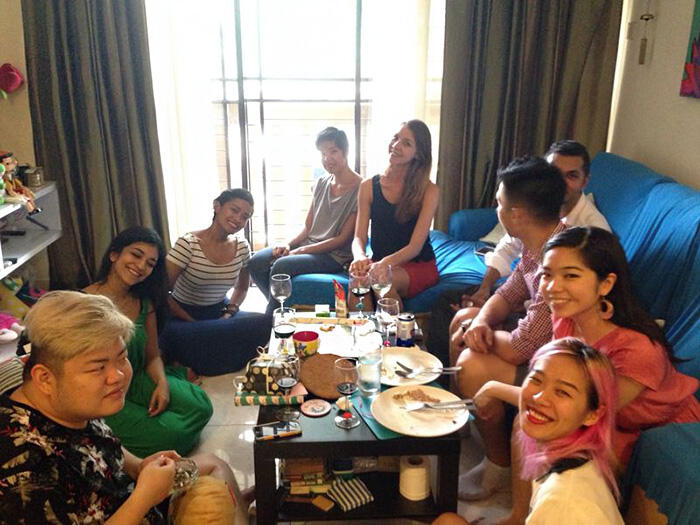 I went around taking pictures of everyone so "i can remember who came"
I'm glad i did, cos there were barely any more pictures after that!!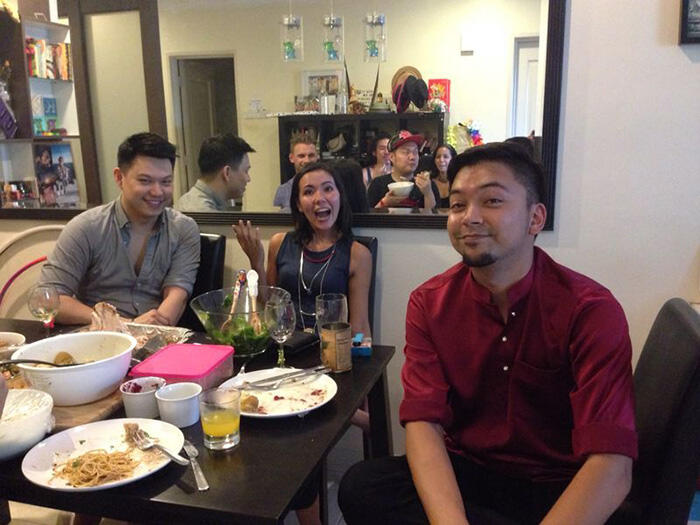 Justin, Rengee, and Iqbal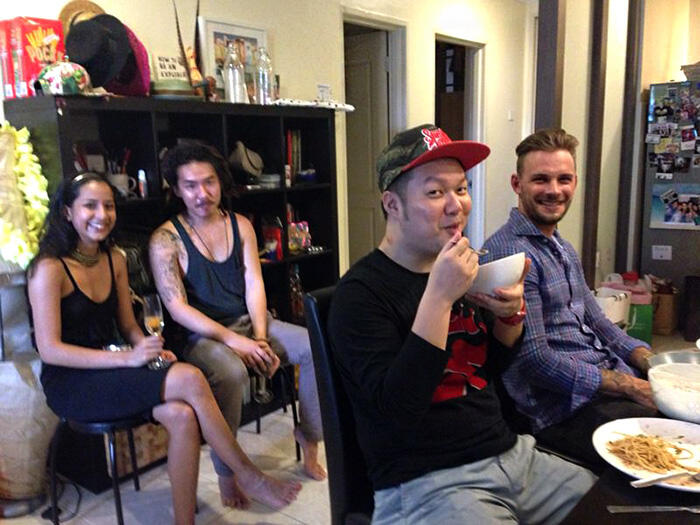 Triff, Justin, Tai Yong, and Ryan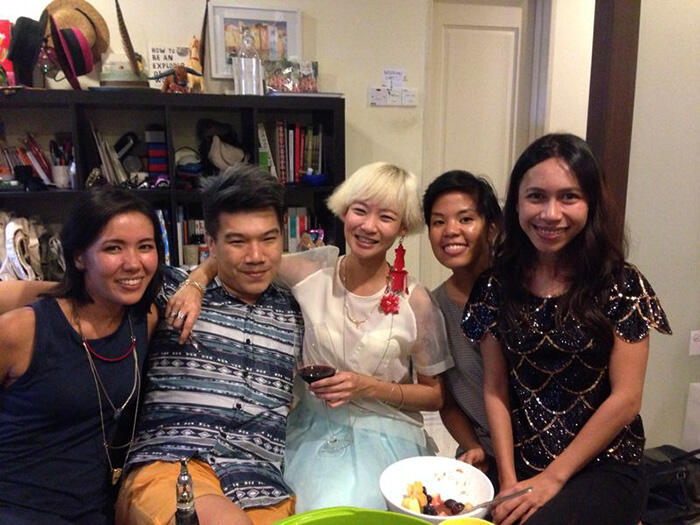 Rengee, Andrew, me, Didi, Baby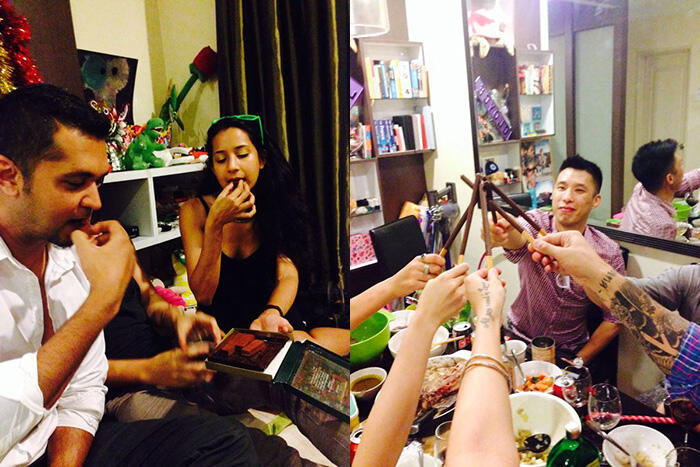 Took some chocs out. They walloped all the Royce chocs, and i broke open a box of giant Pocky. 
I remember leaving half of my giant Pocky stick on a high shelf cos i wanted to save it for later… and Sweet Ee ate it! Can't leave food around you man.
Oh yeah some peeps brought food to help out cos i was just gonna do all the meat (1 turkey and 2x lamb legs).
Didi brought pumpkin soup,
Jess brought a tray of apple pie (it never made it to the dining table),
Ion brought two pomegranates that looked like giant onions (that really confused me for a bit),
Sweet a fruit salad, Joe a potato salad,
Ap salad with her yummy dip,
and… i don't remember what else.
I saw a pasta somewhere…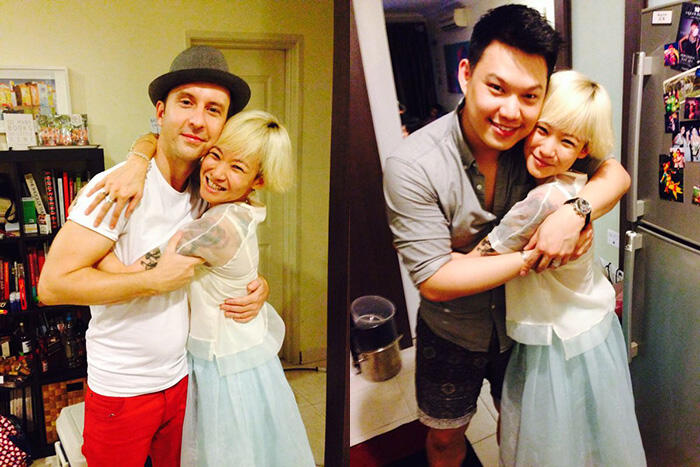 With Ion and Justin.
My fairy skirt is from Love Bonito!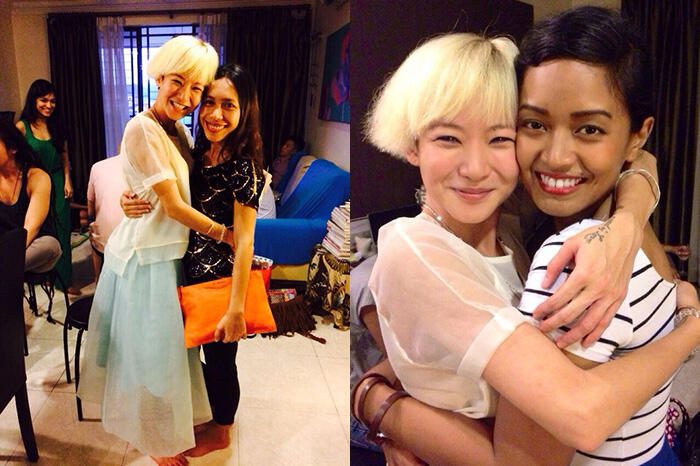 With Baby and Tania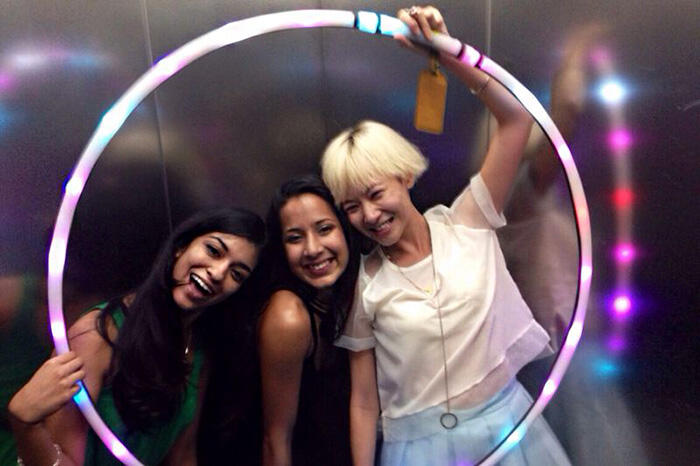 Walking Aps and Triff down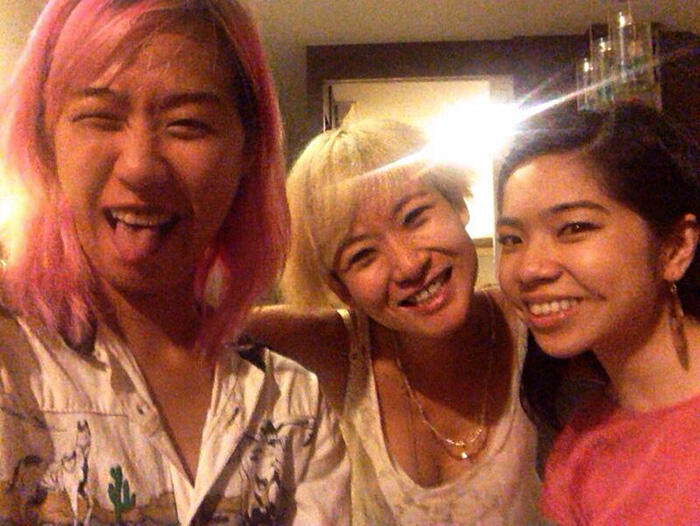 SweetEe, me and Weng Yee
I changed my top later at night cos someone spilt red wine on me (it wasn't me right)
Just realised there's no pic of Clem.
He came very late (and hungover) and i was so all-over-the-place i forgot to take pix by then :p
All of us ate and drank all day.
I can see the number of empty bottles from where i sit now and it looks rather alarming.
Finally kicked everyone out at 1:30am.
I was KNACKERED.
On Boxing Day i had chilli pan mee with Tania,
then hurried back to let the cleaner in.
Previously, i'd pick up certain trash on the floor or clear some plates… but this time, i just.. couldn't.. be bothered. There was just so much STUFF and this was the worse part about cleaning! And it's the entire point i get a cleaner after a party… so i crept back into my bedroom and had a nap while she cleaned the royal mess outside. She was awesome, i gave her an extra big tip.
After she left, i had Linda and her two friends Claudia and Marcus over. They're visiting from Singapore for the YAASUI party, and i wanted to hang out with her a bit. Fed them leftover lamb leg, beans, salad and white wine; before heading off to the party with them.
I was one of the most underdressed people that night XD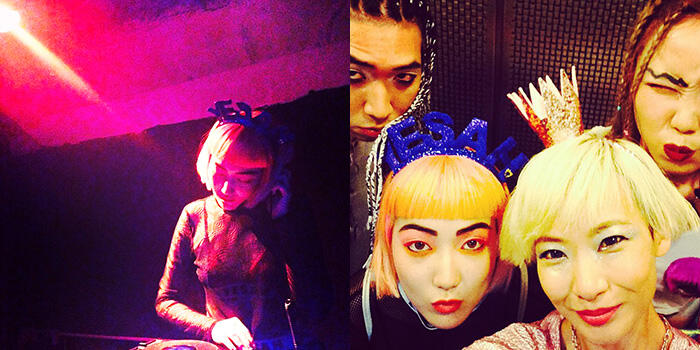 Linda played! Check out her store www.yesah.net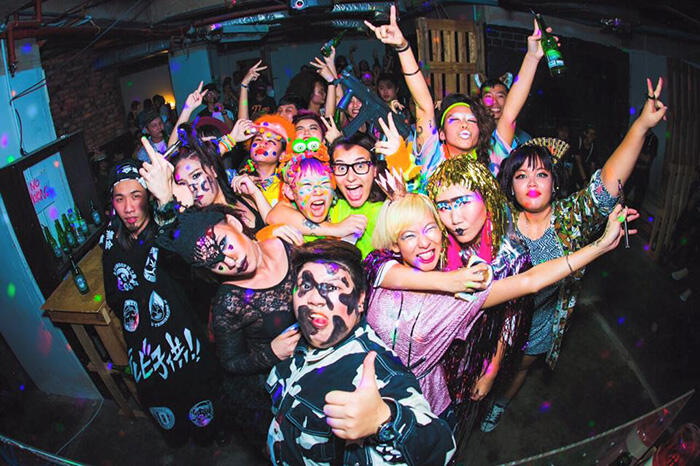 Pic directly above and below by Paulius of www.allisamazing.com
I didn't leave that late… cos i got so drunk after 3 beers! It must be from Christmas day before…
Decided i had to get home and uber-ed it back at 1:30/2am with Sher.
I fed us leftover lamb (again!) and she ciao-ed around 4.
Next day (Saturday) i went for Christmas dinner at Llew and Yaros'. They fed us cheeses, grapes, proscuitto with melon, saucisson, turkey, ham, trifle, and Provencal vegetables. It was splendid, thanks for such a terrific dinner!!!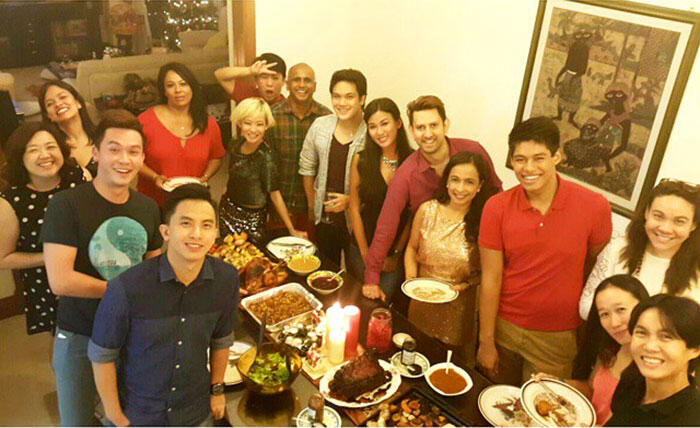 I was on my sofa by midnight (already mabuk two days in a row…) having a cookie i tapaued from the dinner 😀
Sunday i went to Aps' Curry-mas open house!
It was so great to have curry after so much lamb and turkey!
I had two giant helpings of food.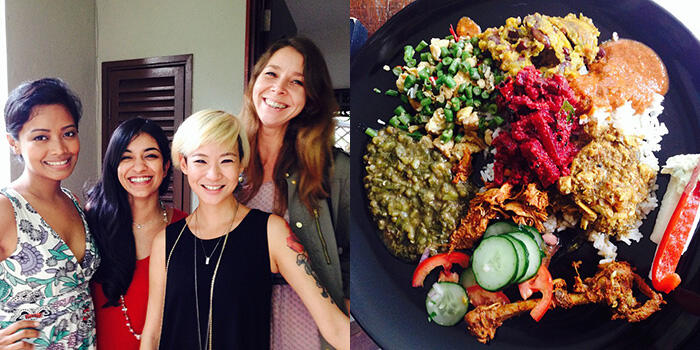 Tania, Aps, me, and Jess!
Sunday night my mum cooked dinner for Nick's 29th birthday!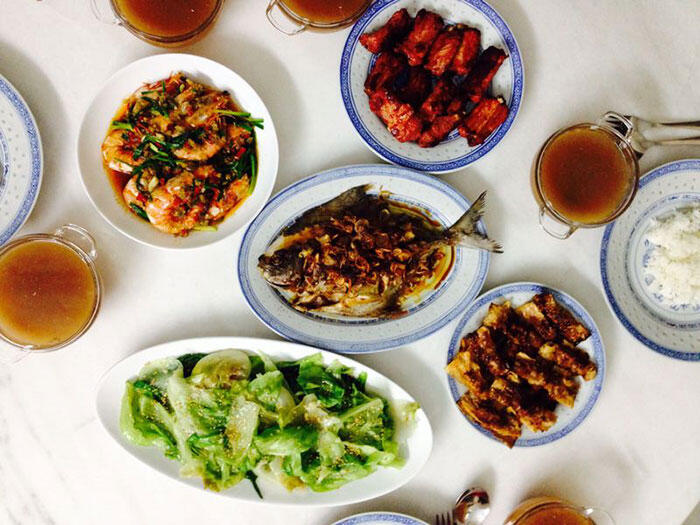 Again… ate so much.  -_-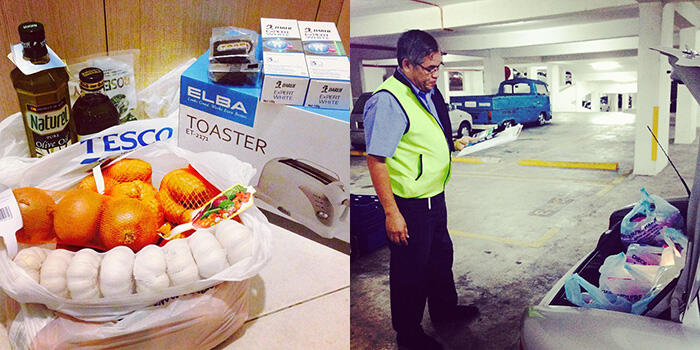 Left is my online shopping from Tesco few days before Christmas (i got them to come to mine thrice in a week :p),
and right was taken on Monday or Tuesday, when i got the Tesco delivery guys to cart flood victim supplies to my car for drop off. In the end the traffic was so freaking terrible today i passed them all to Weng Yee to drop off for me, thanksssss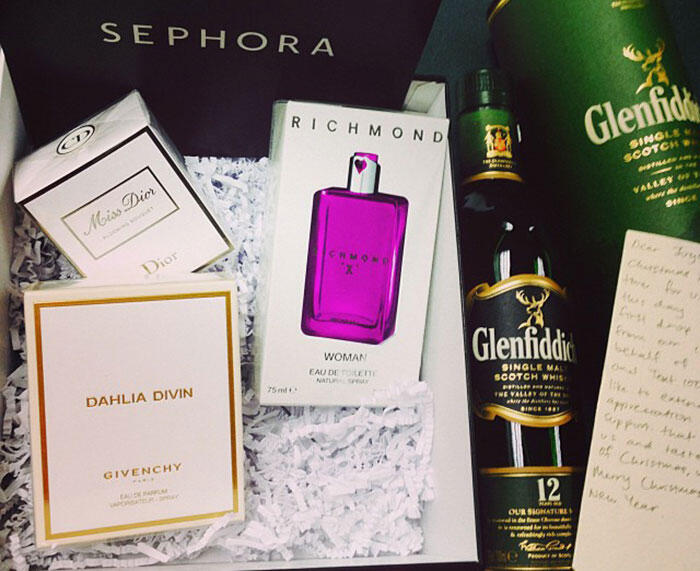 Presents that arrived in the office! Thanks Sephora, William Grant & Sons and Text 100!
And lastly… a plug! >>>
If you're wondering if you should go to Laneway in Singapore, you might want to consider the disco nap bus!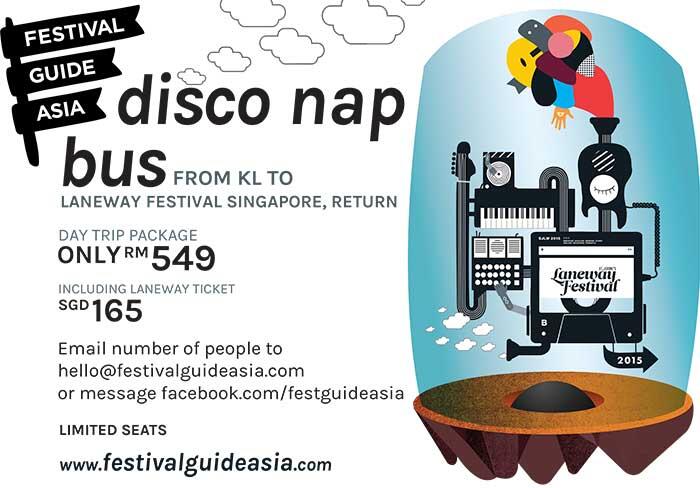 Organised by FestivalGuideAsia.com, the disco nap bus goes to Laneway festival and returns right after. It's a 27-seater bus, so the recline is quite good and you can sleep all the way there and back (it leaves at 7am to catch the gates opening and leaves Laneway at midnight).
Email hello@festivalguideasia.com with number of seats you'd like to book.
Or message them on facebook.com/festguideasia
For more info on the bus check out:
festivalguideasia.com/stories/the-cheapest-laneway-singapore-trip-for-malaysians