The team had such a great time spreading our fairy love on It's The Ship that when another opportunity came for us to do it all over again, we just had to say YES. So if you missed the boat (or rather The Ship), you still have the chance to come and check out our fun and colourful items.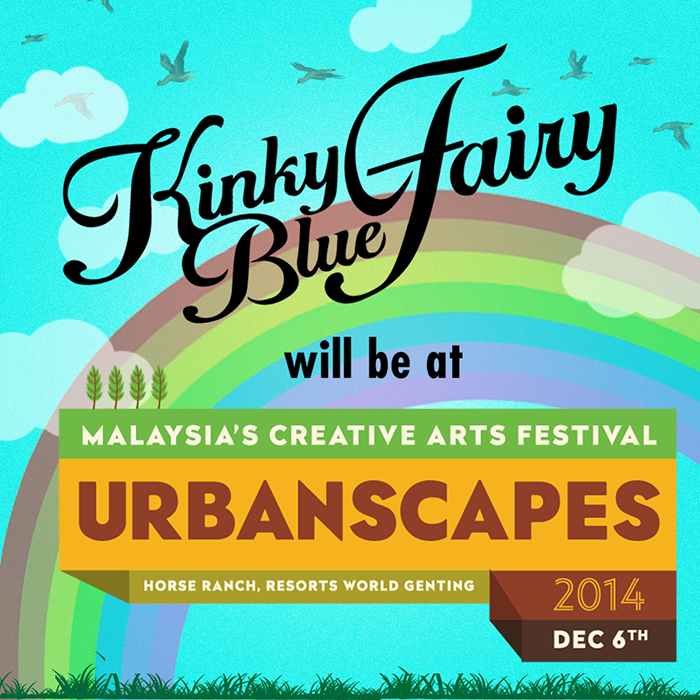 Urbanscapes is Malaysia's Creative Arts Festival, currently in their 12th consecutive year and it is looking to being one of the best yet. The all-day event features some of the best talent in music, art, design, photography and more.
It will be on Saturday 6th December 2014 at the Horse Ranch, Resorts World Genting.
Who's playing?

Kimbra of the hit song "Somebody I Used to Know"; US indie rock back Local Natives; Jagwar Ma from Australia and alternative rock band The Lemonheads .
But there's going to be much more than music. Installations by Biji-biji Initiative and Market of Experiences as well as a whole host of other vendors selling awesome merchandise are set to complete the festival.
Don't have tickets to Urbanscapes yet?
KinkyBlueFairy is doing a giveaway!
We are giving away 5 passes worth RM207 each to Urbanscapes.
All you have to do is:
1. Follow @KinkyBlueFairy, @JoyceTheFairy and @Urbanscapes on Instagram
2. Regram/repost our giveaway post with all accompanying words.
*Here's a sample of the giveaway post*
You may post on FB or IG. Make sure you hashtag #kbfgiveaway #urbanscapes
Deadline: Thursday 4th December 2014 at 12 noon.
Winners will be picked at random so the more you repost, the higher your chances are!
Winners details will be under guest list for ticket collection at Urbanscapes itself.
We can't wait to play with you next weekend!! So come look for us at the circus tent! We'll be selling festival gear, LED accessories, animal masks, LED hula hoops, and sooo much more!!
For more information on Urbanscapes:
Website: urbanscapes.com.my
FB: www.facebook.com/urbanscapes
Instagram: @urbanscapes
Twitter: @urbanscapes