I just got back home after a whirlwind trips x 5 countries. Was up till 4:30am in Osaka last night replying emails, then slept till 5:25am to get up for my flights from Osaka-Narita-KL. I figured my waking time was better spent when there is internet around me, so being awake at hotel > being awake on plane. I passed out the moment i buckled my seatbelt in Osaka. I don't even remember the plane taking off. When i next woke, we'd landed in Narita. I was like, "Damn!" cos i had a whole row of three seats and intended to lie down after takeoff! -_-
Slept all the way home to KL. Things weren't going so well in the airport. First i discovered that my phone line is barred (i don't know if it's my RM700 bill BUT i just checked that it's paid for cos i auto debit) and i accidentally broke a bottle of duty free Chardonnay -_-' I wasn't too fazed tho... just shrugged it off and thought instead of how well all my trips went, and this was just a little bit of Life Tax.
Came home, dropped my bags, fed myself, got on to the laptop and BAM, 3 hours later i think it's time to unpack. A little bit at least. I'm so tired! (But yet here i am blogging.) As i was taking a shower, i was thinking about how i have the best team ever!
They're a small team... but hell did they take on a whole lot the past two weeks.
Because i was away, i wasn't able to keep track on everything that was going on in KL anymore. I had to learn how to cut the apron strings and just TRUST that they would do okay. Ahhh it was so scary for me at first but i had to just STOP being a mother hen and leave them to their devices.
They were awesome... they ran Seek & Keep in BSC without me, set up the shop and handled the social media. After Seek & Keep they organised a photoshoot for the new products for the KBF online store. Then they handled the coming in of the stock for The Ship, coordinated, labeled and packed everything to send to the Livescape office TODAY, so that everything can reach Singapore in time.
They even worked overtime and at odd hours to accommodate when i'd be online overseas.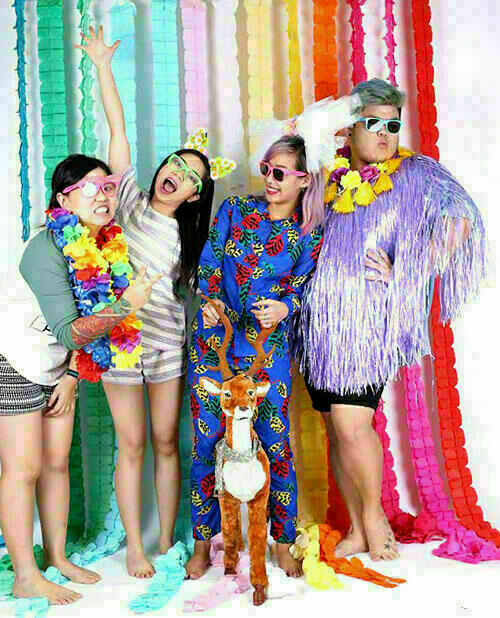 They even make me laugh.
You guys are the best, i love you!!!!
From left to right: Jane, Weng Yee, SweetEe, and Joe.
Jane was our first intern last year, and is now our freelance photographer. She's recognisable from her sleeve tattoo, a fierce stark contrast to her ethereal tender images. You can view her work at www.hellojanelee.com, she does great wedding shoots!
Weng Yee is our new Fairy Intern, she's helped heaps in her short tenure here. People ask me how and where i find these amazing interns, and i tell them that not everyone that comes through is amazing! There are some that are different and don't work out, and others i'm lucky to have. Weng Yee is going to Cameron Highlands Resort tomorrow to cover a 3D/2N-stay for KBF. She deserves it, i've been working the poor girl to the ground.
SweetEe... oh SweetEe 😀 Her designation on her name card is Senior Pegasus Officer. I don't really care what people put on their name cards cos they're all labels anyway, we all do so many different things, so i let her choose what she wanted to call herself. She's basically my right hand woman. She is her namesake and is as sweet as they come. Also a bit blur (sorry you know it's true!) but as someone mentioned, "Blur in an endearing way." Sweet handles the operations, accounts and general every day stuff at KBF. She even helps me drop off superimportant cheques to my lawyer (THANK YOU!!). She's currently attending a Kiehl's event in Seoul in my place, but has been getting what needs to be done while she's away. (Please don't slack after reading this :p)
And then there's Joe, our Junior Wizard Diva. He came in as our freelance graphic designer but we love him so much that we keep bringing him in to do other random things too. Like working with Weng Yee the past few days to pack and deliver the stock while Sweet and i were away.
+ + + + + +
We are still looking for sales people to join us on our sales team on board The Ship!
Each person has to work 2x 4-hour shifts per day in exchange for full boarding and meals on board The Ship, Asia's biggest festival at sea! More details *here*