I went to what is possibly the wedding of the decade in KL last Saturday.
When i was having lunch with my parents earlier, i told them i was going for a wedding that night.
My dad asked, "Where is it?"
And i said, "Chin Woo stadium."
Him: A stadium?? How many people are they inviting??
I didn't know, but i was excited!
Knowing Ben, i was sure he'd have a massive party planned.
I should have guessed that Elizabeth would have played a big part in its overall creativity too...
When Sarah and i approached the foot of the hill on which the stadium was on, i spotted beams of light coming from the building. I was like, "Dude. They've got laser lights..."
There was a queue of cars crawling up the hill, and we were directed to park at the lot below instead, which was better than being stuck in traffic. I guess the stadium wasn't nearly big enough... XD
When we approached the wedding, i realised what the theme was... a carnival!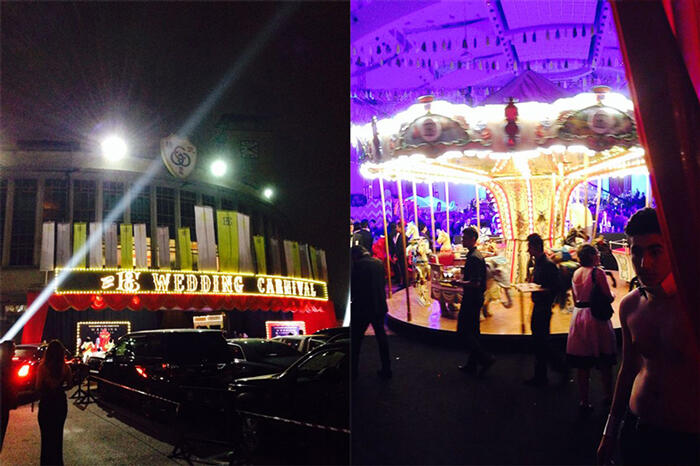 The registration at the entrance were designed to look like carnival ticket booths, games flanked either sides of the entrance, and topless waiters pulled back apple red curtains to reveal a show of lights spinning around inside. There was a carousel! AT A WEDDING. HELLO BEST WEDDING EVER ALREADY?!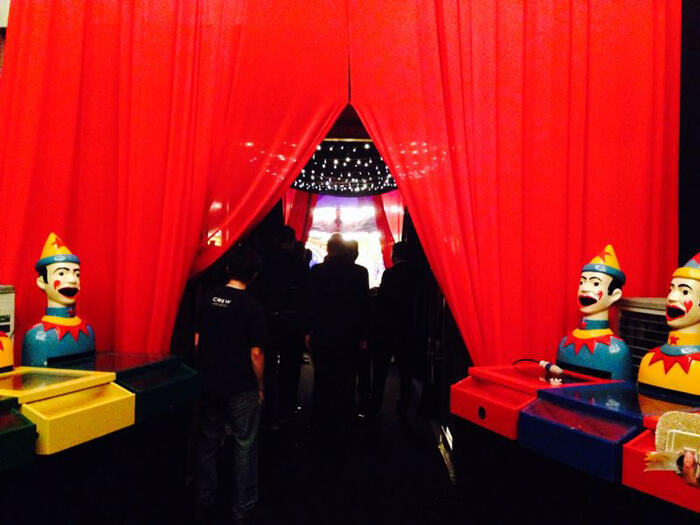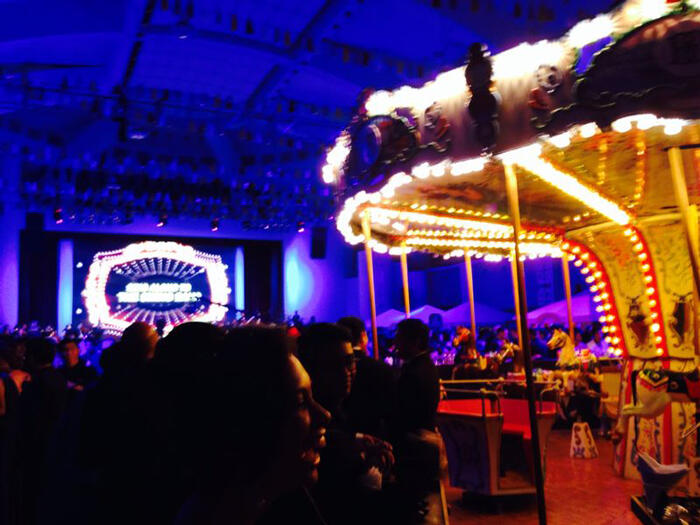 Sorry blur picture. Too excited and wanted to start running around to play.
Champagne swept past us on silver platters every ten minutes, there were SO many people to talk to, and a multitude of food stalls set up inside and outside. I didn't even get to taste EVERYTHING cos there was so much to do!
Everyone's attention was called to the carousel when the bride and groom were ready to make their entrance, and paving their way through the crowd was a ballerina in a zorb ball. Seriously... what a brilliant idea! I want to know who thought of that.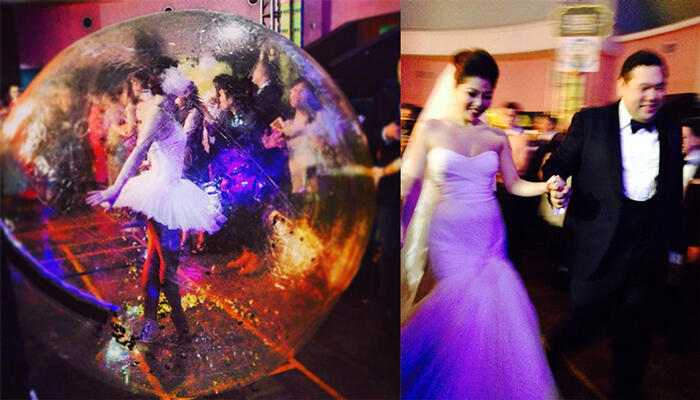 They gave a speech, and despite the colourful chaos going on around, there were emotional gulps in the crowd. I just stood there with my champagne in hand, listening and wishing them all the best from my heart.
You can be sibuk and watch their tasteful wedding video *here*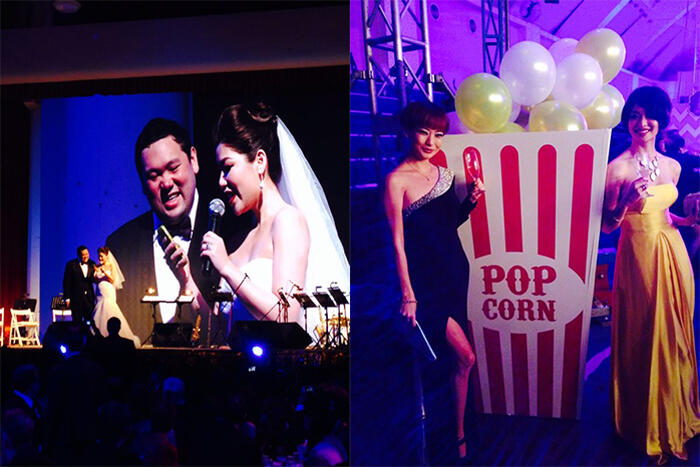 The yam seng was so ons. Imagine a whole stadium of people yam seng-ing.
On right is Sarah and i.
I'm wearing a black dress from ABS by Allen Schwartz, provided by Rent A Dress.
Love love love their business concept of renting out designer gowns and dresses!
It's true that now everyone has seen me wear this, i'm not gonna want to wear it again... it's just more economical to rent than spend thousands on a dress you only wear once or twice. They've got some new designs i spotted from Monique Lhuillier, DVF, Justin Yap, and more. Check out www.rentadress.com.my.
Sarah is wearing a yellow gown made by Syomir Izwa.
While sampling oysters, fresh tuna sashimi and foie gras cotton candy; we were invited to step outside for a special show...
When i heard that there were gonna be synchronized swimmers, i decided to go out alone to catch the show cos the group i was with wanted to stay in the air con to watch it on the big screen. There's just something about watching it in front of your eyes that can't compare! I'm so glad i did... it was one of the highlights of my MONTH.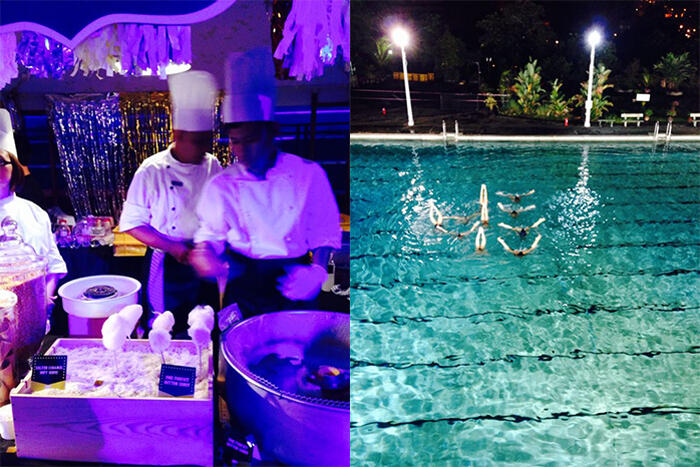 Because i'm kinda tiny, i managed to very politely ask some people if i could squeeze into the front so i could see better. They were very nice to let me and i worked those thigh muscles crouching as low as i could without flailing. I was JUST in time for the show! The national synchronized swimming team gracefully sprang one by one into the pool and started their mesmerizing performance.
I couldn't take my eyes off them cos i just wanted to savour all their moves.
And then suddenly, guess what happened.
Fireworks. FIREWORKS started going off RIGHT above us. They were so close and COLOURFUL.
I didn't know where to look!! Up or down!? Synchronized swimmers or fireworks!?!
I was like, "Ahhhh where do i??? oh my... ahhhh!!!" The girls next to me were frazzled too!
#superfirstworldproblems
It took me a few seconds to decide that fireworks were more important so i spent the rest of the time gazing up and trying not to blink. A couple of pictures were snapped on my iphone but besides that, i kept it away and just ENJOYED staring at the brilliant showers of blues and reds and yellows. I must say that i've seen lots of fireworks in my lifetime, and those were some of the prettiest i've had the pleasure of fawning over!
Wow, the feeling i got when it was all done with. I felt like i was in a daze and it might have been because i was holding my breath without meaning to. Imagine if i had fainted from the show cos i just COULDN'T HANDLE IT. Possible, possible.
Synchronized swimmers AND fireworks going on simultaneously?!
What are they trying to do to us!? Look, i'm obviously still not over it.
Can i please experience that again?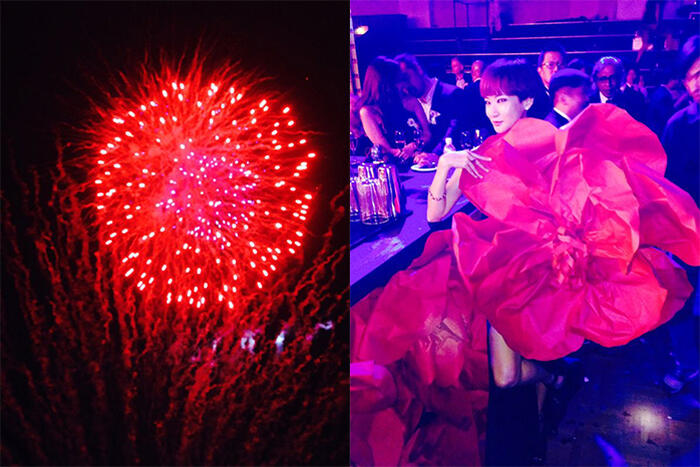 Giant paper flower that i wanted to bring home but had so much fun (and got so tipsy) that i forgot to wahhh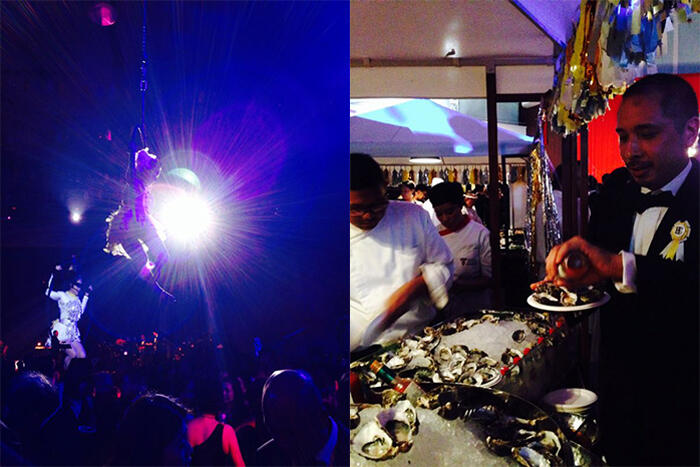 There were trapeze hoop and silk aerialists...
I didn't even get to SEE everything -_- Read on Liz's instagram that there was also a contortionist, magicians, and fire eaters...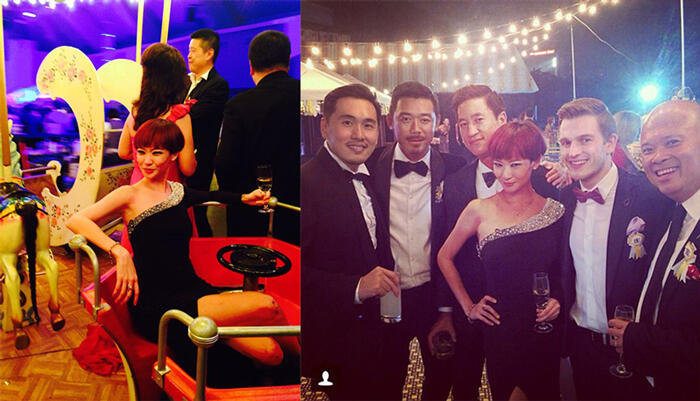 We played lots on the carousel of course... enough till i got giddy and decided it was time to get off.
On the right is a really nice picture i stole from Nigel.
I instagramed it saying, "Don't be deceived. None of them would have me."
Randall replied saying it would be too hard to try, LOLLL.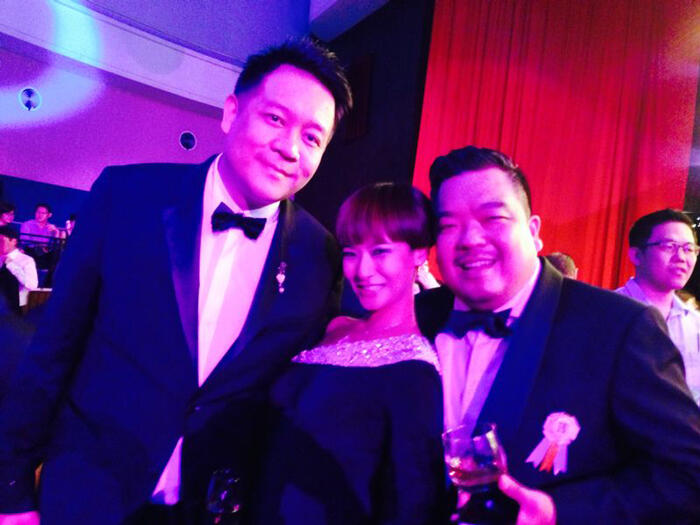 Ryan, me and Cho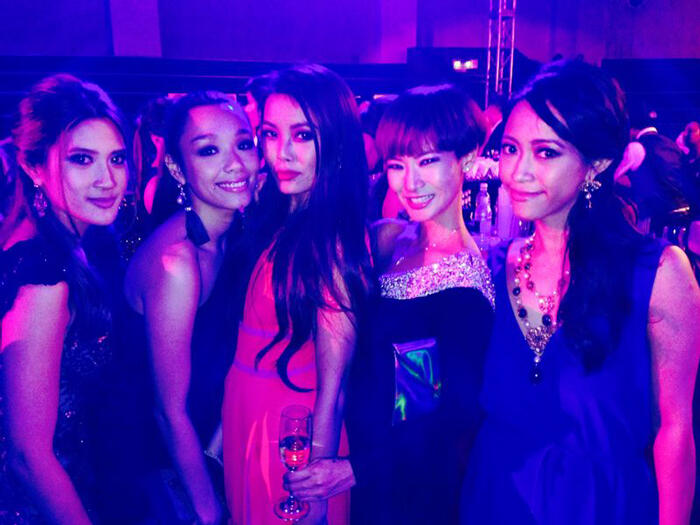 Jess, Mare, YiuLin, me and Rozie
I must mention that everyone at the wedding looked stunning that night!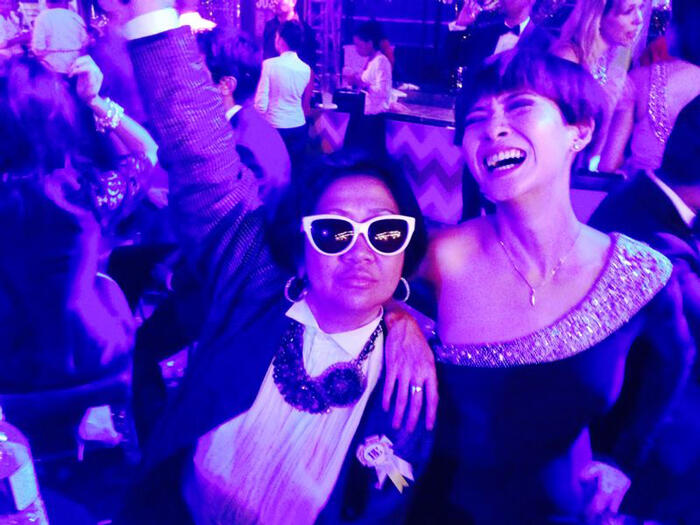 Magie, and i doing my crazy evil laughter thang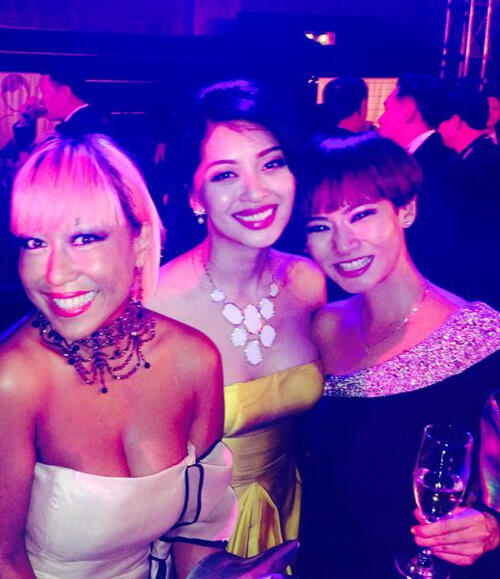 Gillian, Sarah and i!
I danced so much till my entire body was hurting the next day... and i'm quite sure i was still high till 5pm Sunday.
What a night, what a night.
I had so much fun, it was such a JOYOUS celebration, and you could feel the love and happiness just drowning the room stadium.
Someone commented the next day, "Great. Now everyone's wondering how they're gonna be able to top that wedding."
I don't think you can dude... unless it was like... a festival 😉