I have barely been at home this entire week!
I'm so freaking exhausted but instead of sleeping i'm blogging -_-
Like i just cannot stop and shut up and go to bed.
Just got home at 10pm and initially couldn't wait to wash my hair but ended up going through some emails.
SweetEe and i were whatsapping a bit and she ended up with, "Stop working!"
I was like, "HOW DID YOU KNOW?!"
And she said, "Cos i've been working with your for 1 year. Wednesday is our work anniversary / workaversary "
I was all of course i know that Oct 1st is our anniversary!
I've been so excited about KinkyBlueFairy reaching its 1st year anniversary of since we moved into an office and i hired our first (and only haha) full time staff.
I'm gonna list down all our achievements so we can look at it and feel proud of all we've done in the past year! Time has flown. I feel like it's only been a few months.
They say that the majority of businesses shut down within a year. I was so afraid i might not make that year. I was funnelling my own earnings into the company, and work is slow in the beginning of the year for bloggers, and i was getting a bit worried. I didn't pay myself for a couple of months, i looked for another solo entrepreneur to share Sweet Ee's work hours and wages with, and i worried constantly. I've learned so much from going through that. Worry is nothing but a bad habit that slows you down. The more i concentrated on all the possibilities and positivity that the company was going to experience, the more these little opportunities and work jobs came in. It was enough to keep us afloat and working towards our goal, and almost like a sign from the Universe saying, "It's okay, i gotcha, keep on going."
Essentially, my current plan is to continue growing this blog (i lost focus for awhile), take up the jobs we have (for social media, PR, events, and some modeling + emceeing on my part), stock party and festival accessories, get my own collections of resort wear and fashion bibs out, sell them on the e-commerce store (which is already online in beta phase right now) and yeah... i think that's enough. There are SO MANY other things i want to do, and i make a list of all these IDEAS and projects i want carried out but i can't afford the time nor resources.
Setting up shop at Seek & Keep this weekend cemented that goal for me. I had so much fun watching people get so happy on the things they liked at the store! I talked to so many people, made so many new friends, was surprised at random new friends that dropped by to say hi and support KBF, and was so inspired by the other vendors i met.
I couldn't help walking around checking out all the other stalls, see what they were selling, and talk to them about why they were selling that, how, where they got their stuff from. Oh my god i must have asked so many questions! I enjoyed conversing with them so much, and must have made like 50 new friends in the past 24 hours after going to the Malaysian Gourmet International Festival last night, drinks at SIX after (-_-) and the store at BSC yesterday and today. I only exchange numbers with people when i feel like i want to talk to them MORE, and i've exchanged so many numbers in the past 2 days.
Ok some pictures.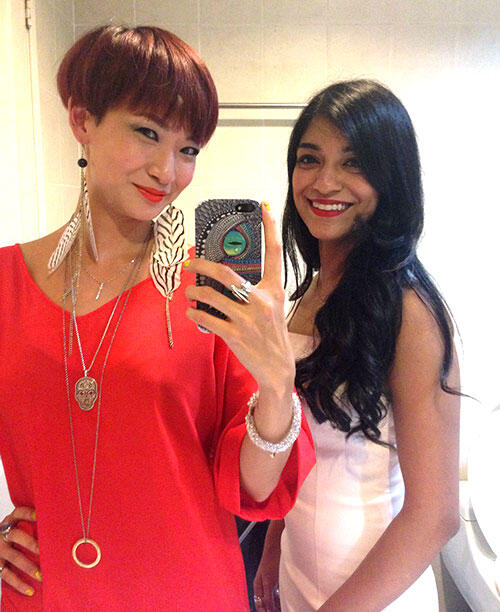 Aps and i before we left for the Gourmet Festival last night. Quite a number of people commented on my feather earrings and i was like, "Spanks! They were a gift from a friend!" I've had them for ages and just... never wore them. Trying to utilise all the items in my extensive wardrobe right now.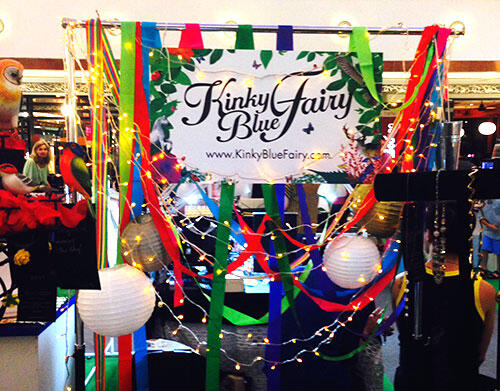 I left the decorations up to Sweet Ee and Joe after a short discussion about budget and direction, Mehran and Sweet Ee set it up, and we ended up with something better than if i had to do it alone. Joe and Sweet thought about using one of our racks to make an 'arch'; Sweet thought of designing some leaves, animals and birds around the KBF logo; Mehran thought about hanging the gymnast ribbons from them, and Sweet added the fairy lights just today. (< ok i'm sorry if i mixed up who thought of what, but you all were gold!)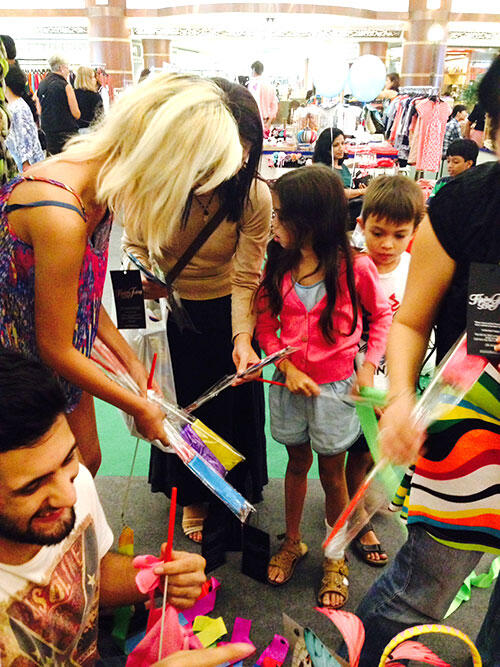 Our gymnast ribbons were so popular! We've sold out all the rainbow ones, and i now know the colours that kids mostly go for.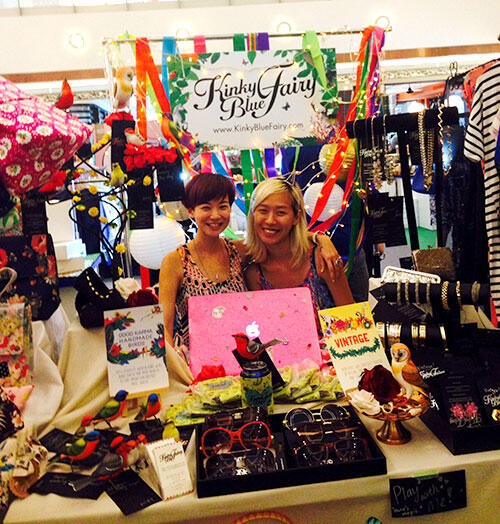 Me & Sweet Ee
We were selling vintage accessories from Bangkok, hand-painted wooden birds from Bali, sourced fashion apparel, leather clutches, one-off sunglasses, funky rings, kaleidoscopes, and KBF beer huggaz.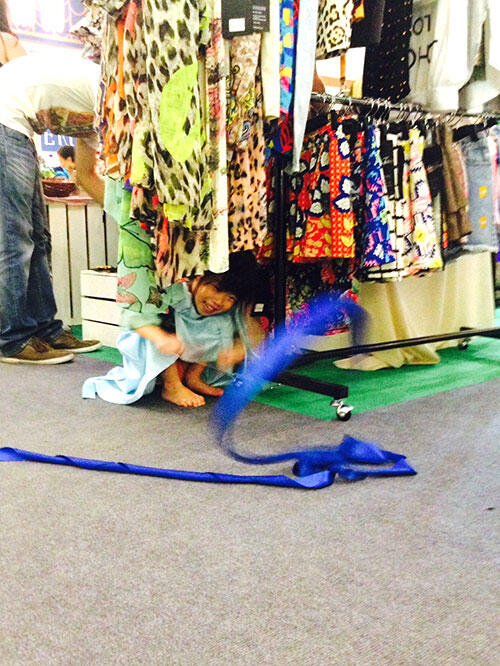 Oh this little girl. I was came back from dinner with Claudia, and spotted someone playing with one of our gymnast ribbons (we just left a few there for kids to play with, they're our best advertisement). Then i saw what she was wearing - a Frozen dress!
"OH MY GOD! She's wearing a Frozen dress!!!"
I pranced right up to her as she started to crawl on the floor while playing.
Getting down on my knees and putting my elbows on the ground so we were in the same position, i asked her, "Is that a Frozen dress!?"
Her: Yes, it's Elsa's
Me: I love it!!!
Her: Hehehe
Me: What's your name?
Her: Eve (or Evie, i suck)
Me: Hi! My name's Joyce!
Then i realised, i was wearing a long dress, and practically lying on the ground like a 5-year-old in the middle of a mall.
So i got up and started to act like an adult again.
Now i understand why Michael was friends with kids. They're so fun! I just wanna play with them, not be a mum or dad or nag them or tell them things. I'm so tired of telling people things! I just want to play sometimes. Michael was so misunderstood. It's all proven anyway in You Are Not Alone.
Digressed. Back to market.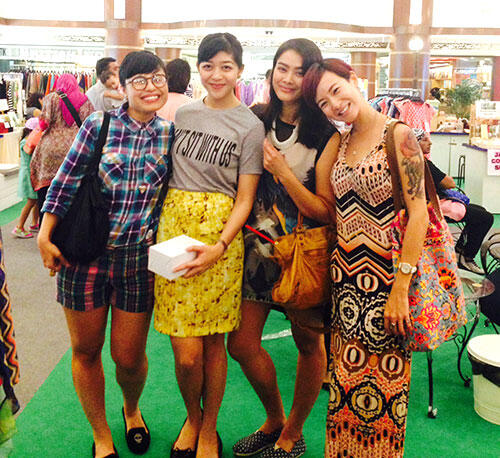 Aida, Ellie, Claudia and me!
Aida is the organiser for Seek & Keep and runs Things For Whenever / Whenever Shop; Ellie runs My Apparel Zoo,  Claudia lost her voice. She got sick after coming back from Paris.
We went for dinner together and i was so tired from not being able to lean back (cos there are only stools provided at the shop) that i just DRAPED myself over the couch at Ben's shamelessly.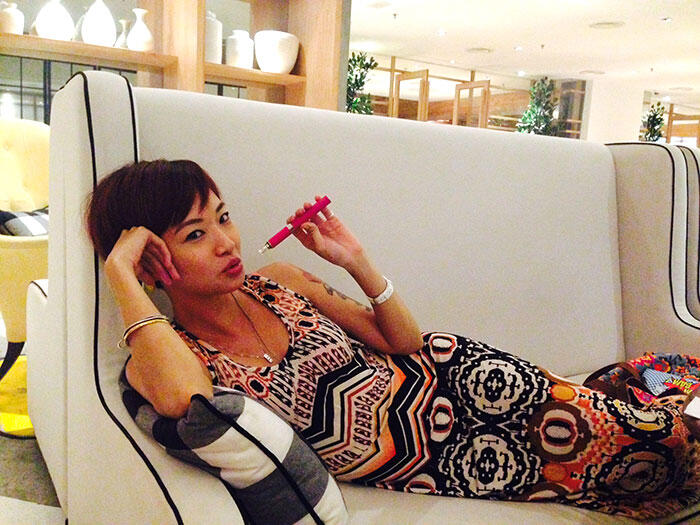 My boss pose. What i do while i make them jaga the shop.
NO LA I'M KIDDING.
After Clouds and i finished, i went back and made them go for dinner while i took care of the shop.
Things i bought at Seek & Keep:
- shiny namecard case from The Jekyll & Hyde Project
- Potato Chips Bag pouch from Things For Whenever
- a sign that reads " So many books so little time"
- a beautiful Indian jewellery case
- a hand-sewn owl for Lynda
There were so many other things i could have and would have liked but i stopped myself. Hand-sewn batu seremban (hmm i might just buy that tomorrow), graphic prints of holy Islamic quotes, salted caramel brownies from Nuts Enough (trying to stay off sugar), a journal covered with Japanese fabric, colourful headbands and socks, crayons that drew in multicolour, a spoon that was designed in a way that it could stand by itself in a matching tiny tray, a handmade bracelet with lots of purple and green semi-precious stones, and a flowing silk kaftan.
Seriously, either i'm such a shopaholic or there were just too many good things to buy there. I'd like to think it's the latter.
Anyway, we made a decent amount of money yesterday and today, and still have Sunday to go!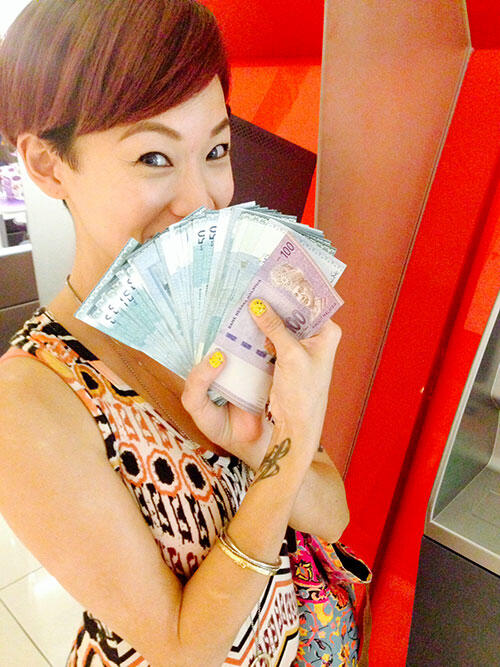 I didn't want to leave so much cash in the petty cash box, and put all the 50s in my purse. But then it started getting too fat and i didn't want to stretch my Aigner purse (sayang), so i decided it was best to just deposit it cos the CIMB machine was so conveniently 50 metres from us! We deposited cash twice today 😀 😀 😀
Tomorrow's gonna be great, and i have Lynda's Pink Tattoos anniversary to go for @ The Bee where lots of people i love will be there! It's like going to school except there are no lessons; and lots of fashion, fun and alcohol instead.