I had to write a blogpost for Homey, cos he totally deserves it, as does his best man friend Deep.

The first time Homey came on a road trip with us, he stepped all over me in the car till i got banished to the backseat.
But i totally accepted it cos the front seat was *his* seat anyway, and i was small enough for him to bully.
I'm so happy i have this blog… cos it holds memories of him too. *Blogpost here*
Homey always had some rocking birthday parties.
Deep would invite everyone over to the house for Homey's birthday parties.
The house would be filled with people streaming in and out,
there'd be SO MANY doggie birthday presents,
and there was a mini-party going on in every room.
Homey lived up till 13 years old and passed away last Tuesday.
I couldn't get a hold of Deep on the phone and was heading home when this voice in my head told me to just turn on to Deep's road to check whether he was in.
Cos that's what you do right when someone is going through a loss.
You go find them, and you sit with them.
Another thing that made me really WANT to be there, was because i remember when i lost Steven, it was so hard for me to handle that i would run off to Deep's house to seek solace and he was always there for me.
After i had parked across Deep's house, i saw him standing outside.
"Just in time," he said.
"In time for what?"
I was just in time for Homey's funeral.
My timing couldn't have been better.
The guys had already dug a hole in the forest across the road, and we all made our way into it.
I was flicking off giant red ants crawling all over my feet and legs, and tried to be calm. I'm sure ants can sense fear, so i simply said, "Sorry for being in your territory… don't bite me!"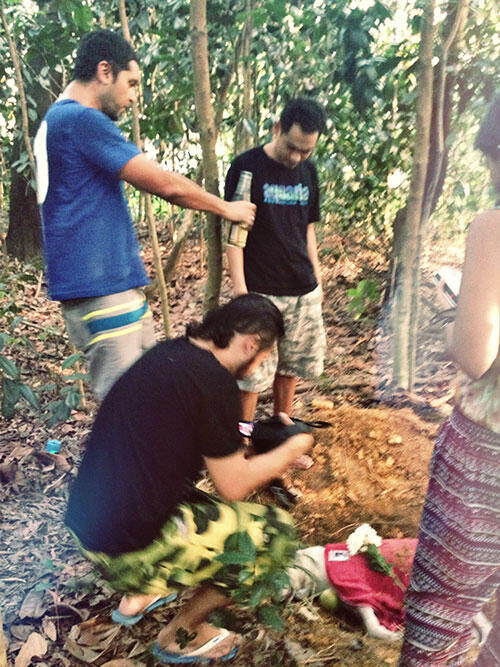 Deep broke open a bottle of tuak he brought back all the way from Kuching.
He poured the first bits into Homey's mouth and we all took swigs from it after.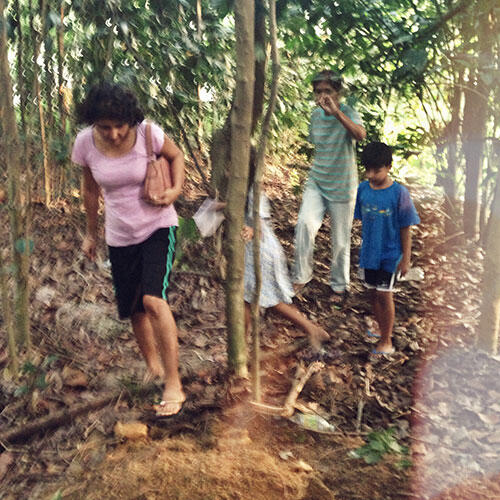 The whole family came for the funeral too – Deep's sister Sheila, their mum, and Trish and Moe.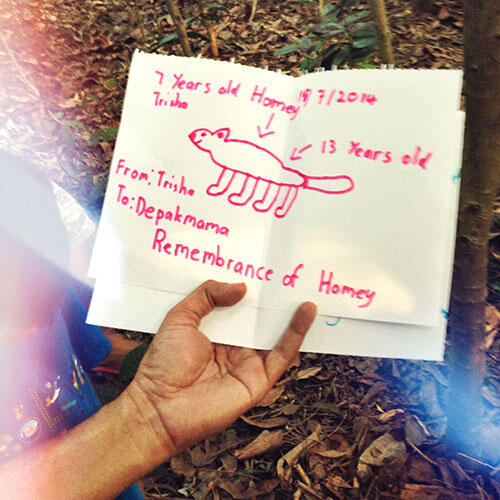 The kids drew a picture for Deep, so sweet.
He was like, "Wah, sempat ah!"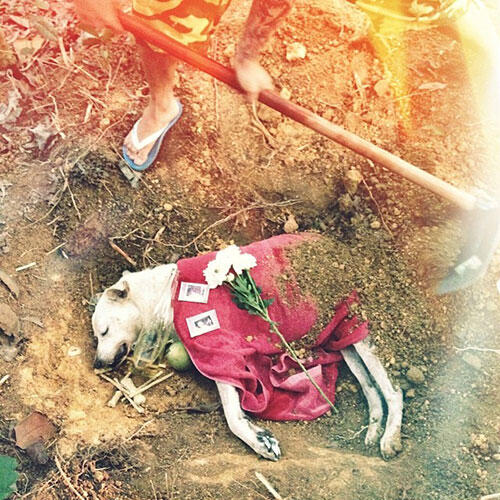 We left Homey half a bottle of tuak.
The mood was sombre.
Deep said a few words, and no one said any after cos it was a bit too difficult.
I think we were all choking up quietly.
We all went back to the house after, where we hung out for hours,
drinking, eating, talking and exchanging funny stories about Homey.
When it was dark, candles were lit on Homey's grave.
Losing a dog is like losing family.
It's so difficult.
We always think that our pets will live forever… they become so close to us that we forget we're actually a different species and our life spans are not of the same. And when they go it hurts so badly.
All we can do is pacify ourselves with the knowledge that all dogs go to heaven, and that all our doggies who have passed on are playing together in a giant green field somewhere up there filled with rabbit holes, balls of every size, cats that like being chased, and yummy doggie goodies of every kind.