I just got back from spending 8 days in Korea by myself!
It was awesome!
I love traveling by myself every once in a while… the last time i got to do it was when i went to Sweden. I get to spend time with myself and myself alone, push my boundaries, act upon impulse, and do everything as and when i please. I think it's also a great time to just be with my own thoughts and find company in my own being. I'm always surrounded by people in KL (and that's GREAT, i'm so lucky) but i enjoy my solitude too. It's great that Clem understands cos he likes his alone time every once in awhile too.
I didn't get to blog at all cos it was a very tiring trip! I pushed myself to explore as MUCH as i physically could, and would do 10-12 straight hours a day. Then i'd come back to do some urgent work and emails for a few hours, have dinner and then i'd have to go to bed so i could wake up in time to sightsee the next day.
By Day #7 my legs were ACHING. It was a Saturday night and i'd planned to go to Homo Hill (a popular bar area recommended by a friend), so i'd rushed home to change and get the train back out before it shut at 11:30pm. The soft white bed looked so inviting, i plonked myself face down on it and THAT WAS IT.
I just couldn't bear to get up.
I just wanted to LIE THERE and rest.
So rest i did.
The best thing i can do is listen to my heart sometimes (and that's not the same as my party voice).
I've had to dig deep to differentiate the two :p
On my last night in Seoul, i decided to make time to head to a jjimjilbang because another female tourist i met said it was her favourite thing to do in Seoul.
The thought of going alone was a bit daunting at first, but i figured i just had to GO seeing i was already in Korea and what if i didn't get another chance!? I mentioned it to my guesthouse host KJ and he recommended Dragon Hill Spa cos it's tourist-friendly.
I followed the directions on CNNGo's article mention of it, but the directions are slightly misleading. To get to it, just walk to your right when you exit Yongsan station and cross the small street and it's right on the corner.
There are no pictures for this post except this one of the entrance because… why, it would be inappropriate innit to take pictures in a place where everyone is naked! Probably get beat up.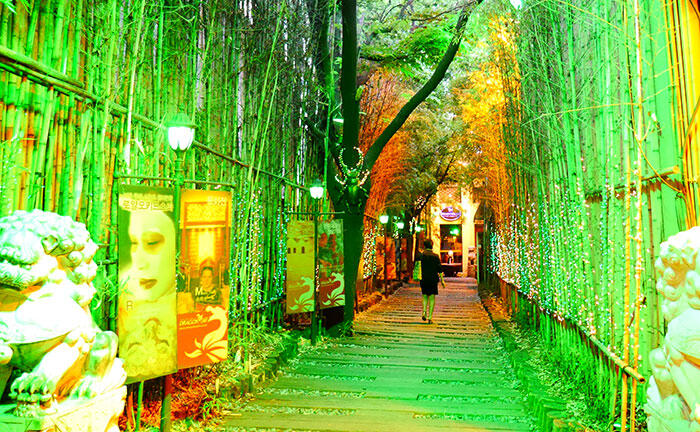 It's a huge place consisting of 6 floors. There are separate men and women's floors, areas for treatments, games floor and i'm sure somewhere for food too (tho i wasn't taking notice of that).
I paid an entrance fee of 13USD, which lets me stay for as long as i want. Which could be all day for some, cos the Koreans take their baths very seriously!
I received a locker key attached to a rubber bracelet so i could keep my shoes in a cubby hole upon entering. Then its barefoot all the way. And that's just the first part that goes bare.
There's a lift on the ground floor that goes only to the 3rd floor, which leads to the women's bath area on the 2nd floor. (I didn't even get to go to the other floors… i had no time nor reason.)
After finding my locker, i kept all my belongings in it (using the same initial key for my shoe locker) and changed into a t-shirt and pair of shorts they gave me. I was also handed a couple of towels so i took one with me.
I made my way down a flight of stairs to the bath area and immediately got gestured to that no clothes were allowed there. I was like, "Oh… rightttt…." and meekly made my way back up to undress fully. That's when the towel came in REALLY handy. Oh also, i just didn't THINK that i was going to be baring my underwear in front of people that day, and happened to be wearing some urm racy red panties, which made me feel kinda awkward and silly. I was to shower before going into the baths, and tried to shower with them on. Everyone around me was naked. In the end i felt so STUPID that i hurriedly stripped them off and subsequently had to carry them around with me.
So yeah, I learnt that:
Taking the towel with me = correct
Wearing shorts and shirt = wrong
Wearing underwear = wrong
Wearing sexy underwear = even more wrong
Ok so now that i was on the right track, i walked around trying out the different baths, saunas and steam rooms. It's an entire floor that's tiled in blue and has different rows of partitions for standing and squatting showers. I didn't once feel like i didn't have any personal space, and everything looked very clean.
There were so many different types of hot baths filled with various concoctions of herbs and healing properties. It helped that there were different signs beside each amenity to explain their health benefits, and how best to experience it (i.e. 3x repetition of 10-min hot bath followed by 10-min shower). I didn't see a single other obvious tourist in there tho.
The place was filled with women of all ages walking around naked.
Some older women didn't give a hoot about their large hanging bits,
while younger shy ones modestly held towels to theirs.
I was holding the towel to my bits too at first, but after the first hour you're like, "Ah whatever" and just end up walking around like almost everyone else. It's pointless being shy in there.
I liked watching the mothers bathe their little daughters, it was so cute to watch and it reminded me of being turned and scrubbed like a helpless thing when *i* was a wee kid.
One steam room was SO hot that i tried standing it in alone for a minute but it was too much to bear that i muttered aloud to the empty room, "You gotta be kidding me" and popped out the door.
I took a walk around, trying each of the baths and steam rooms till i came to a corner where a couple of elderly women wearing black underwear were massaging and scrubbing women on rubber beds. There was a sign next to it stating the prices for types of scrubs and massages. No cash transaction is done there, they merely refer to your key locker number and charge it to your tab which you pay on your way out.
I adore massages and try a massage in almost every country i travel to, so i felt i had to do myself justice and try this at the very least! So i pointed to my preference on the menu, waited my turn, and got a 40-min treatment of being scrubbed with special bath gloves, massaged with oil, had my hair washed and even my ears cleaned!
There was an embarrassing amount of dirt that the woman managed to acquire from my skin, i couldn't help saying, "GROSS!!" She does it all while i'm lying down, and tells me when to turn over or lie on my side. Then to wash the dirt of me and the rubber table, she fills a big basin with water and just POURS it over me! It felt quite nice actually, like a waterfall. It kinda feels like playing with water in there! I can see how the kids have so much fun! (There's even a special shallow bath just for children.)
She gave me a good scrubbing all over and i felt it was the perfect thing for the end of a trip where i got so grimy walking around for so many days and possibly not showering properly XD Then she slathered oil all over me and gave me a funny fast massage. I don't know how to explain it except that it's like a normal massage but you increase the speed by 10.
Her movements were quick that i felt like a piece of dough at times but not in an unpleasant way. She managed to get the pressure points right so it felt good when she pressed on them but it made me feel like it was a bit TOO fast and that i'd prefer someone to spend some time kneading those poor old muscles!
I guess that's the Korean bath massage then – get you hot to release all those toxins, get your skin to absorb these nutrients and herbs, scrub you down, then knead you to plump you up and get that circulation going. This could be the secret of their youthful looks after all. I thought it just due to the food.
I felt so CLEAN and happy after that. If there was a well-run Korean bath in KL i'd totally go to it! It makes sense to spend so much time cleaning your body cos cleanliness is sacredness, which leads to happiness and contentment. I'm so glad i made the effort to experience it and totally recommend it on a must-do thing in Seoul. You really get to immerse yourself in a Korean culture that's so different from anything i've experienced. (Well i've never tried a Japanese bath but i would have to find a tattoo-friendly one at that.)
I ended up spending a total of 3 hours in there despite planning to spend only 2! Was starving after that and rushed to find this specific restaurant that's recommended for their Korean-style steak tartare and i was ADAMANT to have it before i leave. It was a bit too rush cos i left the spa at 9pm and the restaurants shuts at 10, so you can only imagine how fast i trekked all over this hilly area (of course it had to be hilly there…) for a good 40 minutes cos i couldn't find it. So i got sweaty all over again and was like, "Dammit! Just after that nice bath too!"
Woe and begone, i truly couldn't find it but did manage to still have a very satisfying steak tartare in another restaurant by accident, and then went shopping till 1:30am. The malls there open 24/7 with club music playing in some of them. I shopped till i couldn't even bear to look at clothes anymore… Seoul is so crazy. I love it.
+ + + + + +
I went to Dragon Hill Spa – www.dragonhillspa.co.kr
There's a more detailed blogpost of the spa *here* if you wanna read more!