* written by SweetEe *
Since Joyce was in Europe, I had the opportunity to experience Club Med's Body and Soul event a few weeks back on behalf of KinkyBlueFairy! It was a 4D3N trip in Club Med Bali and all I did was eat, swim, do yoga, talk, and drink! I was with 2 other Malaysian members of the media (Claudia from Tongue in Chic and Evelyn of MissyBlurKit) and Lena, the representative of Club Med who was our guide during the trip.
Club Med from France has been known for being the original and premium all-inclusive vacation resort, with 80sun and snow resorts set in exotic locations around the world. Established in 1950, Club Med today has vacation resorts scattered around the world from Europe to Asia, and is considered one of the best go-to resorts especially for families. We even have one here in Malaysia itself – Club Med Cherating in Kuantan!
A premium package in Club Med usually includes:
– return flights (special arrangement upon request)
– accommodation
– gourmet international buffet 3 times a day and all-day bar + snacks
– bars and nightclubs with free flow of drinks
– sports and leisure activities
– night performances
– child care services
Club Med upholds a longstanding company culture that is unique. All staff are called G.Os – Gentils Organisateurs (Gentle Organizers); whilst customers are G.Ms – Gentils Membres (Gracious Members). The resort is known as a village, whereas the resort manager is called the Chef de Village (Village Chief). There are 94 G.Os in Club Med Bali of different (18!) nationalities, so no G.Ms need worry about language barriers.
In 2013, Club Med came up with a programme named 'Body and Soul' – an annual retreat focused on health and wellness to boost and transform overall well-being filled with activities based on 4 colour themes – Yellow, Red, Green and Purple.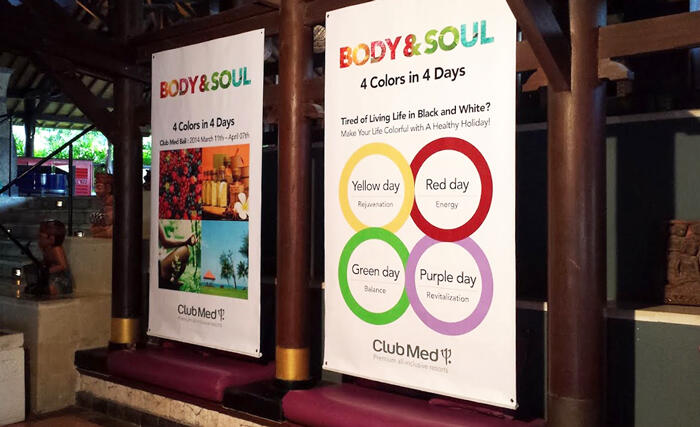 The event was initially launched in Club Med Cherating and Bali, but this year it was decided that Bali is the best location for the retreat, with the program being extended for a month. Club Med Bali is located in Nusa Dua, a secluded premium location with breathtaking scenery that is only less than half an hour away from the airport via the new highway in Bali.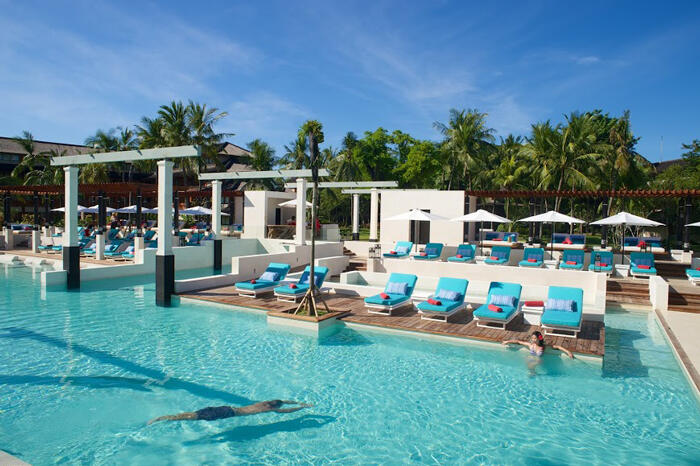 Another great reason why Bali is the best destination for the Body & Soul event – their new Zen Pool was just launched in March!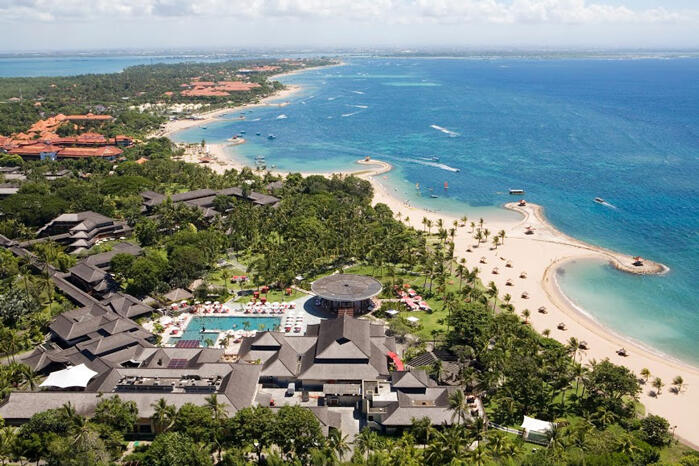 Club Med Bali is huge. Initially I wondered if i would have some time to step out of the resort to explore Bali a little, but it turns out four days weren't even enough for me to fully explore the resort area! Each night's walk was a new discovery for me.
The Body & Soul event is designed with optimal relaxation in mind, as Club Med recognises the need to awaken our spirits and hearts, heal our bodies and transform our lives. With the belief that colours deeply affect us in our daily life (from how it impacts our moods and emotions, to our sense of well being) the event tagline was –  4 colours in 4 days: Get rejuvenated, energised, balanced and revitalised inside and out.
The retreat spans four days, with each day featuring a different colour.
Yellow is the day for rejuvenation;
Red representing energy;
Green for balance;
Purple for revitalisation.
Each day offers different specialized classes designed by international relaxation experts, colour-coded fitness activities, and healthy colour-coded meals.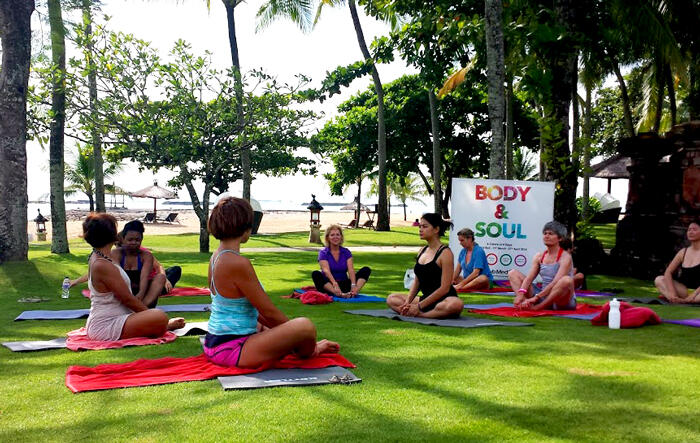 There were yoga lessons twice a day to focus on detox + balancing for our body and soul.
Morning yoga lessons were usually carried out by the beach area, with fresh morning sea breeze and calming sound of waves to boost our morning mood. Our instructor for the lessons was Samantha from Hong Kong, a patient and smiling spirit who was always gentle and calm with everyone.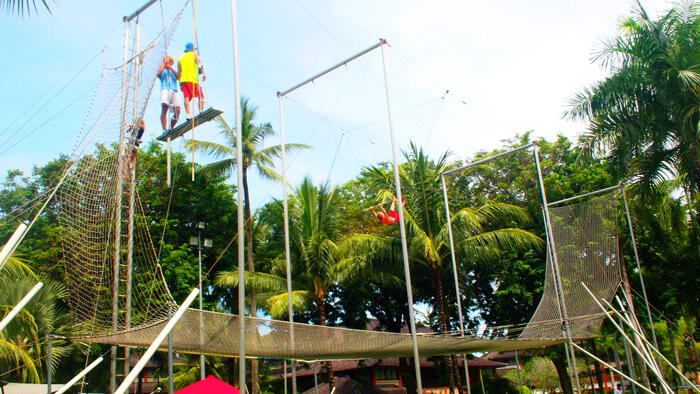 Trapeze lessons available for all ages!
The most challenging part of the trip was how to do EVERYTHING in what suddenly seemed like a short span of time. There were so many activities, fun games to play and beautiful areas to explore. There are lush green fields everywhere, up till right to the front of my room which tempted me to pack food from the restaurant to have a picnic on.
Read more about my experience in Club Med after the jump!
Upon our arrival, we were served refreshing towels and drinks before being introduced to our G.O during our stay, as well as other G.Os.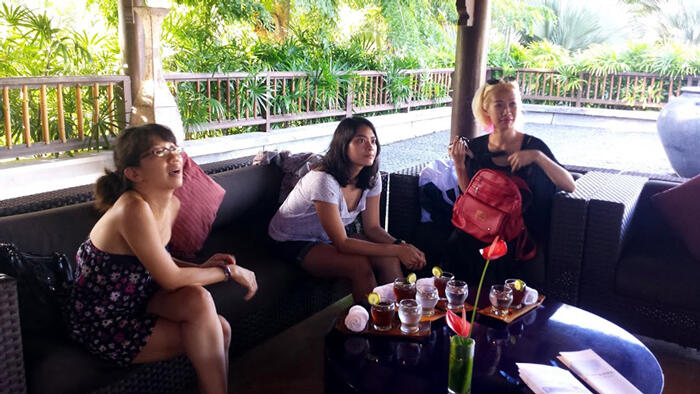 That's us! From left is Evelyn of MissyBlurKit who is super disciplined and a marathon runner, Claudia from TiC in the middle, and me on the right.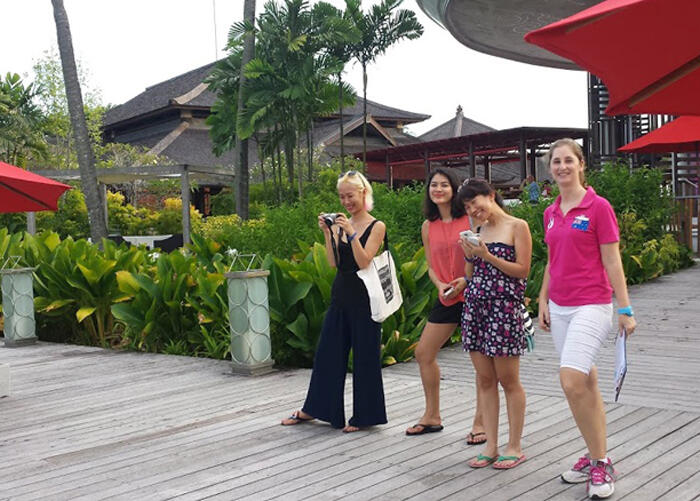 Dana from Australia. the Club Med Business (CMB) Manager for this village was in charge of taking care of us, as well as having dinner with us every night! Every group gets a G.O when they are in Club Med to take care of all their needs. (Yes, Club Med is popular for corporate group travel, incentive trips and business meetings/events too!) I find that they're crazy cheerful all the time whilst running around!
First day was rejuvenation day of yellow. As we arrived in the evening, we had some free time to explore the place a little more till dinner time.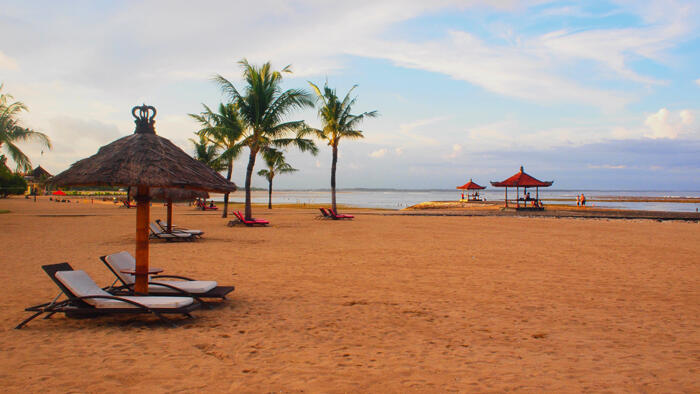 I love wide beaches cos it gives everyone lots of privacy.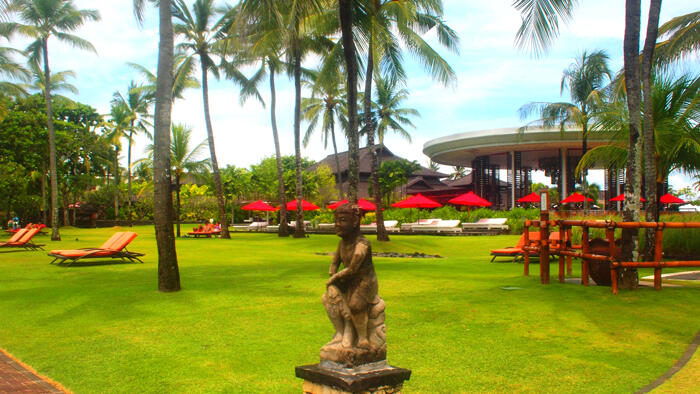 Lots of lush green grass around Club Med make it lovely and relaxing. There are also plenty of these statues around. Claudia and I found an especially depressed-looking one during our first night after we had some drinks and I happily offered him some wine. 😀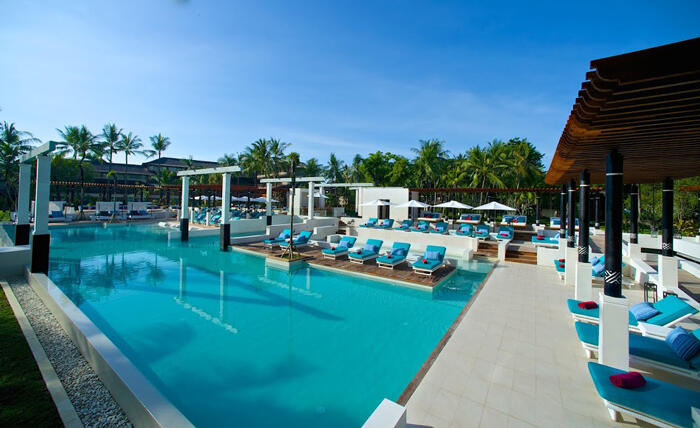 Zen Pool is a lot more quiet and relaxing than the common pool, because no children are allowed. It's also built further away from crowded areas, making it truly relaxing without any noise.
Day 2: Energy in Red day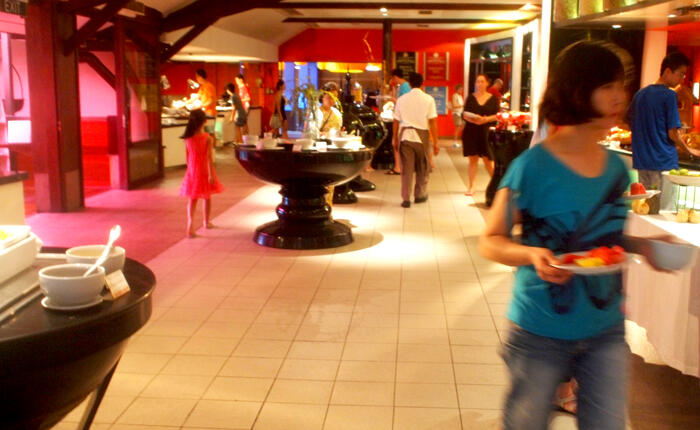 The Agung Buffet Restaurant is an international gourmet buffet restaurant where we had our daily meals. It serves a variety of Continental, Asian and Balinese food. For the Body and Soul event, there was a daily colour themed food corner that served local fresh food based on the colour code of the day.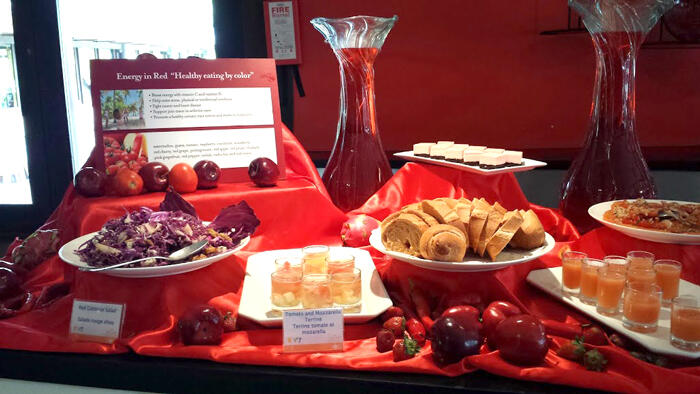 This was taken on the Red day. The red-coloured food and drinks were to give us enough energy for morning yoga and snorkelling session after breakfast.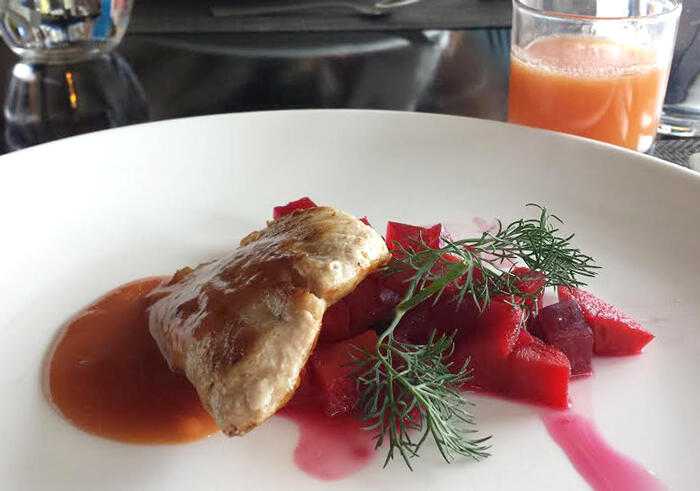 Lena's beautifully decorated red food combination.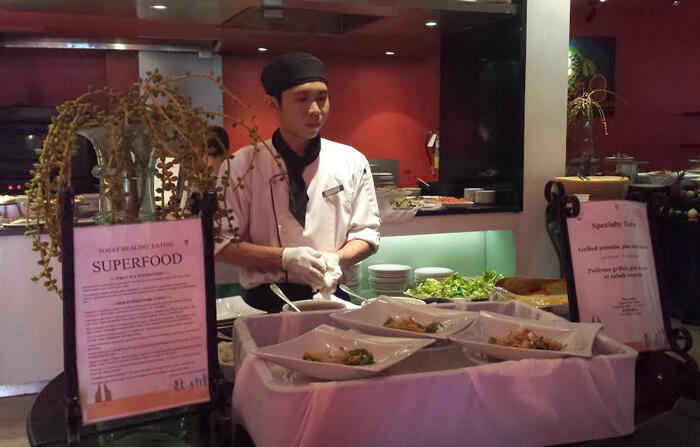 Daily specialty superfood dishes were served, including dishes of  grilled pumpkin, beans and salad.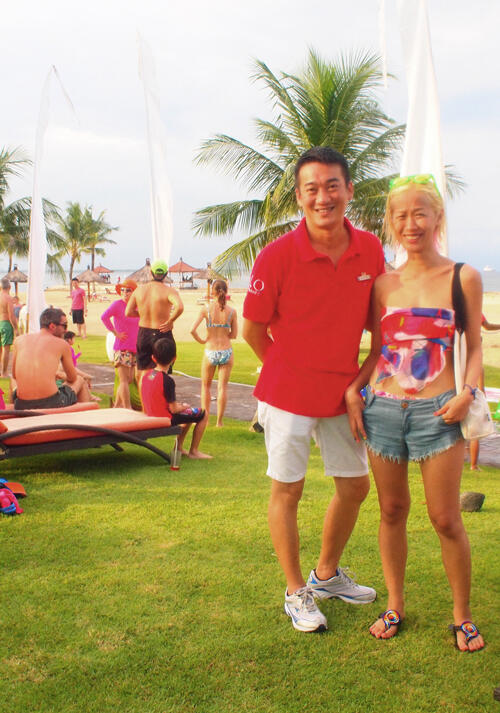 Zachary is the restaurant manager for Agung Buffet Restaurant and he's from Malaysia as well! He patiently listens to every guest's needs, and even sings if it's your birthday.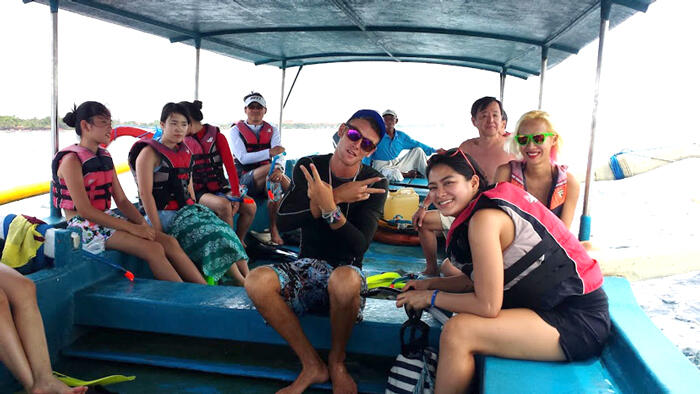 Snorkeling trip after the yoga lesson! As the second day was Energy Day for Red, most of our activities were focused on detoxing (to regain energy better), and fun activities like snorkelling.
Geof in the middle is from South Africa, and our water sports G.O of the day. He's strict when it comes to safety during snorkelling and I remember Claudia got warned for swimming towards the waves. (OK to be fair, the waves were a little crazy that day.)
Sport and leisure activities are the most attractive side of Club Med. They have almost everything for you to explore, it's just a matter of time and energy.
At noon we had some extra time to enjoy the variety of land and water sports activities that Club Med has to offer.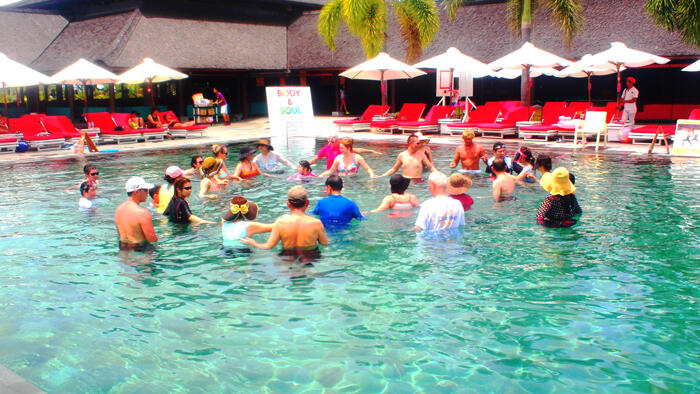 The water sport activities in the common pool are very popular for guests of all ages.
They had water polo and aqua aerobics lessons on that day.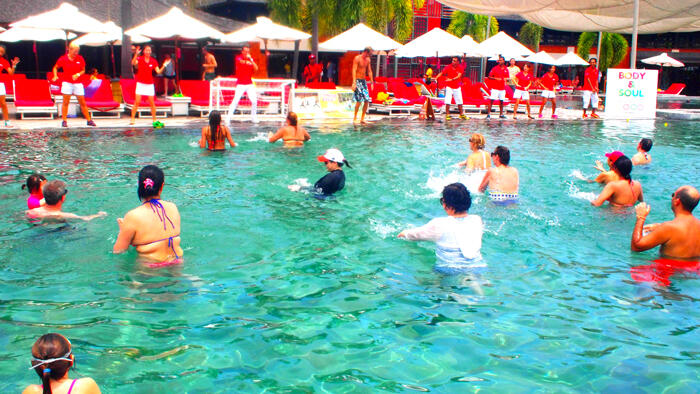 Notice how all the G.Os uniforms change based on the colour-code as well!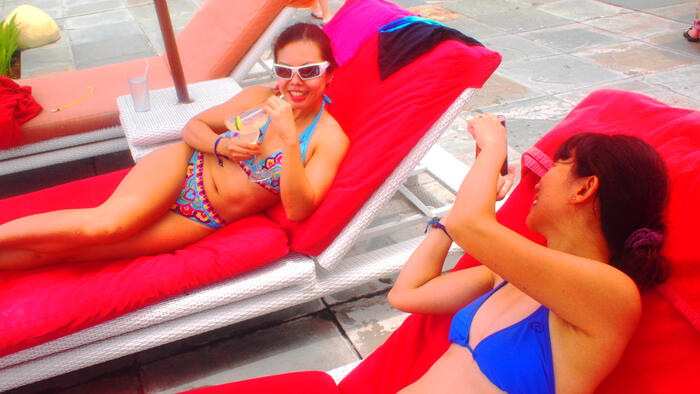 Claudia joined in for the water polo, while Lena and Evelyn enjoyed their drinks by the pool.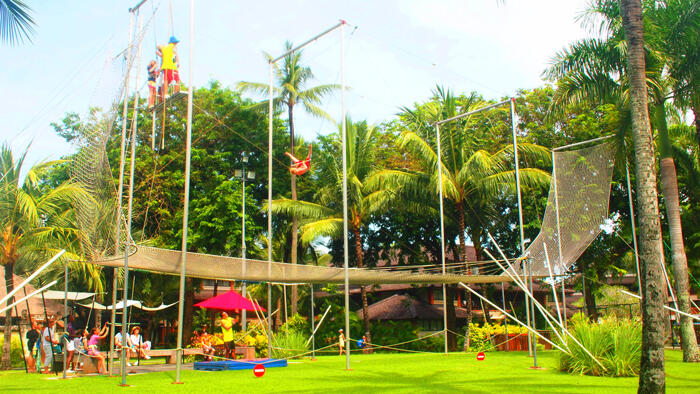 If water activities are not your thing, you can always go for the trapeze lessons. They have two slots daily which are available for kids and adults. I wanted to join but chickened out last minute by deciding that I'm more of a water person.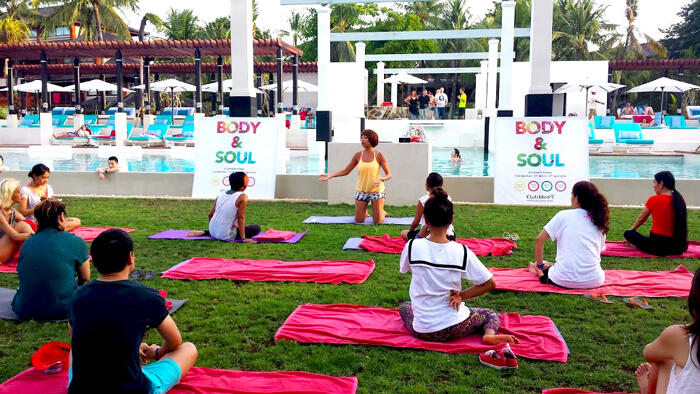 This yoga lesson was in the evening and it was for relaxation after a whole day of activities that took up so much energy. Zen Pool was the perfect location for its serenity and peacefulness, and it's my favorite place so far.
Most of us were almost falling asleep by the end of it. Samantha was great at leading us. There was a moment when we were to connect our body and soul to the ground while lying down, she played a really calming tune that helped us better in relaxing. After the lesson, I felt refreshed. All my tiredness had dissipated!
Day 3: Balance in Green day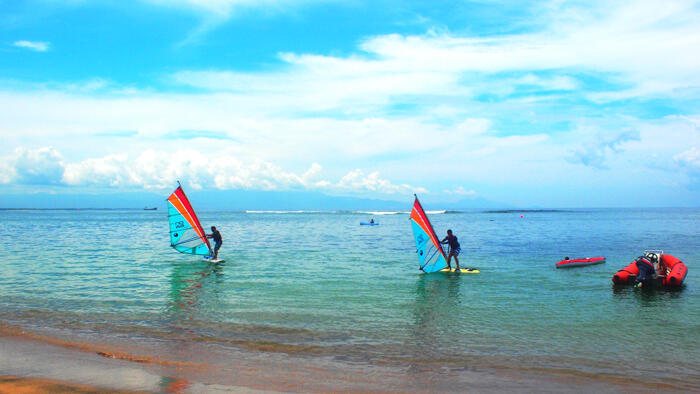 After the Harmony of Yin & Yang yoga class in the morning, we had windsurfing lessons to train our sense of balance. I never expected this to be so difficult. I fell countless time, climbed back up to the surfboard, then fell again. Claudia did better, after almost an hour, she was able to balance nicely and surf further!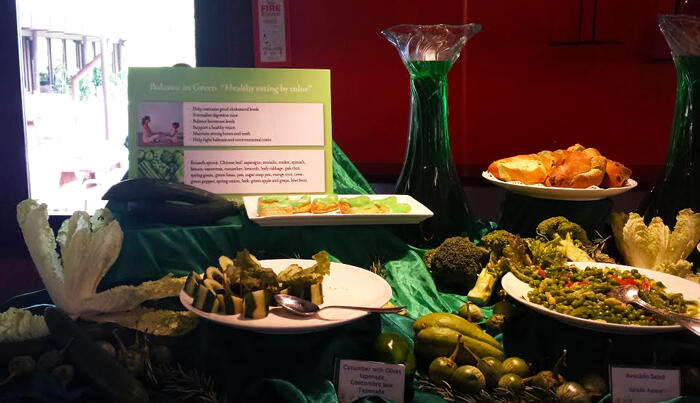 Green-themed food corner that serves a variety of greens like cucumber with olives and avocado salad.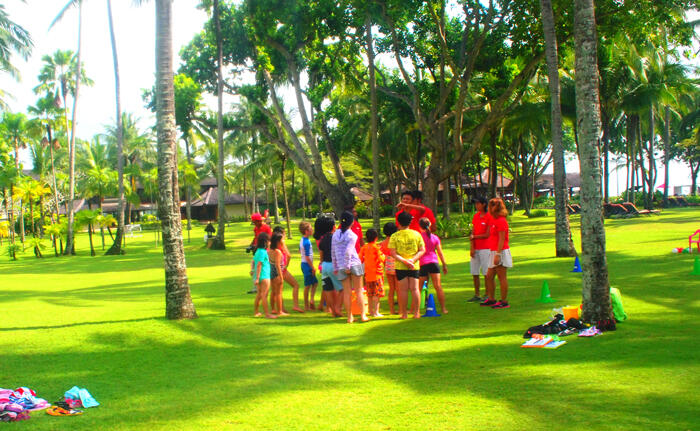 Childcare is one of the greatest services offered by Club Med for families. Parents don't have to worry, especially if they want to have fun on their own! There are G.Os in charge of different areas, and the G.Os of childcare are some of the friendliest and happiest i noticed there. They bring the kids for different activities daily and it looked so fun, i almost wished i was still a kid!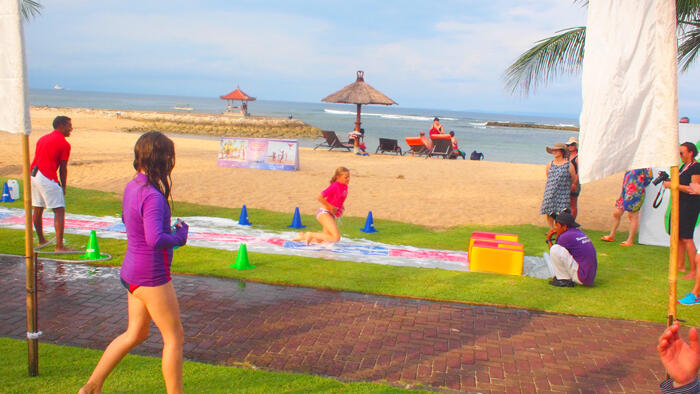 They had a water sliding activity for the kids, and it looked REALLY fun.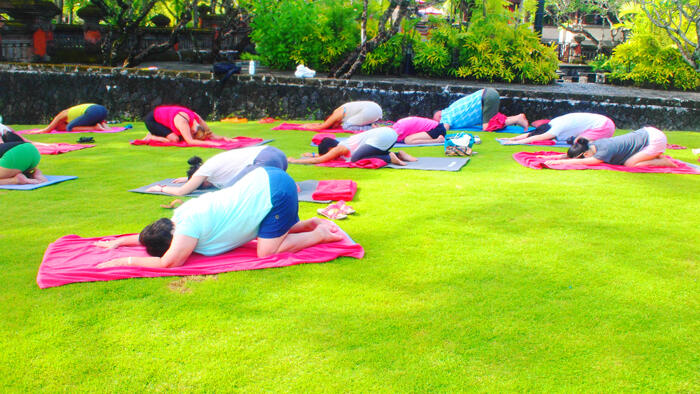 In the evening, we had Chakra Cleanse + Rebalance lesson to end the day before dinner.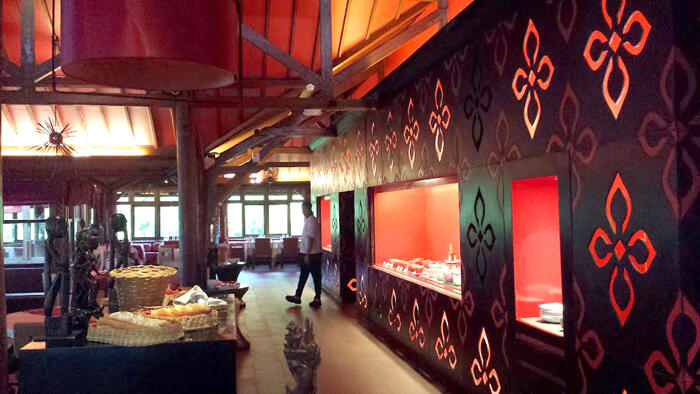 We had fine dining at Batur restaurant that offers French + Asian fusion cuisine.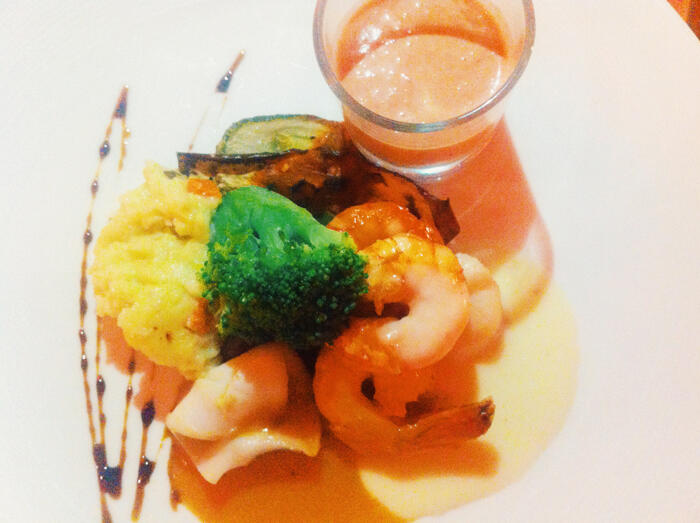 There are 2 sets of 4-course meals offered by the chef daily. I ordered myself a beautifully-presented seafood set that night, and the food was AMAZING. I love how the chef mixed familiar Asian flavours with Western influences.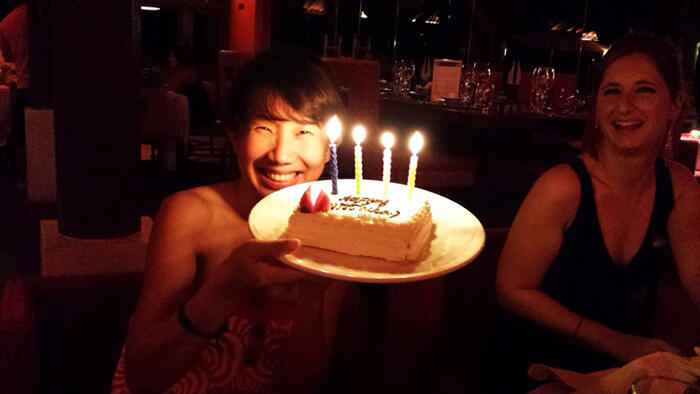 It was also a pre-celebration for Evelyn's birthday that night. Happy Birthday Evelyn, and never stop running!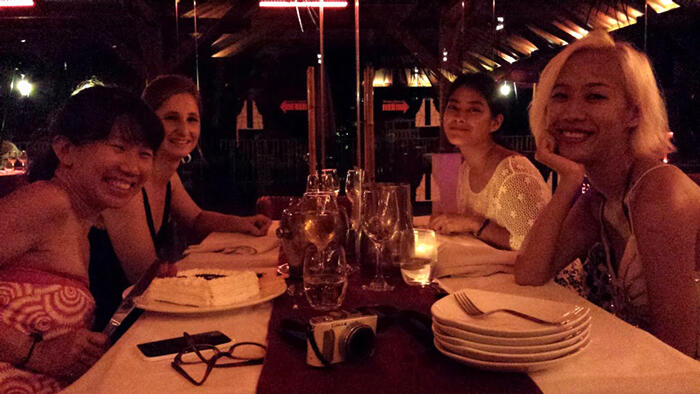 Other interesting bits about Club Med: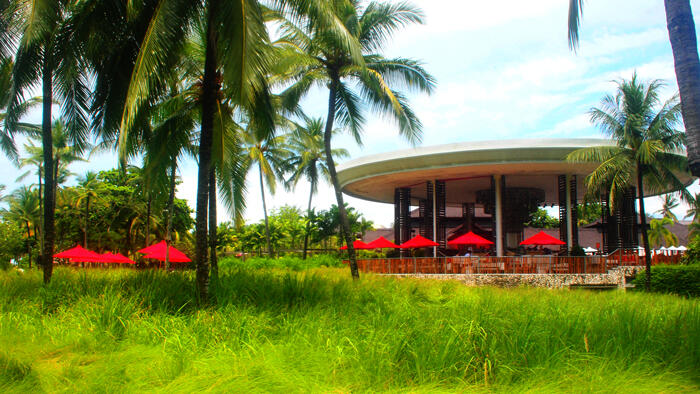 There's an all-day bar that opens till 12am daily offering different alcoholic drinks, coffee, juices, cocktails and drinks for kids.
If you're looking for GOOD drinks, look for J.P. He's usually on night shift and makes The Best Mojito Ever. Everyone calls him Papa there cos he's apparently one of the oldest staff in Club Med Bali.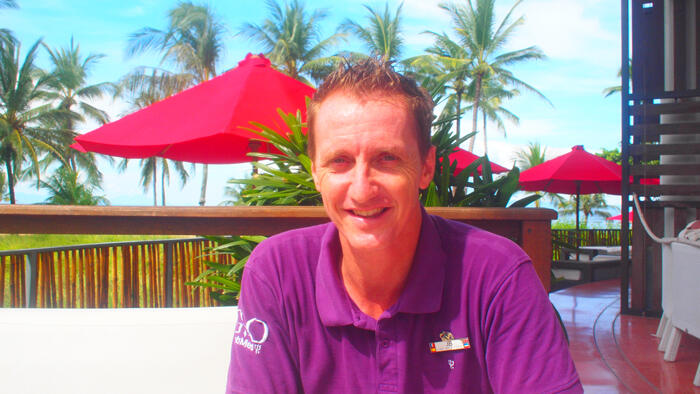 We were introduced to J.B. (Jean-Benoit Nisin, above). He's the Chef de Village or Head of Resort for Club Med Bali. J.B. has been working with Club Med for 16 years now, the title of Chef de Village under his belt the last 9 years in various locations. He started off as a lifeguard in ClubMed, and then moved on to Sports G.O, till he got promoted to Chef de Village.
Sometimes you'll get to see J.B. dancing and singing on stage as well during the night performance haha!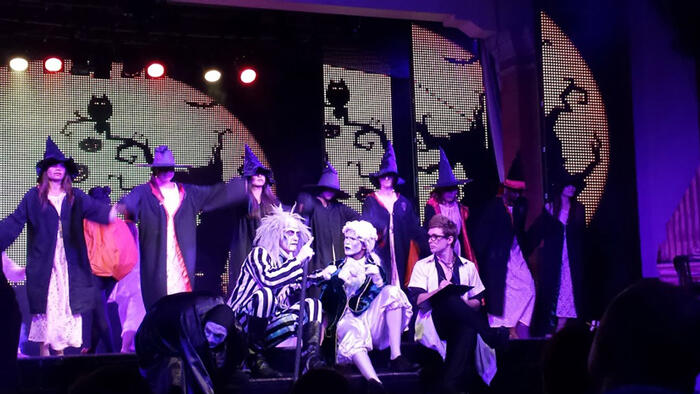 There are two performances each night after dinner from the G.O teams with lots of singing, dancing, and tricks. This Halloween-themed performance is my personal favourite. It's always really crowded and most people sit thru the entire show.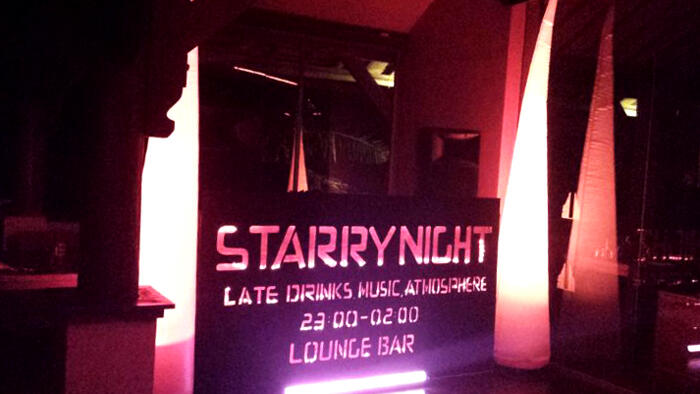 The Starry Night club opens till 2am (or later) and plays a different range of music from oldies to EDM. You get to meet most of the G.O.s there at night, along with fellow travellers.
Day 4: Revitalization in Purple day
Our last day in Club Med, and I didn't want to leave yet!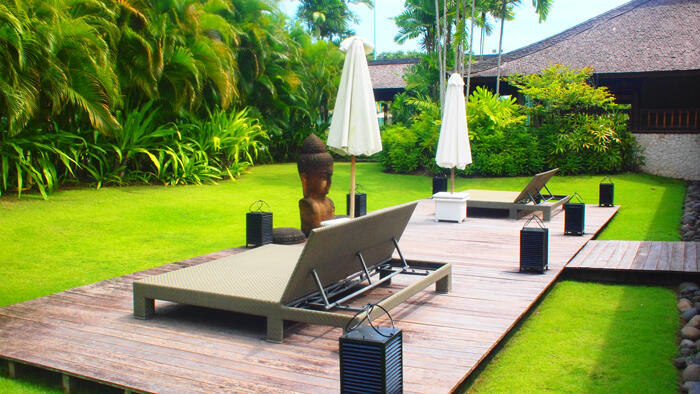 Lena gave us a surprise gift by treating us a to a 2-hour spa treatment after the Happy Shoulder and Neck yoga session. Bali wouldn't be complete without a spa treatment. It included a facial, body scrub, and Balinese massage. It was truly revitalizing, and I was ready to go home. 🙁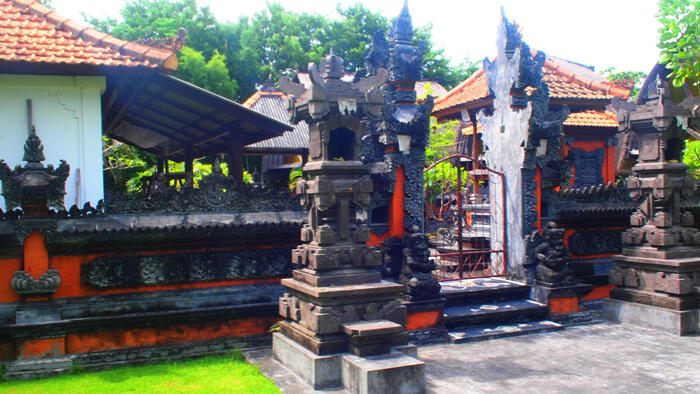 There're different Balinese temples built around Club Med so you won't miss the unmistakable vibe of Bali.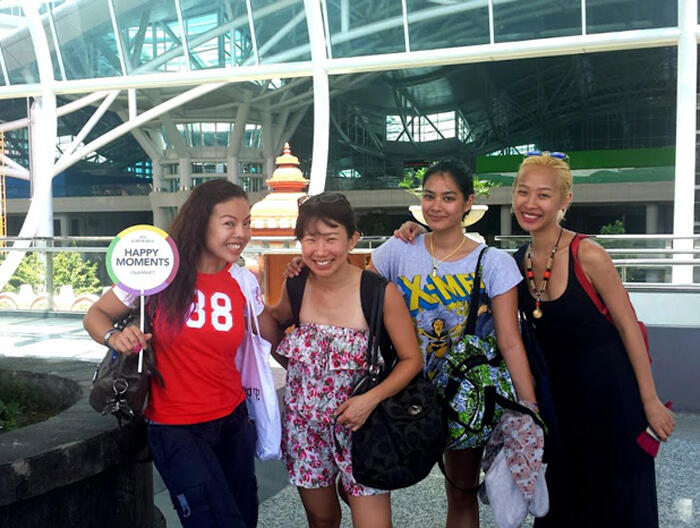 We were all ready to go home after our last lunch in Club Med.
The Body & Soul event gave me such a great experience! 4D3N will never be enough if you really want to experience everything there. I noticed tarot and palm reading which i didn't get to try! The yoga lessons were truly an eye-opener for me and it has encouraged me to do more yoga in the future. I came back rejuvenated, and have started paying more attention into the colours of my food and surroundings.
Club Med Body and Soul event is held annually in Asia Pacific for a month. The next location hasn't been chosen yet, but I hope it'll be Maldives this time!
To find out more about Club Med's Body and Soul event, like where and when the next will be, check out their FB page for latest updates: www.facebook.com/ClubMedMalaysia
Club Med also offers better discounts if you book months in advance, they offer an all-inclusive package that covers all your needs for an escapade, and it's just few clicks away!
www.clubmed.com.my