A week ago Dawn asked me whether i'd go to a movie premiere in which she's acting in, so i said SURE. On the day of the premiere (last Thurs night), someone asked me what the name of the movie that i was going to watch was, and i didn't even know! So i went back into my messages to check and Dawn didn't even tell me -_- Well, i didn't ask either cos it didn't matter to me then :p Thought just shartup and go support XD
Now that i've watched it, i implore you to go with your friends/family to watch this Malaysian independent film! It's just starting showing to the public in all TGV cinemas today, and only for the next 2 weeks!
Called CUAK (meaning gelabah/kancheong/panicked, or English title for the movie = 'second chance'), the movie was created by 5 directors working together to tell 1 story about a young man named Adam (Ghafir Akbar) having second thoughts on his wedding day with Brenda (Dawn Cheong).
It stars many familiar faces you'd recognise from the theatre and entertainment scene like Gavin Yap, Ash Nair, Patrick Teoh, Kuah Jenhan, Bernie Chan, Diong Chae Lian, Ani Juliana Ibrahim, Tony Eusoff, Craig Fong, Iedil Putra, Qahar Aqilah, and Corinne Adrienne.
I didn't know so many people were involved in it, (how could i, seeing i didn't even know the title of the movie -_-) and bumped into so many old friends and familiar faces at the premiere. It was almost like a reunion. I sat in between Dhanya and BracesAaron (haha); and chatted to Llew, Joanne, Bahir and Keith from my school, found out Michael whom i used to work with at Freeform freaking produced it, hugged old kakis like Eddie and Henry, Julian & Carol too. Ok i don't know what i'm doing, it's not like i can possibly name everyone cos there were so many people there, and LOTS i didn't know too!
I went to the after party and made so many new friends that night 🙂 Like this illustrator guy with long hair called Augustus, an American guy called Bryan who's married to a Malaysian Chinese, Sandee who looks like a party girl forever, Paul whom i had forgot meeting before :p, and James who showed me startling videos of Death Valley and facebooked me some advice on where to travel to with Clem. So awesome! Ok i probably forgot some other people i met and am very sorry in advance. I wish i had a personal fairy PA who could sit on my shoulder to remind me of everyone's names and what i spoke about with whom.
Also had a very long catch-up with my old church friend Manesh, whom i haven't really spoken to for years. Now he's got a supercute daughter, and i discovered he's also one of the 5 directors for Cuak. I am so fail sometimes.
Thanks for a great night Dawn!
You were so awesome in the movie that i would forget that i knew you cos you totally  made me believe your character!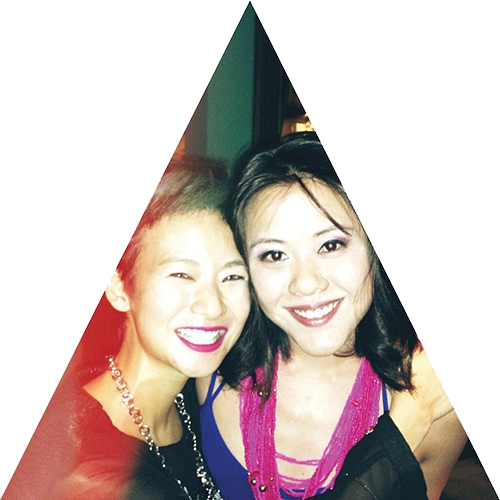 Please go watch the movie guys! It's so hard for the local talent here to get enough funds for an independent film and they were joking that the directors barely got paid for it :p So go support our local industry and be surprised.
Cuak is directed by Khairil M Bahar, Manesh Nesaratnam, Lim Benji, Tony Pietra Arjuna & Shamaine Othman; produced by Michael Chen, and brought to you by Garang Pictures.