Sorry i haven't been blogging much! Ever since we got back from France, it was immediately jet lag-battling, back-to-work drowning, Life Errands-sorting stuff in 4 days; before six of us darted off to the Dusun for a weekend getaway.
Kenny organised it for Cammy's 30th birthday, and we all divided groceries for meals between couples across our 2-night stay. As usual, we brought too much food… but better to be over prepared than craving.
All in all; we ate raclette, saucisson, tarama, foie de morue, salads, ham + egg sandwiches, Chinese herbal chicken drumstick noodles, steak tenderloins, breakfast of bacon and eggs, and i think that's it… Drank champagne, Shiraz, tequila, rum, single malt whiskey, gin, and beer.
Clem and i brought the Dusun family some saucisson and gave Hansi a Mr. Potato Head. He seemed more enamoured with my camera i held out to him tho.
Helen's eyes widened slightly and i quickly said, "Oh it's okay, it's water-proof and shock-proof!"
She said, "But is it child-proof?"
Me: "Well, that's why Clem got it for me…"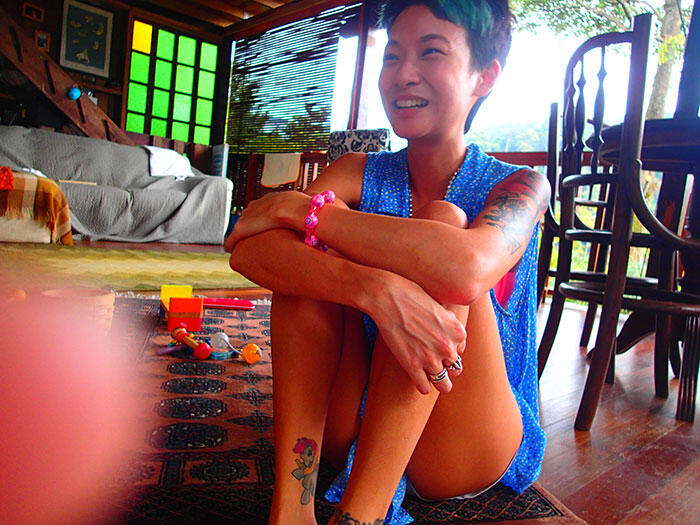 For little hands holding a small camera, Hansi took a pretty decent shot of me!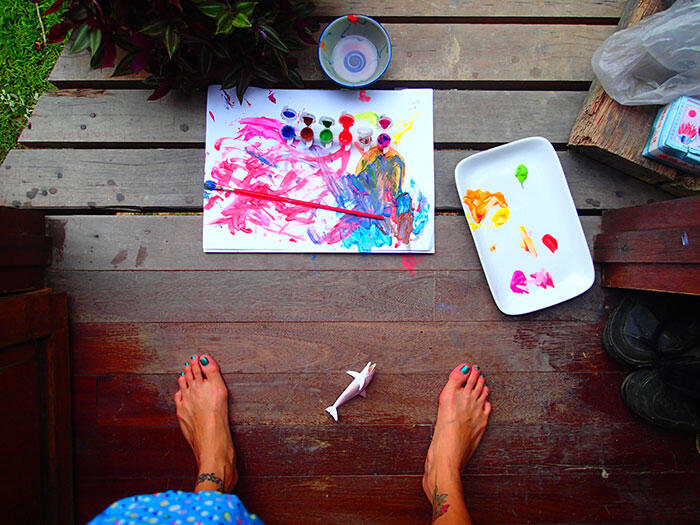 I took a picture of his painting from that afternoon.
Didn't even notice the dolphin at my feet till going through the pictures.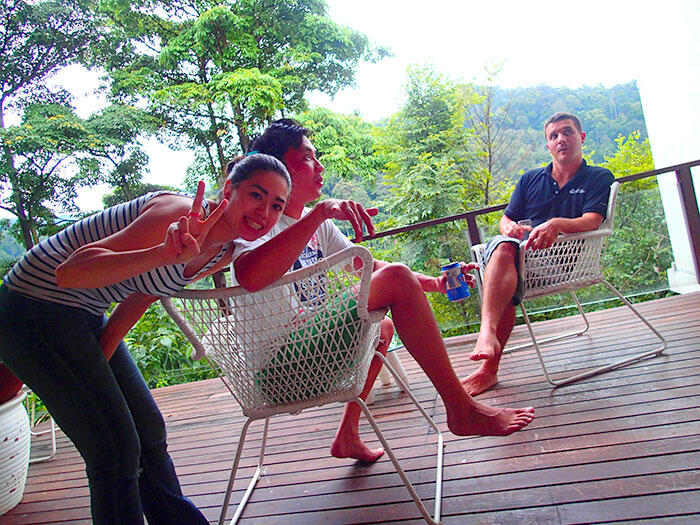 Hansi took this picture too!
I brought a bunch of pink balloons (cos Cammy likes pink), pink streamers (she coincidentally brought some too!), and a balloon pump (cos there's no way i'm gonna blow all those balloons up with my mouth. Where's my butler…) to decorate the place. Matt and i hid upstairs and blew a few up to rain down on her as a surprise, but we got to six balloons and felt left out doing it by ourselves so we rained down what we had then continued the rest downstairs.
I tried to pump a balloon up till it burst and it got SO VERY BIG. Clem said i was scaring myself more than Matt or Kenny; whom i innocently stood next to, subtly pumping away on the balloon pointed at them, all the while talking to them.
It finally burst into hundreds of little pieces… (who knew?)…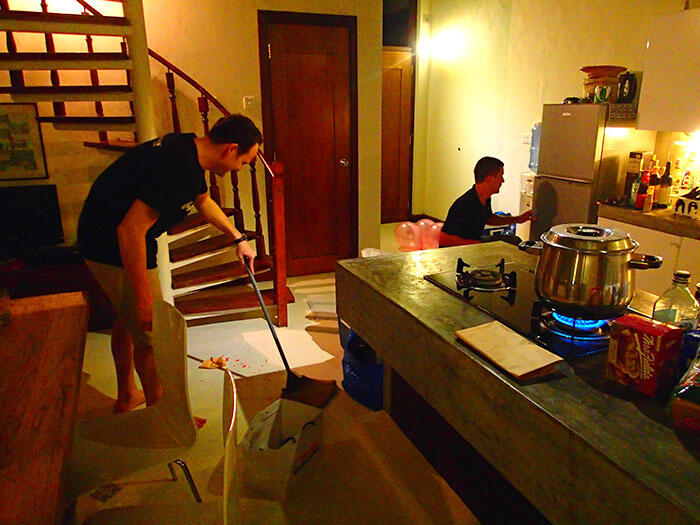 … that Clem swept up.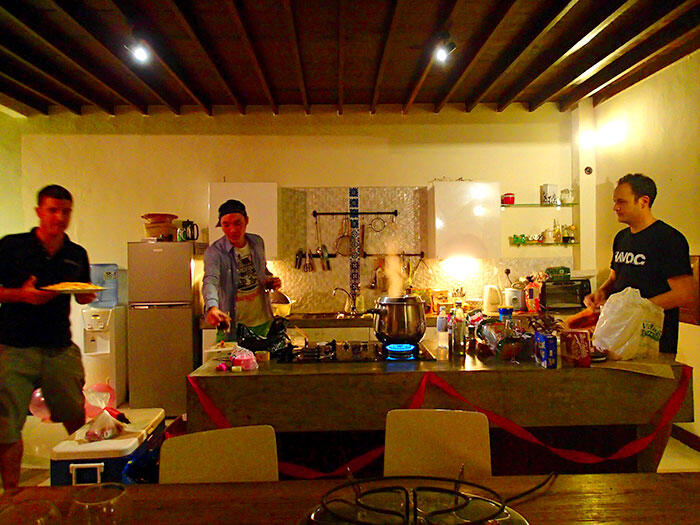 This is the French way: The men cook and prep…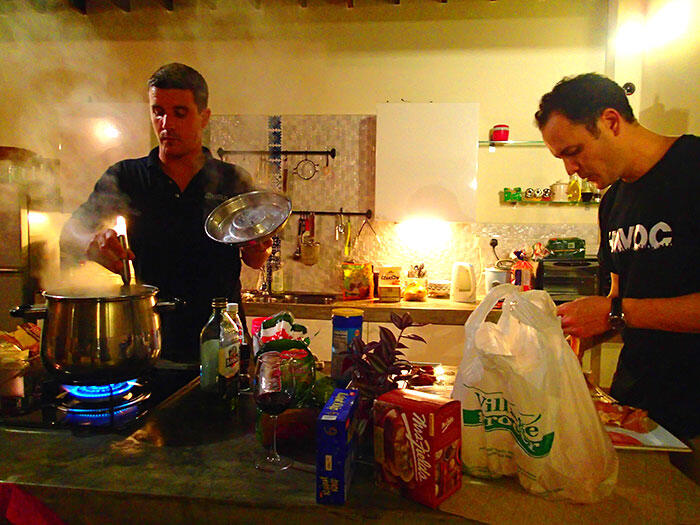 While the women play on their iPads…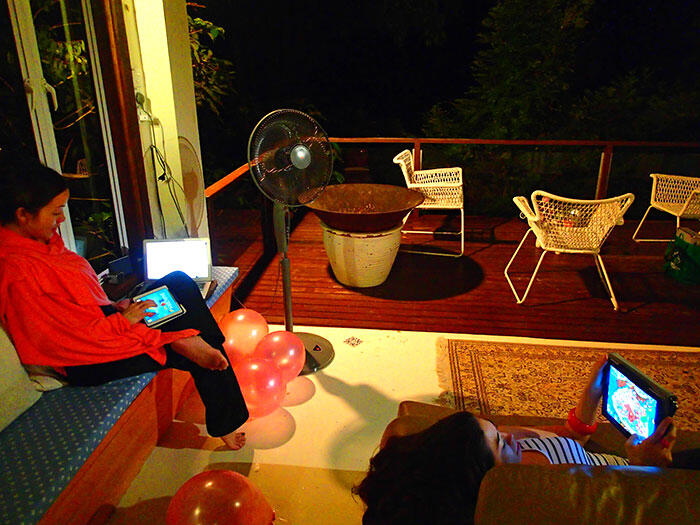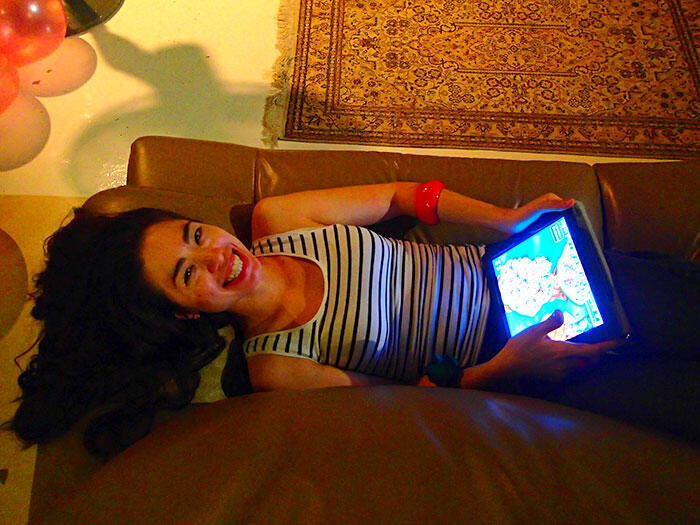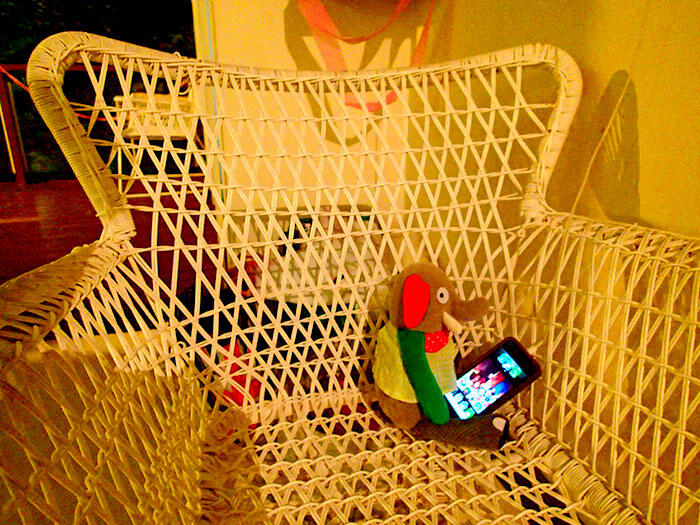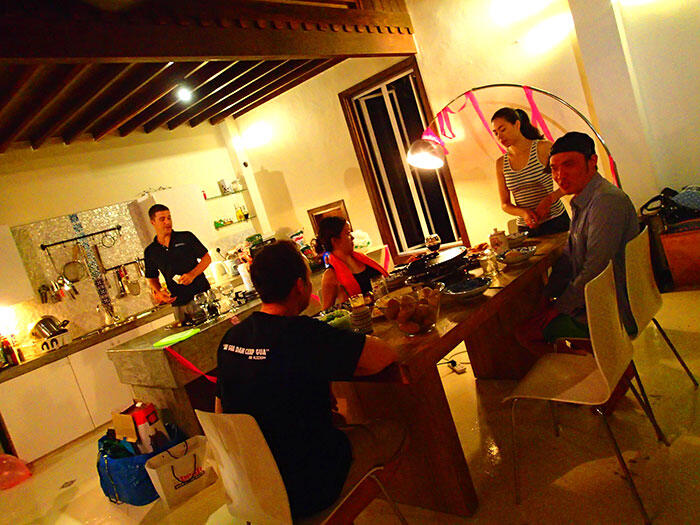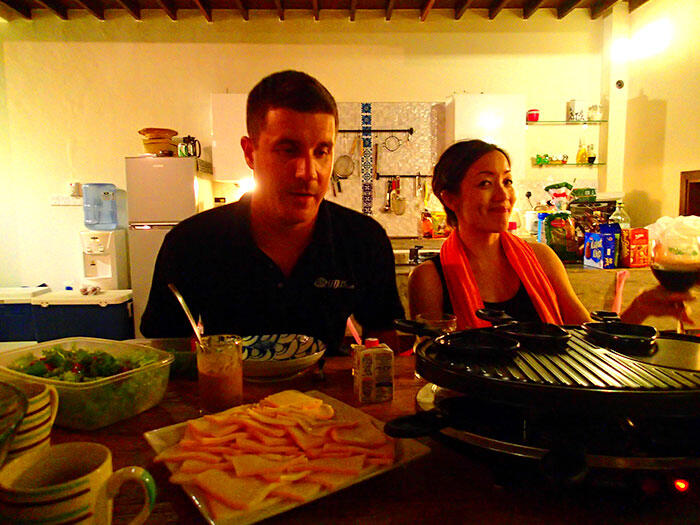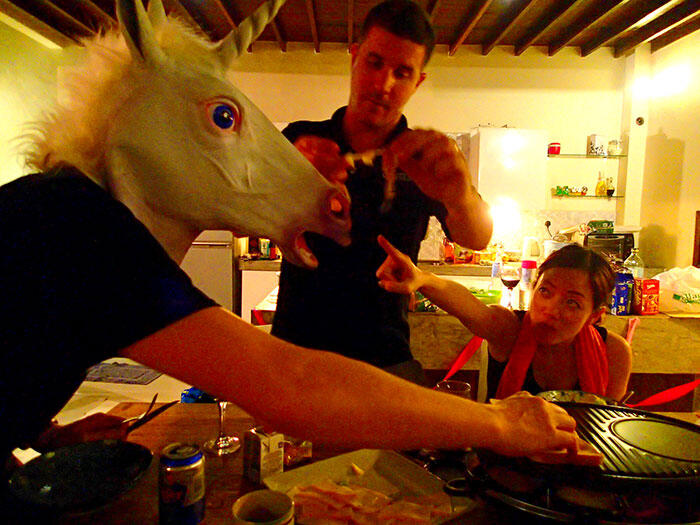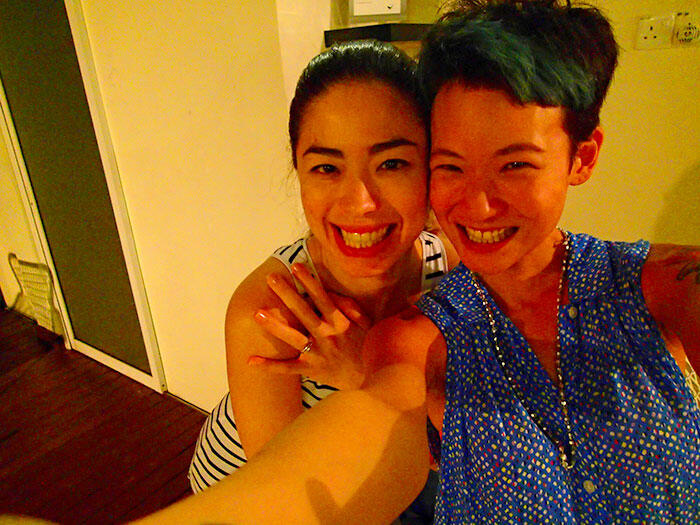 Happy birthday Spanky!!!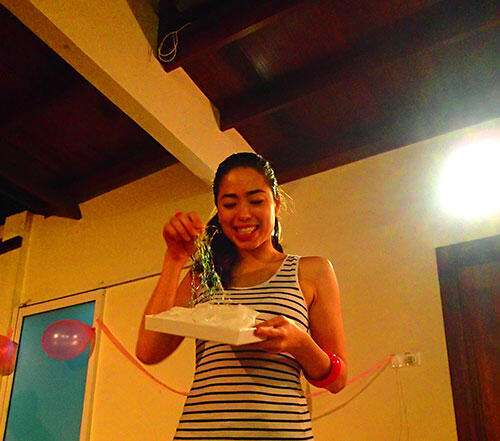 We gave Cammy a necklace from Oxoloco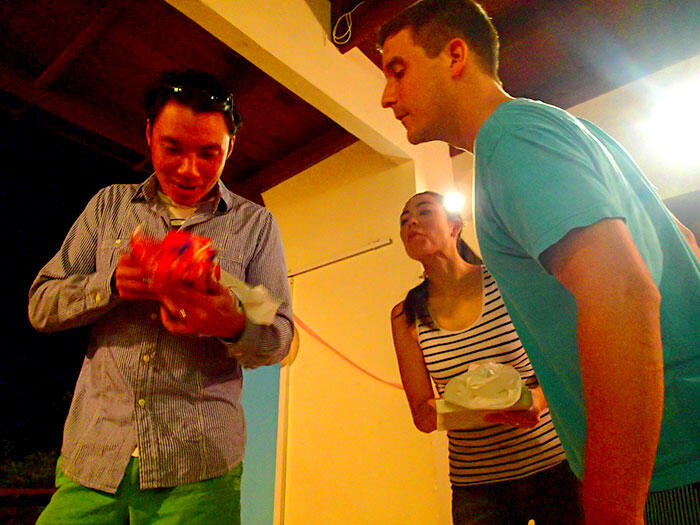 Kenny got to open his belated Christmas present that arrived late from the States – a model Z3 that's just like his.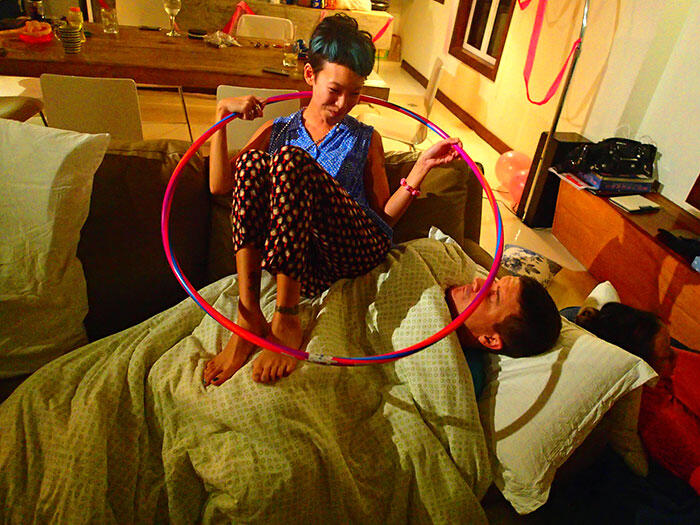 Chefs get tired fast. They make great resting places.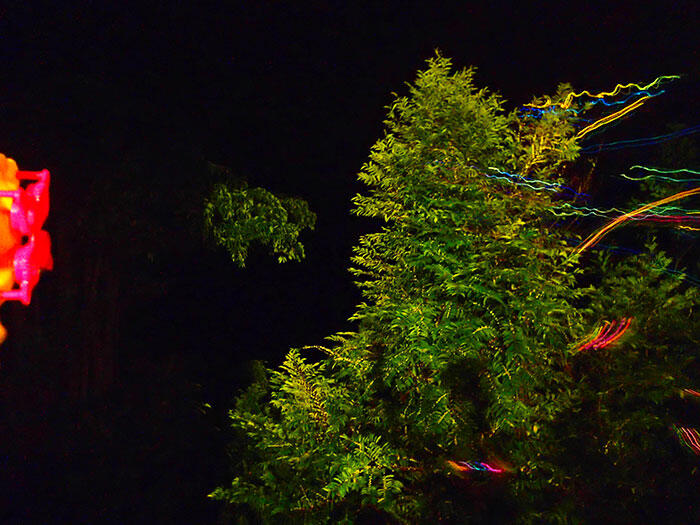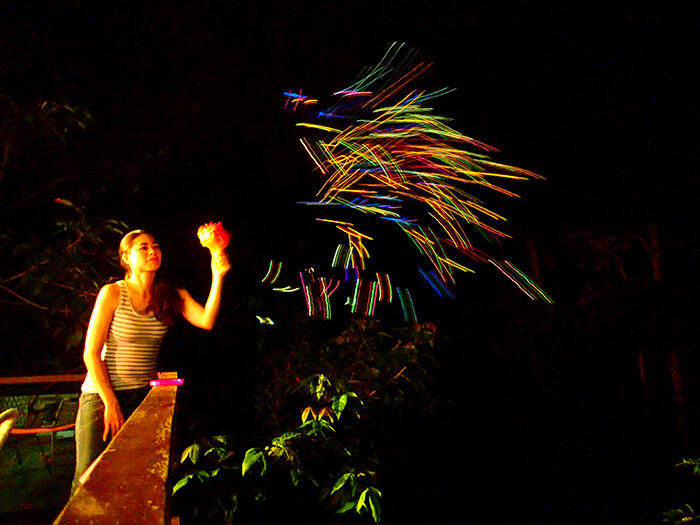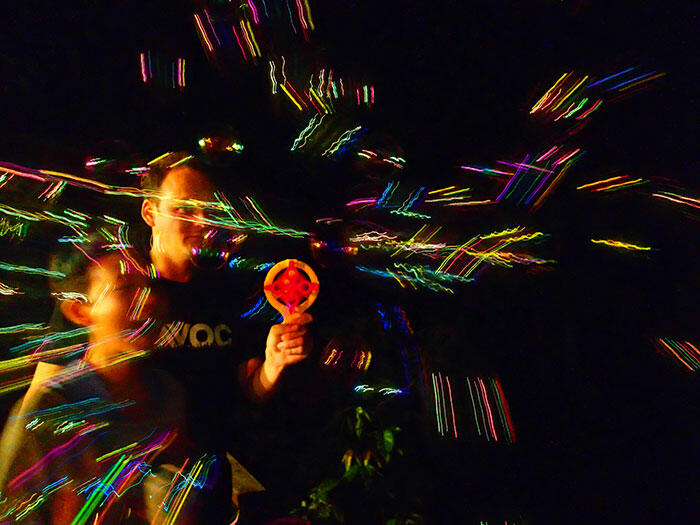 Thanks for taking the nice bubble pix Cammy 🙂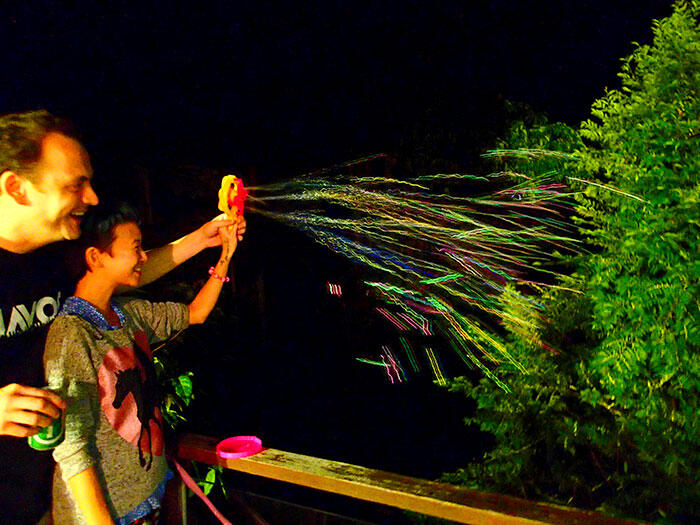 I'm so happy with this electric bubble blower i got from Hamleys! Gonna buy more!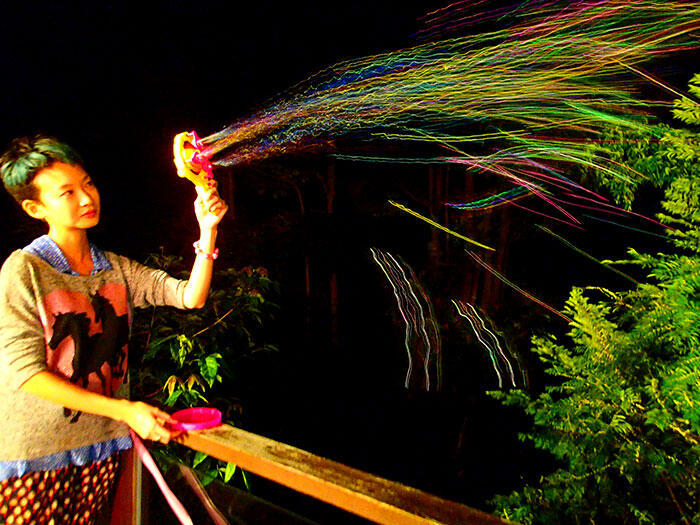 OK excuse my dressing. i was too lazy to change out of my sleeveless blue Levi's top from the day, then i pulled on long pants so the mozzies wouldn't get me, then it got cold so i threw on my unicorn sweater, and WALA.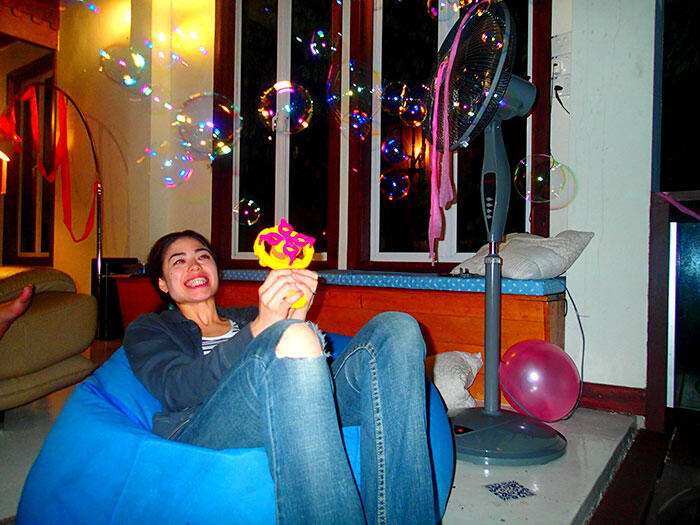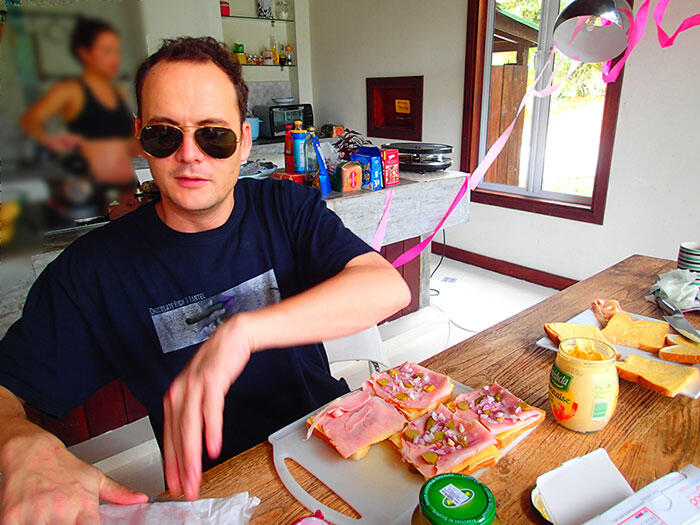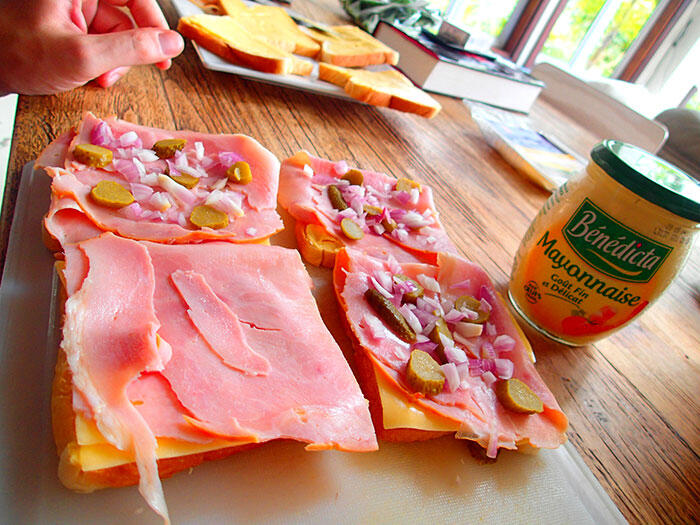 Clem's favourite kinda breakfast.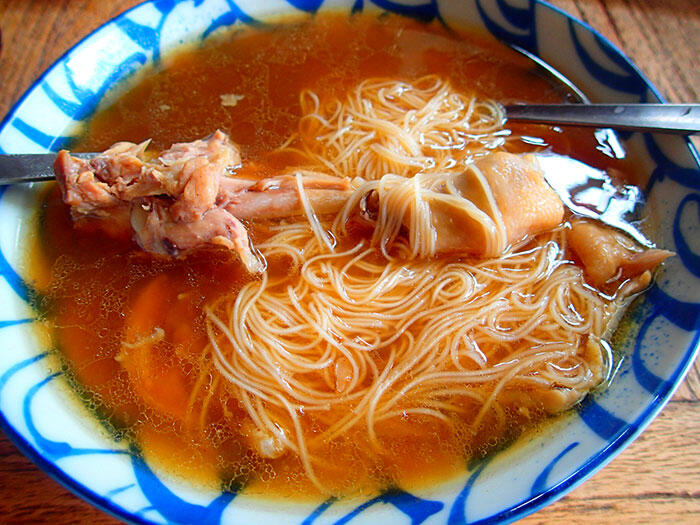 My favourite kinda breakfast.
Serena made us yummy herbal chicken noodle soup which is great hangover food.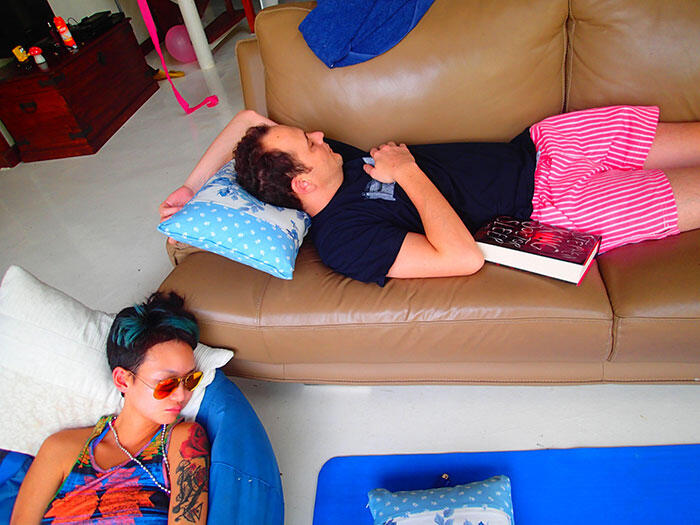 We took a delicious afternoon nap for an hour or more.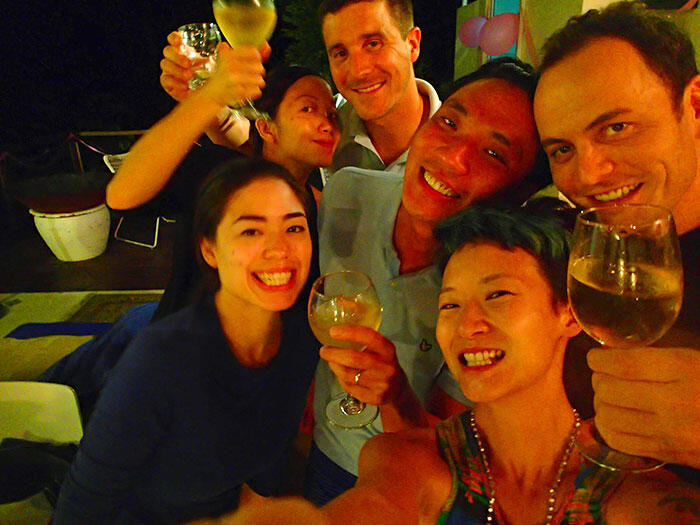 The Sotongs! My attempt at a group selfie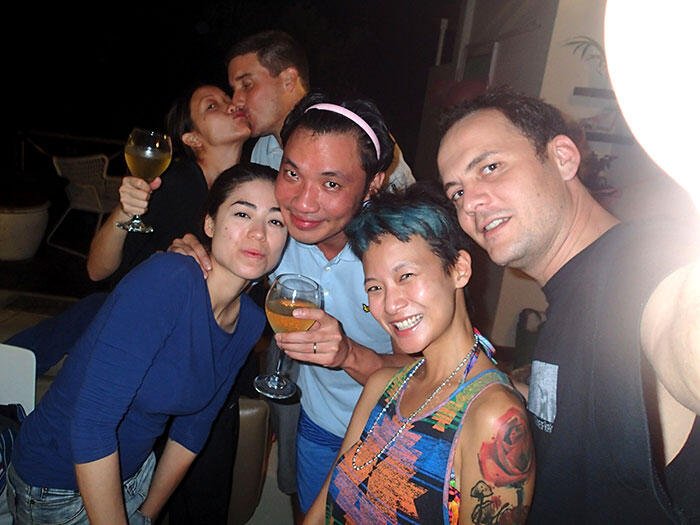 Then Clem tried cos his arm is way longer.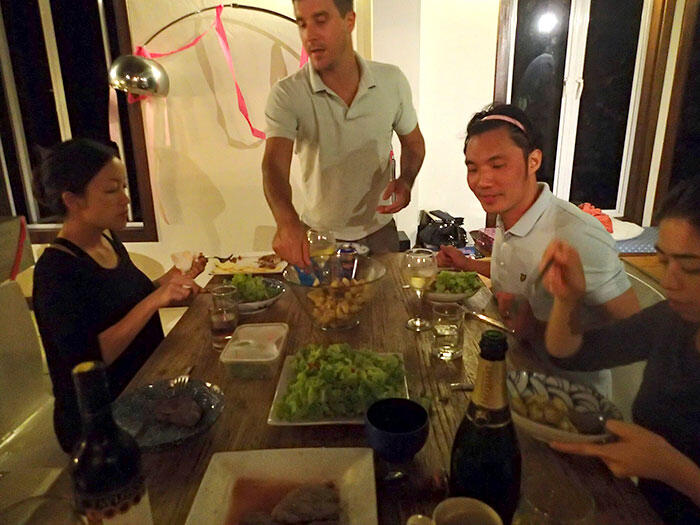 That night i cooked us steak tenderloins.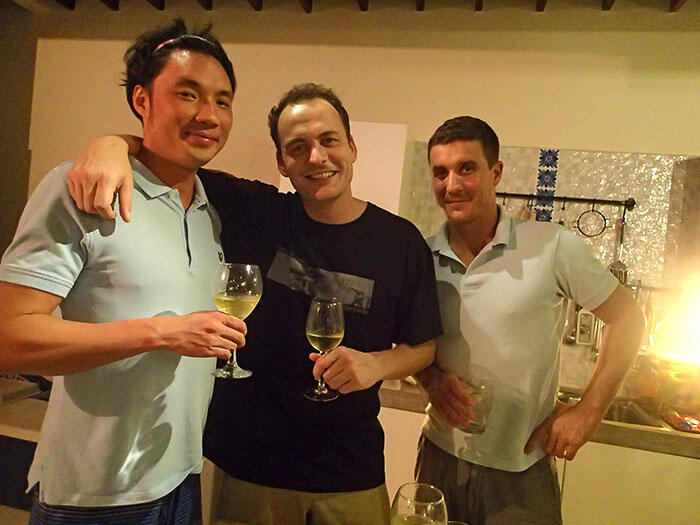 Kenny, Clem & Matt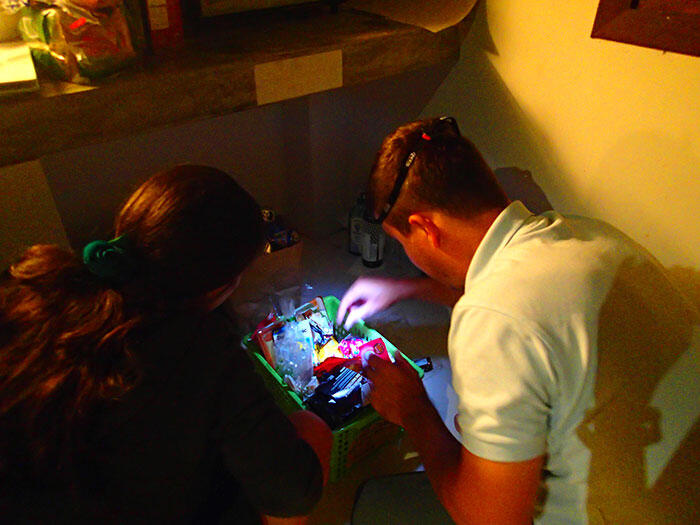 What unfolds when someone throws away something that's not rubbish.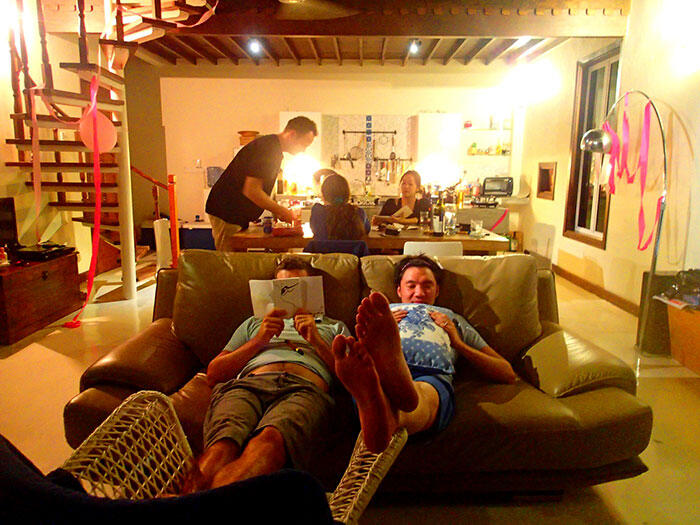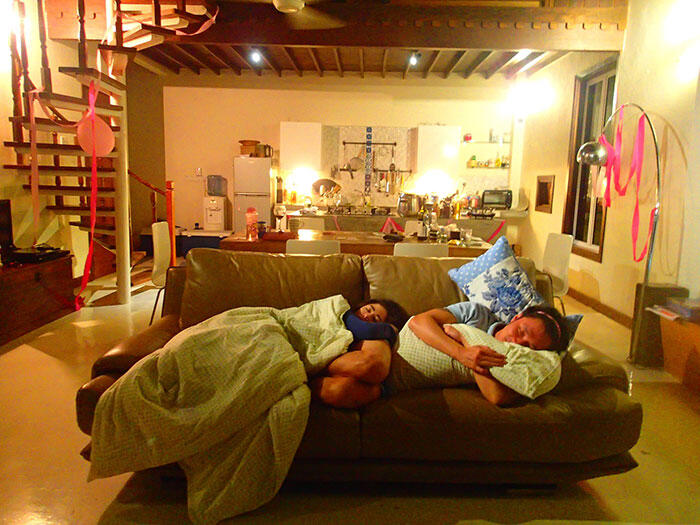 Some instagrams i posted: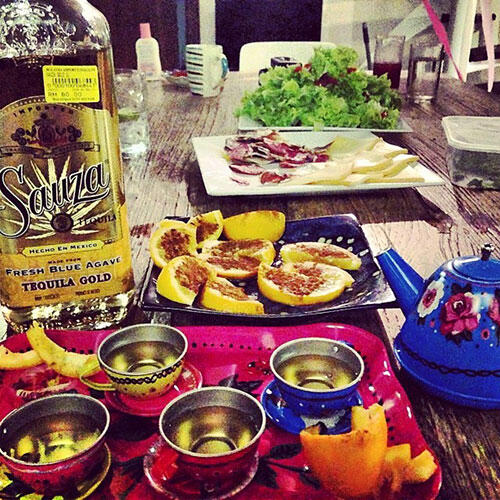 Used my tiny tin tea set i just got from a toy store in France – to serve shots from! I know, i'm so clever.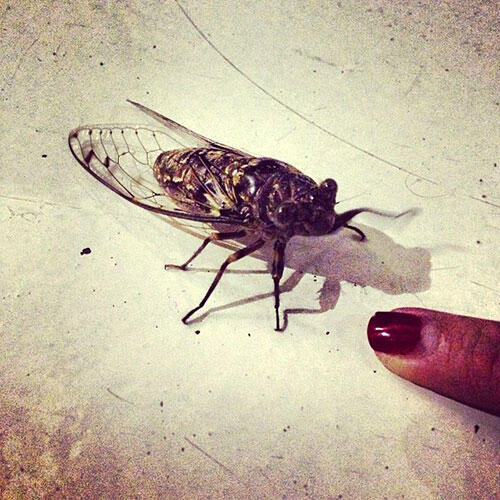 A cicada!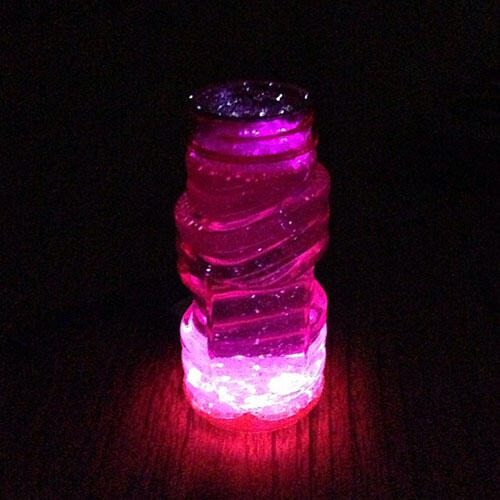 Glow-in-the-dark bubbles that Cammy gave me for Christmas.
Ohhhh Matt brought a tin can of foie de morue which he carried back from France. It's cod liver and IT IS DELICIOUS.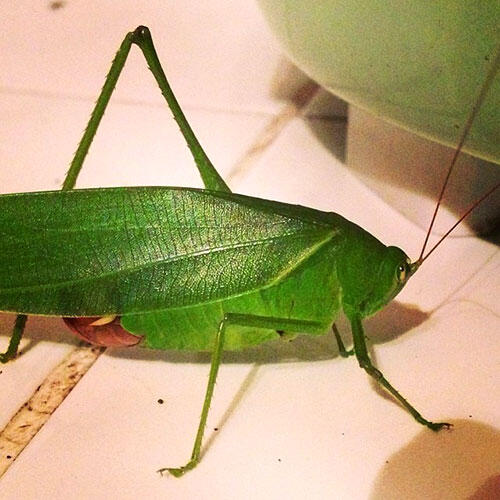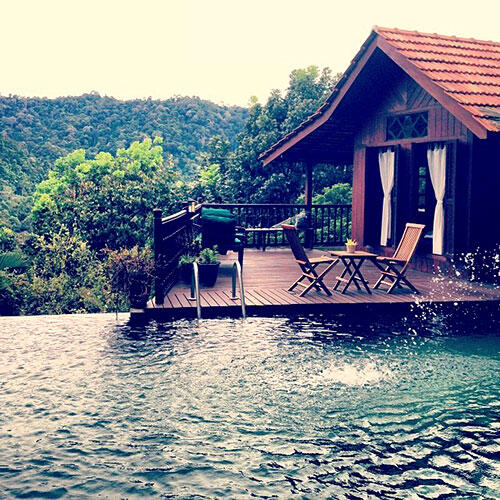 The Berembun House @ The Dusun, where Clem and i stayed.
We mostly hung out in Sora the whole trip tho, cos its kitchen is bigger.