Over a month ago i had a Christmas shoot for Watsons Malaysia with two other bloggers, Jane and Nana. It felt a bit strange to pretend to experience Christmas so early on, but oh-so-fun!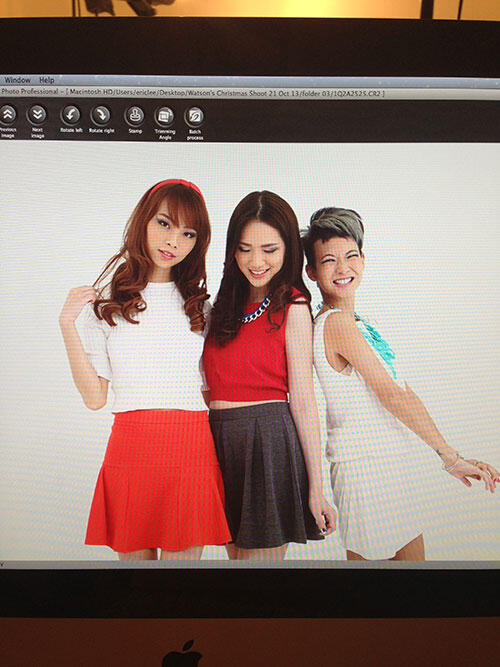 It was so funny to smile and laugh, and conjure up all these facial expressions of opening great presents! I was making up all this fake conversation when i had to pose next to Nana, and saying things to her like, "Hey Nana!!!! Look what i got you! Don't you like it!?!?"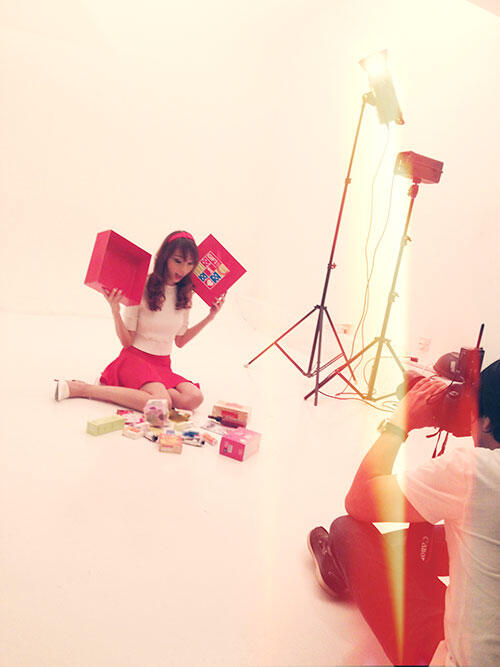 Nana's holding this exclusive Christmas gift box with sticker, which Watsons customers can get when they purchase RM80 and above.*
We shot a lot of pictures… but i haven't seen most of them yet, save for this huge one that appeared on the front page of The Sun last week for an ad for Watsons!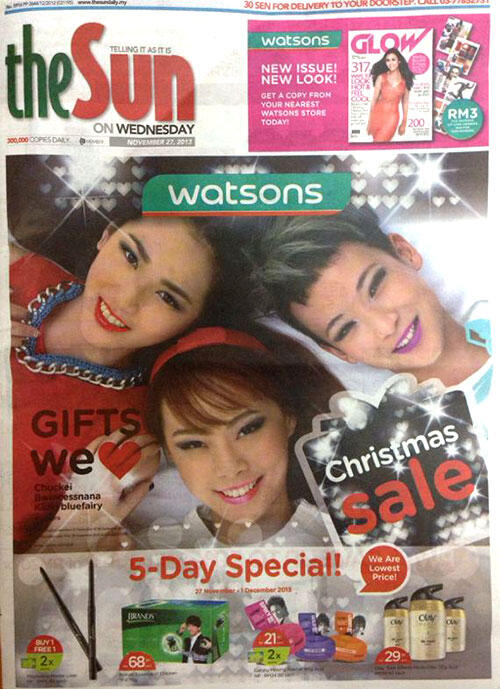 Look Mom! I made it on the front cover of a newspaper! And it's not for something embarrassing… XD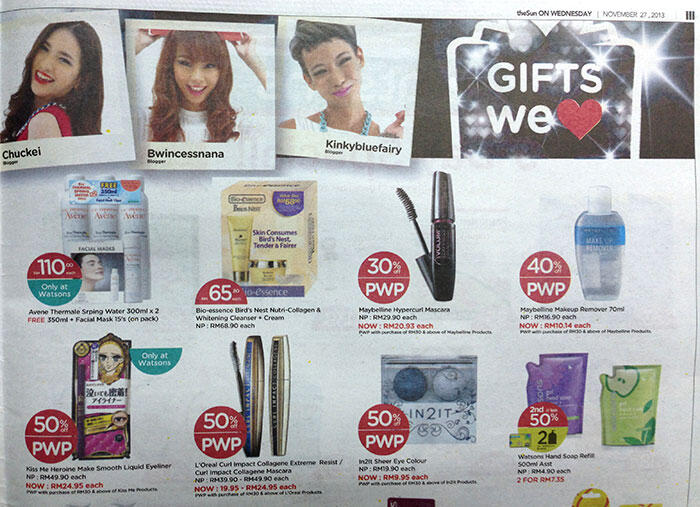 Oh and i made it in the back inlet of the paper too! Along with Watsons products on promotion that we love… 😀
This Christmas, Watsons is about 'Gifts We Love' because you can get fabulous gifts for yourself as well as your loved ones.
I love getting functional presents nowadays… cos it saves you money from buying it yourself, plus sometimes friends introduce you to new products you never knew you needed in life.
Especially if it's to do with health, all the better! I've been on this journey to being healthier this entire year, and discovered so so many tips on things i need to consume to age on the inside as best as possible.
One thing i've started taking and telling everyone about… is digestive enzymes! (i learnt about it from Dhanya then researched lots bout it.) They help break down whatever food you consume so your body absorbs all the nutrients from it, and it's also a boost when you're having stomach problems or feeling ill. Sarah was having a tummy ache the other day and i gave her two plant-based enzymes and she texted me asking what exactly it was cos she felt so much better after!
Another thing that i started consciously including into my consumption is fibre. I never thought much about it before, but when my doctor told me i need to start increasing my protein and fibre intake, i googled for foods and fibre products to buy.
You can buy enzymes and fibre products in Watsons as presents (i know they may sound like boring presents but nowadays, everyone buys all the fun stuff for themselves anyway, and health is something that you will never pay enough for!). Plus, i think it shows your family and friends that you really care about them if you gift them with presents that will make them healthier and live longer!
If you're unsure as to what products to buy, you can always shoot questions at the health experts and pharmacists in Watsons for all the info you need.
Other things from Watsons that would make great presents are bath and body products (cos everyone loves being pampered), make up (cos we can never have enough), Avene Thermale Spring Water (great for travels on the beach/in plane!), car phone chargers, colourful gym bags, and even Minion collectible figurines.
Watsons is reallyyyy into Christmas, they even had a flash mob at the entrance of Pavilion KL. Wait, what am i saying, WHO is not really into Christmas!? I AM LOVING hearing all the Christmas carols, and massive festive decorations in all the malls! (i was practically screaming in delight in BSC last week :p)
The flash mob at Pavilion was super happy… just watch it to FEEL some Christmas love!
Watsons decided to surprise shoppers with colourful elves, reindeer, Santa's helpers and a jolly Santa!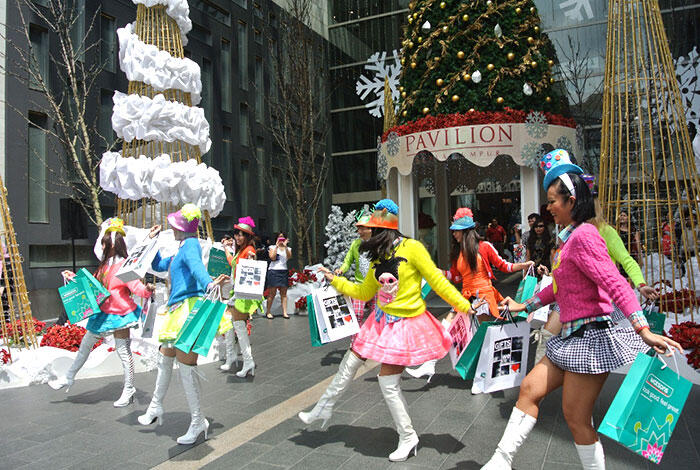 Watsons is having all these promotions right now, but they're only valid during the festive season*:
– Christmas Sale is happening in all Watsons stores: Get 2nd item @ 50% discount on selected products.
– Take home a funky power bank (worth RM49.90) for FREE, with purchases worth RM150 (members) and RM200 (non-members).
– Take pictures in the Watsons photobooth, meet Watsons santa & santarinas (selected stores on weekends) and get freebies!
– Get a Watsons 2014 calendar with purchase of RM80 and above (for VIP Members Only).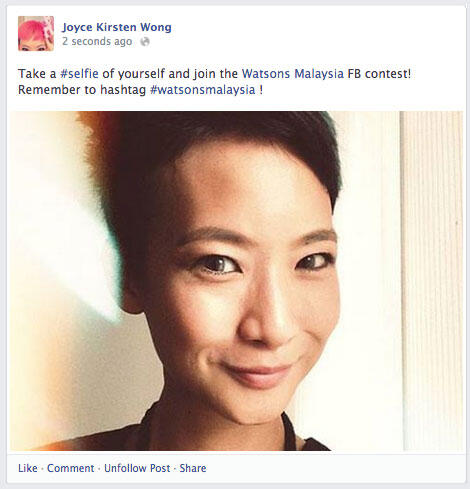 Check out Watsons Malaysia Facebook and stand a chance to win weekly prizes from Watsons just by taking a selfie and  hashtag #watsonsmalaysia
Also, don't forget to pick up the new November/December 2013 issue of Glow Magazine that's hot off the press and making a comeback in time for the holidays.
For more info on FB contest and store activities: www.facebook.com/watsonsmalaysia
* Promo period: 21 Nov – 25 Dec (WM), 28 Nov 2013 – 1 Jan 2014 (EM).