Am currently spending a week in Siem Reap! I've always wanted to come here especially as Cambodia is the last country i had yet to visit in South East Asia! Am thinking we should explore more secluded parts of Indonesia, Myanmar and Vietnam after this. So many places so little time…
We took a 7am AirAsia flight and were so afraid of the Raya crowd that we left for the airport at 3am. Luckily we played it safe… the airport was freaking crowded and queues were insanely long. Walked by the airport bar around 5am and joked that Rahul was probably in there. We weren't too far off from the truth… he told us he was in the KLIA one :p
Passed out on the 2-hour flight and arrived to a beautiful first view of Siem Reap…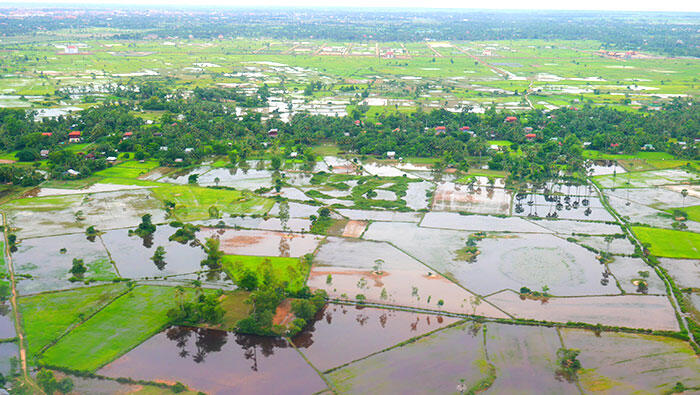 It's rainy season right now which is great by me cos it's less dusty, less hot (than what i've heard other tourists say it to be) and less crowded than peak seasons. Rest of the pictures are in chronological order. (Clem says hi.)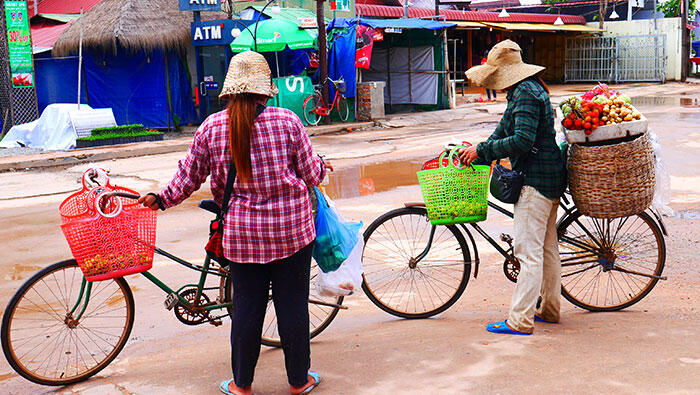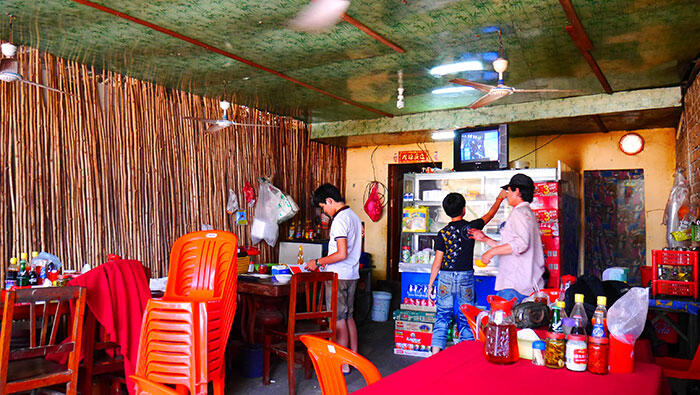 After sleeping for a few hours upon arriving (7am flights spur on unworthy jet lag!) we walked out of Friendly Villa to find some food. I insisted we stopped at the first place i felt i could eat in. Hungry fairies are scary fairies.
Had my first sampling of Khmer food! Pork in a light spicy sauce, and fish in a coconut cream sauce with veggies. Both were really good tho i think the pork dish won. The pork came with rice and veggies, and cost USD3. Everything is paid for in USD here… you can use the Cambodian riel too but everything is quoted in USD so we've barely used riel except to balance out some small change.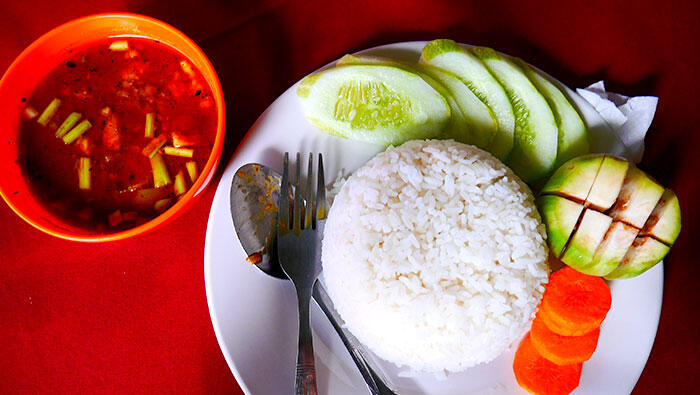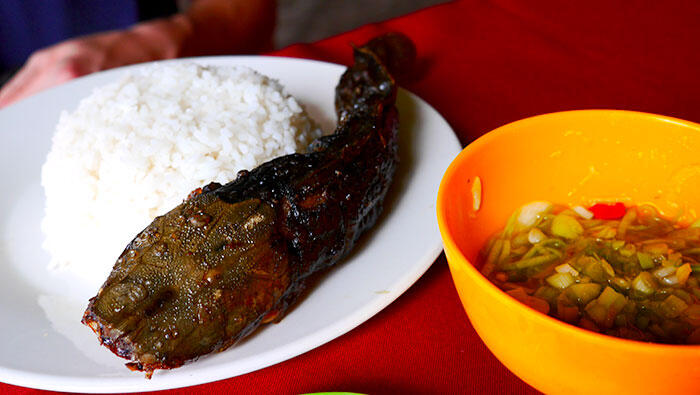 Clem really didn't like his fish dish tho (it appeared as "grilled fish" on the menu)… and i understand why, it had a mushy (and urm kinda smelly) taste to it that even i found difficult to enjoy. And i love taking fish apart to eat head to tail!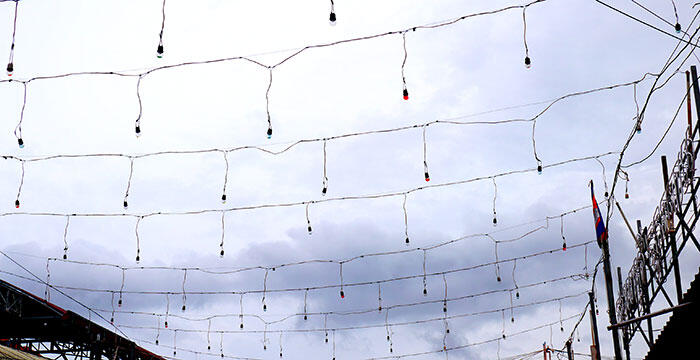 Walked aimlessly around Siem Reap's old market area where all the shops and restaurants are. It's not very big so it's easy to walk around, tho it can get a bit confusing cos it's chock full of bars, spas, and shops with loud signboards contending with each other.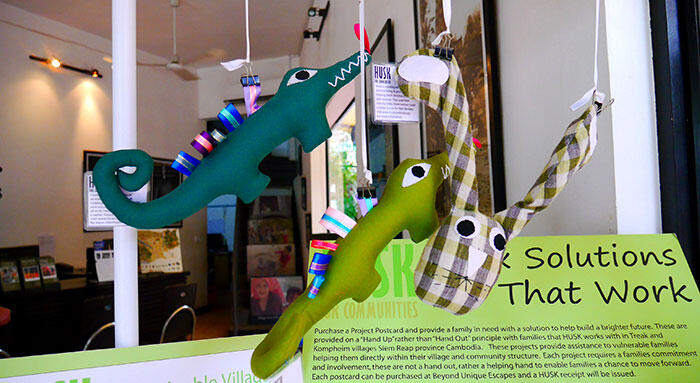 We ducked into a cute-looking alley which we later discovered we were gonna stay at (we're staying in 3 different hotels here) called The Alley West.
The shop above really reminded me of South Italy or Elba..! A bit of a mind f**k.
Clem wanted to get his head shaved and we only managed to find a local barber after walking around for ages, getting bad directions and ultimately lost, before surrendering to hiring a tuk tuk driver.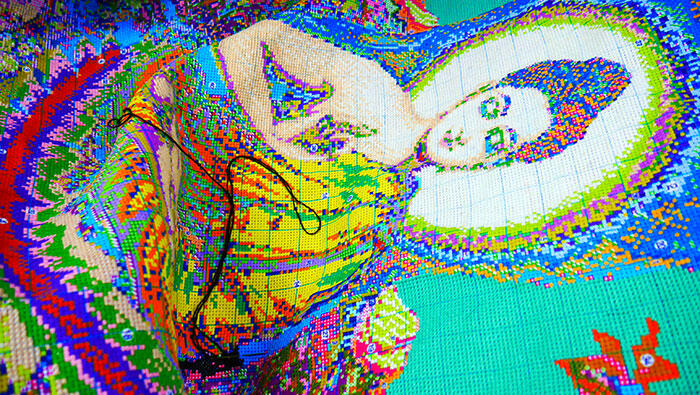 Salon owner Deena was sewing away this piece for her grand-aunt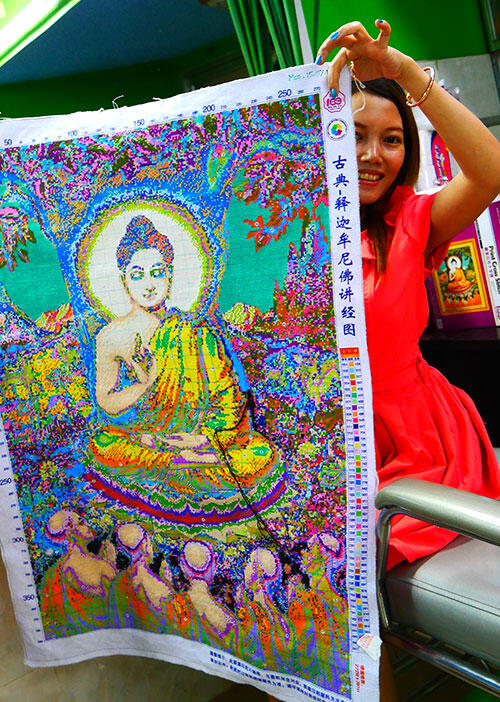 There are a few shops selling only crocodile skin items… and real crocodiles frozen forever. I was simultaneously fascinated and stricken.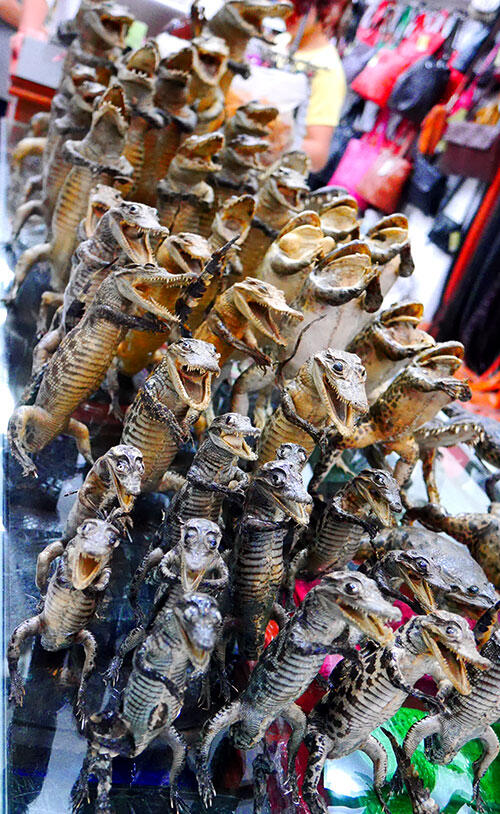 Baby crocodiles…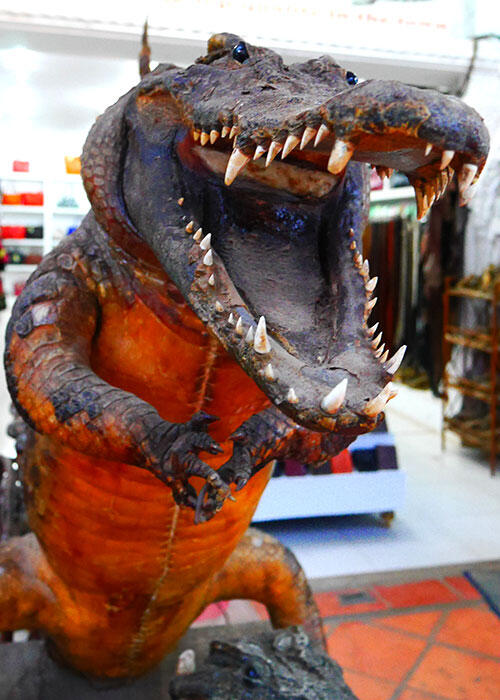 … to giant apparently-gleeful ones.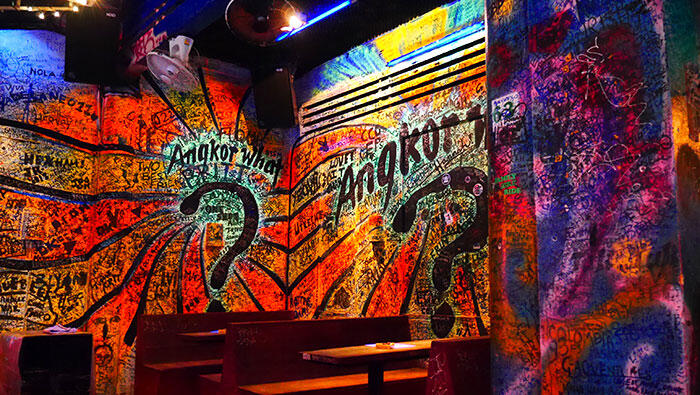 Stopped by Angkor What? bar to have a drink. Mmm i wouldn't recommend this place to germaphobes :p
I tried an Apsara's Blush… because.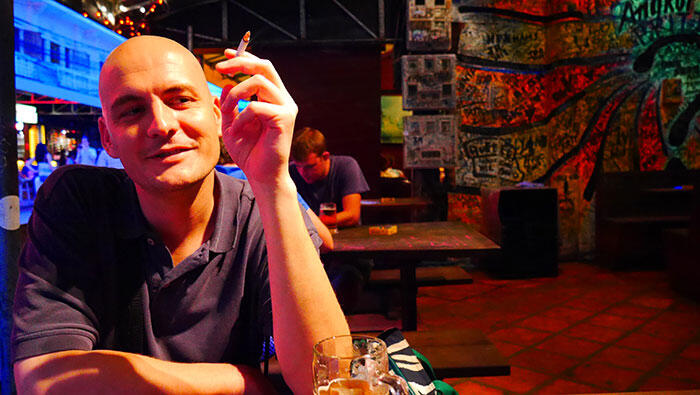 Smoking is very bad for you. Please don't copy Clem.
That night we got the same tuk tuk driver who helped us find the hair salon, to take us to Phare the Cambodian Circus. The performers in the circus train for years in PPS Association – a non-profit NGO that is in Battambang town. They take in children who were being trafficked, orphans and street kids; to give them free education and practice in the performing arts so they are able to make a career for themselves in society. The Cambodia Circus even travels to Europe and other parts of Asia so they're quite a big deal!
I'm really glad we decided to watch it, tickets are USD15 per person and well worth every penny. A different story/show plays daily, and we were demonstrated great agility, dramatic acting, impressive circus tricks, and a wonderful energy and vibe.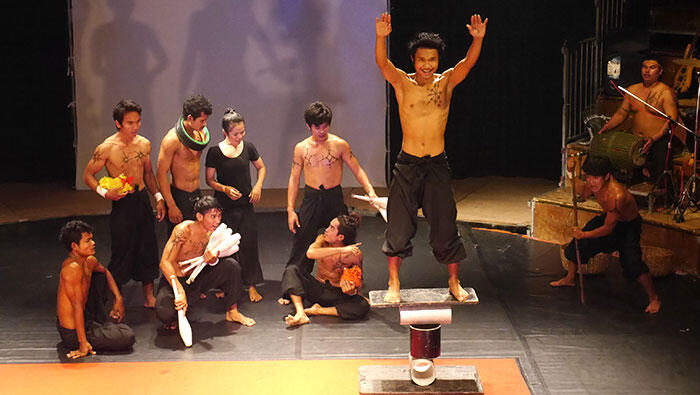 Come on, have you ever seen anyone balance on the stuff above before? Ok fine *i* haven't!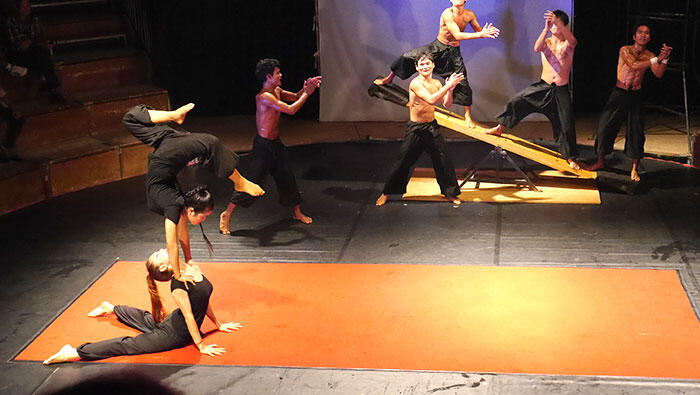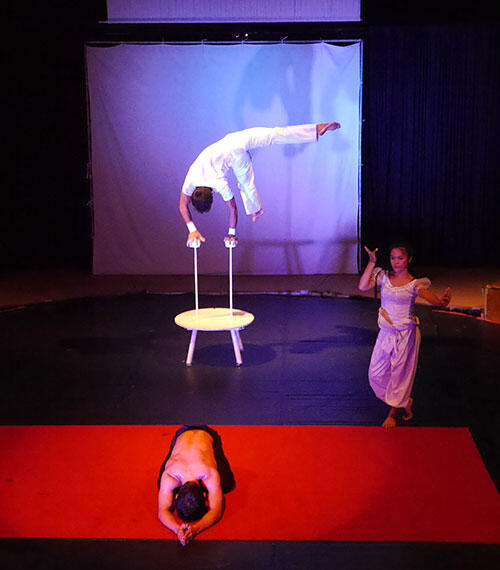 It was really awesome… we clapped and cheered so much! Do go watch it if you come to Siem Reap!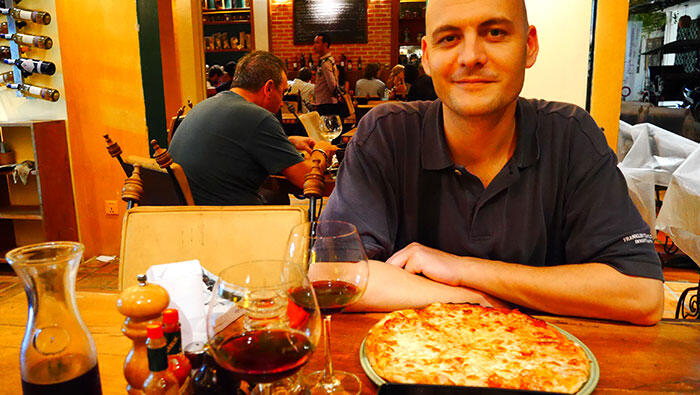 After the circus show, we simply chose Il Forno (Trattoria Pizzeria) to have a late dinner. It's started by a group of Italians and serves authentic Italian dishes and wine for very reasonable prices (compared to KL). Glass of wine was about USD3-4, and my giant vongole was USD8.
This is our room in Friendly Villa where we stayed in for one night. I chose a cheap hotel on Agoda and didn't expect it to be so nice cos it was RM70 or something like that. (Maybe my judgement is skewed after paying prices like RM120/night for a crap room in Sri Lanka.) For such a cheap price, i'll totally recommend you to stay there… the sheets are hotel-quality, super-cold air con, room's really spacious, bathroom shower and space is decent, i like how their toilet has the vortex flush system (:p) AND it's quiet to sleep in at night. Most of the other hotels which are on Pub Street can be really noisy with loud music coming from the bars (i had to listen to PSY while having a massage in a nice spa there). The only thing is that it's a 10-minute walk from the shops and cafes, but it's only 10 minutes, so you won't die.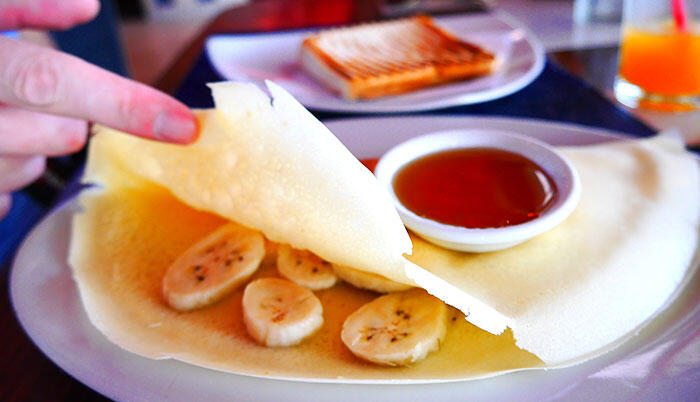 Clem read somewhere that the Red Piano serves good breakfasts so we went there for brunch.
I ordered pork and rice and the serving was huge… i had to takeaway the rest for tea, which i gladly whacked later.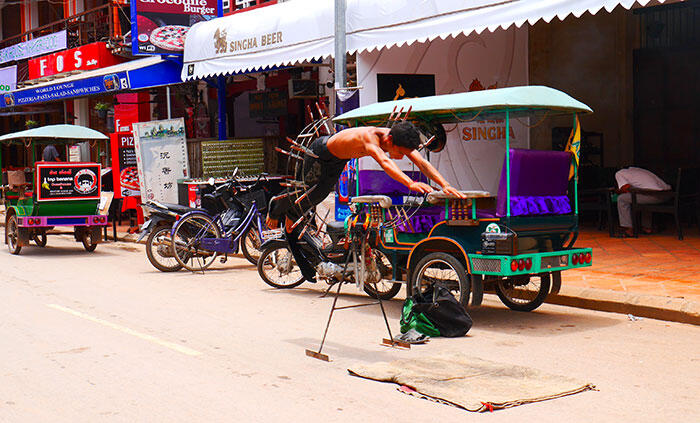 A street performer casually set up a hoop with knives and fire to jump through, and it's not even lunch time yet!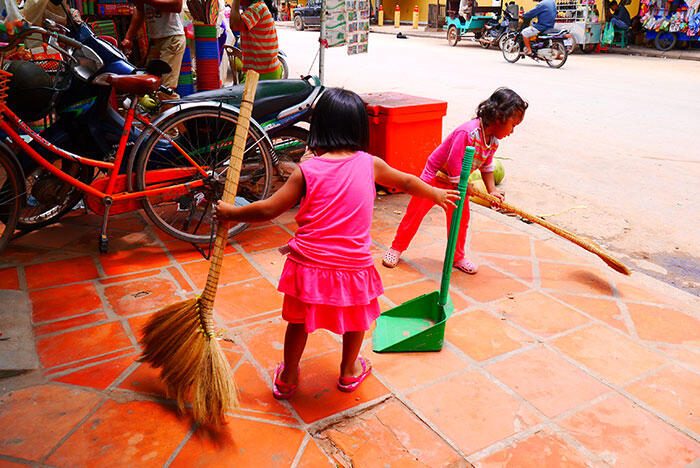 They were just pretending to sweep the floor… so don't go calling child protection services just yet. We were strongly discouraged to buy items from children and i must say, i've only had two encounters with children selling us stuff, even at Angkor Wat! I guess they've really worked towards decreasing the number of children working instead of schooling.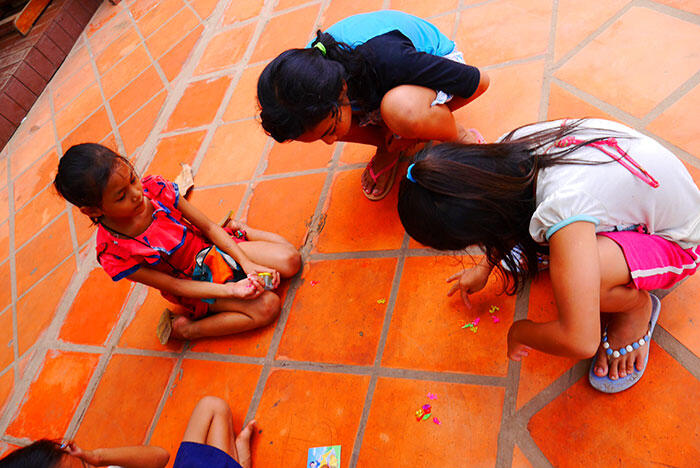 It was a Sunday, so lots of kiddies were playing on the pavements 🙂