Future Sound Asia has been bringing us many great events since 2011, with some of the parties under their portfolio including GreenRoom KL, Thirst 2011, and the import of world-famous DJs like Markus Schulz, Calvin Harris, and Paul Van Dyk.
This time around, they will be presenting Good Vibes Festival !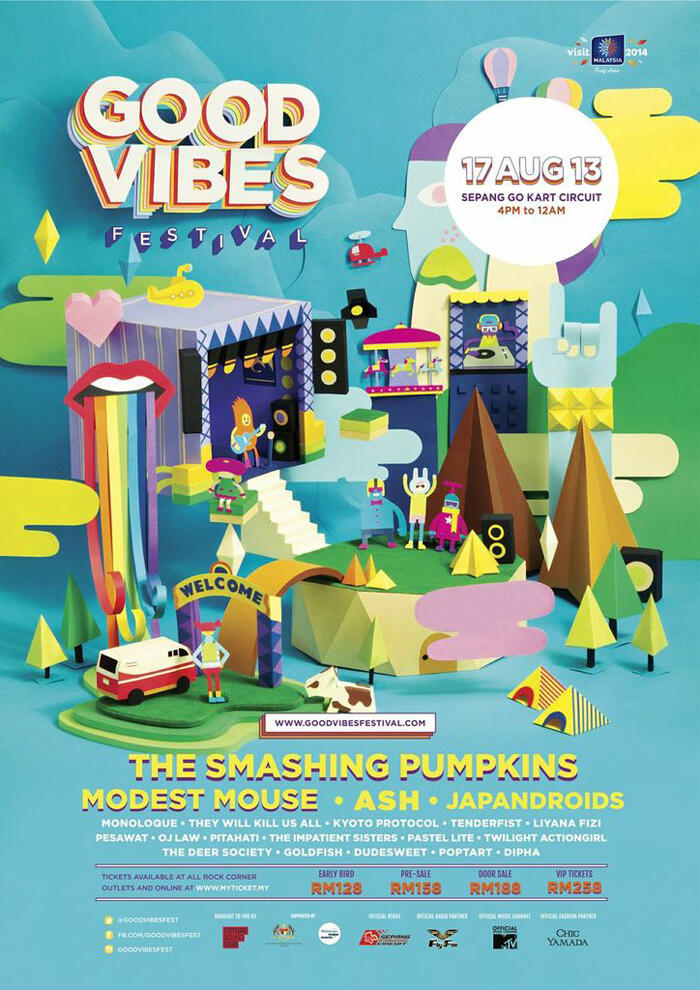 With the support from Malaysia Major Events, Good Vibes Fest will transform the Sepang International Kart Circuit into a lively outdoor landscape for audiences with discerning tastes for music, art, fashion, and food. There will be three stages dominating the landscape: Art Installations, Fashion Exhibits, and a Food Village.
There will be three different outdoor stages emanating music for all appetites. The Blue Stage will be more laid-back at first, then moving to high-voltage sounds such as JapanDroids once it's evening; the Green Stage will be featuring local and regional electronic music such as Twilight Actiongirl and Deer Society; whereas the Red Stage, which is also the centre stage, will provide a continuous pulse of good vibes including our local darling Liyana Fizi & Kyoto Protocol, complex sounds of Monoloque, but the main draw will be Smashing Pumpkins and Modest Mouse, who will be playing exclusively in Malaysia!
For fashion-lovers, Chic Vibes will meet your need of retail therapy. In collaboration with Tongue In Chic and Chic Yamada, expect to see the exclusive debut of Chic Yamada's festival capsule collection as well as the designs of five local and regional up-and-coming fashion labels. There will also be a beauty bar completed with a host of pampering services housed in Chic Vibes.
Malaysian mural artist, Nini Ramlan will be undertaking the mammoth tasks of curating art installations at the Good Vibes Festival.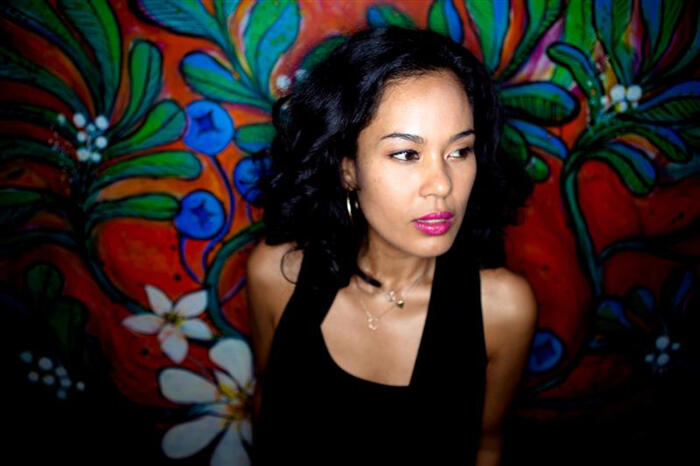 Nini's crazy combination of textures and colors makes her art unforgettable, a recent collaboration being with Levi's Malaysia! I can't wait to see what she'll be doing at Good Vibes Festival!
Good Vibes Festival will also present GoodBites, a food village that will house a tantalizing spread of favorite festival foods dished out by local artisan entrepreneurs, to avoid us passing out because of starvation and over-excitement!  😆
I can't wait to get my hands on the tickets!
What are you still waiting for? Find out more about Good Vibes Festival here:
www.goodvibesfest.com
www.facebook.com/GoodVibesFest
twitter.com/GoodVibesFest
The price of the tickets are as below:
Early Bird – RM128
Pre-sale – RM158
At the door – RM188
VIP  – RM258
You can purchase tickets *HERE* or at all Rock Corner outlets.