I finally got to visit Snackfood & The Off-Day after not being around since they opened! Adeline of Snackfood has been selling her curated collection of vintage items for years now, and Irman (who was my art director when i was with Tongue in Chic) has ventured into retail and called it The Off-Day.
They've joined forces to give birth to a new store in Telawi Bangsar that sell an array of the whackiest vintage paraphernalia and hip menswear (that i know nothing about).
I was to hang out with Max who's down (up?) from Johor so i dragged him along with me. When i went upstairs there were so many people just hanging out there, beer in hand, cos the store was gonna close soon. I was like, "Wow, ada kenduri!" But it was so fun and i was so excited to see them all and chat. I didn't even have a beer cos i was trying to stay off alcohol (okay and my hangovers are getting pretty bad nowadays, hitting 30s has its cons). When some of them cheers-ed with beer, i did the same with my bottle of mineral water (which made a dull thudding sound) and i think people are not used to seeing me drink WATER and had superwtf expressions.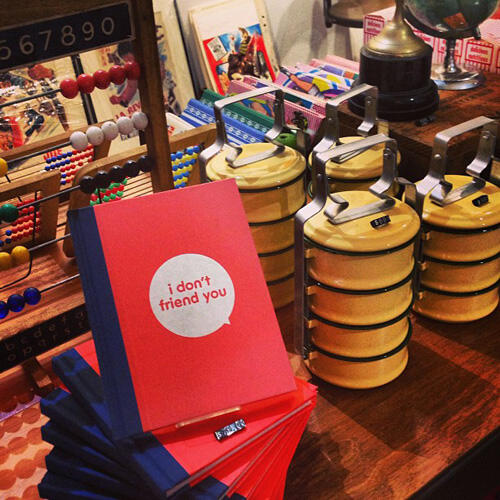 I don't friend you. Haha, it's this book from Singapore. And old-school tiffin carriers!
Snackfood carries Keel's Simple Diary, Kinfolk and Uppercase magazines, plus things like vintage new-old-stock movie posters sourced from Tokyo.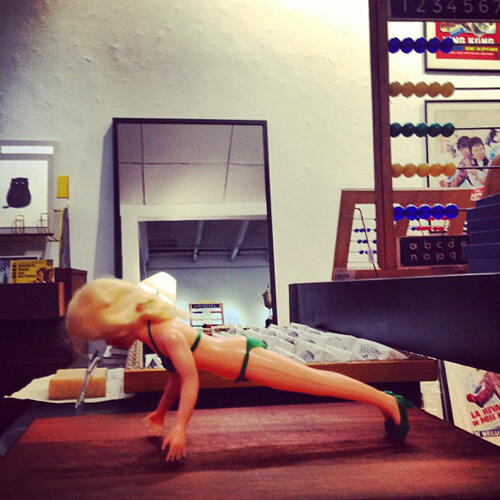 Only Barbie can plank forever.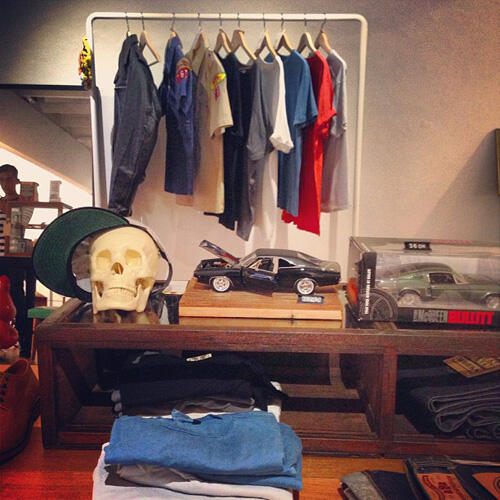 The Off-Day stocks curated vintage clothing (up to RM1,000 for leather jackets), as well as new Schott NYC Perfecto jackets (from RM2,100). They are also the only store in the region who carries Jungmaven organic clothing (RM99 onwards).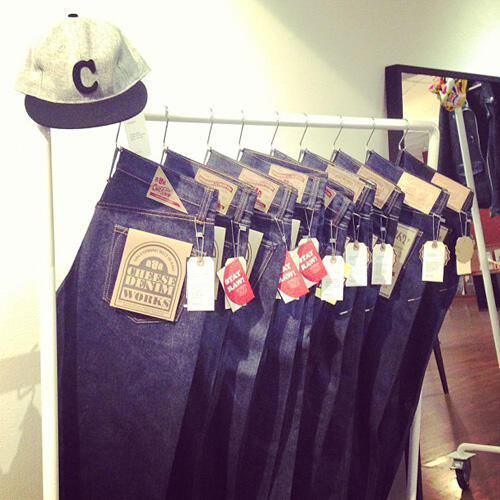 You can find premium local brand Cheese Denim Works and Ceremony Fine Wear (RM450 and above for the premium denim), Suavecito Pomade men's grooming essentials, and Benchmade Butterfly Combs.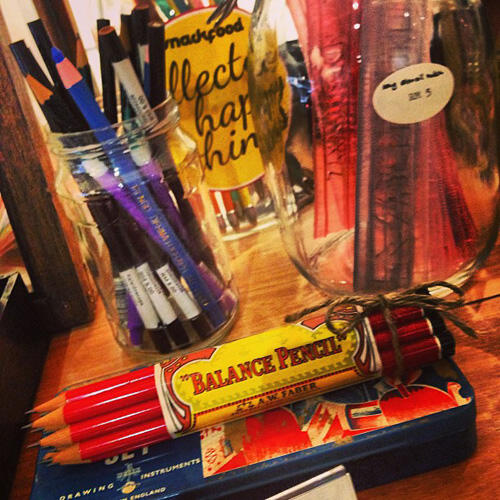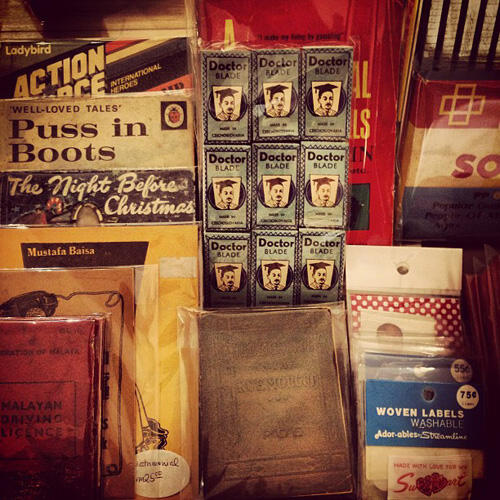 Lots of interesting and seriously old items that you just have to sift through yourself
I bought this standing globe for RM450! I've been looking for a globe for years... but didn't want to force it till i found THE perfect one that silently yet firmly whispered TAKE ME HOME. I didn't want the ones that lit up from the Nat Geo store cos i'm not keen on wires and the idea of a lit up globe is a tad cheesy.
But this one with the stand is perfect! I can sit on a chair and twiddle my way over the whole world, PLUS it swivels 360° in all angles! Ahhhh so happy i finally found MY globe!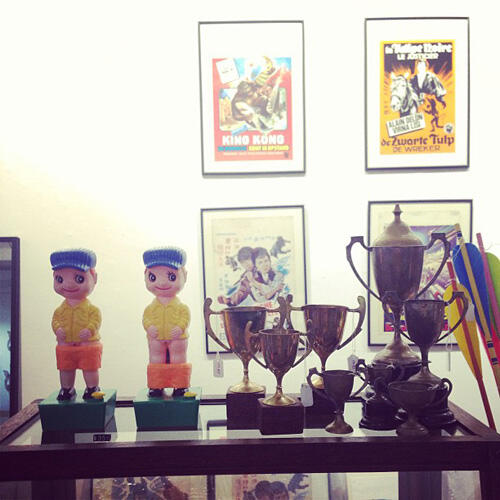 I didn't even take pictures of half the things in their store... so much to see and i wanted to run around and play instead.
We all went downstairs when they tutup kedai.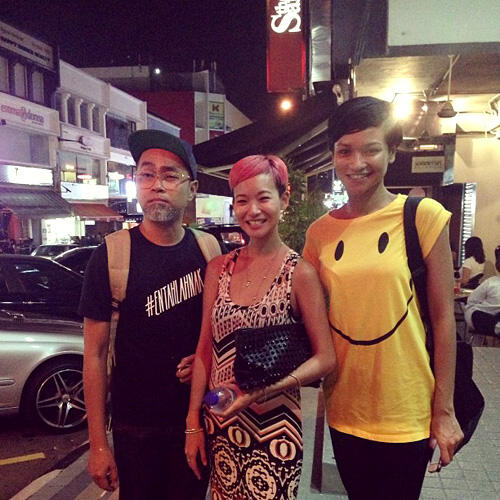 Irman, me and Dee! Checkout my water bottleeee, it reminds me of Didi. Somehow. Halal y'know.
We said bye bla bla bla and then realised we all couldn't decide where to go and ALL ended up going for Thai dinner at Lanna. I didn't take any pictures cos i was just enjoying the moment. I think there were about 9 of us and we had tom yum, glass noodles, green curry, pad thai, etc. I also found out that Irman can't eat spicy food and couldn't stop guffawing at the irony of it all. I guess it's similar to why people laugh at me for not being able to speak Chinese.
When we left; Sueann, Max and i wandered kinda aimlessly (i just wanted to walk off the food a bit) before i figured we might as well chill at Bait. I was going to order a carrot juice, and Sueann was gonna order a Chamomile tea. We were both trying not to drink that night cos of the Hanger party the next day... and you remember what i said earlier about hangovers? Yeah. Really cannot make it. I didn't wanna drink so that i could be bright and chirpy to visit Cammy and baby Cameron for Sunday lunch, and then head to Zouk for the Hanger party.
Max looked at us and felt pressured to order something 'light' so he went for cider.
In the end we all shared a bucket of cider but i think that was okay since it was already 10pm and i planned to head home early.
And then Rahul came.
BUT. I was SO GOOD. I didn't drink more cider than i planned.
Rahul was talking about some new bar he was gonna meet Adam at, and Sueann piped in saying she heard it's cool too. I looked at her and said, "You better stop saying its so cool, else we'll go now, get drunk and then DIE TOMORROW."
Sueann, very quickly: No, don't worry, we're NOT going tonight. I'll go with you next time okay? I haven't been too, we'll go together.
Me: OKAY!
20 minutes later...
Rahul: Joyce... i promise... i PROMISE *holds up right hand*... i swear...
Me: Don't even say it!!!
Rahul continues: I promise, i'm just gonna have TWO drinks, and then ciao.
Me: No no no no i'm going for a massage after this. Sorry but i told you i'm NOT gonna drink tonight!!!
Luckily i didn't go (STRONG FAIRY!) cos the next day he whatsapped me at 3pm saying, "You were right, Joyce."
Hah. I know you okay Rahul. And apparently so does most of KL... XD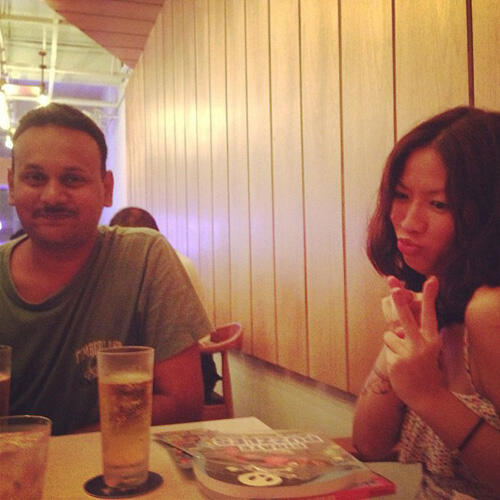 I asked them to pose. Sueann - 1. Max - 0.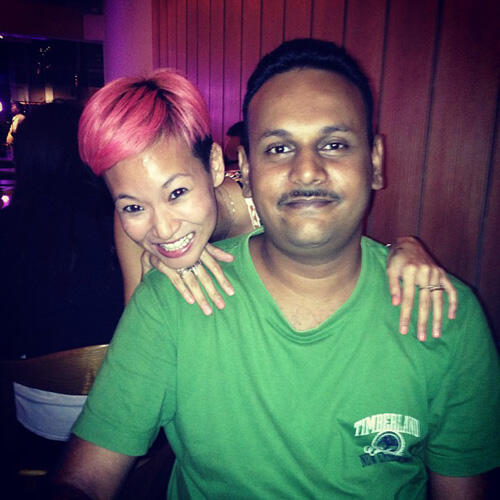 So good to see you and next time i'll come play with your kiddies! <3
Oh yeah. Kinda went off tangent on this post, but it's all part of my great Saturday!
Snackfood & The Off-Day is on Jalan Telawi 3 in Bangsar.
It's on the same row as Alexis and above The Sartorial.
www.facebook.com/ilovesnackfood
www.facebook.com/TheOffDay