I went to Bangkok last week with Sarah and we took up Clouds' and Jan's mum's offer to stay with them. Thanks Aunty! I've met Cecilia and James before as they've taken me out for dinners during my previous trips in Bangkok, lucky me. I've eaten some memorable meals with them, and last weekend's dinners added more to the list 😀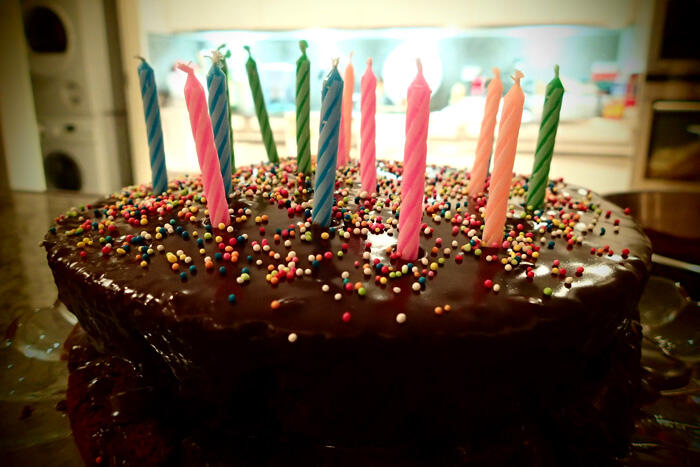 It was Nat's 16th Birthday last Saturday, and his mum made the happy choc cake above. I asked him what he got for his birthday and he gleefully said, "Money!"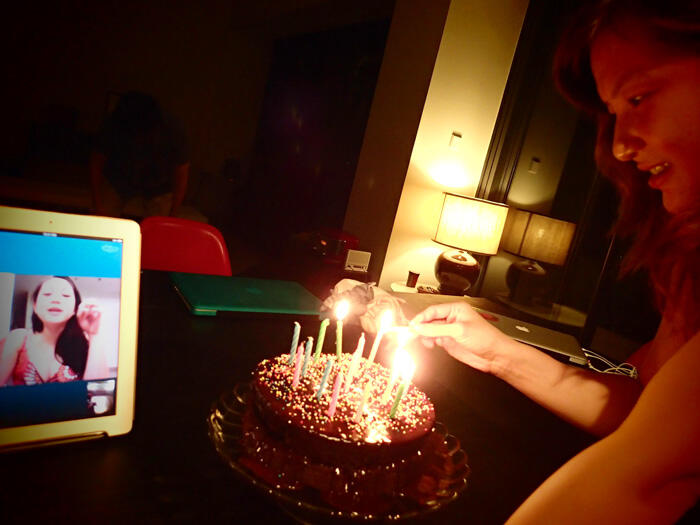 Jan on Facetime so everyone in the family is involved for Nat's birthday, super cute.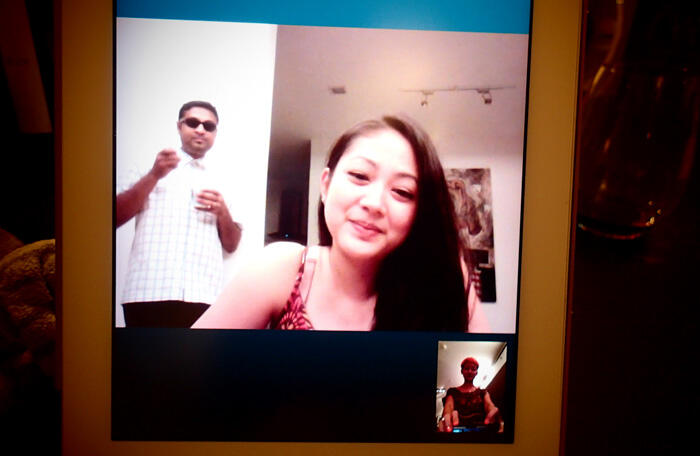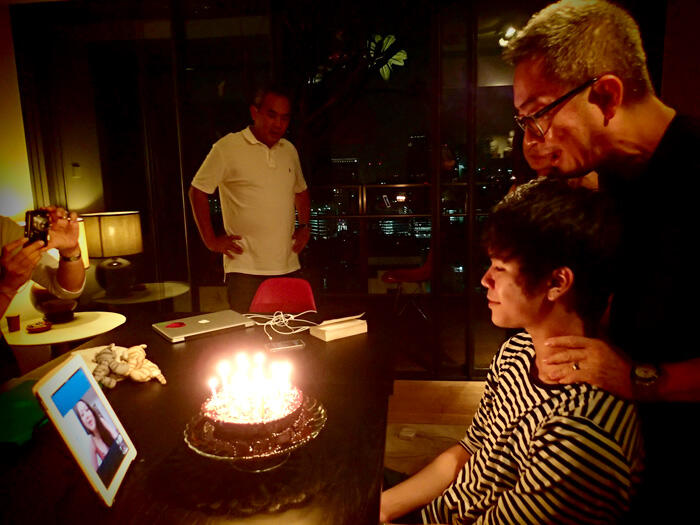 Nat and James.
I'm still at a tug of war within myself whether to call Claudia's dad 'uncle' or not. He's told me before not to, so… i'm trying not to! But it feels weird, not to mention Sarah calls him uncle anyway. Hmmm i think if my friends' children grow old enough to talk, i *don't* want them to call me aunty (i'm trying to put myself in James' shoes here).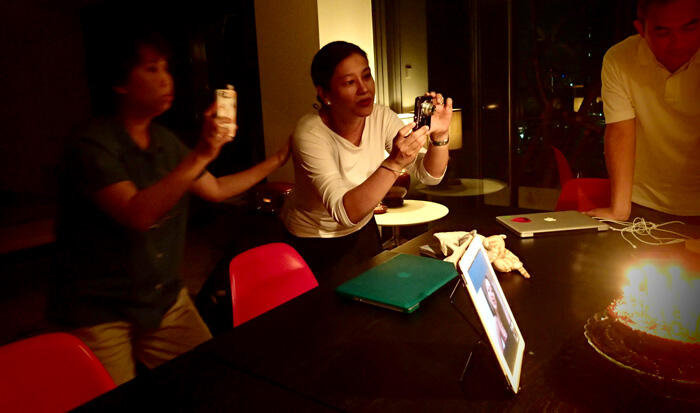 Khun A and aunty Cecilia being all snap happy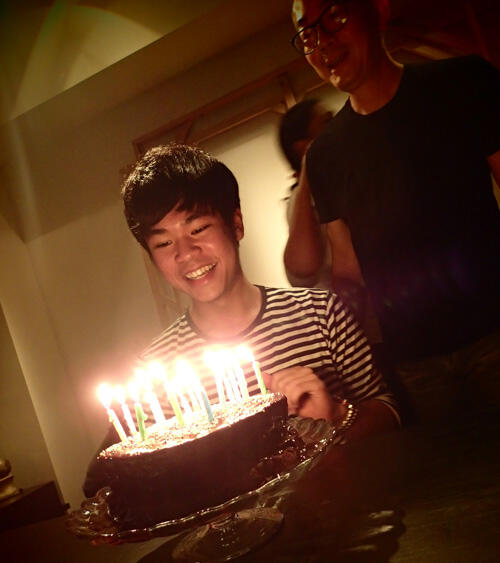 Nat is really soft spoken and sweet compared to Claudia's cookie monster crayness.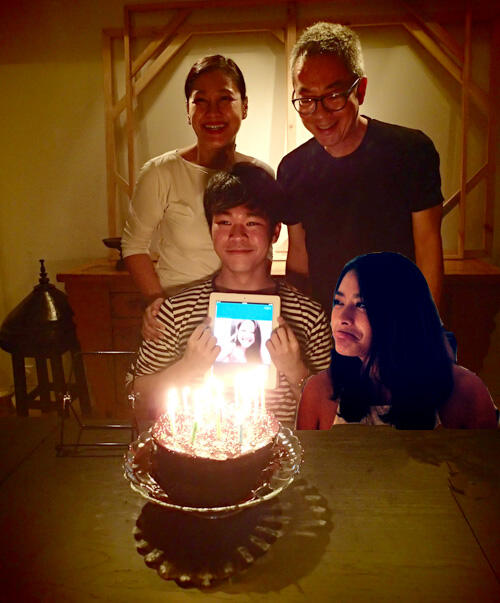 Family pic with Jan on the iPad! I photoshopped Clouds in so she won't get upset. She wasn't online with us cos her phone batt was low and she was at Audi Fashion Fest. How's mah photoshop skillz Cloudsy!? XD
+ + + + + +
On Sunday night, James cooked us his carbonara for dinner. I was quite excited cos he's in the hotel industry and knows all these tips and tricks on how to play bartender and chef.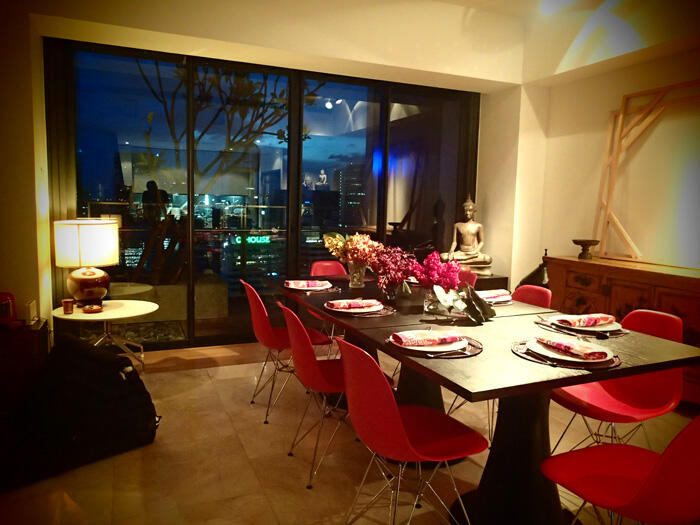 Some beautiful flowers they bought that day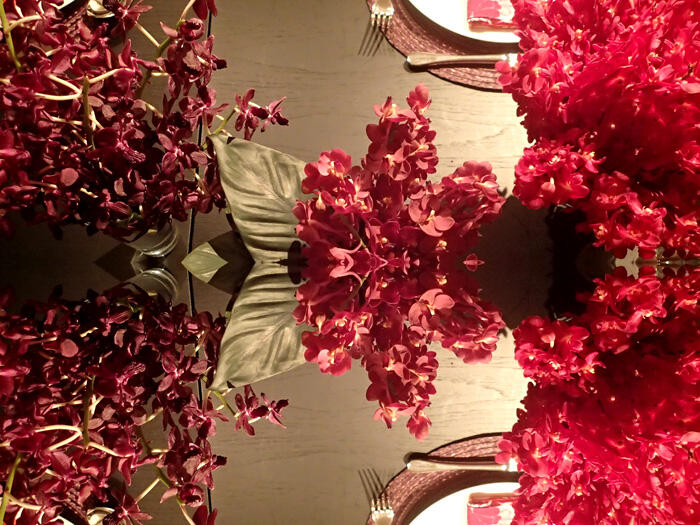 I was fooling around with the mirror filter on my Olympus Tough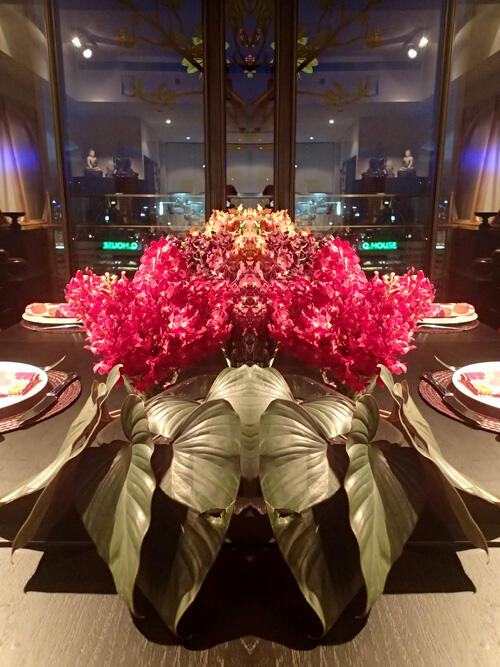 Hearts it!!!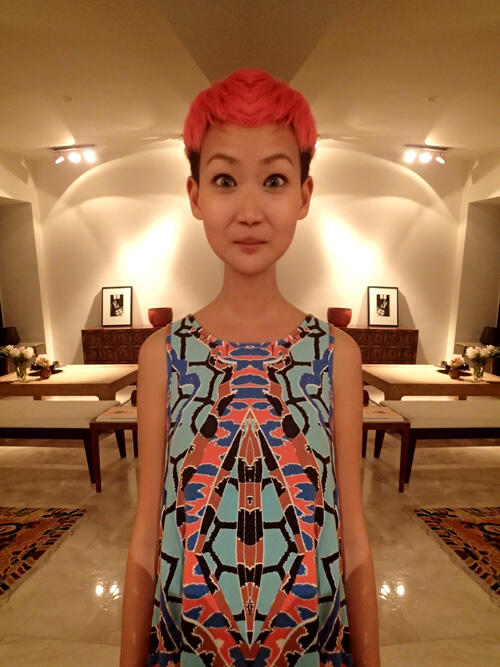 Sarch said my face is quite symmetrical cos i look almost the same in the mirrored pic.
I think i look like a skinny alien tho…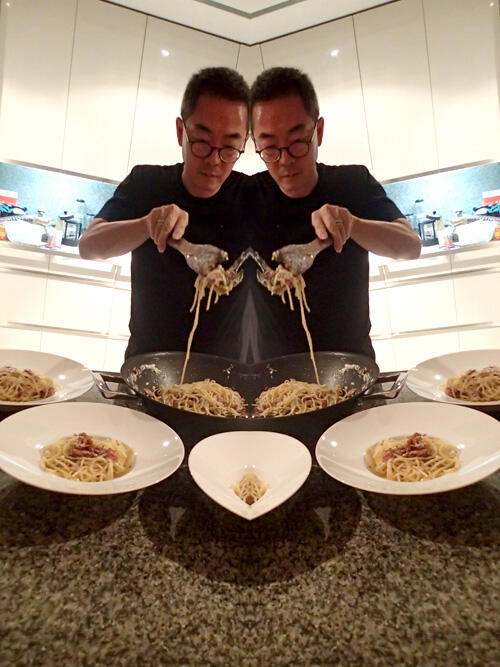 I learnt the Italian way to make carbonara from James – without using cream and by beating egg whites. Think Clem is gonna love it when i try it myself.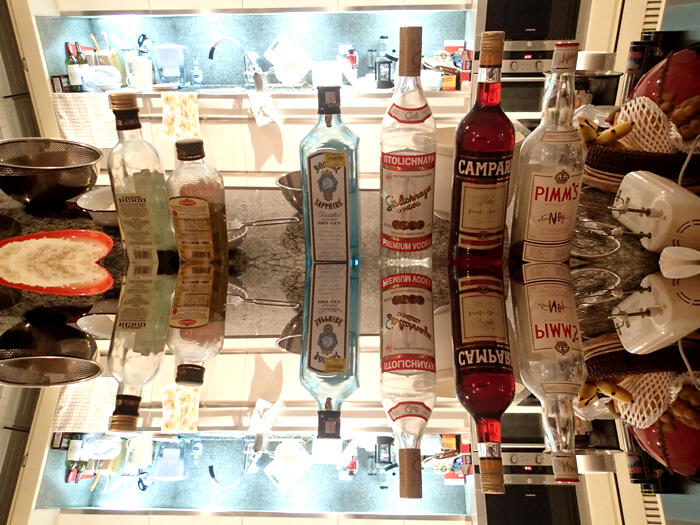 I didn't take any pictures of the wine we had, but i discovered one i enjoyed very much – Chateau Villotte Bordeaux. I know i'll remember this. I may forget other things (like my glasses -_- i left them in bangkok -_-) but i won't forget the name of a wine i like!!!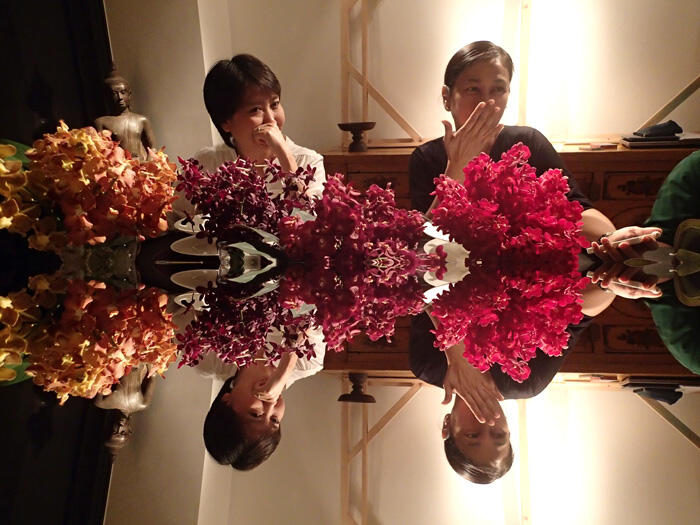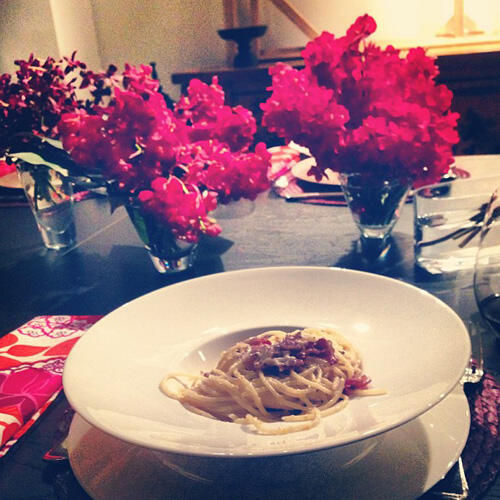 I had two helpings >.<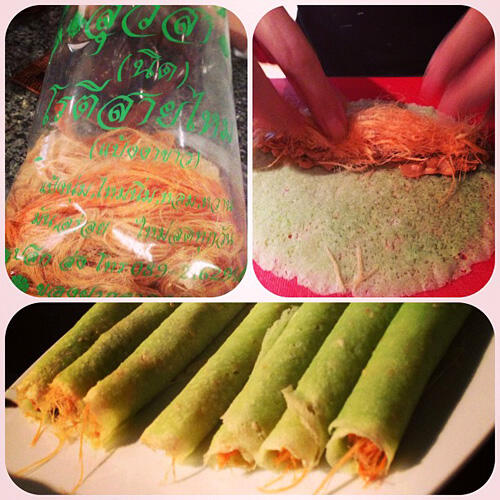 For dessert i tried something i never had before – this sugar floss from Ayutthaya called sai mai, which is eaten with roti (pancakes). I had mine with peanut butter spread in it, i wish Yishyene could have tried it too cos she's such a PEANUT BUTTER FREAKZOID.
+ + + + + +
Some IGs from our Bangkok trip!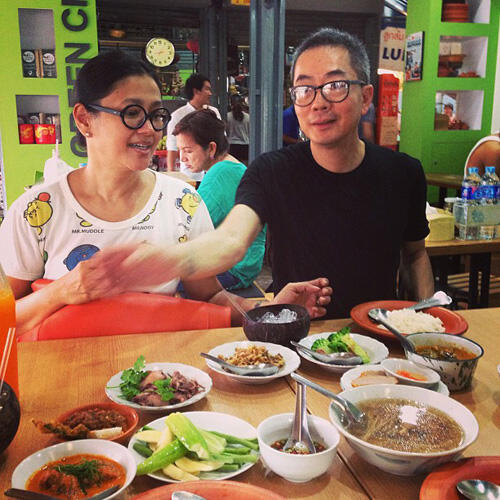 Cecilia and James took us to Anne's in Chatuchak for lunch. She serves very traditional home-cooked dishes, like crabmeat in chili, clear pork soup, and ginger that tasted like mango (that tilted my brain a lil bit).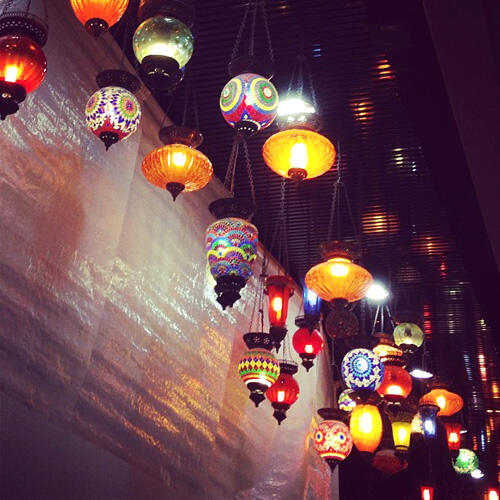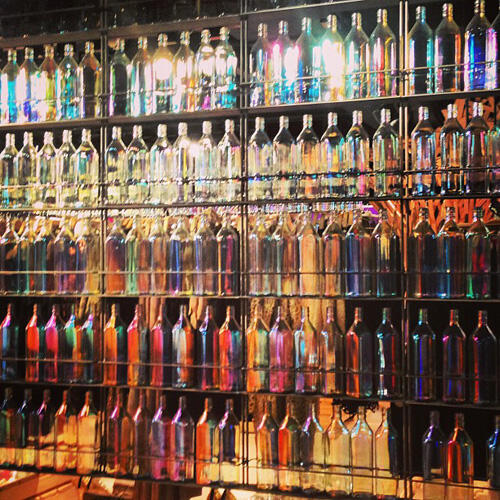 Went to check out Siam Centre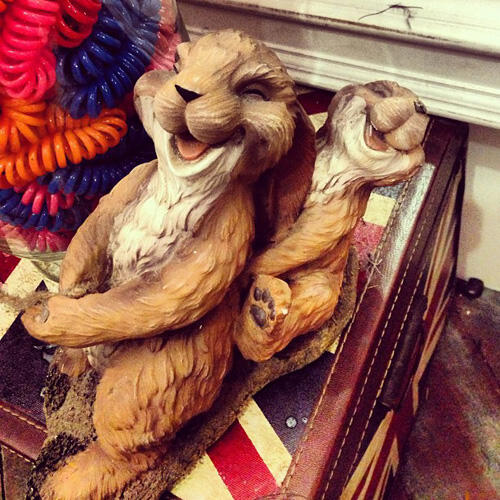 Such HAPPY BUNNIES! in a vintage shop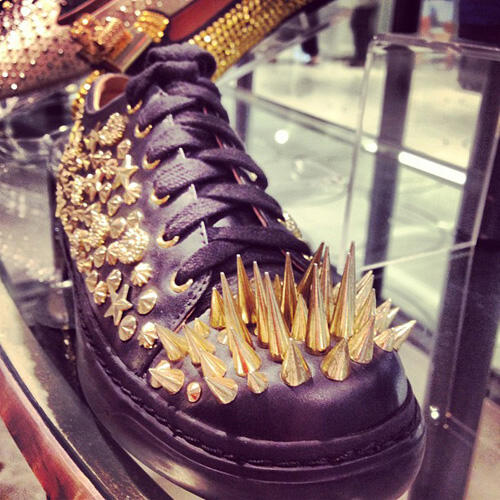 The scary thing about this shoe is that the spikes are ACTUALLY SHARP. I'll probably end up hurting myself if i wore them. Oh wait, i already have… i've kicked my ankles with my spiked kurt geiger shoes when tipsy before, hence i don't buy spike shoes anymore. They ARE dangerous!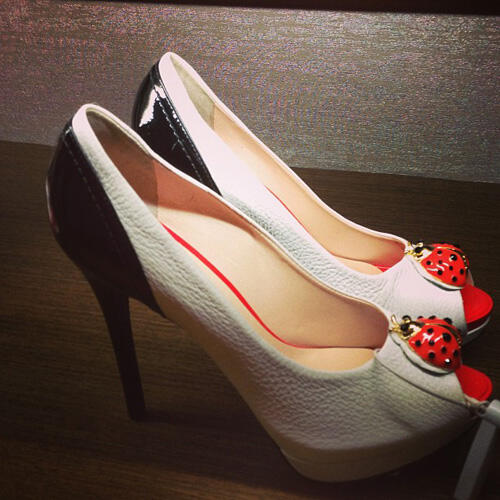 Ladybug shoes at Jaspal.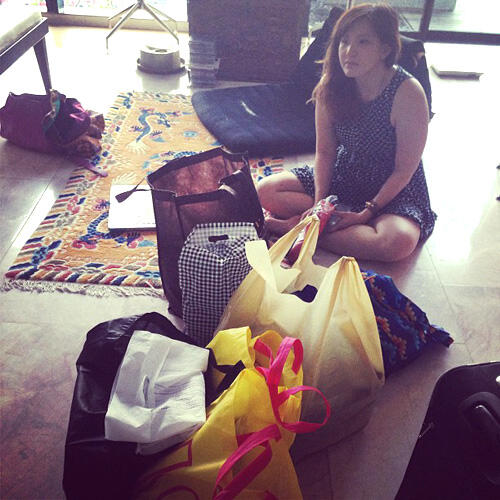 Sarch spacing out after 7 hours of shopping.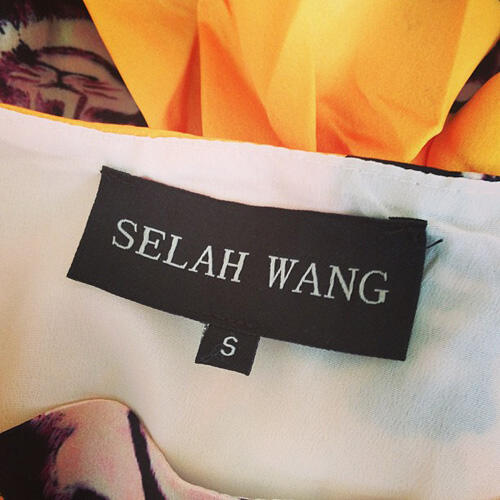 This cracked us up till we were laughing on the floor. #salahwrong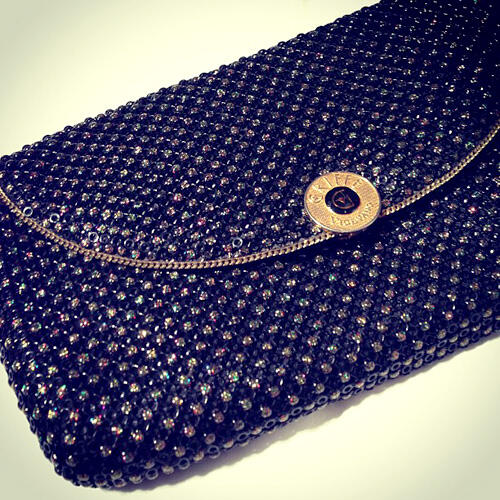 Found myself a vintage rainbow glomesh clutch in almost perfect condition.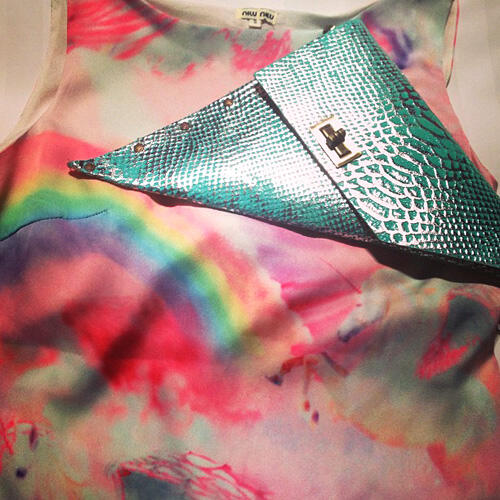 My happy #OOTD for a night out! Rainbows, unicorns and mint green!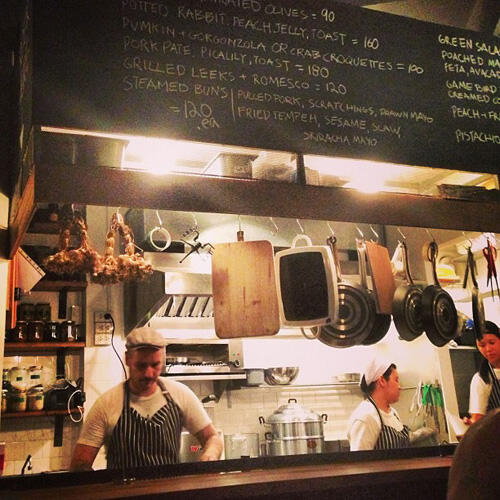 On our last night there, Sarch and i were invited to join a group of her friends at this new restaurant called Opposite Mess Hall on Sukhumvit 51. We were reserved for a table of ten so i made lots of new friends that night – Sakina, Lainie, Dave and his wife Phoebe, Osama, Nico!
It's got a concept of, well, a mess hall/canteen, with big tables so everyone chats and eats. We paid 1000 Baht per person to have about 6 courses each. My faves were the pumpkin and gorgonzola balls. The dessert was pretty great too but i was so full i didn't finish it all…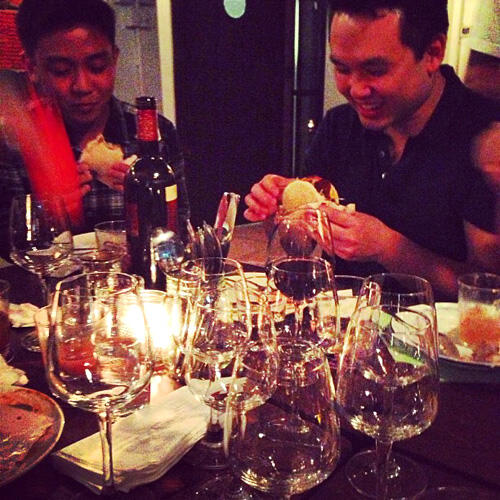 After some wine and beers, Sarch and i went to Osama's place to have a nightcap.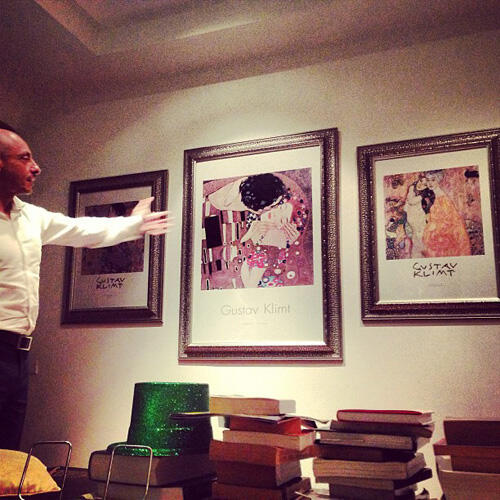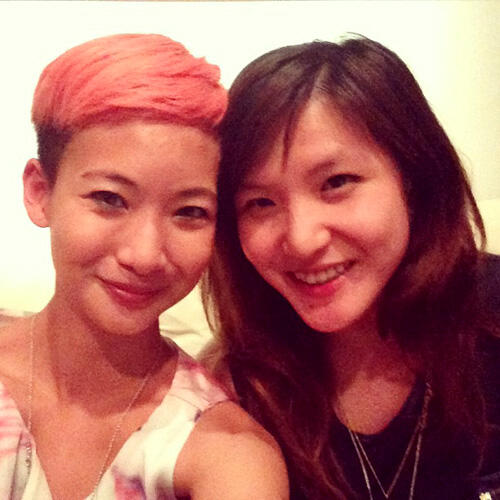 The ONLY picture of us the whole trip -_-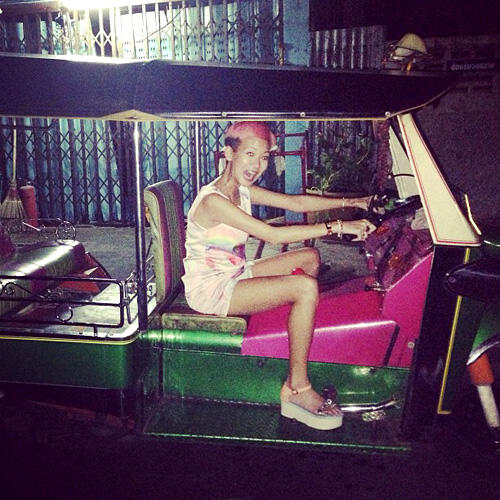 My god my arms are so skinny here.
I need to build some muscle on them.
I look like an insect, as Y says.
+ + + + + +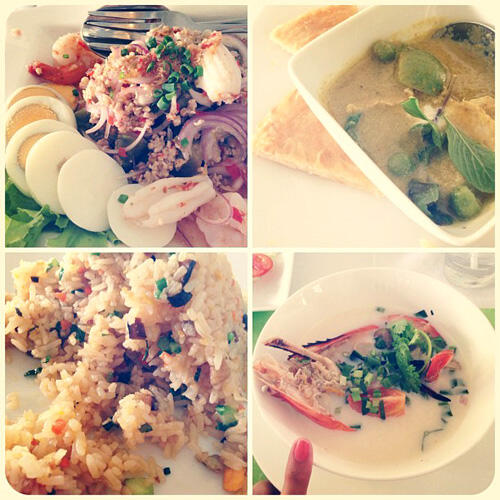 On our last day, we went for lunch at Secret Garden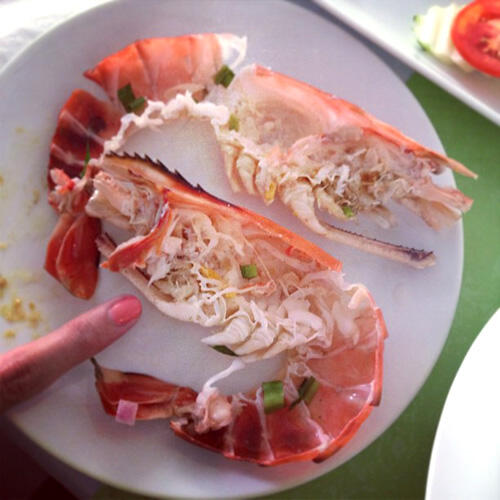 We each had a giant prawn in hot and sour coconut cream soup. So. Good.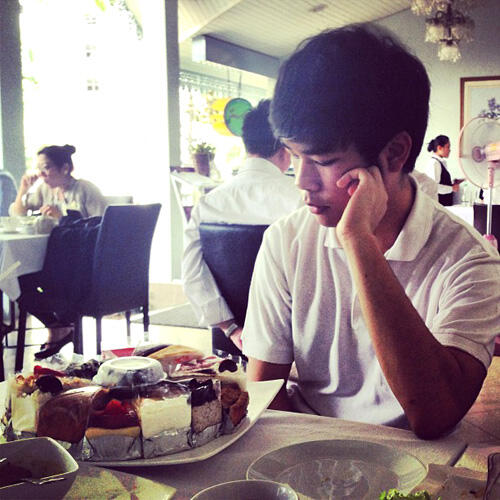 Nat was extremely pensive. Not because he was about to sit for a GCSE paper, but because he had to think real hard on WHICH CAKE TO CHOOSE >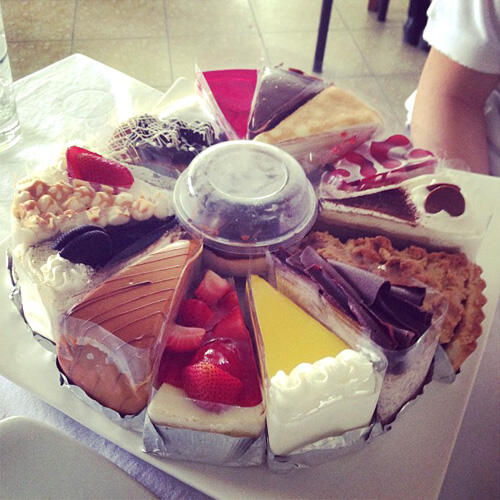 I think we should all switch to birthday cakes like this now.
Sarch and i had such a good trip… we felt really lucky to be taken into the family for a week and well fed 😀 😀 😀