Just gonna THROW all the pictures into one post so it's better flow methinks! Woke up on Saturday rather hungover (cos i met up with Jason the afternoon before -_-) and rushed to go out cos Aunt G said we'd go walking around some shops before having lunch, and then go for our first Vogue Festival talk that day.
We went into a design shop which sold furniture and knick knacks for the house. I bought a funny book with a hole, and an olde comic book with cartoons i'm not familiar with but Uncle Mark said he used to read when he was a child. So i thought it'd be nice to educate myself on this cult comic i have no idea about. It's quite funny so far and i only read ONE PAGE. There were some cool mobiles (stuff that hangs in the air) too, but i reckoned it'd just be more rubbish in my house that i buy and plan to put up somewhere and never do.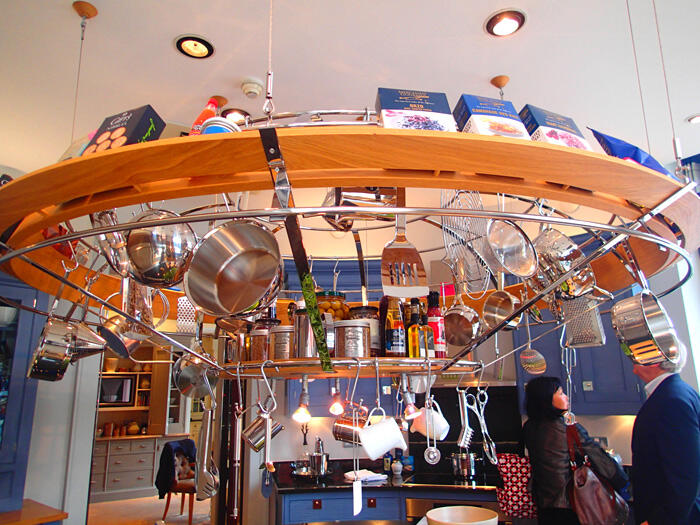 Pottered about Smallbone and Devizes cos aunt G loves redecorating apartments, it's her expensive hobby.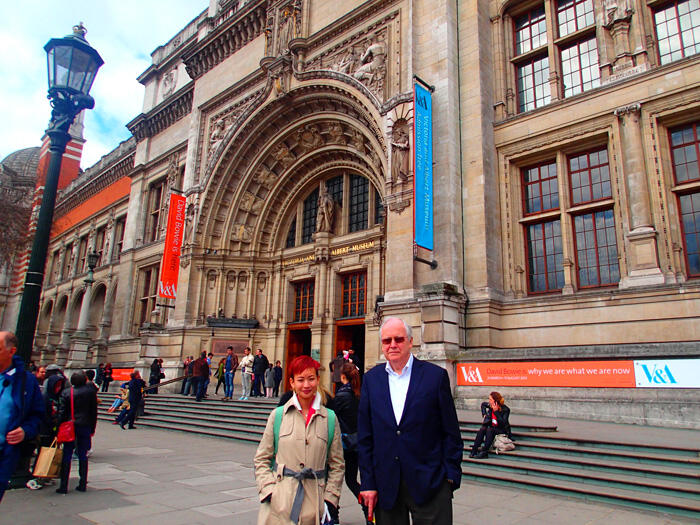 Tried to see if the queue at the V&A for the David Bowie exhibition was long, which it was. Anyway there was definitely no time to enjoy it and do everything else we had planned that day.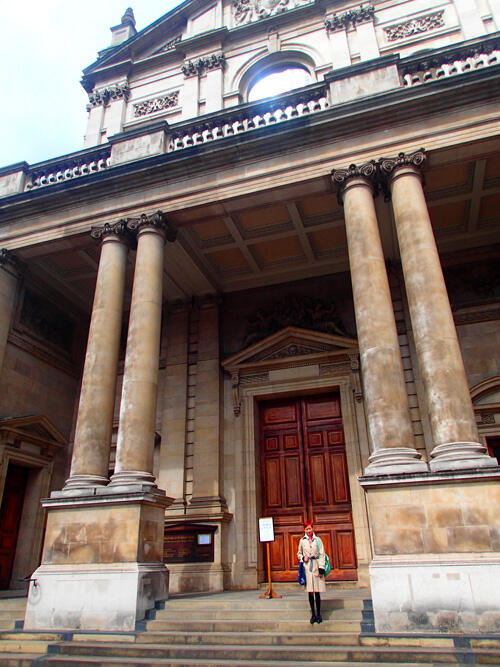 Outside the Brompton Oratory, where i was told some classy weddings take place. Really grand inside but no pictures are allowed. Anyway i have SO many pictures of hundreds of churches from all my trips that… i am sure i don't need any more.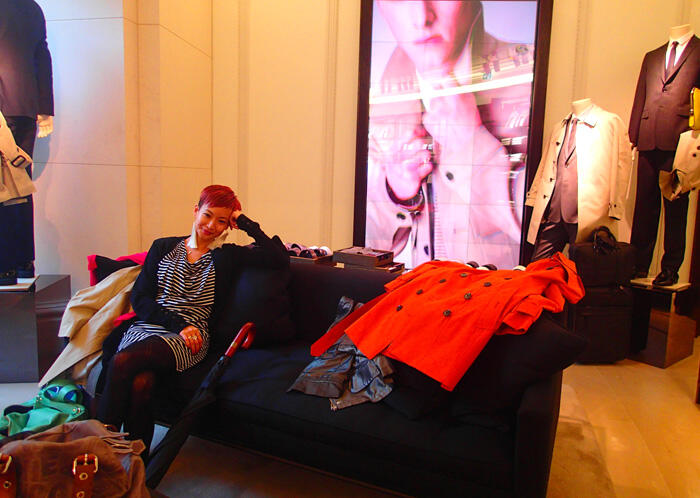 Went by Burberry to pick up some clothes that Uncle Mark and Aunt G had altered. I went to look at the metallic trench coats i've been seeing in magazines. So pretty and properly thick in real life! Then i saw the price tag: £3000.
Sure… That's the price of a new kitchen for me.
Coat or kitchen?
Coat or kitchen?
Maybe if the coat could get me free food then i wouldn't need a kitchen.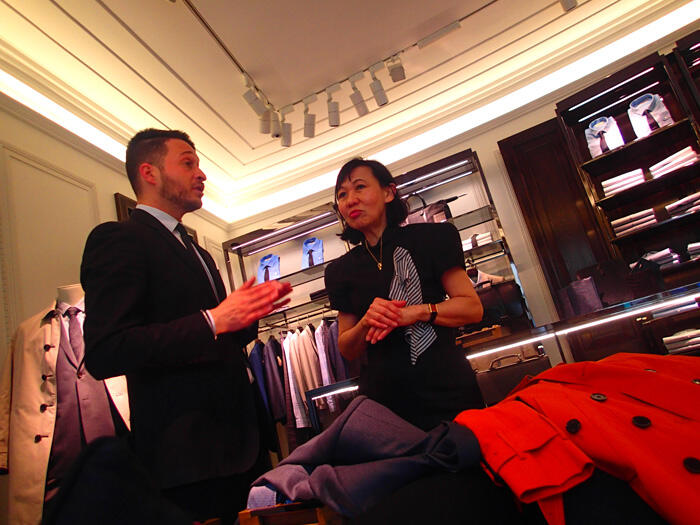 We went to Zuma for lunch, which is just around the corner from Burberry and despite being completely packed and having no reservations, we managed to get a table. Or more like, Aunt G managed to get a table. People find it hard to say no to her.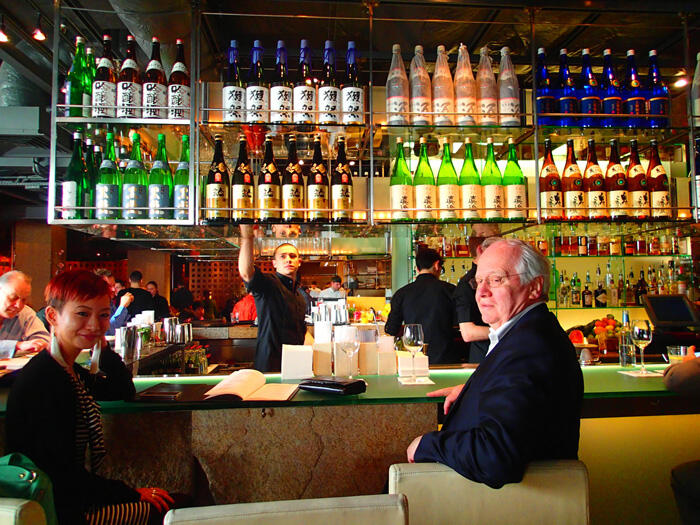 We sat at the bar for some snacks while waiting for our table. Just look at the selection of sake above! It made me slightly sick to look at it that day (hangover remember) and had a NON-ALCOHOLIC cocktail of yakult + strawberries + raspberries + ginger ale instead that was beautiful and delicious.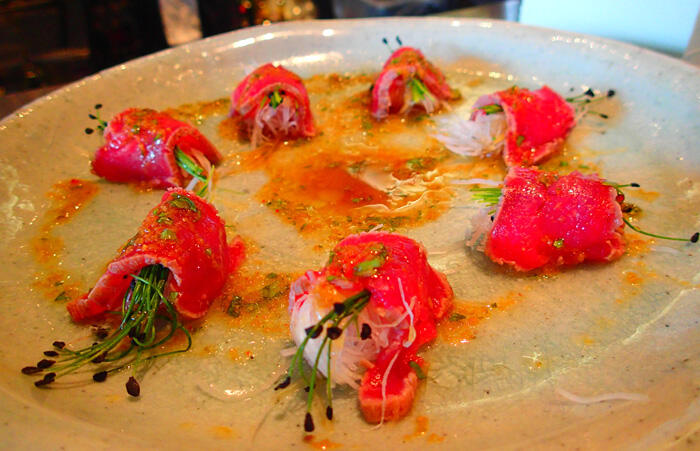 Oh la la the food at Zuma was gorgeous. Every single plate i had was to be remembered.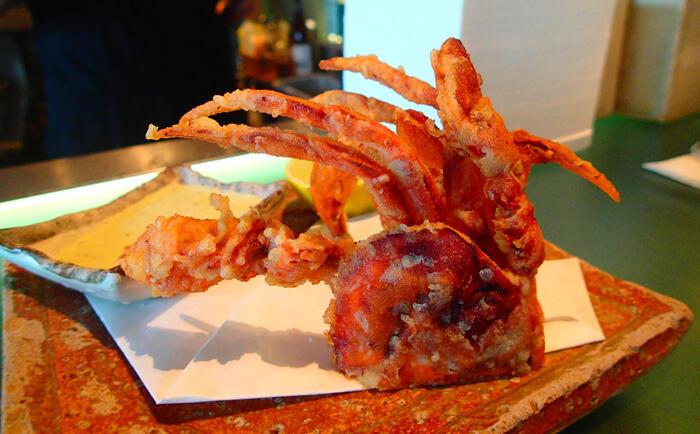 The soft shell crab was fantastic.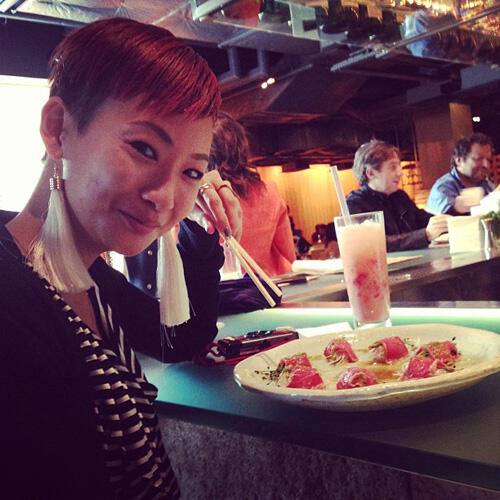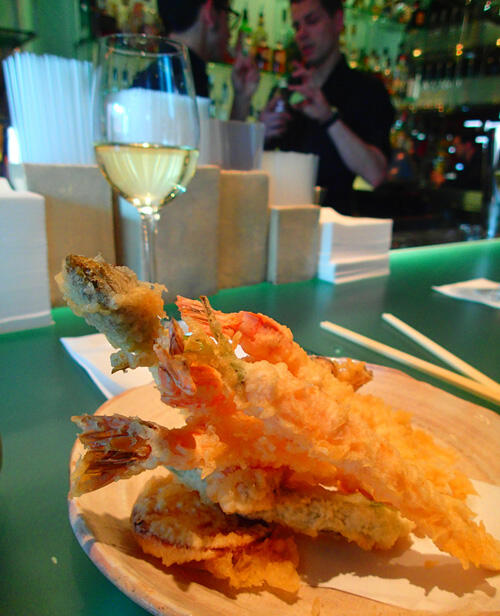 The prawn tempura was possibly the BEST i ever had. The prawns inside were soft, juicy, bouncy and cooked just right; with a very light crispy flour covering. Ahhhhh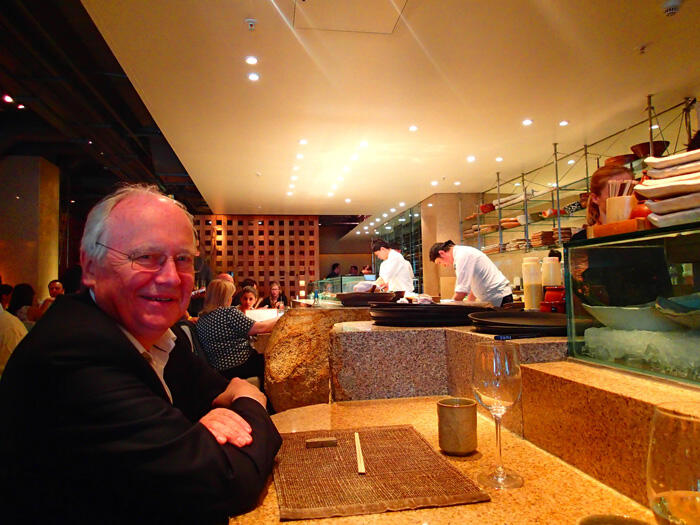 Uncle Mark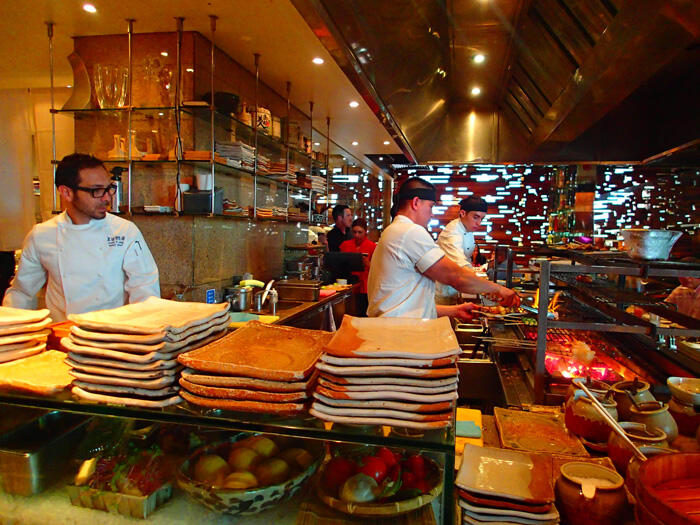 The vibe in Zuma is warm and buzzing with lots of food, smells and staff dedicated to specialize in specific jobs. Like this guy in front of us, was just making soft shell crab, ALL DAY LONG.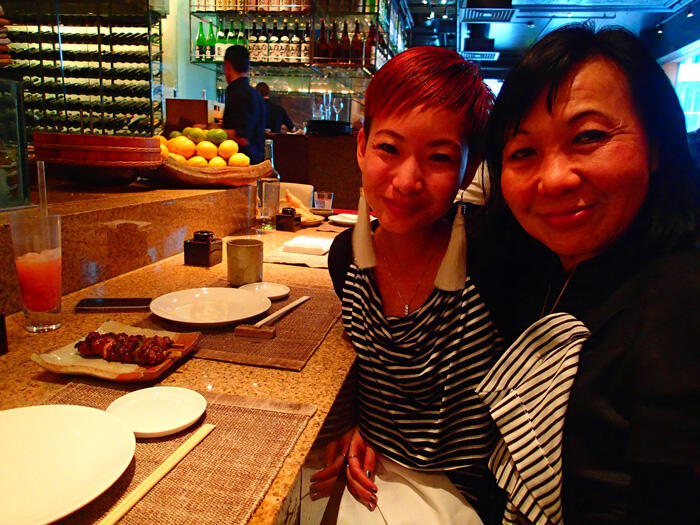 MFEO with stripes!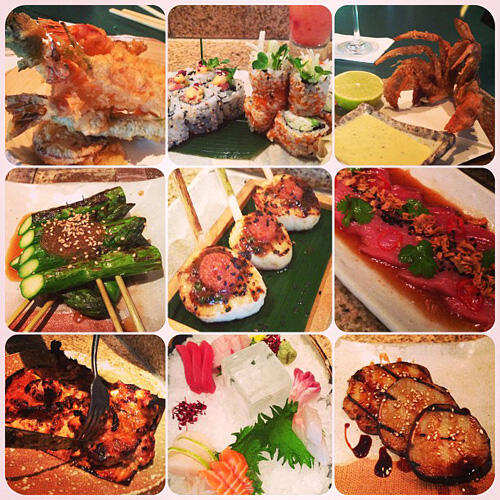 This isn't even all the food we had -_- Thanks Uncle Mark for such a treat!!
After Zuma we raced to Vogue Festival where we reached the Paul Smith talk with five minutes to spare. After the talk, we had an hour to walk around a bit before getting home for an early dinner that was being cooked by my grannie.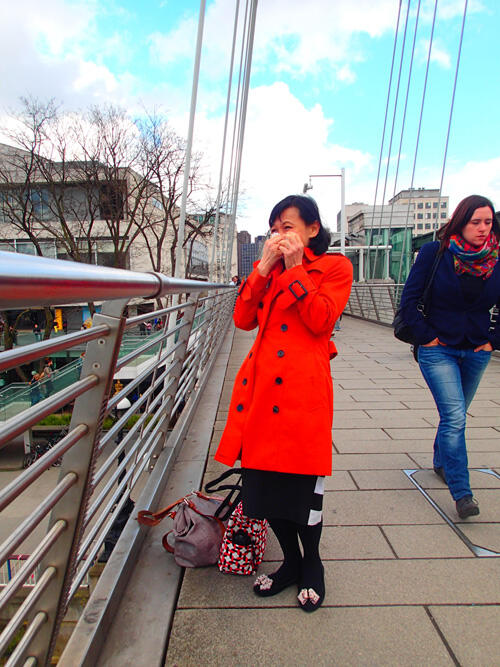 Aunt G: "Stop taking a picture of me blowing my nose!!!"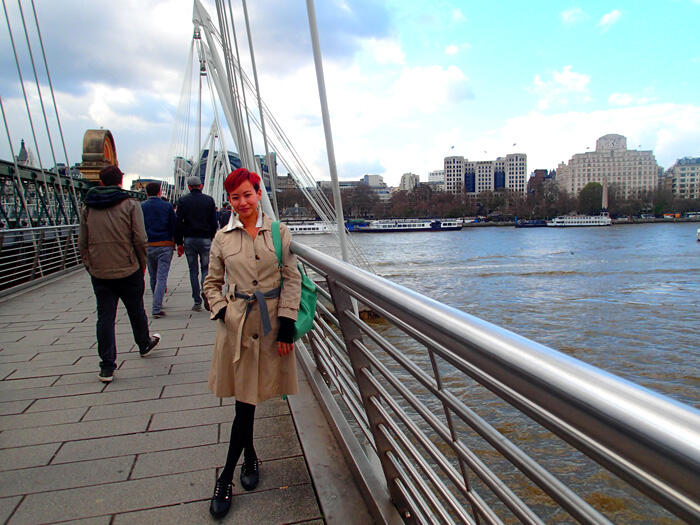 We crossed the bridge from Southbank (where Vogue Fest was held) to come upon a park with lots of colourful flowers that have bloomed!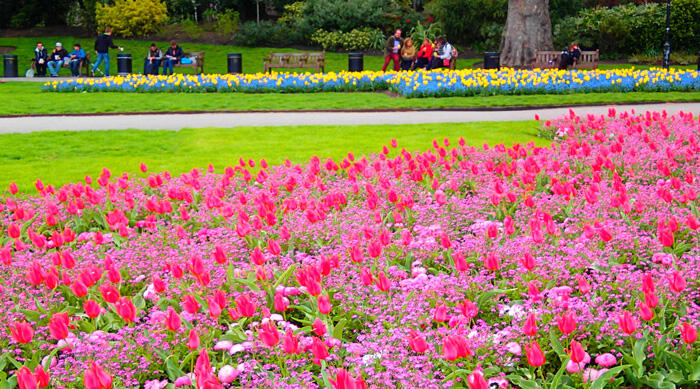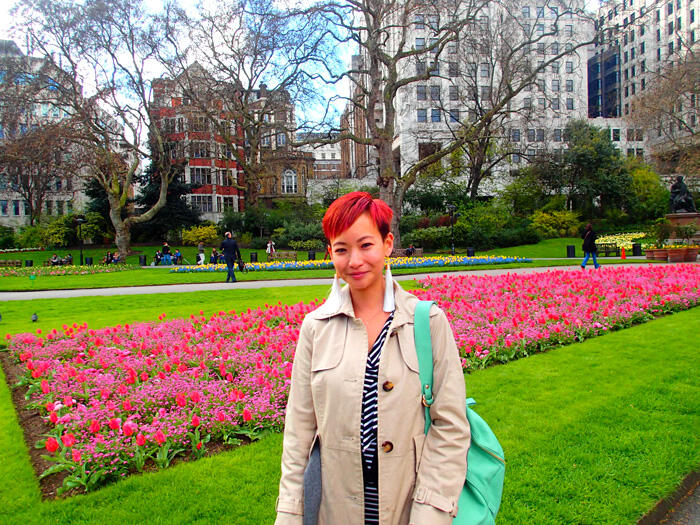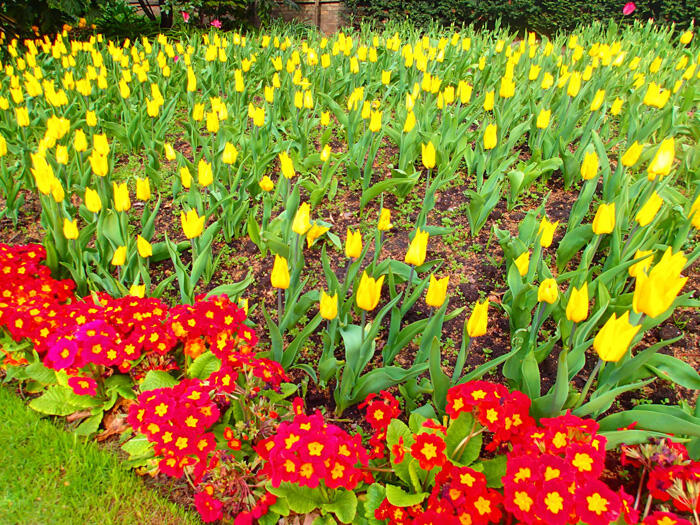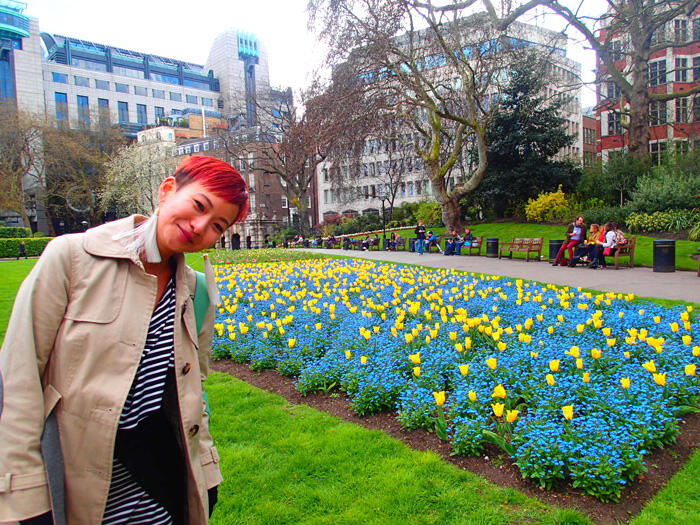 Don't you just want to EAT those colours up!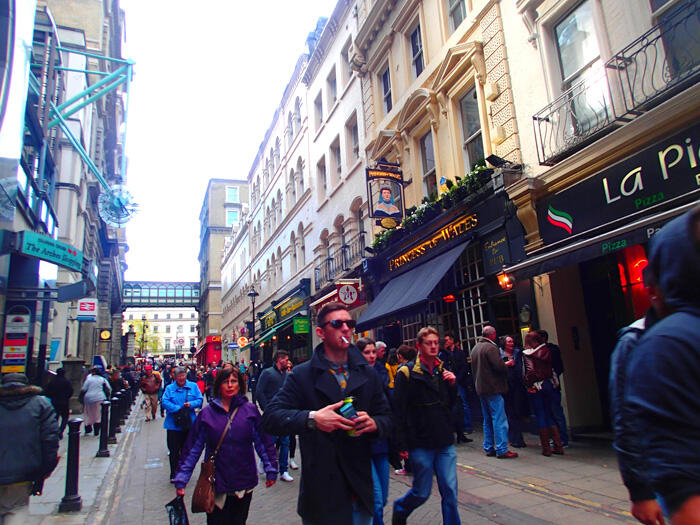 Walked down some road… and popped into St Martin in the Fields where we chanced upon an orchestra and choir rehearsal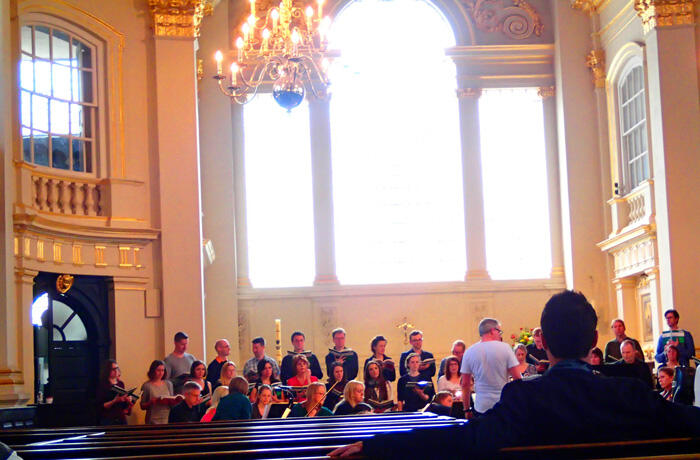 They were really good..! I felt kinda lucky to have just stumbled into some beautiful free music :p
We caught the bus home for dinner.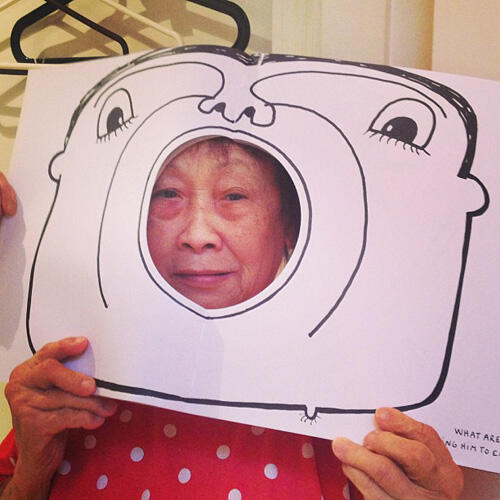 I forced my Mama to take a picture with the new book i bought earlier that day 😀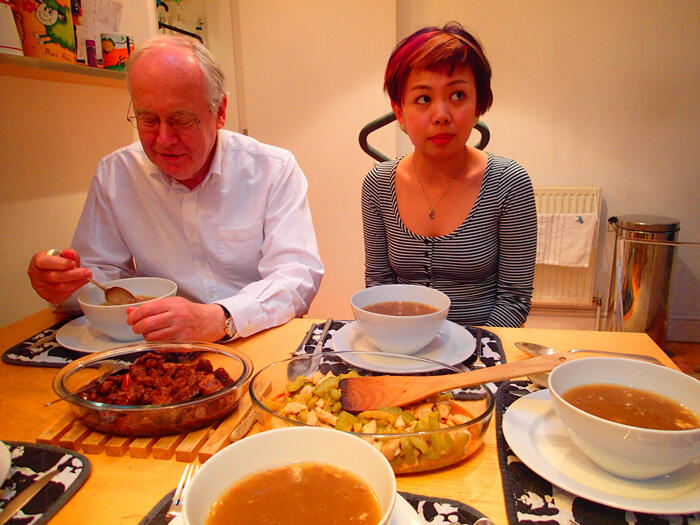 Yishyene was invited over for dinner since i was going out partying with her right after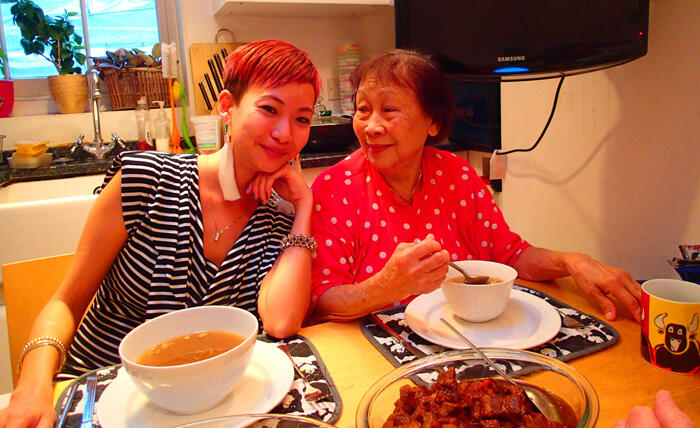 Mama and i.
I'm so grateful to have her cook for me cos i know it's very tiring for her since she's old and doesn't stand up for long. But there's nothing like grannie-cooked food! For realz.
She cooked us chicken soup, black sauce pork, and bitter gourd with chili and chicken.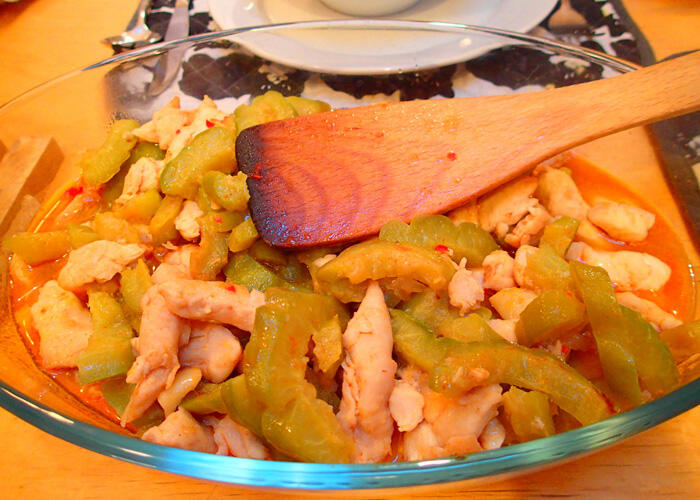 I NEED to learn how to make this! Tho i'll probably be the only one eating it… not sure if Clem is into bitter gourd. He's more of a triple-cheese pizza person -_-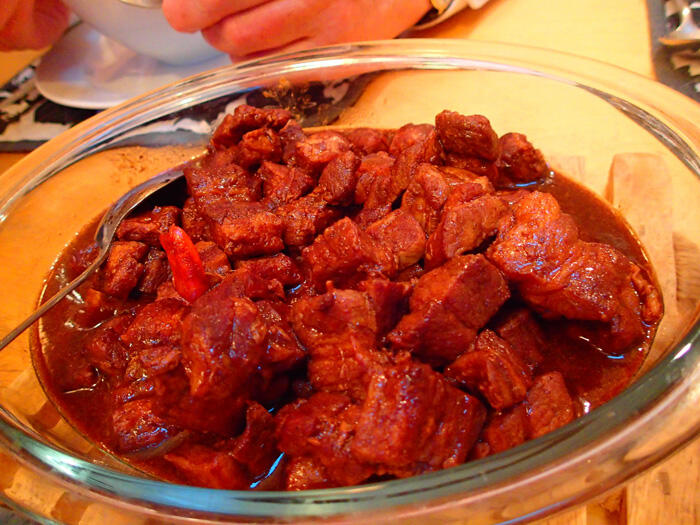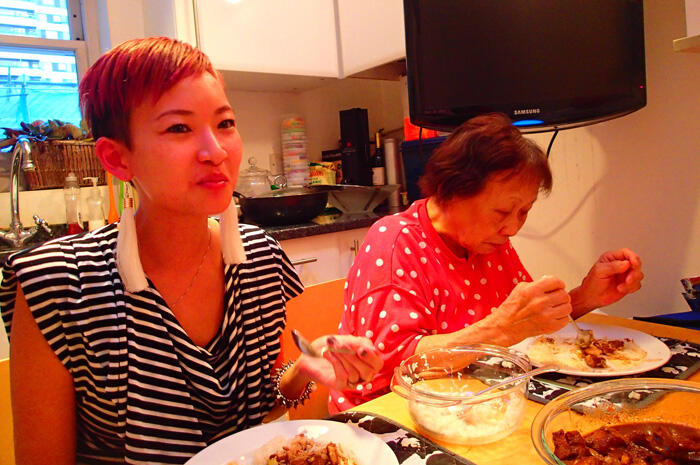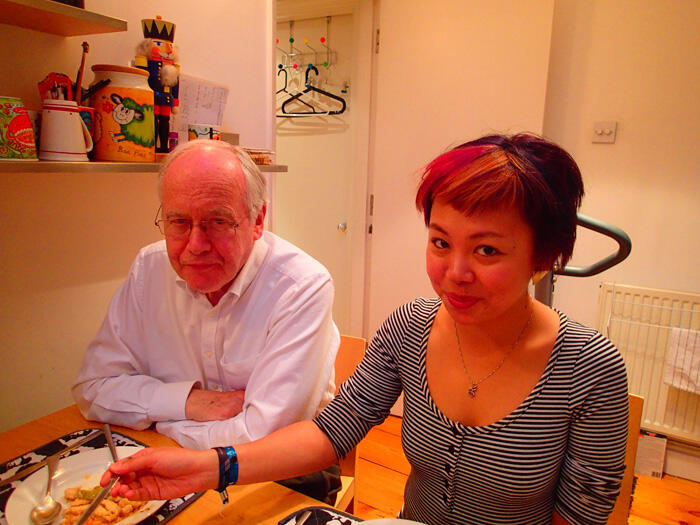 After dinner, Y and i caught a bus to her apartment which isn't too far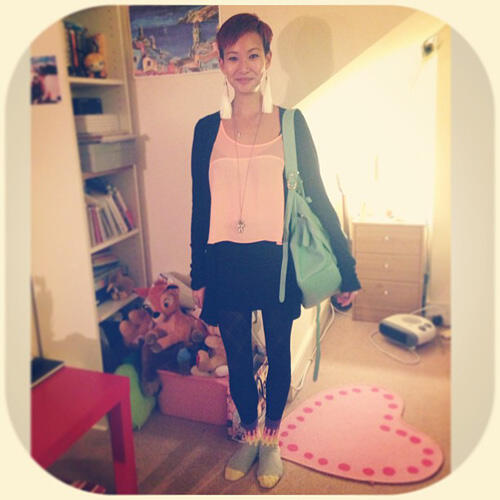 Wearing top from H&M, socks from Stockholm, cardi from Zara, mint backpack from NakedKimchi
My allergy suddenly struck while i was at her place and my face swelled up and i was burying it into her bed to keep myself from scratching. The funny thing is that once i start drinking, it goes down so maybe… i'm allergic to sobriety? HAHA.
It was quite cold on Saturday and i couldn't help wearing lots of layers out that day. Yishyene was so scared i'm not warm enough that she insisted i borrow her very warm bear jacket which is called so cos it's got bear ears sticking out its hood. She was laughing at me on the street while we walked to the tube, and finally 'got' why people would laugh at her walking past some times. It makes us look like a little midget bear!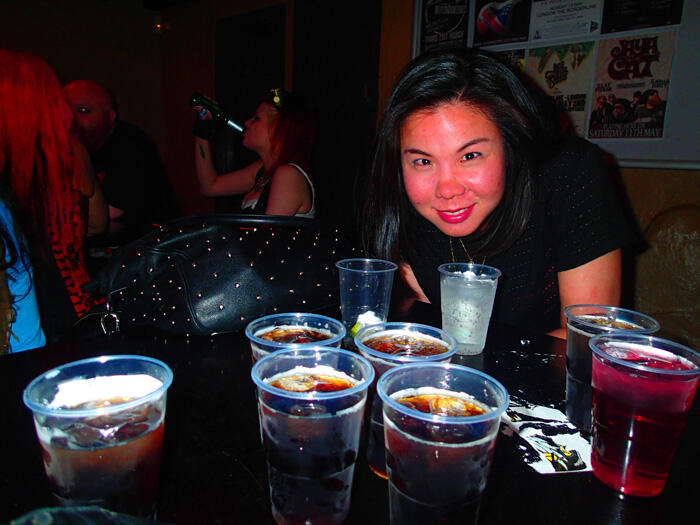 Linda and the drinks Izan and i went to buy. We waited for SO LONG at the bar that we decided to buy 2 drinks per person, and added even more on top of that.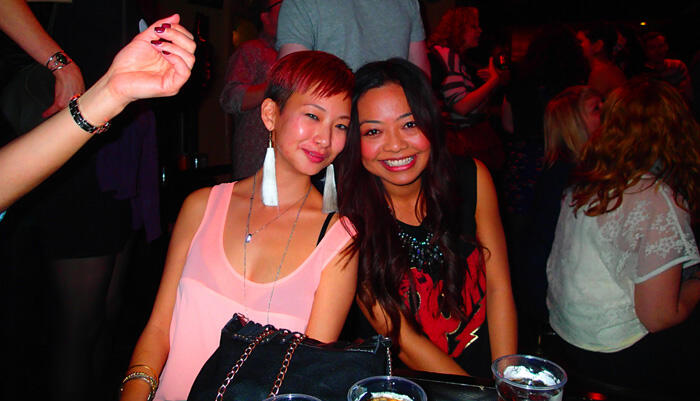 Izan and i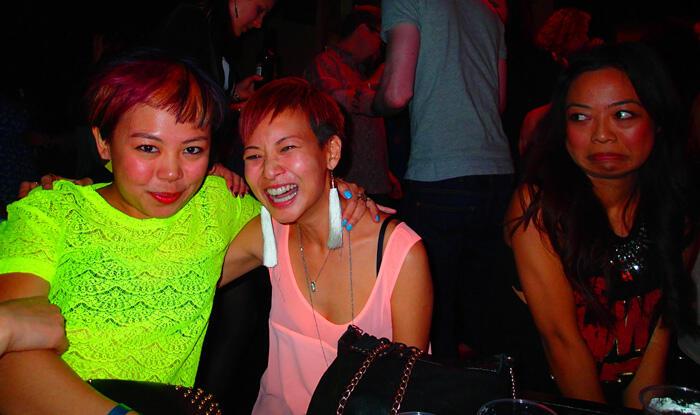 Izan's face… LOL. Sorry my face is a bit horrid, i'm avoiding wearing make up till my allergy gets better!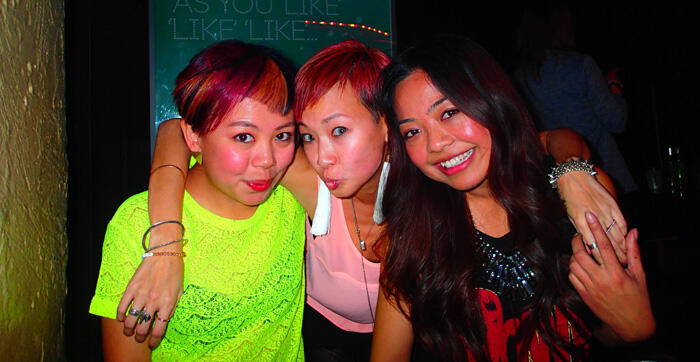 We had lots of drinks… and ended up squatting (the Asians we are) at the side of the street waiting for our taxi to take us home. Hmm i recall Izan saying something very inappropriate to Melissa (we facetimed her) which caused the taxi driver to turn around and look at her, and Sa to go, "MY NIECE IS NEXT TO ME."
Lesson: Don't have children around when facetiming drunk friends
Aunt G gave Y a tupperware of ham (from that huge bone she bought last week) which we happily made into sandwiches in the middle of the night/morning(?)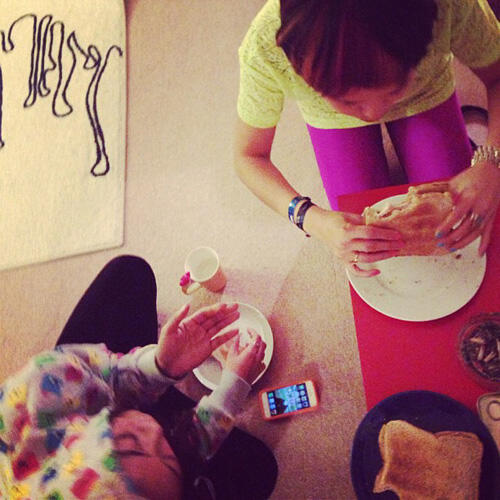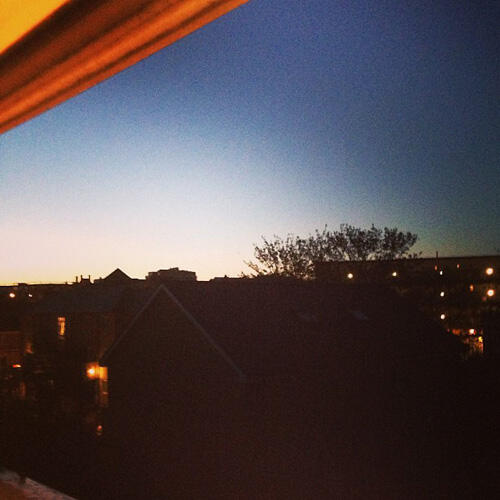 I went home at 5:30am and saw Aunt G awake at her laptop, working! She said she 'woke up' at 3am and decided to work. I was like, "Nobody WAKES UP at 3am….!" Such a workaholic.
I managed to sleep till 11am, then had to get up cos we had to go for Vogue Festival.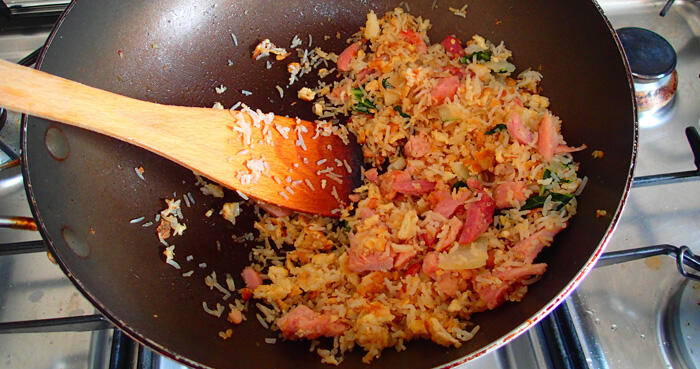 Mama did an AWESOME FRIED RICE using leftover vege and more ham. Ahhhhhh
Ok then we rushed for the Mario Testino talk at 1:45pm. We were a bit late… but were let in phew.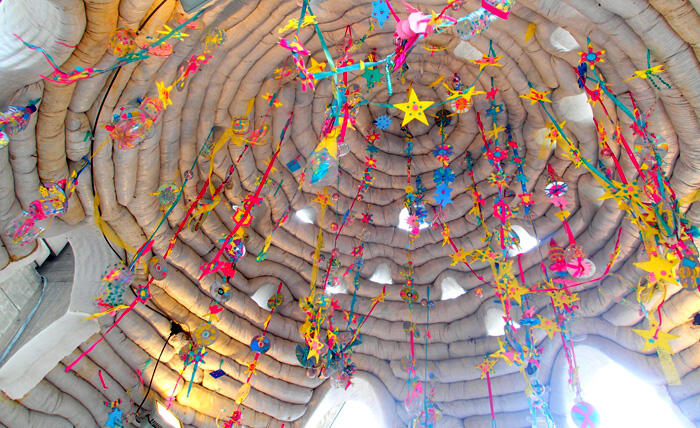 I saw a child spinning around underneath this THING and went in to look. I spun around for awhile too but then regretted it immediately when i heard my brain wrinkle in pain and go, "HANGOVER HELLO!?"
In between talks, we got tickets to the Light Show at Hayworth Hall in Southbank, thanks to Aunt G topping up her membership so we got instant access to an exhibition that was sold out that day!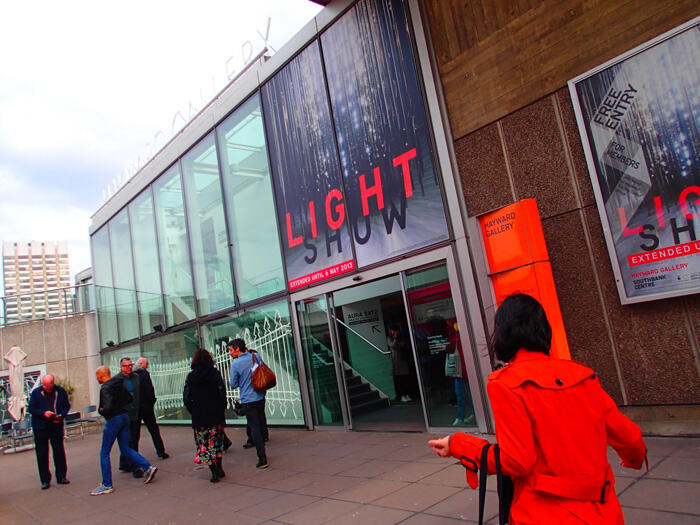 I'm not putting up pix of the light show cos there are quite a few, and i'd like to put it in a post by itself! Cross my (and your) fingers!
After the Light Show, we went back to the hall for Donatella Versace's talk. Then after that, we walked to Skylon to have dinner with Uncle Mark and Mama.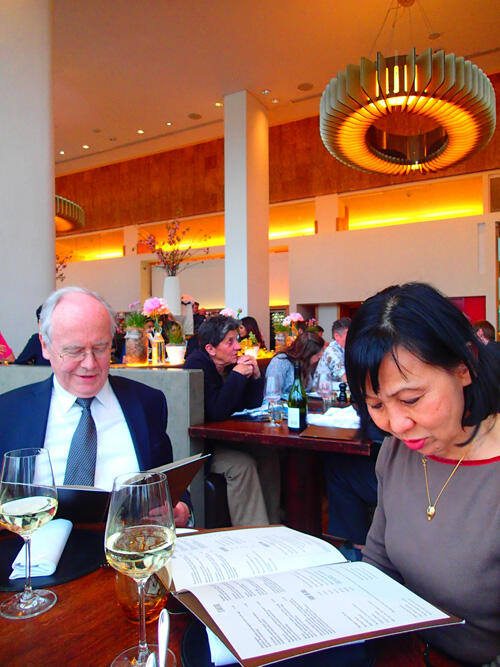 I didn't drink a drop of alcohol that day. I just couldn't.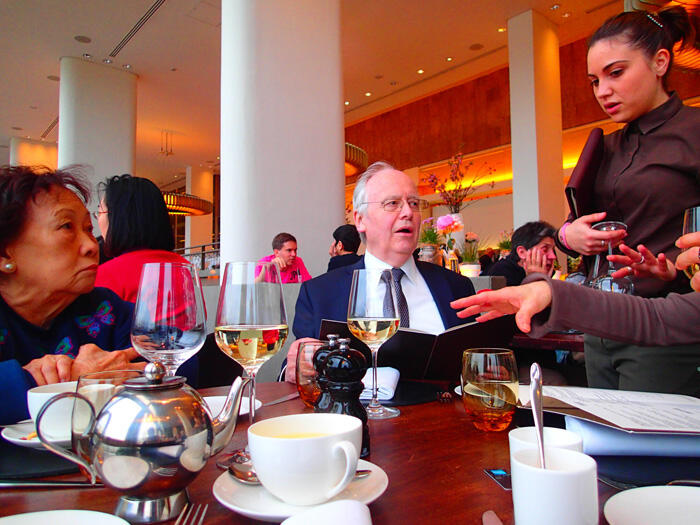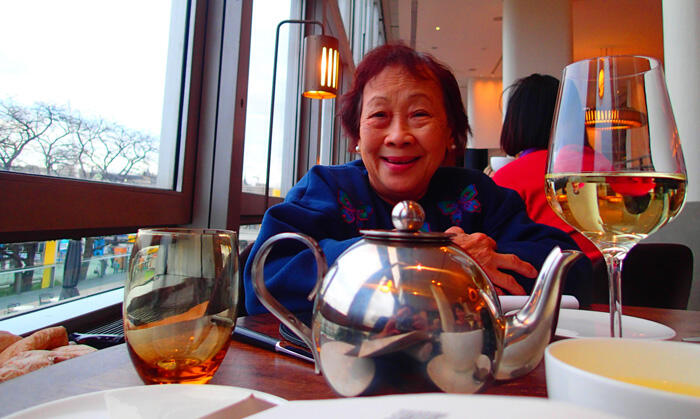 I love this picture of my Mama!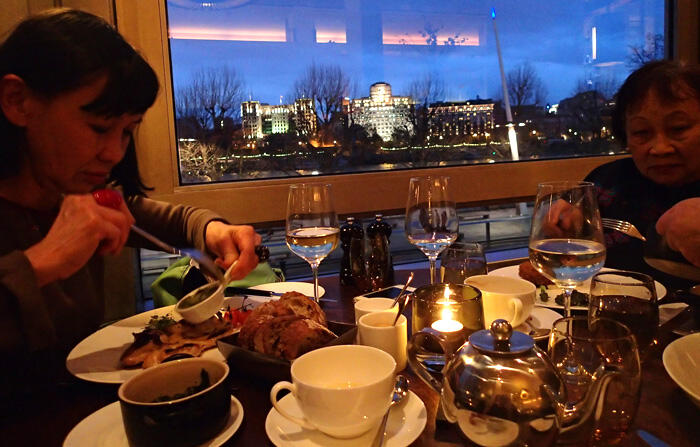 Reason they wanted to have dinner there was because of the great sunset view and lights across the river. You can see the Savoy Hotel on the right.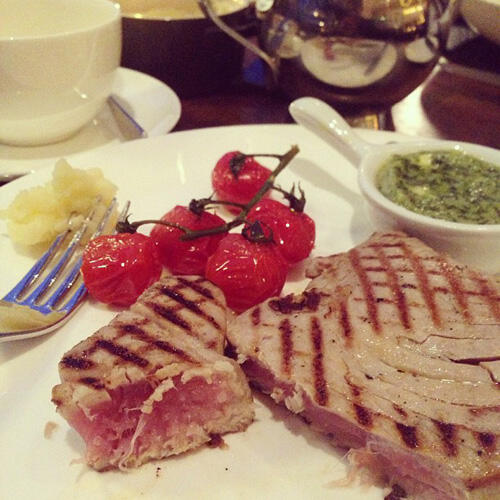 I had a delicous tuna steak cooked wonderfully with herb and butter sauce.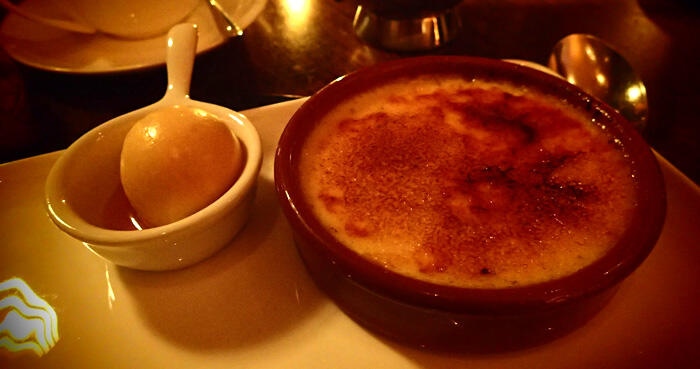 I was so curious as to what 'burnt cream' on the menu was, and it ended up being creme brulee! Served with Earl Grey ice cream 🙂
Didn't i do so much last weekend!? I think i deserve a medal or something…