Clem turned 32 last week and we initially planned to celebrate it at Awanmulan like how i did last year, but his company scheduled a work trip to France on the same dates so we had to cancel. Then last minute, the client canceled the work trip -_- So he had no plans and was feeling all depressed about how he wouldn't have a birthday cos we had no time to plan it.
Seeing i've never thrown him a surprise party before, i discussed it with Tai Yong of Lust and we put together a party for one week before Clem's birthday (so it wouldn't be so obvious, see). I purposely wanted to have it at Lust cos they play old-school R&B and hip hop every Friday night and it's the kind of music Clem loves, and most of us miss and love dancing to it too.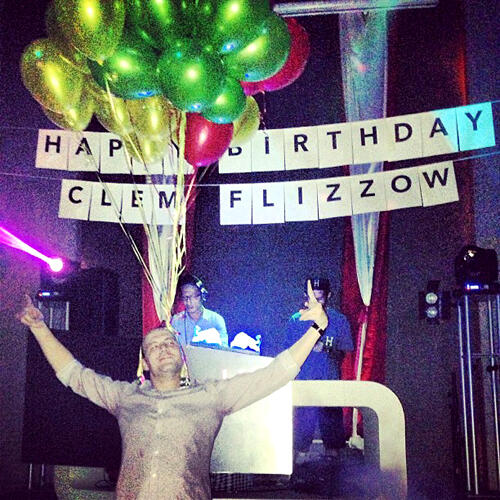 Tai Yong remembered how Clem walked into Lust one day saying, "Just call me Clem Flizzow" and took it upon himself to make the sign without telling me. So. Many. Points.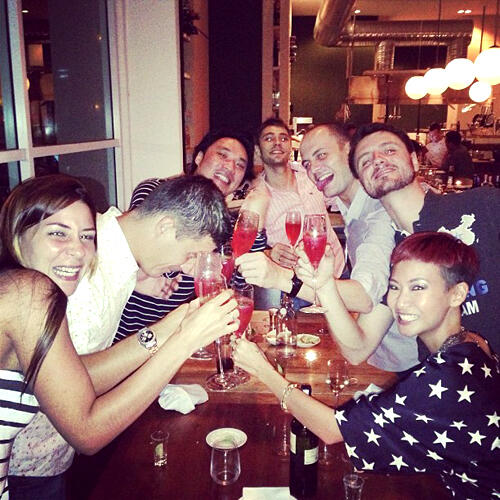 Oh yeah before Lust, we had a dinner at MediTeca with the group of frenchies and the LohLohs.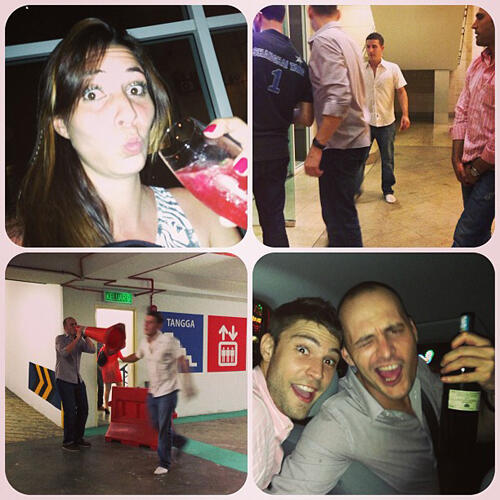 I wanted to laugh when Melati wrote on a chat that French people take so long to leave a place. Cos it's SO TRUE. I was panicking like shit and didn't want people at Lust to wait, but these bloody drunk French guys (who were IN on the surprise for Clem btw and KNEW we had to be at Lust at a certain time) kept on ordering more drinks and getting more drunk and taking SO LONG to leave even the CAR PARK. But i could also blame Kenny for ordering a bottle of tequila before we even had starters -_- You guys kinda suck. (If you notice, someone lost their shoe in the picture). Seriously, it was only around 11pm!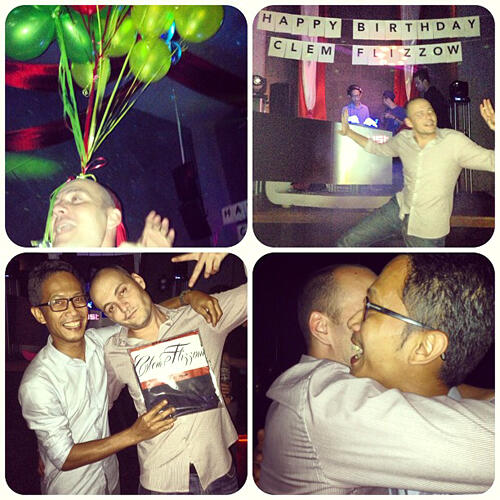 FINALLY arrived at Lust and Clem was well and truly surprised. Tai Yong wasn't around but Andrew was there to take care of us. Thank you so much guys!!! I didn't expect so many things thrown in from doing our party there - like the personalized shirt you made for Clem, the kick ass sign, tons of balloons, the champagne, etc! You certainly raise the bar.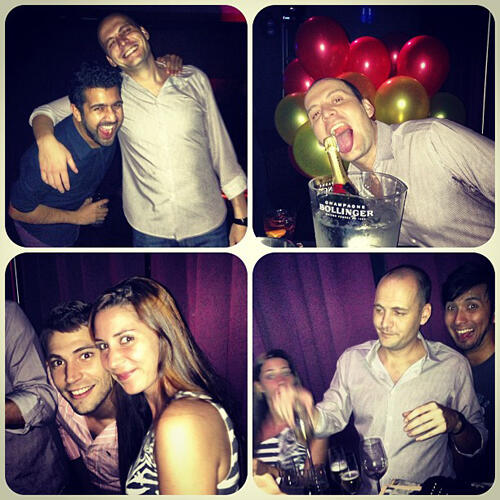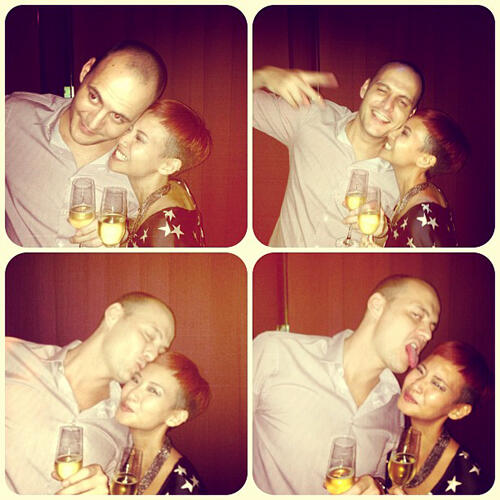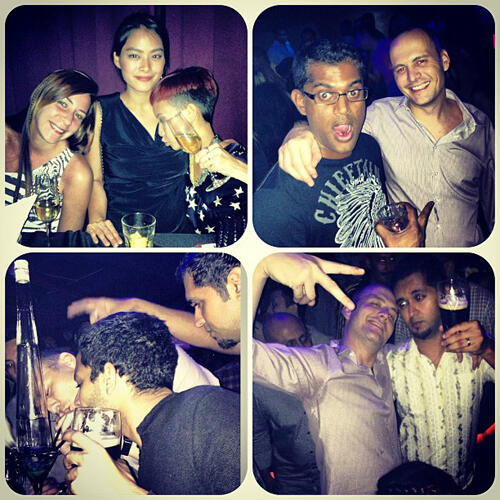 There was a lot of dancing, i think i haven't danced so much in so long! (Can't wait for Future this Sat heehee)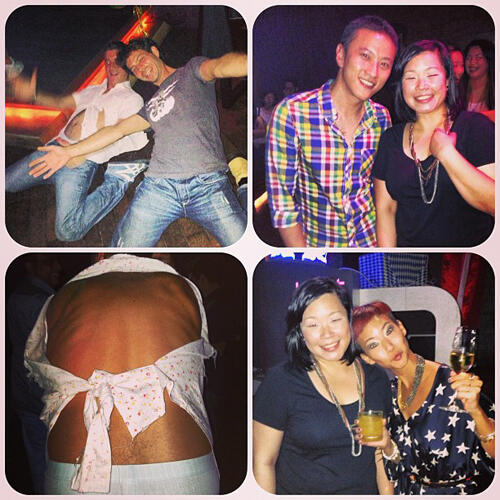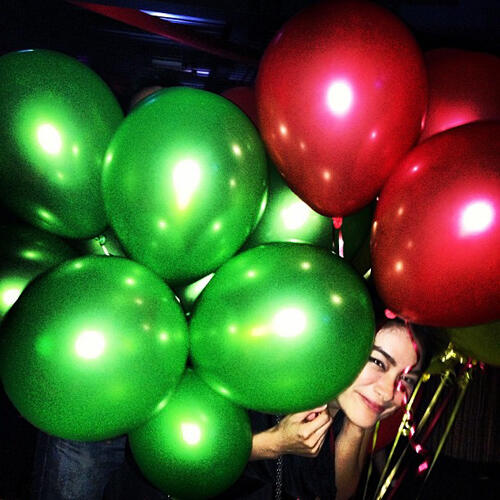 Cloudsy!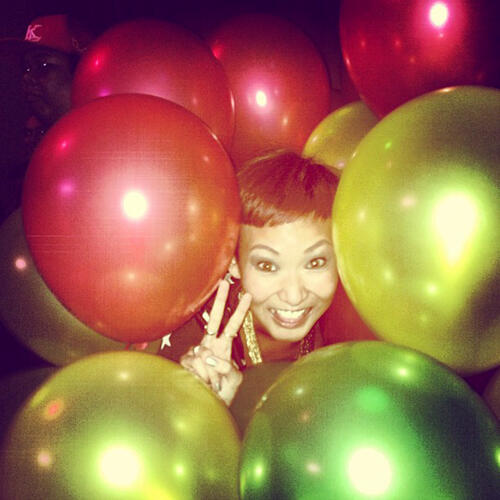 Thanks to Lust for getting all these balloons! When they said they're throwing in some balloons, i didn't think they meant 30!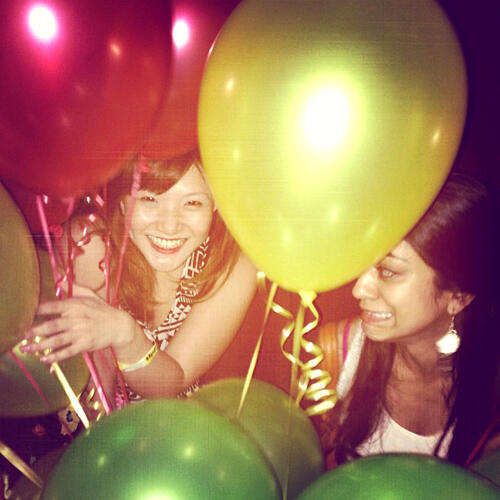 Sarch and Aps.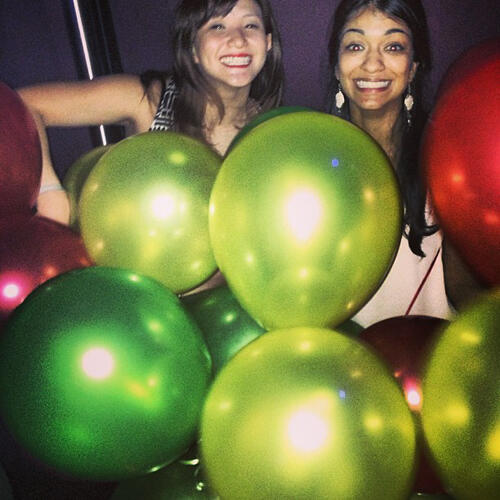 More pix from my phone i didn't instagram cos... there were so many. Here's a few: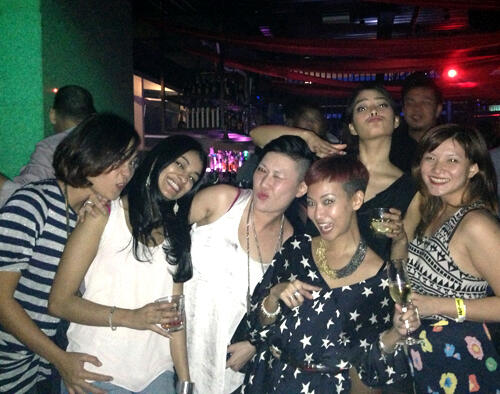 Steph, Aps, Michelle, me, Clouds, Sarch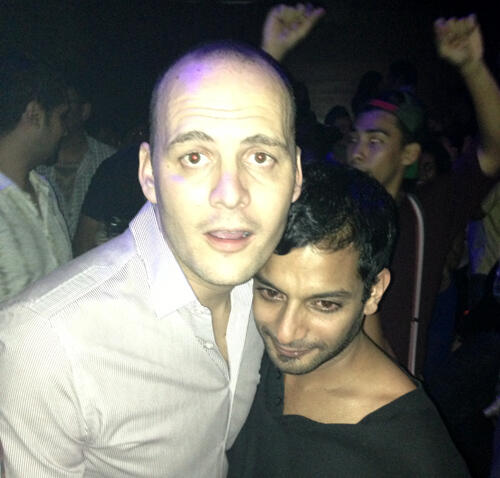 Clem & Danny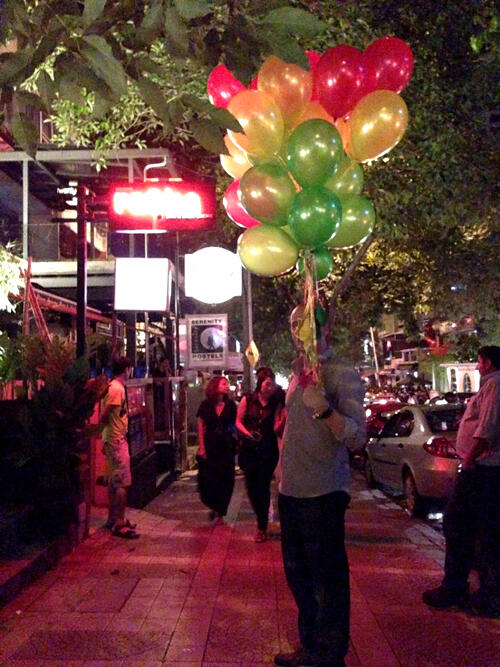 I tried to take home as many balloons as i could by stuffing them into the back of Michelle's car with Clem.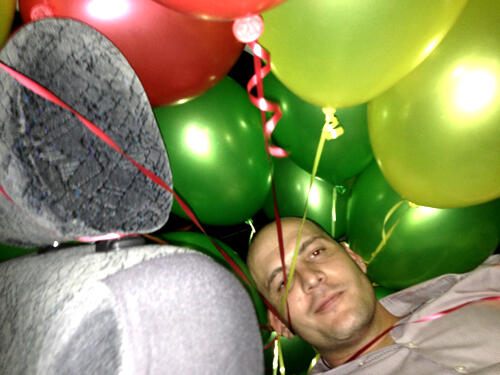 A few days later, the helium had gone out of the balloons and a dozen of them were sitting calmly in the corner of our bedroom. Clem was taking a shower when i suddenly thought, "... I haven't thrown anything into the shower for ages!" So i RAN to the kitchen, grabbed the scissors, RAN back to the bedroom, cut the balloons off their long ribbons, crept quietly into the bathroom, stood on top of the closed toilet bowl, and tried to THROW all the balloons over the shower curtain on top of Clem. I slowly fell off once cos i was losing my balance in my excitement but got back on and Clem was shouting, "No! No! You are psycho!!"
Mission accomplished, i went back to bed with my book.
He came out of the bathroom a few minutes later, and threw a dozen wet balloons on me... and the clean dry bed.
-_- Men.
+ + + + + + +
Clem's actual birthday is on March 7th, so he turned 32 last Thursday.
I have to admit that... i'm one of those terrible people that took years to remember their partner's birthday.
When i had to fill out a form for the 2nd driver for my car insurance and my dad happened to be next to me, i paused when i came to Clem's birthday, and my dad was like, "You don't know!?!?!" And i was all, ".... >.< ....Don't tell him!!!"
But now i can blog about it cos FINALLY i REMEMBER IT. Okay so sometimes i may hesitate, but i remember! And people... don't give your loved ones a hard time if they don't remember your birthday... it's not that we don't care, it's just that our memory really really sucks.... If you persevere and not give us shit, we will end up remembering it! One day.
So on Clem's actual birthday, i took him to Sage for dinner cos he's never been there.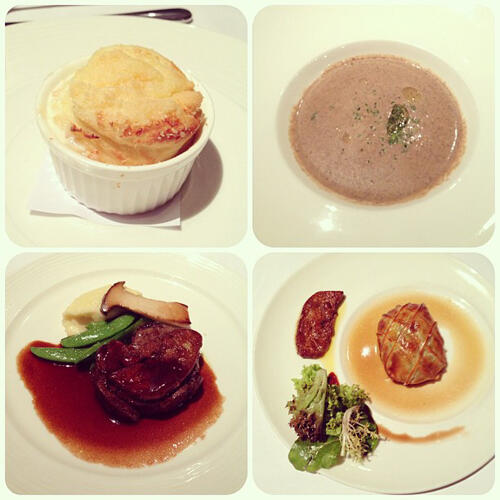 We had gruyere souffle, mushroom soup with white truffle oil, beef cheek and foie gras, and kampung chicken pate en croute.
At first i was like why are you ordering kampung chicken here!? But it was surprisingly VERY good. I'm so glad Sage is still so up-to-standard with its cuisine. Always such a treat to eat there.
The night before Clem's birthday, i gave him a present to open, kinda like how we open one on Christmas eve. Before i really knew what to get him for his birthday, i panicked and got cufflinks, a tie pin and a polo shirt. Then i got him a watch. So in the end he had lots of presents!
I gave him the cufflinks and tie pin on the eve of his birthday (starter), then the watch after our dinner in Sage (main course). And planned to give him the shirt as the last present he'd open (dessert).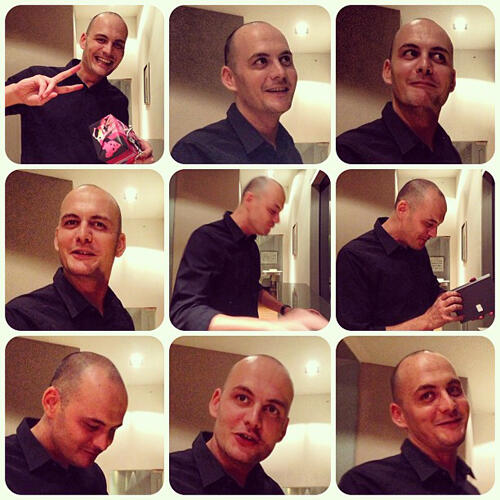 I hid the watch box in a large handbag so he didn't see me bringing along a present 🙂
When we got home, he had more presents to open!
Clem says this is what happens when you have a child and a lazy person living together: the Christmas tree is still up in March :p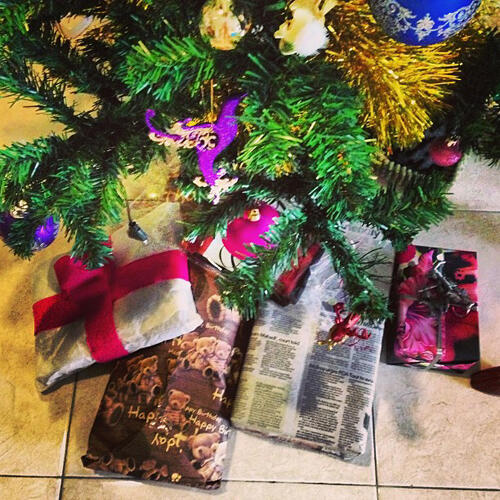 I think it's okay cos it doubles up as a birthday tree and we've got somewhere to place all his presents from friends!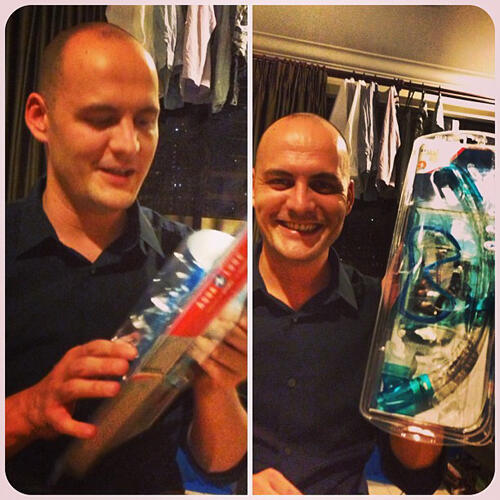 Kenny and Cammy got him his own snorkeling mask! I plan to borrow this. Amy and Byron got him a shirt which he already opened the week before.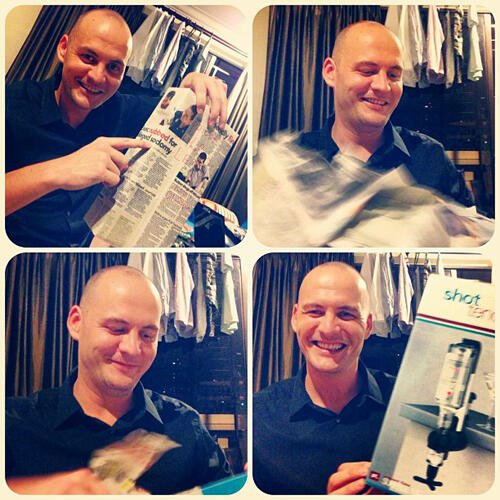 Kevin and Clouds got this VERY cool shot tender!!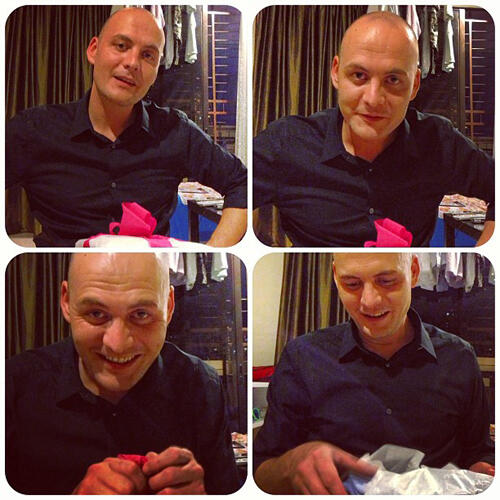 And then i gave him the last present from me. Bottom left is his 'are you joking?' face.
+ + + + + + + +
On the day after his birthday, was a Friday, meaning it's pub day.
So Clem had yet another birthday celebration, in a pub instead.
Sid's was selling these rugby balls for RM120 which i think is a brilliant idea... cos you have no idea how excited drunk men get about a BALL. Fuad got one. And so did Clem. And next thing you know, a bunch of them were playing drunk rugby in the middle of the street.
Okay, i joined them for a bit too, but it wasn't that fun cos noone dared to tackle a girl, plus, i was scratching the front of my new sandals by running on the tar road (such a girl haha) so i stopped.
A few times they were throwing it around the table full of drinks and got scolded by some random friends, but noone listened. Till of course, the ball finally hit a glass and spilt a FULL PINT OF BEER unto Nick to the point his shirt was drenched and his hair had foam (i was laughing SO MUCH).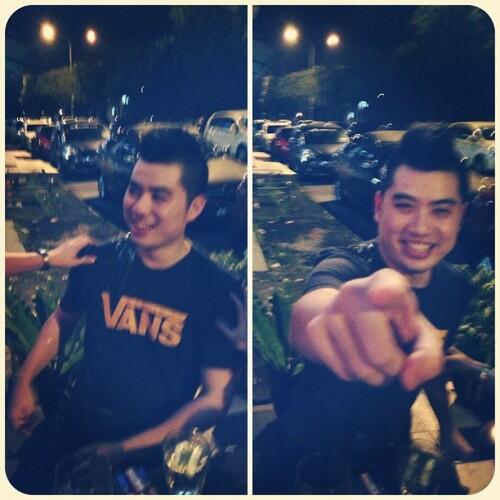 Instead of handing him a napkin, i quickly took some pictures.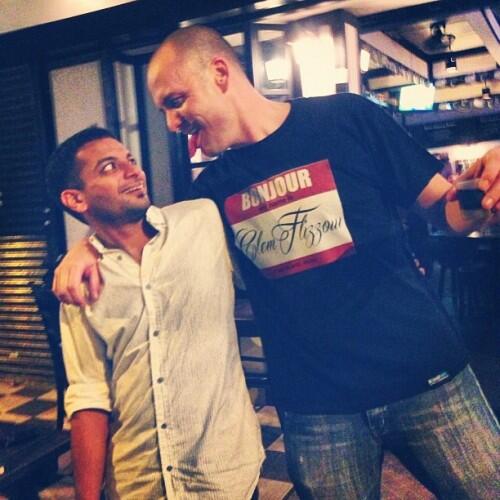 Danny and Clem again.
Okay no more pictures from that night. Clem got bloody drunk. Matthew said i'm such a nice girlfriend for not putting up drunk pictures of him on instagram and i was like, "Please, i don't put those pictures up cos i don't want to EMBARRASS MYSELF."