I had my first yee sang last week thanks to Siobhan, who invited me to have a tasting session of their CNY dishes at YTL restaurants Li Yen and Shanghai.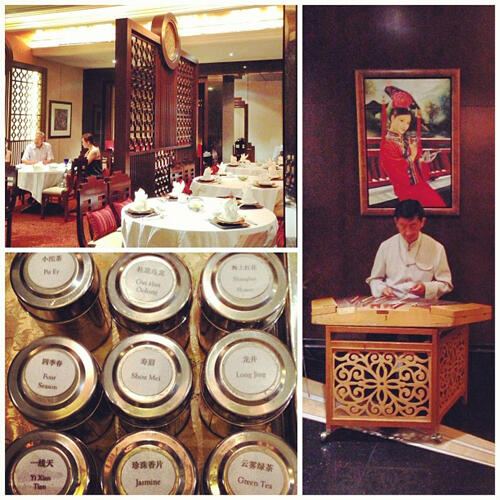 Our first stop was at Li Yen in the Ritz-Carlton, where i snapped pictures of the dozen teas they have available. I only recognized four types. *shameful chinese-blooded girl*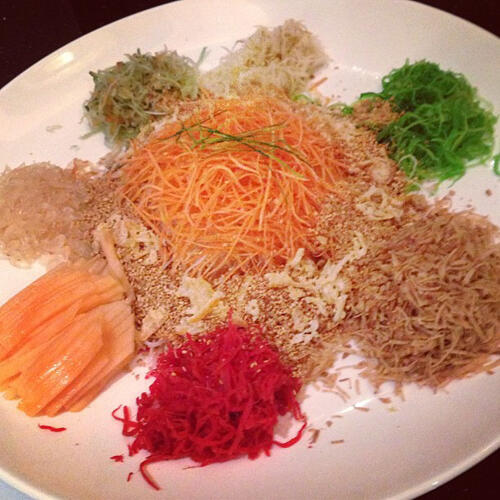 We started off with the Prosperity Vegetarian Yee Sang, and i must admit i wasn't looking forward to yee sang with no salmon in it. Cos what is yee sang without some bits of salmon to look out for and fight over? Teehee.
In the end, my mouth took over my mind when the combination of papaya, pomelo, carrots, ginger, cucumber and lemon juice extended beyond my expectations. Of course, there are jellyfish and salmon options to those who insist on it, but i very much liked that i managed to try this version and fancy it a lot.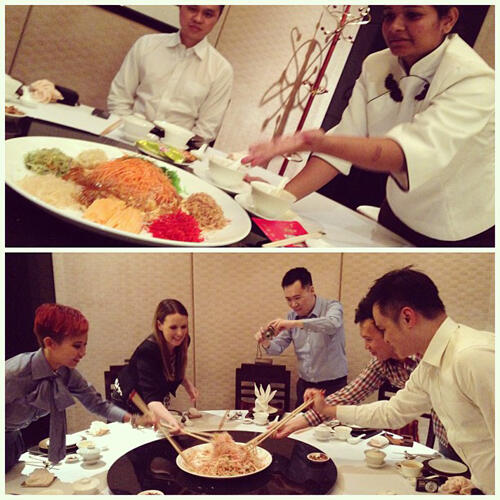 There were magnificent giant chopsticks (that looked more like drumsticks) for us to toss the yee sang with, tho nobody else really said aloud any prosperous wishes… think everyone was shy? Except me. :/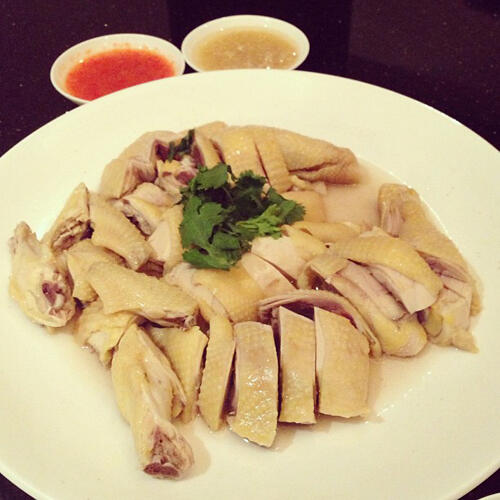 The Bouillon-simmered Chicken was very tasty, even without the ginger and chili sauce that accompanies it.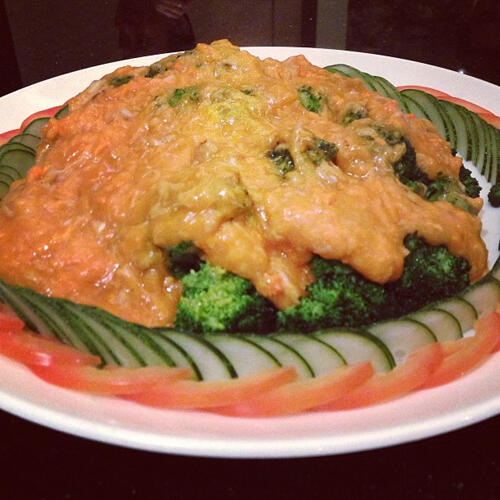 When the Braised Broccoli with Crab Roe was placed on the lazy susan, i was thinking, "What is that??" I've never seen it at any Chinese dinner in my life… it was wonderful – perhaps my favourite dish that night. The generous dollops of crab roe oozed flavour into my mouth and i was sold. I voiced out that perhaps the naughty high cholesterol intake of the roe balanced out the angelic consumption of broccoli.
Besides the dishes above, Li Yen also have other dishes especially for CNY. To name a few: braised pork trotter with dried oyster and sea moss; lotus leaf fried rice with diced shrimps and yam; and sweetened red bean cream with crystal dumpling.
Li Yen has five special Set Menus for Chinese New Year that are available from 9th January to 24th February 2013. Menus range from RM1388++ to RM4288++ per table for 10 pax. Tel: 03-2782-9033
Ultimately, i hope that if you do go, you don't order shark's fin soup which the restaurant unfortunately serves. I did not know this prior to accepting the invitation to dinner 🙁 Will make note of this in the future.
After sampling three courses in Li Yen, we took a short walk to Shanghai in JW Marriott.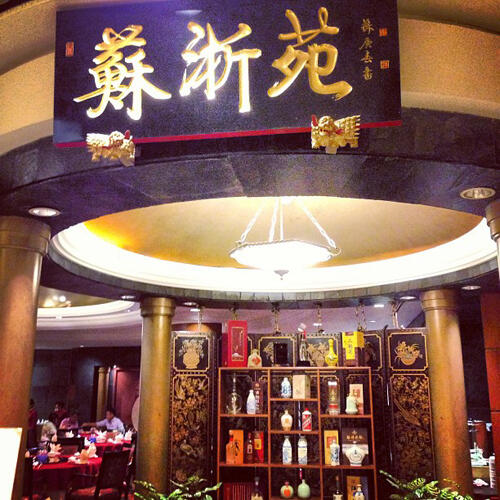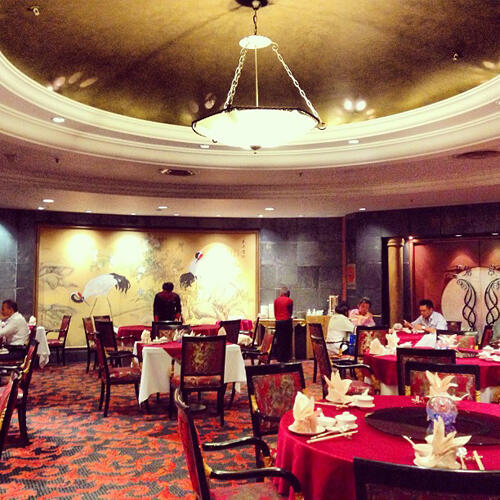 Beautiful decadent interior.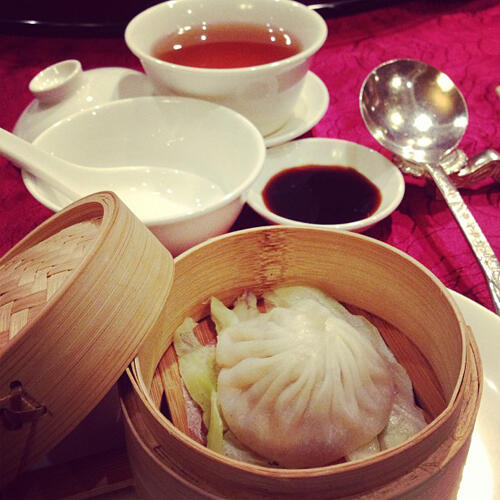 Steamed Shanghainese Meat Dumplings aka Siew Loong Pau. After visiting Shanghai city itself and sampling many-a siew loong pau, i looked forward to having one that had enough hot soup in it to scald my tongue. I wasn't disappointed in that department, tho i wish the skin was a tad thinner. (Who am i to talk… i've never made one in my life.)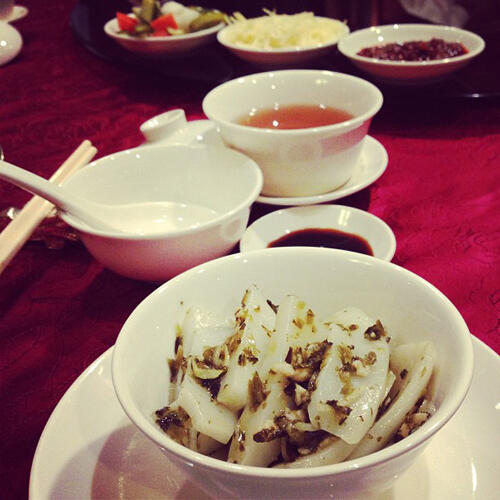 Stir-fried Glutinous Rice Cakes with Preserved Vegetable and Shredded Pork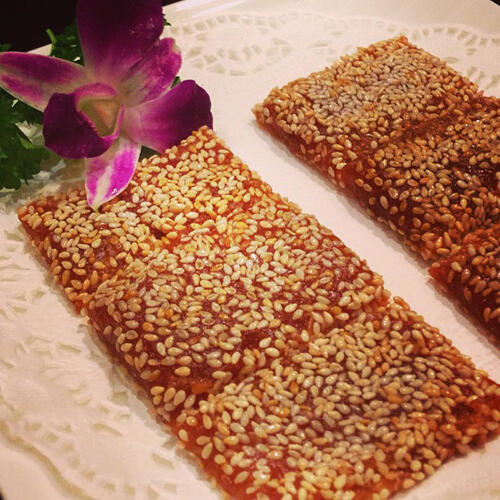 Pan-fried Glutinous Rice Cakes with Sesame Seeds
Other dishes on the CNY menu which sounded really good are: double-boiled superior fish maw soup with glycine tomentalla hayata (aka soybean); braised Shanghainese pork with prawn paste, pine nuts and vegetables; and seafood noodles with truffle oil!
There is a CNY Prosperity Menu at RM188++ per person; and three menu choices for tables of 10 pax that range from RM1988++ to RM2888++. Tel: 03-2715-9000