I had a weekend getaway to Ipoh with the Formerfree girls and their respective boyfriends/husband. Clem didn't want to go cos he wanted 'Clem Time', meaning:
1) PS3 time without me taking over the TV
2) drinking with the boys
3) sleeping in without me jumping on the bed exclaiming i'm hungry
4) reading his book without me reading his pages aloud in various accents
Who went: me + Sarch + Fufu + Meesh + Clouds + Kevin + Myra + Fahmi + Jiawers (our local tour guide). Fahmi came later. Oh and Wallis. This be Wallis: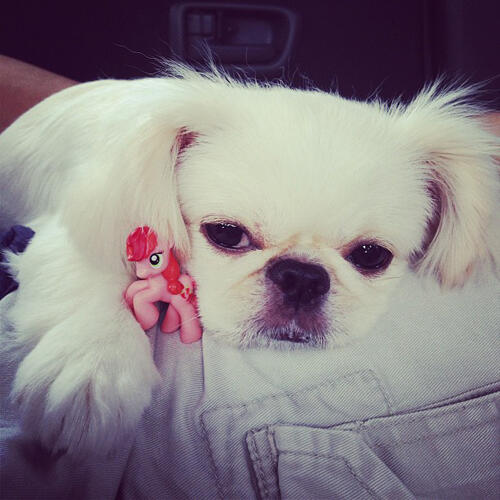 Everyone else was taking the train but Fuad and Sarah were gonna drive so i hopped into their car, along with Kevin and Wallis in the backseat. She was supposed to be sent to a pet home for the night, but… that didn't happen. She's a very good dog tho! Didn't bark at all nor run around like crazy puppy. She's like a cat dog to me.
After a two-hour drive with a bit of traffic on the highway, we went straight to Sekeping Kong Heng where we were staying the night. It's designed by Seksan and related to other retreat guesthouses we know of like Sekeping Serendah and Sekeping Tenggiri.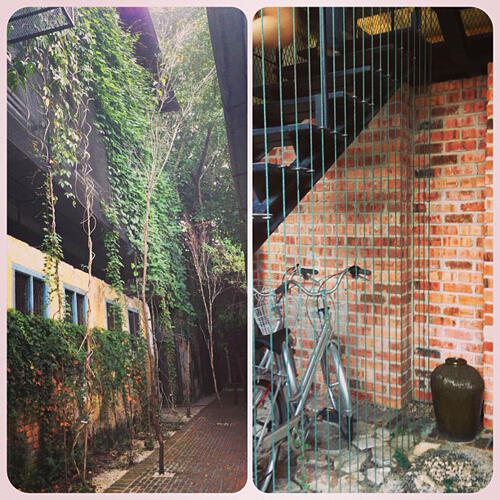 The Kong Heng building is famous for its coffee shop downstairs, with many claiming it to serve some of the best hawker food in Ipoh in one place. Behind the coffee shop, the former theatre hostel has been rebuilt to be the charming guesthouse it is today.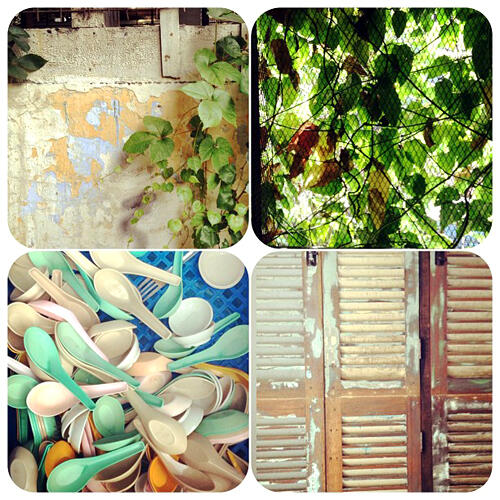 I was so excited as i walked on the path into the guesthouse.
Peeling paint! I LOVE PEELING PAINT.
LOTS OF TREES PLANTS AND LEAVES.
Exposed brick walls, raw wooden floorboards, steel staircases.
It's the sort of architecture that appeals to many of us cos it combines clean lines with different surface textures.
(Tho i just had a thought that my grandma might say how come they don't paint the walls and that they don't have money issit.)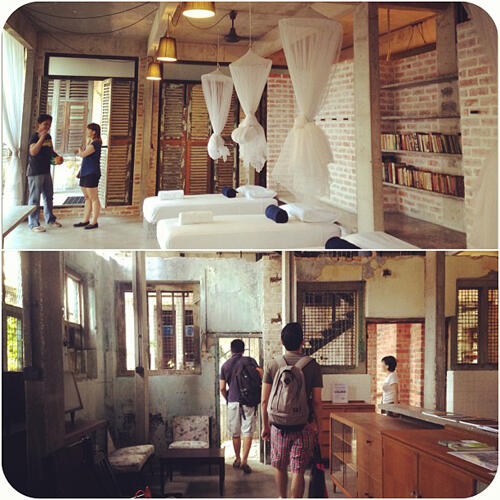 Six of us took up the family room on the 1st floor for RM800. Fufu and Sarch got the air con room for a couple, whilst the rest of us had the four beds outside.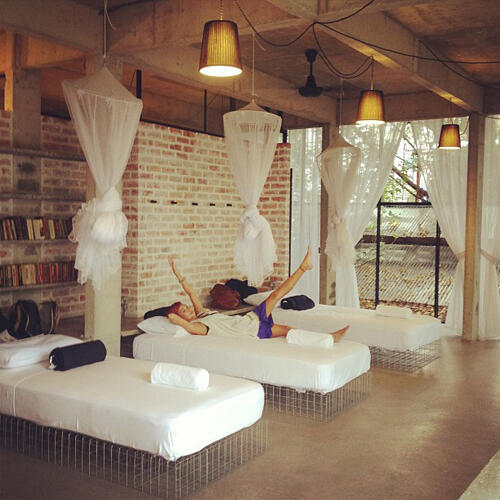 The mattress was springy and comfortable tho the pillow was kinda hard (i like mine big and soft. Ok fine i like goose down pillows.) Luckily, i brought my own pillow from home for the car ride… XD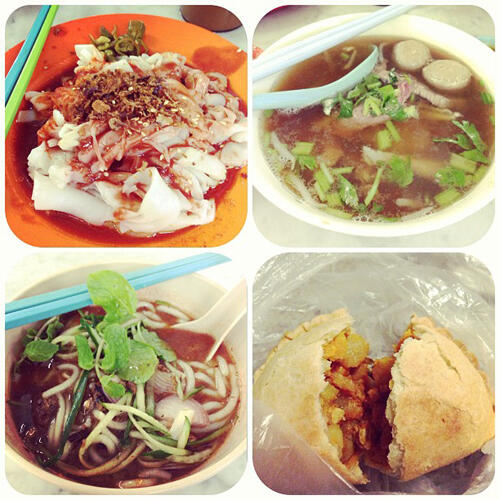 We went downstairs to have lunch at the coffee shop crowded with locals, and i had a marvelous chee cheong fun, and beef noodles with all the spare parts. The next day i had laksa.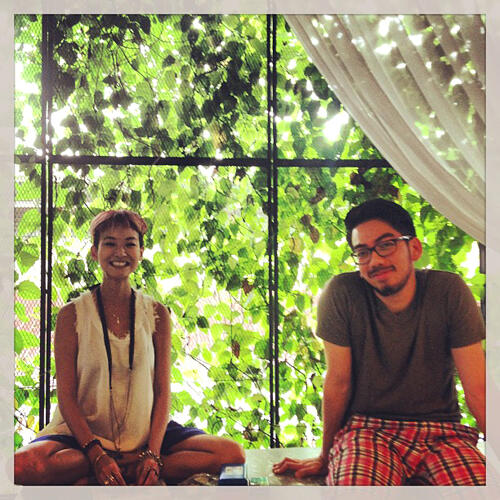 After lunch; JiaWei, Claudia and Myra went to the local jeweler's to set some jewelry. I was tempted to go but only by 15%. The rest of me wanted to just chill and take some pictures and have some drinks. Meesh wanted to take a walk down Concubine Alley and i thought that sounded more adventurous than spending money on something i don't need.
We stayed in the room and chilled for REALLY LONG.
No one watched the time.
No one wanted to move much.
We just sat and chatted.
I think the only reason we finally GOT UP was because we were feeling thirsty, and the thought of beer and chilled wine lured us out.
Sarah said we should really check out the upstairs common area, which WAS very cool!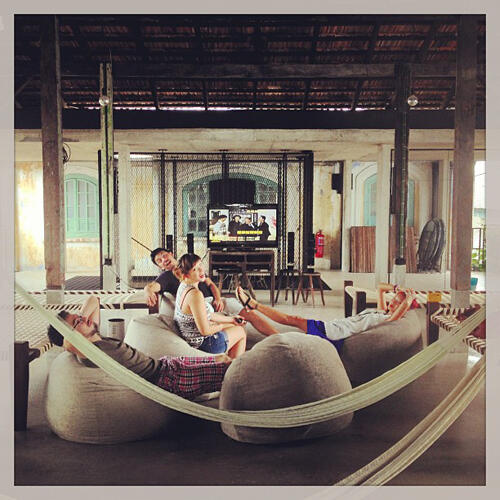 Lots of hammocks, beanbags and rattan seats.
Urm we didn't move a while from there too.
Just SAT there and admired how great the area was.
Fuad even arranged himself on THREE beanbags.
When Sarah leaned over to switch on the TV, i jumped up saying "NO! We're not watching TV here! Let's go get some wine!"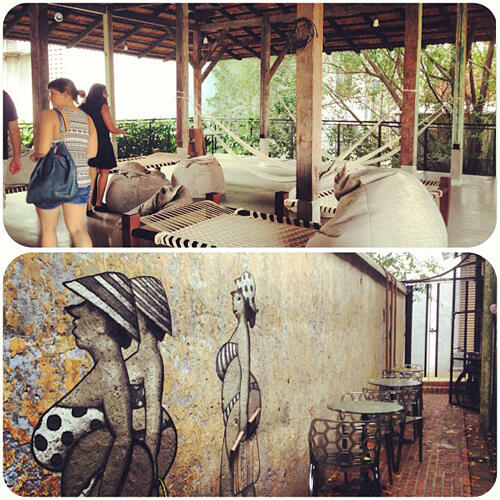 We went to Burp & Giggles next door.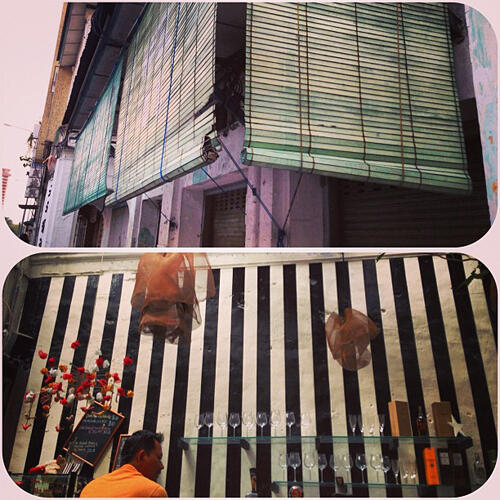 It's a really cute bar with paintings on the wall,
an indoor tree across from the bar,
tulle roses hanging from the ceiling,
and coffee tables made out of doors.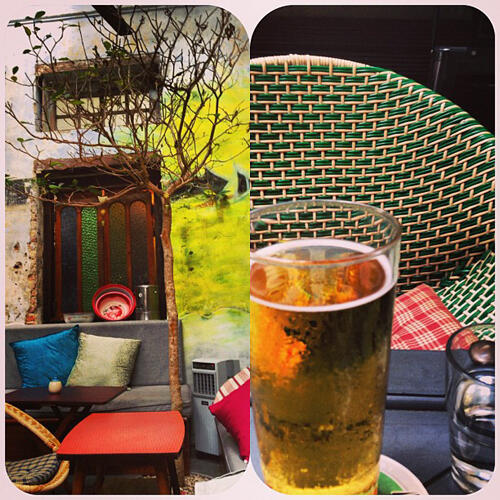 I had a Strongbow (cos it reminds me of Isle of Wight), a double shot gin and tonic (is that what we had? i don't remember!) and… i think that was it. Wine, did i have wine?
As for food i had a couple of oysters (too warm) and some potato chips with chili and cheese. When i saw that there was cheese and chili toppings for RM2 each, i immediately went for it. But manatau cheese = a tiny scatter of shredded cheese; and chili = chili flakes. Chili flakes okay. I paid RM2 for half a teaspoon of chili flakes.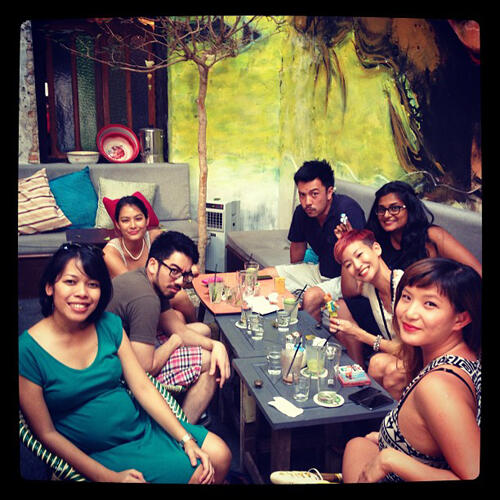 Still, we had a good time chilling there till the rest of the jewelry troupe joined us. (We never ended up going to Concubine Alley. Just sat there and drank. Priorities.)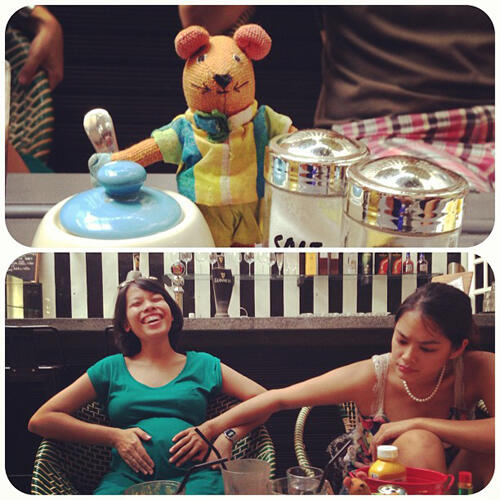 Claudia held her hand to Myra's tummy for the longest time (i've never seen anyone do it that long, seriously) to try to feel it kick. I just learnt that babies kick when preggers is sitting down cos that's when it wakes up!
For dinner, Jia Wei took us to Rasa Lain seafood restaurant.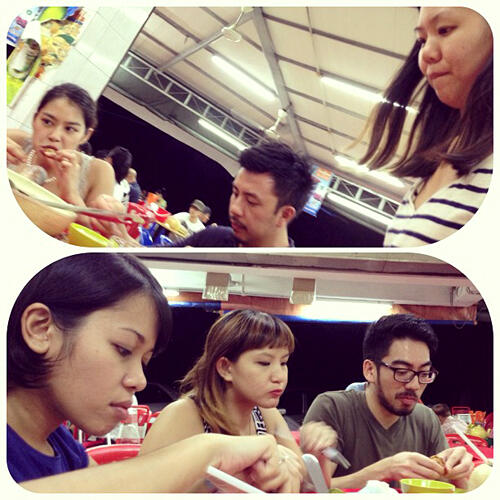 Muka Makan!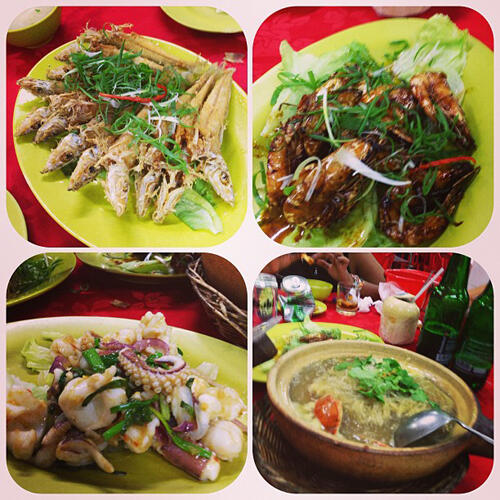 The small fish deep-fried till you could devour the whole crispy body was great. We also had prawns, squid, glass noodles, and porridge.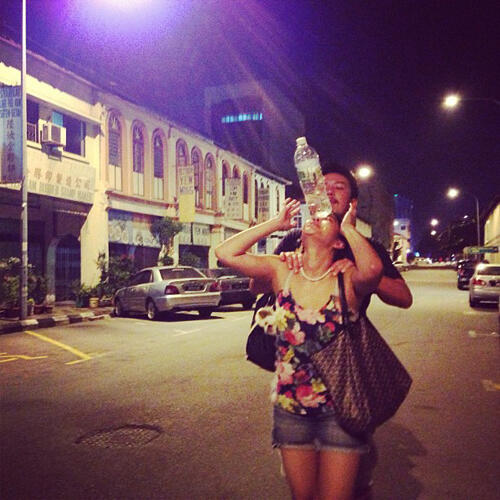 I convinced Clouds to try to balance a bottle on her head on the way home and she did.
Kevin was like 'uh no…' but she continued doing it, till the bottle fell on her face.
Okay, so i'm obviously not the best babysitter if i'm gonna ask people to do funny things which i don't foresee hurting them.
Was laughing at the sign below.
Oh we do remember, we do.
We had many rounds of these legendary beer frosties, that had a few of us trying to figure out how they got the beer so frothy and cold. Dry ice?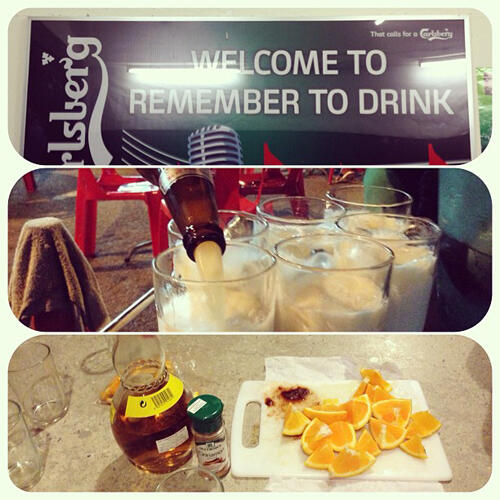 I'd brought a bottle of tequila, oranges and cinnamon with me on the trip.
When Kevin saw it, he said he was hungover and 'am definitely not having tequila'.
Well.
Guess who was convincing us at the end of the night that the BEST way to consume all three was to let the cinnamon squelch on the orange pieces, lick some cinnamon first, then shoot the tequila, then bite the orange…?
We started off by playing chor tai ti and making the person who comes in second to drink. But it looked like everyone wanted to drink and we'd all have a shot after every round.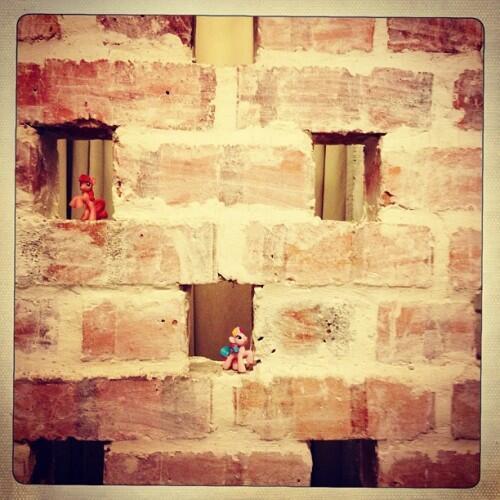 I put ponies in the bathroom so we'd get to look at something while we go about our business, but the others said they felt weird the ponies were watching them instead -.-
The next morning everyone went out for breakfast at 9:30am (what the frick) except Clouds, Kevin and me. I just COULDN'T GET UP. Even food wasn't luring me right then, tho i did dream over and over again about having chicken hor fun till i got up (for real) and went downstairs to have some.
They didn't have any at the first stall i went to. ###SAD###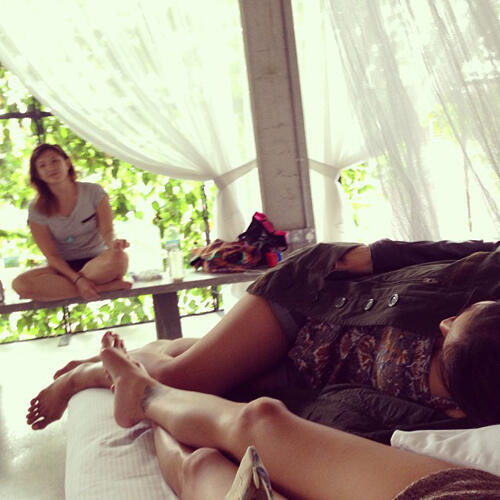 After our very late breakfast, the rest came back and we lay around and did nothing till we had to check out.
Jia Wei took us to this place reputed to be in operation since 1956 and famous for what is called nasi ganja. Don't get excited, they don't put ganja in it. They say that the dish is so addictive that people keep coming back for more, hence… ganja.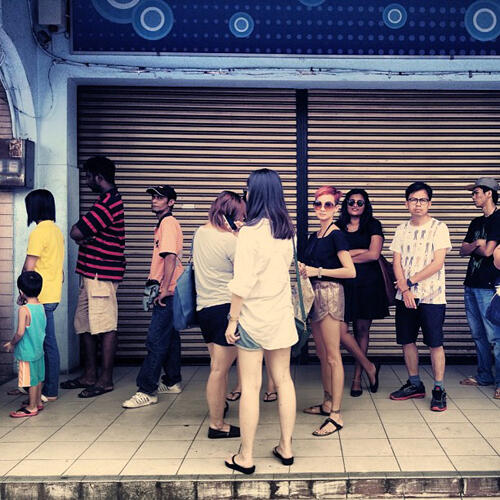 The queue to buy this nasi was three miles long. Okay fine it was three shop lots long. That's still quite long!
I was freaking dying in the heat cos i felt the hangover from the tequila and needed air con so badly.
Kevin pointed out some SERIOUSLY GROSS vomit-looking-like substance in the drain next to us and i almost threw up.
After awhile four of us let the others queue up to do a takeaway for us.
Squatting reserves energy.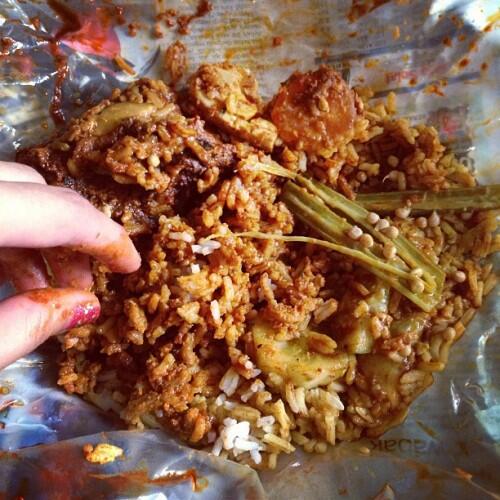 This is the nasi ganja.
I had a tad of it in Ipoh with the rest, but decided to eat it later when i was hungry in KL.
I realize my mistake in Ipoh was not mixing everything up properly.
It was pretty awesome when i mixed the whole salted egg, and something that resembled crunchy fish egg that went really nicely with the rice. Someone said it was poppy seed chutney but i'm really not sure what it is!
According to Meesh, this roe/seed-like ingredient is what makes the nasi so ganja.
//// photo credits to Claudia and Meesh who took some nice pictures above! ////