I almost didn't go for the Mindvalley event last night.
Almost.
But something inside me kept on tugging at me to JUST GO.
So i did, and i'm so GLAD I DID.
I came home inspired, happy, a little bit okay, quite drunk, and even DREAMT about new ideas i want to see through.
OK i need to explain a little on what Mindvalley is…
Taken from their FB page: "Mindvalley is one of the world's largest online publishers in the personal growth industry. We're a close-knit team of 65 (mostly) young, positive and passionate people from 30 countries with one big hairy goal: to touch 500 million lives by 2050."
Their mission: "To touch 500 million lives through kick ass ideas, entrepreneurial breakthroughs, unbridled enthusiasm, unlimited happiness, inspiration, cutting edge parenting techniques, and transformational ideas that let people achieve their dreams."
It sounds crazy huh? But their energy is so infectious, i truly believe they're going to be able to reach that goal. They've already been the recipient of the World's Most Democratic Workplace Award four years running. And recently got awarded for one of the top 10 coolest offices in the world.
I've gone for one of their little gatherings years ago, when they first started in KL, but that has expanded to a magnificent new office with a treehouse, 'garden' and a secret room!
Some crappy pictures i took last night. My excuse is that i was also balancing a glass of wine.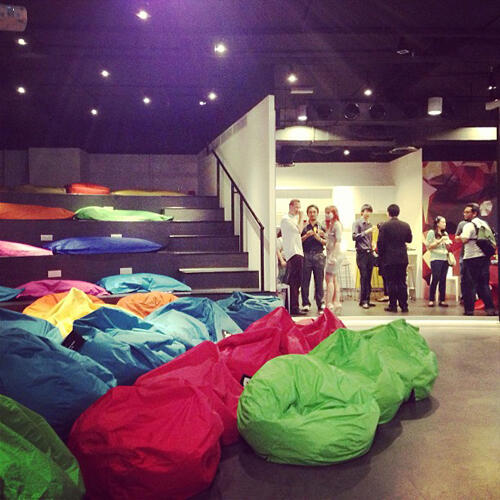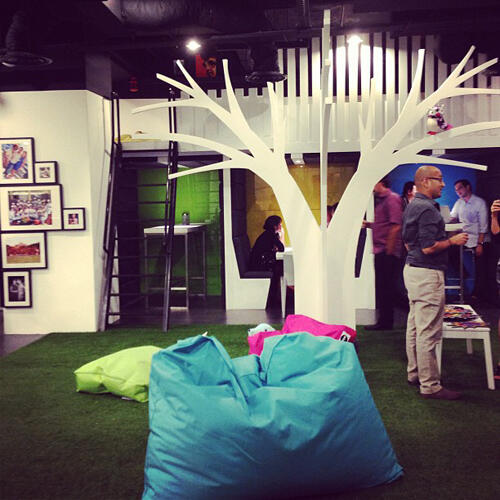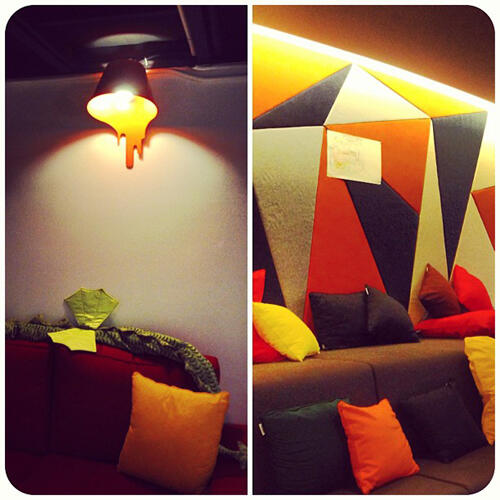 To see some MUCH BETTER pictures of their office, click *here*.
The reason we were invited last night was for the unveiling of Project Renaissance, which is their latest experiment to build new models for:
– creating world-changing entrepreneurs in KL
– redesigning the Malaysian (and later global) education system
– pioneering new ways of work
– supporting the arts and culture
– turning KL into one of the top twenty places in the world to start a dot com
I was most excited to hear about efforts to change the education system in Malaysia. I've always felt that our country's future as a whole is going to suffer if something wasn't done about this; and i think it's an amazing initiative taken upon by Mindvalley to get driven, creative and intelligent people together to share ideas, inspire each other, and actually REDESIGN a system.
But who are these creative and intelligent people doing the work?
It's you. It's me. It's all of us.
Mindvalley believes that each one of us is a genius, and we all have an idea to bring to the table. To push our growth, they've started an annual non-profit event called Awesomeness Fest.
"Awesomeness Fest is an event that bring together people who are by nature, driven to change the world. Entrepreneurs, authors, teachers, mavericks, artists and visionaries. Here, you get powerful training, profound mind shifts, groundbreaking ideas, deep connections and unique opportunities to give back, so you can play an even bigger game and significantly expand your ability to accomplish bold things."
You can read more about it on their website: www.awesomenessfest.com 
And FROM Awesomeness Fest, came the birth of another new idea for an equally inspirational event that can be run more regularly, called Incitement.
It was shared that Incitement was such a great practice that it has already been replicated in the US.
There are a lot of exciting things happening at Mindvalley… and i must add to this post that the company was founded by Vishen – do click on his name to read more, it's worth it. Vishen, who has spoken alongside the likes of Richard Branson and the Dalai Lama, is a very engaging speaker and you can get a glimpse of that in the two videos below.
They are so well worth your time to watch. Make sure you do okay!!!
You can watch the other Mindvalley vids on their YouTube channel, and read more about their company on www.mindvalley.com.
OK that's all! I just wanted to share this cos they made me feel excited that as a freelancer, i have SOMEWHERE to go to, to grow my ideas and myself, to mix with like-minded people, get inspired, LEARN more, and gather necessary skills i'm lacking to really push myself.
xxx