Urbanscapes' 10th Anniversary had the festival on for 2 days instead of just one, like how they usually have it. I didn't work for it this year cos... i didn't work for it last year too and it was so much fun to run around instead of being floor manager or sumthink :p But big up to all the people who made it such a success this year! I can't imagine what it's like setting up everything from scratch in the rain and mud. All i can say is you made thousands of people happy this weekend 😀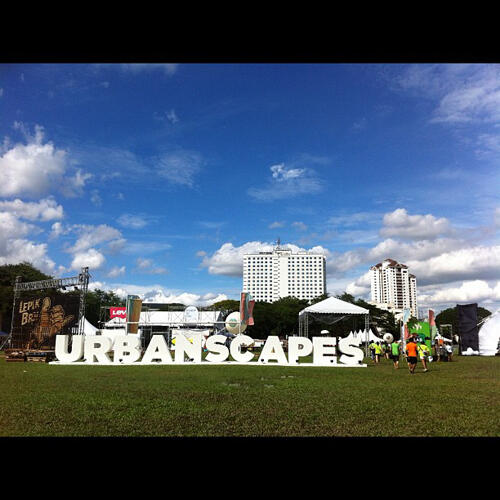 Beautiful Saturday!
Thanks to Paul who took this pictures for Urbanscapes. See more of the best pictures on Urbanscapes Facebook:
*Day 1*
*Night 1*
*Day 2*
*Night 2*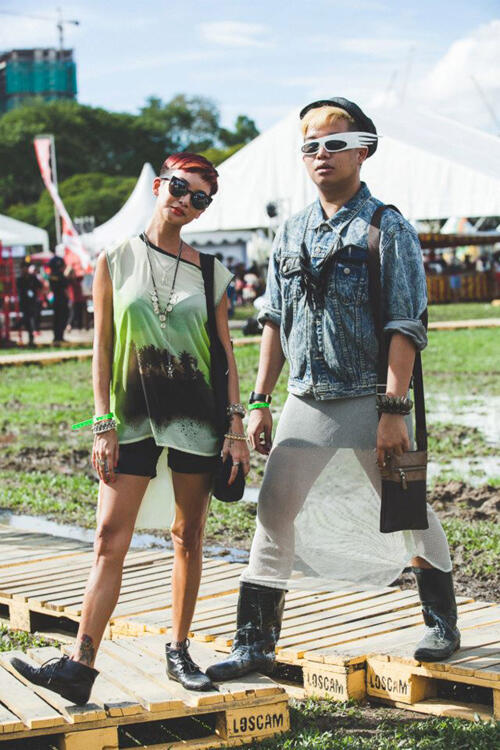 I'm wearing top from Zara, tights from Nike, leather boots from Bimba & Lola. Sunnies are cheap ones from Thailand. After breaking a pair of Henry Hollands at Future Music Fest, i've learned not to compromise my nice things :/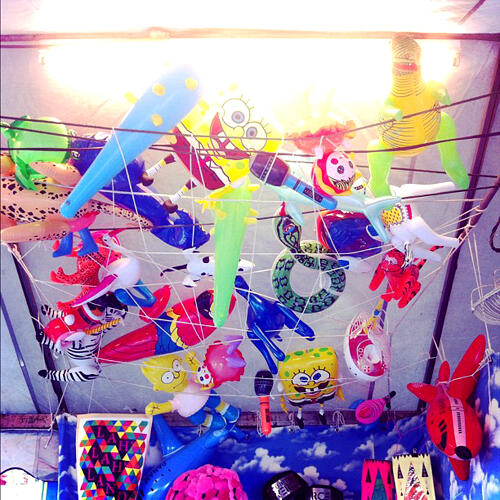 If the parrot blow-up at Lah'Lah'Land's booth was for sale i'd so get it.
I went alone at about 3:30pm so i could be kiasu and shop first... but i didn't know there was another shopping area on the other side so i missed that till much later in the day. It was super hot and i decided to get a beer at The Bee area (which was cordoned off for over-18s). Bumped into some friends. This reader came up to me and said, "Are you Joyce?" I nodded yes and she went, "I LOVE YOU!" My insides were all grinning cos it felt so nice! Thank you for saying that to me!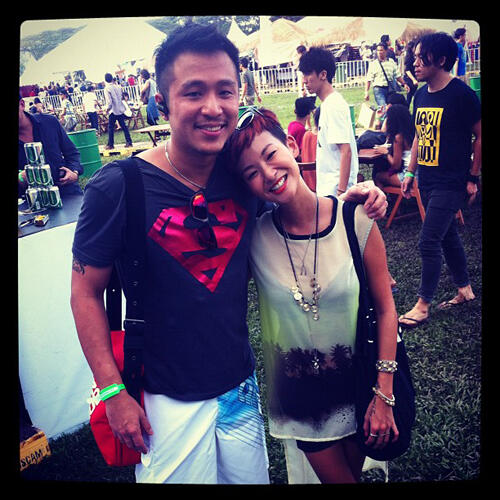 Hung around with Mark and his friend Andy for a good hour or so. Just downing beers and chatting.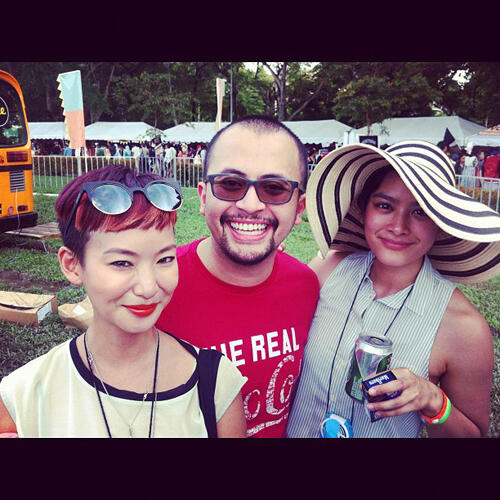 Ezra & Clouds
Oh yeah! Mark and Andy recognized Ezra's voice and asked to take pictures with him. I poked Ezra and teased him, "Wowww you're so famoussss!" And he was snapping his fingers in the air going, "That's right."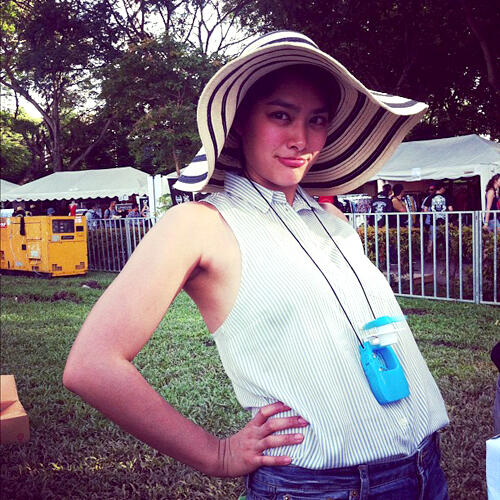 Clouds was proudly showing off her Daiso fan. "Look Joyce! I don't have to do anything and it'll blow me!"
Me: But you have to stand tilted back like that the whole time? ... Very efficient Clouds...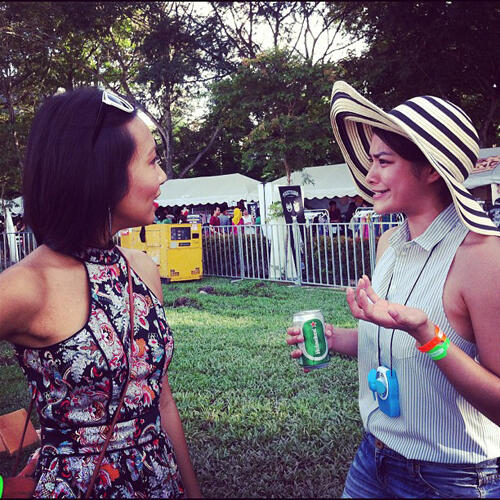 Alena & Clouds
Around 5pm i jolted cos i remembered that i had to DO SOMETHING or BE SOMEWHERE... what was it!? OH. In the midst of my merrymaking i almost forgot i offered to volunteer to serve nasi briyani at Fierce Curry House! Ezra saw me babbling rubbish and asked, "Erm, how long are you supposed to work there for?" Me: "An hour..." Him: "Okayyyy"
Hey i did proper work okay! I wore a Fierce cap, carried nasi briyani from the chefs to the counter, even carried 2 plastic bags of nasi across the muddy field to an order from the Tongue in Chic tent (prayed so hard that i wouldn't fall flat on my face and spill nasi briyani everywhere), ate samples in front of passerbys and exclaimed loudly how awesome it tasted, offered up information how the mutton briyani sold out cos it was THAT good, and even rang my bell and called out for people to come buy!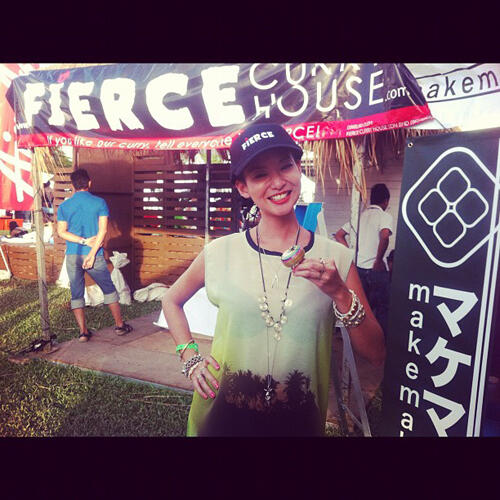 Me and my trusty bicycle bell.
I had some bell envy tho, as the ice cream man to my right had a bigger LOUDER bell. So i guess next time i will have to bring a gong or something.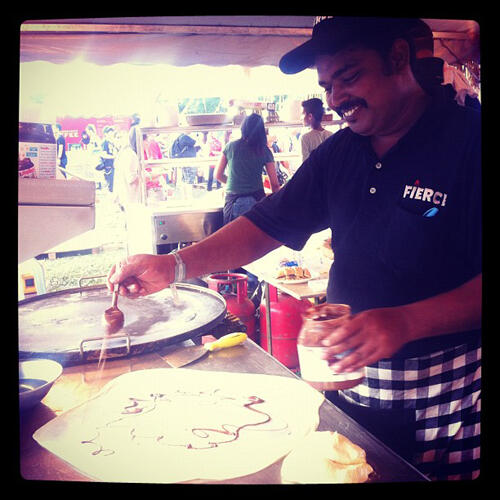 Roti Nutella for sale too!
After an hour, i collected my wages which was one box of chicken briyani and gleefully ran off to play. Damn i'm such cheap labour. I didn't even eat the whole thing myself... i must have given half away in spoonfuls to people (some strangers even!) so they could taste the Fierce awesomeness for themselves. I succeeded cos one girl was calling her boyfriend to go buy it after i fed her. Well, maybe i didn't see the success cos he pretended not to hear.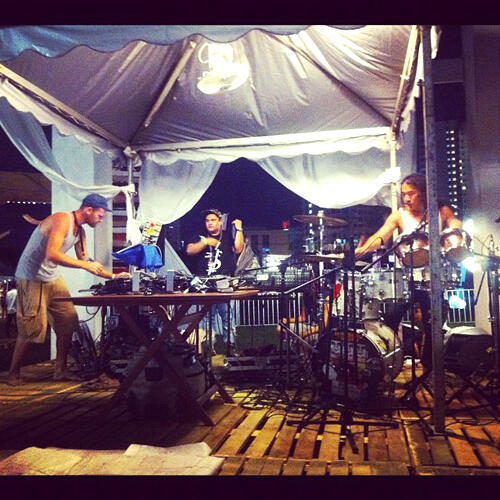 Cee and Justin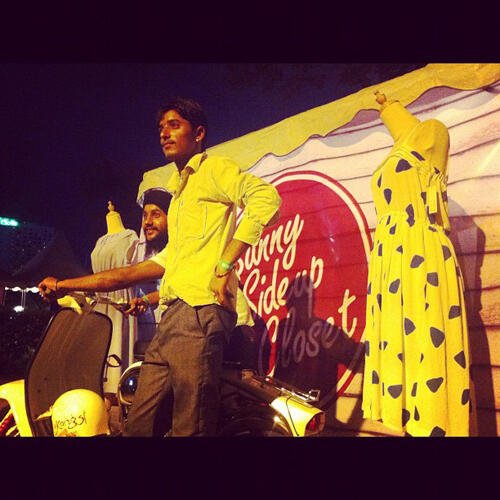 I was outside waiting for Clouds i think... and took pictures of these Indian dudes layaning the props. The guy in the white shirt caught me taking pix of them and started to laugh but held himself back to pose properly.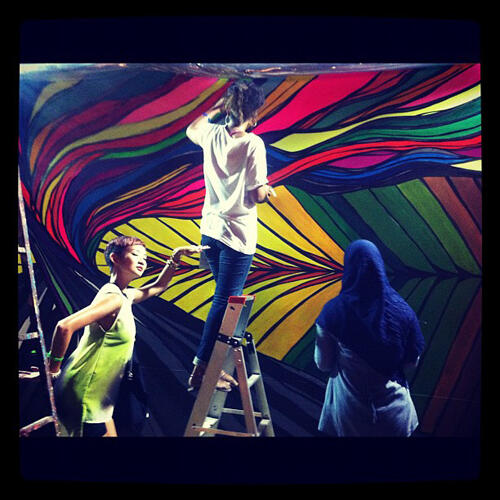 Went to watch Nini paint!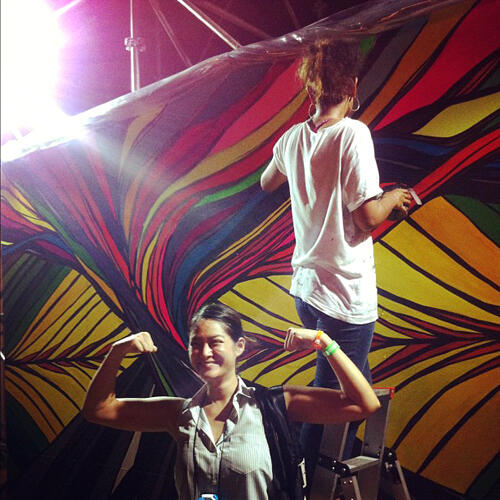 Clouds and her powerplate tikus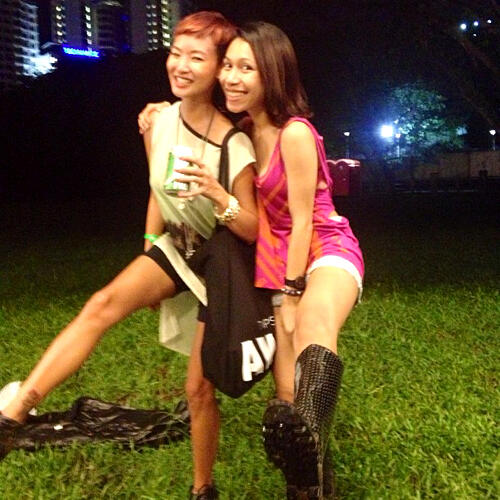 Baby and me! Right after looking at the picture of us she went, "Eh kita comel sangat!" Modesty = 0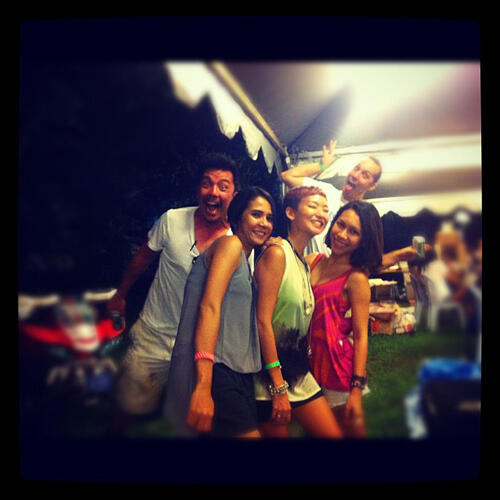 With Echo & Keera! Kevin on the left before he got filthy with mud riding the ATV.
Yuna was fantastic that night. Her voice has improved by leaps and bounds from the first time i heard her in Urbanscapes years ago, and that's saying a lot, cos her voice was already great then. This time, the nuances in her performance really caught me off guard and twirled me around on a string of emotions and lilts. Beautiful.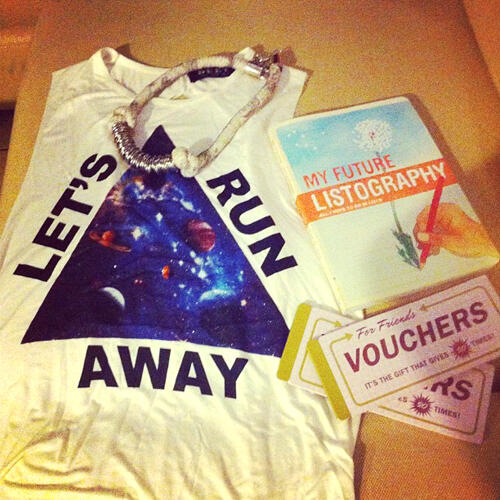 My Urbanscapes haul from the first day! Really soft singlet from this booth called Owlz, necklace made by an Indonesian designer, and cool book and vouchers from Aida at Things For Whenever.
+ + + + + + + + + + + + + + + + + + + + + + + +
Urbanscapes DAY 2!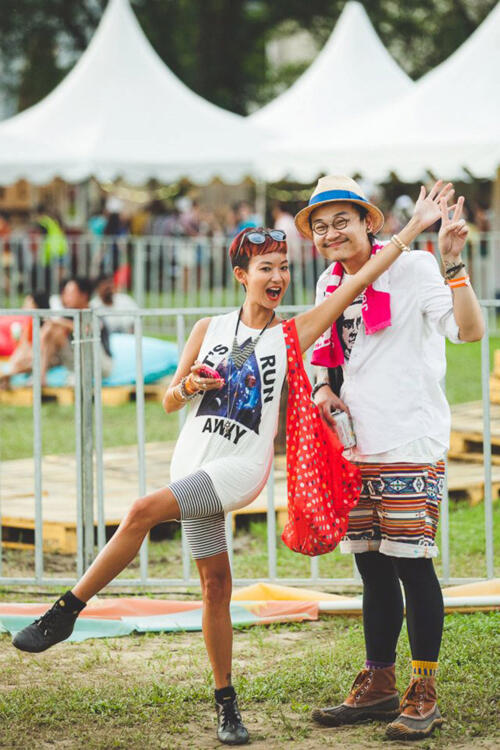 Vince & i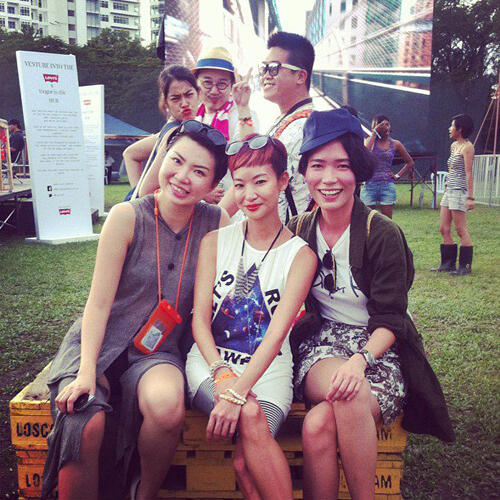 With Erney and Beverly from Johor! So glad to see them! Behind are some monkeys.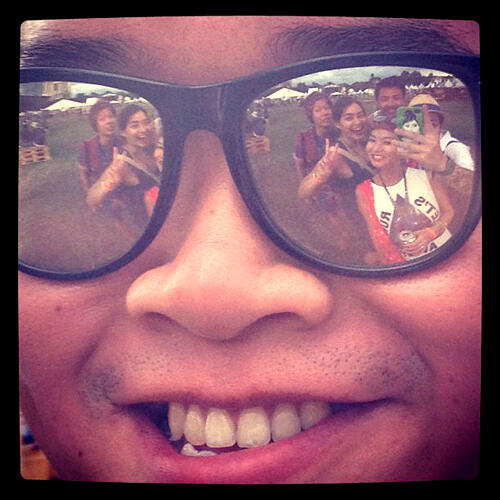 In KEVIN YEOH'S FACE BITCHES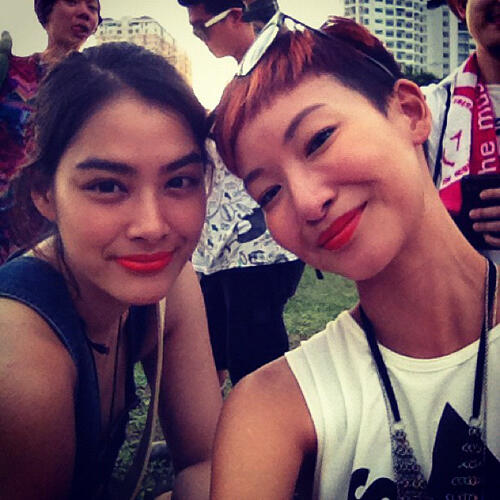 Clouds and i were wearing the same lippie from Topshop. 'Tis called Firecracker.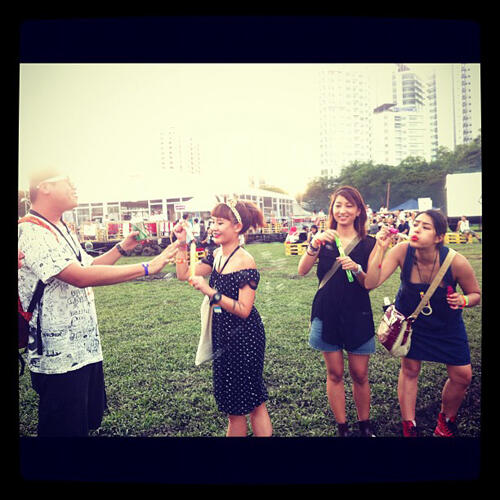 Clouds blows bubbles like a man... surprisingly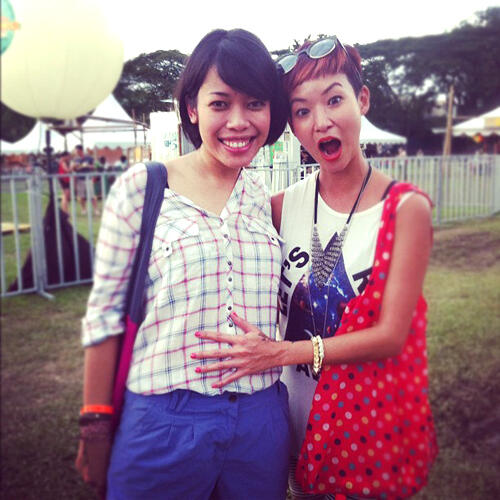 Myra's gonna be a mommy!!!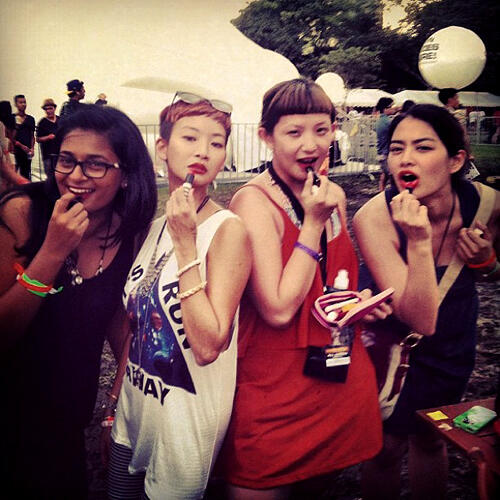 Meesh, me, Sarch, Clouds. This is NOT a lipstick party. It's a lipstick posse.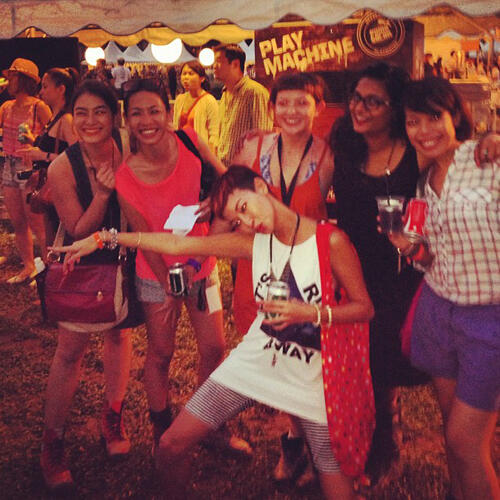 Sorry Didi is missing...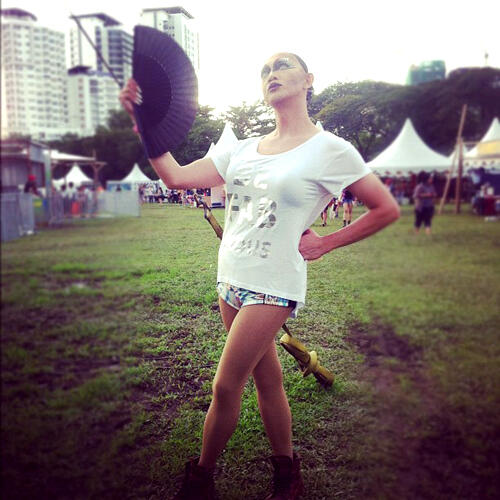 SHELAH!!! aka Edwin Sumun 😀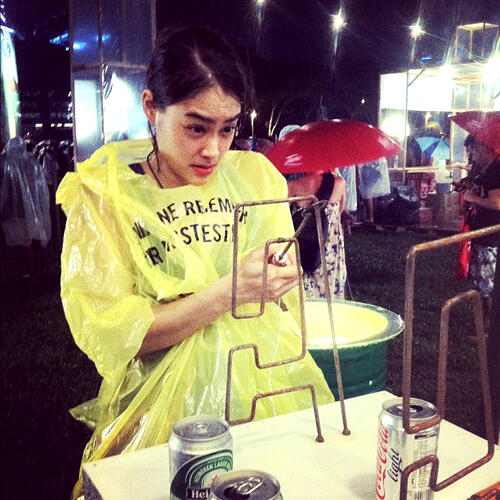 Much later in the night when we were well drunk.
Didi reminded today me how i was escorted out of backstage when i honestly had NO idea i was even NEAR a stage... :p I was just desperately looking for a bathroom and lost ALL my bearings. Ok that and accidentally burning my eyelashes (don't even ask) pretty much sum up my Urbanscapes. Oh and a secret Claudia and i shared behind two boards in the rain. 😀